Holiday baking ideas
Five fancy tips and tricks for the season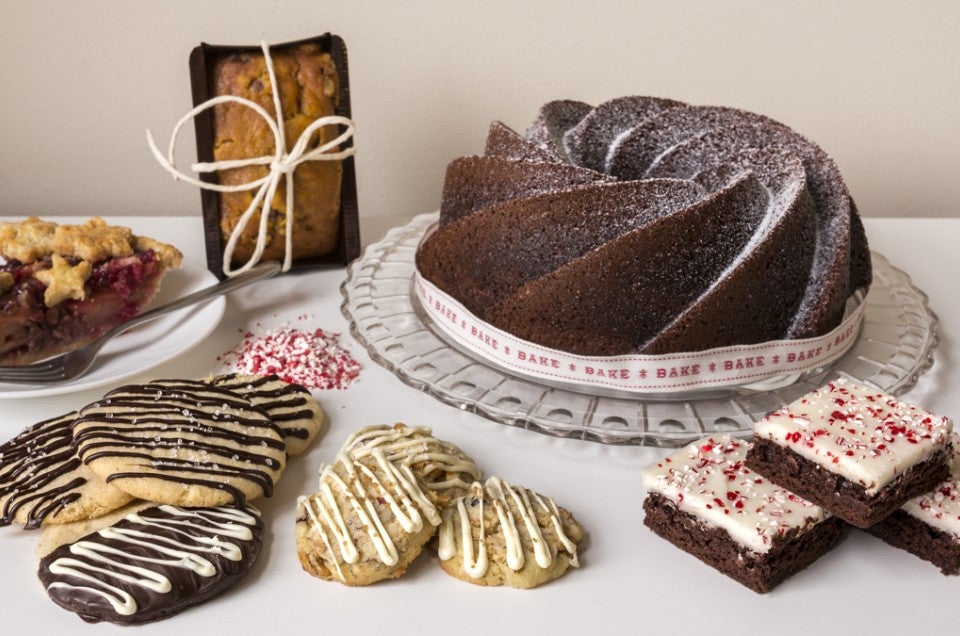 Everything feels a little extra-special around the holidays. Fires feel cozier and kitchens are more welcoming. Strangers are friendly to one another, and there's always music in the air. Is it just me, or does hot chocolate taste richer this time of year, too? It's time to bring some of this festive elegance to your baked goods.
Get inspired! Here are our five favorite tricks for making fancy treats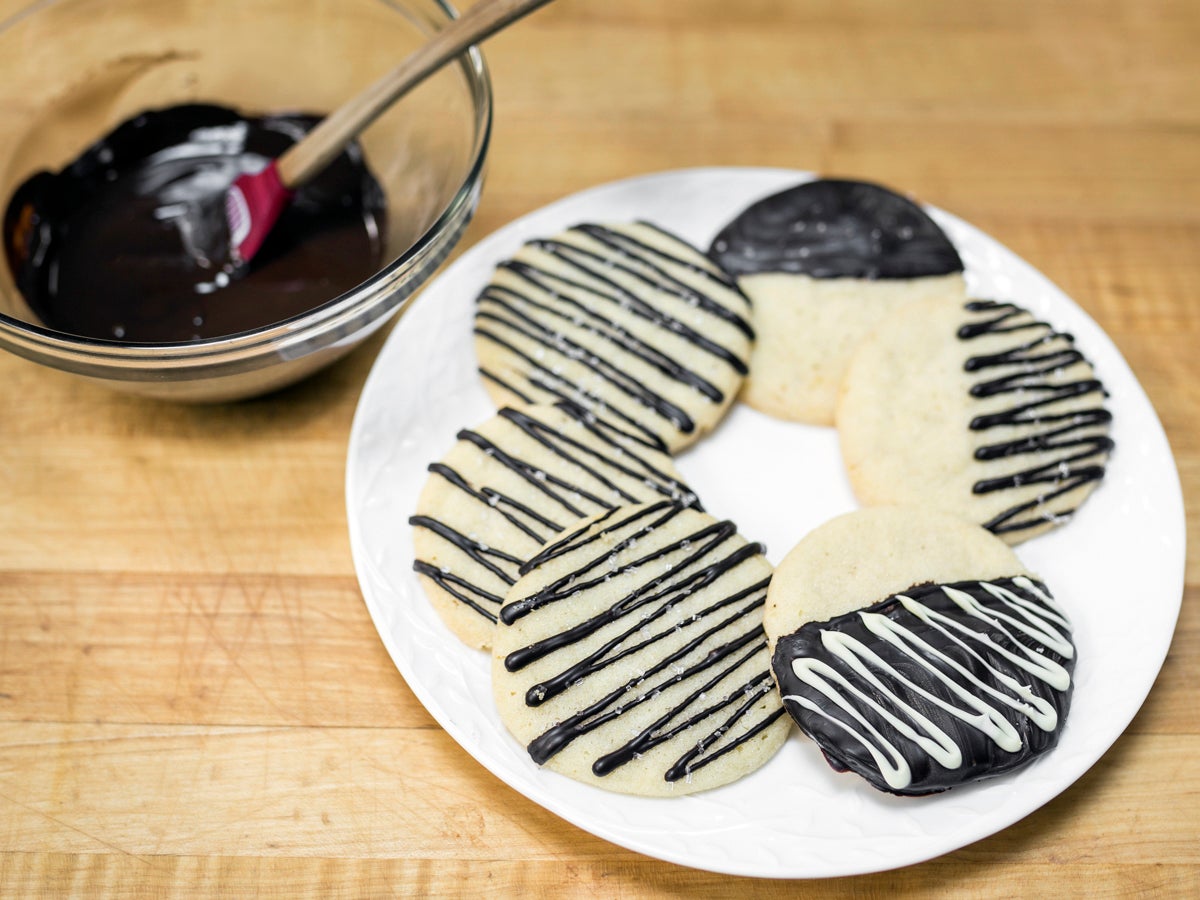 1. Cookies: go for ganache
Dark chocolate can be a baker's best friend. Adding a touch of this bittersweet ingredient is a simple yet tasteful way to elevate practically any baked good, including your favorite cookies.
Our Vanilla Sugar Cookie recipe is a classic treat that's made year-round. But during the holidays, you might be looking for something a little more impressive to bake and share.
You needn't look elsewhere — stick with a tried and tested recipe (this one or another of your favorites) and use this holiday baking idea to jazz them up. It's easy: just bake your cookies and while they're cooling, whip up a batch of chocolate ganache. You can pipe designs using a pastry bag or drizzle on the warm chocolate with a spoon. The result is both artistic and delicious.
Chocolate-lovers might find themselves inclined to coat cookies by dipping them into the ganache. If you're the dunking type, consider using tempered chocolate so that when it sets, the chocolate has a pleasant shine and snappy texture.
If your go-to cookie recipe doesn't jibe well with dark or milk chocolate, consider using a more amenable option: white chocolate. It's the perfect complement to cookies with subtle or complex flavors, like our Soft & Chewy Vanilla-Orange Cranberry Cookies.
Your cookies will be the first to disappear at the cookie swap when you add a touch of chocolate ganache.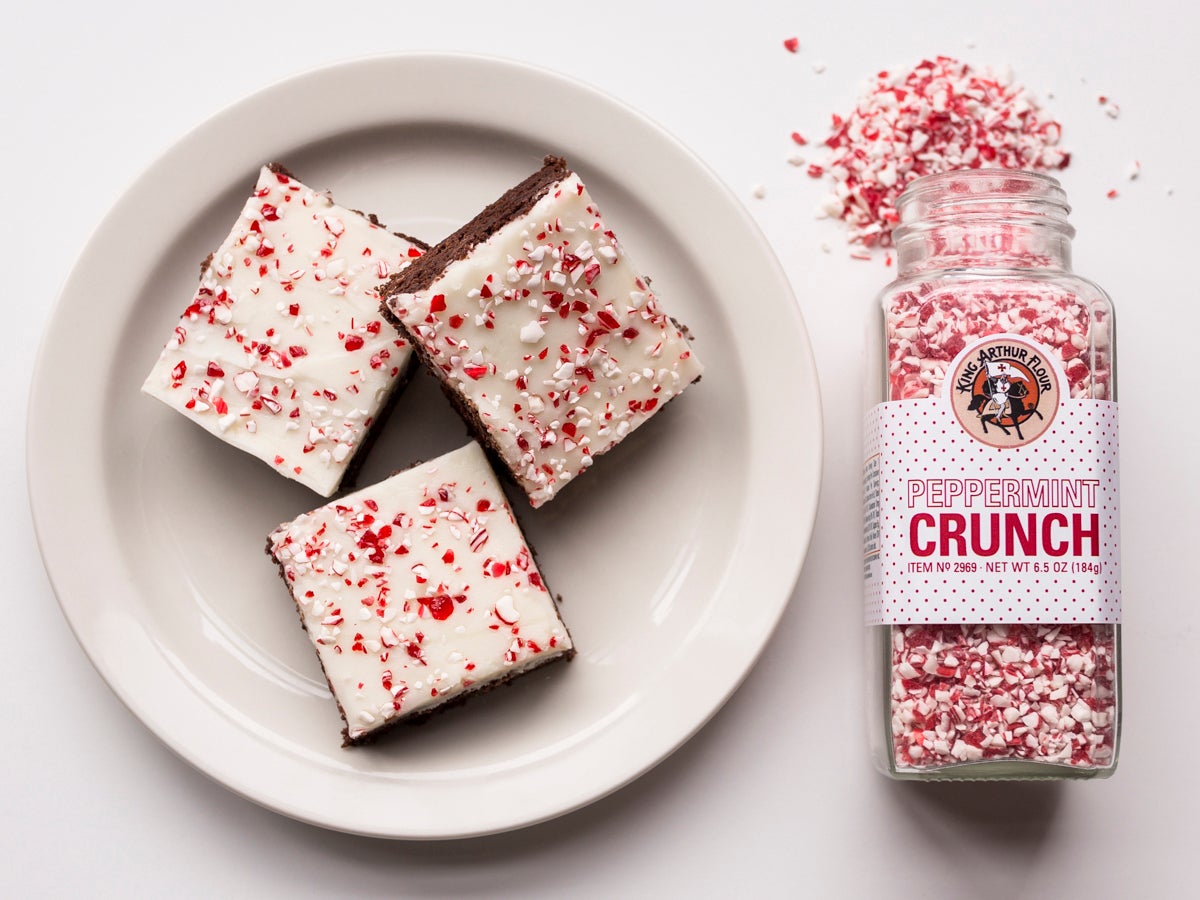 2. Brownies: frost and top with crunch
Chocolate and mint is a classic duo that's hard to beat. We love it in ice cream and hot chocolate, so why not give brownies this royal treatment, too?
Start by baking up a batch of your favorite brownies. (Haven't got a go-to recipe? Our blog post, Make your absolute favorite brownie, will show you the way.)
Once your brownies are out of the oven, let them cool completely. Then mix up the icing from our Melting Mint Brownies recipe and spread it on nice and thick, enjoying the fresh minty aroma as you work. It's OK if the icing looks thin — it will set up once it cools.
Now it's time for the star of the show: peppermint crunch. Sprinkle on this minty garnish for visual appeal and pleasant crunchy/smooth texture in each bite. You can also use your newfound chocolate ganache skills and add a chocolate drizzle if you like.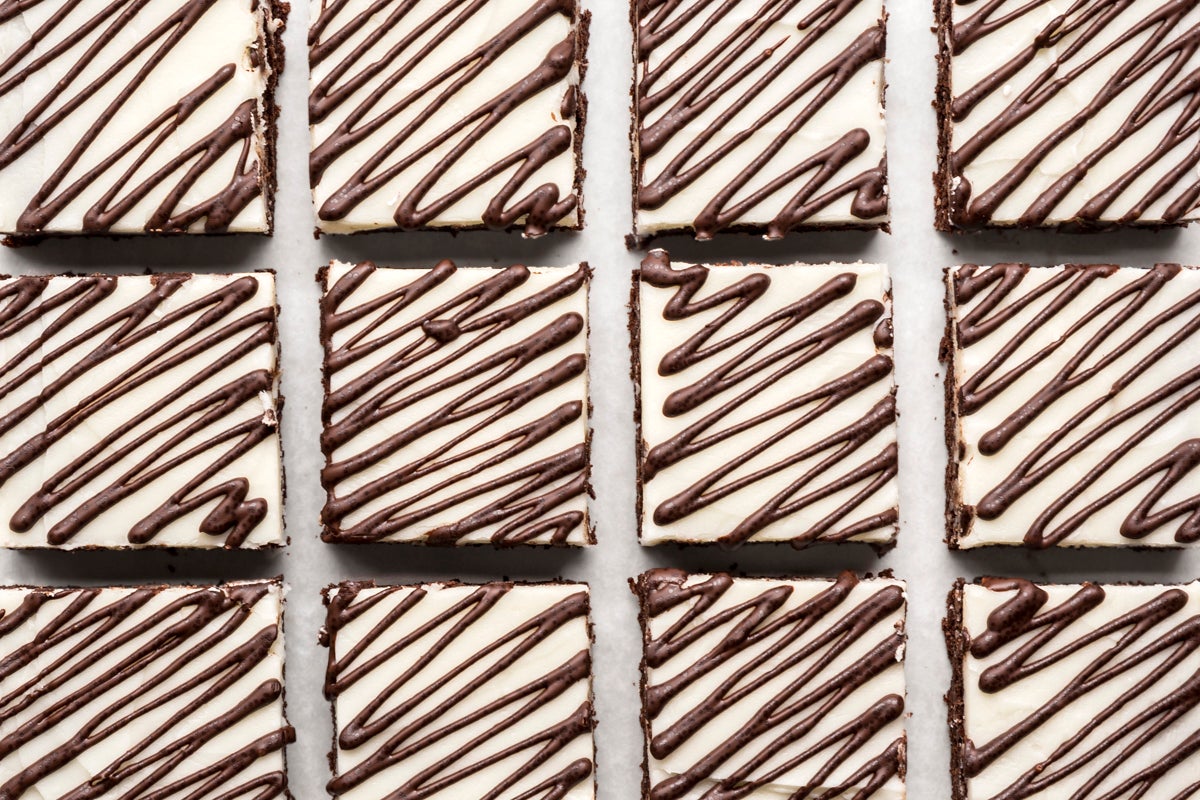 That's the beauty of holiday baking ideas — you can make them your own. And these brownies are no exception.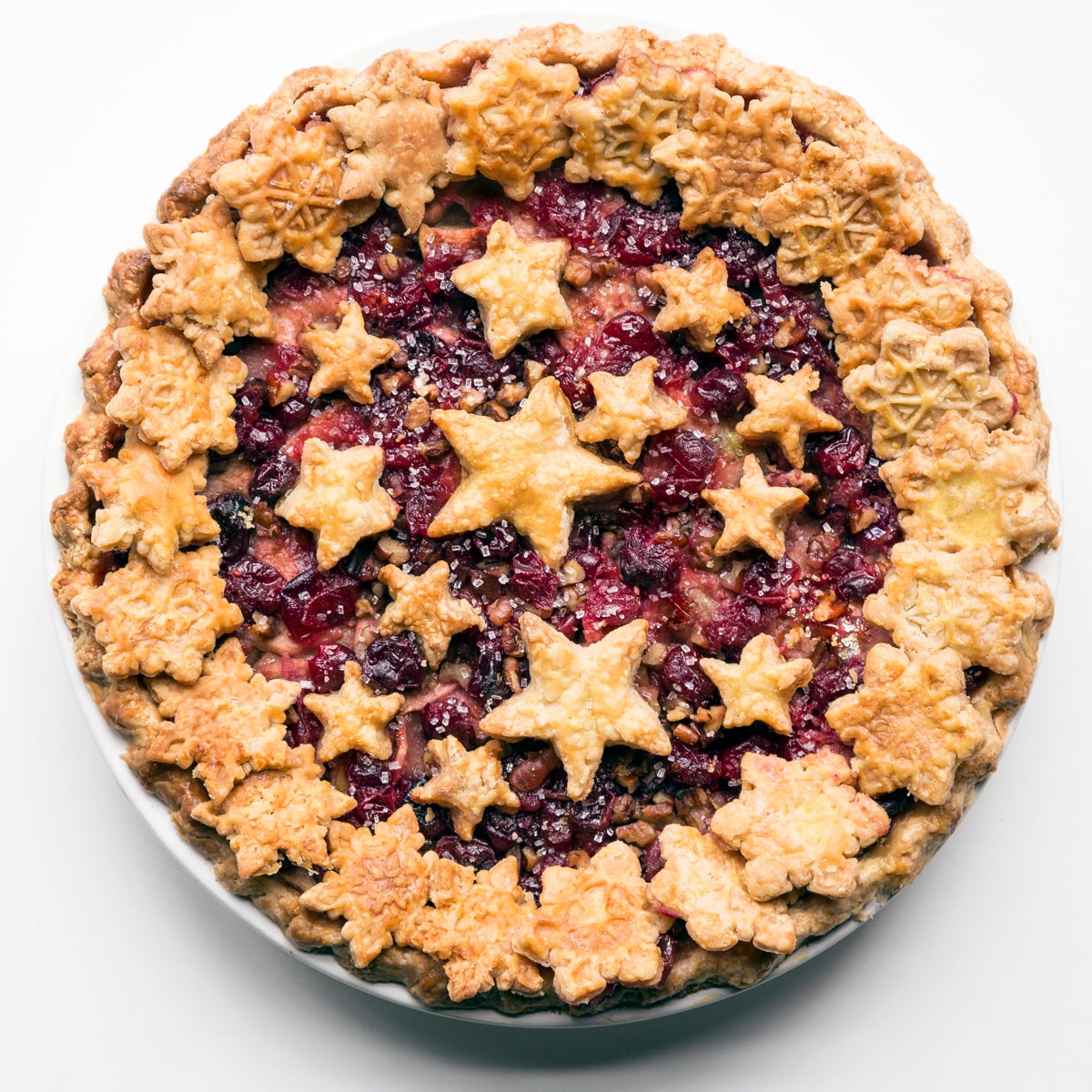 3. Pie: top with style
Does the thought of weaving a latticework crust make you groan? That's OK! You can still make your pie look like it's dressed to the nines with my favorite holiday baking idea yet: use seasonal pop-out cutters to top your pies.
Make the most of holiday cutters by treating them like cookie cutters and your pie crust like rollout cookie dough. Just roll your top crust, press/cut, stamp, and bake. (You'll want to bake the shapes separately on a baking sheet and place them on your finished pie later, as they only take about 15 to 20 minutes to bake.)
There are so many options waiting to be explored: gingerbread men on a pecan pie, or snowflakes on a cranberry-apple pie. Let your imagination be your guide.
Speaking of guides, check out our Pie Baking Guide for all the inspiration you'll need during this holiday baking season.
So what are you waiting for? Choose a pie recipe and don't forget to leave enough crust to make your seasonal toppers. The ring of delicious, cute pie crust shapes will be the talk of the holiday party!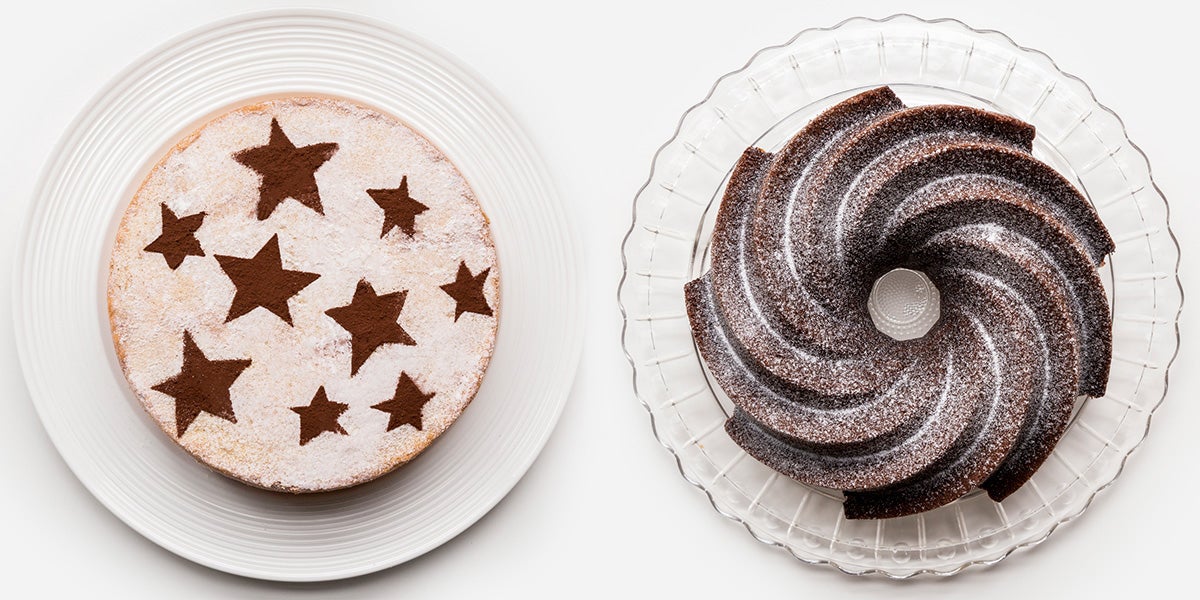 4. Cakes: dust with sugar or stencil designs
This next holiday baking idea stems from a personal confession: I hate making frosting. It tends to be a bit too sweet for my taste, and quickly depletes my stash of butter. But I love making cake, so what's a girl to do?
The answer is simple: make a Bundt cake and dust with a shower of Snow White Non-Melting Sugar. Not only does it recreate the feeling of a winter storm, but it's elegant, easy, and fast. The best part? Unlike confectioner's sugar it doesn't melt, so you can apply it way ahead of time without worrying about it sinking into the cake or your design disappearing.
Our swirl bundt pan looks particularly attractive when sprinkled with sugar, but the possibilities don't stop there. The square bundt and original classic bundt pan are a few of my favorites and are all definitely worth trying.
If you're not a fan of Bundt cakes, you can still get fancy with this holiday baking idea. Use a stencil to create festive designs on sheet cakes, cake rounds, or even layer cakes.
Check out our bread stenciling blog to see how it's done — just think of your cake as a delicious, sweet loaf of bread and use the same approach.
Baker's tip? Use cocoa powder or black cocoa for a stunning contrast on yellow or white cakes. The ease and beauty will blow you away.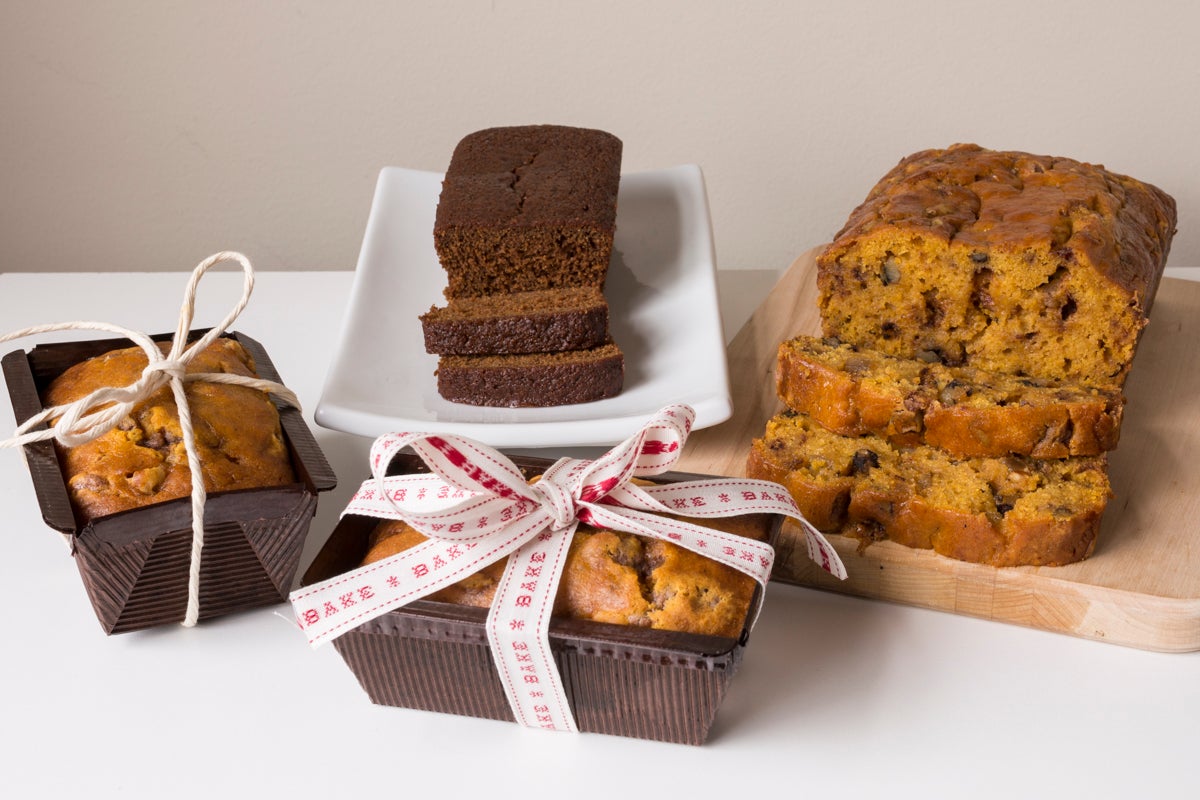 5. Quick breads: make them mini
Everything is cuter when it's miniaturized. This includes the quick breads you might bake and give away at the holidays, like gingerbread or pumpkin bread.
You can use your favorite recipes and bake them in a mini loaf pan, or better yet, bake them right in mini paper baking pans for super-easy gifting.
Depending on just how small you make your loaves, you'll need to reduce the baking time by about two-thirds to start. Remember to check for doneness early and often; a toothpick inserted into the center should come out clean.
Don't forget to dress them up, too — this is the holidays, folks! You can add a sprinkle of sparkling white sugar on top of the batter for a bit of glitz and crunch.
Once the loaves are cool, you can adorn them with ribbon, or pop them in clear gift bags and seal with baker's twine. We guarantee everyone will love these homemade gifts
And for those who really LOVE your baking, you can give them more than one loaf!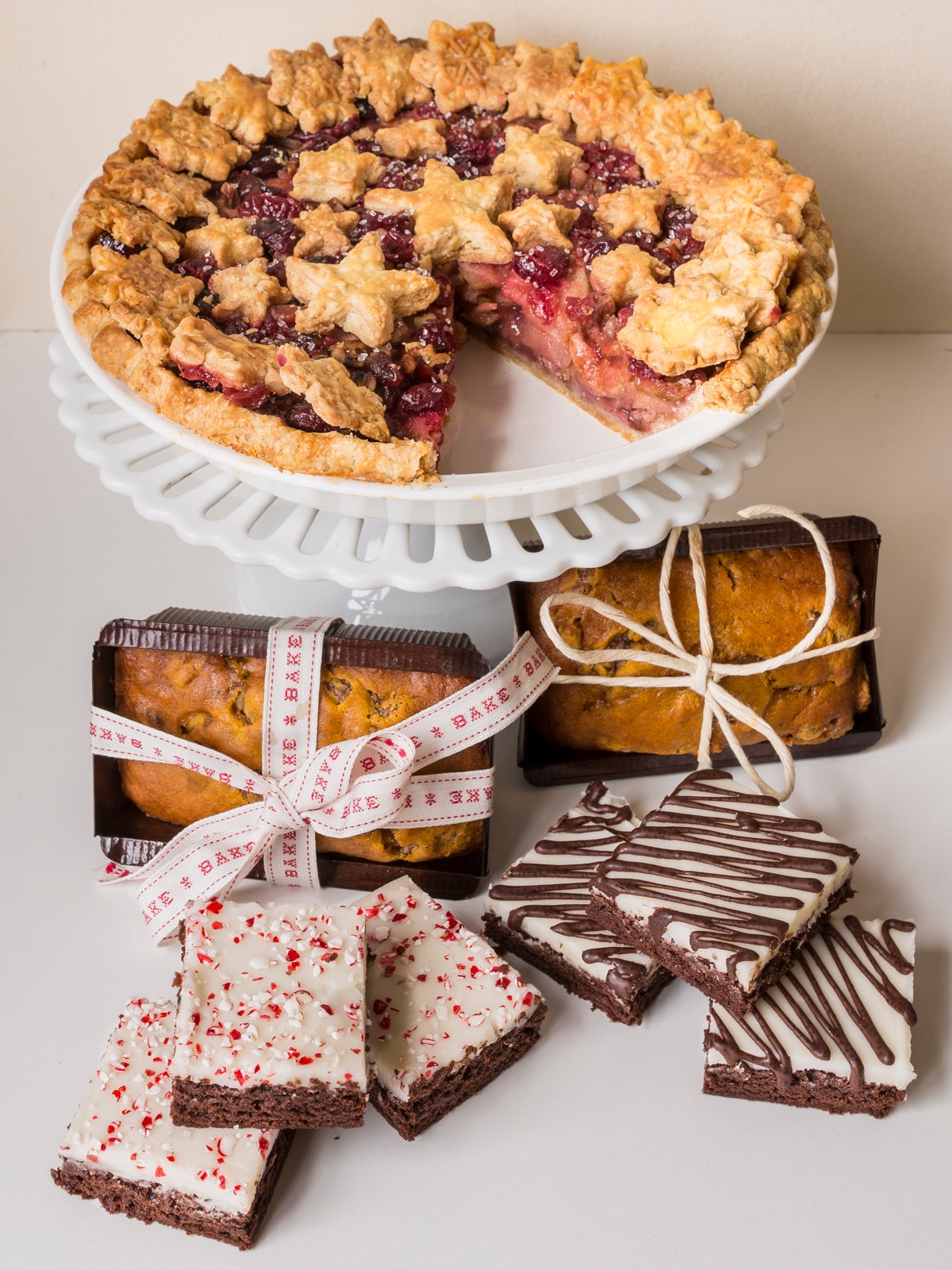 Getting fancy: choose your tips and bake!
The holidays bring out the best in people, so it should bring out the best in your baking, too. It doesn't have to take lots of extra time or effort: all you need are these five holiday baking ideas.
Pull out the flour and chocolate, the sugar and spice, and your favorite dog-eared recipes. Make them holiday-ready with a bit of festive fun. Your baked goods will never have looked (or tasted) so good!
We're sure you all have go-to tricks for making a recipe look ready for the holiday spotlight. We'd love to hear about them in comments, below.
King Arthur Flour employee-owner Nic Doak photographed this blog — thanks, Nic!
Jump to Comments