The gradual fading of summer's sultry heat signals a happy return to fall. Chilly enough outdoors that lighting the oven isn't a chore, the weather's still mild enough for a bountiful harvest of fresh produce — apples and pumpkins in particular.
A sunny autumn day is the perfect occasion for this month's Bakealong challenge: Inside-Out Pumpkin Muffins.
And an inside-out muffin is ... ?
A wonderfully moist, tender muffin filled with sweetened cream cheese — and topped with streusel for good measure. One bite of this muffin will convince you: yes, you need to make these for your family. Or fellow foodies at work. Or the parents at Saturday soccer. These muffins are simply eye-roll, contented-sigh, satisfied-groan good.
September is here! Let's get started on our Inside-Out Pumpkin Muffins Bakealong challenge.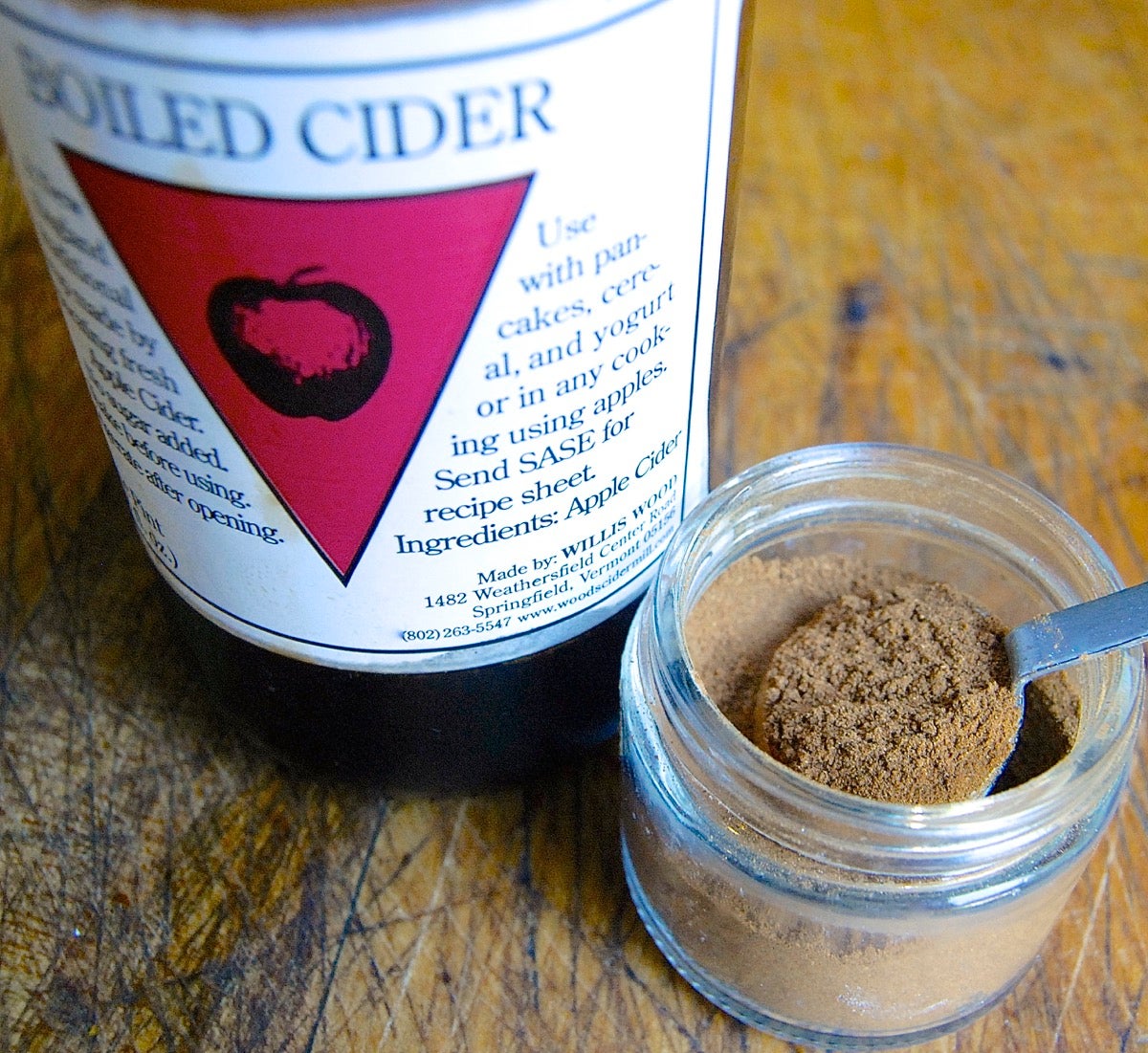 This recipe calls for a couple of specialty ingredients, boiled cider and pumpkin pie spice. Each lends its own distinctive flavor; boiled cider also adds moistness.
Don't fret if you don't have these; you can use common substitutions. Though honestly, we highly recommend you give these both a try sometime. And if not now — when?
The recipe gives two flour options: unbleached all-purpose, or white whole wheat. I'll make half the muffins with all-purpose flour and half with whole wheat, so you can see the difference.
First, start preheating your oven to 400°F. For easiest handling, line a standard 12-cup muffin pan with muffin papers, and grease the papers.
We'll make the streusel first, then the filling, then the muffin batter. That way, you can use the same bowl (no rinsing) for all three — making this an easy one-bowl recipe!
For the streusel topping:
1/2 cup (57g) King Arthur Unbleached All-Purpose Flour or King Arthur White Whole Wheat Flour
1/4 cup (53g) light or dark brown sugar (packed)
1/4 cup (25g) old-fashioned rolled oats or quick oats (not instant)
1/8 teaspoon salt
4 tablespoons (57g) butter, at firm room temperature
Mix everything together until evenly crumbly.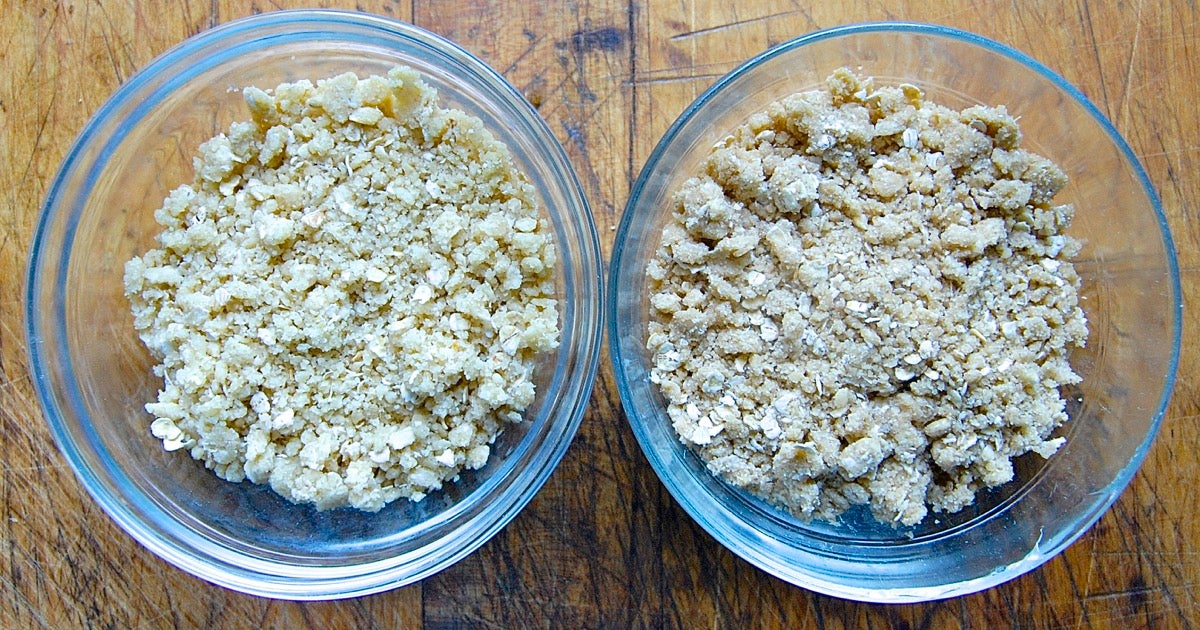 That's streusel made with all-purpose flour on the left, and with white whole wheat on the right. There's a very slight color difference.
Scrape any remaining streusel crumbs out of your mixing bowl, and make the filling by combining the following:
1 cup (8-ounce package; 227g) cream cheese, at room temperature; low-fat is fine
1/4 cup (50g) granulated sugar
1/2 teaspoon vanilla extract or a few drops Fiori di Sicilia flavoring, optional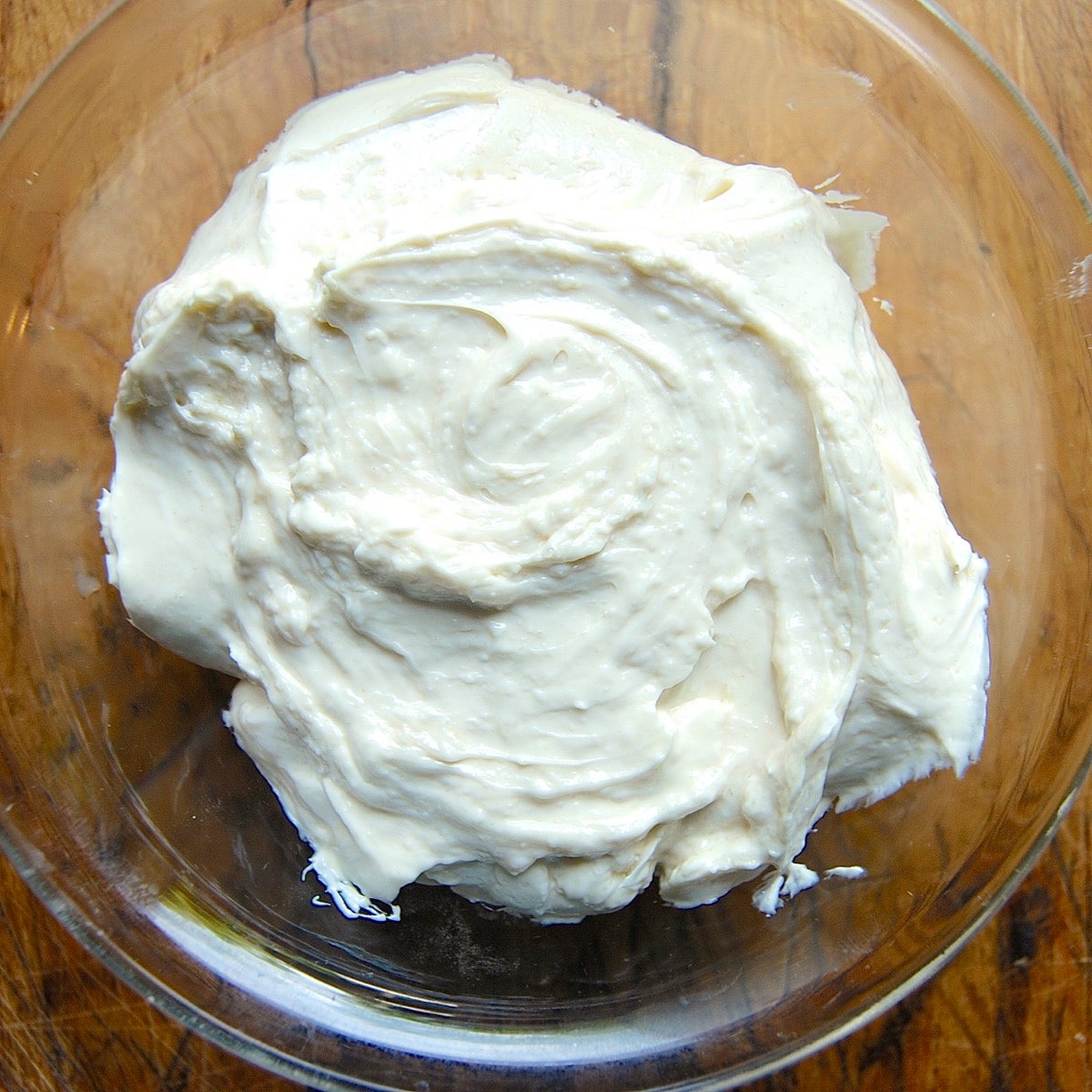 Stir or beat slowly just until combined; a few scattered small lumps are OK. Refrigerate the filling while you make the batter.
Scrape the mixing bowl clean of filling. Using the same bowl, combine the following:
1 cup (227g) pumpkin purée (about half a standard 15-ounce can)
2 large eggs
1/2 cup (106g) brown sugar
3 tablespoons (35g) vegetable oil
1/4 cup (85g) boiled cider (for best flavor), dark corn syrup, or honey
1/2 teaspoon salt
1 1/2 teaspoons pumpkin pie spice*
1 teaspoon baking powder
1/2 teaspoon baking soda
1/3 (74g) cup milk
*Substitute 1 teaspoon ground cinnamon + 1/4 teaspoon ground cloves + 1/4 teaspoon ground ginger, if desired.
Beat until thoroughly combined.
Gently beat in 1 1/2 cups (177g) King Arthur Unbleached All-Purpose Flour or King Arthur White Whole Wheat Flour (170g). Scrape down the sides and bottom of the bowl and beat briefly to incorporate the scrapings. You'll have a smooth and fairly liquid batter.
Next, we're going to scoop a scant 2 tablespoons of batter into each of the muffin cups, followed by the filling, followed by more batter, and then the streusel topping.
Now that's a lot of seat-of-the-pants division, isn't it? Do you really need to measure exactly 2 tablespoons batter into each muffin cup? And how do you know what 1/12 of the filling is, or 1/12 of the streusel?
Well, if you bake with a scale, you can weigh the batter, filling, and streusel and do the necessary arithmetic to come up with the weights needed for each individual muffin.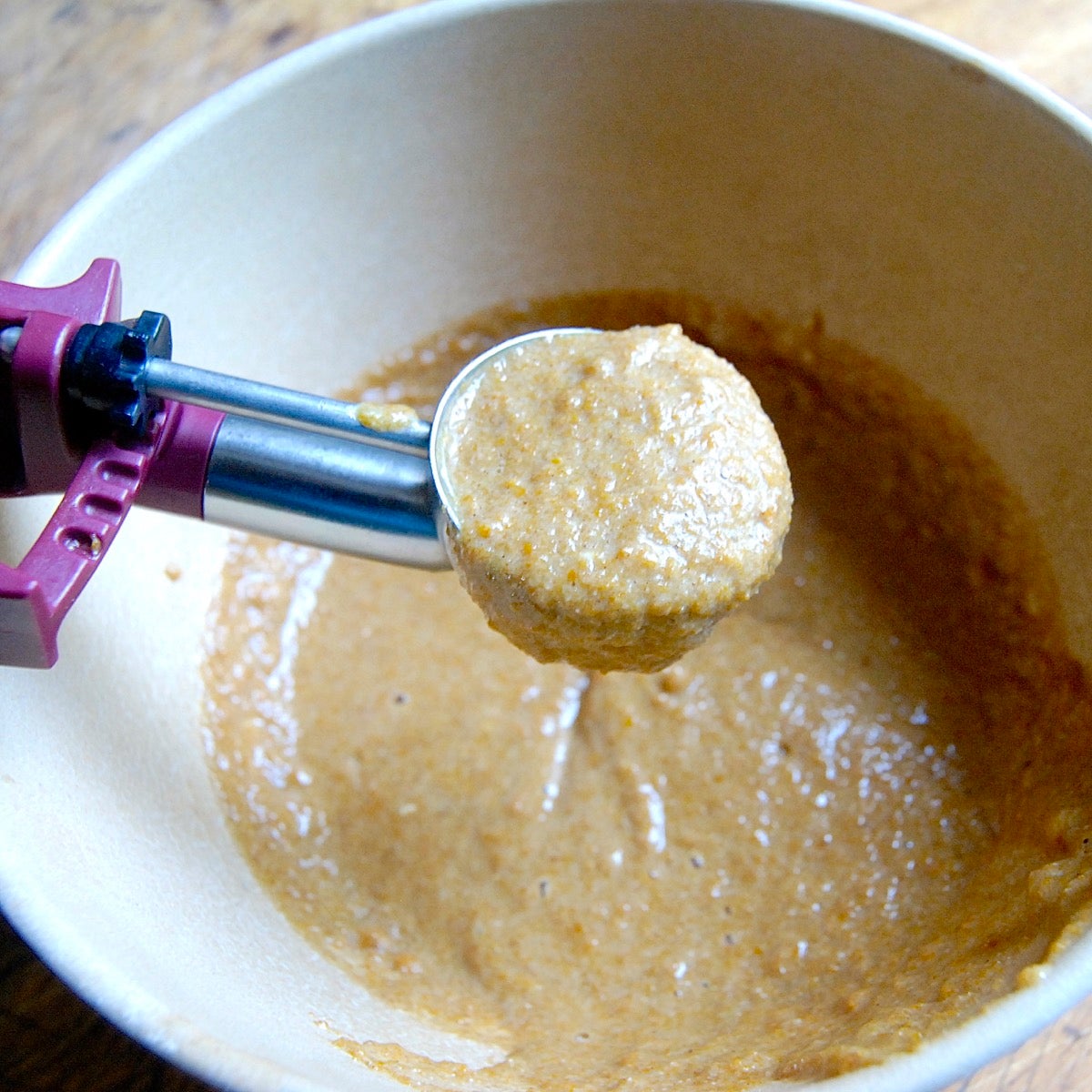 Or you can use a tablespoon cookie scoop, which turns out to be a hugely handy tool for this recipe.
A slightly overfilled tablespoon scoop (shown above) measures a scant 2 tablespoons.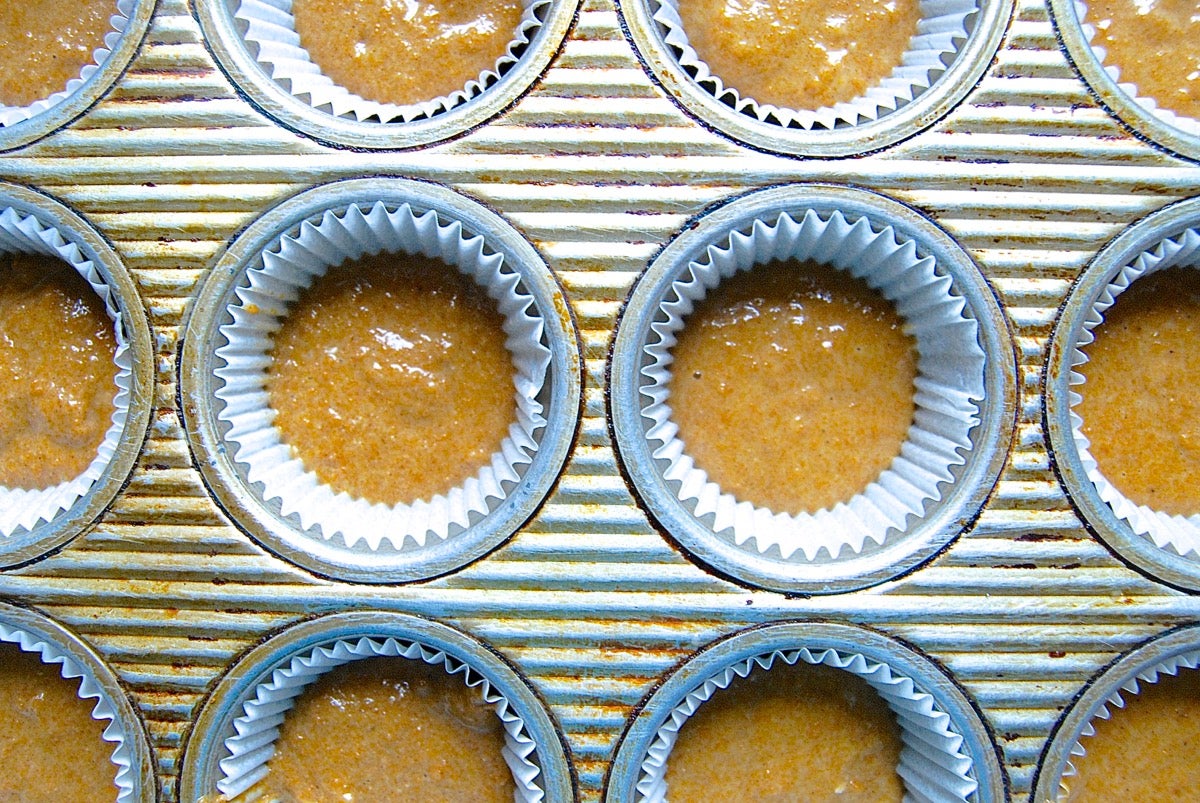 Scoop a scant 2 tablespoons batter into each muffin cup.
Don't have either a scale or a scoop? Measure 2 tablespoons into the first muffin cup, and eyeball the rest.
Retrieve your filling from the fridge. You're going to scoop a heaping tablespoon of filling into each cup.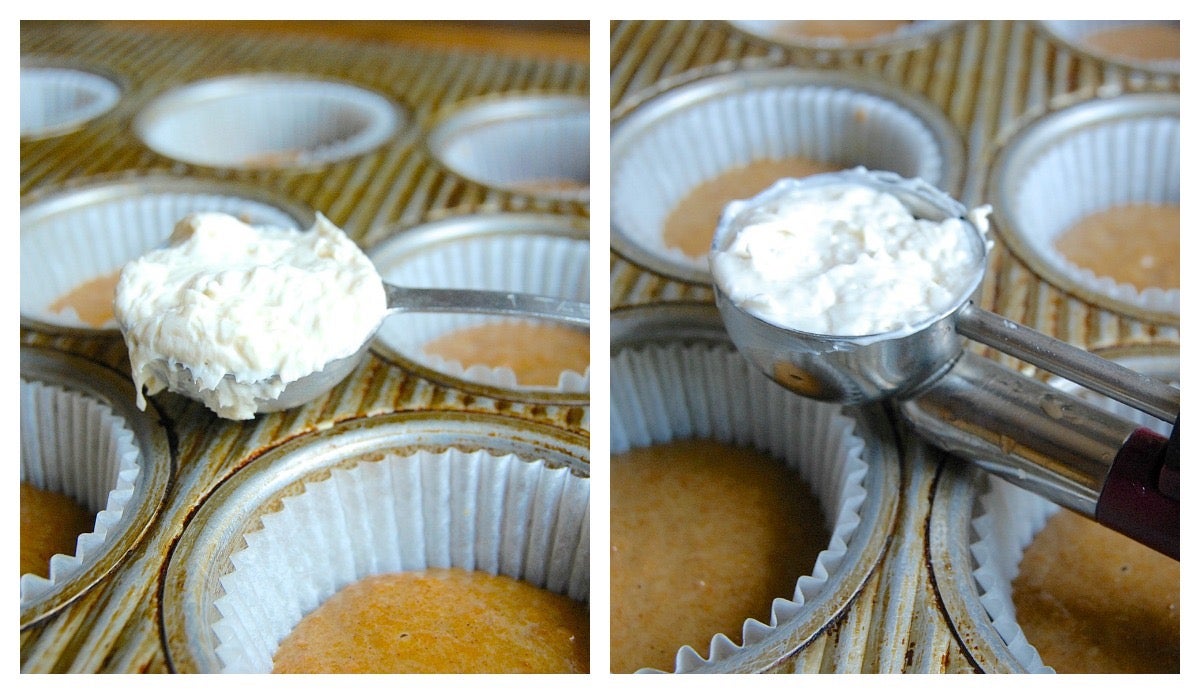 On the left, a measuring spoon heaped with filling. On the right, a level cookie scoop (a.k.a. heaping tablespoon) of filling.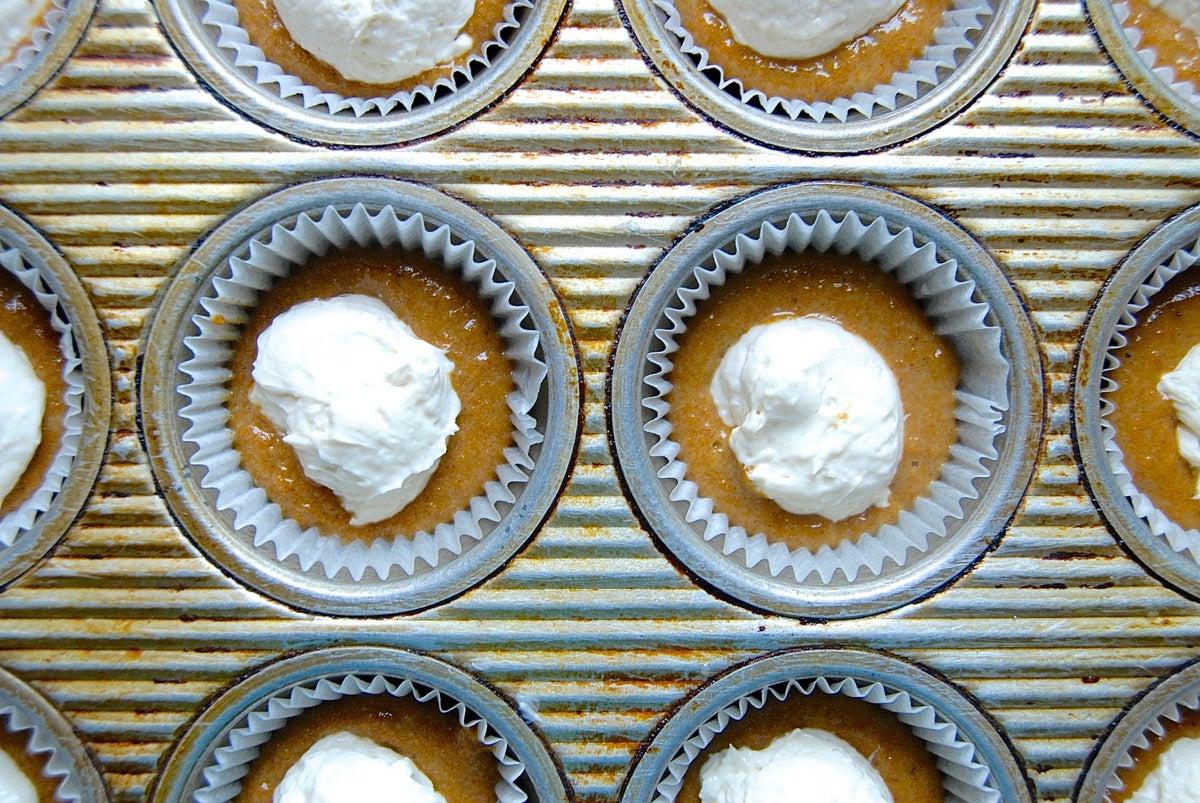 Drop a scoop of filling into the center of each muffin cup. Another cookie scoop plug: this is a LOT easier with a scoop than a tablespoon, which requires scraping out after each muffin.
Cover the filling with another 2 tablespoons batter; the muffin cups will be quite full.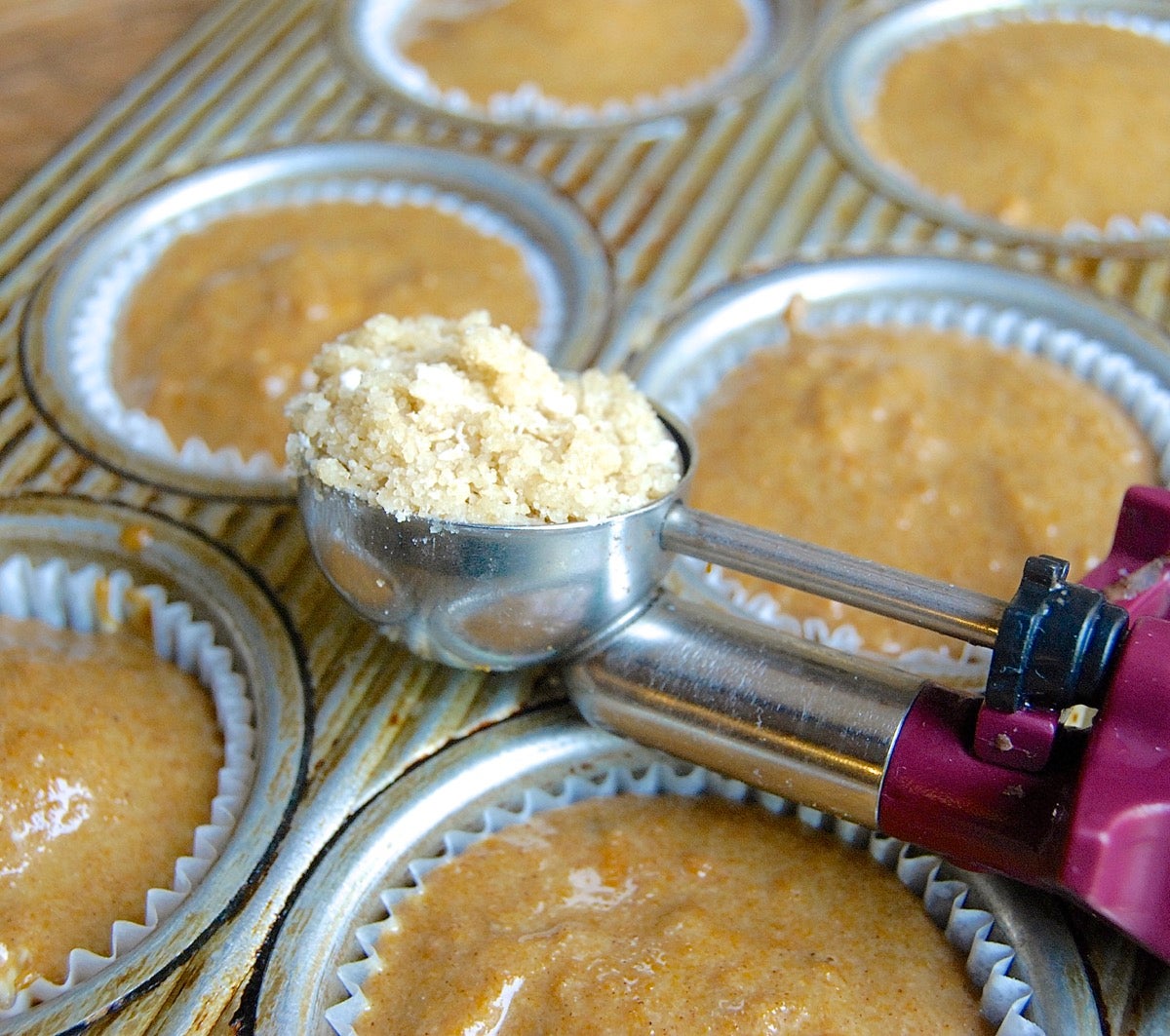 Well, there's that helpful tablespoon cookie scoop again! A heaping tablespoon scoop of streusel topping is the perfect amount for each muffin.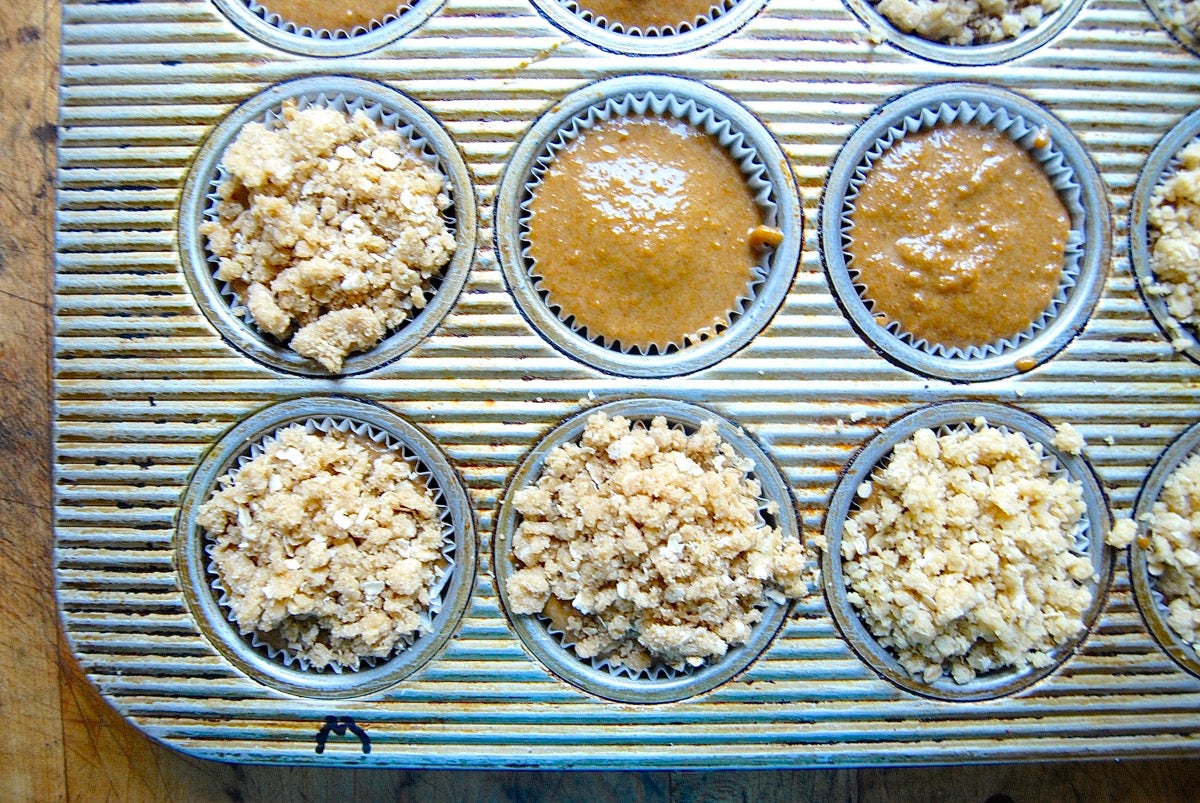 Once I top these last two, the muffins will be ready to go into the oven.
Bake the muffins for 18 to 20 minutes, until a cake tester or toothpick inserted toward the edge (not into the filling) comes out crumb-free.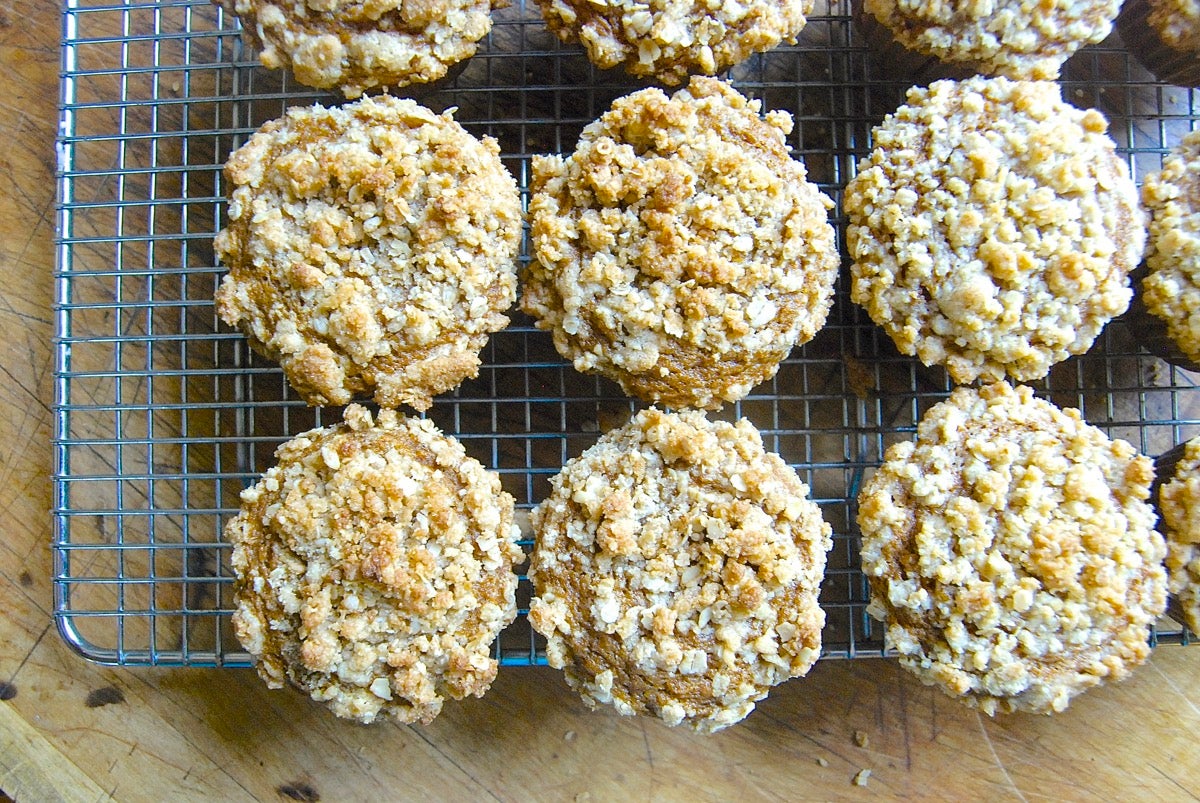 Remove the muffins from the oven. As soon as they're cool enough to safely handle, transfer them to a rack to cool completely.
The four muffins on the left are 100% whole wheat; the two on the right, 100% all-purpose flour. You can still see a very slight difference in streusel color — but not enough to alert anyone that these are whole wheat, right?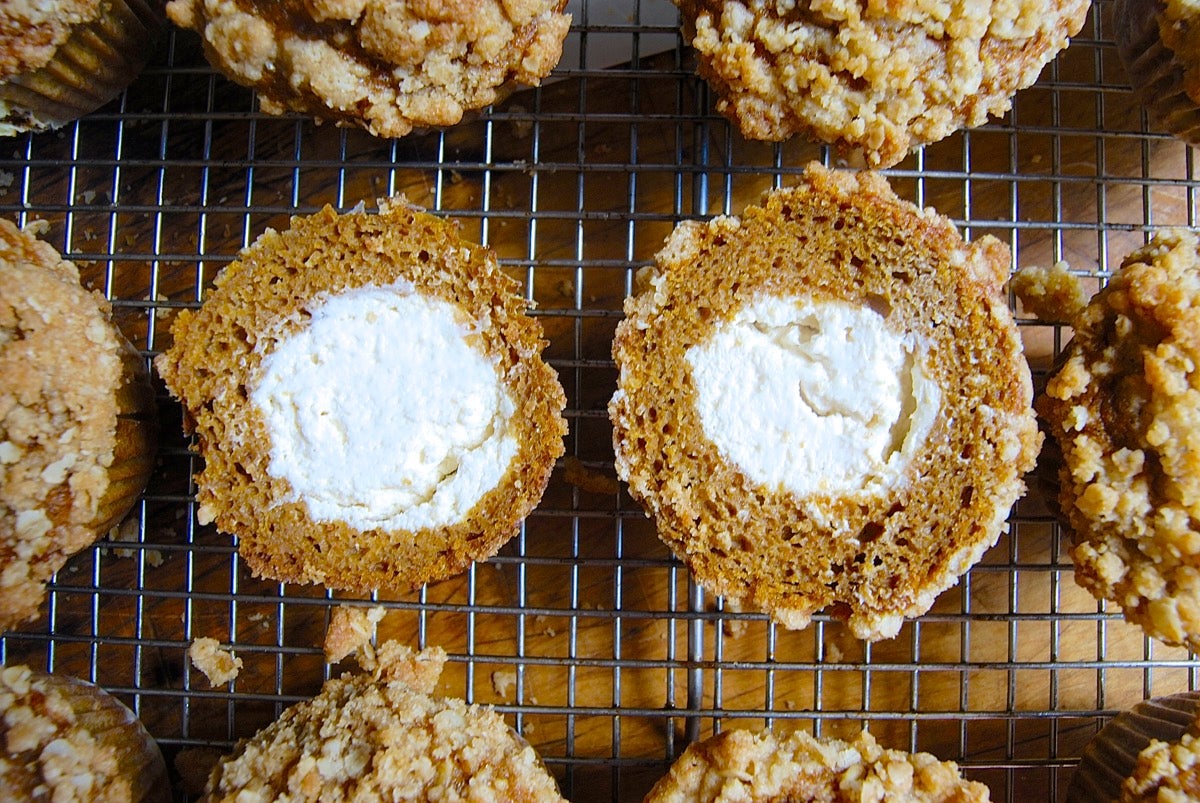 And how about inside? 100% whole wheat on the left, all-purpose flour on the right. Do you see a color difference? I don't. And I couldn't detect any flavor or texture difference, either.
If ever there was an easy way to introduce reluctant whole-grain eaters to the miracle of white whole wheat flour, these moist, tender, totally yummy Inside-Out Pumpkin Muffins are it!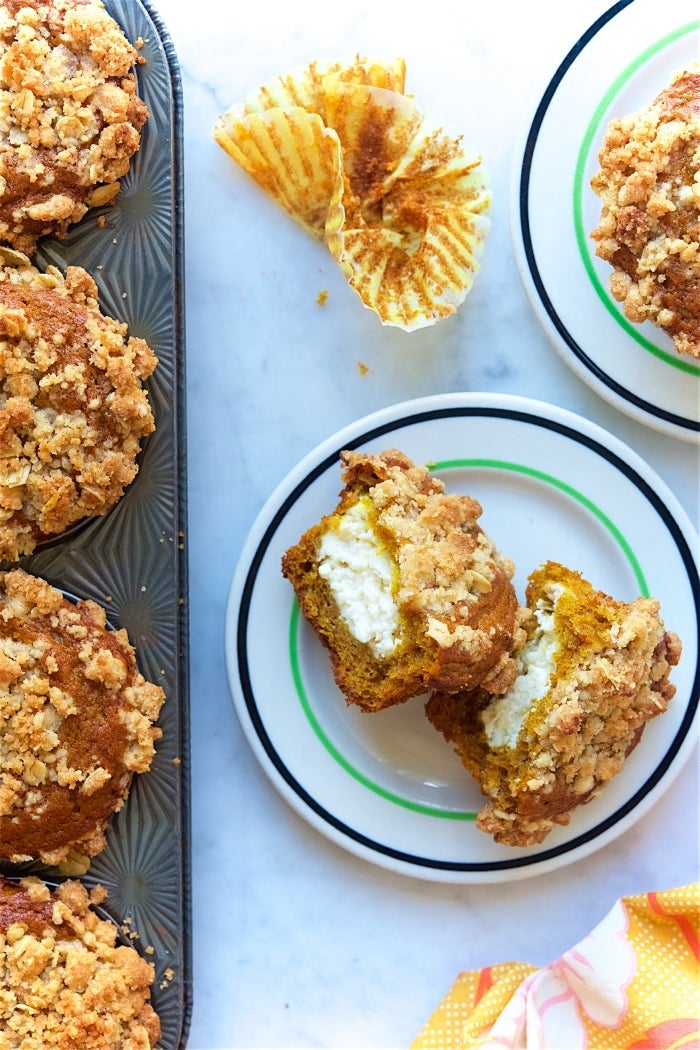 Inside-Out Pumpkin Muffin tips
For best release, use muffin papers, and spray them with nonstick vegetable oil spray before filling with batter. For more, see our blog post, How to use cupcake and muffin papers.
A tablespoon cookie scoop is your best friend here. Use a heaping scoop for the 2 tablespoons batter; a level scoop for the filling; and a slightly heaped scoop for the streusel topping.
Worried about your potholder damaging a fragile, just-baked muffin while you're pulling them out of the oven? For easiest handling, set the muffin pan on a baking sheet before putting both pans into the oven.
"Division by eyeballing" is a thing of the past when you use a scale. Weigh your batter: divide by 12, and that's how much batter you'll use for each muffin (half underneath the filling, half atop the filling). Ditto the filling and streusel. 
Baking gluten-free? Try this recipe using our new gluten-free Measure for Measure flour. Or make our Gluten-Free Pumpkin Muffins, adding filling and streusel topping (made with gluten-free flour); your yield may be more than 12 muffins.
These muffins are equally good made with all-purpose flour or King Arthur White Whole Wheat Flour. If you're looking to increase the fiber in your diet, try the whole wheat version.
Want to make this recipe dairy-free? Use non-dairy milk in the batter; coconut oil or margarine in the topping, and vegan (non-dairy) cream cheese in the filling.
Are you ready to make Inside-Out Pumpkin Muffins and join our Bakealong challenge?
Interested in more? See our complete collection of Bakealong recipes.
Jump to Comments