How to make s'mores waffles
The ultimate summer no-bake dessert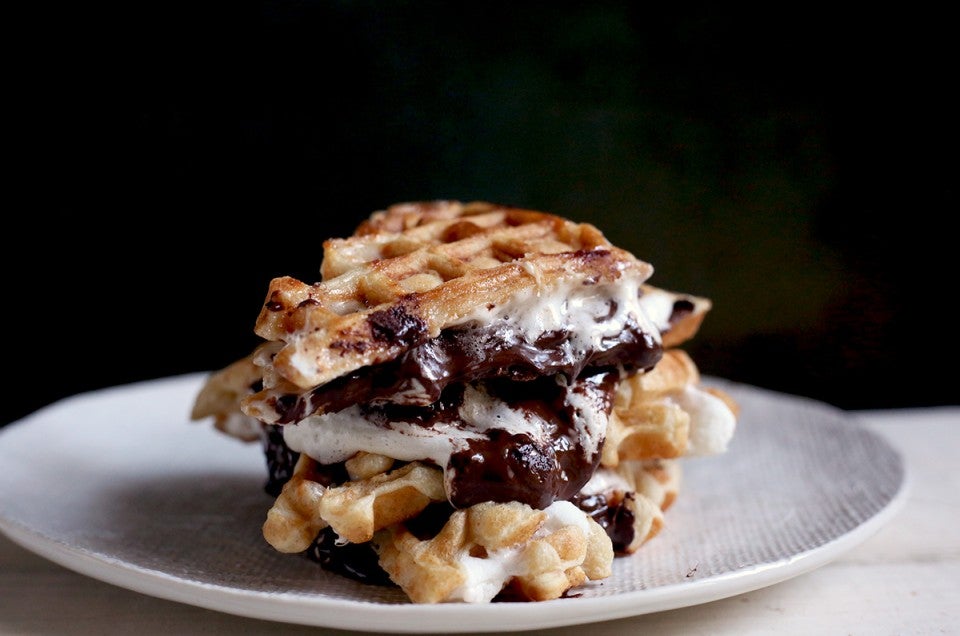 S'mores waffles are not likely part of your summer cooking roster. But they should be, and here's why: Summer isn't complete without s'mores. The taste of toasted marshmallow and rich, melted chocolate sandwiched between crisp graham crackers takes us back to smoky campfire nights and warm beach picnics.
But we don't find ourselves at a campfire every night. And outdoor s'mores can be a bit of a production, worthy more of a vacation week or camping trip than a nightly dessert.
And as the summer heats up, we're less and less inclined to turn on our ovens. That's where no-bake desserts come in. You can make all sorts of excellent summer treats without traditional baking: puddings, ice creams, pies, icebox cakes, and more.
But this summer's ultimate no-bake dessert is the s'mores waffle. Now hear us out: Technically, you could argue that using a waffle iron is a form of baking. Some of you might!
I would counter that waffles should be considered "no-bake" since you don't need an oven and they won't heat up your kitchen. But instead of arguing, let's all sit down and toast some marshmallows, OK?
I'll show you how to make two versions of s'mores waffles, which are perfect for summertime. But don't stop there: waffles are an excellent base for all sorts of toppings. Turn them into an ice cream sundae, top them with whipped cream and fresh fruit, or layer them with chocolate mousse. The possibilities for no-bake desserts are endless.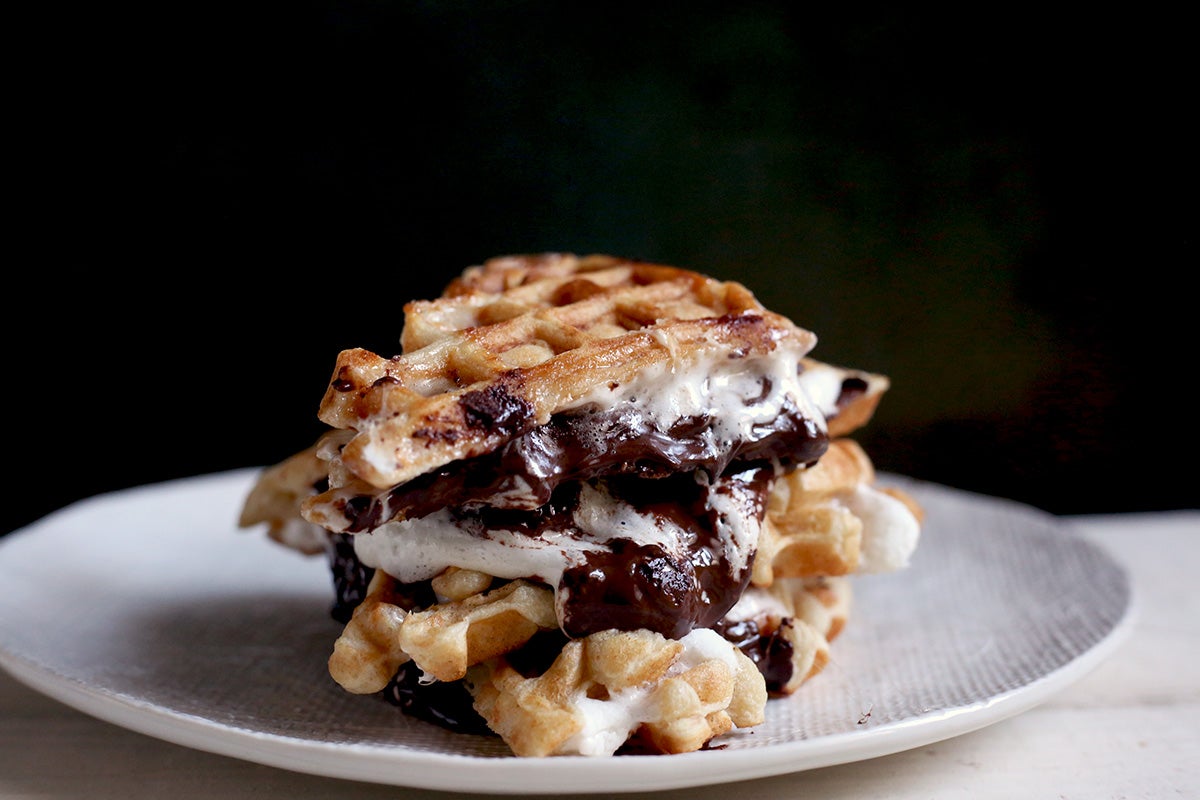 The classic s'mores waffle
To make this riff on a s'mores, start with our basic buttermilk waffle recipe (or use your favorite). Swap out 1/4 cup of the flour for 1/4 cup of finely crushed graham cracker crumbs. Optional: For a nice nutty crunch, I like to also add an additional handful of graham crackers, coarsely crushed instead of finely crushed, to the batter right before cooking.
Make the waffles according to the instructions accompanying your waffle iron. Once prepared, take two graham cracker waffles. Place one on the bottom of your waffle iron, top with a layer of marshmallows and then a layer of dark chocolate chunks, and then place a second waffle on top. Close the iron and cook until the marshmallows just begin to melt.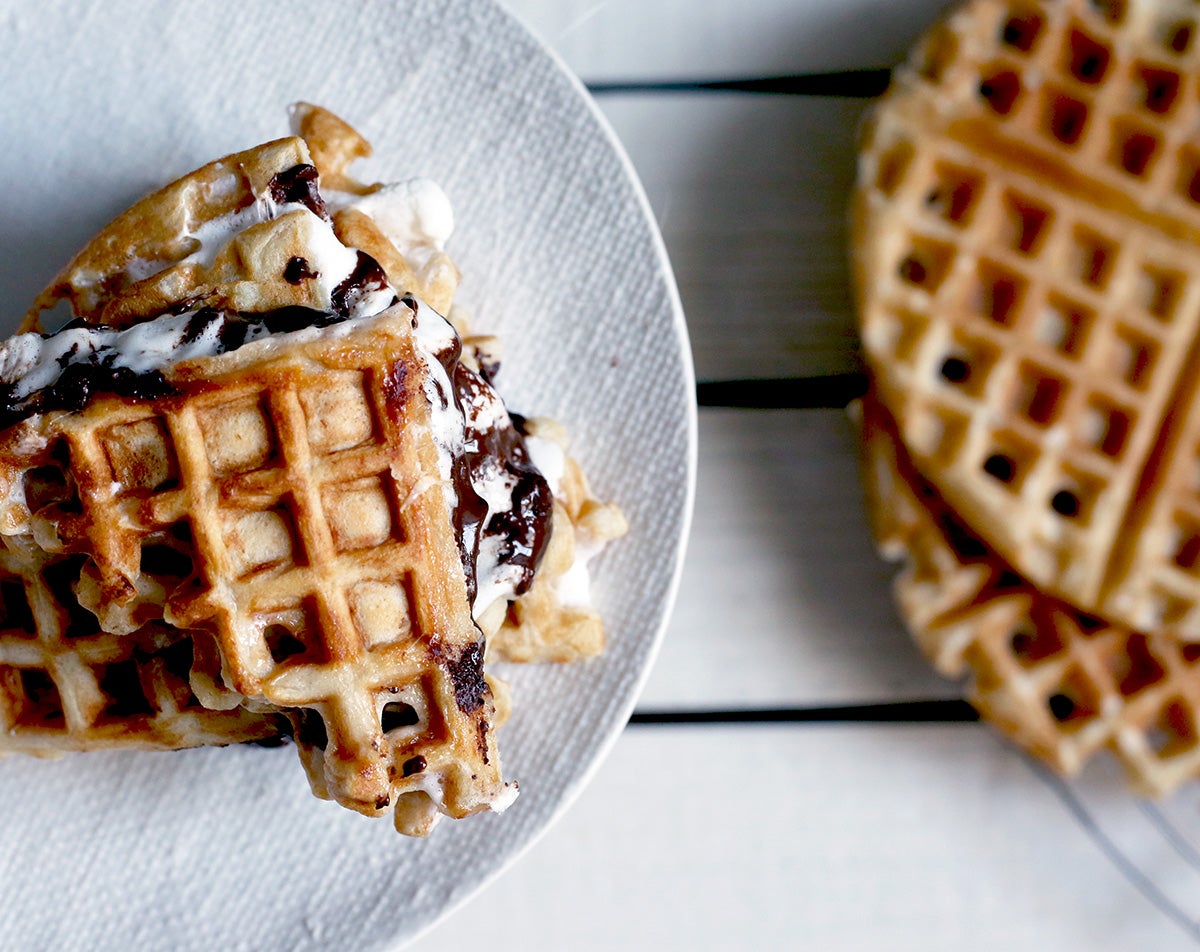 Baker's Tip: To avoid getting marshmallow and chocolate all over your waffle iron, place a parchment paper round underneath the first waffle and on top of the second waffle before closing the iron. Our 9" parchment rounds work beautifully for this.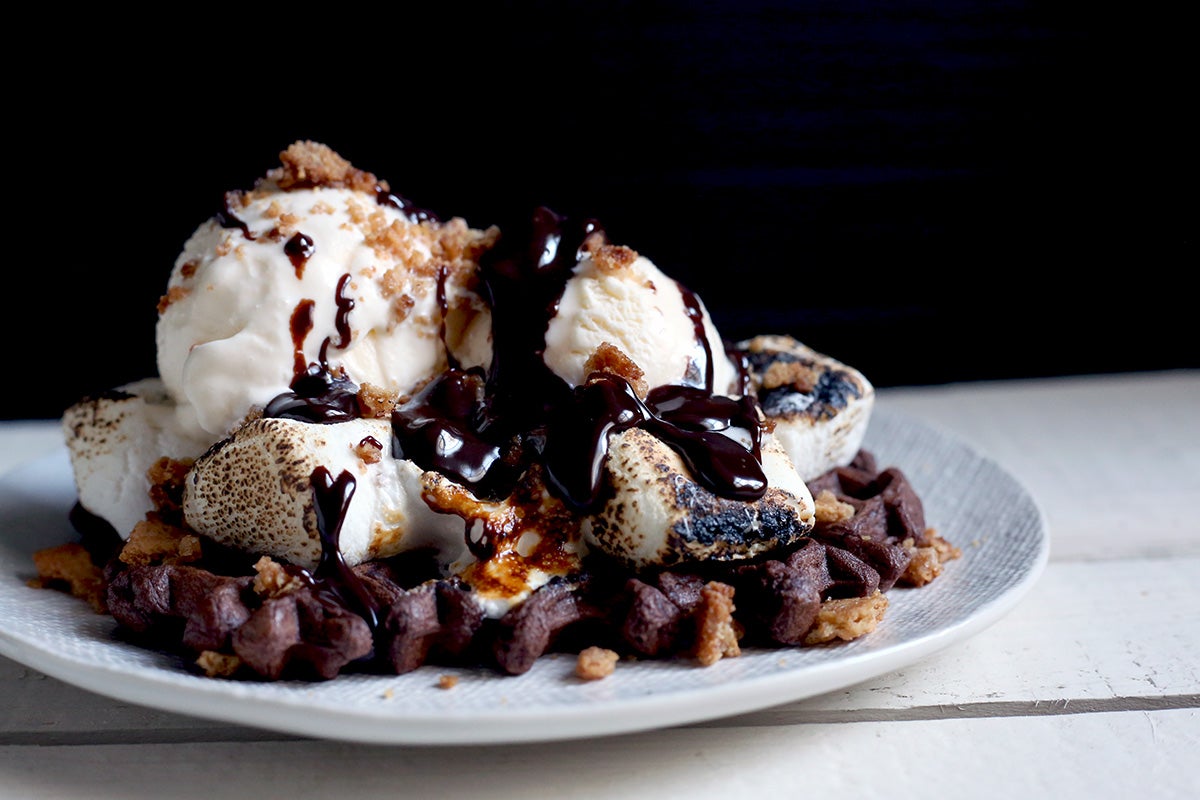 The s'mores waffle sundae
For those of you looking to take things up a notch this summer, here's your chance. This decadent (dare we say excessive?) dessert starts with our fudge waffle recipe as the base.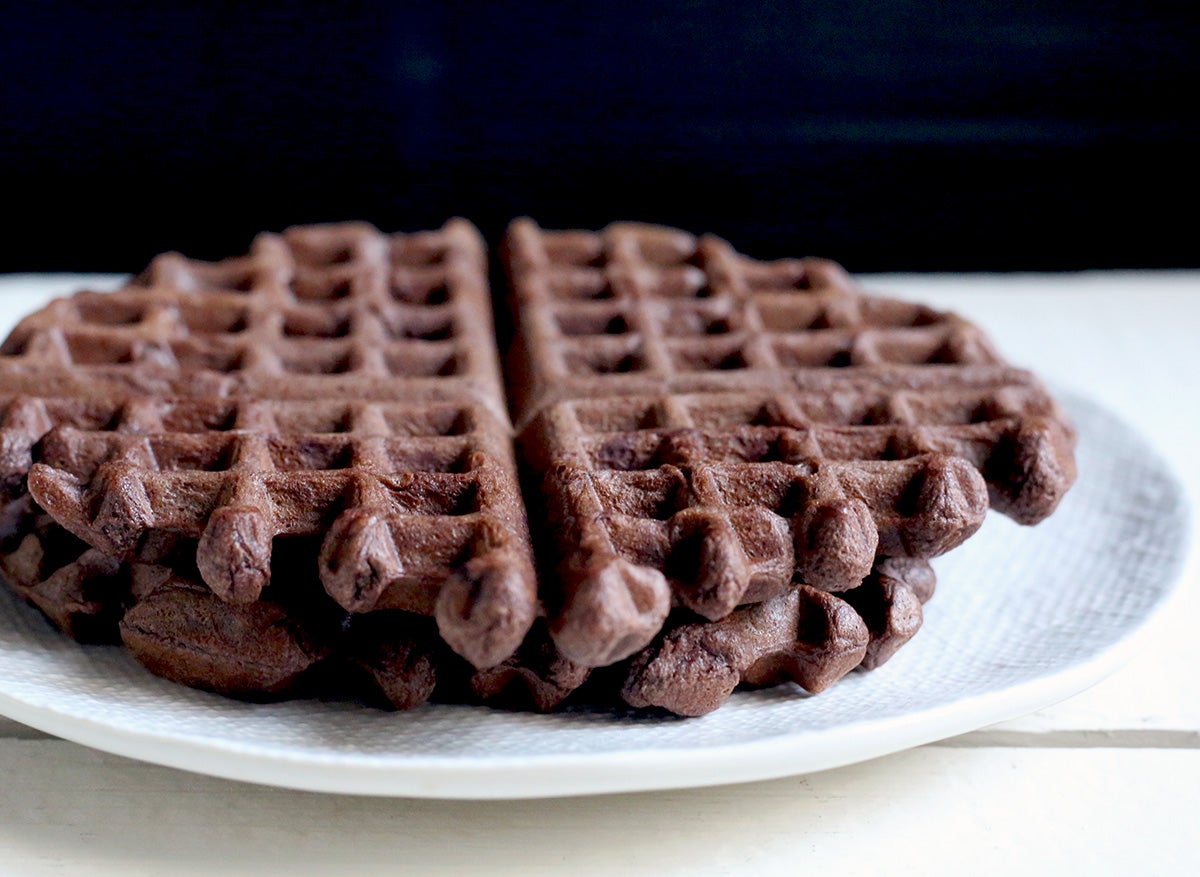 Once you've made your waffles, set them aside.
Next, make a quick graham cracker streusel. You'll need:
1 cup coarsely crushed graham crackers
2 tablespoons butter
pinch of salt
2 tablespoons sugar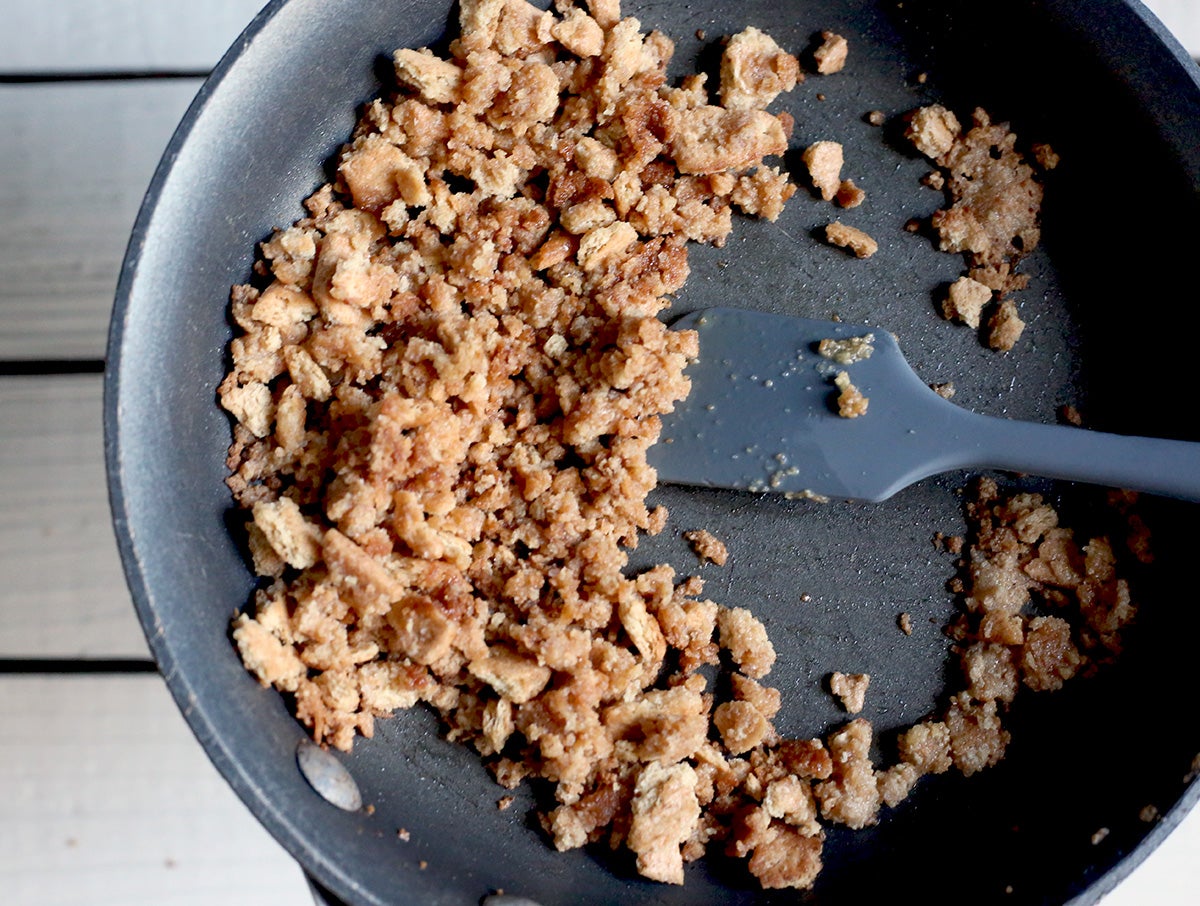 Combine all the ingredients in a small pan and cook, stirring to combine, over medium heat. Cook for about 3 minutes, or until the butter melts and begins to smell nutty and fragrant. Let the streusel cool (it will get crisp).
Place one fudge waffle on a baking sheet. Top with a handful of marshmallows (bonus points for making your own with this easy recipe), and toast them. You can either pop them under the broiler until they begin to brown (watch them carefully!), or use a small kitchen torch if you have one.
Transfer the toasted marshmallow-topped waffle to a plate, top with a scoop (or two!) of vanilla ice cream, and a handful of the graham cracker streusel. Drizzle with chocolate sauce. Serve, enjoy, and don't be afraid to get messy!
If you're looking to avoid your oven a little longer, check out these other no-bake treats: No-Bake Fresh Strawberry Pie, Irish Whiskey Cheesecake, and No-Bake Peanut Butter-Chocolate Squares. 
Jump to Comments