There's something about summer in Vermont that just puts my mind at ease. Everything from the warm weather, to the lush greenery, to the abundance of farm-fresh produce makes it a magical time of year.
Since we have a fairly short growing season compared to other parts of the country, when summer hits we take full advantage. In particular, we treasure the fresh berries. Our strawberry season often lasts only a few weeks (luckily blueberries linger longer), so as soon as they hit the stands, we dive into the kitchen and start whipping up as many berry-themed recipes as we can think of.
Today we've got a really fun summer dessert that uses fresh blueberries and our gluten-free pie crust recipe to make the cutest little hand pies. These gluten-free blueberry hand pies are actually a cinch to whip up and they taste incredible. Their sweet blueberry filling is surrounded by two layers of flaky, buttery pie crust, then topped with a sprinkling of sugar.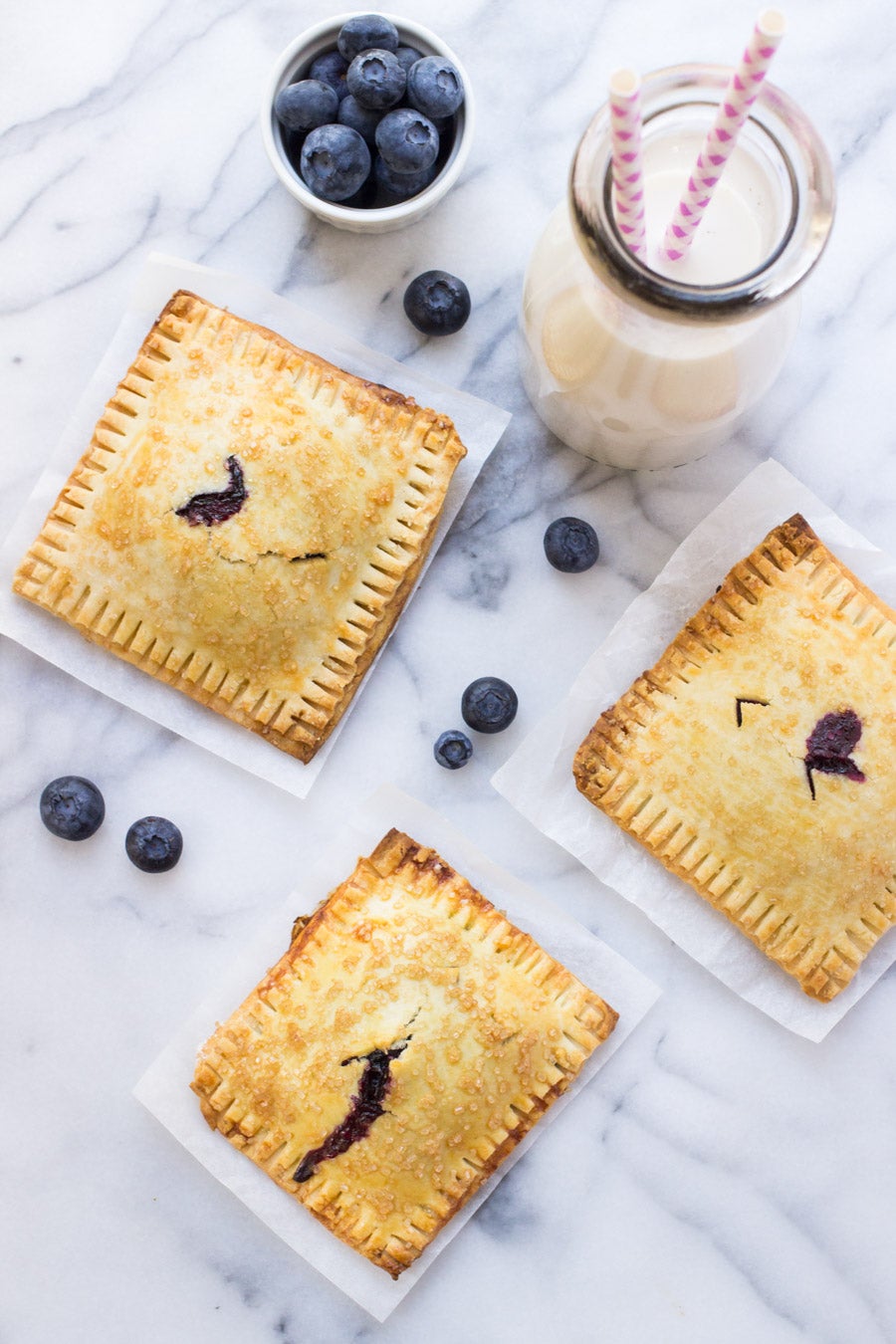 They're great for any summer occasion, but we love having these blueberry hand pies for a lazy weekend breakfast or as the dessert option at a BBQ. They freeze well, so you could actually keep them on hand for a quick grab-and-go weekday breakfast as well. And last but not least, you can totally customize the filling however you like. Not feeling blueberry? Try strawberry, raspberry, peach, or even apricot!
Ready to see how to make these summery treats? Let's dive into the recipe!
The first thing we'll do is whip up a double batch of our gluten-free pie crust. We have a great step-by-step photo tutorial that shows you how to make it. You're going to divide the crust in half, wrap each half, and let the pastry chill in the fridge for at least an hour. While it's chilling you can start on your blueberry filling.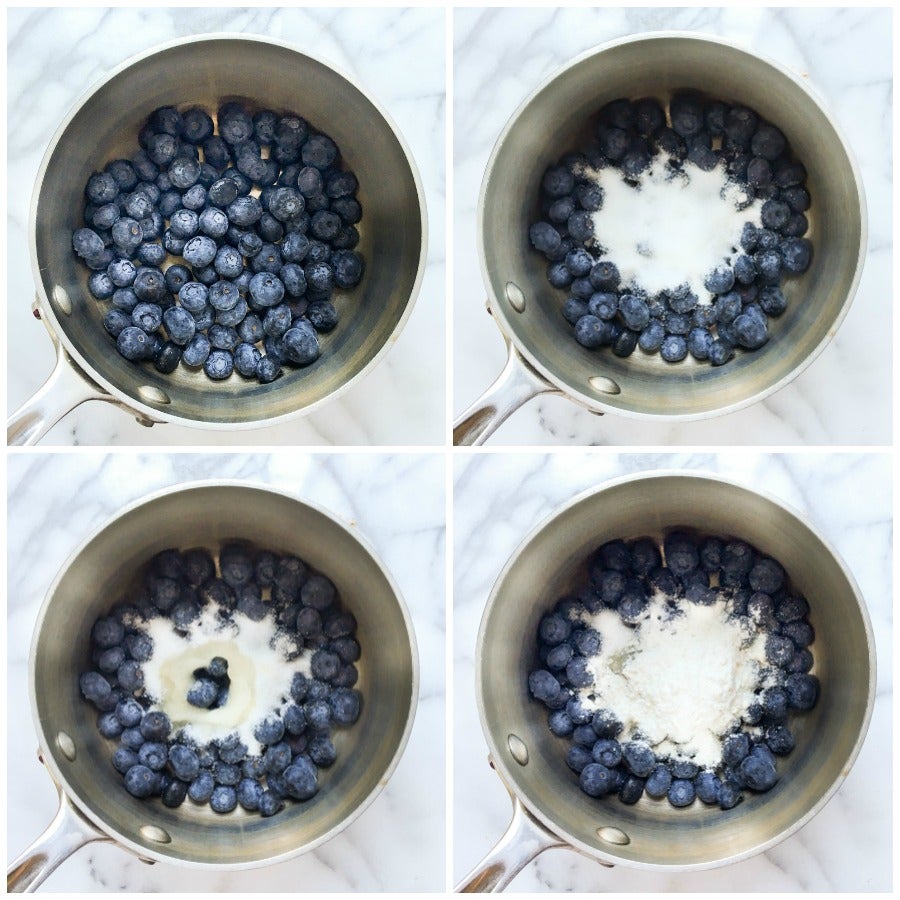 Set a small saucepan over medium heat and stir together the following:
2 1/2 cups blueberries, fresh or frozen
1/2 cup (99g) sugar
2 1/2 tablespoons (25g) gluten-free flour
pinch of salt
4 teaspoons lemon juice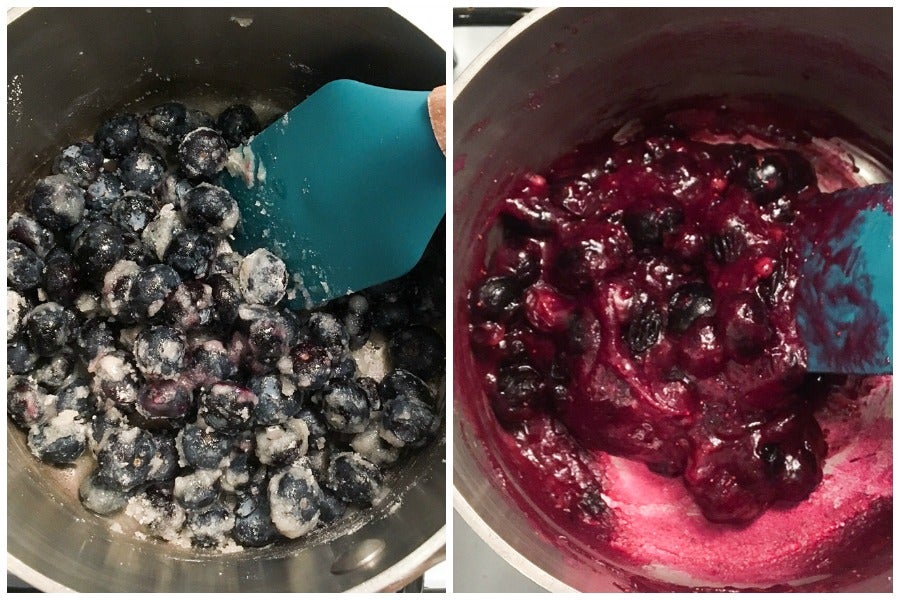 Cook the mixture until it starts to thicken, about 5 minutes. Then transfer the cooked berries to a bowl and let them cool to room temperature.
When you're ready to assemble your hand pies, preheat the oven to 425°F, placing a rack on the middle shelf. Line a baking sheet with parchment paper and set it aside.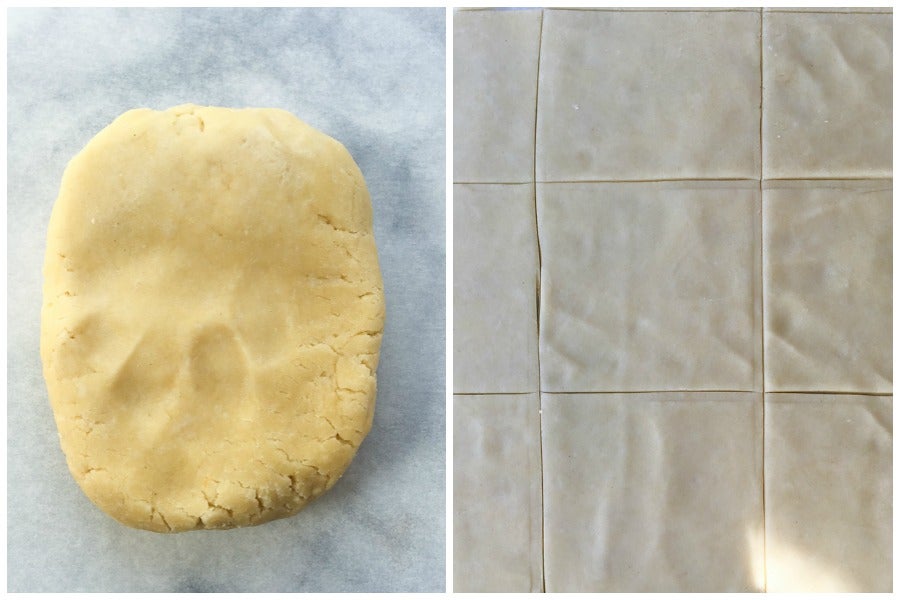 Roll each piece of dough into a 7" x 17 1/2" rectangle on a piece of plastic wrap, on a silicone rolling mat, or in a pie bag that's been heavily sprinkled with gluten-free flour or flour blend. With a straight edge and pastry wheel, or a 3 1/2" square cutter, cut out ten 3 1/2" squares from each piece.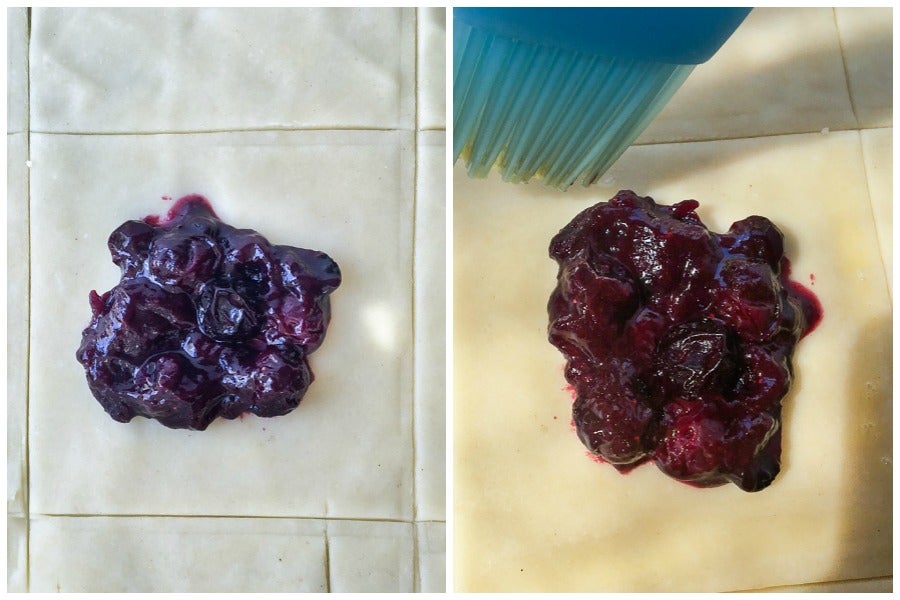 Divide the filling among 10 of the squares, using about a heaping tablespoon for each.
Whisk 1 egg and brush some of the beaten egg along the edges of each filled square.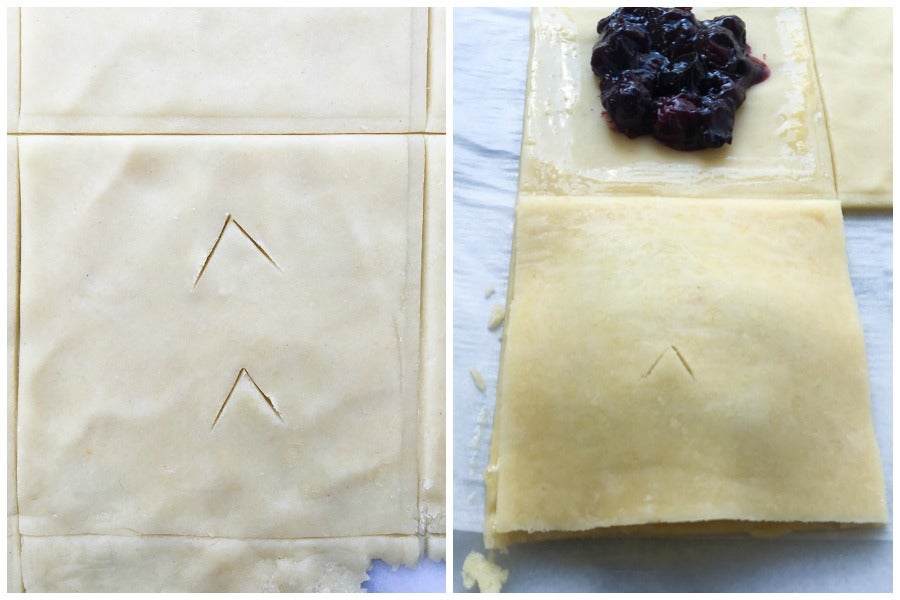 Cut a vent in the center of the other 10 squares, using a decorative cutter if you like.
Top each filled square with a vented square, and press along the edges with the tines of a fork to seal.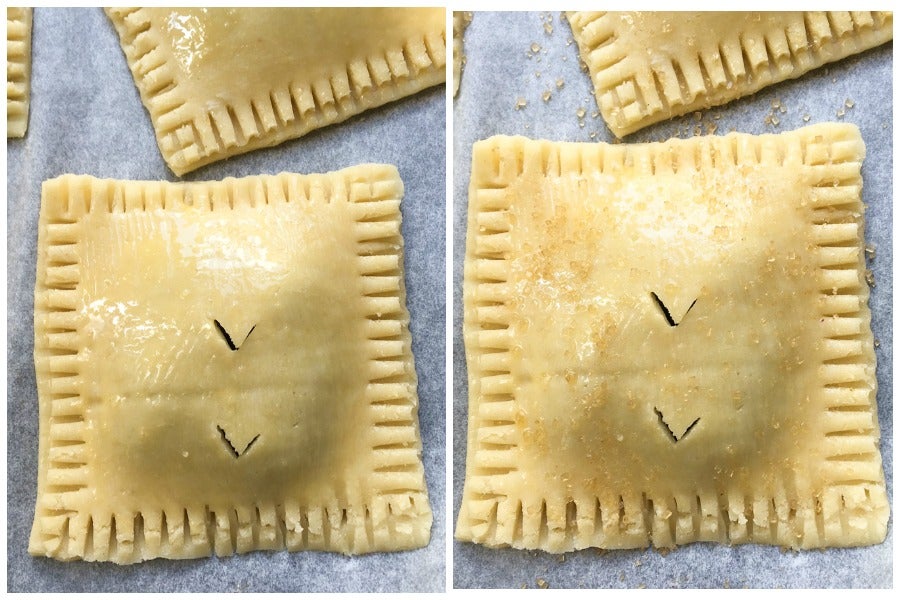 Brush the top of each pie with the remaining beaten egg, and sprinkle with sparkling sugar. Transfer the pies to the prepared baking sheet.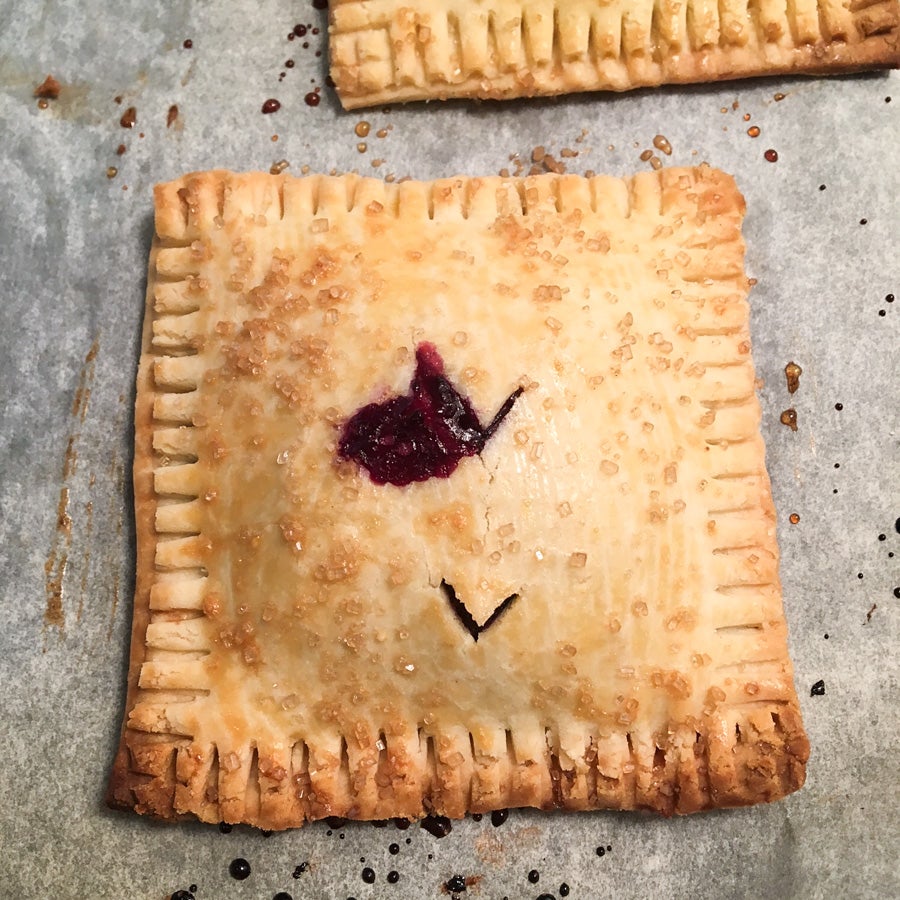 Bake the pies for 18 to 20 minutes. Remove them from the oven, and let cool for 20 minutes before serving.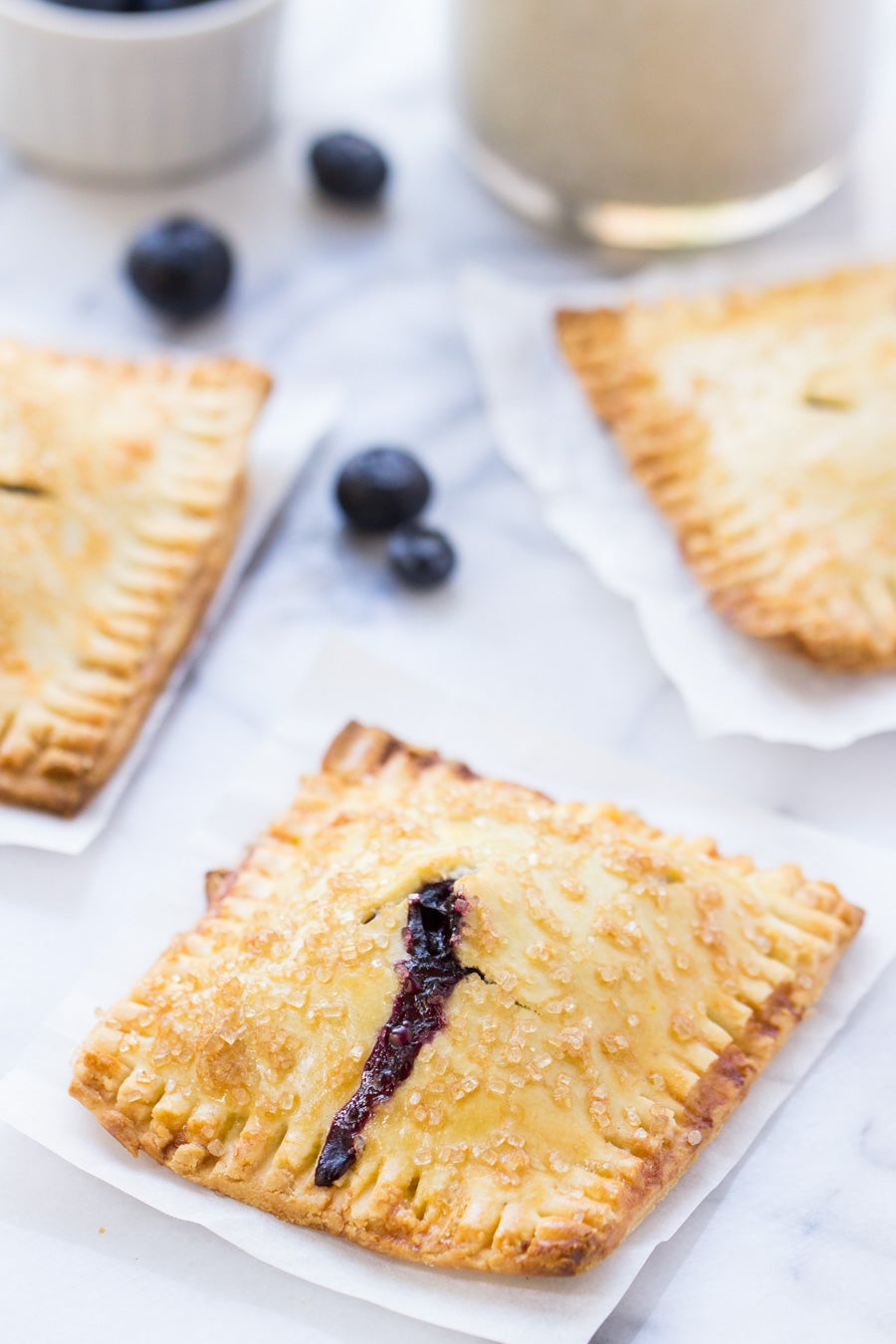 We hope you enjoy these hand pies. If you make them, we'd love to hear what you think!
Read, bake, and review (please) our recipe for our Gluten-Free Blueberry Hand Pies.
Jump to Comments