Pound cake is a hard cake not to love. Moist, tender, and rich, every bite is dense and decadent. Redolent of butter, sugar, and vanilla, it tastes like a simple, classic yellow layer cake, but somehow more so, as if you condensed the cake's flavor and multiplied it tenfold.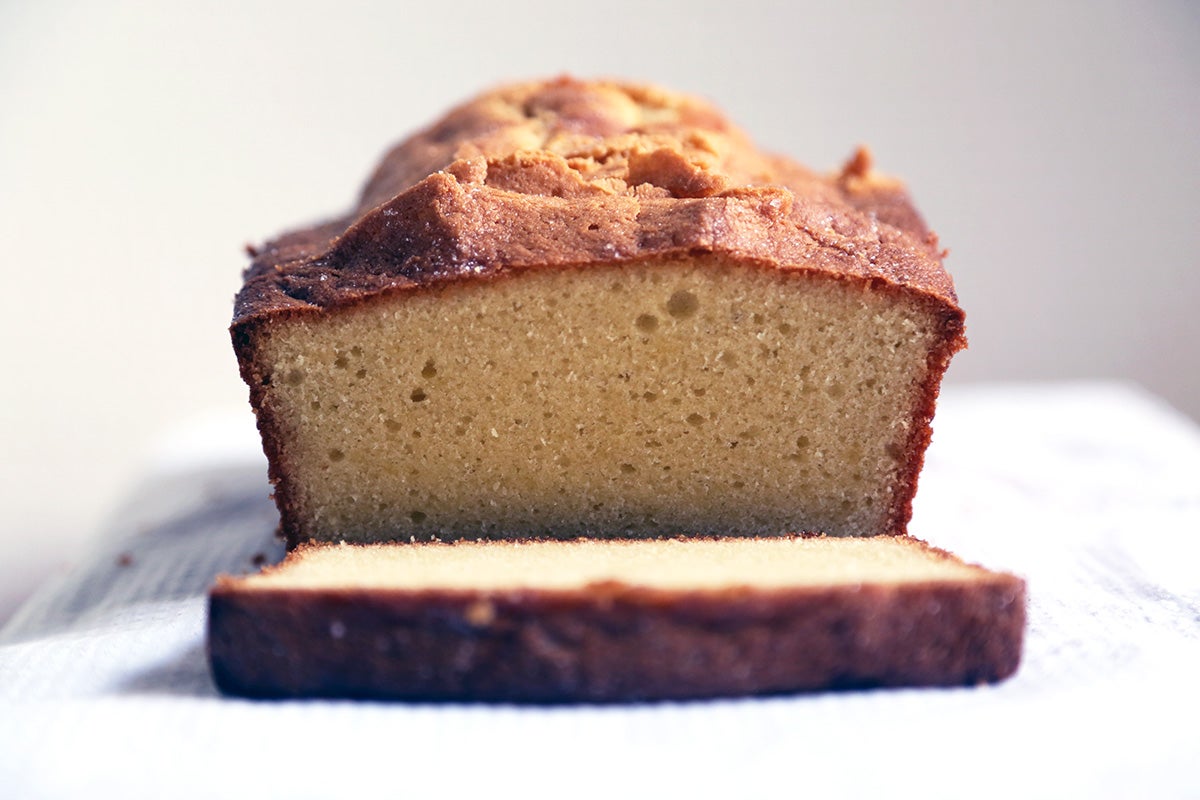 Happily, pound cake is exceptionally easy to bake and nearly foolproof. Since a successful pound cake needs to be neither airy nor delicate, it's hard to mess up the batter. Named for the traditional proportions of ingredients – a pound of butter + a pound of flour + a pound of sugar + a pound of eggs – modern pound cakes riff a bit on the historical formula.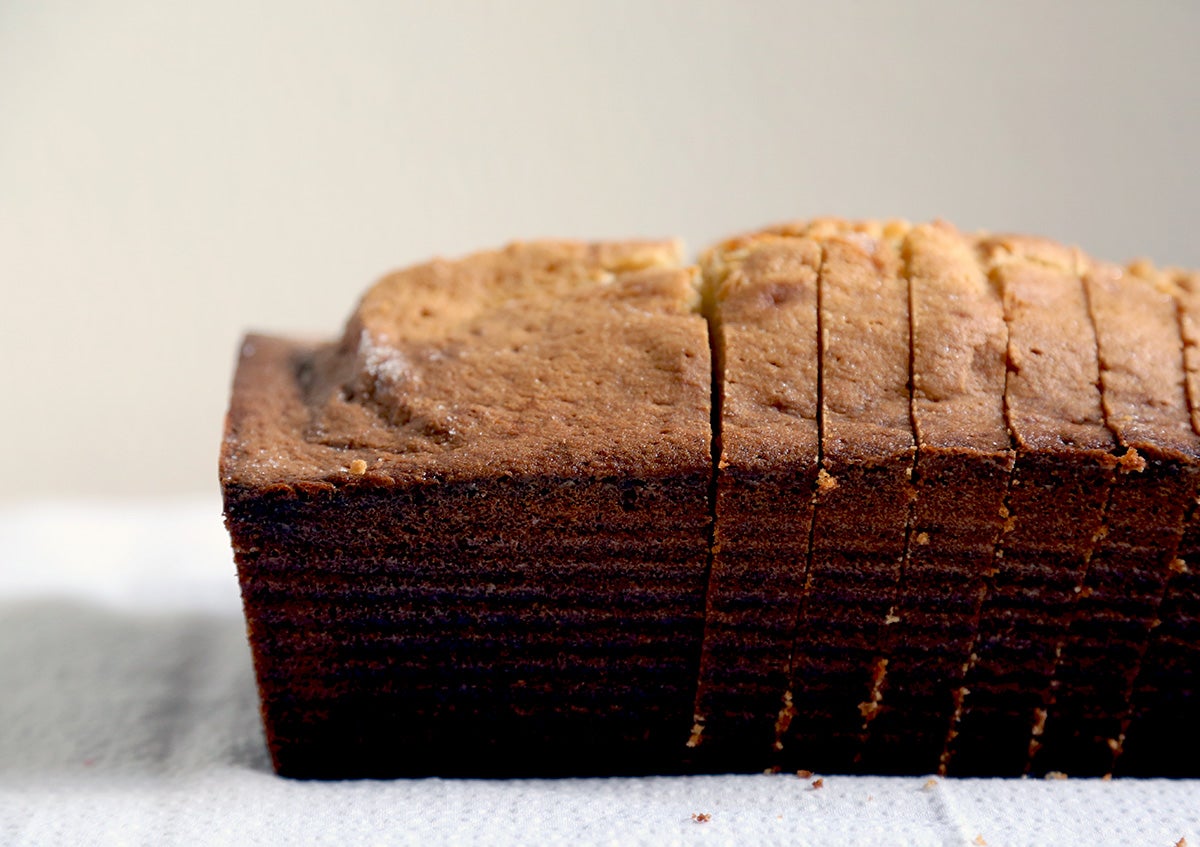 One of our readers' best-loved versions is our Golden Vanilla Pound Cake recipe, which relies on a bit of cream cheese to give the batter a tangy richness. A crunchy sugared crust sets this cake apart, too: You'll bake it for nearly an hour before removing it from the oven, brushing on a mixture of water, sugar, and vanilla extract, then baking it for 20 more minutes.
Before you bake, keep these tips in mind.
Pound cake tips
Be sure to use a large enough pan! Unless the recipe calls for this specific size, a standard loaf pan (8 1/2" x 4 1/2") is too small. You need a medium loaf pan (9" x 5" x 2 3/4") or a tea loaf pan (12" x 4" x 2 1/2"). You can also use a tube pan or a bundt pan.
Beat thoroughly between the addition of each egg. The batter might look a little curdled, but persevere. You want each egg to be well-incorporated before adding more liquid, so beat for at least 30 seconds to 1 minute after each egg.
Place the cake pan on a baking sheet for baking. It's slightly messy to brush (or pour) the vanilla syrup over the warm cake at the end of the recipe, so it's smart to place the cake pan on a sheet to catch any drips.
This cake is very good plain. Dangerously good, I might say. For instance, if you were to offer me a slice that you had stashed in your freezer, I would certainly not say no. And I'd eat it standing up in the kitchen with my fingers, with complete disregard for the crumbs I'd drop on your floor. But that's neither here nor there.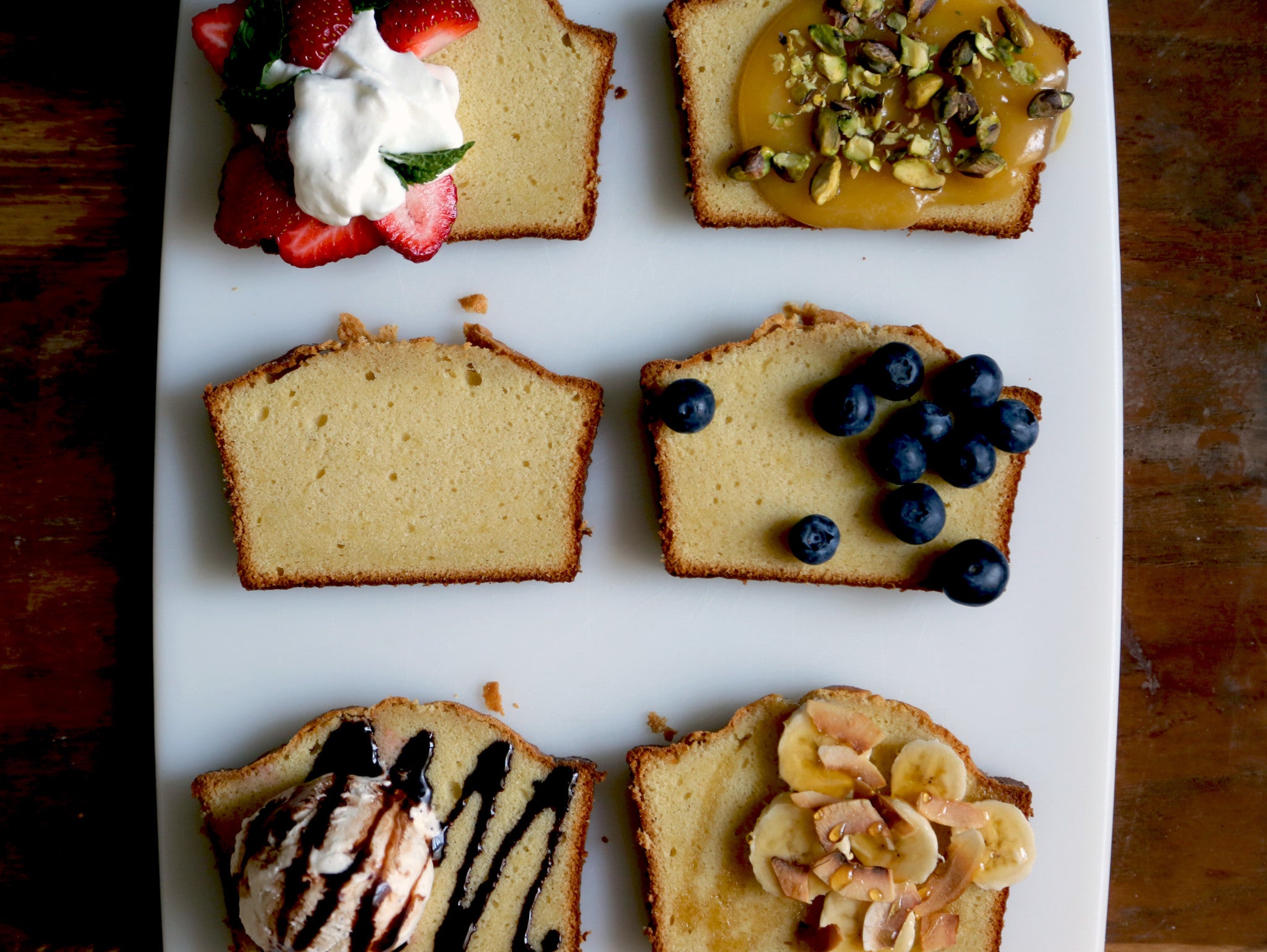 So you can enjoy it as is, but I think the real beauty of a pound cake lies in its versatility. You can dress up a pound cake in so many ways. It's easy to make ahead and keeps well, making it an ideal dinner party dessert option. Bake the cake a few days ahead and wrap it in plastic wrap. When you're ready to serve, place individual slices on plates and try one (or more!) of our excellent ideas for toppings.
Basic pound cake toppings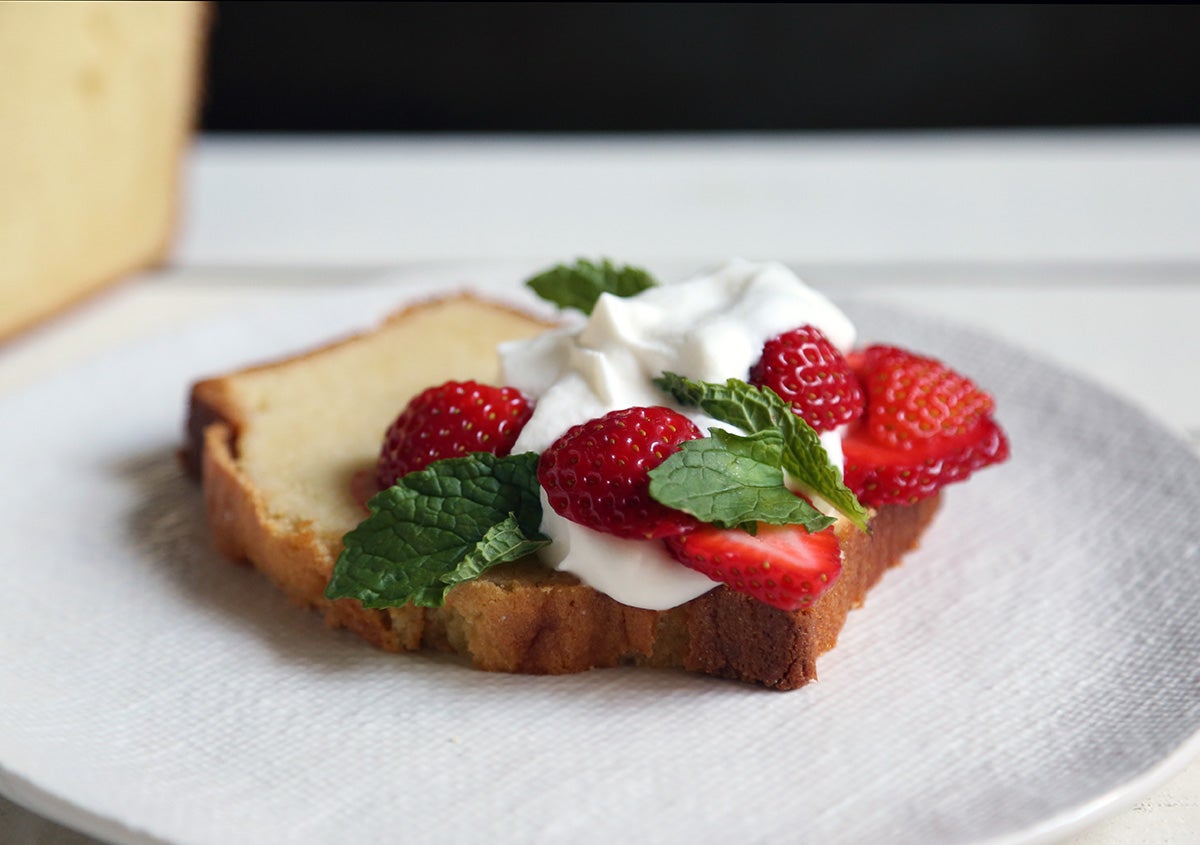 1. Fresh strawberries + whipped cream + torn mint leaves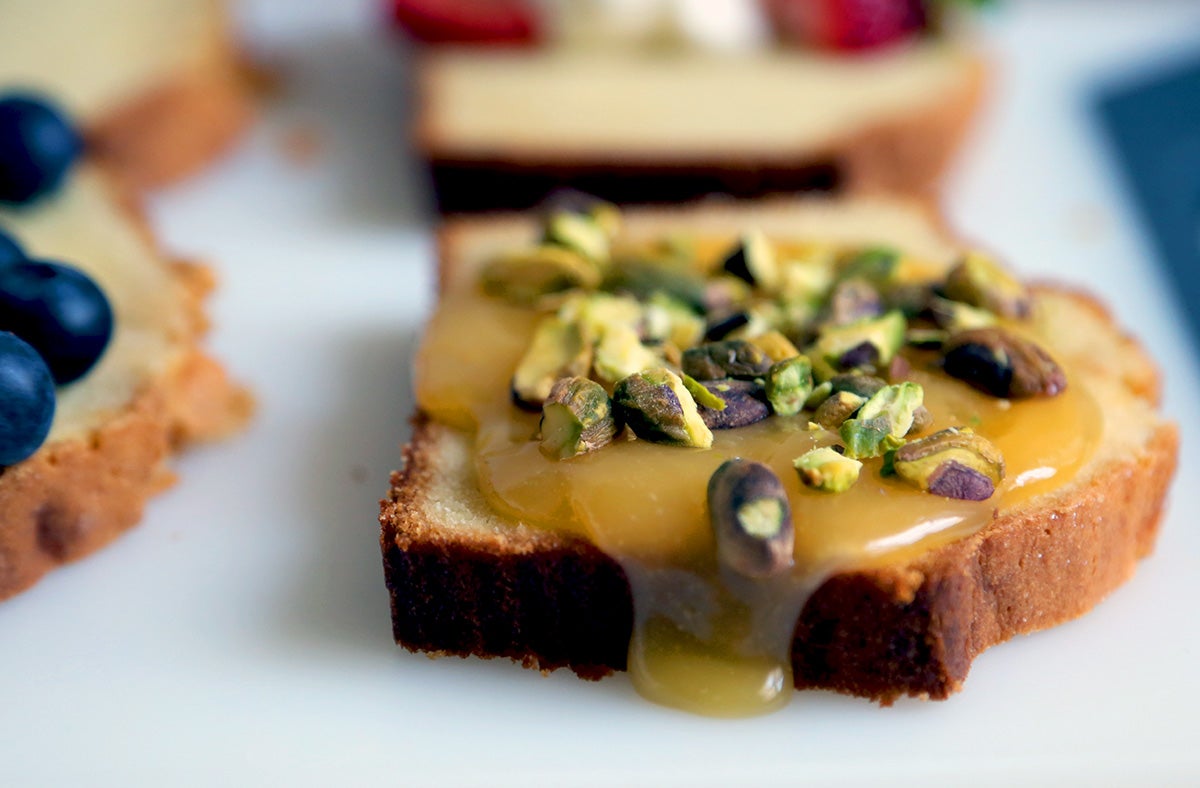 2. Lemon curd + chopped toasted pistachios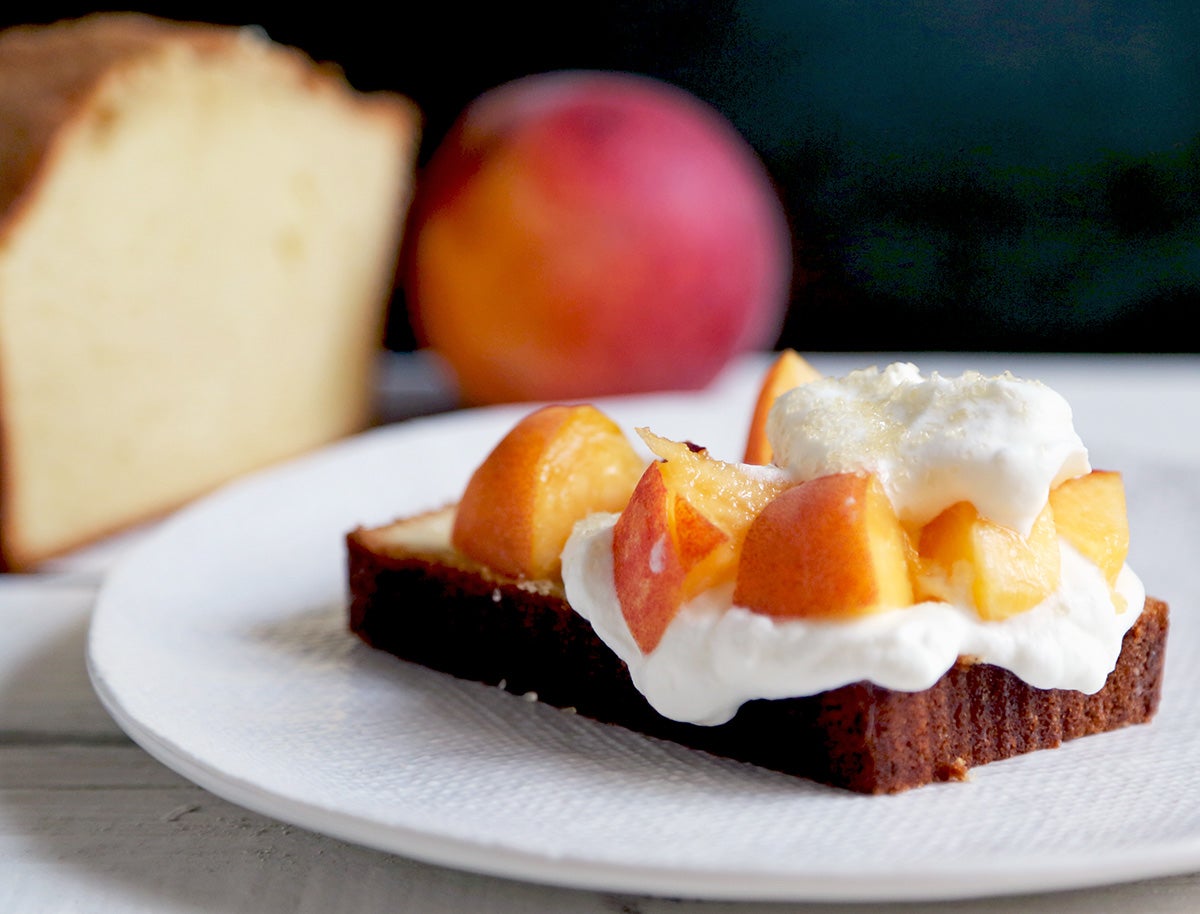 3. Chopped peaches + whipped cream + Demerara sugar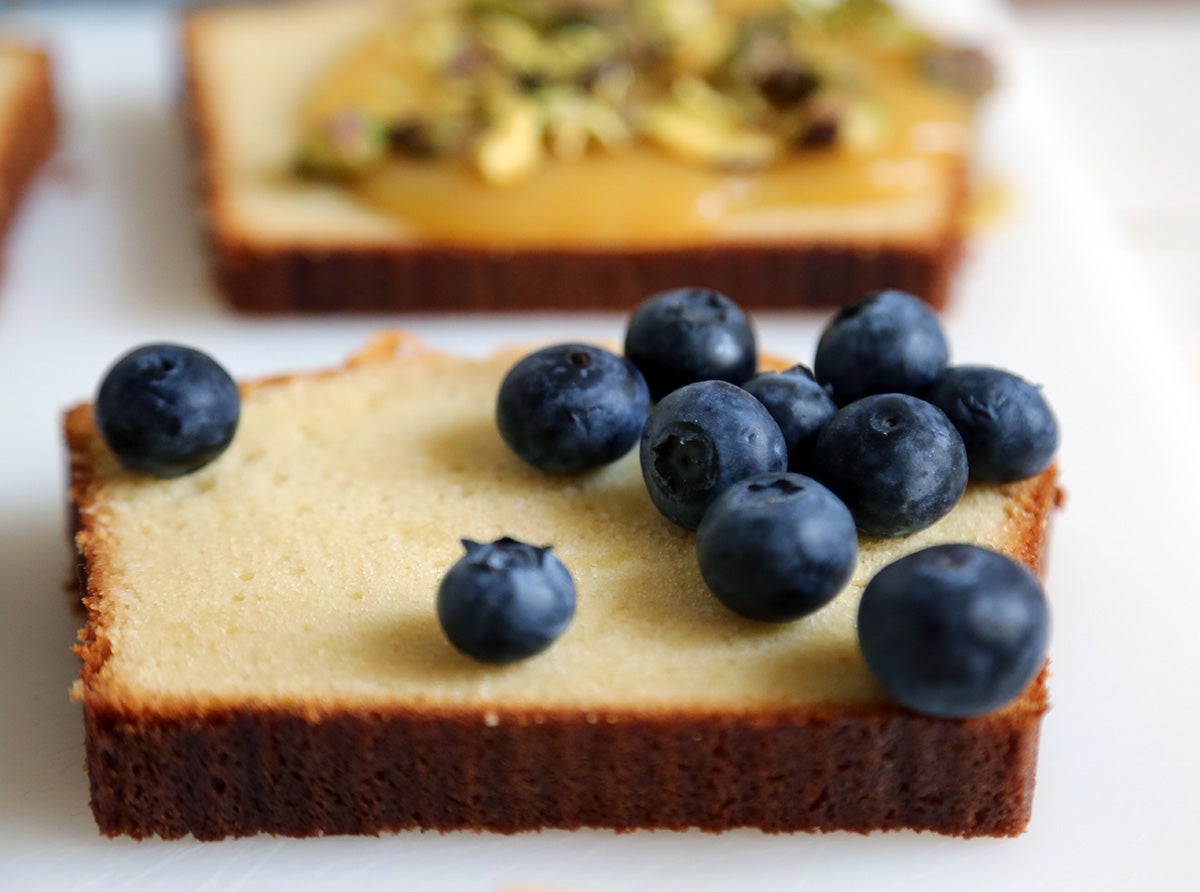 4. Fresh blueberries + simple syrup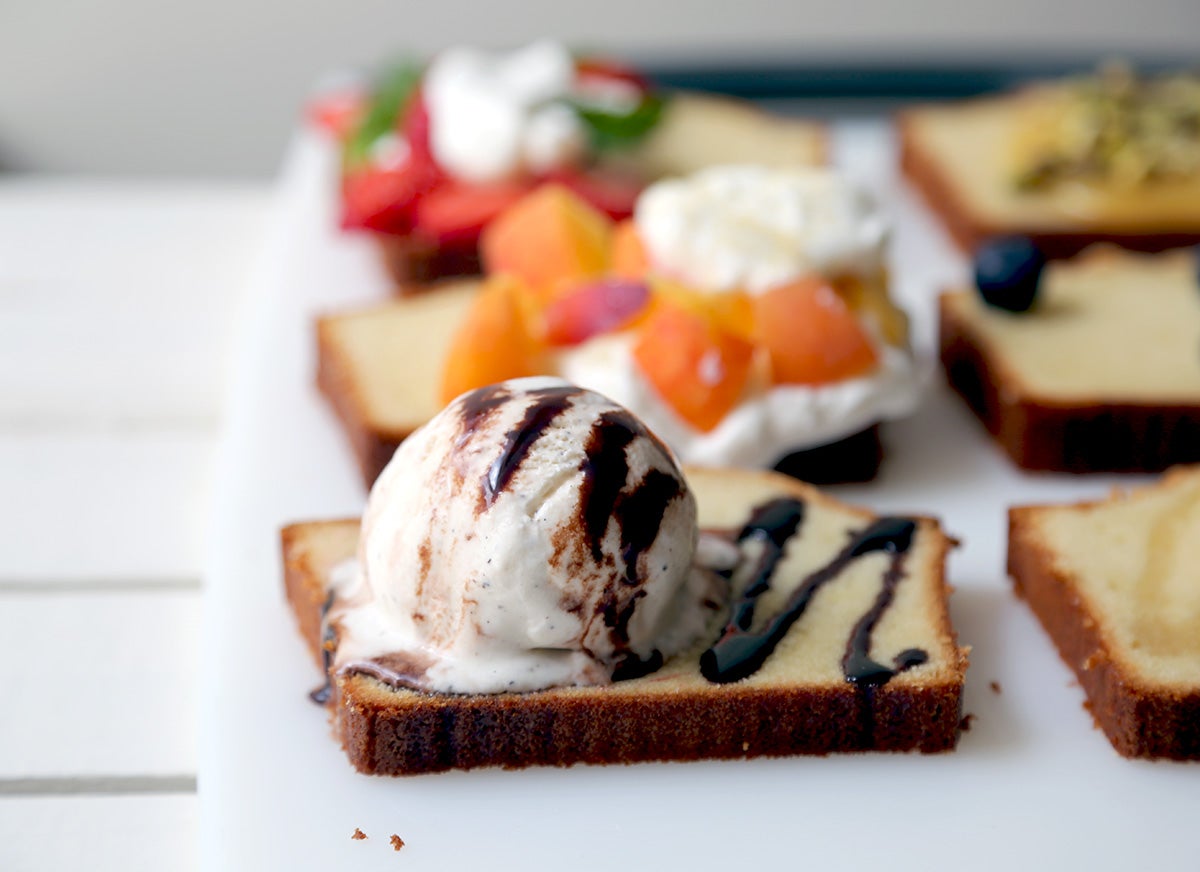 5. A scoop of vanilla ice cream + chocolate sauce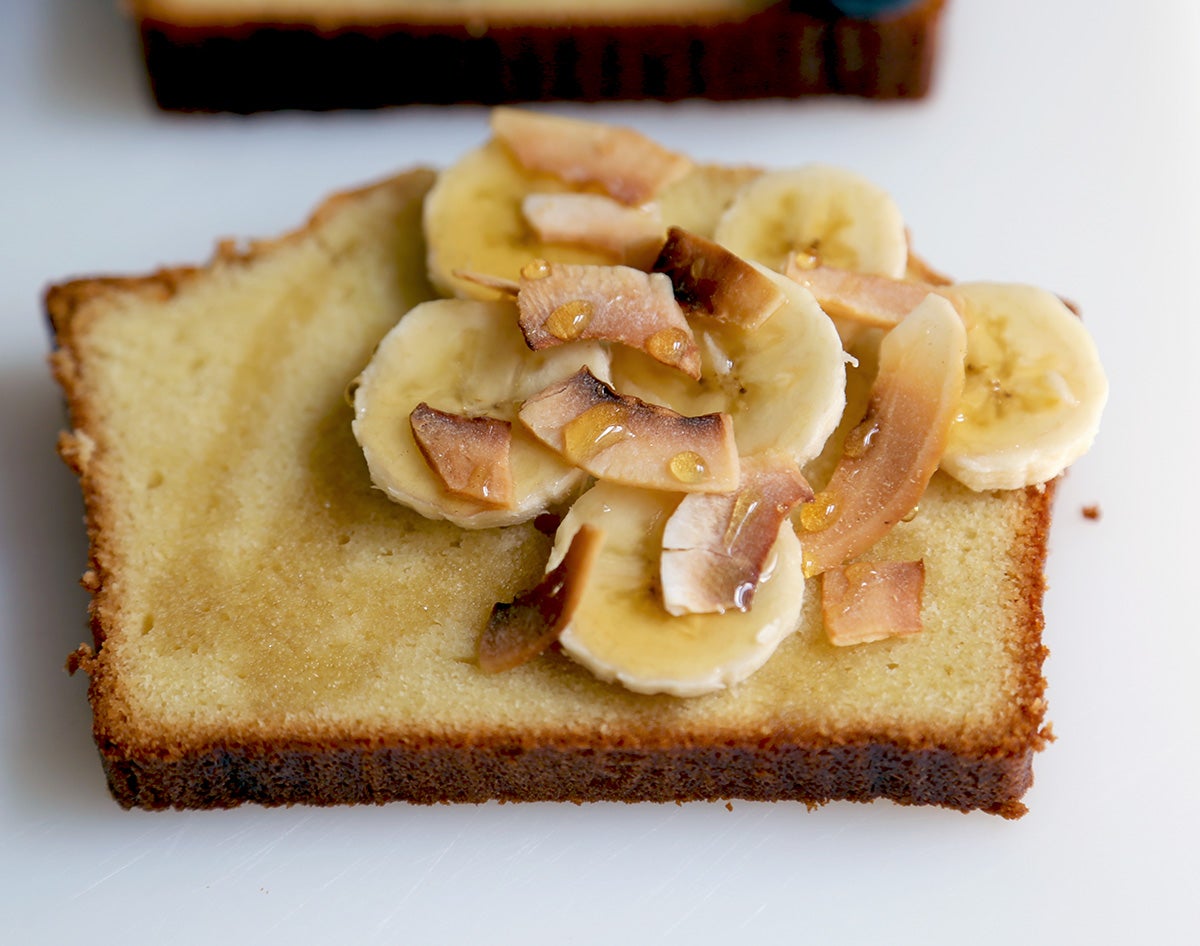 6. Sliced bananas + toasted coconut + honey
And don't stop there! Use your favorite flavors as a starting point. Think about balancing sweetness with texture. Use nuts for crunch, and yogurt or whipped cream for creaminess. Add fruit or herbs for a bright, fresh contrast to the dense cake.
Creative pound cake toppings
Use your pound cake as a blank canvas!
Try a drizzle of tahini with cardamom and a handful of granola.
Make a quick streusel with oats, butter, flour, and brown sugar and top your cake with it and fresh raspberries.
Fold toasted pecans into a mixture of mascarpone cheese, lemon zest, and sweetened Greek yogurt, and spoon it over your cake.
Grill a slice of cake lightly, then grill some stone fruit, and top the cake with the grilled fruit and ice cream.
Make a perfect summer ice cream sandwich. Toast two thin slices of cake and sandwich a scoop of blackberry frozen yogurt in the middle.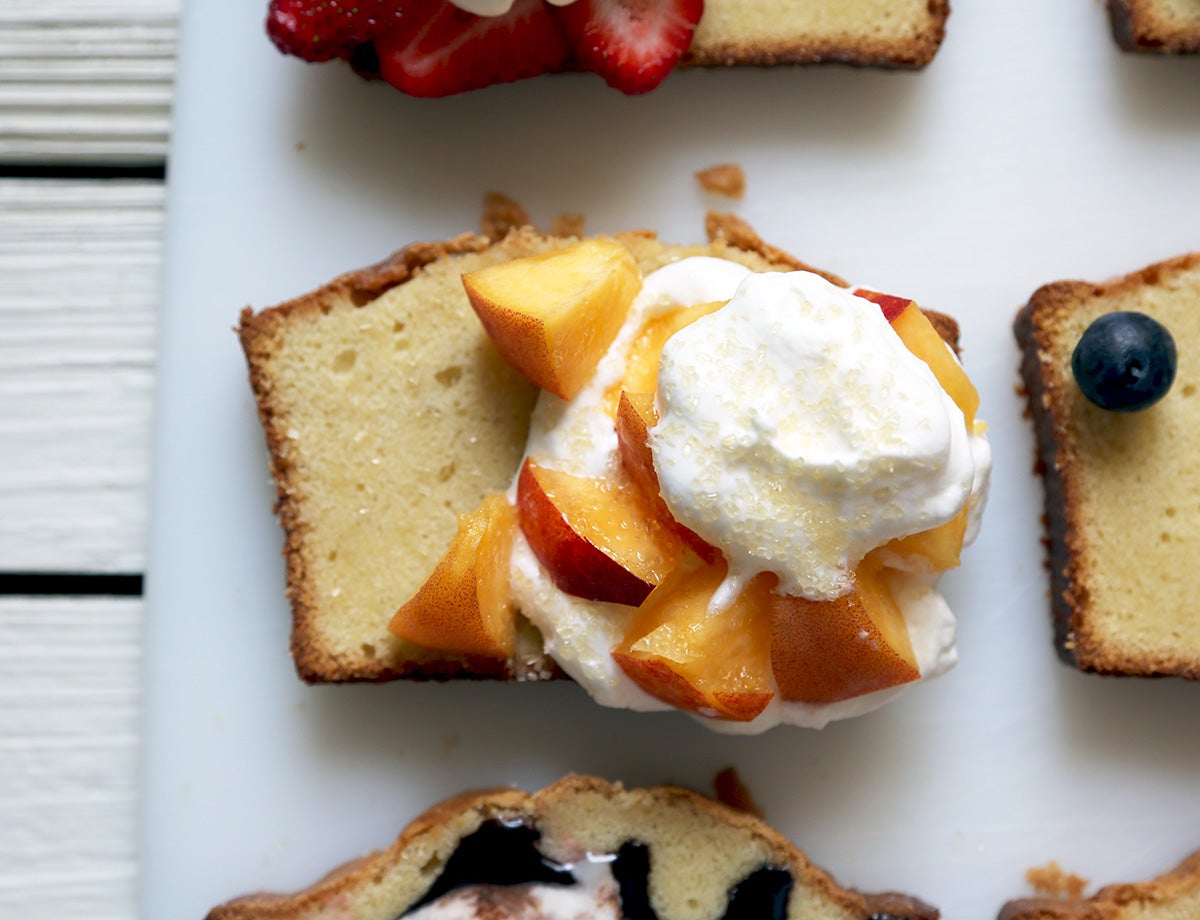 There's no end of delicious ways to enjoy pound cake, and we're always looking for more inspiration. We'd love to hear your ideas for dressing up pound cake! Let us know in the comments how you like to enjoy a slice.
Please bake, enjoy, and review our recipe for Golden Vanilla Pound Cake.
Jump to Comments