Gluten-Free Soft Pretzel Bites
Perfect for everyone in the crowd
Be honest. Are there certain foods that you think to yourself, "There's no way these could ever be made gluten-free and still taste good."
Of course; we all have. For many of us, it's easy to be skeptical of gluten-free baked goods because they're unfamiliar (and sometimes behave quite strangely as they're coming together in the baking process).
But it's in these moments of doubt that we put our heads together and come up with a way for you to enjoy the baked goods you love, regardless of whether you eat gluten or not.
And these gluten-free soft pretzel bites are a perfect example.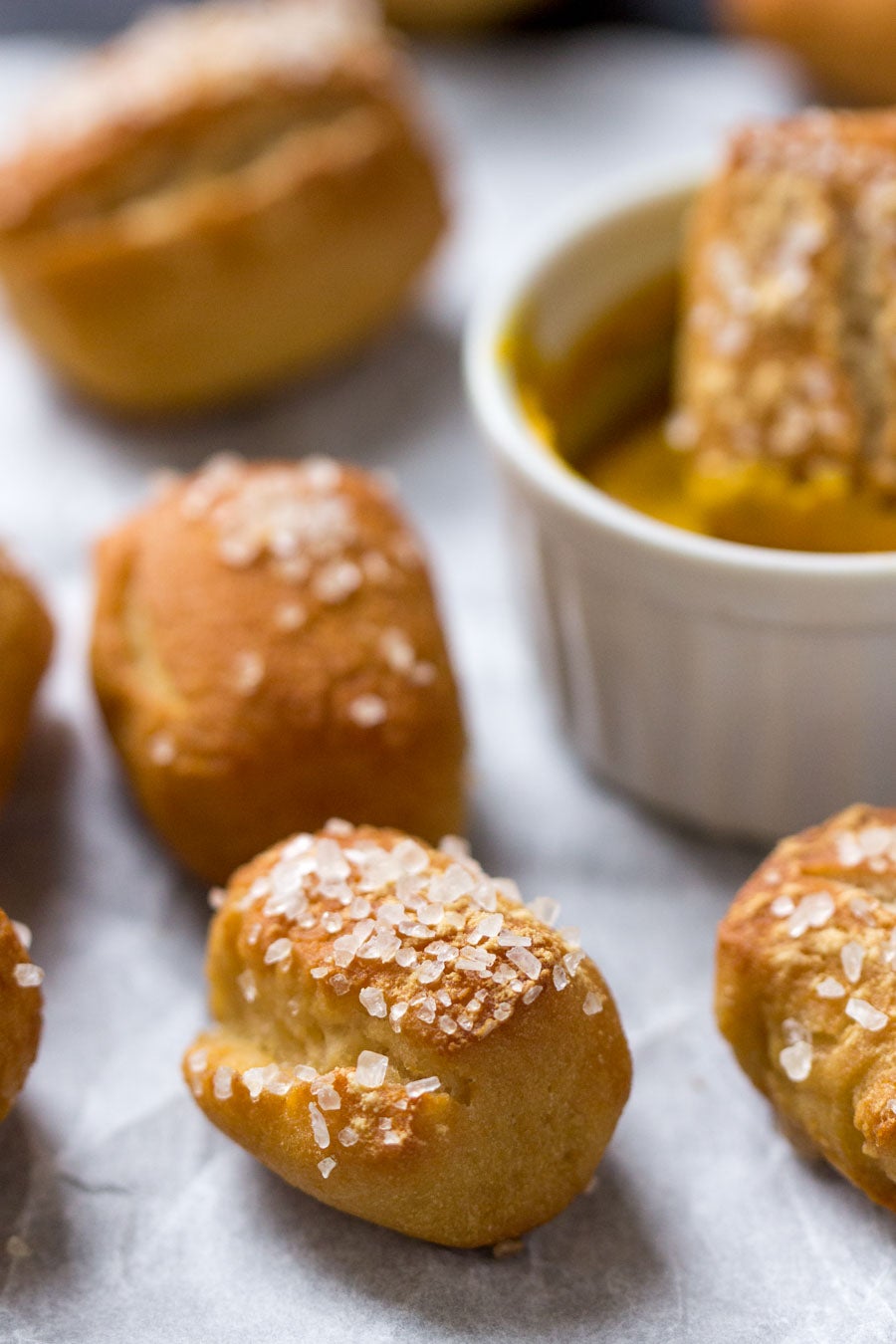 The traditional recipe uses gluten to produce a chewy texture and a soft crumb. And though it might seem impossible to recreate them, this recipe nails it. They're exactly like their gluten-full friends – AND we discovered they can also be easily made dairy-free as well.
Plus, they make a pretty awesome appetizer or snack, especially when you're lounging around at home or having friends over to watch a big game. Dunk one of these little bites into some mustard and you're golden.
And we'll let you in on a little secret: we actually start with our gluten-free soft pretzel recipe and just cut the dough into "bites" rather than twisting them into pretzels. We know you're just going to love how easy these pretzel bites are to make!
So... who's ready to dive in?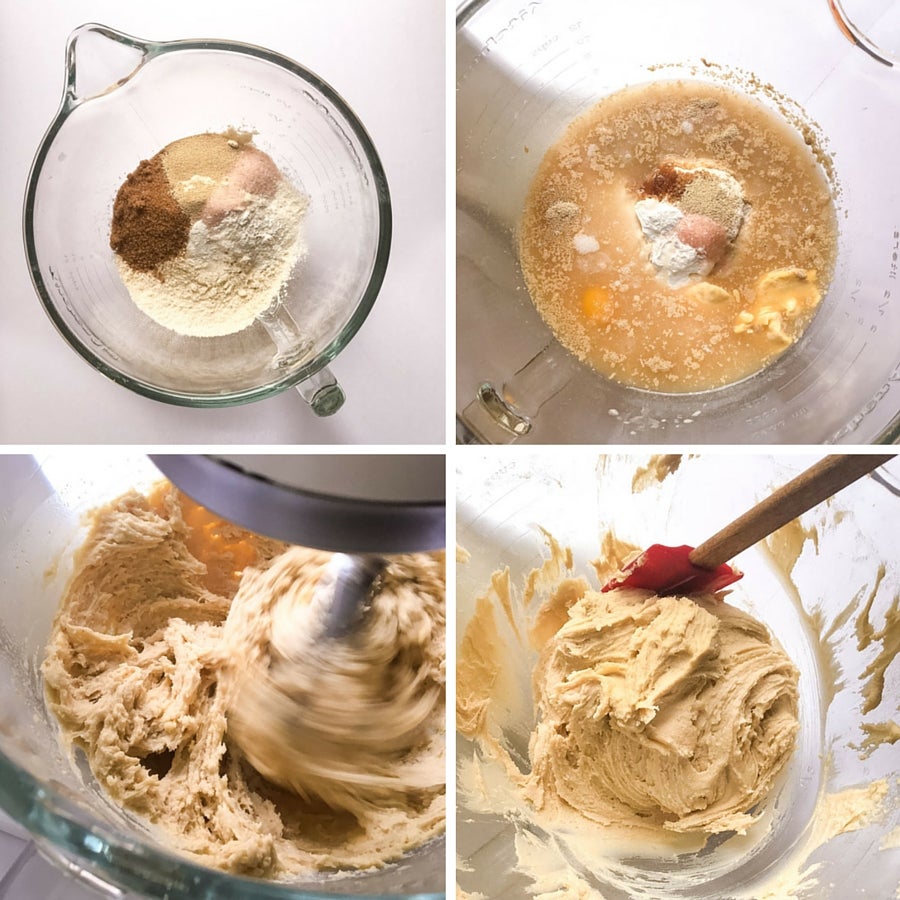 To get started, combine the following in the bowl of your stand mixer:
3 1/2 cups (553g) King Arthur Gluten-Free All-Purpose Flour
3 tablespoons (39g) brown sugar
2 teaspoons instant yeast
1 1/4 teaspoons salt
1 teaspoon xanthan gum
1/2 teaspoon baking powder
1 1/4 cups (283g) warm water
1 large egg, room temperature
2 tablespoons (28g) soft butter (vegan butter also works)
Fit your mixer with the paddle attachment and stir until a firm dough forms, about 4 minutes. If the dough seems dry, add 1 to 2 tablespoons water. Scrape the sides of the bowl and transfer the dough to a floured work surface.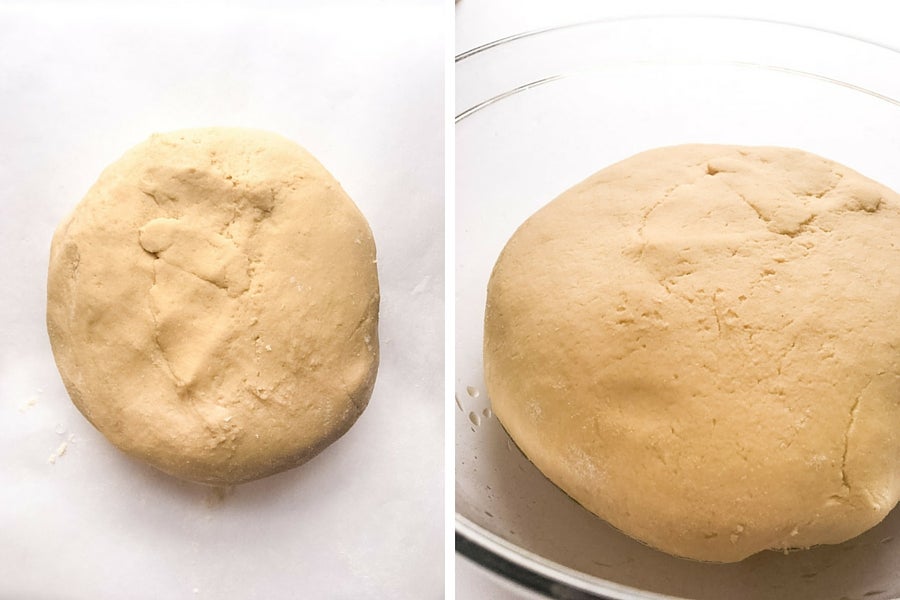 Knead the dough until smooth, then transfer it to a lightly greased bowl. Cover and let rise until almost doubled, 45 to 90 minutes.
Preheat the oven to 425°F. Lightly grease two baking sheets, or line them with parchment paper. Bring 4 quarts (3629g) water to a boil in a large pot.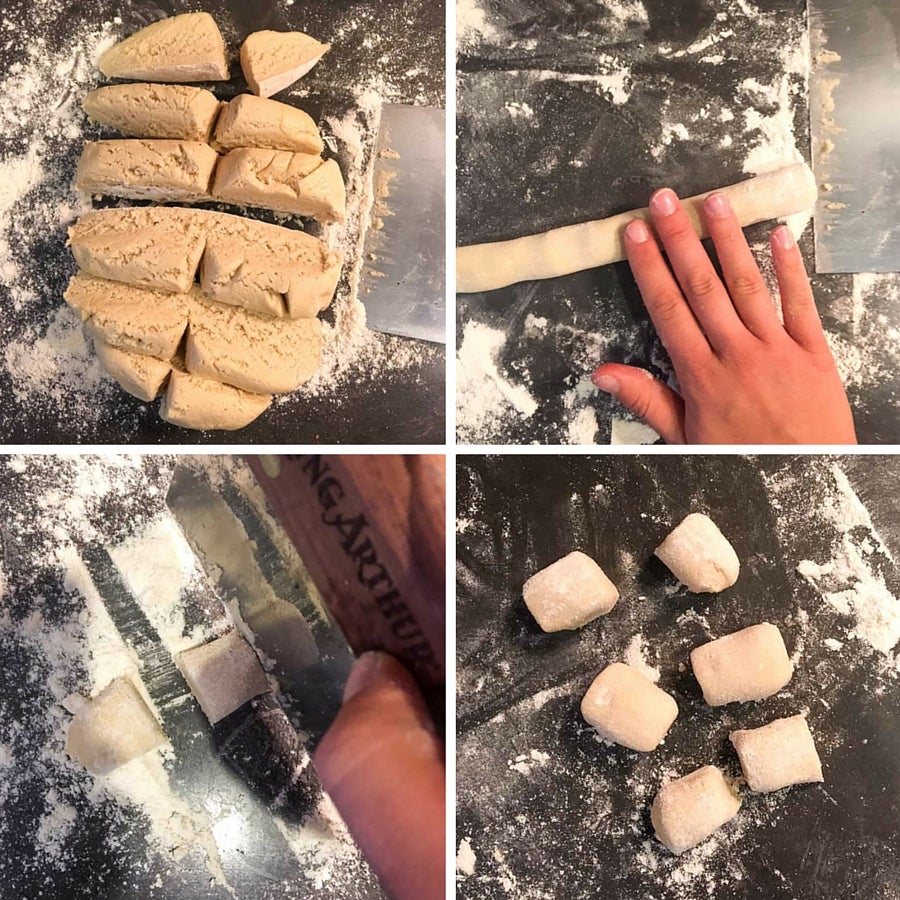 Turn the dough out onto a lightly floured surface. Gently deflate it, and divide it into 12 equal pieces. Cover the pieces and, one at a time, roll them into 12" to 14" ropes.
Cut each rope in 1" to 1 1/2" pieces using a bench knife or paring knife. Smooth the ends so they're shaped like small pillows. Place the bites on the prepared pans.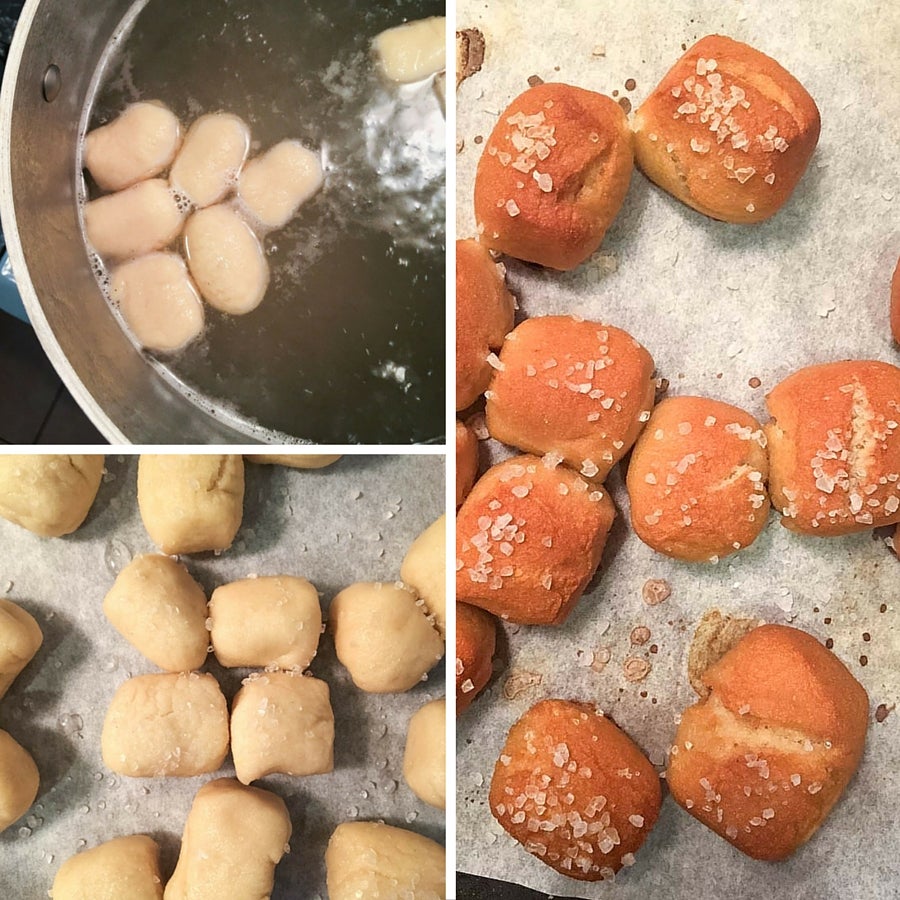 Add the 1/4 cup (50g) of baking soda and 2 tablespoons (25g) sugar to the boiling water and wait for the foam to subside. 
Drop 12 to 15 bites into the water, and boil them for about 5 seconds; they should initially sink, then float to the surface. Remove the bites from the water with a slotted spoon and return them to the pans. Sprinkle them with the coarse salt or flavorings of choice and repeat until all the bites are done.
Bake the pretzel bites until golden brown and finished to your liking, about 12 to 15 minutes for soft pretzels, 2 to 3 minutes longer for harder ones.
Allow the pretzels to cool on the pans for 10 minutes before serving.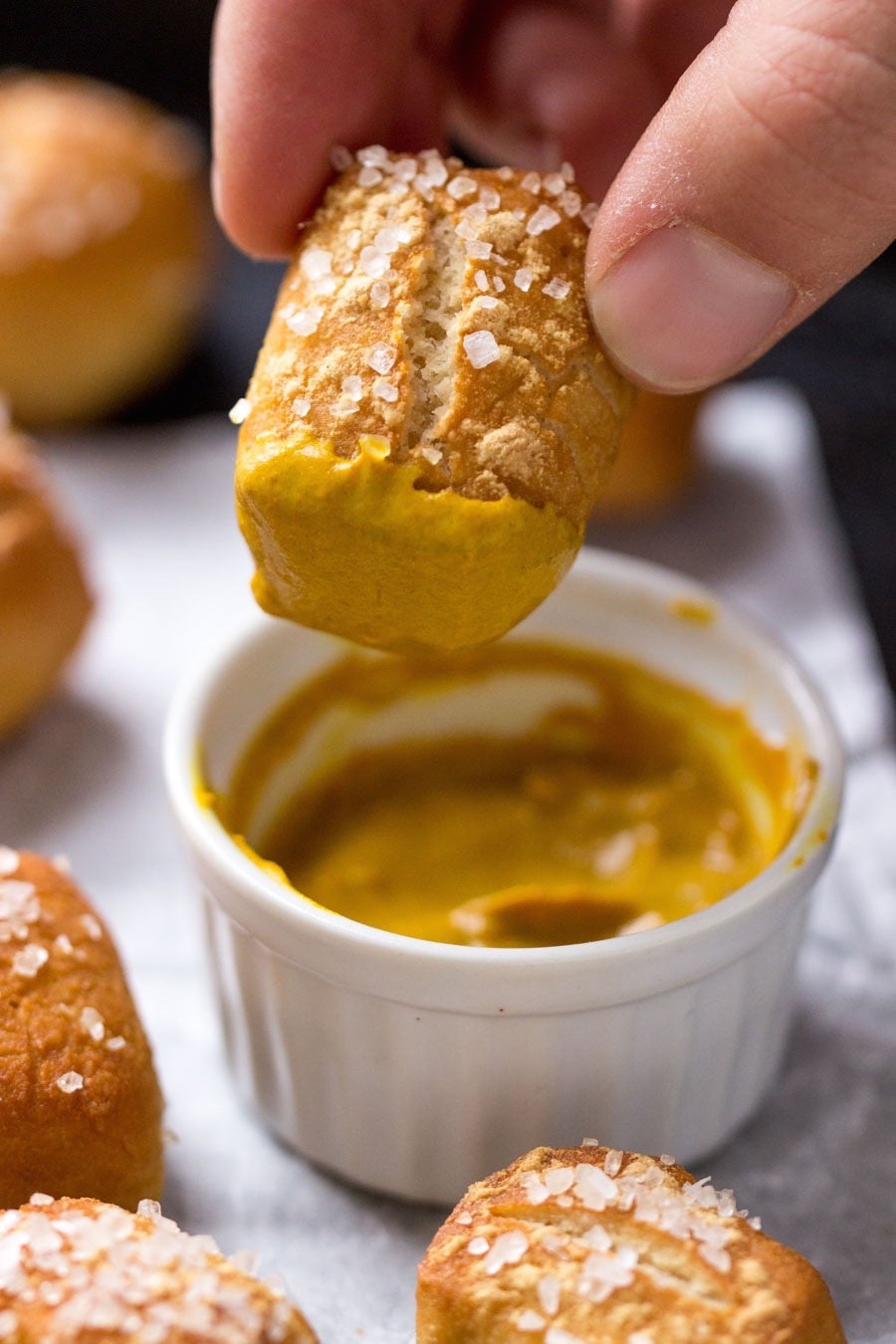 Serve with your dip of choice! We love them with plain mustard OR you can feel free to choose from any of these scrumptious options:
Hot Popper Dip (substitute GF breadcrumbs)
Hot Spinach Dip (substitute GF breadcrumbs)
Your favorite cheese sauce (cheese fondue is especially delicious)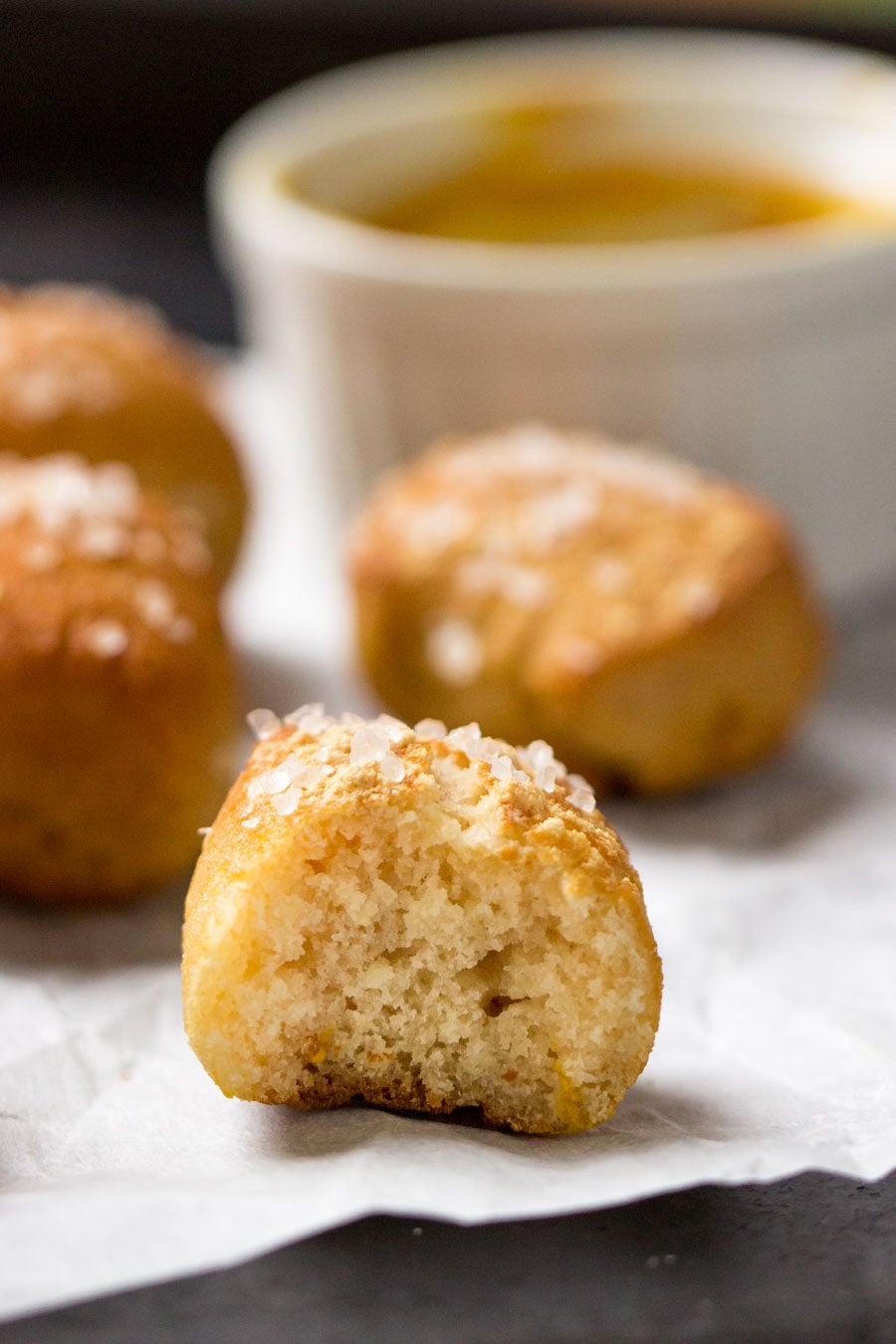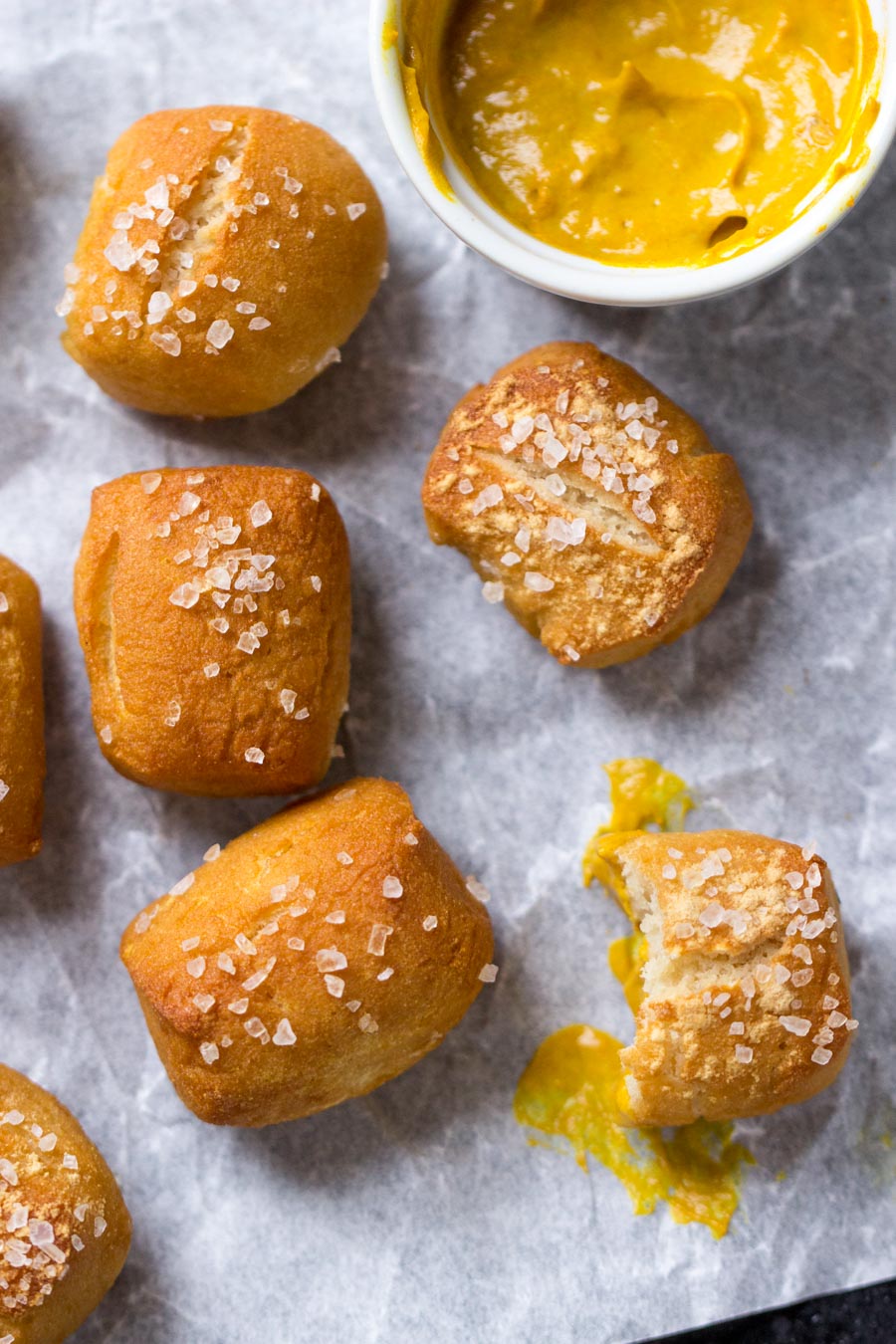 Please bake, rate, and review our recipe for Gluten-Free Soft Pretzels (in bite form!).
Jump to Comments