Our adoration of almond flour continues with this luscious (and gluten-free!) almond Bundt cake made with almond flour. It's become a go-to cake for us whenever we need something simple, yet still stunning and delicious.
Now, we've talked about how much we love adding almond flour to cakes before, and this gorgeous Bundt cake is no exception. It's mellow in flavor, fluffy in texture, and perfectly sweet. It can act not only as a decadent dessert, but also a breakfast cake or even a simple accompaniment to afternoon tea.
We love topping this almond flour Bundt cake with a simple glaze, but we encourage you to have some fun! Since the base of this cake is somewhat basic, the toppings can have some pizzazz. Want to serve it for a birthday? Make a quick Buttercream Frosting and dust it with sprinkles. How about for the chocolate lover in your life? We highly recommend this Chocolate Ganache. Or you know, if you were baking this during the fall, this Boiled Cider Glaze would be amazing!
No matter how you serve this cake, we know you're going to love it. And we're betting that if you serve it to someone who can eat gluten, they'll never know the difference. It's that good!
To get started with this recipe, you'll need to preheat the oven to 325°F. Lightly grease a standard-size Bundt pan, and set it aside.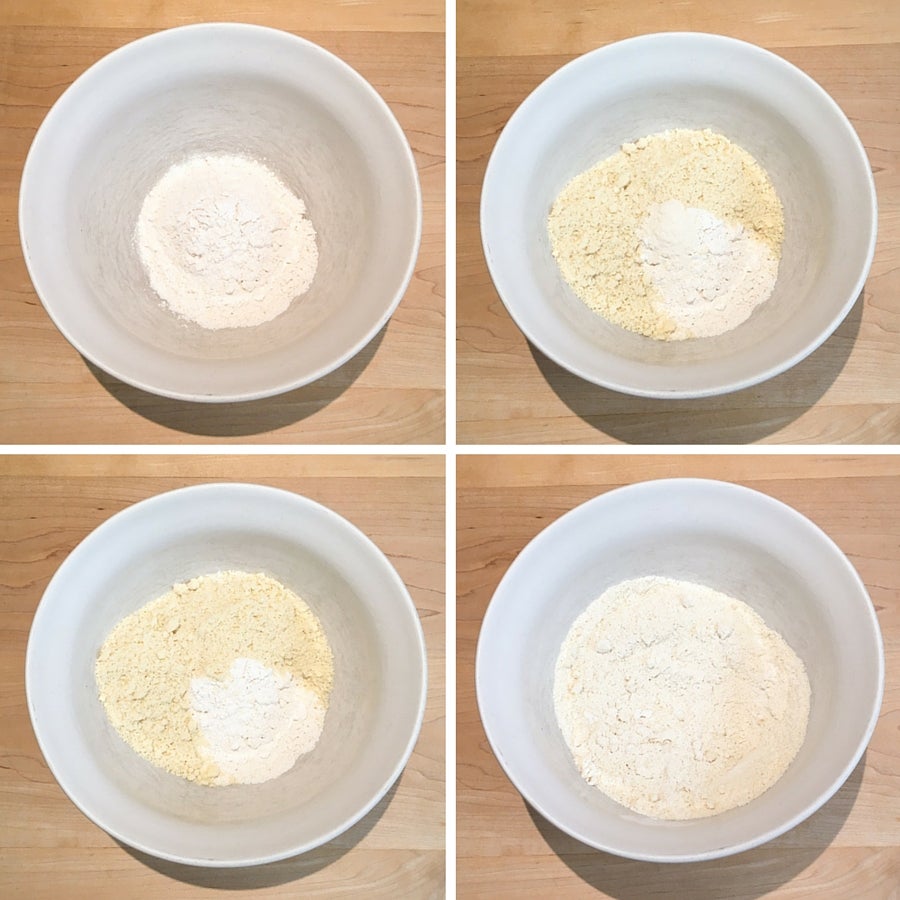 In a medium bowl, whisk together:
1 1/2 cups (234g) King Arthur Gluten-Free Multi-Purpose Flour
1 1/2 cups (144g) almond flour
1 teaspoon xanthan gum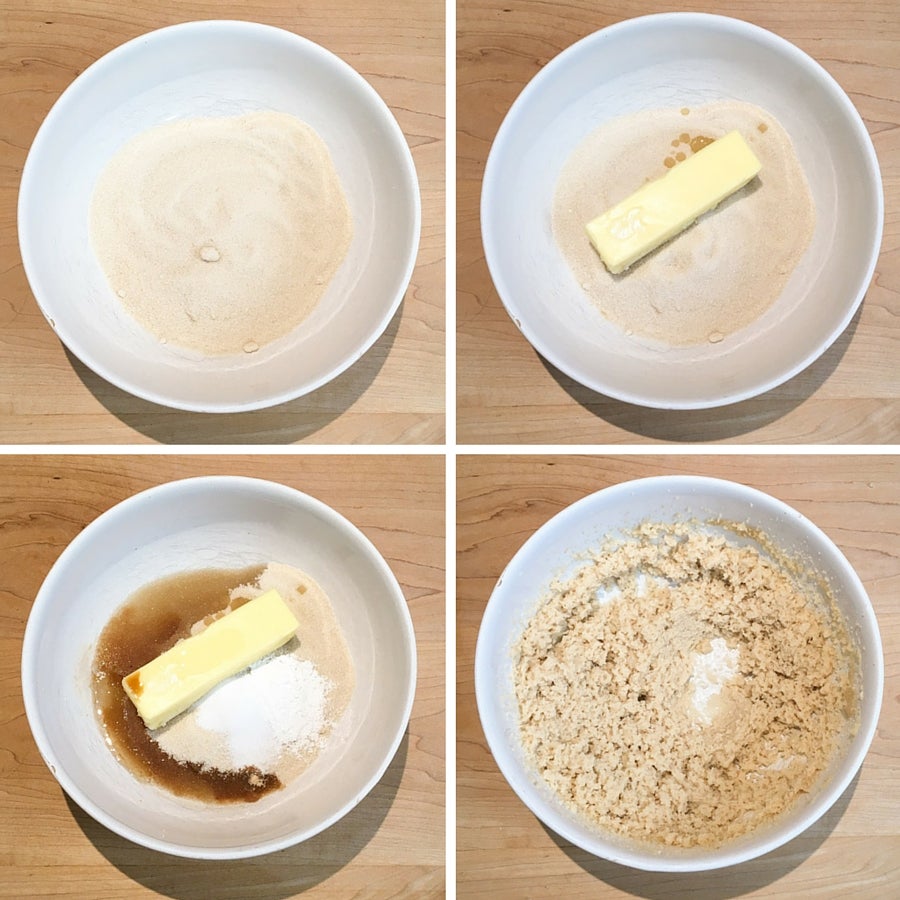 In a separate bowl, use an electric mixer to beat together:
1 1/2 cups (298g) granulated sugar
8 tablespoons (113g) unsalted butter, at room temperature, at least 65°F
2 tablespoons (25g) vegetable oil
1 teaspoon salt
2 teaspoons baking powder
2 teaspoons gluten-free vanilla extract
1/2 teaspoon almond extract or 1 drop bitter almond oil
Scrape the bottom and sides of the bowl.
Beat in 4 eggs, one at a time; the mixture should become quite fluffy. Scrape the bottom and sides of the bowl and beat briefly.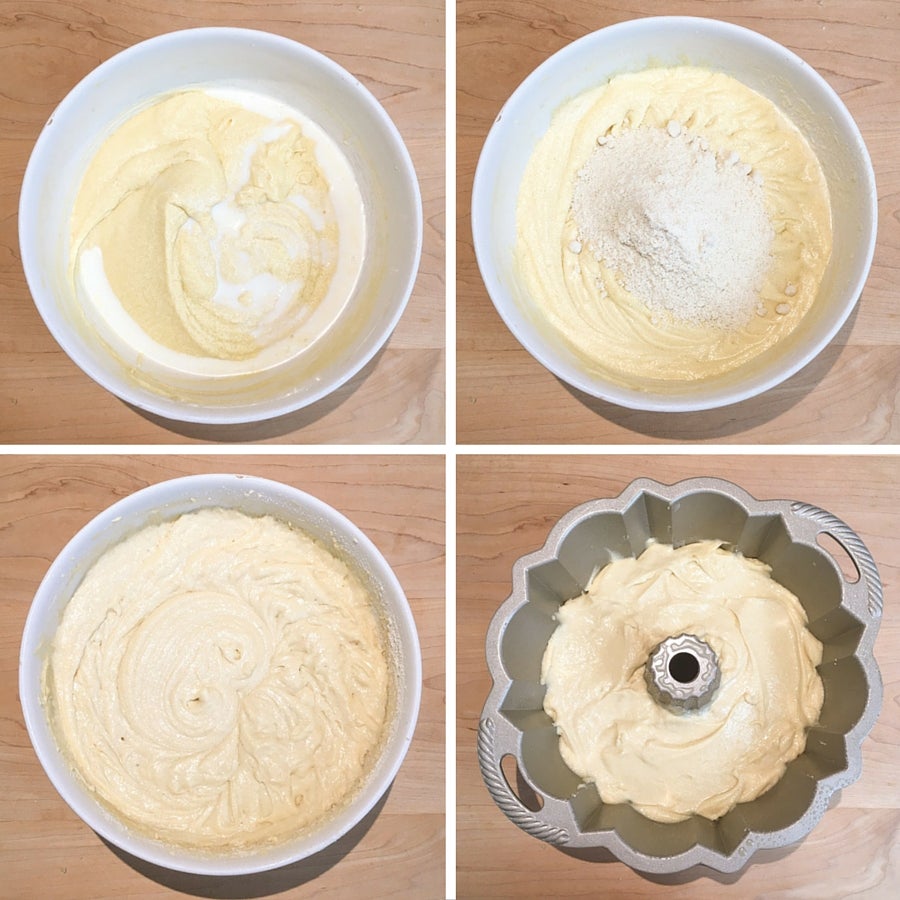 Add 2/3 cup (152g) of milk in thirds, alternating with (and ending with) the flour mixture. Mix well between additions; scrape the bowl once you've added the last of the flour, and mix for 1 minute. Scoop the batter into the prepared pan.
Bake the cake for about 50 to 60 minutes, about 3 to 4 minutes past the point where the cake springs back when touched lightly in the center, and a cake tester (or toothpick) inserted in the middle comes out clean.
Remove the cake from the oven, and cool for 15 minutes before turning it out of the pan to cool on a rack.
Please bake and review our Gluten-Free Almond Bundt Cake recipe.
Jump to Comments