Poor fruitcake: it arrives in December, all dressed in its most festive holiday outfit, adorned with bright red candied cherries, and yet it's the laughingstock of the party.
The bad reputation? It comes from too many bad fruitcakes, the sort that are laced with neon-bright, poor-quality candied fruit and have sat around for months. They're heavy and leaden and far from delicious.
Johnny Carson joked on The Today Show in 1985 that "There is only one fruitcake in the entire world, and people keep sending it to each other."
Yet fruitcake has a much more elegant history than we attribute to it. Europeans discovered it centuries ago, realizing that a high quantity of dried fruit and sugar will keep cake from going bad. Princess Diana and Prince William both celebrated their weddings with fruitcake. If it's good enough for a royal, who am I to say no?!
I didn't grow up with a tradition of fruitcake. Instead, my mother makes cinnamon rolls to give to friends and family. She wraps them up in foil and ties them with a festive bow. The very sight of a waxy spool of red ribbon still gives me a thrill: It heralds the coming of baked goods.
Giving sweet breads and cakes is such a beautiful holiday tradition. And despite being mocked endlessly, fruitcake is a perfect candidate for gift-giving.
It's simple to make and gets better over time, so you can bake it weeks in advance, which will take some stress off your plate during the chaos of the holiday.
Shockingly enough, I had never tasted fruitcake, bad or good, before now. But I knew its reputation, so I felt a good amount of trepidation about testing a recipe.
Imagine my surprise when the pans emerged from the oven, fragrant with allspice and cinnamon and sugar. The buttery golden cake was sweet and exceptionally moist. Studded with rum-soaked dried fruits, I could barely keep from devouring slice after slice.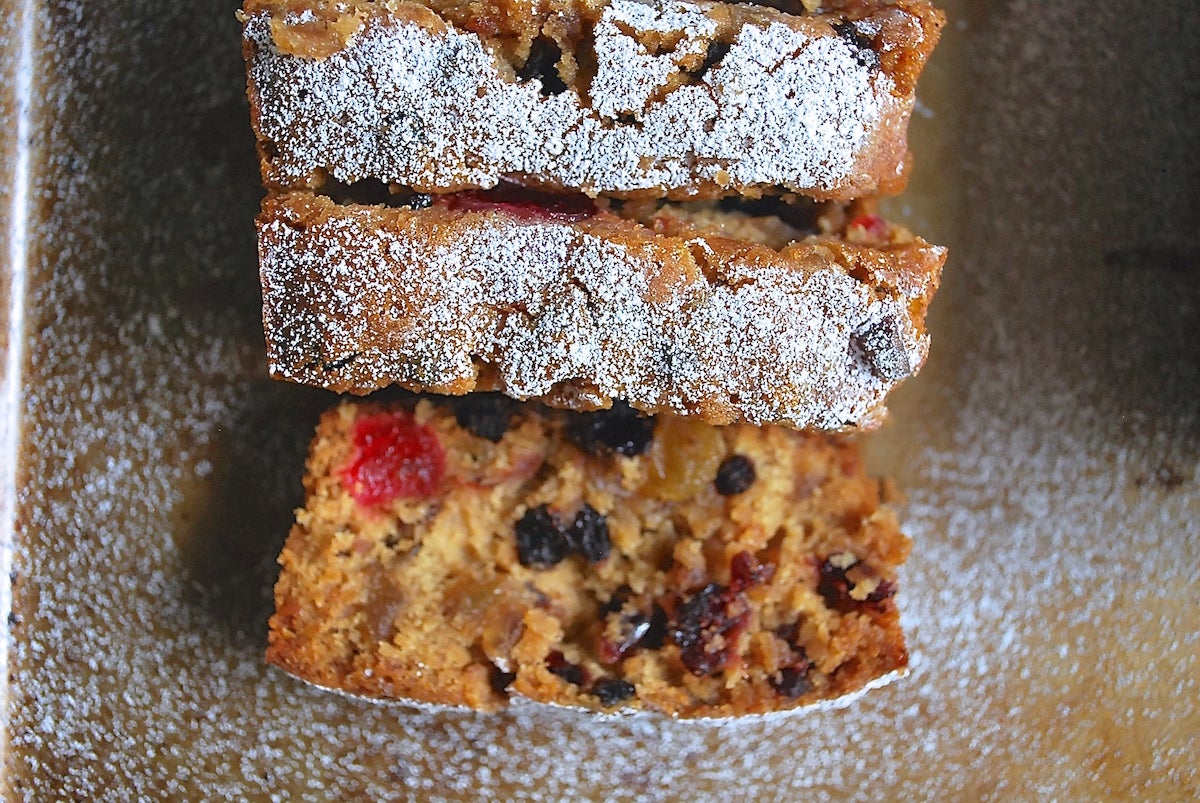 "This is for gifting!," I kept reminding myself. I brushed each cake with rum and dusted them with powdered sugar.
The key to making an excellent fruitcake is using good ingredients. Don't use fake candied fruit! Choose naturally sweet dried fruits that you like best.
I've used our Fruitcake Fruit Blend (a mix of dried pineapple, dates, raisins, currants, and cranberries), but you can use any kind you prefer as long as you stick to the same volume of fruit.
Candied cherries are entirely optional! I like the festive color they add to the cake. If you choose to include them, spring for a high-quality jar with real fruit flavor.
As for the recipe itself, I like Everyone's Favorite Fruitcake. It's classic, straightforward, and includes directions for baking smaller sizes that are ideal for gifting in pretty paper pans. I'll show you where I've adapted the recipe to fit my tastes in a few places; it's quite forgiving so feel free to do the same.
Let's walk through the recipe so that you'll be all set to bake your own this holiday season.
Important note! You need to start this recipe the night before to give the fruit time to soak. If you absolutely don't have time, you can cheat by microwaving the fruit and liquid on high for a minute, and then soaking for an hour.
The recipe
Approximately 5 1/2 cups of dried fruit, cut into small pieces if necessary
1 cup candied cherries
1/2 cup diced crystallized ginger (optional)
3/4 cup rum, brandy, apple juice, or cranberry juice
1 cup unsalted butter (at room temperature)
2 cups dark brown sugar
1 teaspoon salt
1 teaspoon ground cinnamon
1/4 teaspoon ground allspice
1/4 teaspoon ground nutmeg
1 teaspoon baking powder
4 large eggs
3 cups King Arthur Unbleached All-Purpose Flour
2 tablespoons cocoa (optional, for color)
1/4 cup boiled cider, golden syrup, or dark corn syrup
1/2 cup apple juice, cranberry juice, or water
2 cups chopped, toasted nuts (pecans, walnuts, or almonds)
The technique
Measure out your dried fruit. Use anything you like! Raisins, currants, dried apricots, dried pineapple, and dates are traditional, but any dried fruit works. Add your crystallized ginger and candied fruit here, too (if you want to skip this, I understand! Just add extra dried fruit.).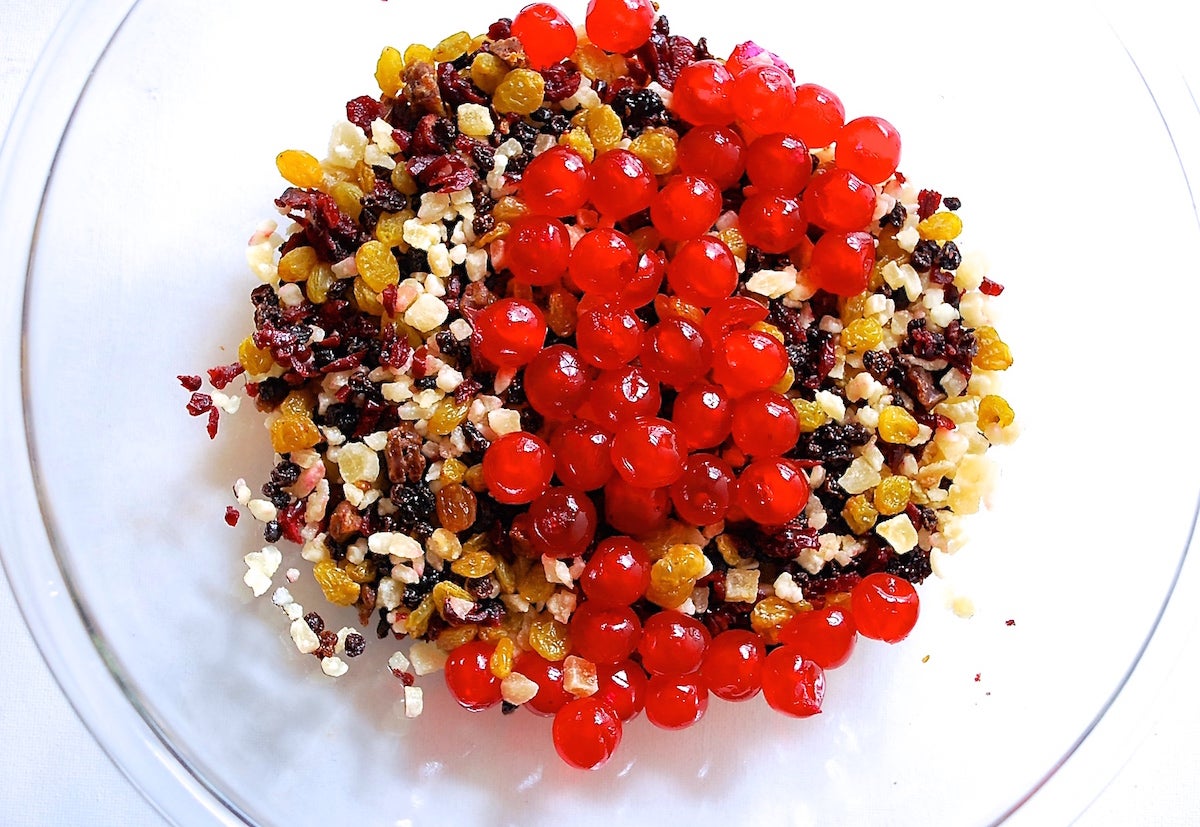 Pour your choice of liquid over the dried fruit. You can use rum, brandy, apple juice, or cranberry juice. I chose rum because frankly, I always say yes to rum.
Cover the fruit and let it soak overnight.
When you're ready to bake, preheat the oven to 300°F and grease your pans. You can either use six medium loaf pans (3" x 5"), two standard loaf pans (9" x 5") or muffin tins (the recipe makes 3 dozen muffins).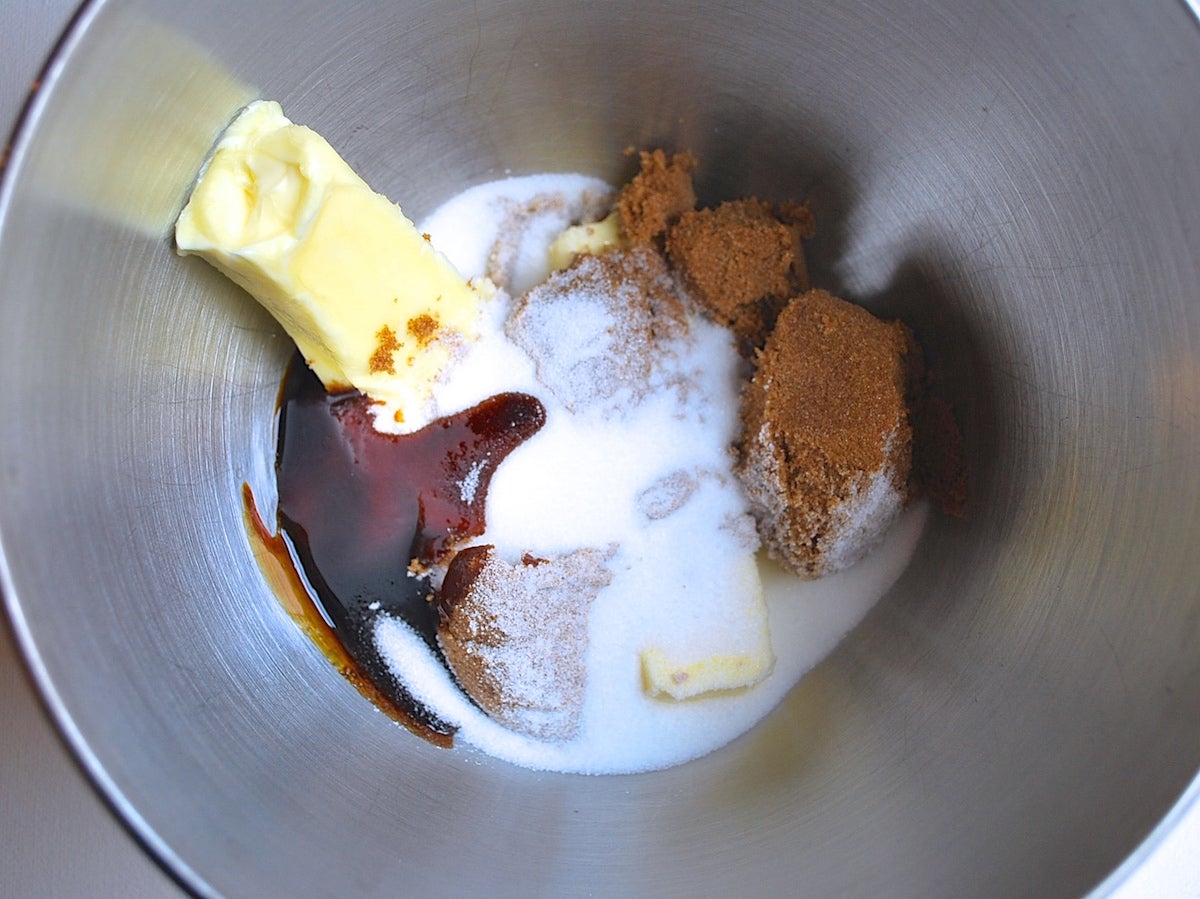 In a large bowl or stand mixer, cream the butter and sugar.
Note! If you, like me, discover that you run out of brown sugar partway through your recipe, you can substitute an equal amount of granulated sugar plus 1 tablespoon of molasses for every cup of sugar.
Add the salt, spices, and baking powder.
Add the eggs one at a time, scraping down the bowl between each addition.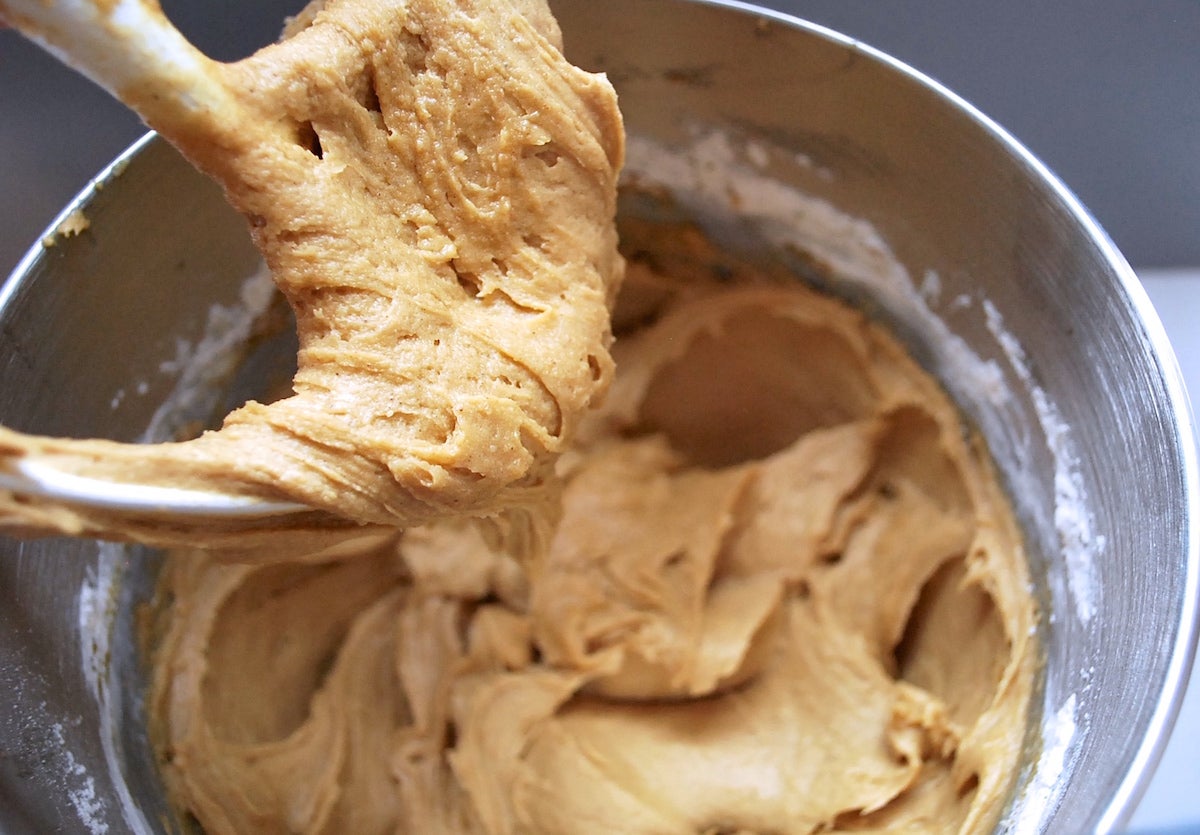 Add the flour, cocoa, and boiled cider (or golden syrup or corn syrup). I used boiled cider, because it is delicious, and I chose to omit the cocoa, because I prefer a more golden cake.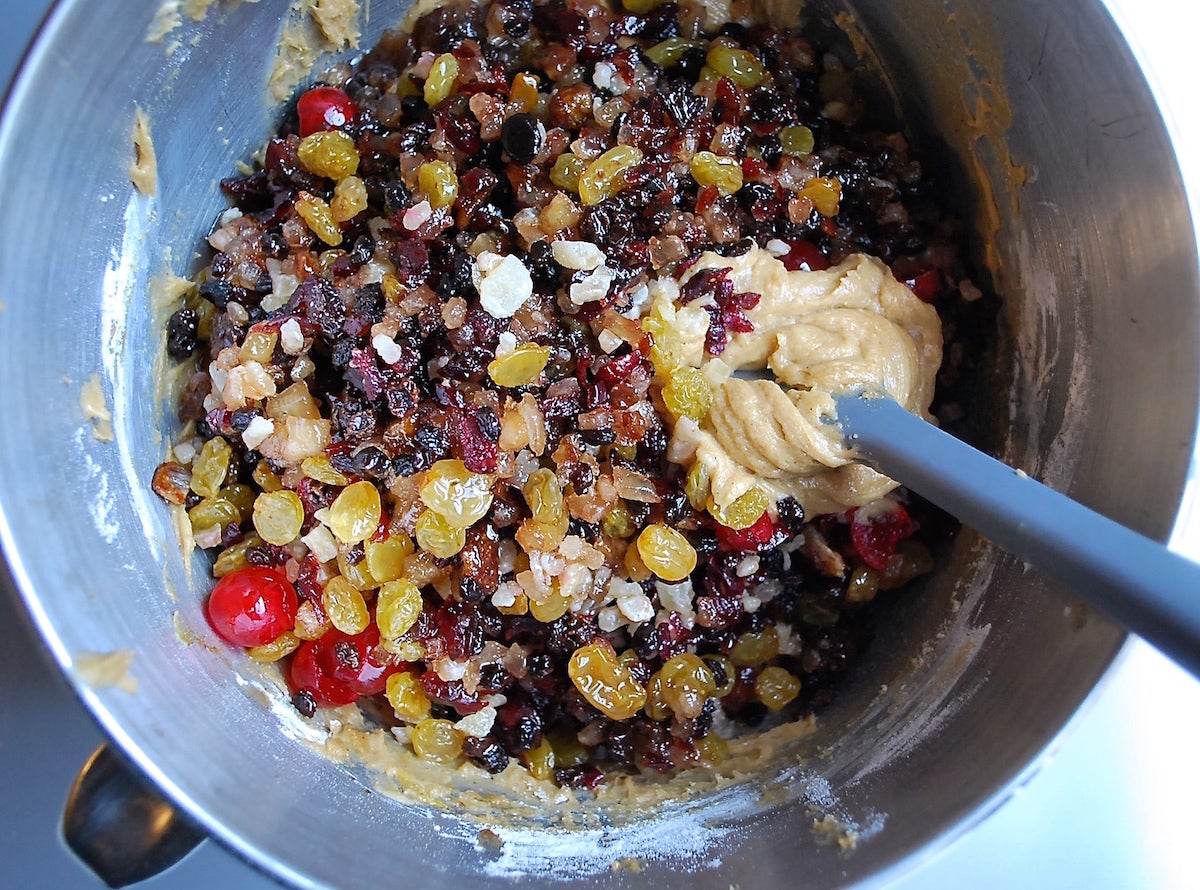 Next, add the liquid of your choice (apple juice, cranberry juice, or water) and the dried fruits, along with any liquid that has collected in the bowl.
Fold the fruit in along with the nuts.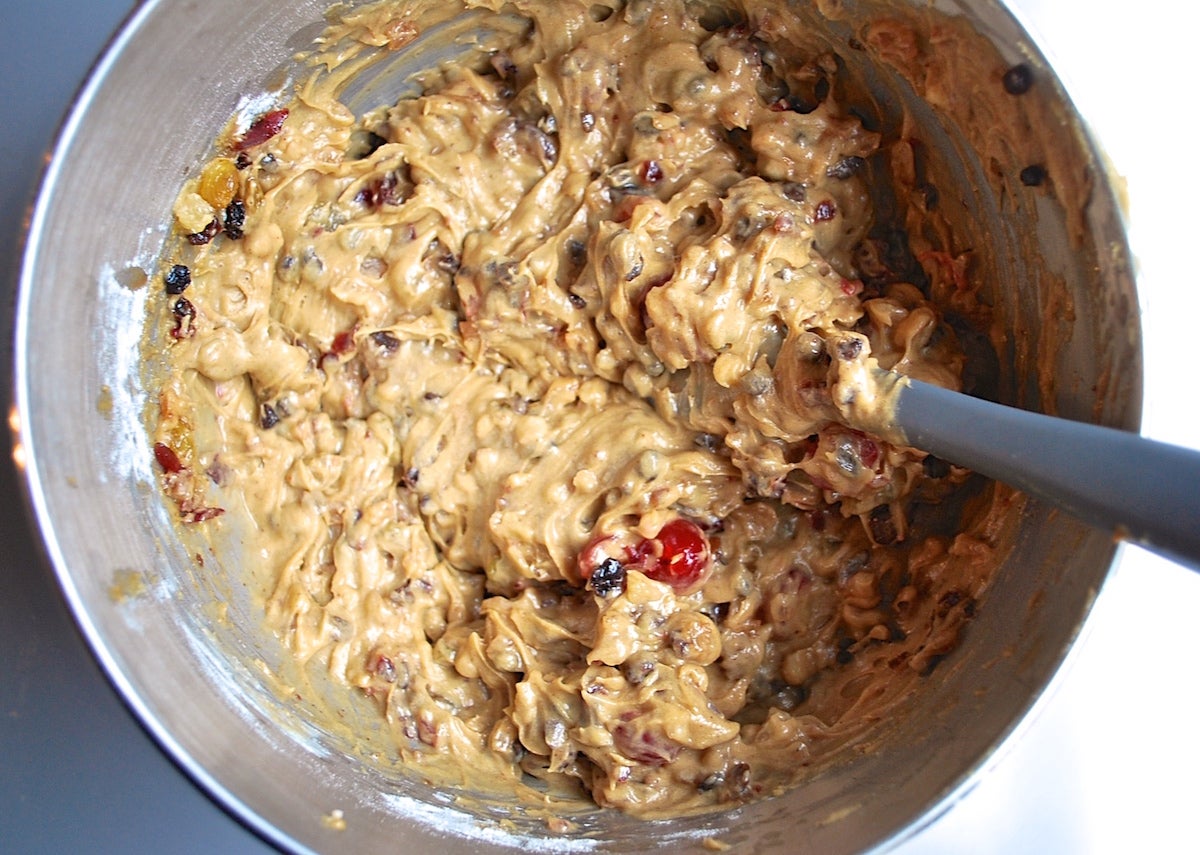 Spoon the batter into your prepared pans. The batter should fill the pans about 3/4 full.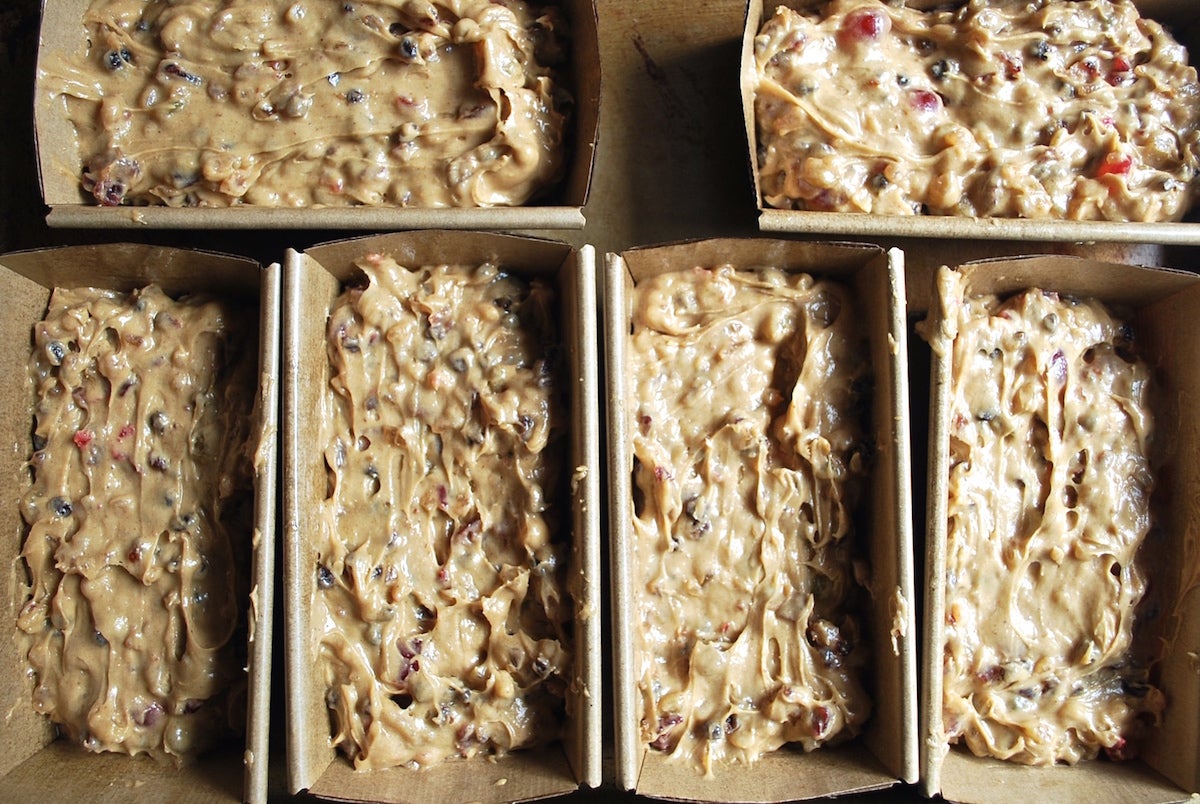 Bake the cakes: about 60 minutes for muffins, 75 minutes for medium loaves, and 2 hours plus 10 minutes for the larger loaves.
As soon as the cakes come out of the oven, brush the tops with rum or brandy (or simple syrup).
Let the cakes cool completely. Once cooled, wrap them tightly in plastic wrap and store at room temperature for 6 to 8 weeks.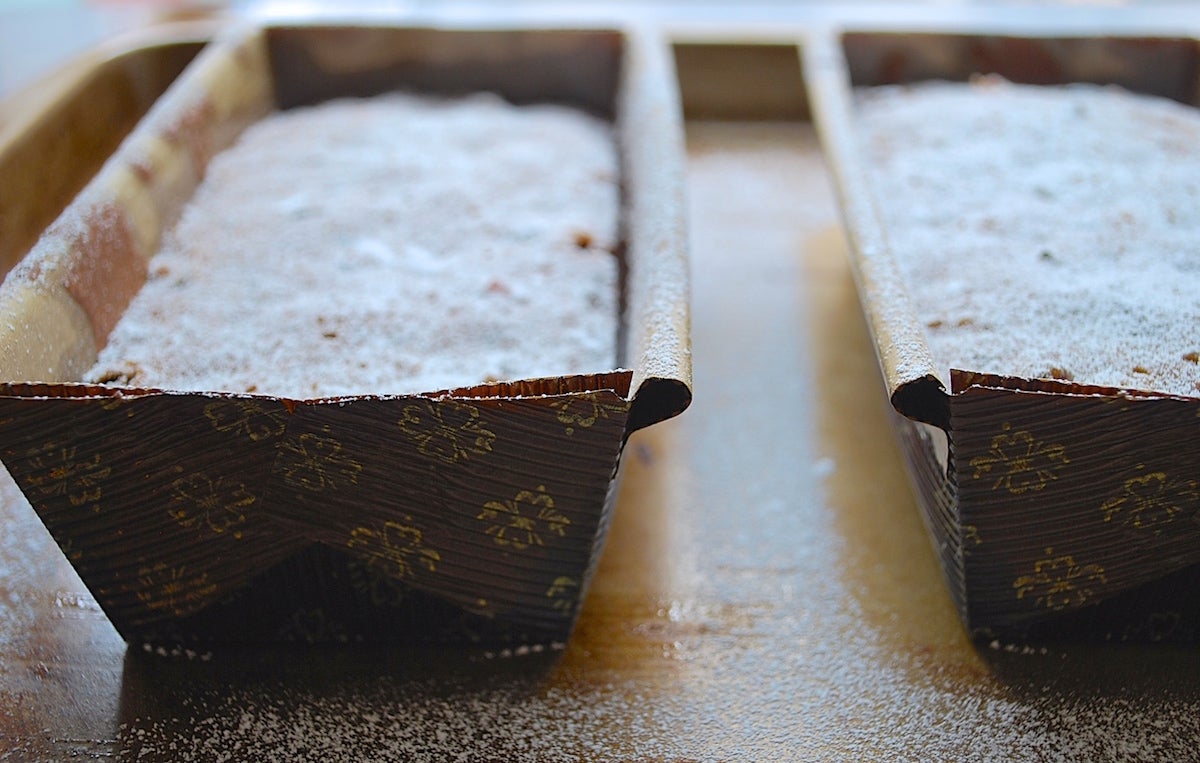 If you've baked your cakes in paper pans, just wrap them in a ribbon and you have an instant gift! I like to dust the tops of mine with powdered sugar (do this right before gifting as the powdered sugar won't last).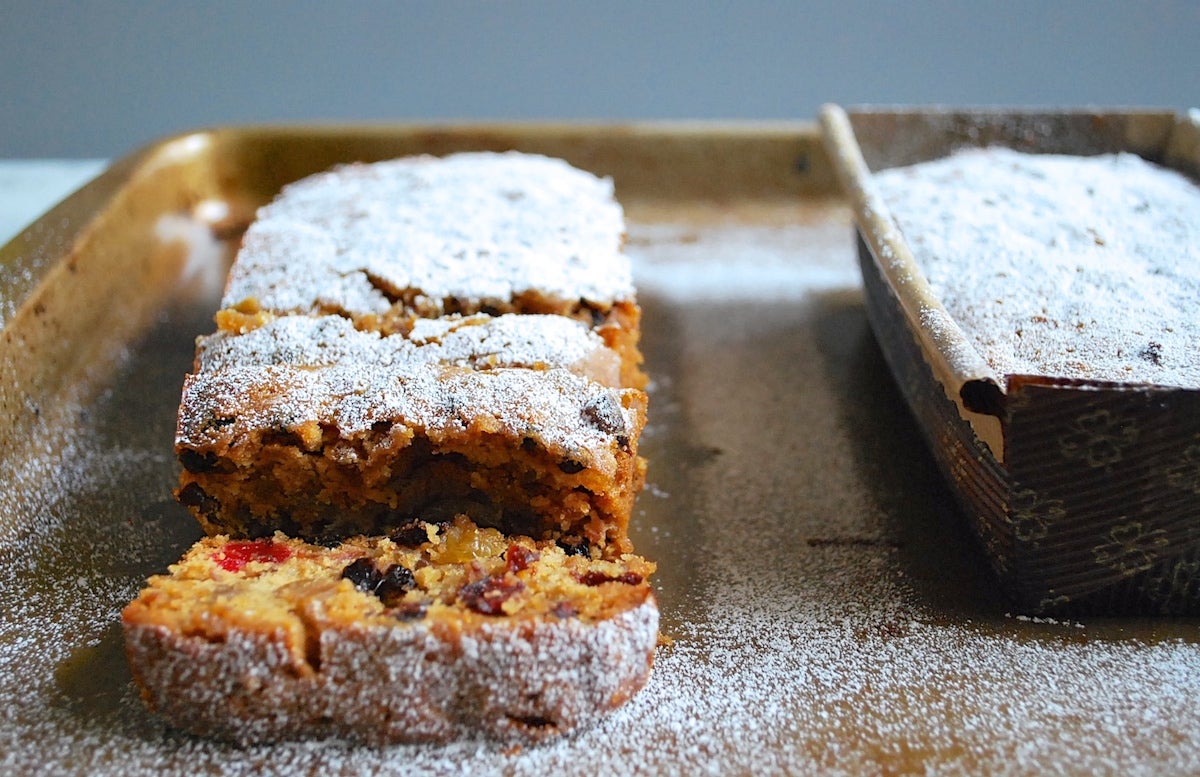 Resist the lure of fruitcake if you can't get past its reputation, but you'll be missing out. I think if we all found ourselves the recipient of one of these ribbon-tied cakes come December, it would be a very happy holiday indeed.
For more seasonal inspiration, be sure to check out our Holiday Classics recipe collection, full of beloved treats ideal for the winter. 
Jump to Comments