What do zucchinis and fruitcake have in common?
Well, they're both edible – according to many. And, since zucchini is technically a fruit (not a vegetable), they share that trait.
But honestly, their predominant shared characteristic is this: they're both much maligned for their ubiquity at certain seasons of the year. And thus, the butt of many a snarky joke.
Round about mid-summer, zucchinis take over your garden – just like the gift fruitcakes from various elderly relatives and business associates gather under the tree at Christmas. Zucchinis go from manageable cuke-sized veggies to veritable deadly weapons – long as your forearm, and twice as fat – seemingly over the course of a week or less.
Woe be the gardener who doesn't stay on top of the zucchini harvest, for s/he shall quickly regret that day back in April when the seeds of the apocalypse were sown!
What you really need when that happens is tips on using all that zucchini to its best advantage – plus a few good new zucchini recipes.
Let's start with the tips.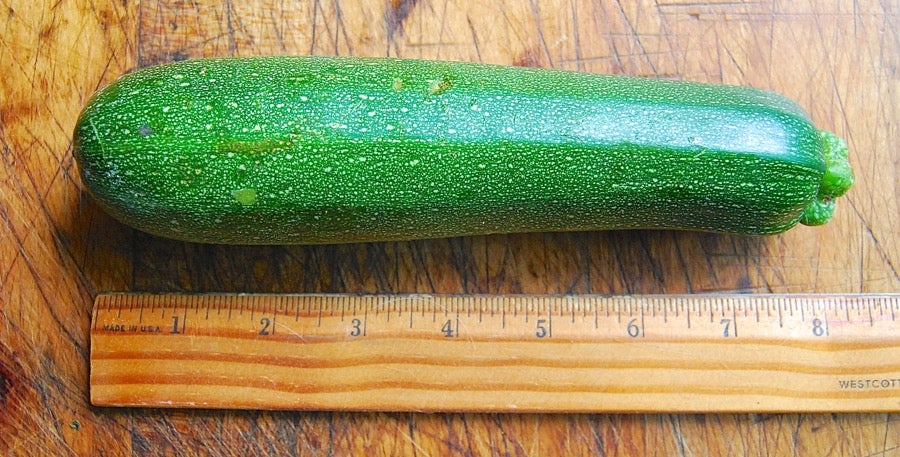 1. Pick your zucchinis before they reach baseball bat-size.
This is about the size zucchini I like to use; at 8", it's not yet dry and mealy or pithy inside, as it would be in another few weeks. Plus I discovered that an 8" zucchini weighs just about 8 ounces; so if you don't have a scale but you do have a garden, you can simply take your ruler out to the garden, harvest an 8" zuke, then measure off however many ounces you need – by the inch!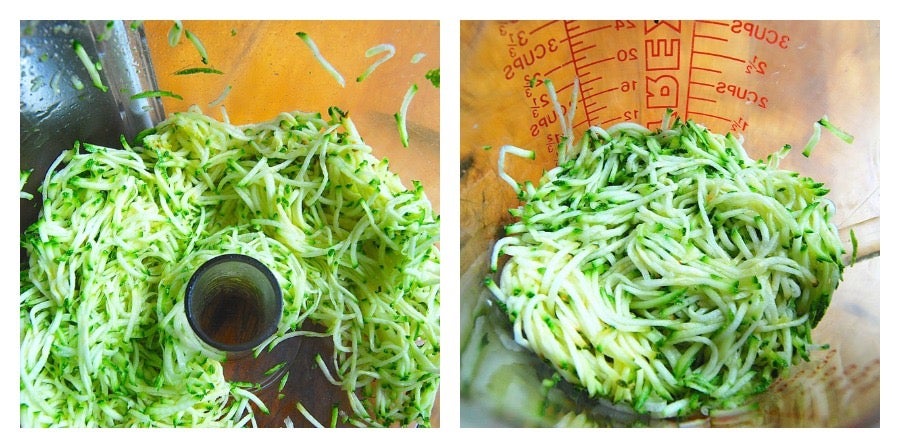 2. Shredded zucchini is notoriously fickle when it comes to being weighed. Relax; don't worry about it.
Your recipe calls for 1 1/2 cups shredded zucchini. You shred it, pack it into the measuring cup, and dump it into your mixing bowl. No problem, right?
Right. The challenge, though, is this: if you're a baker who weighs rather than measures ingredients, zucchini's weight can vary quite a bit. How fine did you shred your zucchini? How firmly did you pack it into the cup? How wet has your growing season been and/or how long ago was the zucchini picked? In measuring lots of zucchini for this post, I found that the weight varied by as much as 23%, cup to cup.
My advice: Don't worry about it. Either pack your zucchini into a measuring cup; or use 4 1/4 to 5 1/4 ounces per cup as its weight (as stated in our ingredients weight chart). Whichever method you choose will be just fine.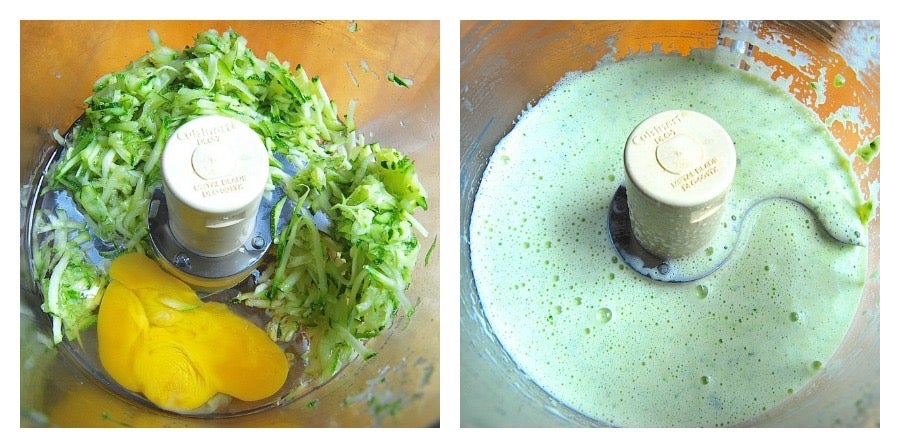 3. For smoothest texture in your zucchini recipes, purée it.
I'd been shredding a bunch of zucchini to weigh it, and decided to make some brownies. Thinking I wasn't looking forward to fudge brownies loaded with green, stringy shreds, I had a "light dawns on Marblehead" moment. What if I purée the zucchini along with the other liquid ingredients?
As it turns out, puréed (rather than shredded) zucchini works just fine in your typical zucchini recipes. So if you're challenged by the texture of shredded zucchini in, say, your zucchini chocolate cake – purée it first.
Now, let's try a few new recipes and put these tips to work.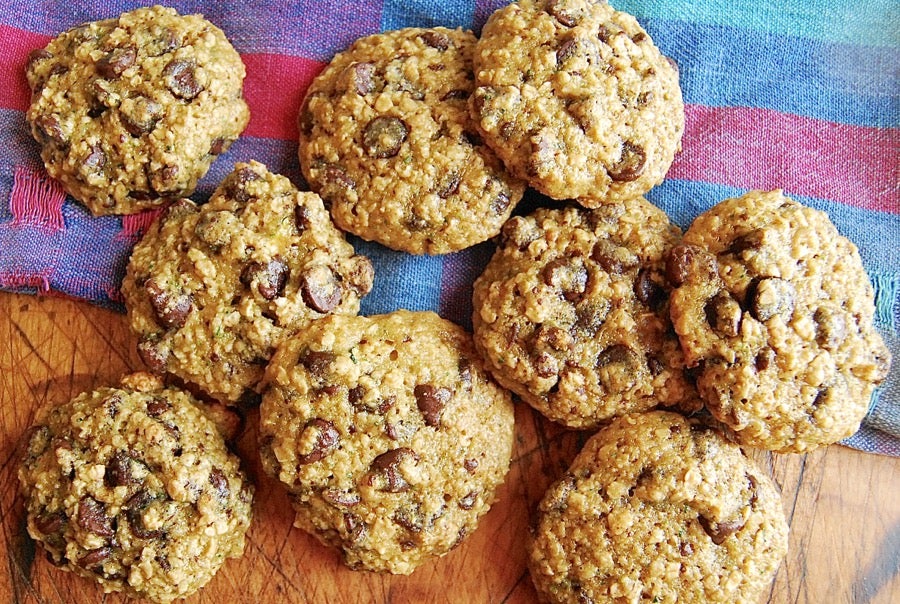 I made these cookies using shredded zucchini, measured two ways: once by packing it into a cup, and then by weighing it. Both batches turned out just fine, yielding soft cookies, but soft in a light and cakey way, rather than being dense and chewy. The chips add quite a bit of body, and lots of chocolate flavor.
Beat together the following:
1/4 cup (50g) vegetable oil
3/4 cup + 2 tablespoons (84g) brown sugar
1/2 teaspoon baking powder
1/4 teaspoon baking soda
3/4 teaspoon salt
2 teaspoons vanilla extract
1 large egg
Stir in the following:
1 cup (121 to 150g) shredded zucchini
2 cups (340g) chocolate chips
1 cup (120g) King Arthur Unbleached All-Purpose Flour or (113g) King Arthur White Whole Wheat Flour
1 1/2 cups (134g) quick rolled oats
Use a tablespoon cookie scoop to drop the sticky balls of dough onto parchment-lined baking sheets; and bake the cookies in a preheated 350°F oven for 14 to 16 minutes.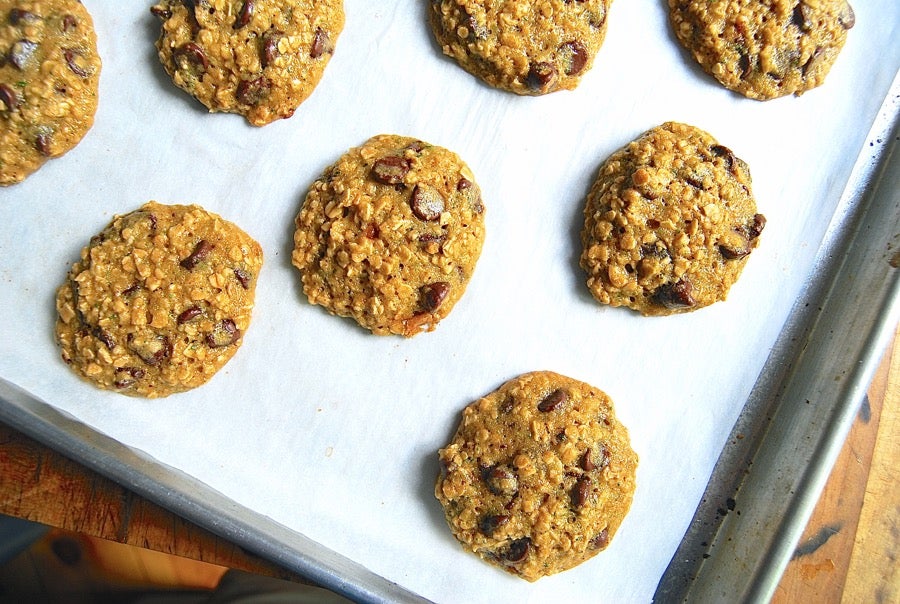 They should be set on top, and just starting to brown on the bottom. Let them cool right on the baking sheet, as they're quite delicate while hot.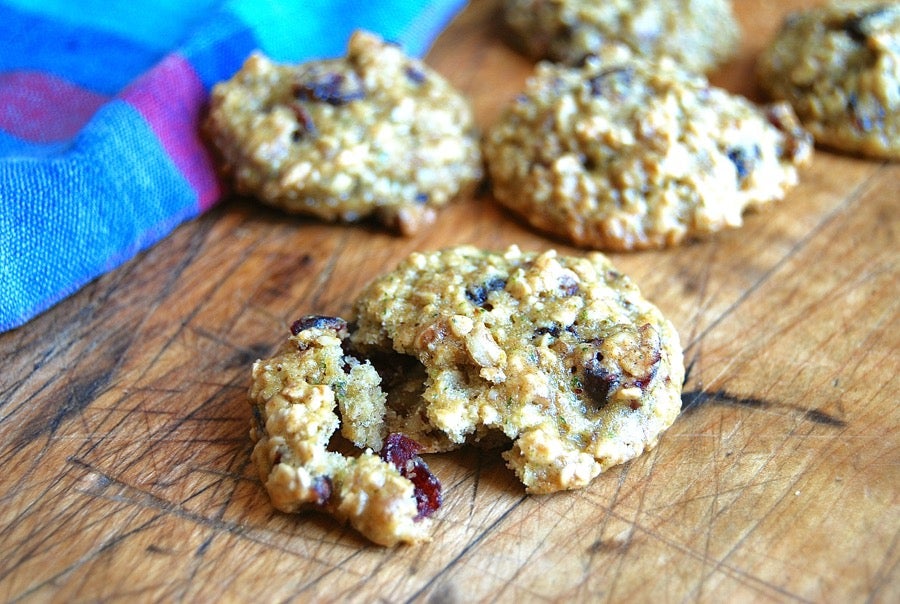 If you're not into zucchini and chocolate, feel free to substitute a combination of raisins (or dried cranberries) and nuts for the chocolate, as I've done here.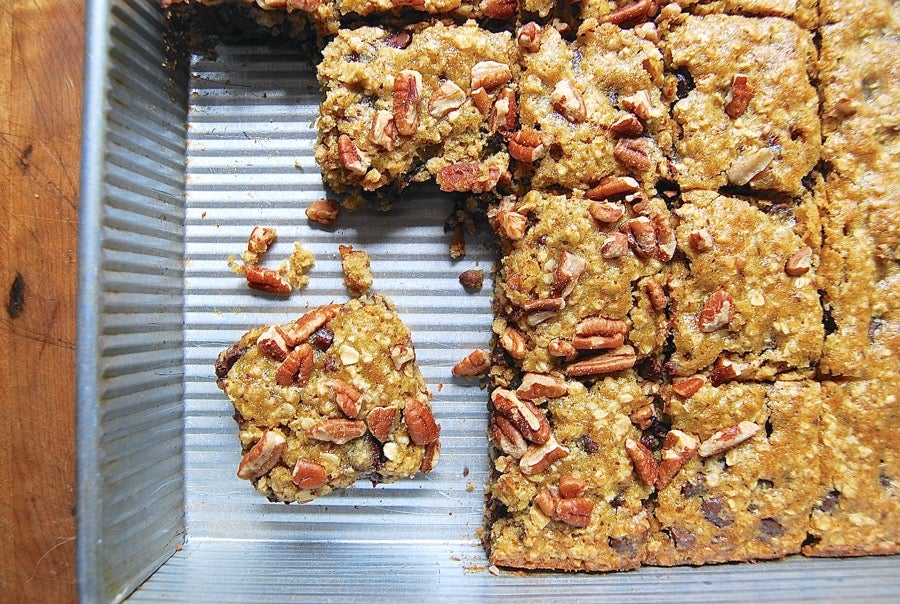 Zucchini Chocolate Chip Pecan Bars
These are basically just the cookies above, with a few tweaks. Since these will be baked as bars, rather than cookies, they don't need quite as much structural integrity. So I increase just slightly the amounts of vegetable oil and brown sugar (compared to the cookie recipe); both add extra moisture and tenderness.
1 cup (121 to 150g) shredded zucchini
1/3 cup (66g) vegetable oil
1 large egg
1 cup (213g) brown sugar, firmly packed
1/2 teaspoon baking powder
1/4 teaspoon baking soda
3/4 teaspoon salt
1 teaspoon vanilla extract
1 cup (120g) King Arthur Unbleached All-Purpose Flour or (113g) King Arthur White Whole Wheat Flour
1 1/2 cups (134g) quick rolled oats
2 cups (340g) semisweet or bittersweet chocolate chips
3/4 cup (86g) chopped pecans, for topping
fine salt, for topping
First I shred the zucchini, and measure it. Then, to downplay the zucchini's texture, I process the shredded zucchini in a food processor with the vegetable oil and egg, before adding the remaining ingredients (except the pecans and fine salt; those are your toppings). The batter goes into a greased 9" x 13" pan, rather than scooping it into individual cookies. The nuts and salt go on top.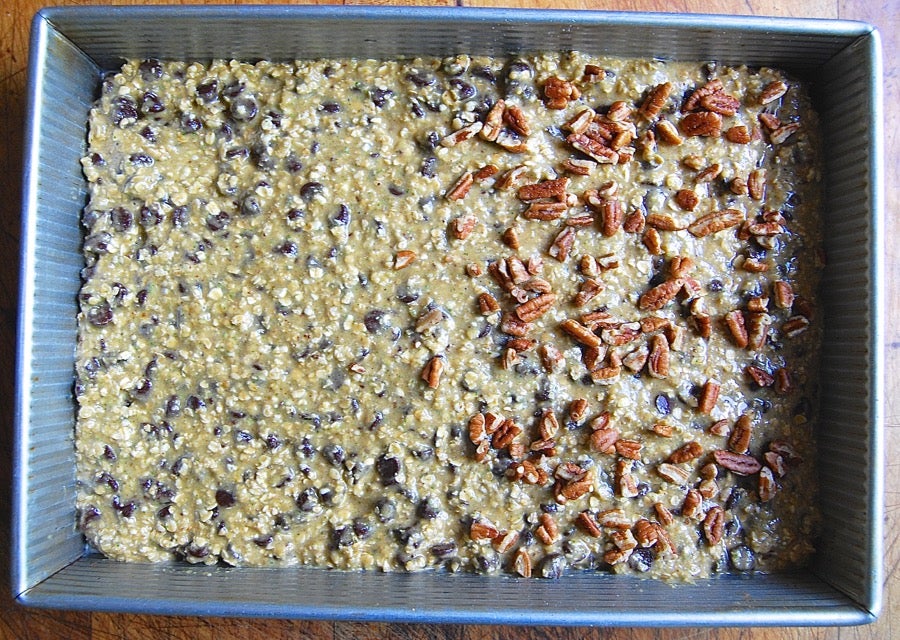 Why are the pecans only on half the batter? I want to test to see if the nuts will sink into the batter, burn, or otherwise misbehave. And, if they do, I want half the batch to remain photo-worthy.
I bake the bars for 25 to 30 minutes, until a toothpick inserted into the center comes out clean (or when you do this at home, maybe with a few moist crumbs clinging to it).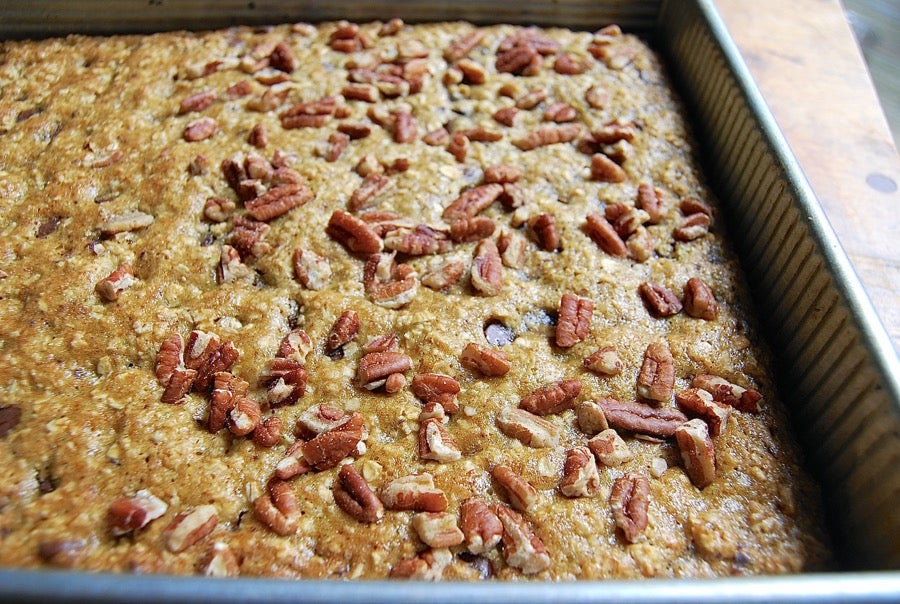 Success! Well-behaved pecans. Like the cookies, these bars are cake-like rather than dense; think cakey brownie texture. The salt on top is a nice touch, balancing the bars' sweetness a bit, and pointing up the nuts' flavor.
Now, speaking of brownies – how about it? Does zucchini belong in brownies?
Oh, YES.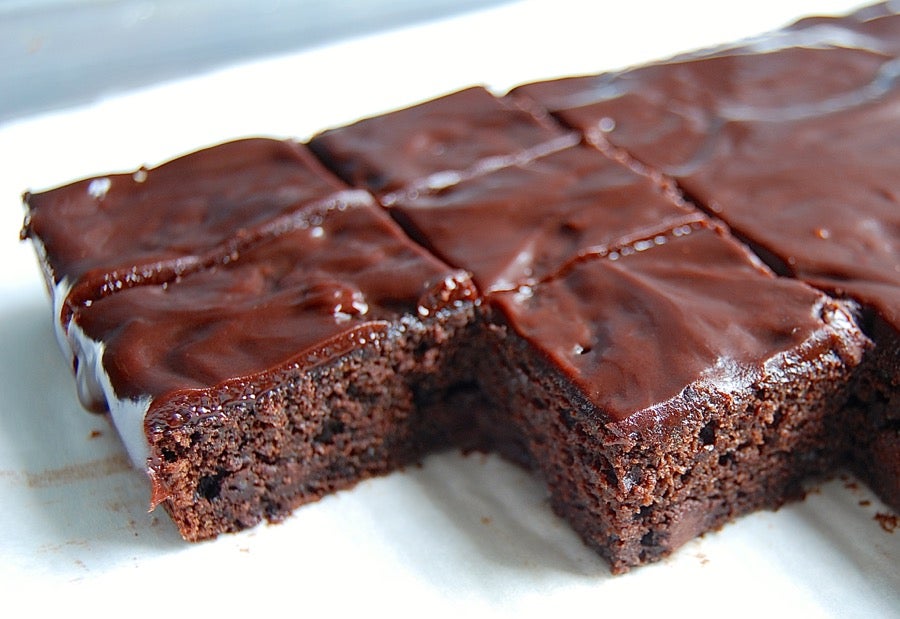 I want the interior of these brownies to be completely smooth and fudgy, without a hint of zucchini's texture. So I'm thinking zucchini purée all the way – and I'm going to measure by weight, so there's no need to shred it first.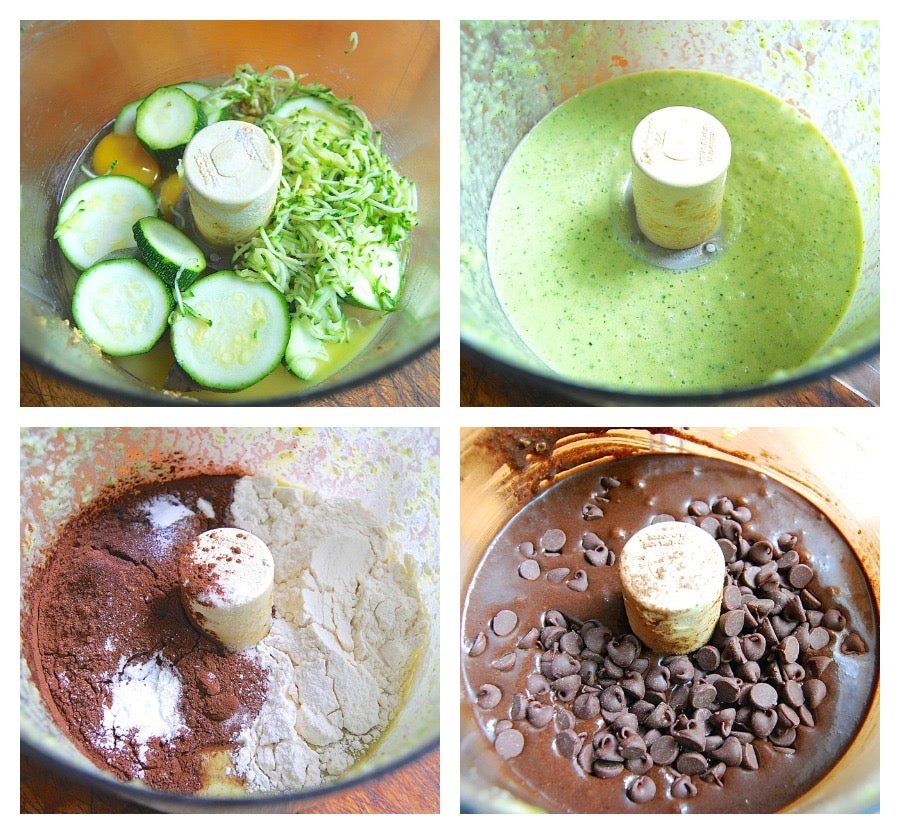 That said, by this time my counter is covered with zucchini in all incarnations: whole, chunked, shredded... And brownies are a good place to use it all up.
I start by processing 8 ounces (227g) zucchini, 3 tablespoons (43g) melted butter, 3 large eggs, and 1 teaspoon vanilla extract into a smooth purée.
Next I add the following:
3/4 cup (149g) sugar
2/3 cup (57g) unsweetened cocoa powder, Dutch-process cocoa preferred
1/2 teaspoon espresso powder, optional; for enhanced chocolate flavor
1/2 teaspoon baking powder
heaping 1/4 teaspoon salt
1/2 cup (57g) King Arthur Unbleached All-Purpose Flour
I process everything briefly, just until well combined. Then I add 3/4 cup (128g) chocolate chips and pulse briefly, just to break up some of the chips a bit. The batter goes into a greased 9" x 9" pan.
I bake the brownies in a preheated 350°F oven for 25 to 30 minutes, until a toothpick inserted into the center comes out clean. I don't want to see any wet batter, but a few moist crumbs are OK.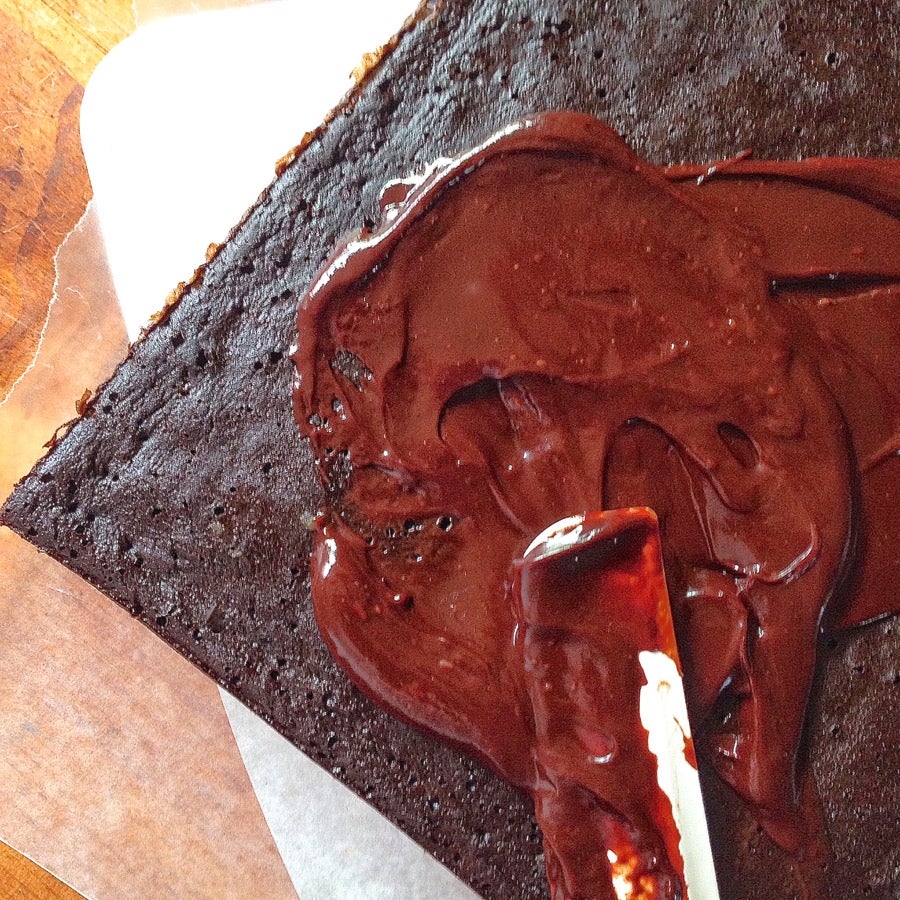 Coming out of the oven, I notice the brownies have a rather unattractive pockmarked surface. So I decide to ice them. As always, ganache covers a world of sins.
I mix 3/4 cup (128g) chocolate chips with 1/4 cup (57g) heavy cream, and microwave until the cream is steaming. I stir the mixture until the chips melt, then spread the ganache over the brownies.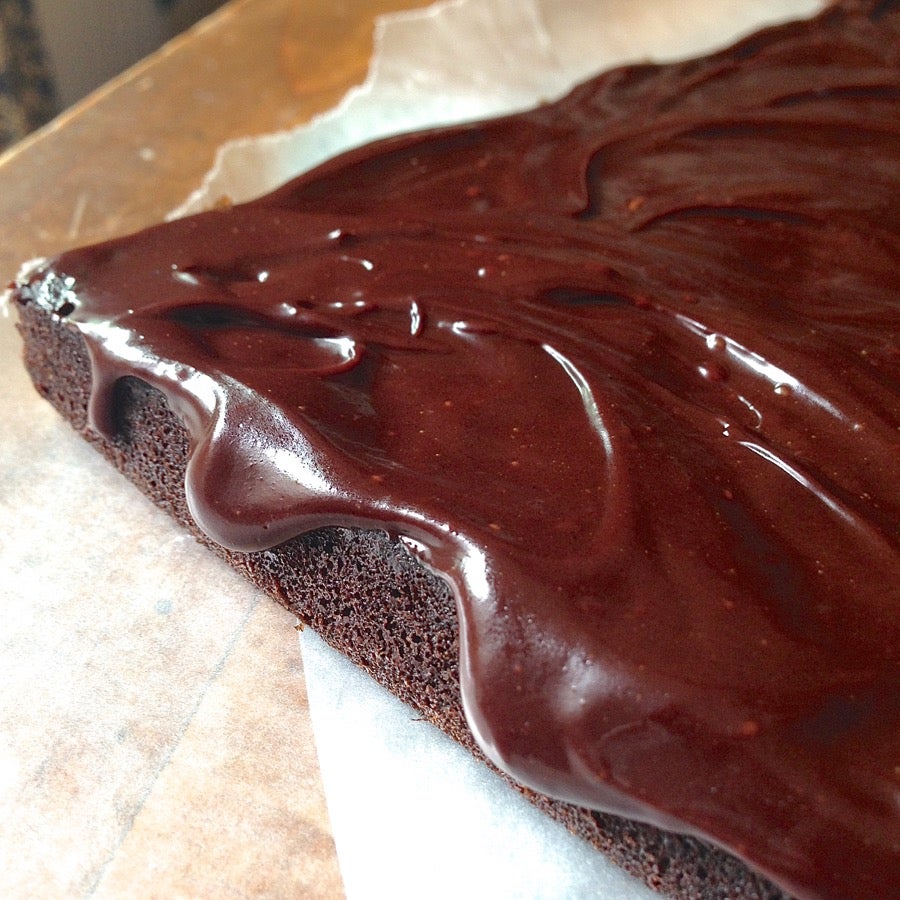 Excellent. Dense and moist, chocolate-y without being bitter – and nary a hint of shredded (stringy) zucchini.
So there you have it: zucchini recipes and tips, just in time for the mid-summer onslaught. Enjoy!
And these are just for starts: see all 17 of our zucchini recipes. I guarantee you'll make a dent in even the most prolific zucchini patch!
Oh, one final thing: my fellow baker/blogger MaryJane – if you ever contact our baker's hotline, you may have spoken with her – has two questions she knows you'll want answered.
1. What do I do if I don't have a food processor?
Use a blender. If you don't have a blender, don't let that stop you from making these recipes; just live with zucchini's texture.
2. Will puréed zucchini turn my baked goods green?
Well, only if you're making something very light colored, like sugar cookies or angel food cake. And I've yet to see a zucchini sugar cookie or angel food cake recipe, so no worries about green treats!
Jump to Comments