Strawberry Almond Flour Cake
Just in time for summer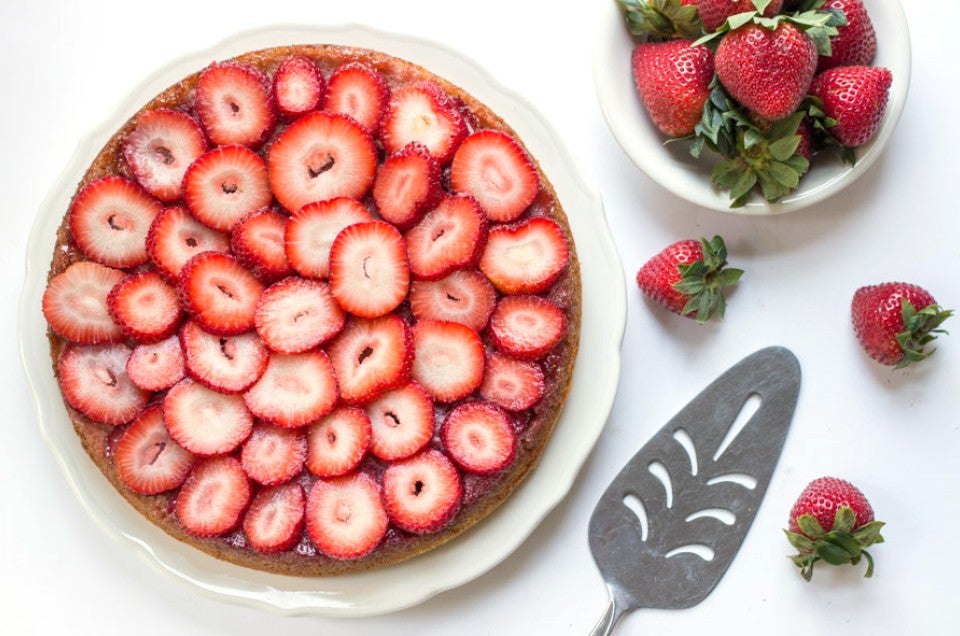 Have I mentioned that I love baking with almond flour?
Of course I have, because it really is a spectacular flour. Especially for recipes like this: a soft, tender, moist cake that happens to not only be gluten-free, but also grain-free and dairy-free as well!
It's hard to believe something this decadent could be made with just a few simple ingredients.
Unlike most cakes, this one doesn't use milk or oil. Rather, it relies on eggs and almond flour for  moistness and structure. But the real trick to keeping this cake ultra-light and fluffy is separating the eggs, then whipping the egg whites into a soft meringue and folding them into the batter.
You'll also notice that I opted for adding 1 tablespoon of coconut flour. The coconut flour helps give the cake a tighter crumb, while also helping with the tenderness of the cake. If you don't want to use (or don't have) coconut flour, no worries! Just add another 1/4 cup (24g) almond flour to the batter.
The result? A beautiful cake that's perfect for any occasion and happens to be delicious when topped with fresh berries, like these gorgeous strawberries. But what I really love about this cake is that it can be served either  as a dessert – or a healthy breakfast!
To start, we're going to preheat the oven to 350°F.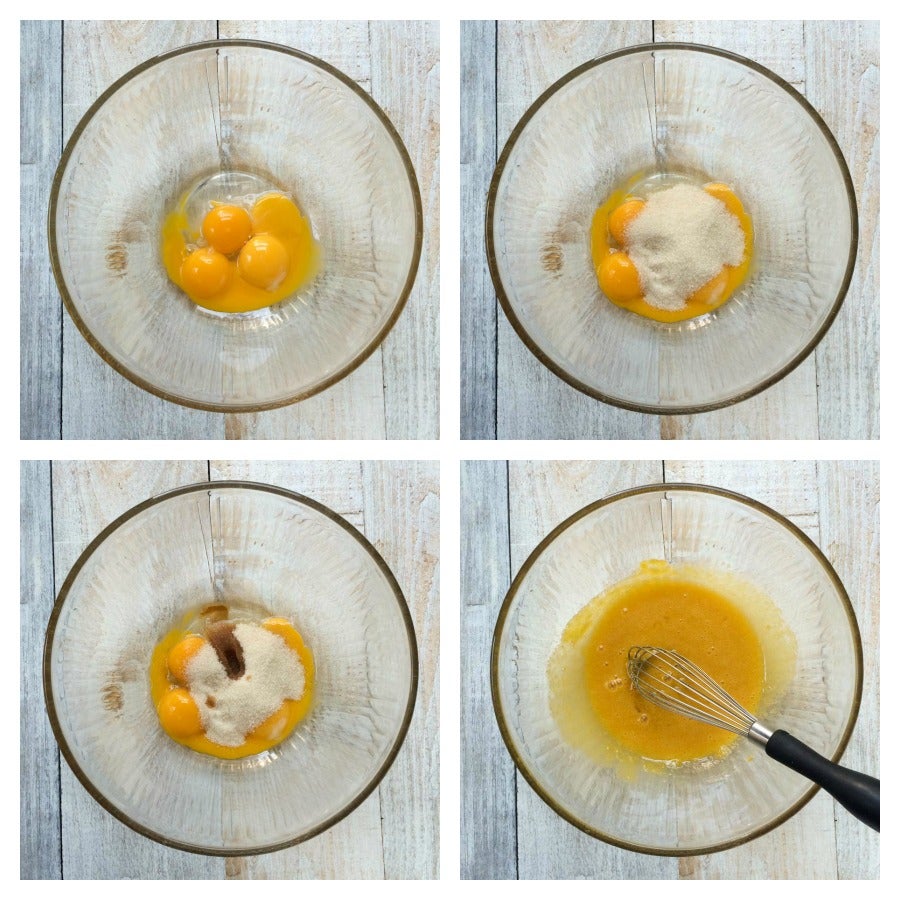 In a large mixing bowl, beat together:
4 egg yolks
1/4 cup (50g) sugar
1 teaspoon vanilla extract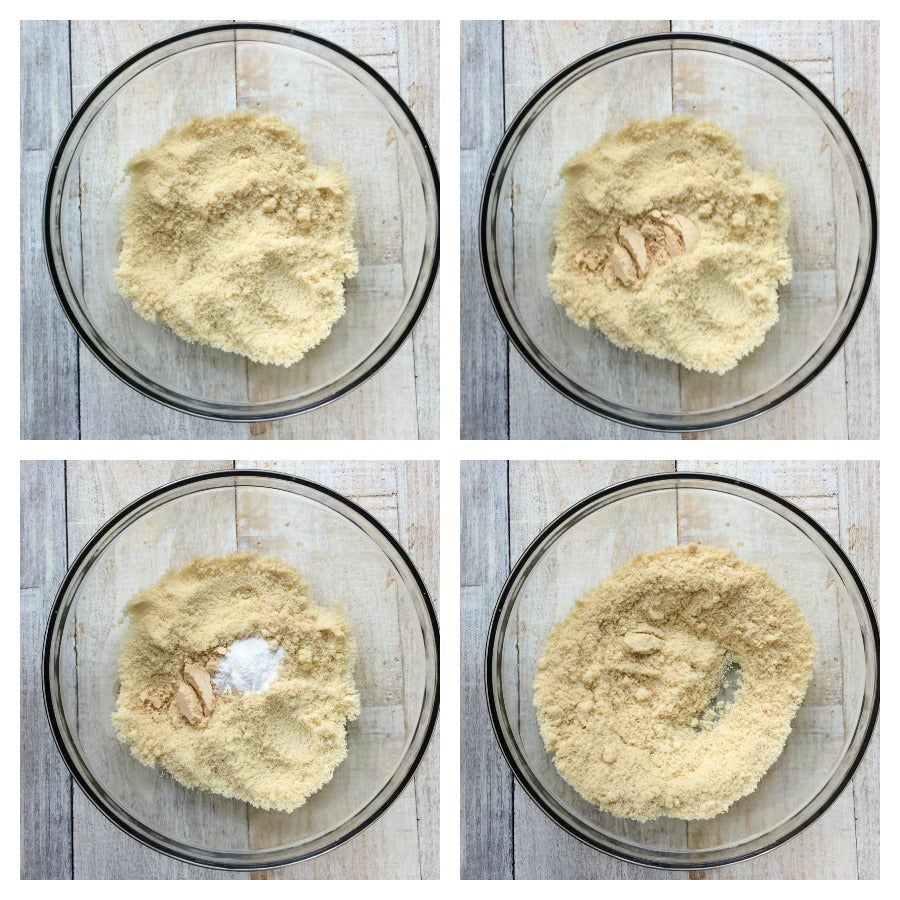 In a separate bowl, whisk together:
1 1/4 cups (120g) almond flour
1 tablespoon coconut flour
1 teaspoon baking powder
1/4 teaspoon salt
Set this aside while you whip the egg whites.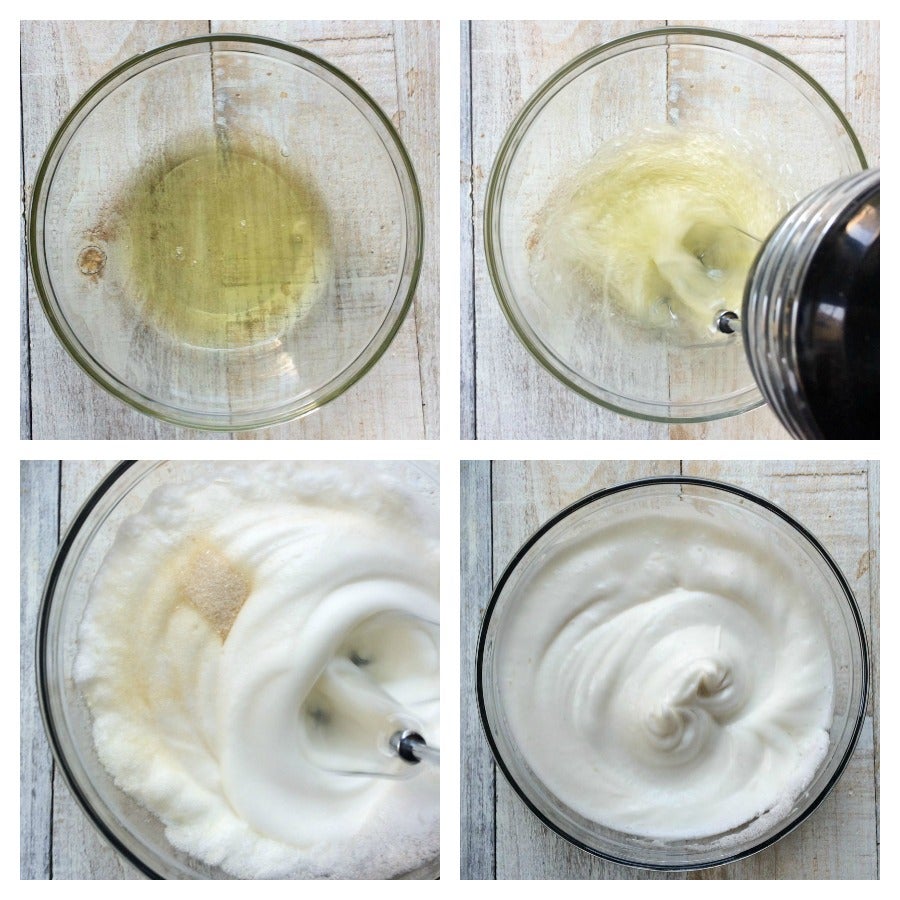 In a third (and final) mixing bowl, whip the four egg whites. Using an electric hand mixer (or your stand mixer), beat the egg whites until they form soft peaks. Once soft, slowly incorporate another 1/4 cup (50g)  of sugar. Beat again until just incorporated. Set aside.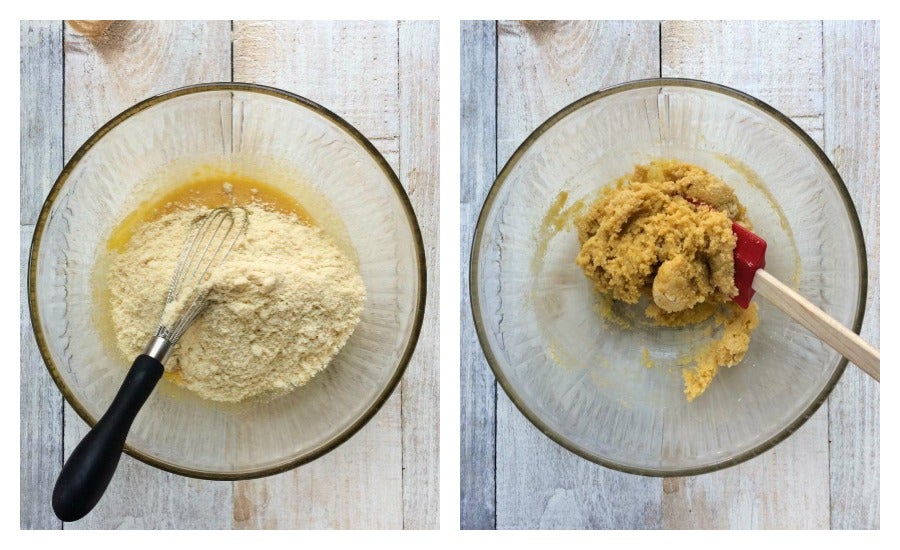 Add the flour mixture to the egg yolks and mix to form a dough. The dough will be quite dry (almost like pie dough), but have no fear. Once we add the egg whites it will loosen up.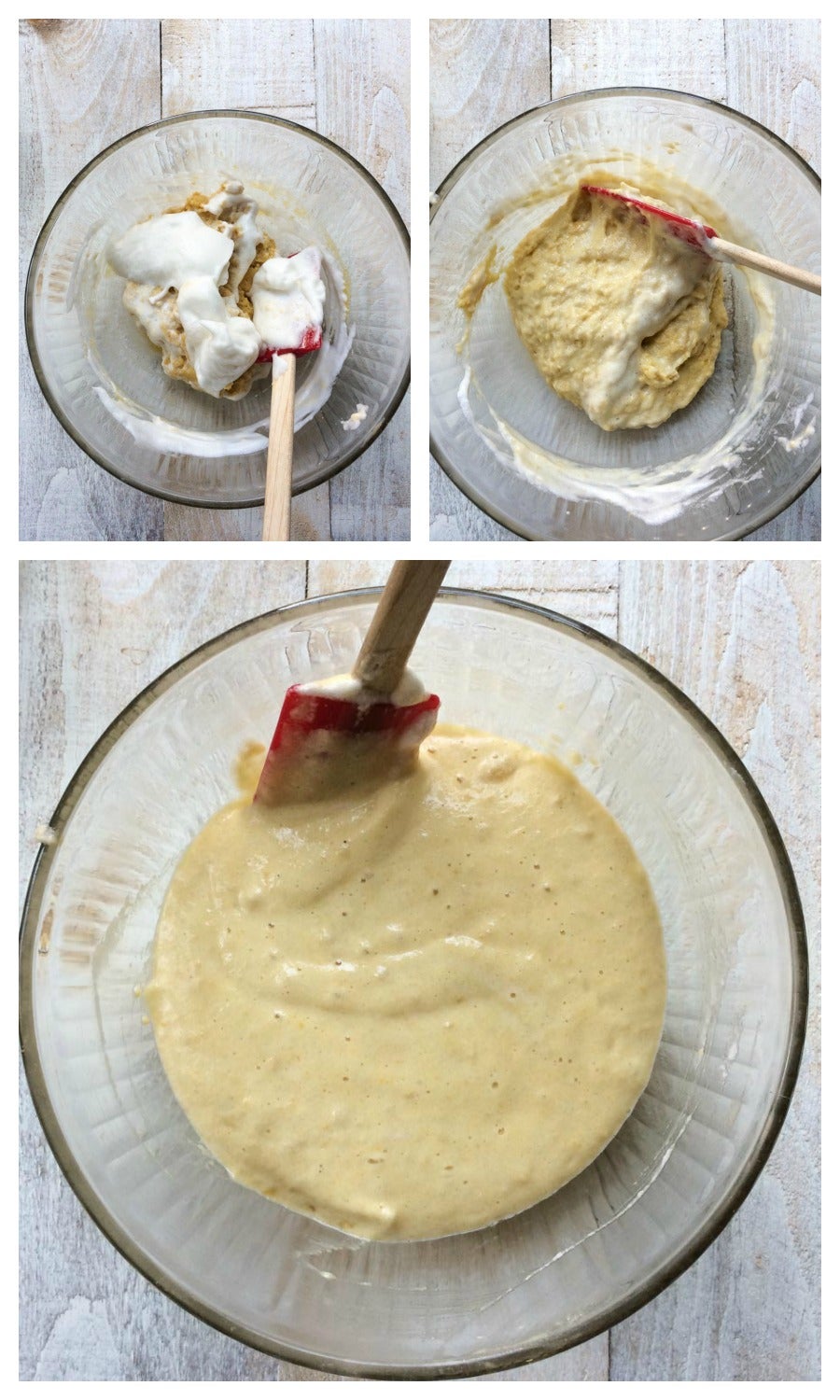 Fold the egg whites (1/2 cup at a time) into the dough, until fully incorporated. The final addition of the egg whites should leave you with a light, fluffy, smooth batter.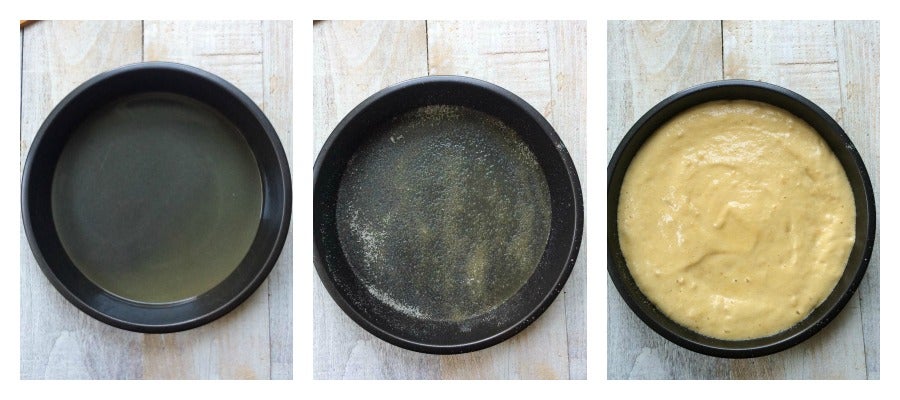 Lightly grease an 8" round pan with butter (dairy-free if desired) or coconut oil. Swirl it in the pan and make sure it goes up the sides. Then sprinkle 2 tablespoons sugar into the bottom of the pan – this will give the cake a sugary, syrupy coating on top.
Pour the cake batter into the sugar-coated pan and bake on the center rack for 30 to 35 minutes.
Remove the cake from the oven and allow it to cool in the pan for 5 minutes. Run a knife around the edge of the pan to loosen the sides, then turn the cake out onto a serving plate.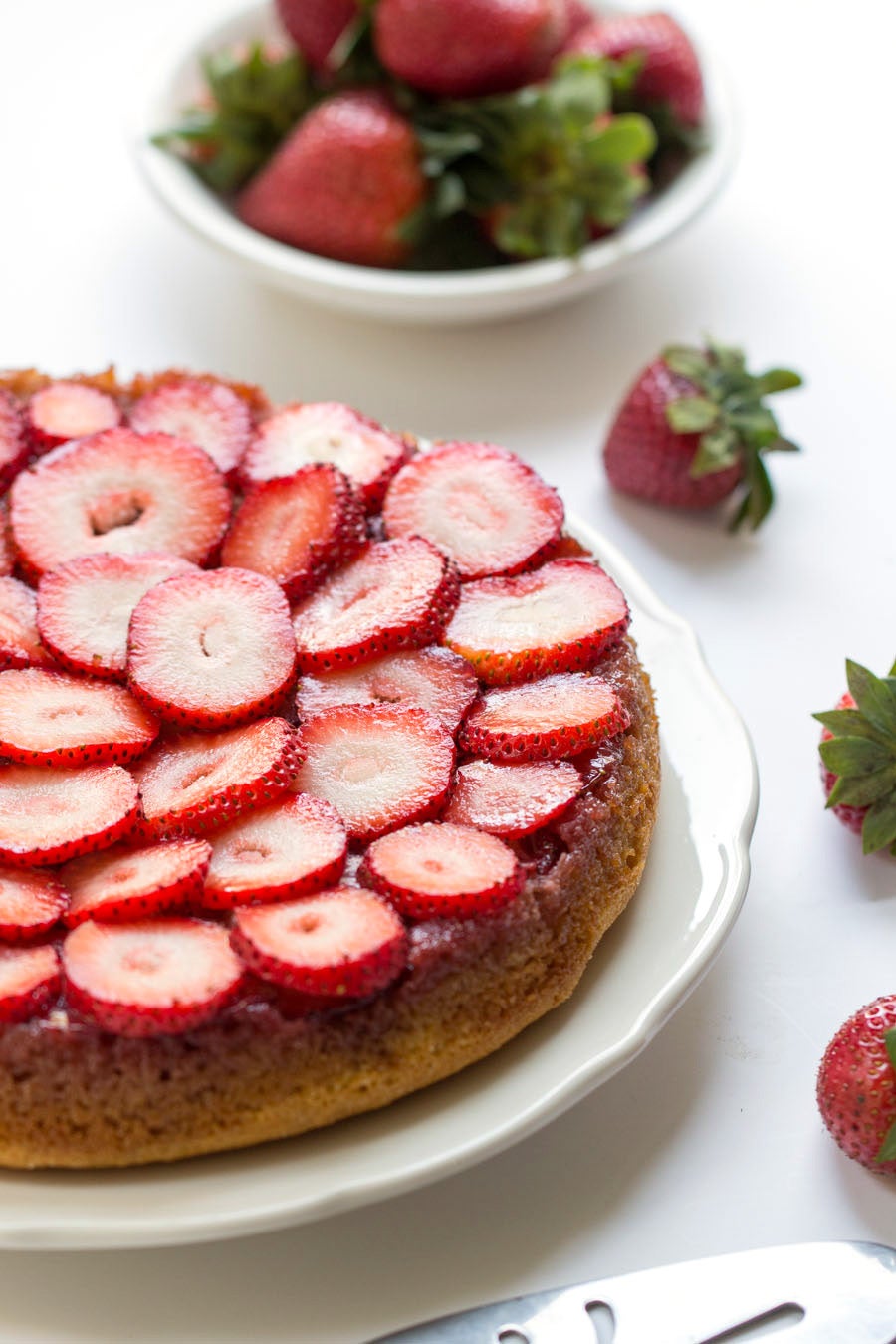 Allow the cake to cool fully before topping with sliced strawberries – you'll need about 2 cups (333g).
Serve this cake as is or with some whipped cream or coconut cream. And if you're opting for a truly decadent dessert, a drizzle of chocolate ganache would be perfect!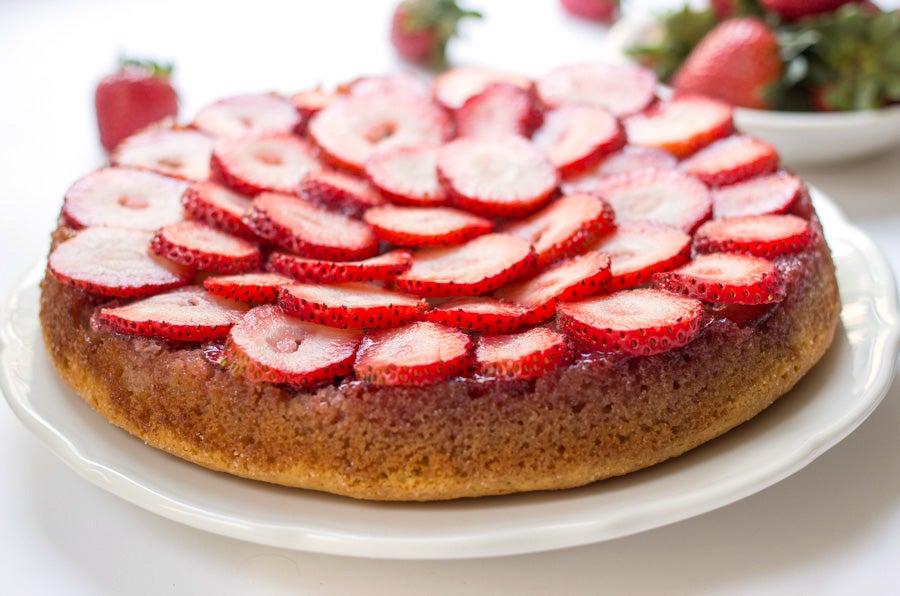 Please bake, rate, and review our Strawberry Almond Flour Cake recipe.
Jump to Comments