Granola is the perfect choose-your-own-adventure recipe, and with so many options for flavors and customization, the best way to find your perfect blend is to make your own at home.
You get to choose what add-ins you want: raisins or almonds or walnuts or pumpkin seeds.
You pick the spices: cinnamon or nutmeg or none at all.
The sweetener is up to you.
You can make it clumpy or crunchy.
The best part? You don't even need a recipe. Just follow these guidelines and get as creative as you want.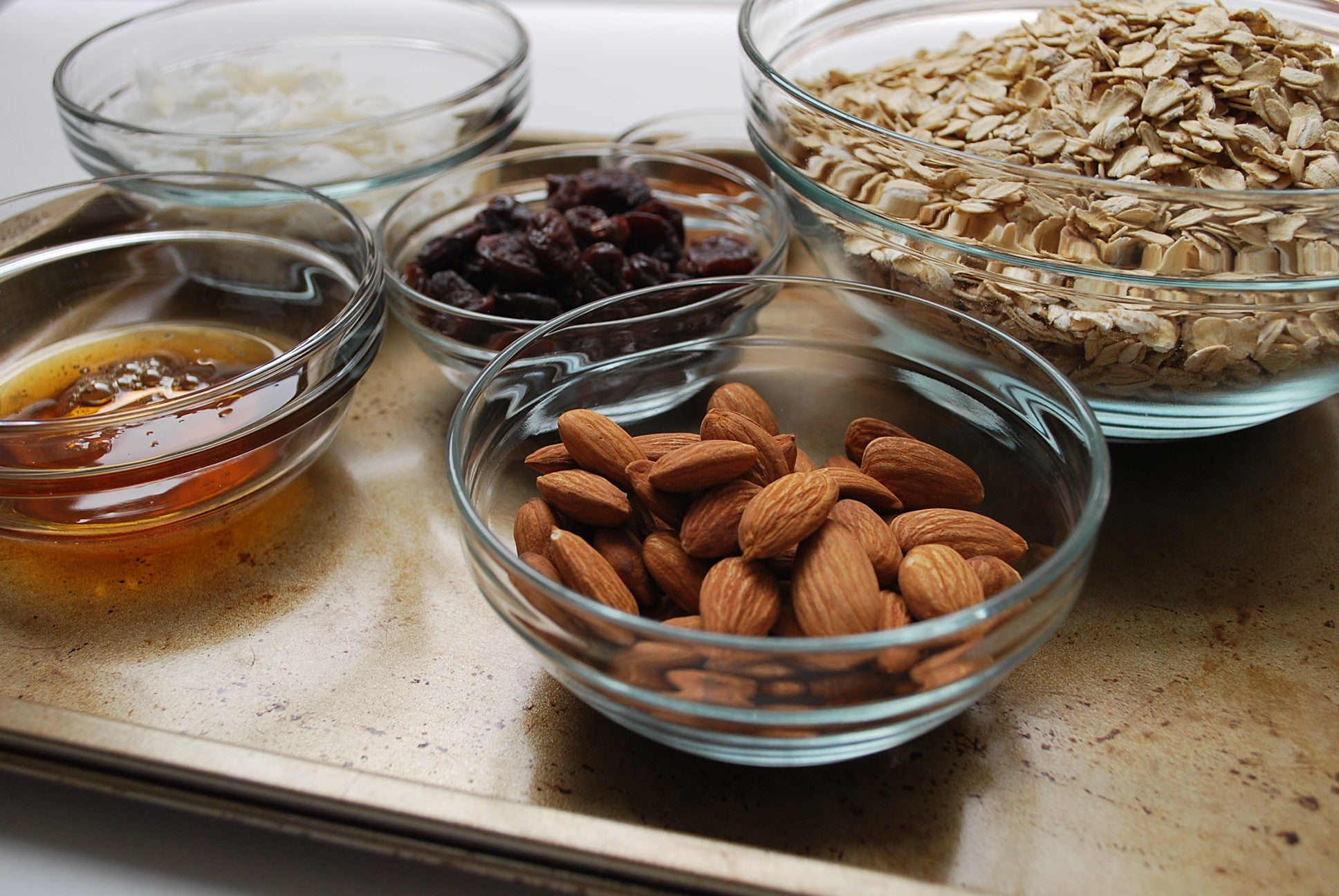 Start with a base
For one batch of granola (on a baking sheet, about 13" x 18"), use 3 cups of oats. Old-fashioned oats are best here. If you choose to make a double batch, don't cook the two baking sheets of granola at the same time, or you risk neither of them getting crunchy because you've over-crowded the oven.
Choose your add-Ins
This is the fun part! Think about what flavor profile you're in the mood for, like cranberry-orange or maple-pecan. For one batch of granola, you'll want about a cup of each add-in (like nuts, dried fruit, and coconut flakes). Aim for a maximum of 3 cups of add-ins, otherwise you risk overwhelming the oats. If you're using seeds (like flax seeds, sesame seeds, or hemp seeds), use only about 1/2 cup for each batch.
If you're using dried fruit of any kind, measure it out and set it aside for later. You don't want to bake the dried fruit, so you'll add it in after baking. For all the other ingredients, add them along with your oats to a large bowl and mix them together.
Choose your spices
Select spices that will complement your nuts and other ingredients. Cinnamon, cardamom, and nutmeg are all excellent in granola, but you could experiment with turmeric or ginger or anything else you like. Use about 1/2 teaspoon spice for each batch of granola. Add a sprinkle of fine sea salt, too, as this will help bring out the sweetness. Mix any spices you're using into your oat mixture and combine thoroughly.
Mix in sweeteners + fats
Now that your dry ingredients are all mixed, you want to add your wet ingredients in the form of sweeteners and fats to bind the granola and give it crunch. For sweeteners, any liquid sweetener will work well: maple syrup, brown rice syrup, agave nectar, and honey are all good. You'll want about 1/2 cup of liquid sweetener for each batch. If you prefer your granola on the sweeter side, you can also add up to 1/2 cup brown sugar (the brown sugar will also melt and help form nice cluster). If you want it less sweet, use less liquid sweetener and leave out the brown sugar.
Then you need something to bind the granola together and make it nice and clumpy. Olive oil and melted coconut oil are my favorite choices here; use 1/2 cup of either one (or a mixture of both). If you like a crisper, clumpier granola, add more oil. If you like your granola really on the clumpy side (think granola clusters), try adding an egg white to your mixture. If you're looking for a healthier cereal, you can substitute applesauce (or even pumpkin) for the oil. Keep in mind that this is a loose rubric – tweak it as you see fit.
Add your wet ingredients to the oat mixture and stir very well to combine.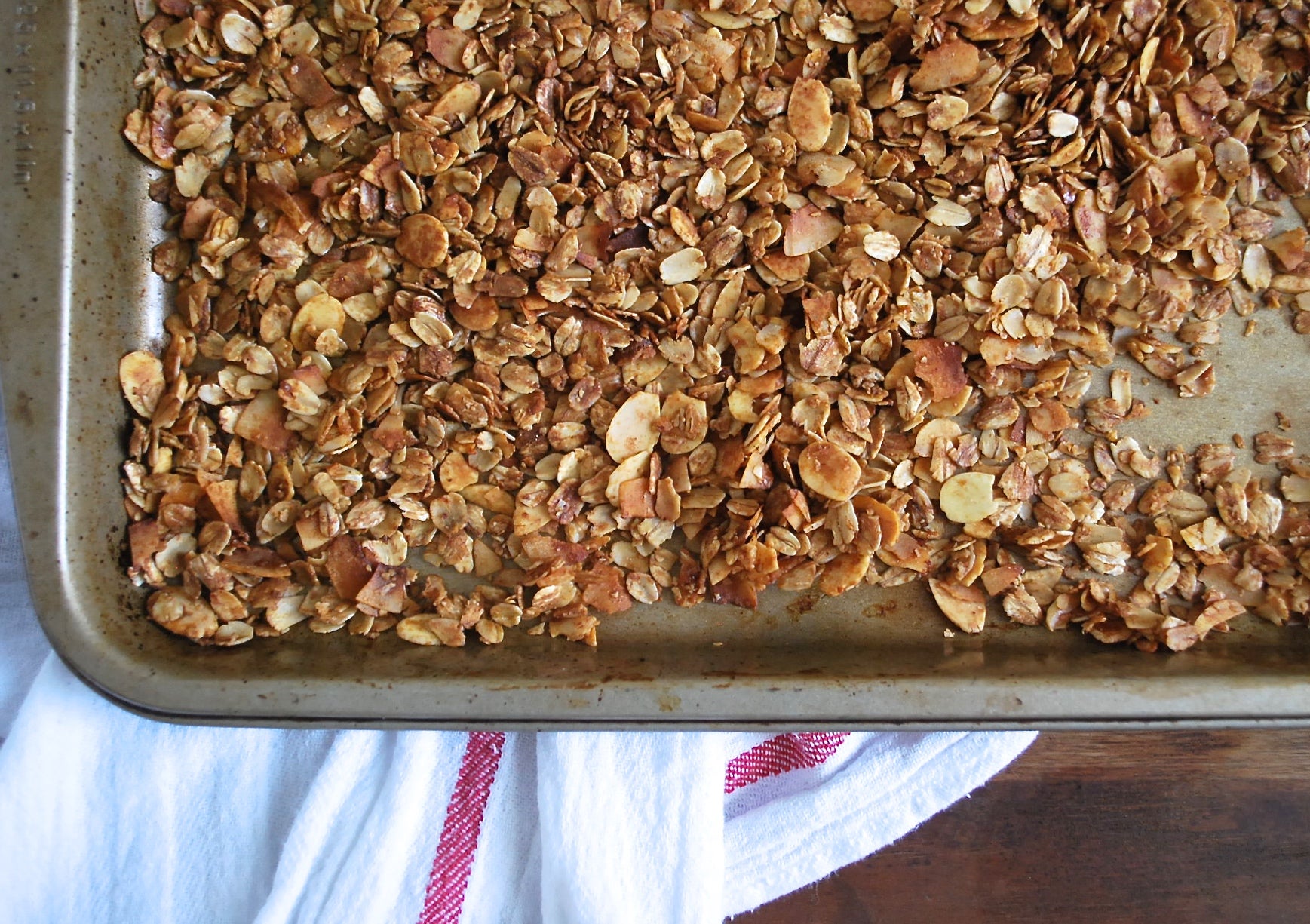 Bake it
Pour your bowl of oats onto a baking sheet and spread it in a thin layer. You may or may not need parchment paper to keep it from sticking, but consider using it to make it easier and neater to lift off your finished granola in one sheet and pour it into a jar.
Bake your granola in a 300°F oven for about 45 minutes. Use a spatula or wooden spoon to stir the granola every 15 minutes or so to keep the edges from burning and to ensure that it bakes evenly. Take it out when it is a deep golden brown and allow it to cool completely – it'll crisp up as it cools.
Once it's cool to the touch, stir in any dried fruits you want. Cranberries, tart dried cherries, mulberries, and currants are good options, but it's up to you!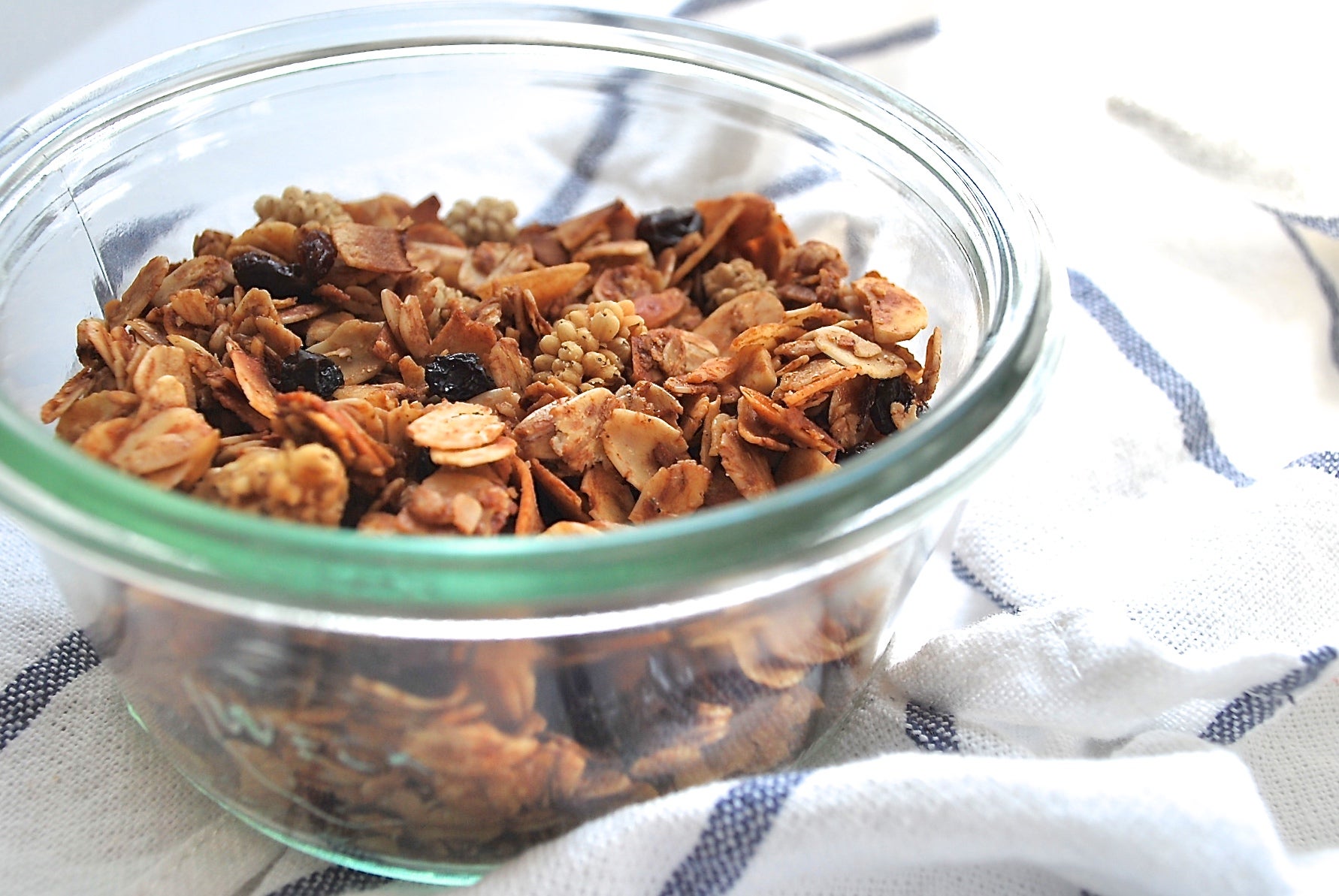 Once you realize how easy it is to bake your own granola, you'll be able to create the perfect blend. Bake a batch on Sundays and you'll have breakfast all week.
And when the holidays roll around, you'll have the perfect edible gift idea: homemade granola in a glass jar tied with a ribbon. That's the kind of present we'd like to open.
Love granola? Try some of our favorite versions, like Crunchy Granola and Pina Colada Granola.
Jump to Comments