Do you have a favorite stuffing recipe?
If you do, then I wouldn't blame you for not wanting to hear about my favorite stuffing.
But then again, you might just want to keep reading. Because these days, you never know when you're going to be hosting someone at your dinner table who's following a gluten-free diet.
And my favorite stuffing (in fact, probably your favorite stuffing, as well) can easily be turned gluten-free, with just one simple substitution – as well as a bit of careful label-reading.
Here's how.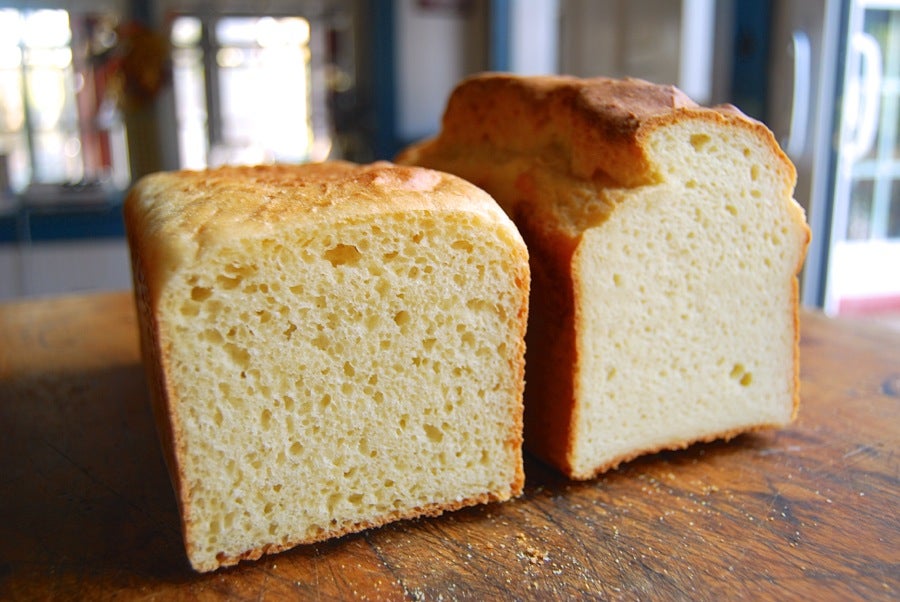 Start with a loaf of bread. That's English Muffin Toasting Bread on the left, and gluten-free sandwich bread made from our mix on the right. Or use a loaf made from our Gluten-Free Sandwich Bread recipe.
Excuse the odd crown on the gluten-free loaf – I forgot to smooth the surface thoroughly once I'd scooped the batter into the pan.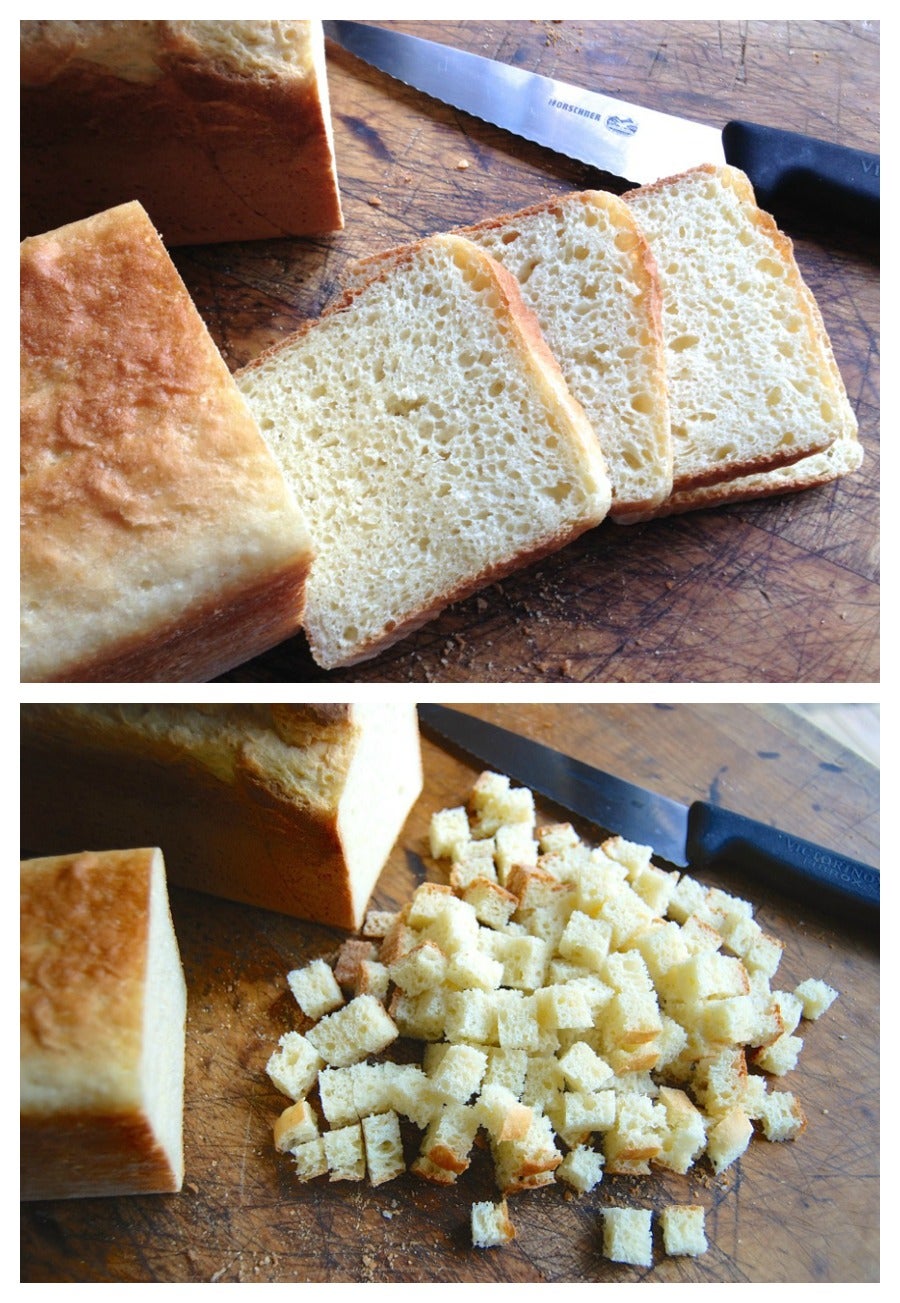 My stuffing recipe, which makes about 8 to 12 servings, calls for 8 cups of cubed bread. If you're using a scale, this is about 13 ounces (a little over half a loaf) of the toasting bread, and 19 ounces (about half) of the denser gluten-free loaf.
You want the bread to be a bit stale, so it doesn't lose its body entirely in your stuffing.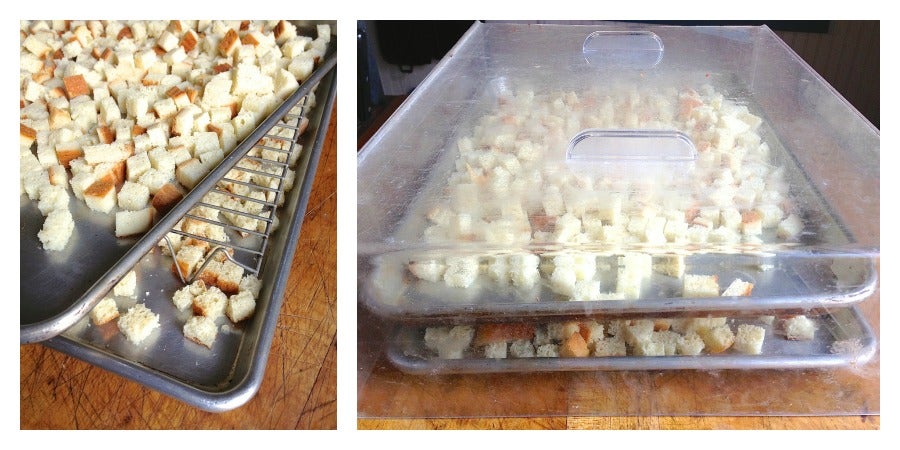 Spread the bread cubes on a baking sheet, and let them dry out overnight.
I've segregated the regular and GF cubes on their own pans. I stack the pans to save space, but set a cooling rack on the bottom pan, then put the top pan on the rack, so there's air space between the two. Then I add a cover.
Can you leave the bread uncovered? Sure. I was just worried about my dog (whose nose can just barely inch up to counter level) getting not-so-bright ideas.
Oh, and if you're in a hurry? Simply bake the bread cubes in a preheated 350°F oven for 10 minutes. That'll "stale" them quickly.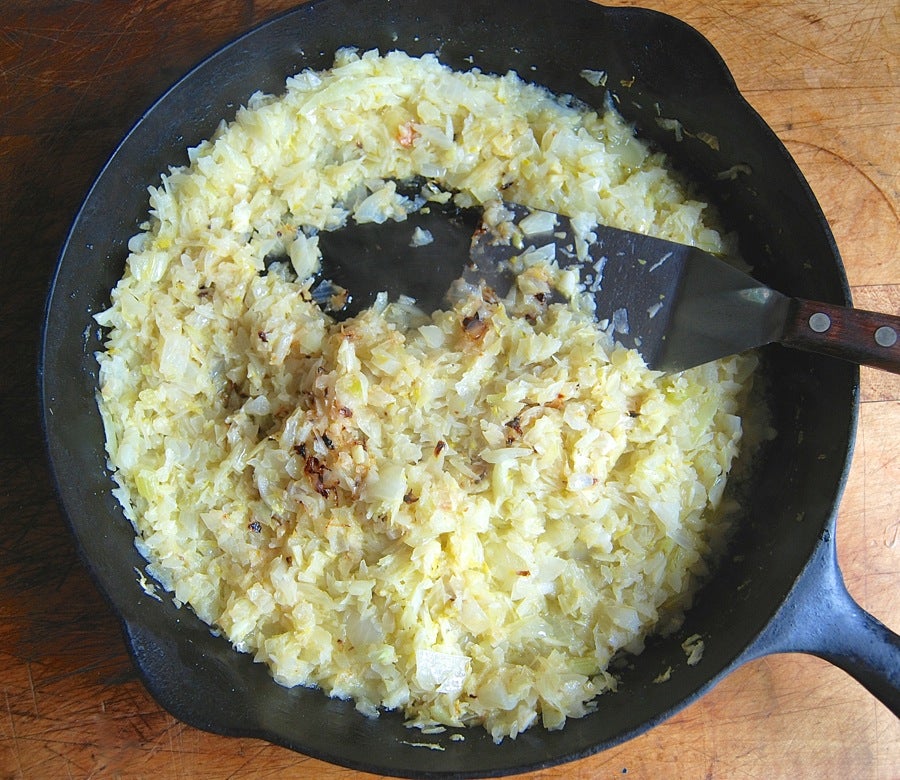 Next, melt 1/2 cup (113g) butter in a large frying pan.
Gently sauté 3 cups (425g) peeled, diced onions (about 3 medium onions) and 1 cup (128g) diced celery, including green tops, until soft and barely beginning to brown, about 20 minutes.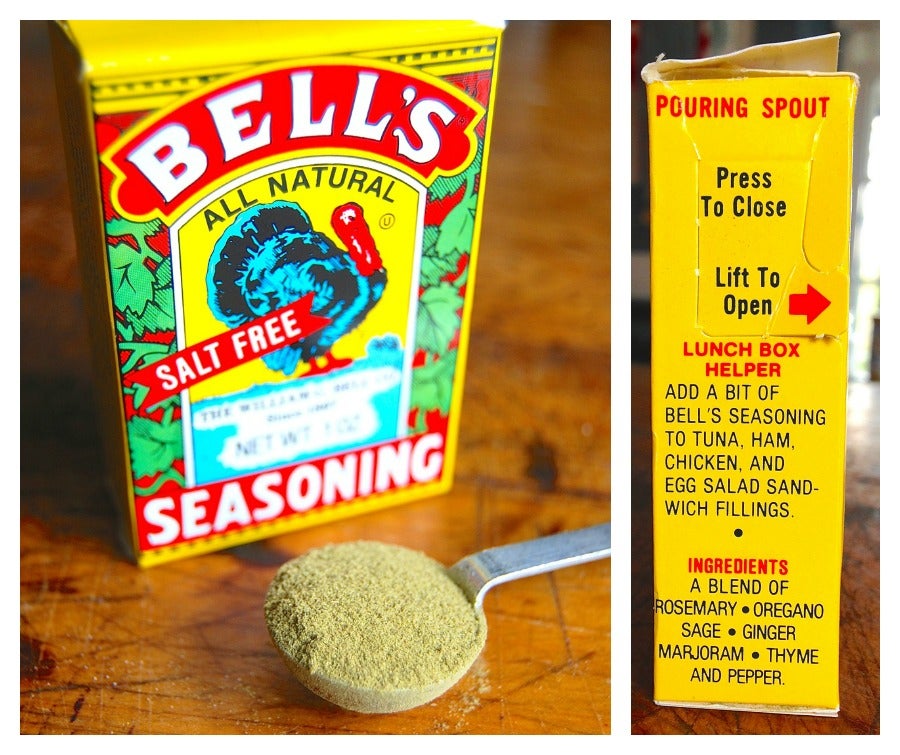 Here's where the reading labels part comes in. I like to use Bell's Seasoning in my stuffing, since it combines all those stuffing-like flavors in one handy blend.
But is it gluten-free?
Looks so. Admittedly, it's not packed in a certified gluten-free facility, but unless you're feeding someone with celiac disease, this degree of gluten-free-ness should be fine.
Now we're ready to assemble the stuffing.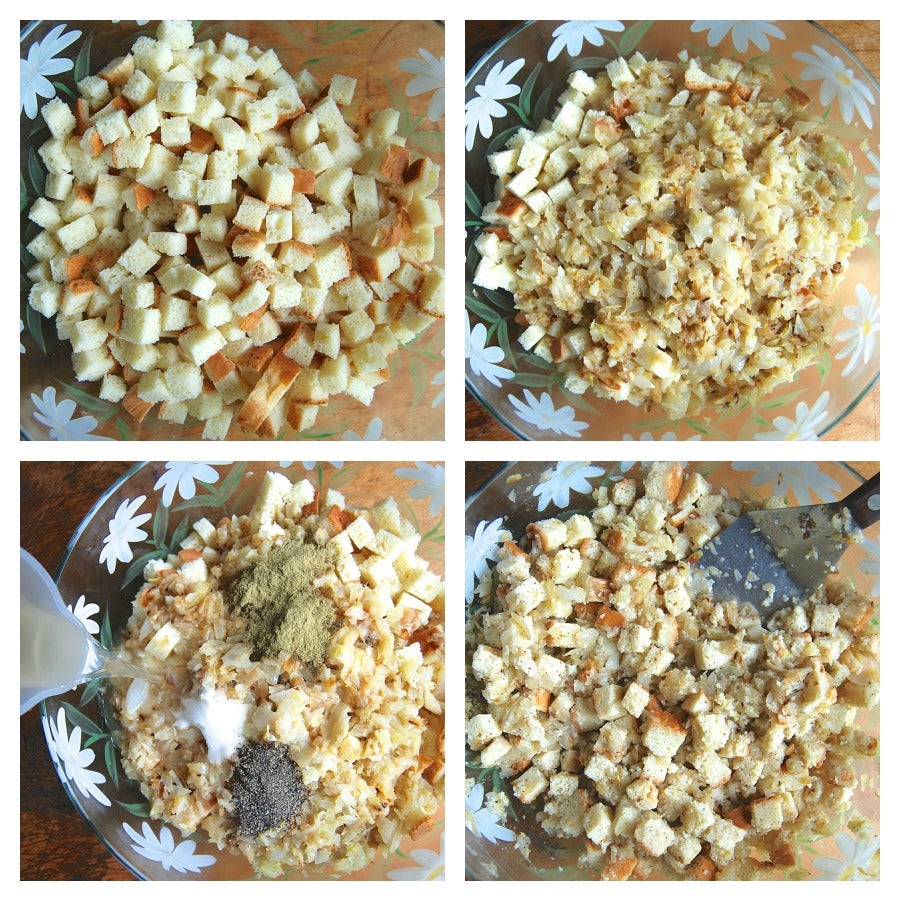 Pile the bread cubes in a large bowl. Spoon the onion mixture over the bread.
Add the following:
2 tablespoons dried parsley, or 1/4 cup fresh chopped parsley
1 to 2 teaspoons poultry seasoning or Bell's Seasoning, to taste
2 teaspoons salt
1/4 to 1/2 teaspoon ground black pepper, optional
Pour 2 cups (454g) broth into the bowl, along with 3 large eggs, which you've beaten to combine first.
Note: For a heartier stuffing, add 1 pound cooked, crumbled sausage; chopped red and/or green bell peppers, which you've fried along with the onions and celery; diced, cooked mushrooms; dried cranberries, for a touch of sweetness, or whatever add-ins tickle your fancy.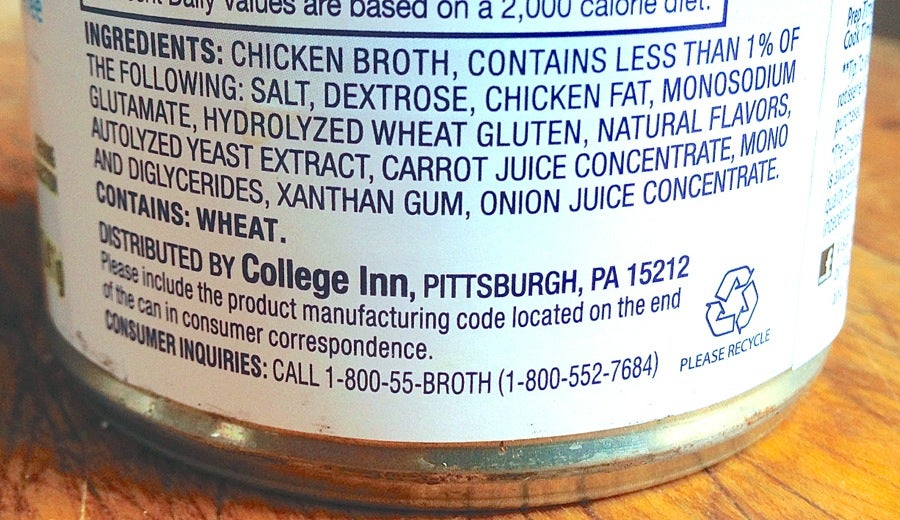 Here's another place where you need to read the label – who'd ever think canned chicken broth would contain gluten? If you're using canned rather than homemade, choose broth or stock that's gluten-free.
Now, at this point, you can spoon the stuffing into your bird.
Or, if you're baking it outside the turkey, as so many do these days, spoon it into a lightly greased casserole dish, or an 8" x 8" or 9" x 9" pan or equivalent.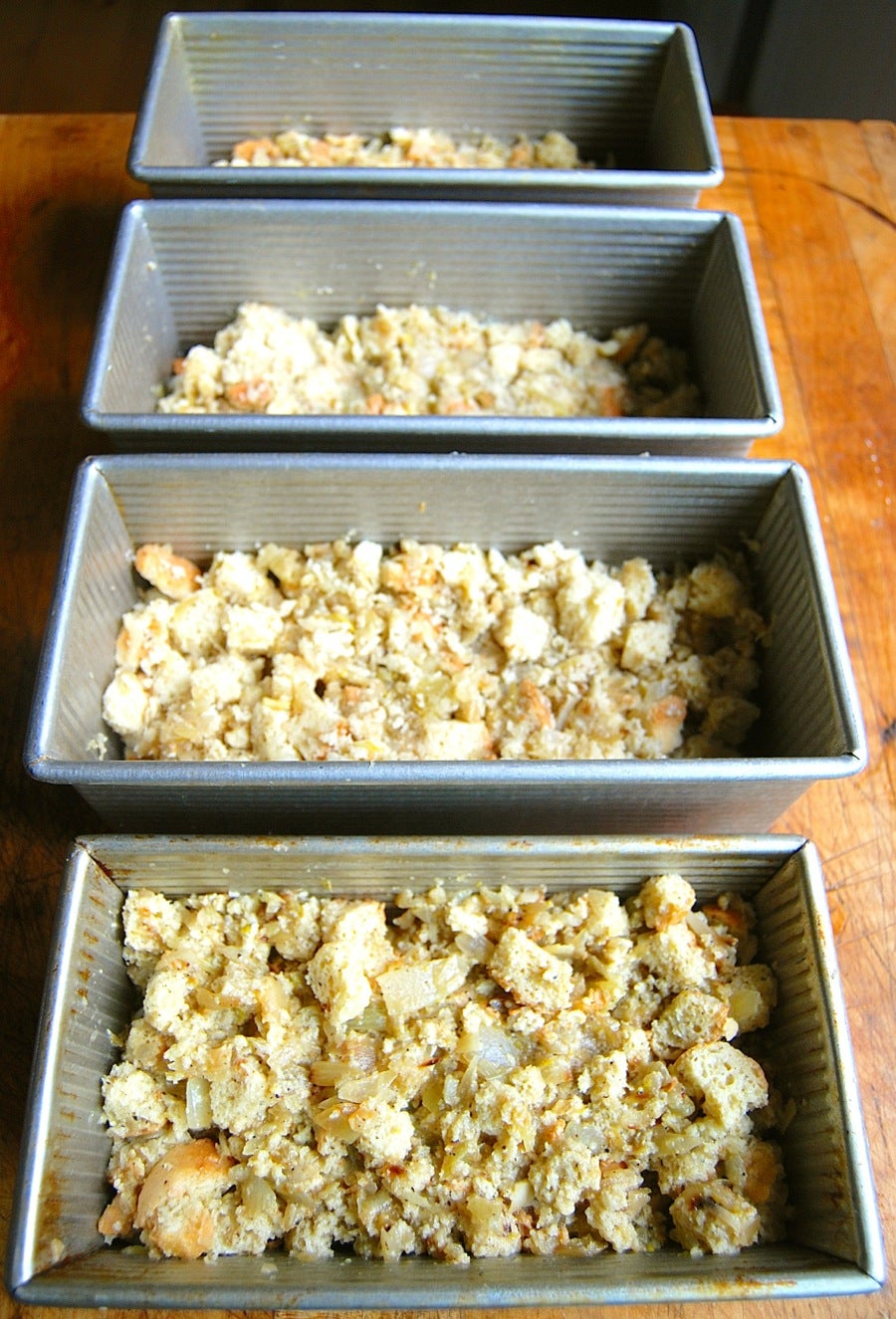 Since I'm doing a couple of tests (GF vs. standard, eggs vs. no eggs), I use four bread pans.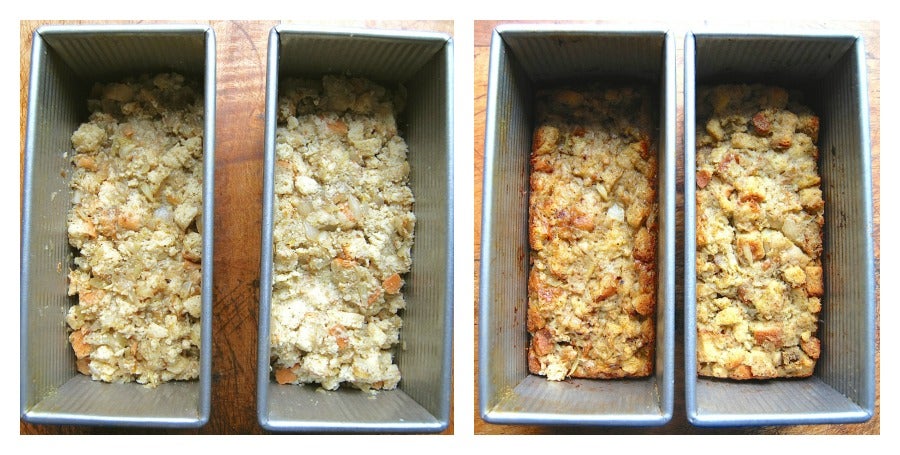 If you're baking the stuffing in a pan, bake in a preheated 350°F oven for 1 hour, until it's firm and no liquid is evident. For a crusty top, remove the foil about 20 minutes before the end of the baking time.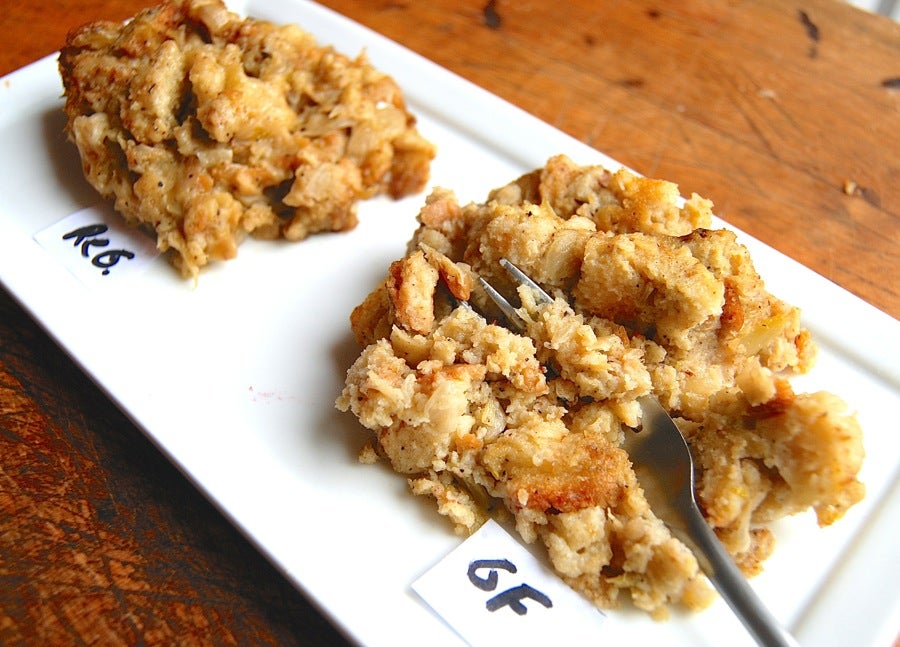 So, how'd we do?
The gluten-free stuffing is just slightly crumblier than regular stuffing, but the addition of the eggs really helps with its texture.
And taste? Indistinguishable from regular stuffing. Delicious.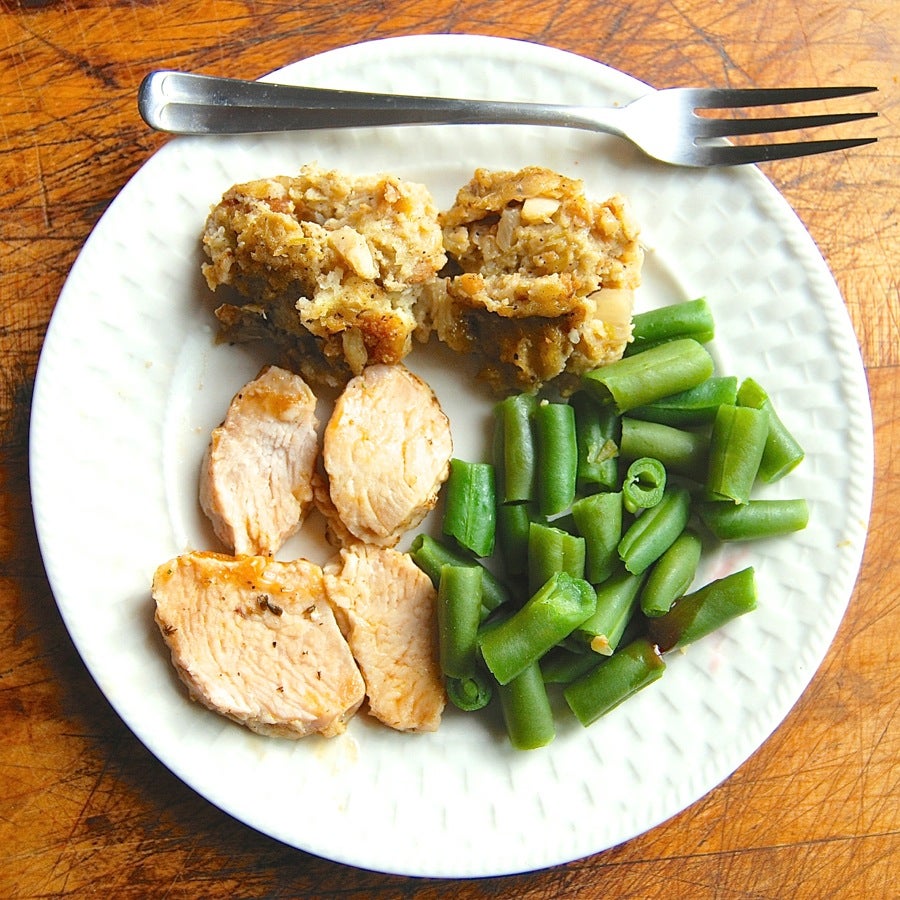 I was all set to end this post right here, with stuffing hot out of the oven. But Frank, our test kitchen gluten-free guru, suggested I add some gluten-free gravy, too.
"People call constantly asking for a gluten-free gravy recipe. You really need to do it."
Message received.
Frank suggested his family's favorite recipe, "right off the side of the Argo cornstarch box." Luckily, it happens to be gluten-free (given cornstarch is GF).
Here's how it's done. I've tweaked Argo's recipe a bit.
Combine 2 to 3 tablespoons (14g to 21g) cornstarch (depending on how thick you like your gravy) with 1/2 cup (113g) room-temperature gluten-free broth, whisking it or shaking it in a jar until no lumps remain.
Place the cornstarch/broth and an additional 1 1/2 cups (341g) broth into a saucepan. For extra flavor and richness, stir in pan drippings or melted butter, to taste.
Cook the gravy over medium heat, stirring frequently, just until it thickens. Remove the pan from the heat; you don't want it to simmer, as further cooking will cause the gravy to thin. Season to taste with salt and pepper.
Serve hot.
And there you have it: two versions of two Thanksgiving favorites, suitable for one crowd – family and friends.
Please read, make, and review our recipe for Gluten-Free Stuffing and Simple Gravy.
Jump to Comments