News alert: the perfect gluten-free cake doughnut is possible. Which means it's time to rejoice in doughnut heaven together.
Now as you know, I've been gluten-free for a few years now, and I was always a deep admirer of doughnuts back in my "old" days. So as you can imagine, I pretty much gave up the notion of the tender, light, and cake-y doughnuts of my gluten-filled past, and let those little morsels just dance in my dreams. They were a figment of my imagination. Something I never expected to be able to enjoy again. I just pushed them out of my mind and let them be a distant memory.
But then something amazing happened.
You see, when we were talking about recipes to share this fall, doughnuts kept popping into my head. I'm not sure if it was my subconscious urging me to try and re-create that version I missed so much, or if it was the fact that I know so many of you are in the same situation – doughnut lovers who haven't enjoyed one in quite awhile. Either way, we decided to give gluten-free doughnuts a try.
We went for gluten-free pumpkin doughnuts, because the traditional version is one of the most popular recipes on our web site, and we figured that those of us who are gluten-free deserve to enjoy the same fabulous treat – just sans gluten.
I was skeptical. I was hesitant. I almost wanted to run the other way and hide because I knew I'd never be able to re-create the texture that I pictured in my mind for years…
With the encouragement of my fellow bakers, I gave it a go.
I used our standard recipe as my base, swapped some of the oil for an egg, and used our Gluten-Free Flour instead of our wheat-based All-Purpose Flour. I added a touch of xanthan gum, and went for it. I really wasn't confident they would turn out the first time; the dough seemed too runny, and I was sure they wouldn't bake through.
I kept the oven light on and watched the entire time they were baking. For the first 8 minutes... nada. But then, magic. The doughnuts started rising. And they took shape. And they formed those rounded glorious tops and puffed above the pan. They actually looked like doughnuts!
I was giddy with excitement. After they cooled slightly and I dusted them with cinnamon-sugar, you better believe I dug right in. Well, I don't want to spoil it for you (since I know you'll be making them soon!), but these doughnuts are out of this world. They're soft, flavorful, with a perfect crumb. They're springy, not too sweet, and make a fabulous breakfast (or afternoon snack).
But enough with my yapping. Let's get baking!
You'll want to begin by preheating your oven to 350°F. Grease two doughnut pans with non-stick cooking spray.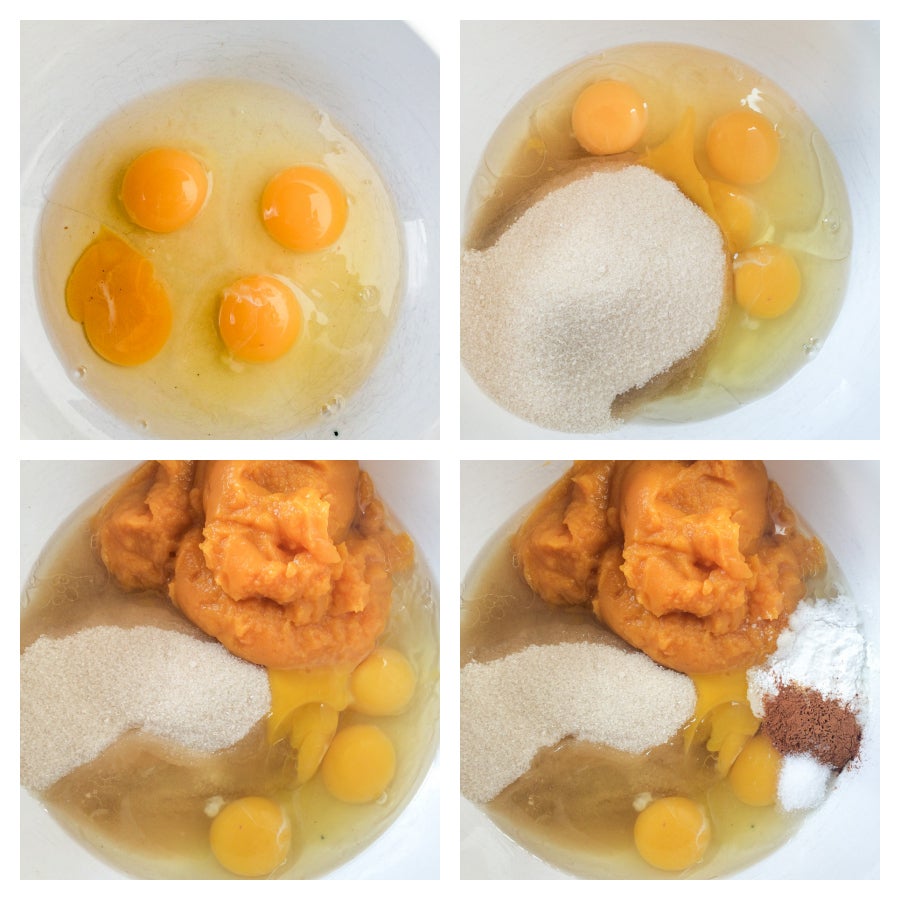 In a large mixing bowl, combine:
1/4 cup (50g) vegetable oil
4 large eggs
1 1/2 cups (298g) granulated sugar
1 1/2 cups (340g) pumpkin purée
1 1/2 teaspoons pumpkin pie spice, or 3/4 teaspoon cinnamon plus a heaping 1/4 teaspoon each nutmeg and ginger
1 1/2 teaspoons salt
1 1/2 teaspoons baking powder
Whisk until the batter is completely smooth.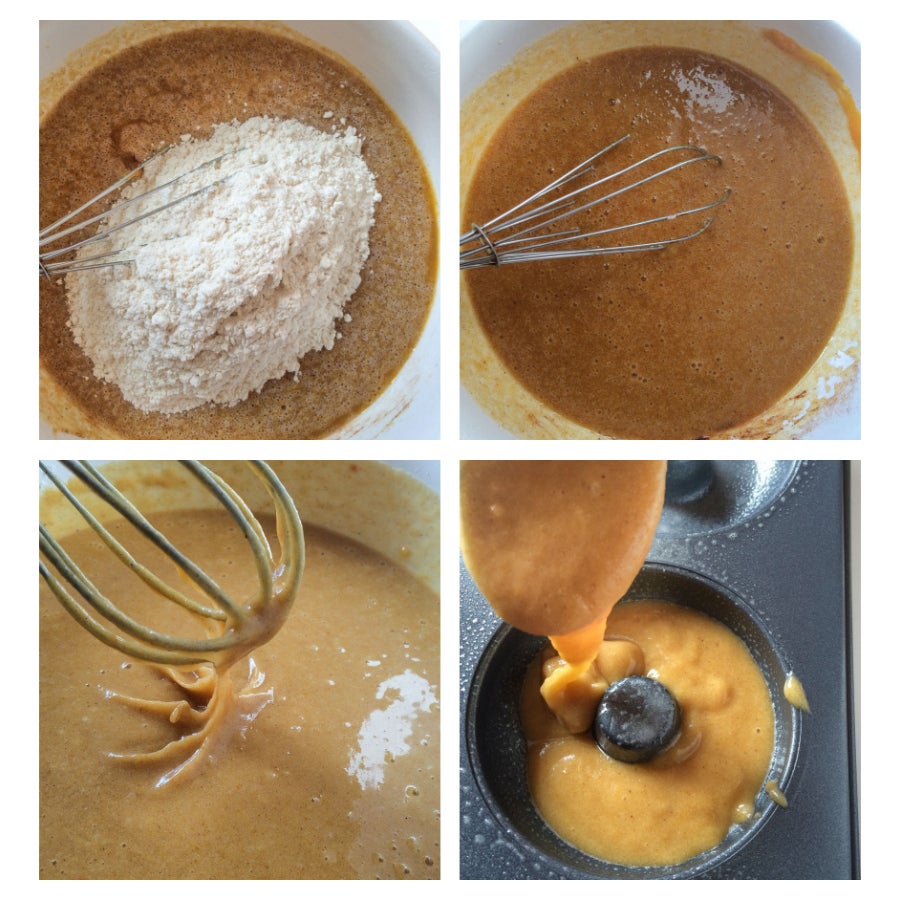 To your wet ingredients, whisk in 1 3/4 cups + 2 tablespoons Gluten-Free Flour and 1/2 teaspoon xanthan gum, and whisk again until smooth.
The batter will resemble that of a cake – it will just barely hold to the whisk and will be a little runny. Have no fear... they WILL bake through!
Spoon the batter into your prepared pans, filling them about 3/4 full.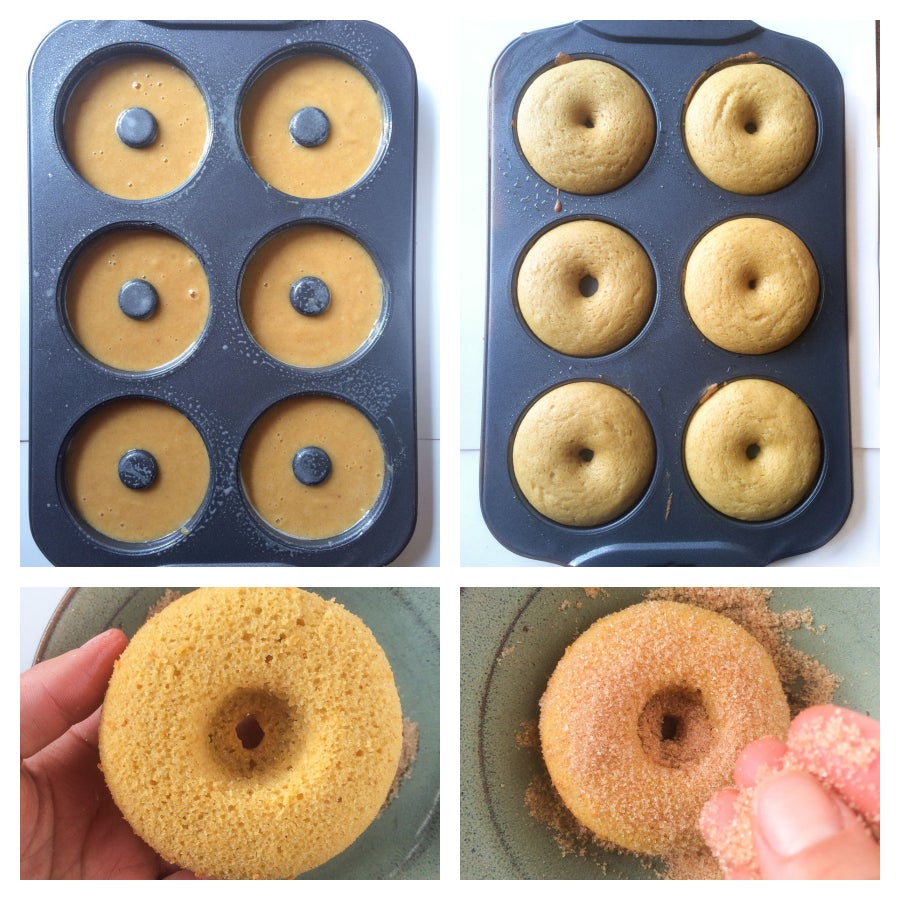 Bake the doughnuts on your oven's center rack for 15 to 17 minutes, or until a toothpick (or cake tester) inserted into the center comes out clean.
Remove the doughnuts from the oven and let them cool in the pan for 3 to 5 minutes.
Once cooled, remove them from the pan and dust with cinnamon-sugar. I used a bowl, my hands, and then proceeded to rub the doughnuts all over with sugar. It worked well, but for a less messy way, you can always use a bag and gently shake them inside (check out this post for directions).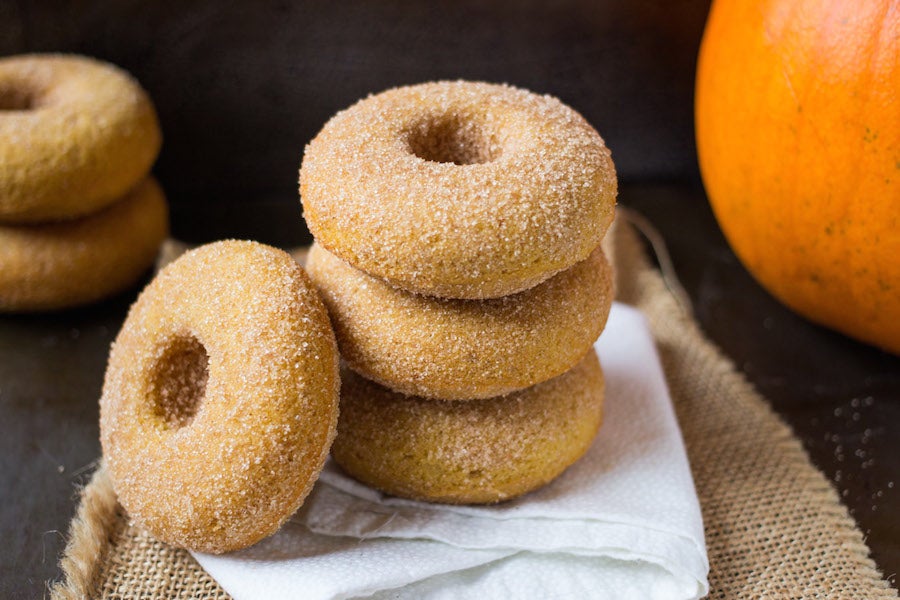 And let me just say... the sugar totally makes it.
While these doughnuts are certainly delicious without it, as soon as you dust these beauties with some cinnamon-sugar, it takes the whole recipe up a notch. They suddenly become this decadent fall treat that everyone – yes, even your gluten-loving friends – will adore.
These are hands-down one of the best recipes I have ever made (and that's saying a lot because I bake A TON). I've made four batches in four days and every time they've been gobbled up. I think people are now coming over to my house not to visit with me, but to eat doughnuts.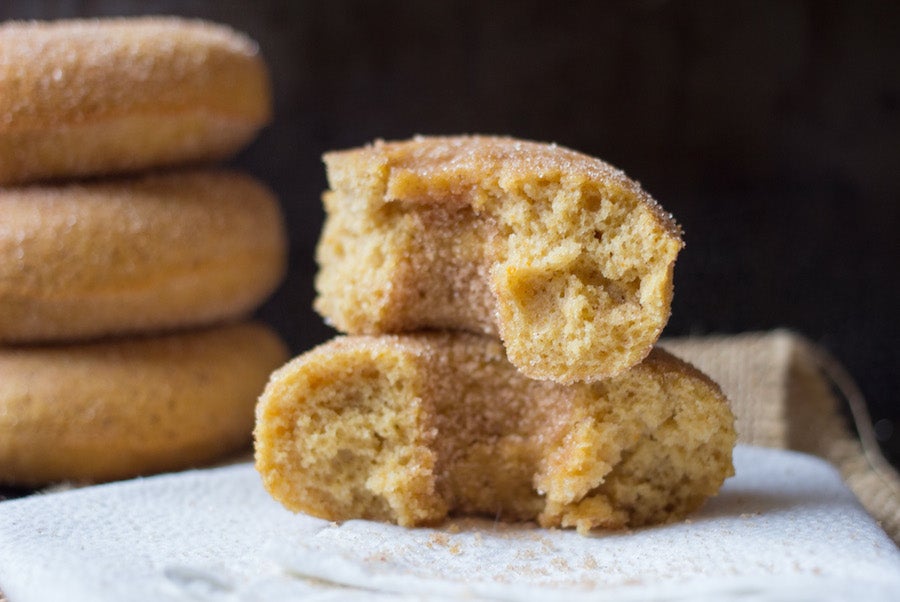 And now I think it's time for you to take these into your own kitchen and knock the socks off your friends, family, neighbors, and yourself alike.
Please bake, share, and review our recipe for Gluten-Free Pumpkin Cake Doughnuts.
Jump to Comments