Karen Colberg is a mom, wife, baker, and a long-time King Arthur Flour employee-owner; she's our Chief Marketing Officer, and a key member of our leadership team. Renowned around the company for her banana bread (as well as her meatballs!), we're pleased that Karen agreed to write about her bread here, and to share the recipe with all of us.
You're probably thinking, "Another blog about banana bread?"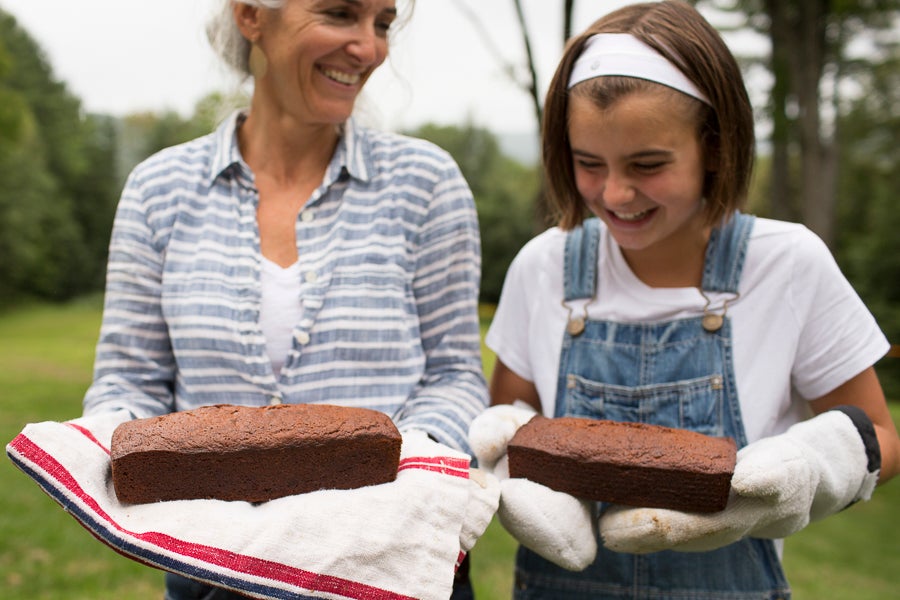 Well, sort of. I bake banana bread pretty often, and apparently – according to Google – so do many of you. It shouldn't surprise me that banana bread is THE most searched-for bread recipe on the Web, but it does.
Either way, banana bread gives me a chance to talk to you about something you might bake fairly often, and to share a little bit about my connection to baking. I bake because I love it. I bake because I can share the fruits of my labor with friends, teachers, neighbors, bake sales, etc. And I bake because I love chocolate!
Having worked here for nearly 10 years – and being responsible for marketing – we've been wanting our readers and customers to have a better idea of who we are at King Arthur Flour, this employee-owned company filled with lots of bakers. So I decided to bake my "famous" banana bread with my daughter, Lily.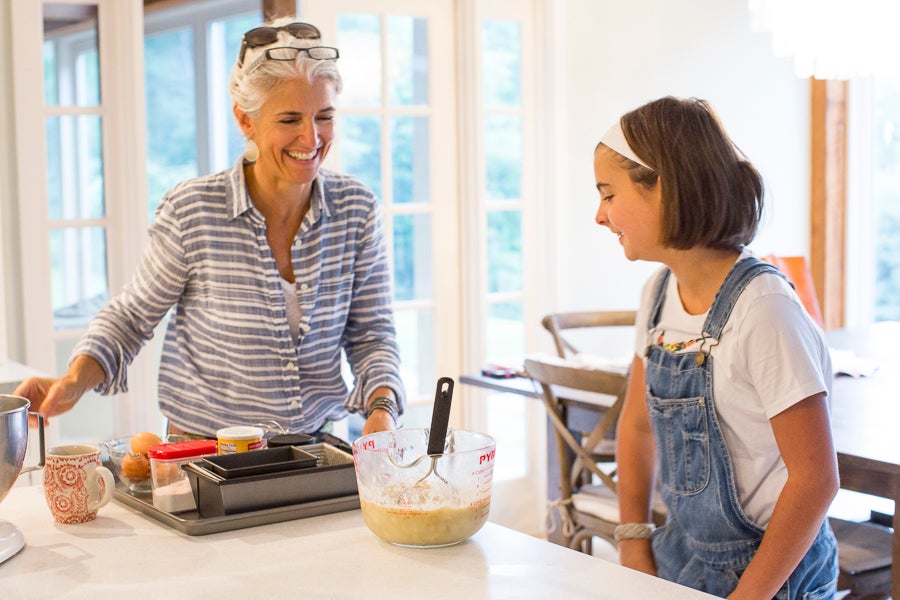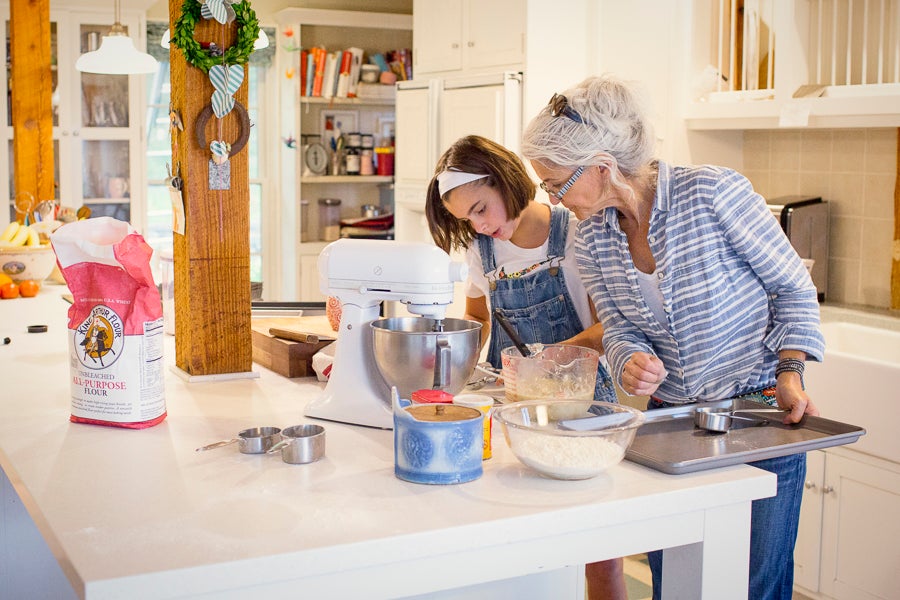 Lily is 10 years old; she's a serious baker, and she LOVES to bake. For no real reason, of my three children (Lily, plus older siblings Tage and Sivi), she caught the baking bug. She just spent last Sunday baking five pies for a fundraiser for a local hospital.
Her sister, Sivi, requests her pound cake – far too often! Her dad and I love her mini biscuits. And her brother wouldn't dare to praise anything his little sister made, but it's no secret that he's a huge fan.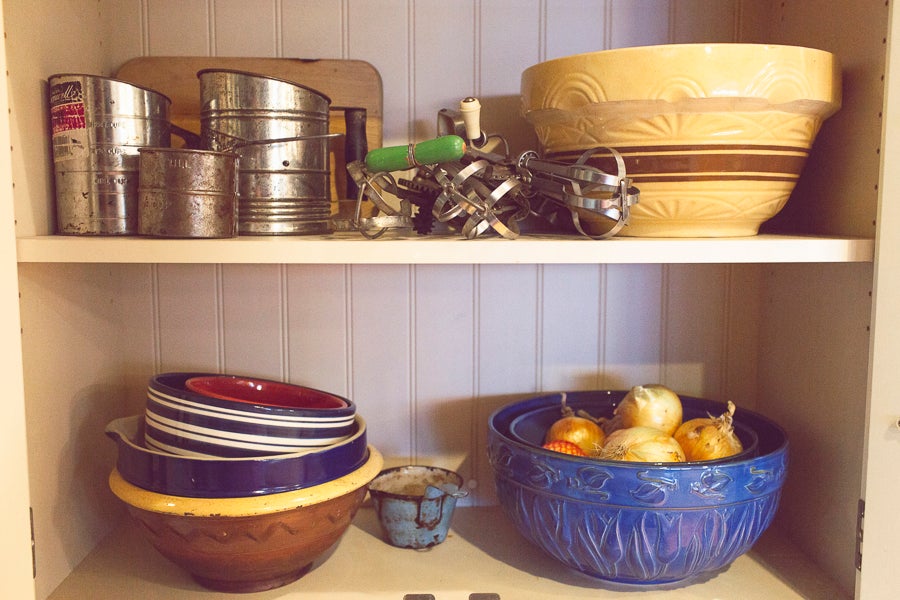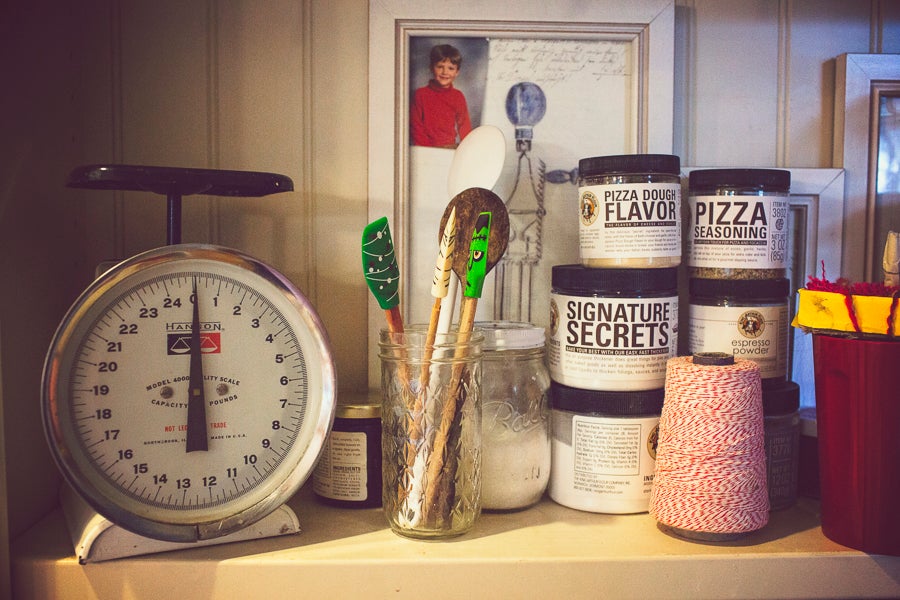 She's also a collector of all things baking – so it's wonderful to be able to give things to her that came from my mother's and grandmother's kitchens. I've been known to call it "clutter," but deep down I love that we have these bits of my past right in the present.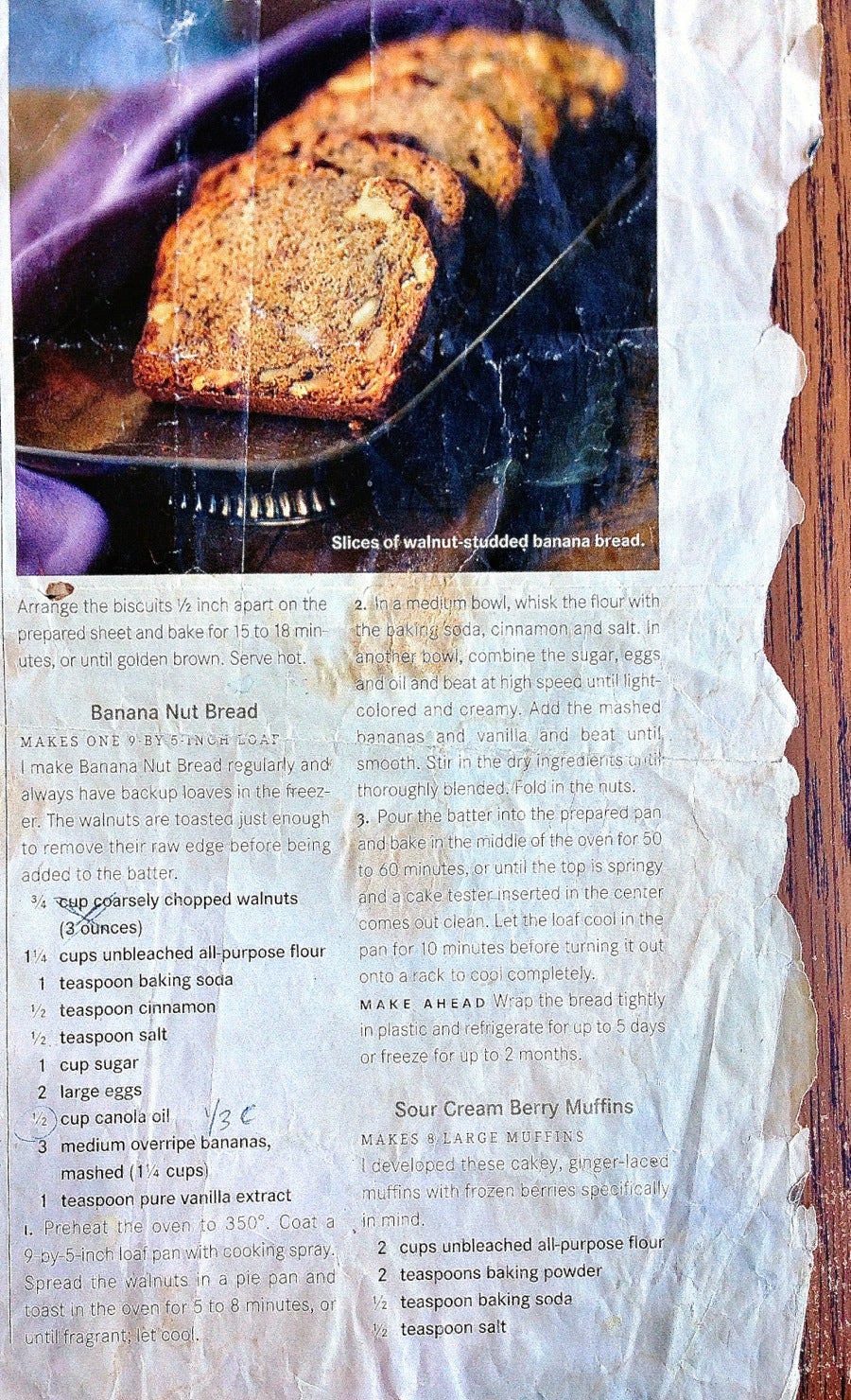 Now I certainly can't recall the first time I made banana bread; though my renown (albeit self-promoted and completely unfounded) started with a recipe from Food & Wine, November, 1998.
But the story begins before that.
Six months after getting married, my husband, Erik, and I loaded up the Ford pickup and moved across the country – from San Francisco to White River Junction, VT, in August, 1998. There we were, without kids or jobs. When I'd worry about whether we'd done the right thing, Erik was quick to say everything would be OK, and remind me of how much worse things could be. (Translation: stop feeling sorry for yourself, and get on with it!) Together we'd laugh – a lot! Still do. There's little that a sense of humor can't help.
I'd left a merchandising position at The Gap and wasn't sure what I'd find in Vermont, but began taking more time to cook and bake. In California, neither my job nor my apartment had afforded me the time or space to do as much as I would've enjoyed. Even so, I've always loved baking: I went first from my mom's kitchen, then to Hemstrought's Bakery in Utica, NY – waiting on customers from behind the counter, and even spending one or two summers during college as an "icer."  To have ended up at King Arthur Flour feels very right. Things do work out OK when you follow what you love.
So at work, I try to bake to celebrate my team's birthdays – and it's often with this banana bread. Now, you should ask why not a chocolate layer cake with chocolate frosting for birthdays!?! For some, chocolate isn't a basic food group. Go figure! (Truth be told, banana bread is my go-to when I need something quick and easy, and I'm starting at 9:30 p.m.)
The recipe page torn from Food & Wine that started me on my road to banana bread fame is old and worn; and having been asked to share, I've copied it more than a few times. I'd lost track of that original page until a few years ago, when Lily and I were baking and she found it tucked away inside my Joy of Cooking.
As Lily looked at the recipe, she turned the page over. And to her surprise (and much more so mine!) there was an ad for, of all things – King Arthur Flour!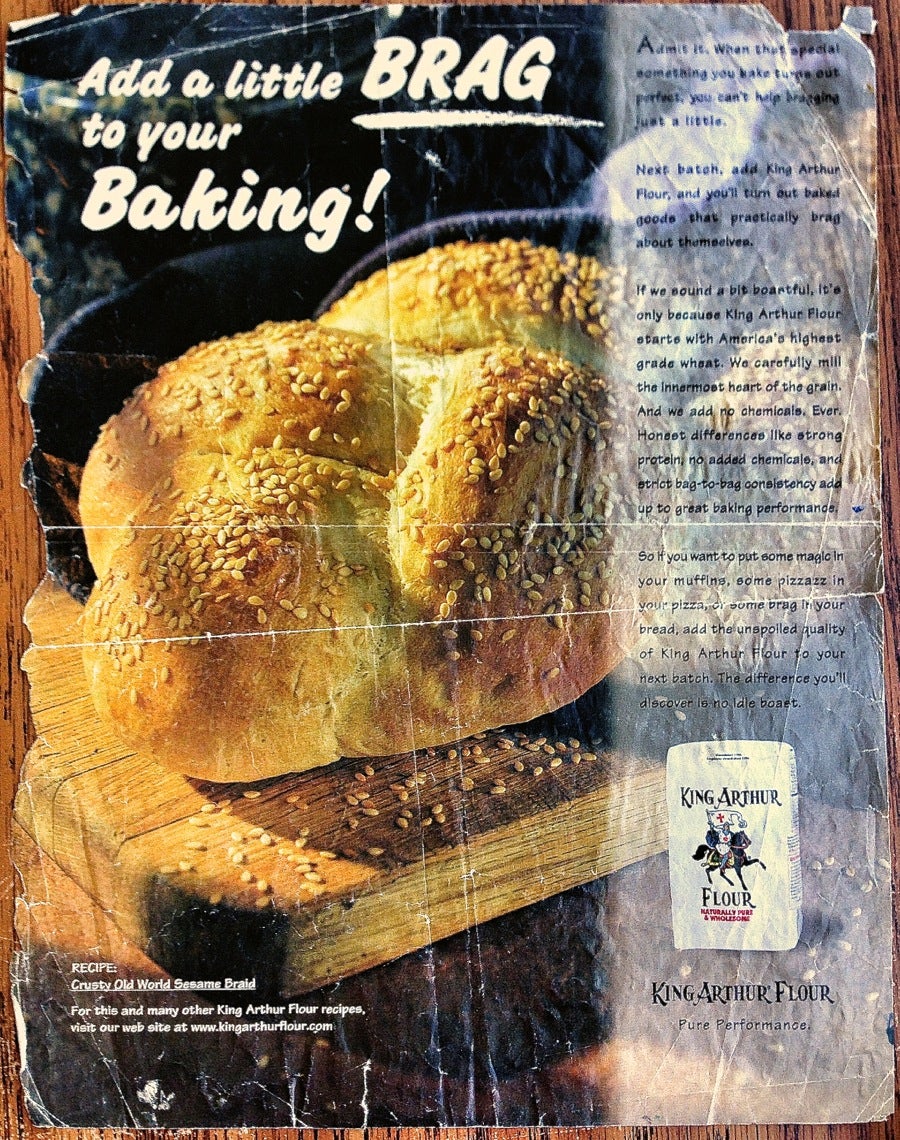 It was a sign to be sure! Though I'm not entirely certain of what. Here I am responsible for marketing at King Arthur Flour, baking an old favorite recipe, and never noticed the reverse side of the page – an ad I'd never seen. Every time I glance at that ad, I think we should do a commemorative flour bag and celebrate our heritage. But let's not get into the pros and cons of that idea today.
Back to that bread! Besides the delicious comfort of fresh, warm banana bread, I love that I never experience the guilt I often have with other fruit: uneaten and overripe. I miss the peach's (or apple's, or kiwi's) peak, and it becomes nearly inedible.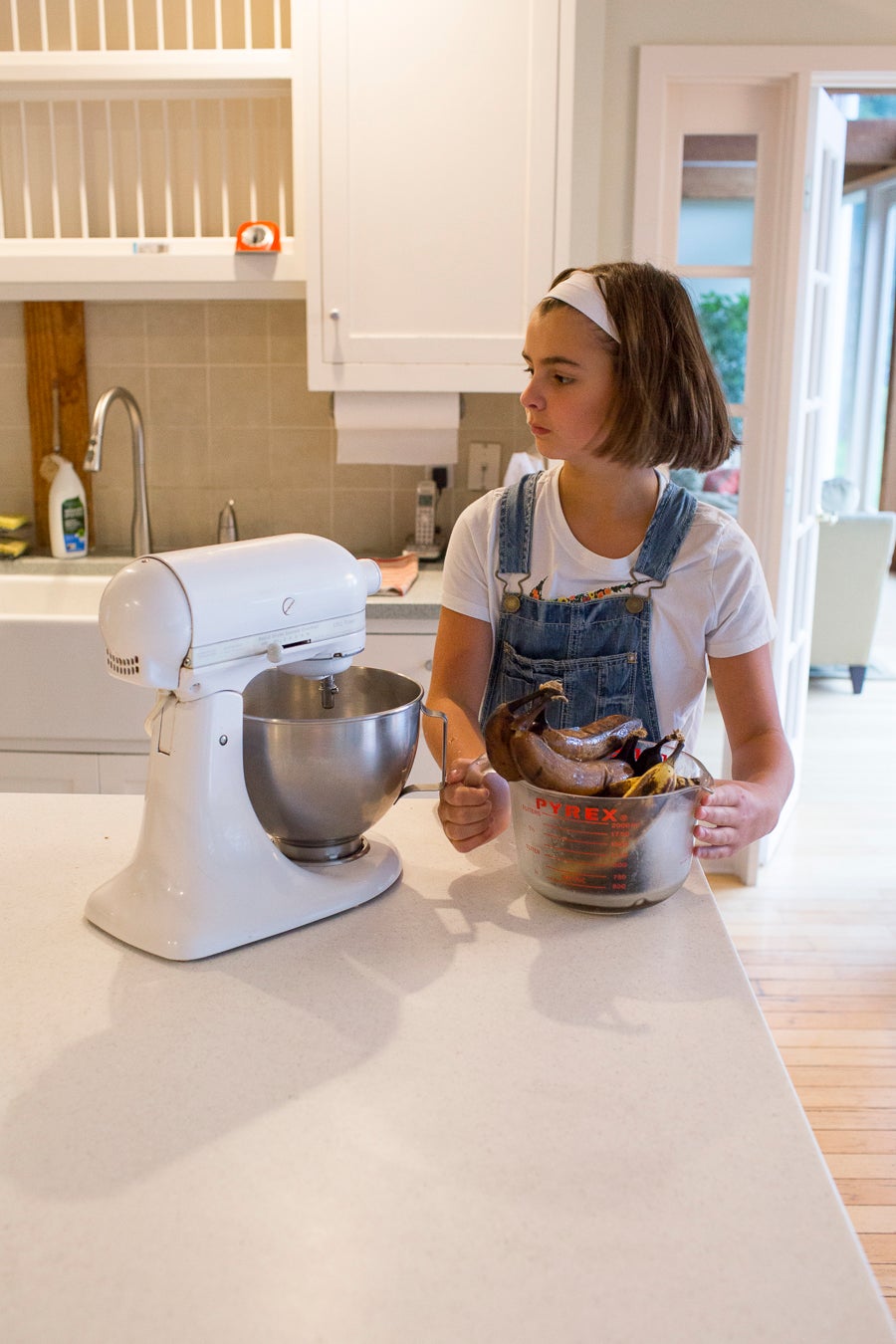 Bananas are wonderful at perfect ripeness, but that perfection is usually short-lived – especially in the heat of the summer. Because often I don't have the time to bake when those overripe bananas are beckoning from the counter, I throw them in a zip-top bag and toss them in the freezer. I don't know that the freezer is a necessary stop on the way to my favorite banana bread – but since I've been doing that now for well over a decade, I'm convinced it is!
One last thought before we put this recipe together. I'm definitely an all-things-in-moderation gal – meaning I love dessert, AND I know as I approach 50(!?!?) that I can't eat the way I did when I was 15. With three kids and a desire for the whole family to eat well, I experiment with tweaking the fat and sugar content when I bake.
My grandmother had a saying that I don't think I'm recalling exactly – but it was something along the lines of, "You find what you put." This essentially meant "Don't skimp" – and then we'd throw in a bit more breadcrumbs and cheese when we were mixing meatballs on Sundays. SO, for this banana bread, I think I've found my ideal combination of flour, sugar, oil, and cinnamon – definitely not skimping on the cinnamon.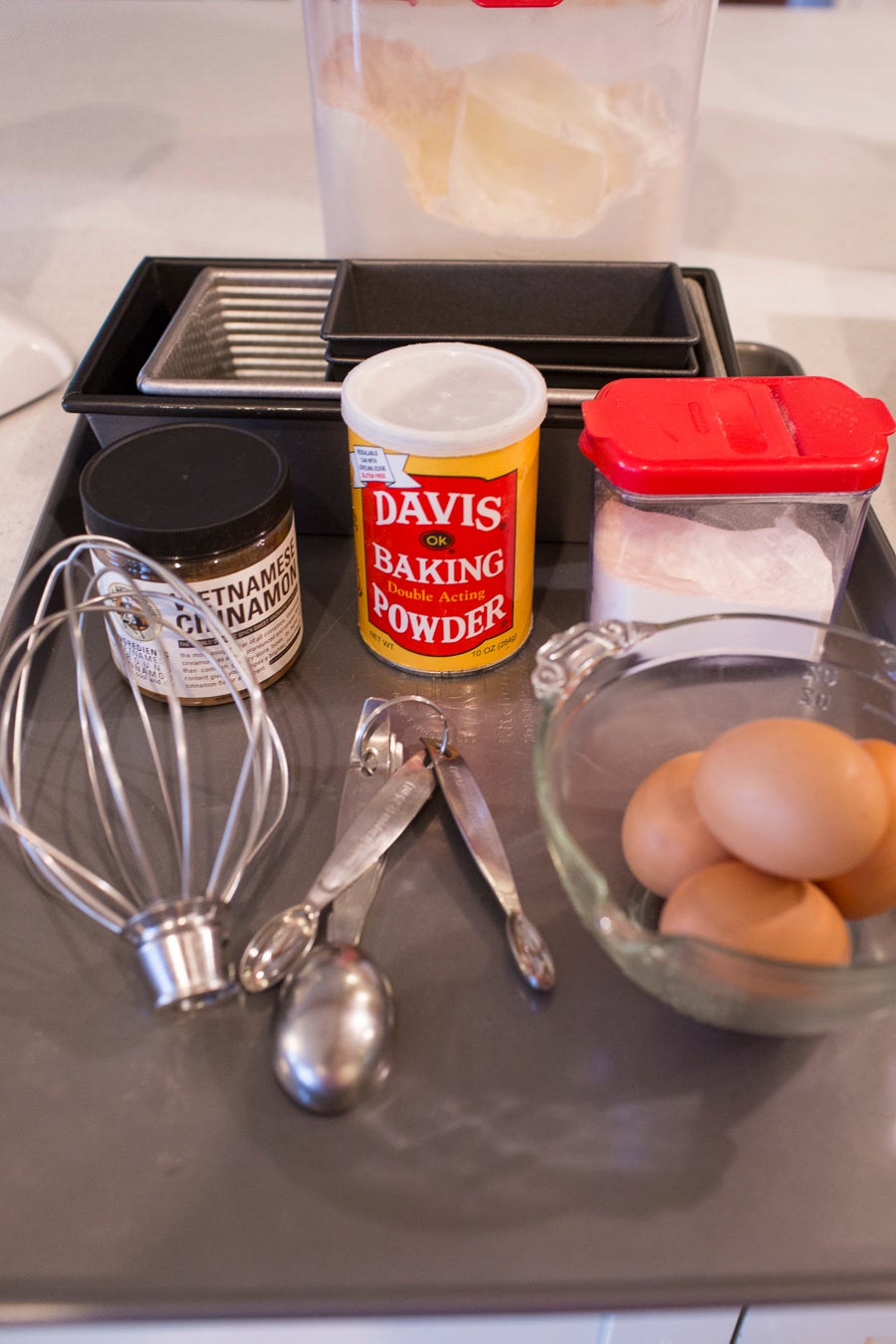 I occasionally toy with add-ins (chocolate chips, nuts), but rarely pull the trigger – and just keep it simple. Am I a purist? Not really. I just know it will please the most palates if I stay the tried-and-true course. And though I said chocolate chips or nuts, the truth is chocolate chips are the only add-in I'd consider – and they'd have to be dark chocolate.
Here's my recipe –
7/8 cup sugar
2 large eggs
1/3 cup canola oil
1 to 1 ¼ cups mashed bananas
2 teaspoons vanilla extract
1 cup flour (King Arthur Unbleached All-Purpose Flour, of course!)
1 teaspoon baking soda
2 teaspoons ground cinnamon
½ teaspoon salt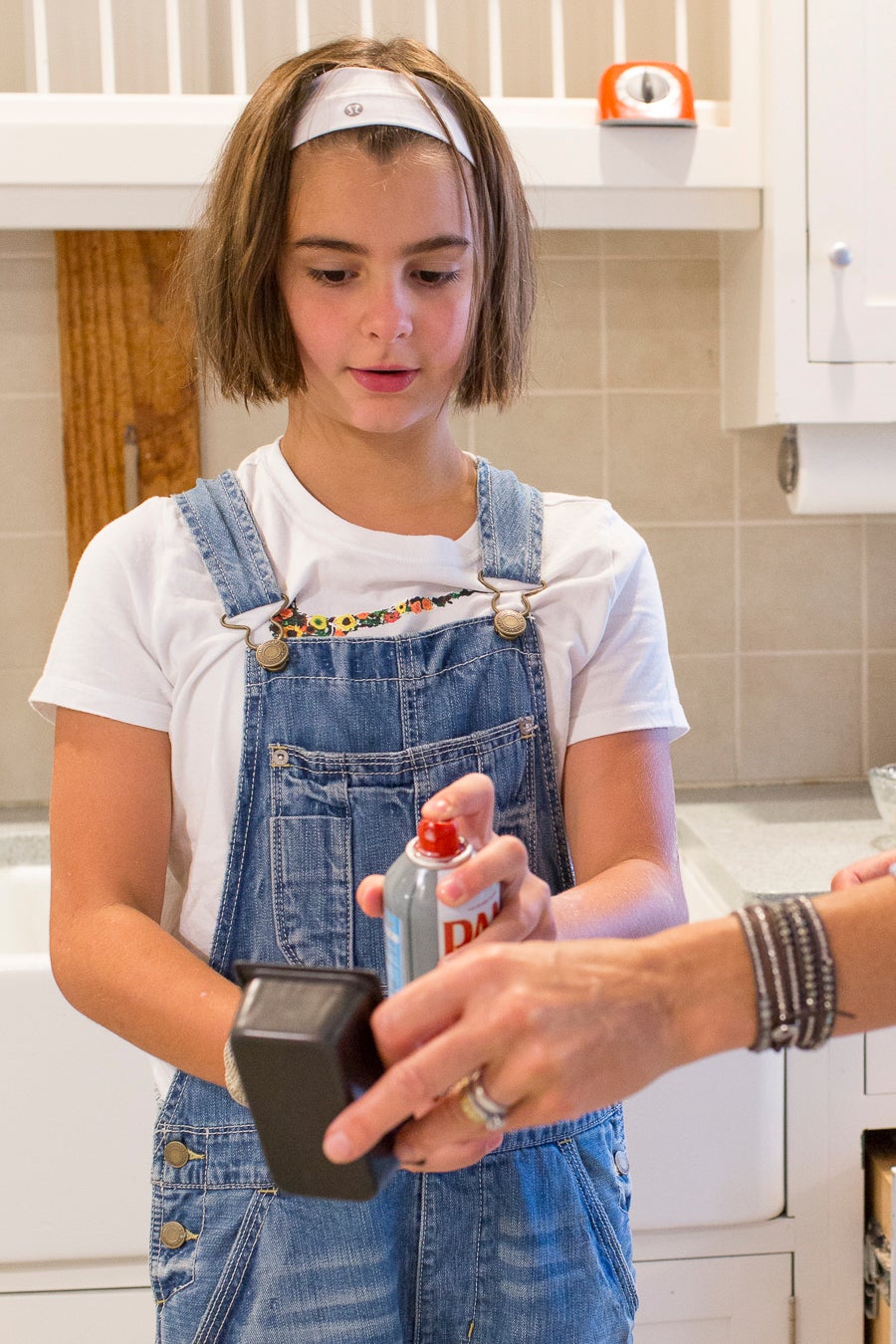 1. Preheat the oven to 350°F. Spray a 9" x 5" loaf pan with cooking spray.  (We stole a little batter for a mini loaf – which Lily is spraying above – because she loves minis!)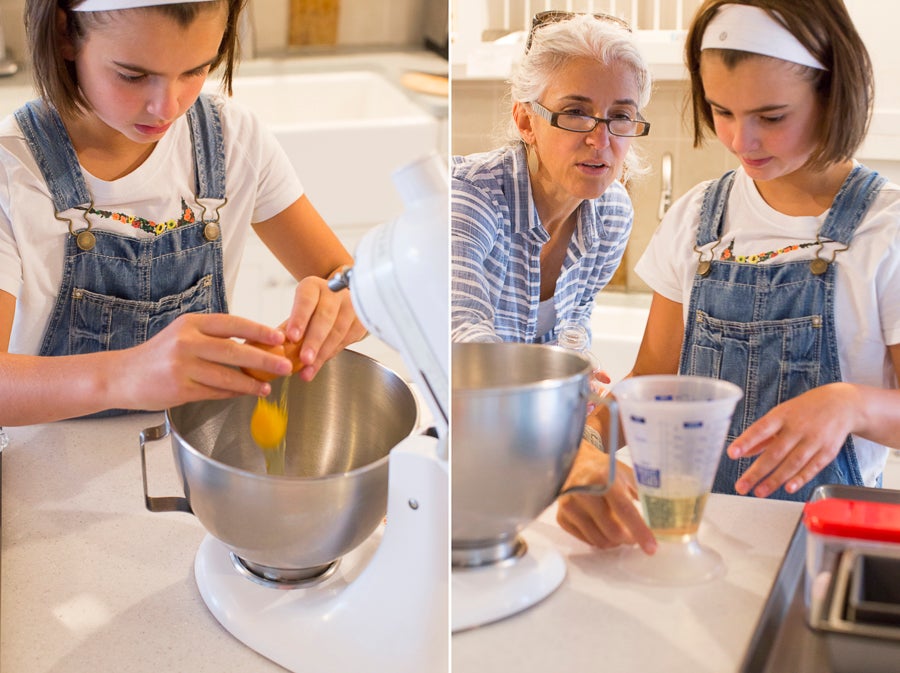 2. Whisk the sugar, eggs, and oil in a mixer set on high speed.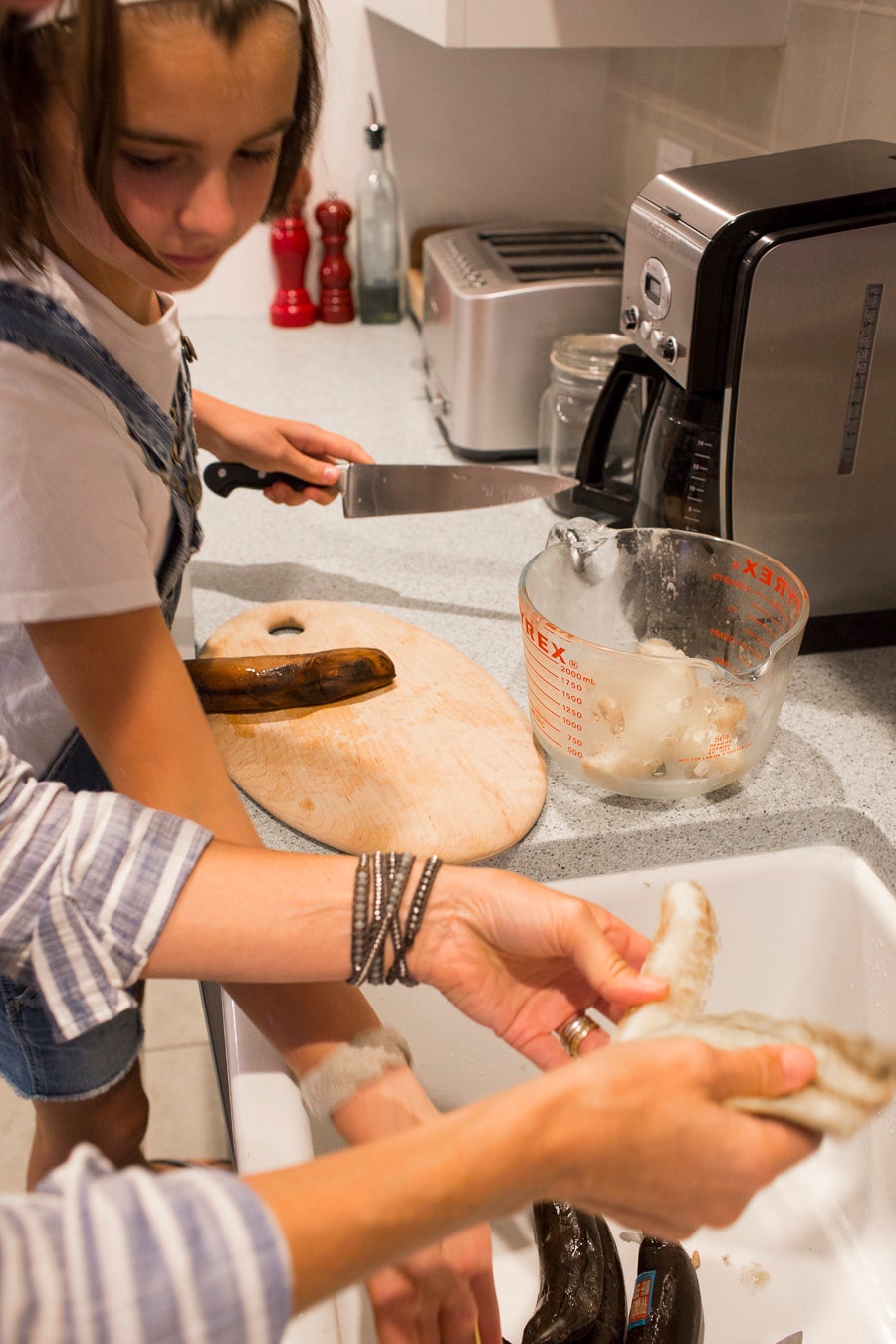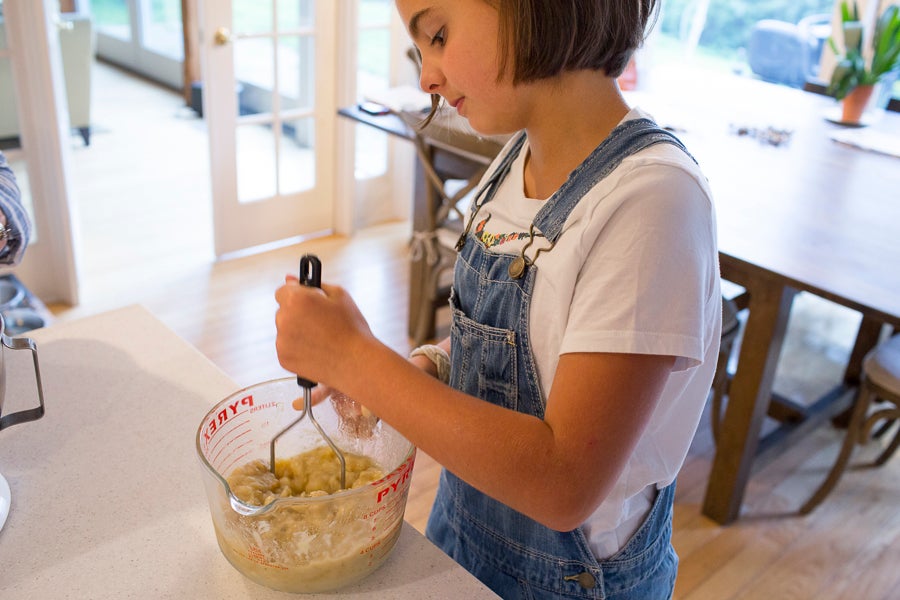 3. Defrost, peel, and mash the bananas.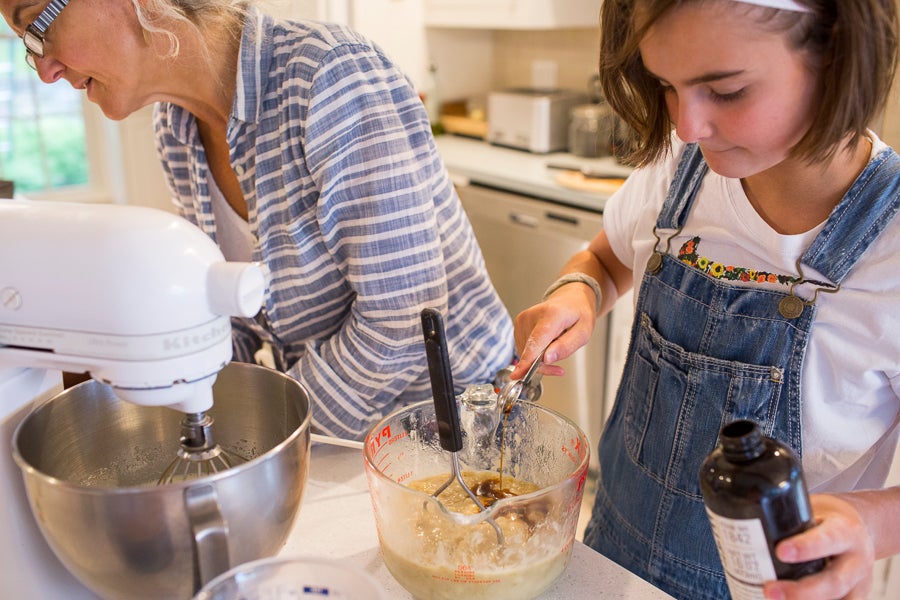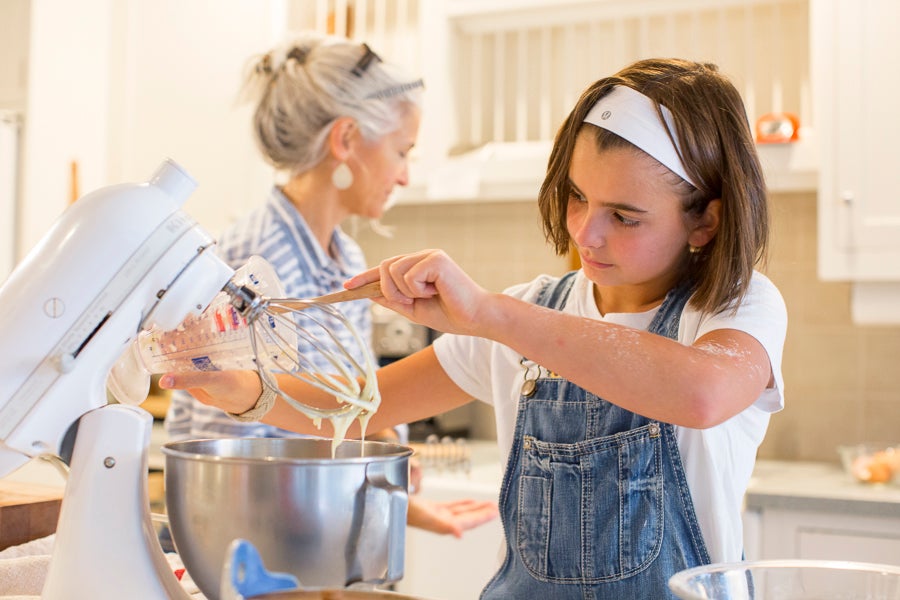 4. Add the vanilla to the bananas, then add to the sugar/egg mixture.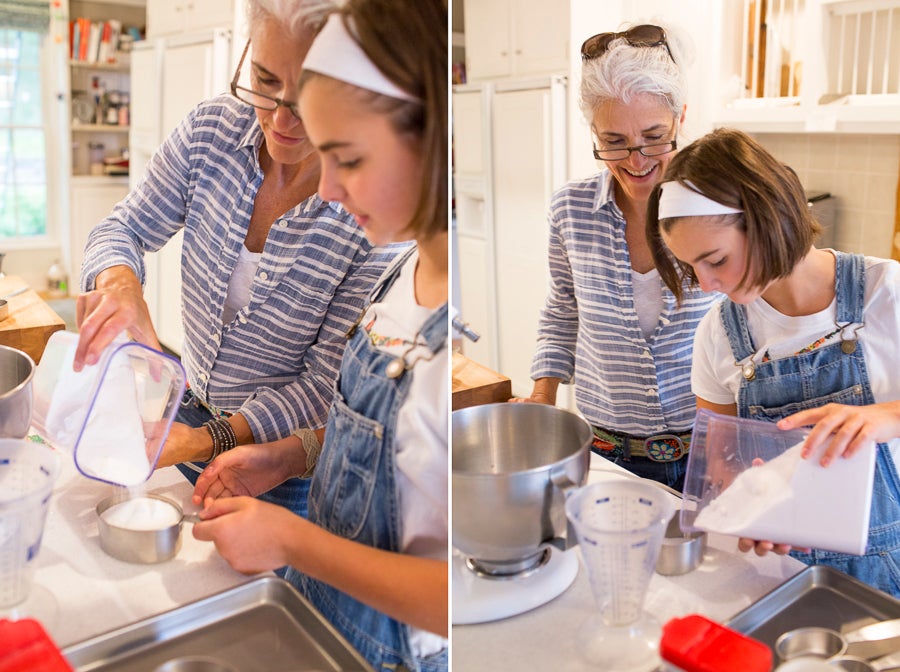 5. Whisk together the dry ingredients, then add to the bowl, beating briefly to combine.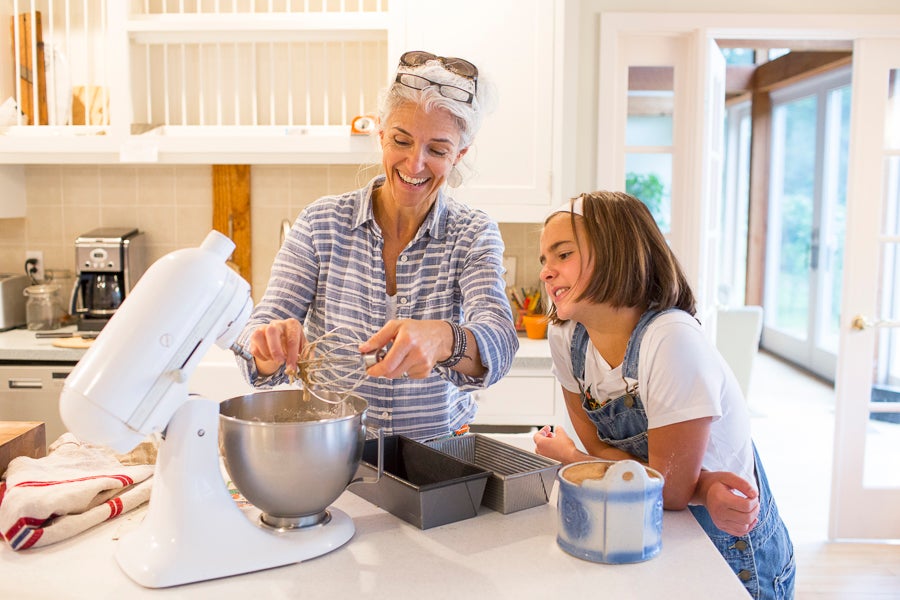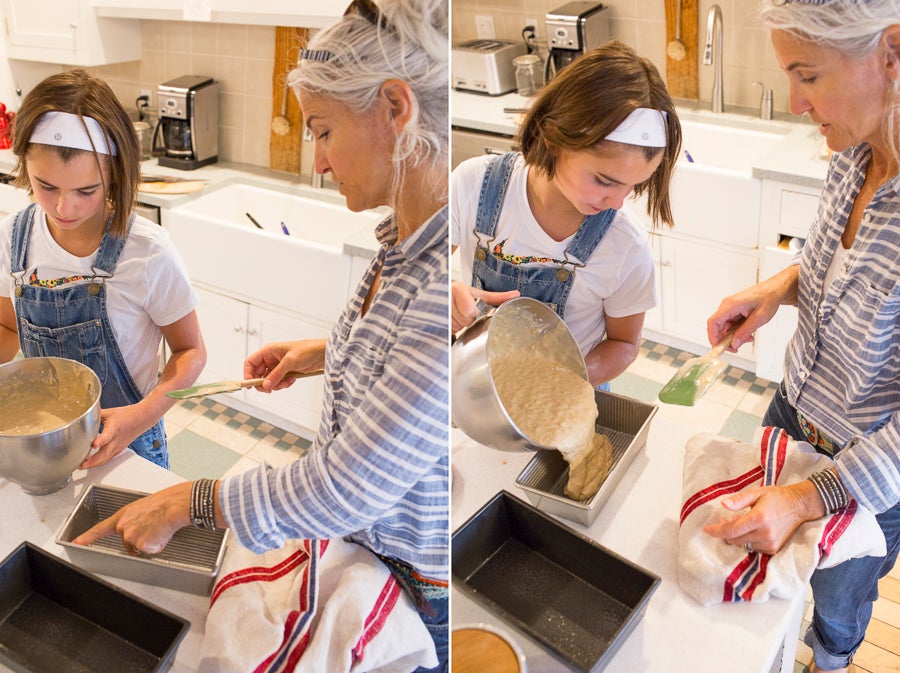 6. Pour the batter into the pan, and bake the bread for 50 to 55 minutes, until a tester inserted into the center comes out nearly clean.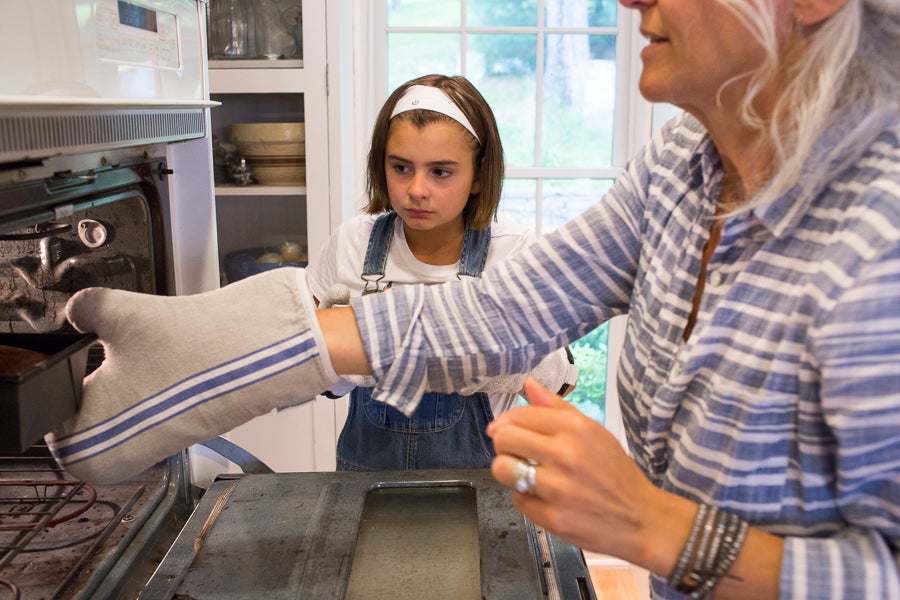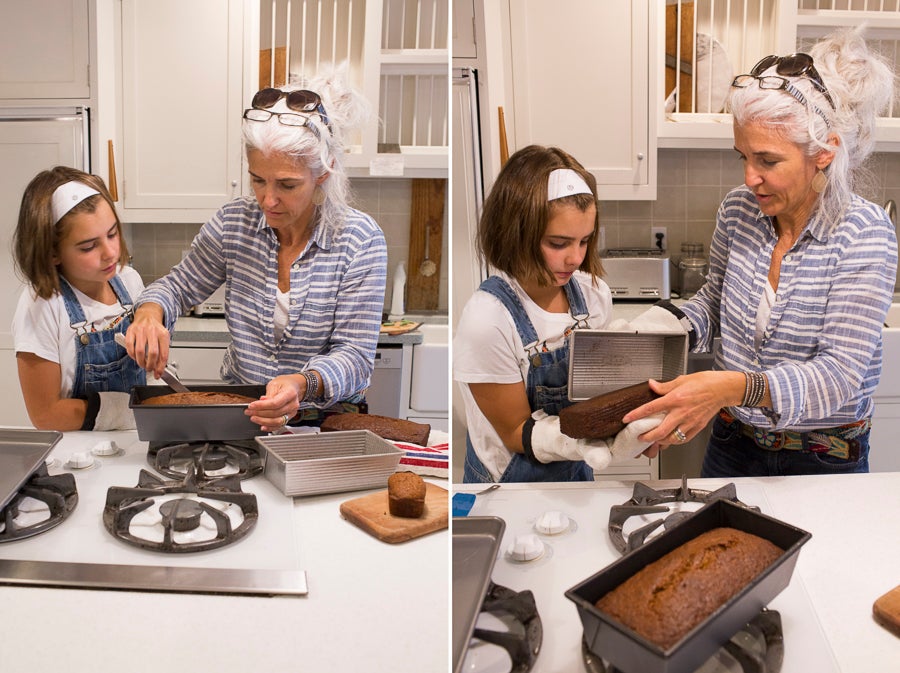 7. Remove the bread from the oven. After about 10 minutes, turn it out of the pan onto a rack.
Once the bread's cooled (or not, if you're like me) cut into it; I hope you find a moist, tasty, and deep-golden-brown banana bread.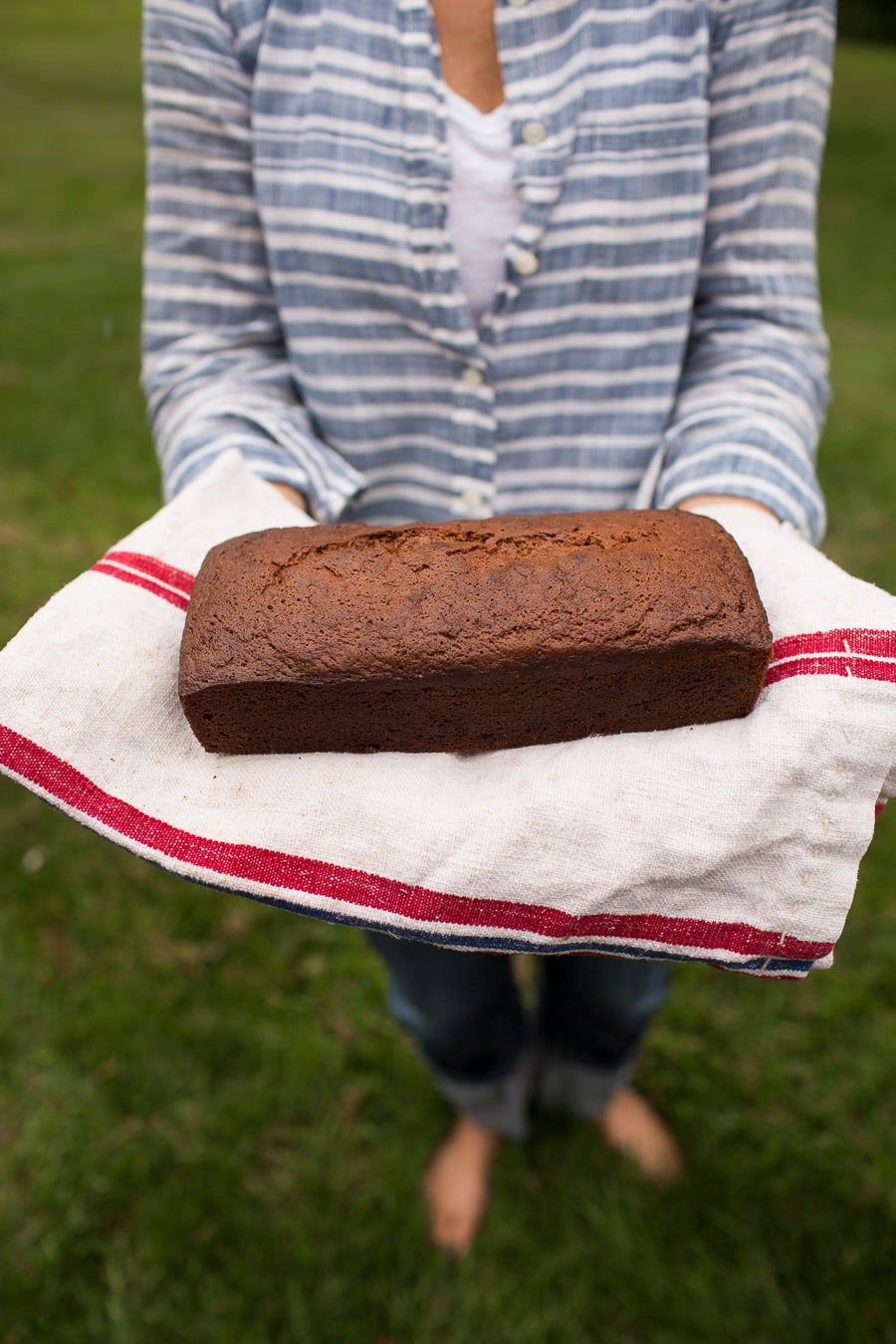 You can easily compare the original recipe (photo above) to the way I make this bread; then do your own taste test to see what suits you. Explore and  experiment – chocolate, nuts, dried fruit, white whole wheat flour,* you name it.
After all, you find what you put.
*I recently made this bread using 100% white whole wheat flour (and never-frozen bananas); it came out great! I also baked it in an 8" x 8" square pan (for 35 minutes), instead of in the traditional loaf pan. Again, very nice; 16 lovely 2" squares. – P.J. Hamel
Jump to Comments