Last week, King Arthur Flour had the pleasure of hosting America's foremost authority on all things domestic – Martha Stewart – at our Baker's Store in Norwich, Vermont.
Martha's visit included a demonstration in our Baking Education Center, where she taught a sold-out room of fans and baking aficionados how to make a festive stollen; flatbread cracker, and her famous breakfast cookies (all recipes included at the bottom of this post!).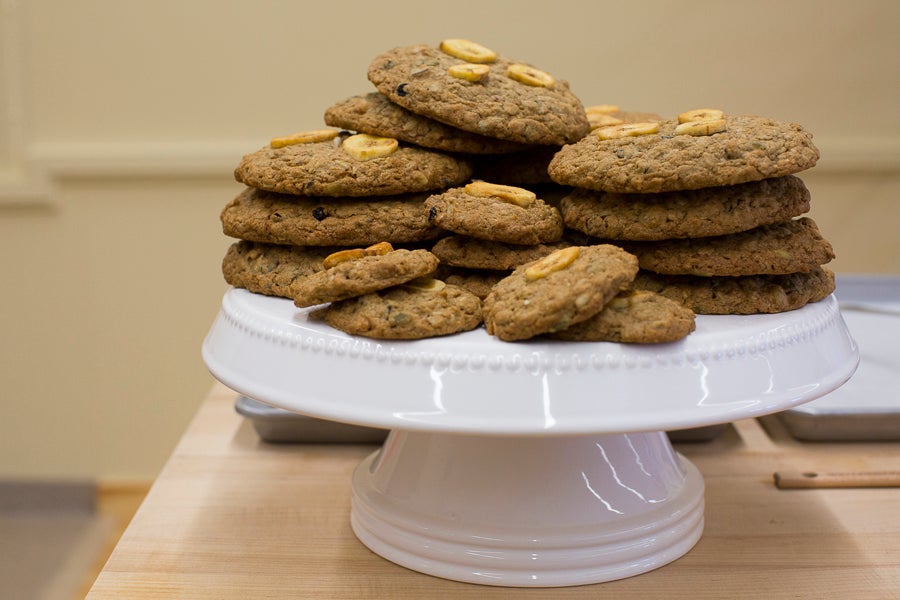 The finished product. Don't these looks amazing??
As you might expect, the local media was VERY interested in having an interview with Martha before her demo began. As you might not expect, Martha was just as interested in taking their photo as they were in taking hers!
Despite having arrived only moments before, Martha graciously answered questions for the press before being whisked away (no pun intended) to the demo.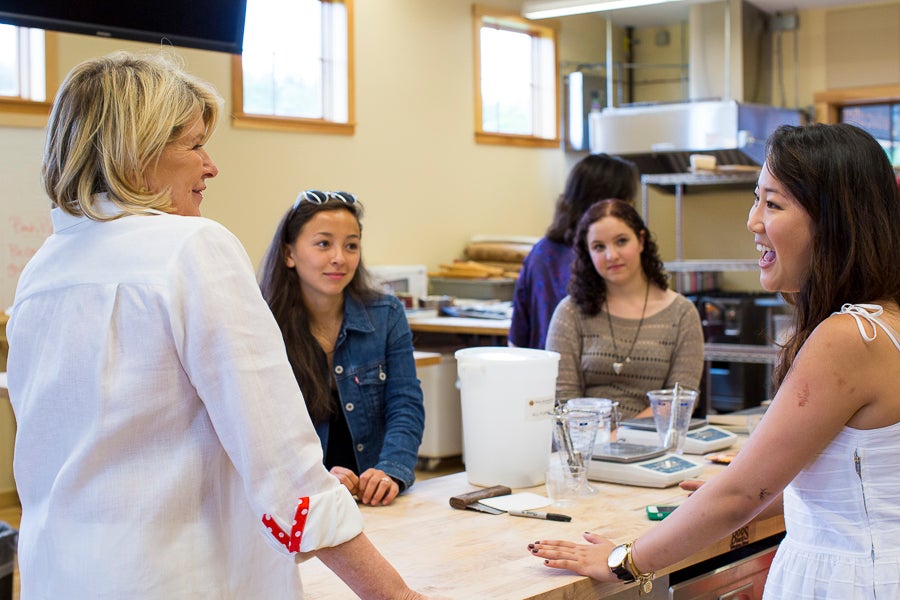 The enthusiasm was palpable in the room as Martha greeted a packed house of adoring fans. The energy was contagious!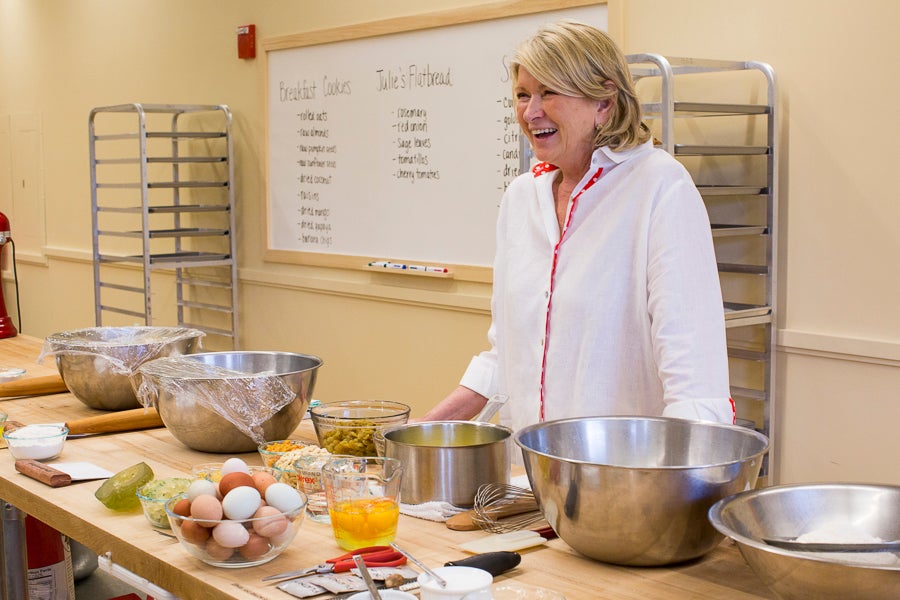 Martha joyously began the class with a story about the origins of her first item, a festive stollen. The recipe was passed down to her from a family friend she affectionately calls "Mr. Mouse." Her mother used to make the stollen around the holidays, and now it's a favorite in Martha's kitchen. The full recipe can be found below.
Not one to show up empty handed, Martha even showed off a jar of fresh preserves she "whipped up" the morning of the demonstration. Would you expect anything less from Martha Stewart?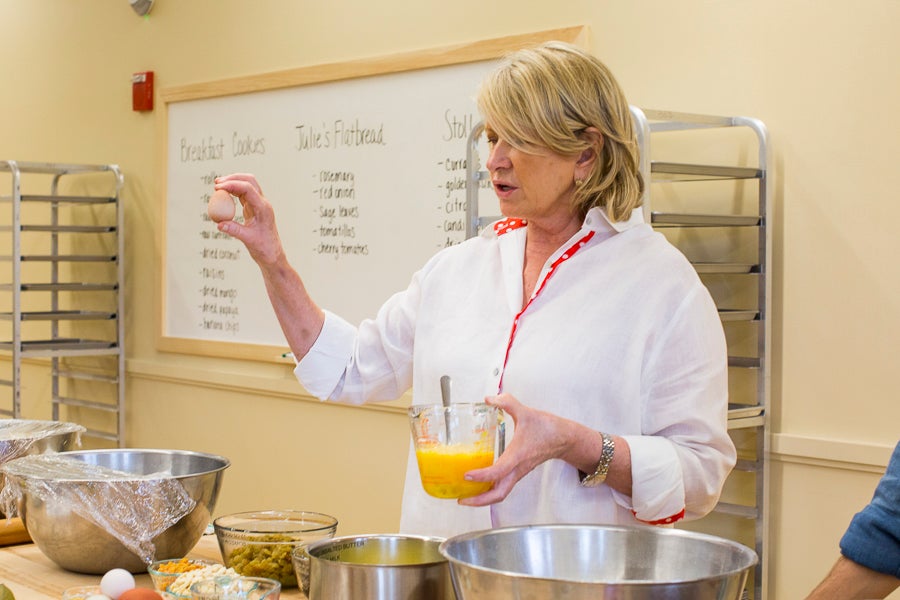 Did you know that Martha raises chickens? She has over 100 laying hens on her farm in upstate New York. She brought along her own eggs for the demonstration.
One tip: Martha soaked her golden raisins in freshly squeezed orange juice. She strongly discouraged the audience from using "anything from a container." Fresh is always best!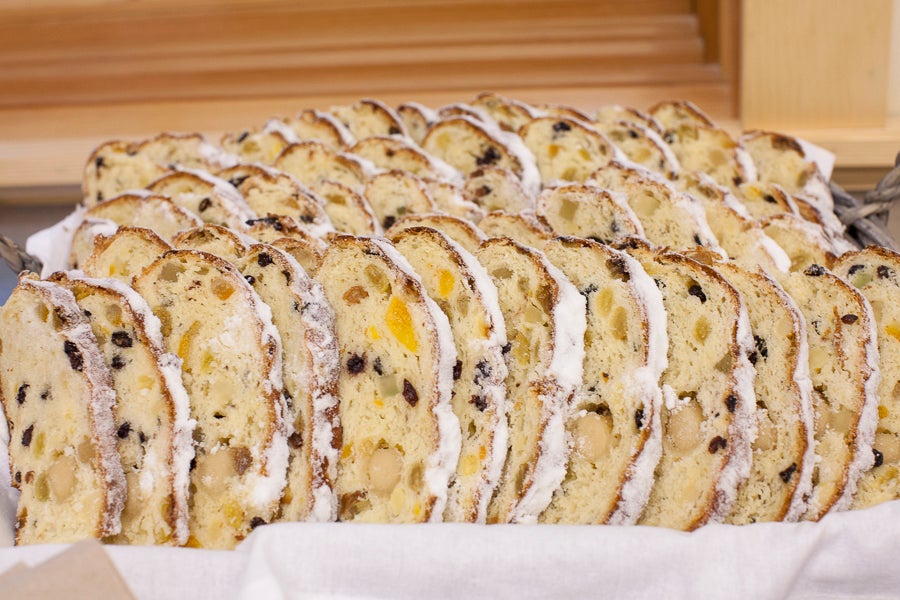 Sliced and ready to taste! You guys, it was SO GOOD. Feel free to send me one for the holidays!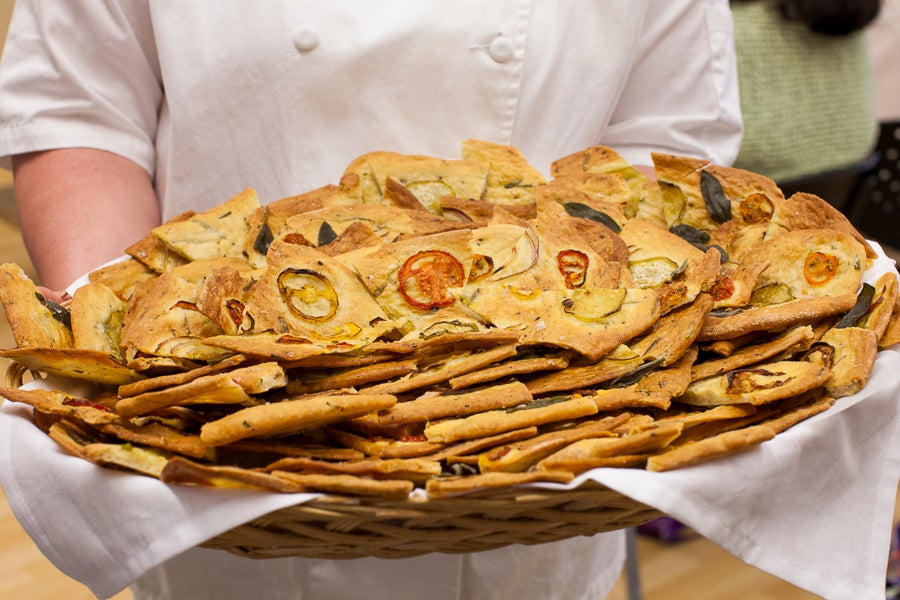 Martha also made Julie's Flatbreads. Cut them in advance like we did, or leave them whole and let your guests break off pieces as they see fit.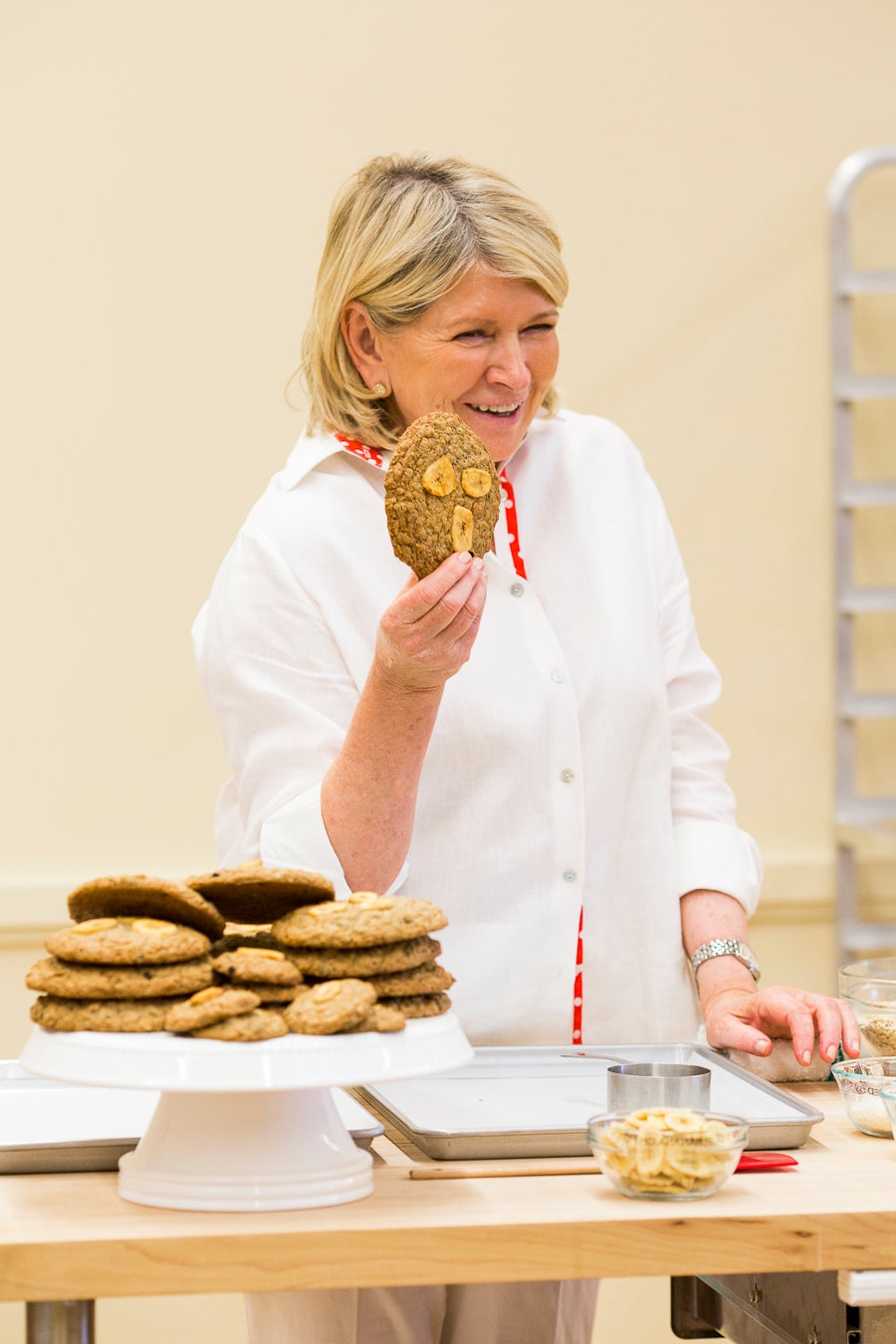 "This is not a healthy cookie, it's a good cookie" Martha jokes. (Recipe for Breakfast Cookies below.)
While baking, Martha took questions from the class.
Gael Clauson of King Arthur Flour asked her what it was like working with Julia Child. Martha said that she bought Julia Child's cookbook, Mastering the Art of French Cooking, on her honeymoon in Paris. When she got home, she made every recipe in the book, and would have weekly dinner parties to share with her friends. She joked that she was the original Julie in the story Julie and Julia.
Julia Child was Martha's mentor, and "an amazing woman." She credits Julia Child with introducing us to the "world of cuisine, not just French cuisine." It was wonderful to hear Martha speak about her mentor!
Perhaps my favorite thing about Martha's visit was her aversion to waste. She told the audience that her mother stressed the importance of having a rubber spatula in the house. She never wastes any batter by leaving it on the paddle or in the bowl. She told the audience that all of the scraps from her test kitchens are collected and fed to her chickens. I love this philosophy!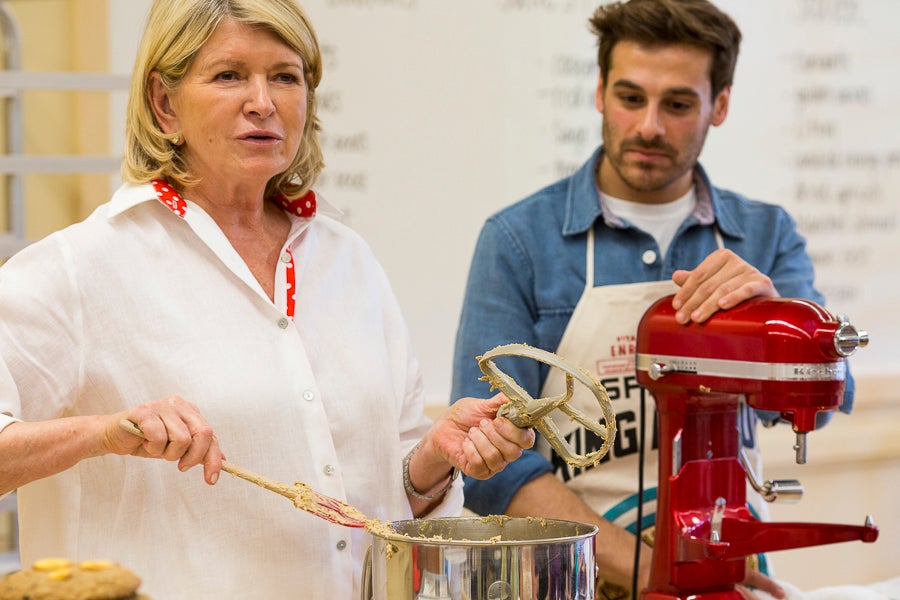 Waste not, want not. This paddle looks clean to me!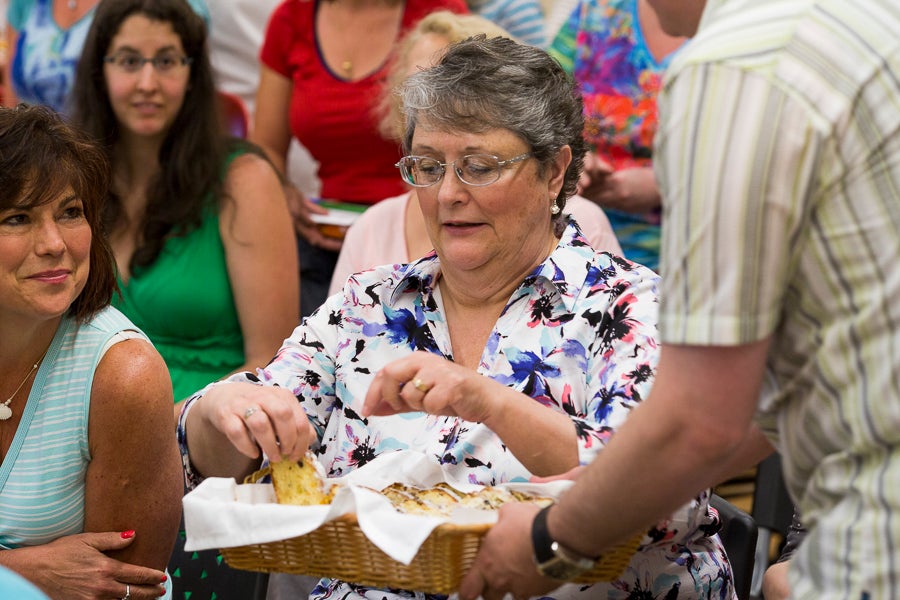 Everyone's favorite part: Tasting time!
Meanwhile, in the Baker's Store, a line has formed for Martha's book signing, extending all the way from the entrance to the very back of the building!
Seated in the royal chair, Martha signed over 300 books for employees and customers alike.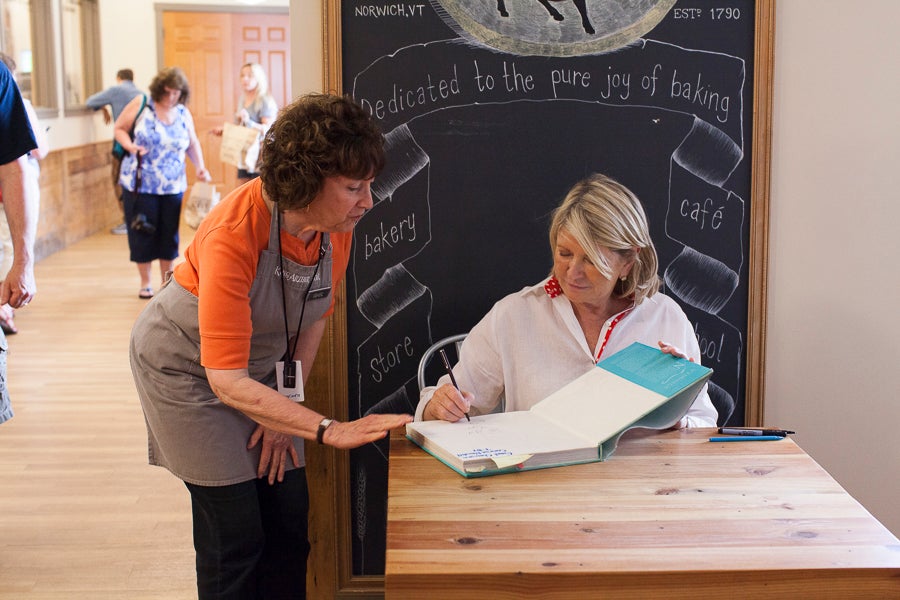 After the signing, Martha took a tour of our own test kitchen. Susan Reid was ready with some tasty appetizers for the crew to try, as well as some chocolate brownies with salted caramel and chocolate buttercream.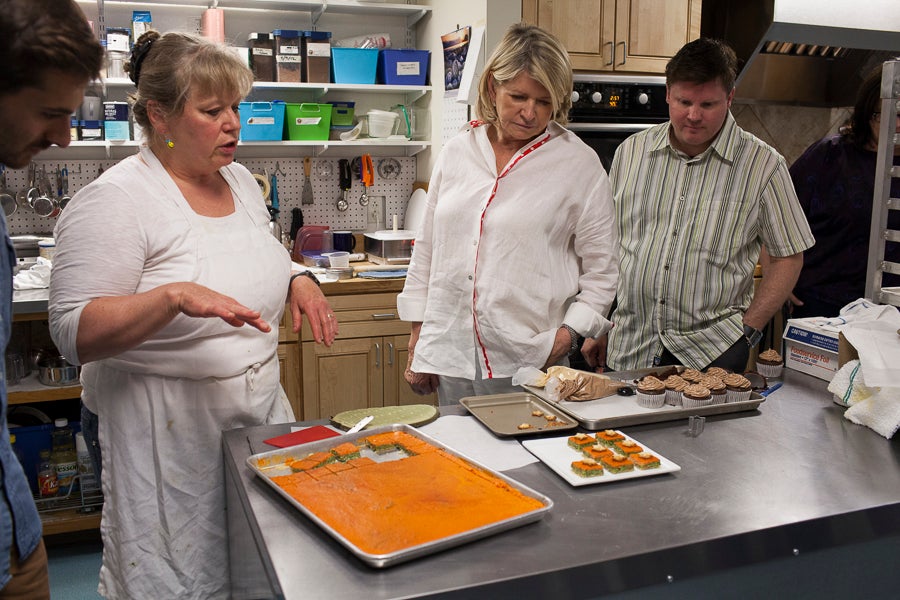 See that one set aside to the right of the pan? She saved that one for me. Can you say love?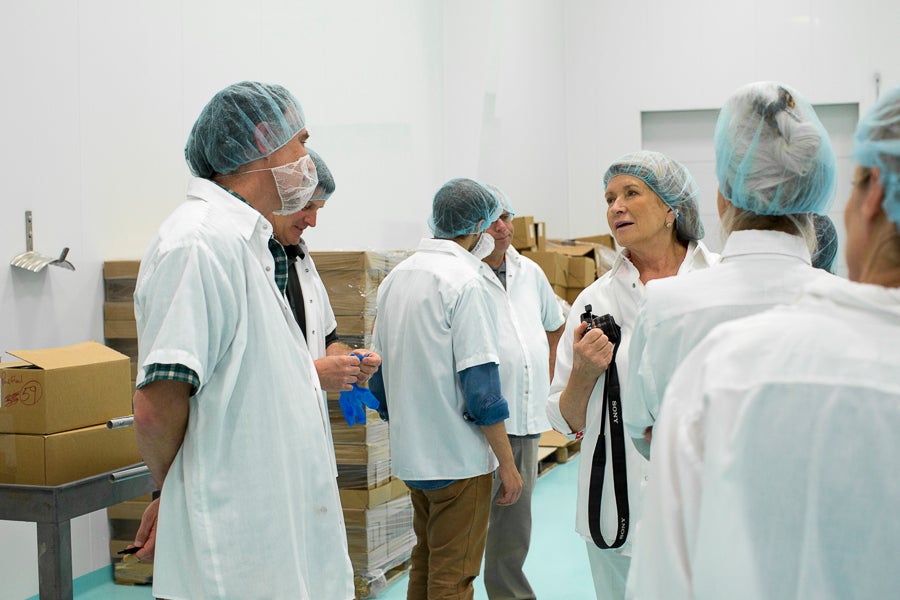 We moved from our test kitchen down to the warehouse, where Martha checked out our new manufacturing facility. She was very impressed with our setup, and took lots of photos!
Having Martha Stewart at our Vermont campus was a truly amazing experience – for employees and customers alike. Martha is a huge fan of King Arthur Flour, and we return the sentiment – Martha, come see us again soon!
*Special thanks to my wonderful and amazing colleague Natasha Wood, who took notes during Martha's presentation so that we could share her tips with all of our fans who couldn't be here with us for her visit.
Stollen
Makes 4 loaves
11 cups sifted King Arthur Unbleached All-Purpose Flour, plus more for kneading
3/4 cup granulated sugar
1 teaspoon salt
1/2 teaspoon ground mace
1/2 teaspoon freshly grated nutmeg
2 ounces cake yeast or 3 packages (about 2 tablespoons) active dry yeast
2 cups milk, warmed
1/2 cup warm water
1 1/4 cups (2 1/2 sticks) unsalted butter, melted; more for bowl and brushing
6 large eggs, lightly beaten
10 ounces currants, soaked in 1/2 cup cognac
15 ounces golden raisins, soaked in 1/2 cup orange juice
8 ounces diced citron
4 ounces diced candied orange peel
4 ounces chopped dried apricots
10 ounces blanched almonds, coarsely chopped
grated rind (zest) of 2 lemons
14 ounces marzipan, quartered
½ cup (1 stick) unsalted butter, room temperature, for brushing cakes
superfine sugar, for dusting
1. In a large mixing bowl, whisk together flour, sugar, salt, mace, nutmeg, and yeast. Stir in warm milk, 1 ¼ cups melted butter and ½ cup warm water. Add eggs and stir to combine. Turn dough out onto a floured surface, and knead until fairly smooth.
2. Add the dried fruits, almonds and lemon zest to the dough and continue kneading on a floured board for about 10 minutes. If dough is sticky, knead in more flour.
3. Place dough in buttered bowl, cover with plastic wrap and let dough rise in a warm place until doubled in bulk, 1 to 2 hours.
4. Roll each portion of marzipan into a 12" log. Punch down dough and cut into four equal pieces. Roll each piece into a 12" x 8" rectangle. Brush with melted butter to coat, place marzipan log in center of dough, and fold one long side to the center then fold the other long side over first side, overlapping it by 1".
5. Turn loaves over, taper the ends, and place on parchment-lined baking sheets. Cover loaves with plastic wrap and let rise again in a warm place, 1 to 1 1/2 hours.
6. Heat oven to 350°F. Bake stollen until golden brown, about 35 to 40 minutes. Remove from oven. Brush all over with room-temperature butter and sprinkle with superfine sugar to cover. Let cool completely before serving.
Julie's Flatbread
Makes 6 flatbreads
1 1/4 teaspoons active dry yeast
3 cups plus 1 1/2 teaspoons King Arthur Unbleached All-Purpose Flour
pinch of sugar
1 1/4 cups warm water (100°F to 110°F), plus more if necessary
1/4 cup yellow cornmeal
1/4 cup fresh rosemary needles
1 teaspoon coarse salt, plus more for sprinkling
1 1/2 teaspoons freshly ground pepper, plus more for sprinkling
4 tablespoons olive oil, plus more for bowl
1 medium red onion
1 bunch fresh sage leaves
4 tomatillos, husked and thinly sliced
6 cherry tomatoes, thinly sliced
1. In the bowl of an electric mixer fitted with the whisk attachment, combine yeast, 1 1/2 teaspoons flour, and sugar. Stir in 1/4 cup of the warm water, and let stand until foamy, about 10 minutes.
2. Whisk together the remaining 3 cups flour, cornmeal, rosemary, 1 teaspoon salt, and pepper; add to the yeast mixture. Using the dough hook, mix on low speed while slowly adding the remaining 1 cup warm water. Mix, adding more warm water if necessary, 1 tablespoon at a time, until the dough starts to pull away from the sides of the bowl. Mix until the dough is smooth and elastic, 5 to 6 minutes. Turn out the dough onto a clean surface, and knead four turns into a ball.
3. Place the dough in a lightly oiled large bowl, and coat the dough with the oil. Cover tightly with plastic wrap, and let the dough rise in a warm place until doubled in size, about 1 hour. Turn out onto a clean surface; divide into six smaller balls, each about 4" in diameter. Transfer the balls to a parchment-lined baking sheet, and loosely cover them with plastic wrap.
4. Preheat the oven to 400°F. On a lightly floured surface, shape one of the balls into a 3" x 5" rectangle, then roll it out to a 5" x 17" rectangle; it should be very thin. Place on the diagonal on an ungreased baking sheet. Slice the onion lengthwise as thinly as possible, leaving the root end intact. Fan out the slices of the onion. Brush the surface of the dough with olive oil; place three or four sage leaves, two or three slices of onion, two or three slices of tomatillo, and two to four slices of tomato on top. Sprinkle with salt and pepper. Brush again lightly with olive oil. Repeat with remaining dough, and place on the sheet.
5. Bake until the flatbread turns golden brown, 12 to 14 minutes. Transfer the flatbread to a wire rack to cool. Working in batches, roll out, top, and bake remaining dough. Store in an airtight container up to 1 week.
Breakfast Cookies
Makes 8 large or about 14 small cookies
2 cups King Arthur White Whole Wheat Flour
2 cups King Arthur Unbleached All-Purpose Flour
1 1/2 teaspoons baking soda
1/2 teaspoon coarse salt
4 sticks unsalted butter, room temperature
3 cups packed dark-brown sugar
4 large eggs
1 tablespoon plus 1 teaspoon pure vanilla extract
4 cups rolled oats
1 cup (5 ounces) raw almonds, coarsely chopped
1/2 cup (3 ounces) raw pumpkin seeds
1/2 cup (2 3/4 ounces) raw sunflower seeds
1/2 cup (2 ounces) shredded unsweetened dried coconut
1/2 cup (5 ounces) raisins or currants
1/2 cup (2 1/2 ounces) finely chopped dried mango
1/4 cup (1 1/4 ounces) finely chopped dried papaya
1 cup banana chips
1. Preheat oven to 350°F. Whisk together flours, baking soda, and salt in a large bowl.
2. Beat butter in a large bowl with a mixer until light and fluffy. Add sugar; beat until well combined. Add eggs one at a time, beating well after each. Add vanilla; beat until just combined.
3. Slowly add flour mixture, and beat until well combined. Add oats and beat until just incorporated. Remove bowl from the mixer and stir in the almonds, seeds, coconut, raisins or currants, mango, and papaya.
4. Form dough into 8 large cookies (using about 1 cup dough each) or 14 cookies (using about 1/2 cup each), and place on parchment-lined baking sheets. Top each with three banana chips. Bake cookies until golden and firm, 30 minutes for large cookies and 20 to 25 minutes for small cookies. Let cool completely on baking sheets, about 30 minutes. Cookies can be stored in an airtight container up to 1 week.
Jump to Comments