Gluten-Free Nut-Crusted Chocolate Mousse Tart
It's flour-free. I'm nut kidding!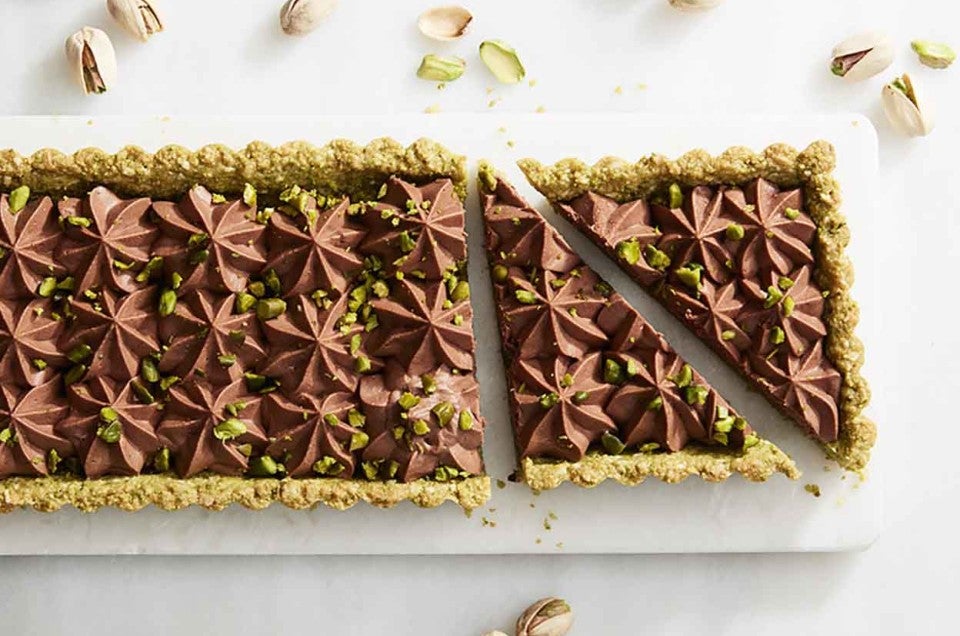 I cringe when I hear the word "tart." It screams high-maintenance fancy, and always involves some finicky pie-type dough and finding a perfectly sized and shaped pan to fit it just right.
I tend to avoid tarts when scrolling through recipes, but with the emergence and more prominent use of almond and other nut flours, it seemed valid to create something simple, useful, and NUTTY for the gluten-free baker world.
A nut-based crust provides an easy-to-handle, tender, protein-packed nest for your favorite fillings, whether they be fruit, custard, or mousse. I know I'm LONG overdue for a chocolate recipe, so why don't we fill our rich, buttery pistachio crust with some chocolate almond mousse?
We have two recipes to accomplish here, but thankfully both are simple and the baking time is short. Let's get mixing, shall we?
Preheat your oven to 350° F.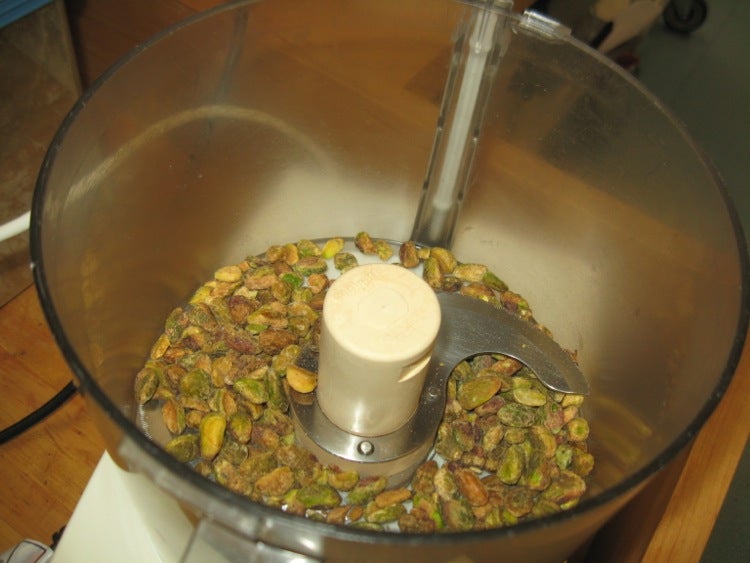 Start by pulsing 3/4 cup (92g) pistachios in your food processor, taking care not to over-process into a paste.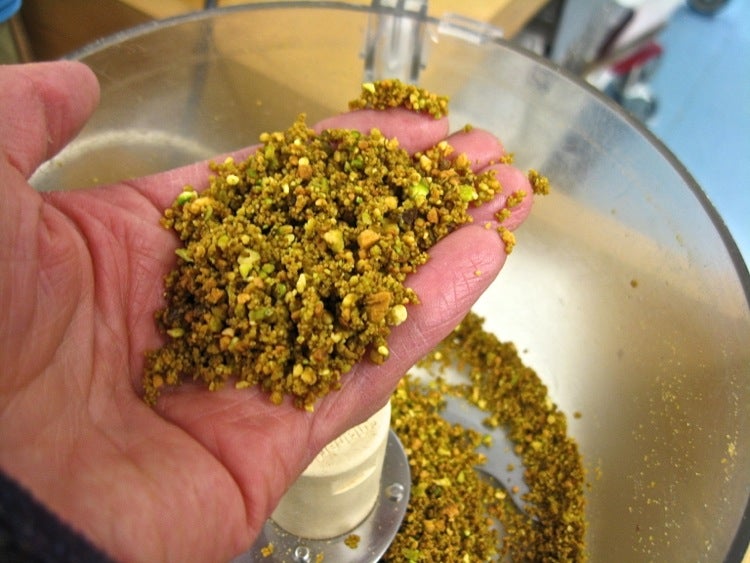 You'll want to be able to see slightly larger pieces here and there; but overall, the blend should be the consistency of a coarse meal.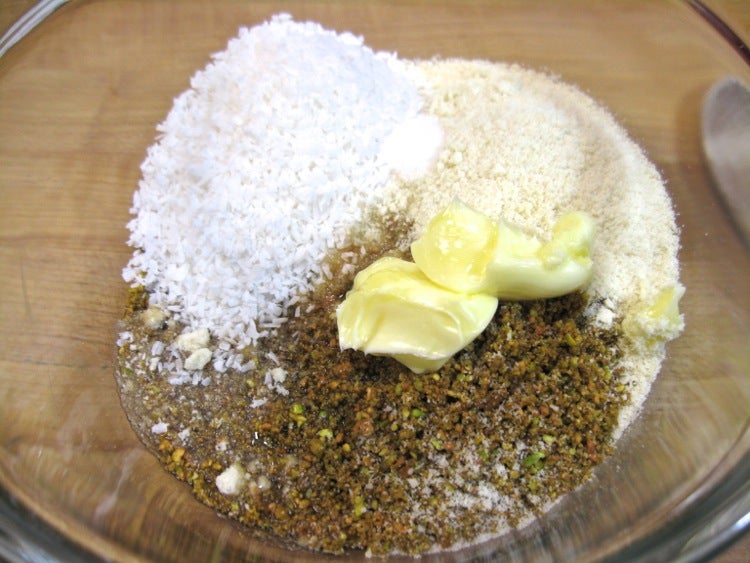 Combine the pistachio meal with:
3/4 cup (71g) almond flour
1/2 cup (57g) unsweetened shredded coconut
3 tablespoons unsalted butter (43g) or vegetable oil (37g)
3 tablespoons (59g) maple syrup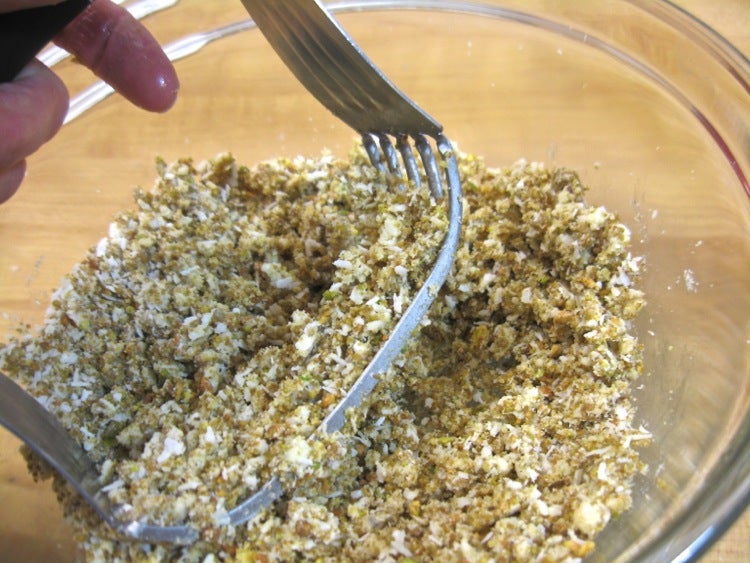 Mix quickly with a pastry blender or fork until the mixture looks crumbly, but will still hold together if you squeeze a handful of it.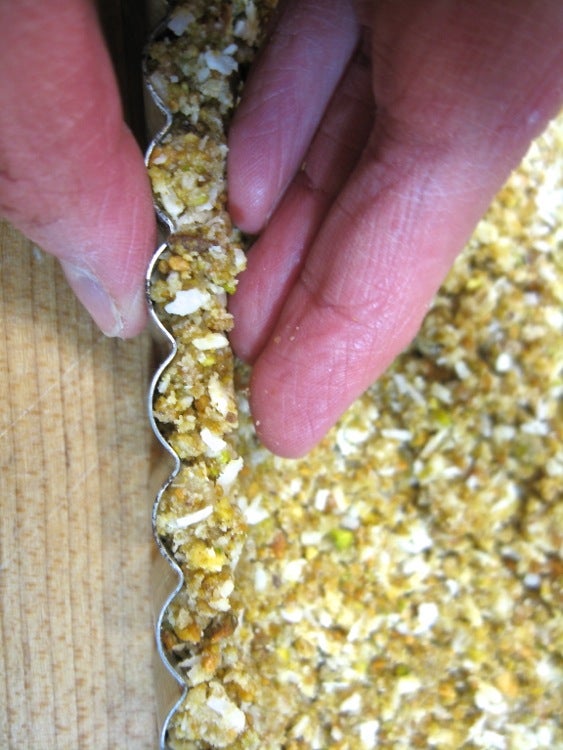 Line a rectangular 4¼" x 13¾" x 1" tart pan; four mini 4" x ¾" tart pans, or a 9" tart pan with the crust mixture, pressing it evenly up the sides to make a thick crust as pictured above.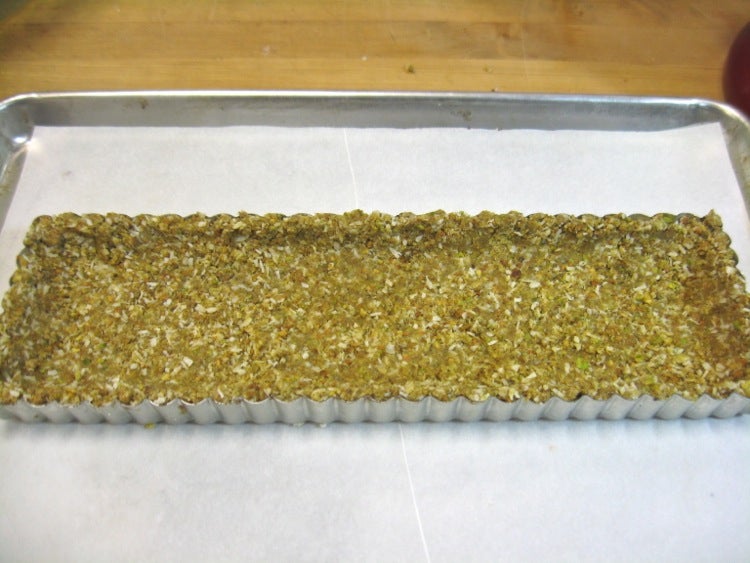 Bake the crust for 15 to 20 minutes...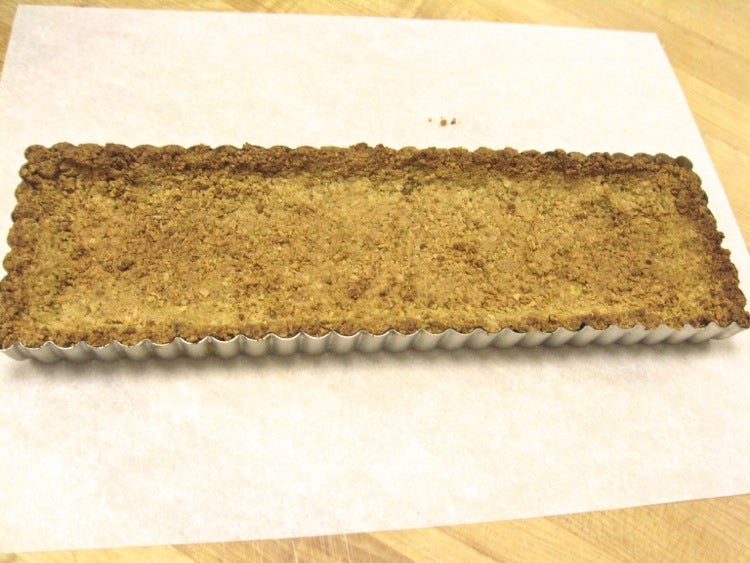 ...or until the edges are golden brown. Cool the crust completely before filling it.
And now, to make the smooth, dense mousse to fill this beautiful golden shell!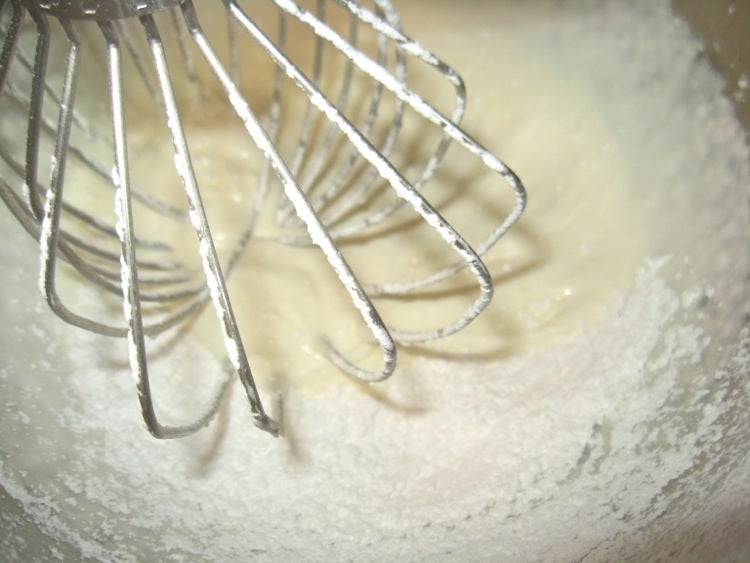 Whip 1 cup (227g) heavy cream to soft peaks, then add 1/4 cup (28g) confectioners' sugar. Continue beating until the cream forms stiff peaks.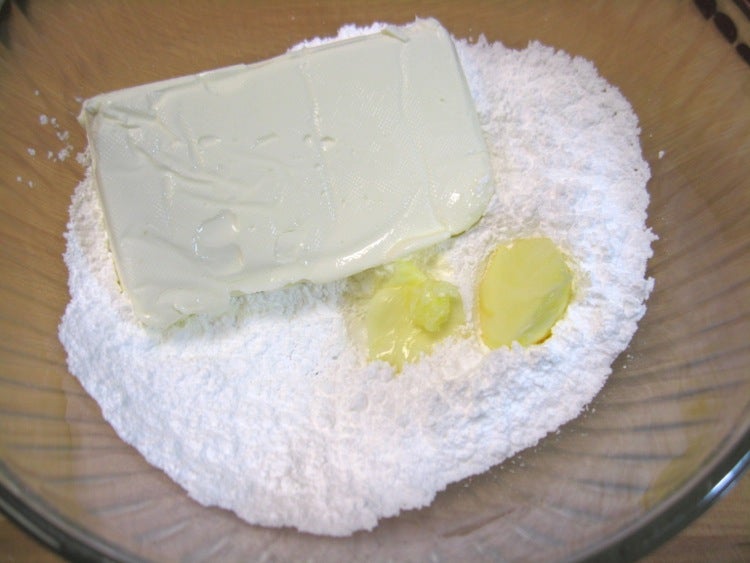 Mix 3/4 cup confectioners' sugar (85g) with 8 ounces (227g) cream cheese, 2 tablespoons (28g) softened butter, and 1/2 teaspoon almond extract.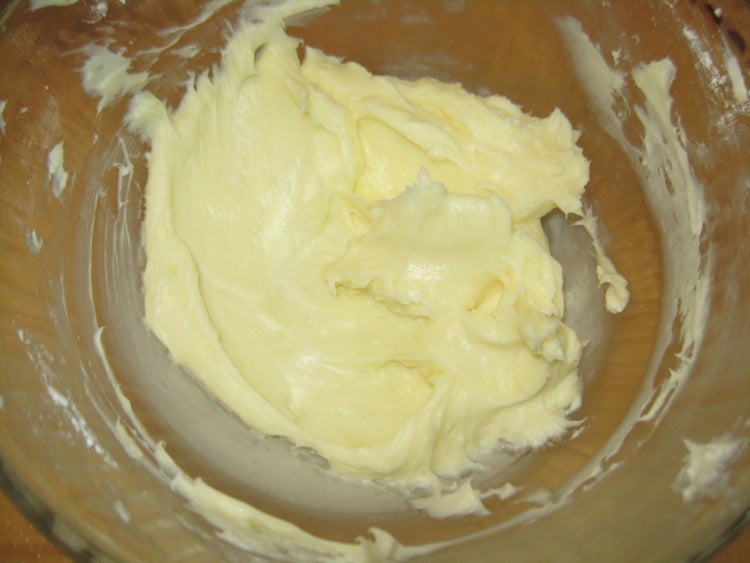 Once they're mixed thoroughly, set the bowl aside.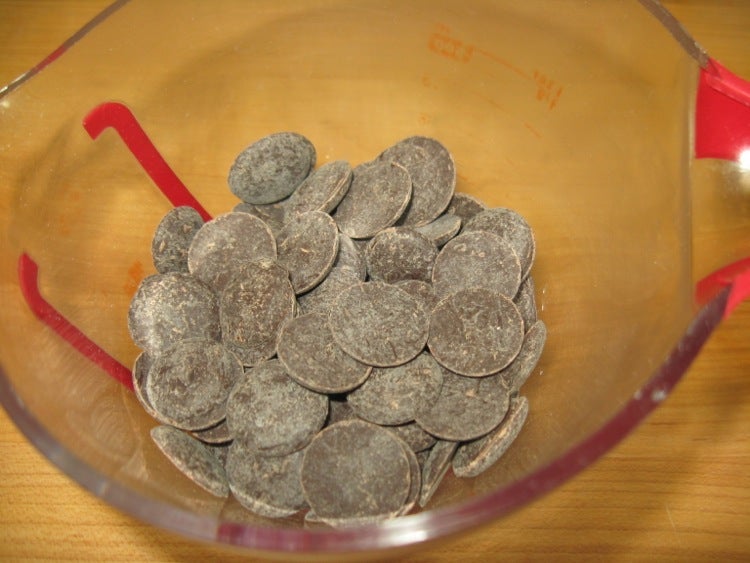 Melt 2/3 cup (113g) bittersweet chocolate in your microwave, or over a double boiler.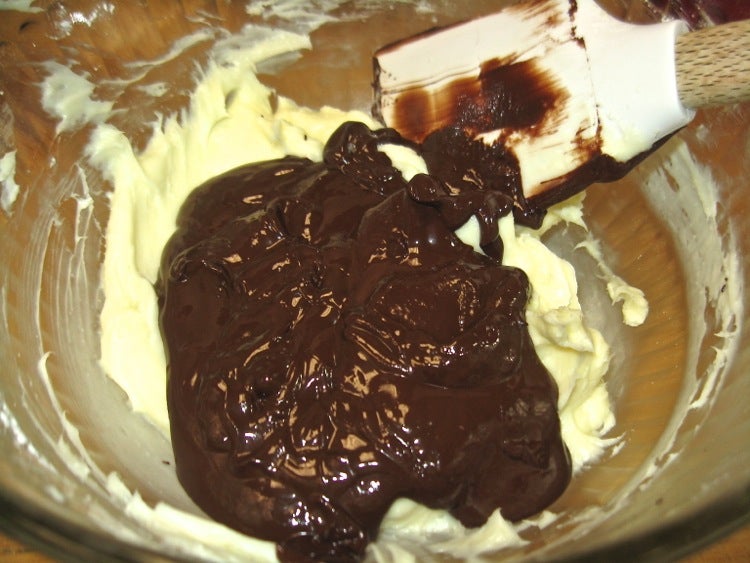 Add the melted chocolate to the cream cheese mixture, and beat well.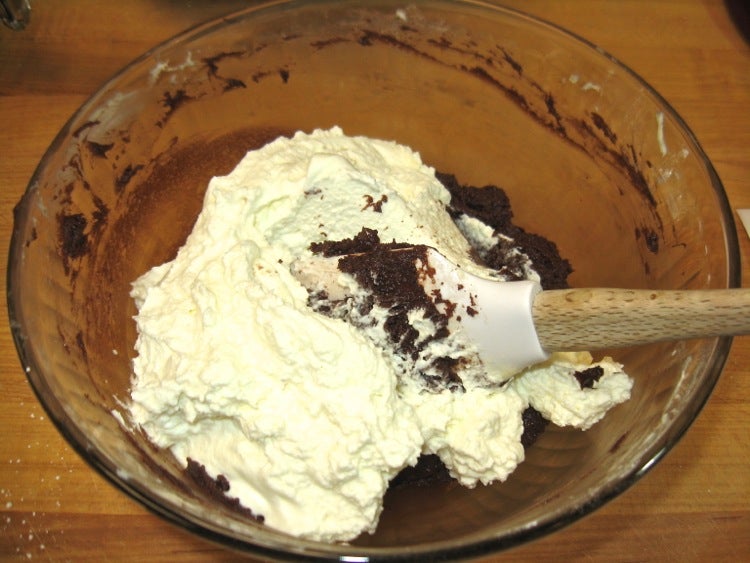 Fold the whipped cream mixture into the chocolate cream cheese mixture.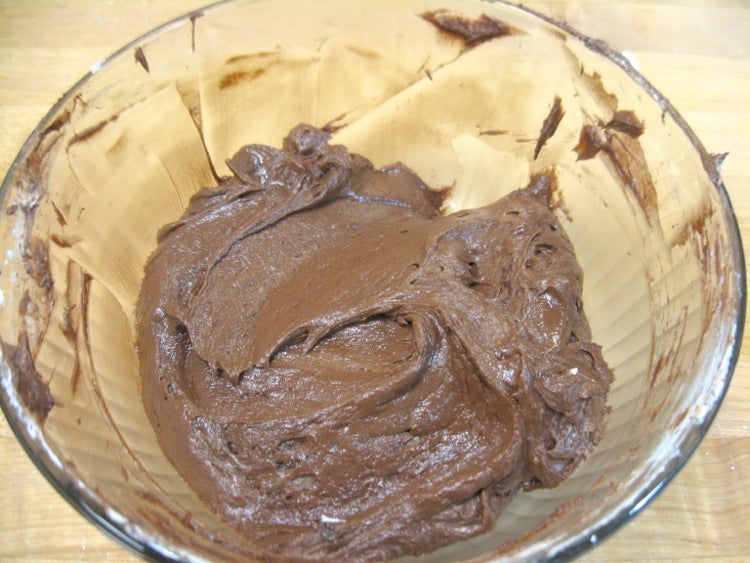 Make sure everything is smooth and evenly blended.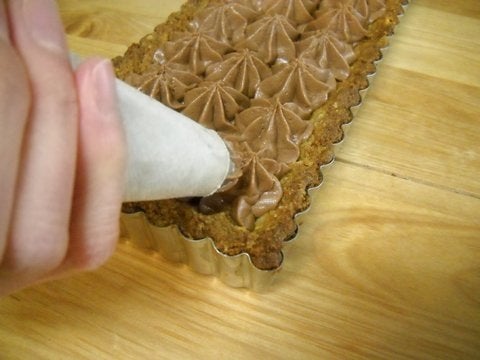 Finally, pipe the mousse filling into the baked, cooled shell.
Serve the tart garnished with toasted pistachios or almonds, if you'd like to dress it up a little. A dollop of whipped cream never hurt, either. ; )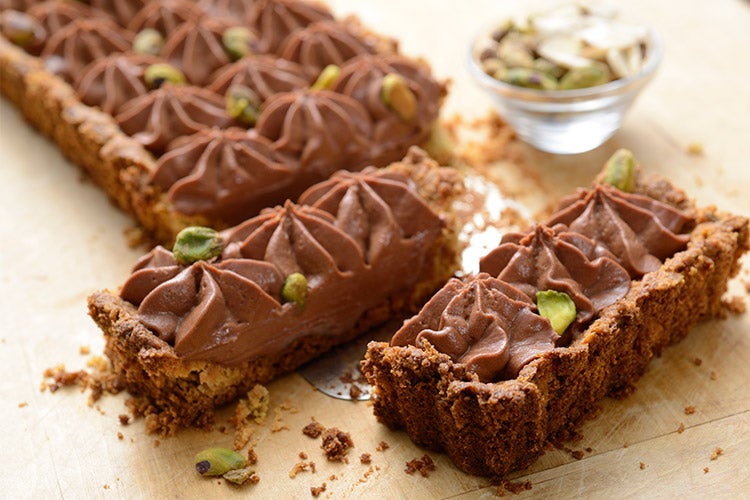 Such decadence. No gluten. No flour. Tons of protein. And yes, most importantly for so many – IT'S CHOCOLATE!
Please read, bake, and review our recipe for Gluten-Free Nut-Crusted Chocolate Mousse Tart.
Jump to Comments