Every time I see a jar of Nutella, I mentally start humming "Maria," from West Side Story.
Nutella, I just met a spread named Nutella, and suddenly my toast will never be the same to me...
Nutella, I just had a snack named Nutella, and suddenly I've found how wonderful a snack can beeeeeee...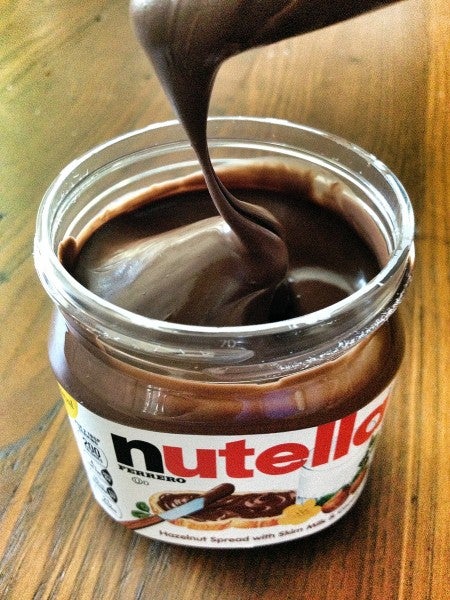 (I know, now you'll be humming "Maria" all day. Though that's not necessarily a bad thing; I could have stuck you with "Layla," right?)
Anyway, until recently, I'd never tasted Nutella. That's right, a 60-year-old woman who'd never even sampled this iconic hazelnut-chocolate spread.
My mom is a big fan of Nutella, so in preparation for her annual week-long visit, I purchased a jar.
I figured I'd better taste it before she arrived, to make sure it was OK.
Let the trumpets sound! WOW. I'm not a huge fan of hazelnuts, but this stuff is pretty darned tasty.
I began to wonder, what do you do with it, besides spread it on toast or crackers, like peanut butter?
Peanut butter... Peanut butter cookies... Nutella cookies?
You bet. And oh, aren't these just DA BOMB.
Best thing is, you can make them soft and chewy, or crisp/crunchy, simply by shortening or extending the baking time.
Nutella, say it loud and there's cookies baking... Say it soft – to its charms I'm awaking... Nutella, I'll never stop tasting... Nutellaaaaaaaaaaaa... 
Preheat the oven to 350°F. Lightly grease (or line with parchment) two baking sheets.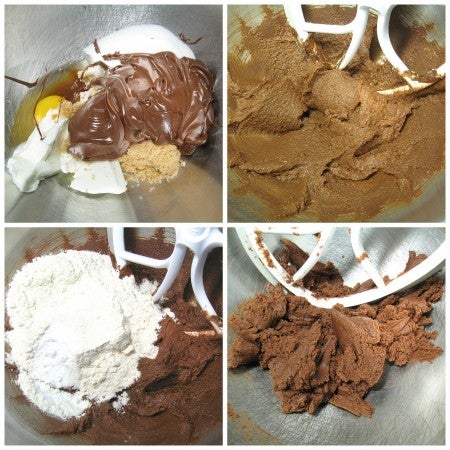 Beat together the following until smooth:
1/3 cup (57g) vegetable shortening
1/2 cup (99g) granulated sugar
1/2 cup (106g) brown sugar
1 large egg
1 teaspoon vanilla extract
1 teaspoon espresso powder, optional, for enhanced flavor
1/2 to 3/4 teaspoon hazelnut flavor, optional, for enhanced flavor
1/4 cup (21g) cocoa powder, Dutch-process or natural
1 teaspoon baking soda
1/2 teaspoon salt
3/4 cup (206g) chocolate-hazelnut spread, such as Nutella or Jif
Can you substitute butter for the shortening? Yes, though you'll want to opt for a soft rather than crunchy cookie if you do.
Hazelnut flavor takes these cookies over the top, taste-wise. If you don't have hazelnut flavor, the cookies will taste good, but not overly "hazelnutty." Substitute 1/4 teaspoon almond extract for the hazelnut, if you like; almond will give the cookies a vaguely nutty flavor, though it won't be hazelnut. 
Add 1 1/2 cups (177g) King Arthur Unbleached All-Purpose Flour. Stir to combine - the dough will be very stiff, and somewhat crumbly.
If the dough is so stiff it won't come together, drizzle in enough water or cold coffee (1 tablespoon or less) to bring it together. Watch out, though; if you add too much liquid, the cookies will flatten and spread out too much as they bake.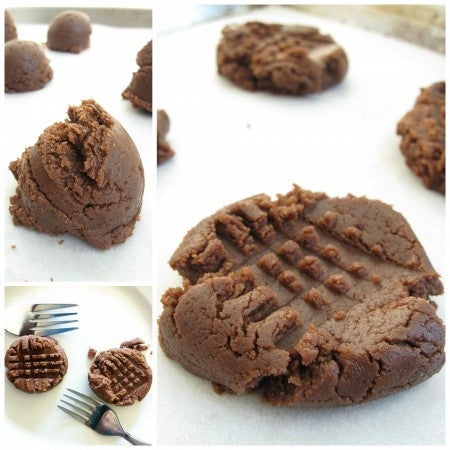 Drop the cookie dough by teaspoonfuls or tablespoonfuls onto the prepared baking sheets (a teaspoon or tablespoon cookie scoop works well here), leaving 2" between them.
The larger balls of dough will be about 1 1/2" in diameter, and weigh a generous 1 ounce each (if you have a scale); the smaller ones will be about 1 1/4" in diameter, and about 1/2 ounce in weight.
Translation: If you use the tablespoon scoop, you'll get 22 to 24 large (2 3/4" to 3") cookies; the teaspoon scoop will yield about 4 dozen smaller (2") cookies.
Use a large dinner fork to flatten each cookie to about 3/8" thick, making a cross-hatch design.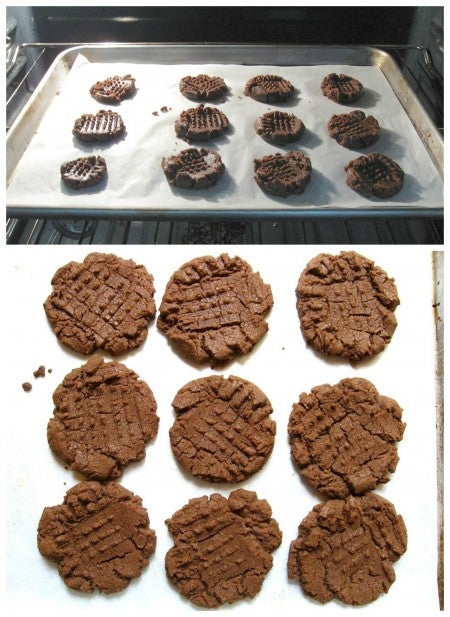 Bake the cookies for 7 to 13 minutes, until they don't appear super-moist any longer, and seem set. Since they're dark colored, it's difficult to tell when they're done by whether or not they're browned; it's a good idea to bake one test cookie first, to figure out the timing.
The wide range of baking times covers both small and large cookies, plus three textures: soft; soft in the center, crisp on the edges; and crunchy all the way through. All times assume baking on a light-colored aluminum pan lined with parchment.
Bake the teaspoon-scoop cookies for 7 minutes if you like them soft; 11 to 12 minutes if you like them crunchy. The larger, tablespoon scoop-size cookies will be soft when baked for 8 minutes; and crunchy when baked for 12 to 13 minutes.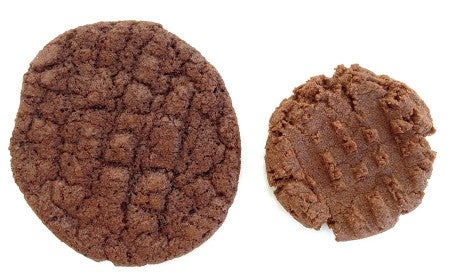 And here's what happens when the dough doesn't QUITE come together, so you add a bit of water to make it cohesive, only you add a little too much. Cookie made from water-added dough on the left; and on the right, a cookie whose dough didn't require any extra water.
A word to the wise: the dough is supposed to be stiff; don't add so much water that it's smooth and scoopable like typical cookie dough. Unless, of course, you like flat/chewy cookies – they DO taste good.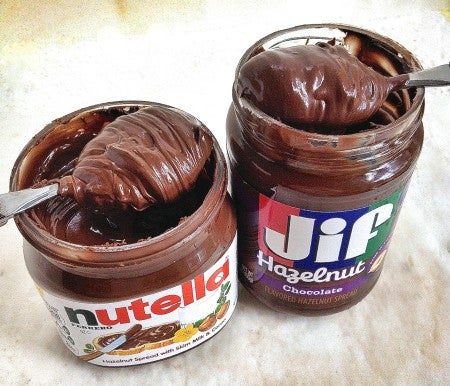 So OK, there's classic Nutella – and then there's upstart Jif.
Nutella is lower-fat and fewer calories; and though their flavor is very similar, I give the nod to Nutella for its more nuanced aftertaste.
Nutella, I'll never stop loving – Nutellaaaaaaa...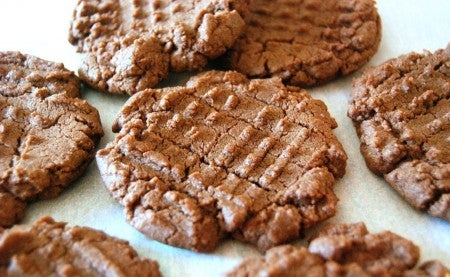 Please read, bake, and review our recipe for Chocolate-Hazelnut Cookies.
Jump to Comments