So, it's breakfast time again. You're tired of cereal, the yogurt has expired, the waffle iron needs the old grease scraped out of its crannies from the last time you used it, and your children utter staggering groans when you suggest scrambled eggs.
Where's the inspiration? Wanna turn those kiddo groans into a chorus of cheers?
Groping for the oatmeal box, your hand stumbles upon the King Arthur Flour gluten-free muffin mix you had stashed toward the back of the cabinet.
Muffins? Sure, why not? Or, better yet, how about coffeecake – one layered with streusel and berries?
Our product development team works hard to perfect our gluten-free mixes; we want to exceed your expectations of gluten-free baking. So it seems a shame to have only one use for each of them.
Like our gluten-free muffin mix? Read on and discover how to turn it into a fabulous blueberry coffeecake, thanks to Frank Tegethoff, one of our talented product development test bakers, who kindly donated this recipe to my cause.
Once in awhile, I enjoy a break from recipe development; and it's always nice to have some of the work done for you, right? There's nothing wrong with having a little extra time to focus on other things like photos... content... grammar.
How's my grammar?
Oh, sorry. OK, on to coffeecake!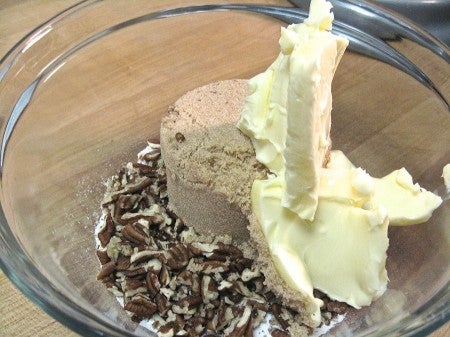 Preheat your oven to 375°F. Grease a 9" x 13" pan, or two 8" round cake pans.
To make the streusel topping, combine:
4 tablespoons (57g) soft butter
1 cup (213g) brown sugar
6 tablespoons (43g) Gluten-Free Muffin Mix
1 cup (113g) chopped pecans
pinch of salt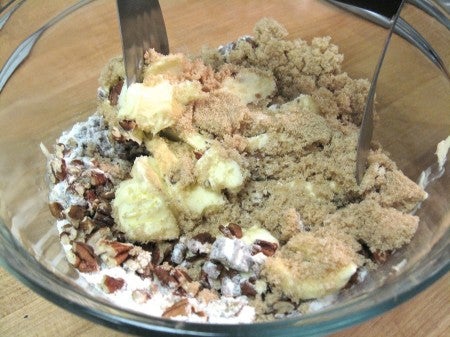 Using a pastry blender or your hands, mix the ingredients until they come together.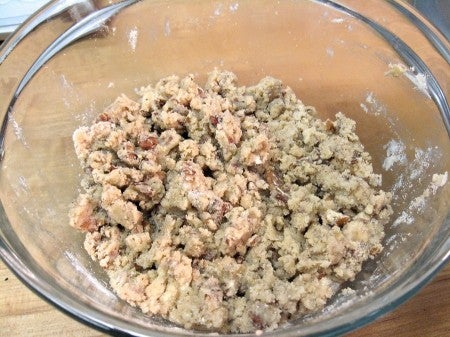 They'll be coarsely crumbly. Set the crumb topping aside while you prepare the cake batter.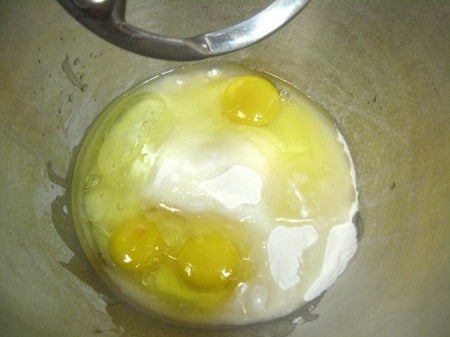 Mix the batter, starting with blending the 3 eggs, 6 tablespoons (85g) of oil or butter, and the remainder of the muffin mix.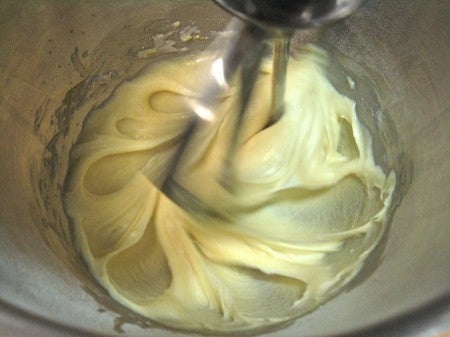 Beat until smooth.
Add 1 cup (227g) of milk, 1/4 cup at a time, blending in between additions.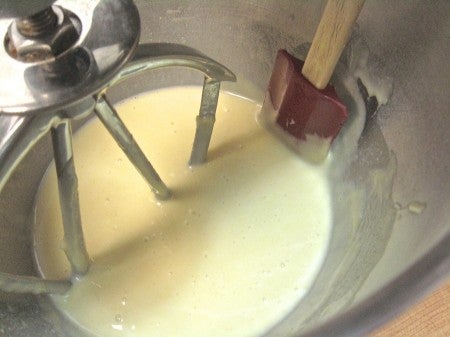 Make sure to scrape down the sides of the bowl between each addition.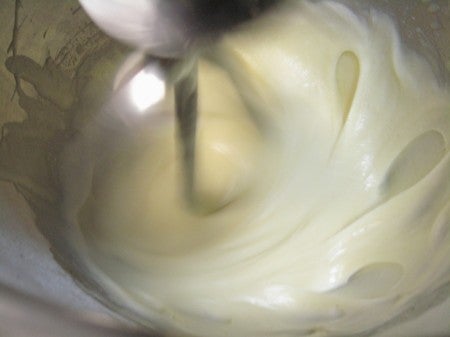 Mix on medium-high speed for about 1 minute...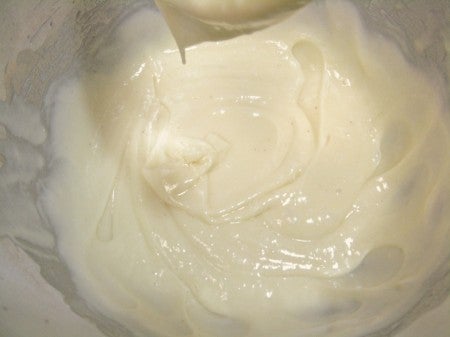 ...or until the batter thickens slightly.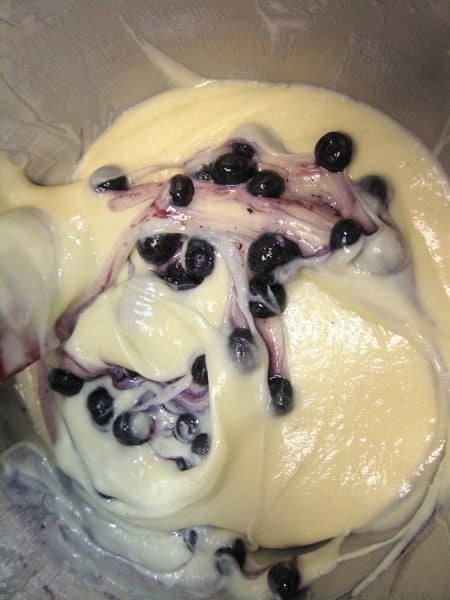 Gently fold in 1/2 cup blueberries. It is important to use either defrosted (drained) or fresh blueberries rather than frozen ones to avoid adding too much liquid to the batter.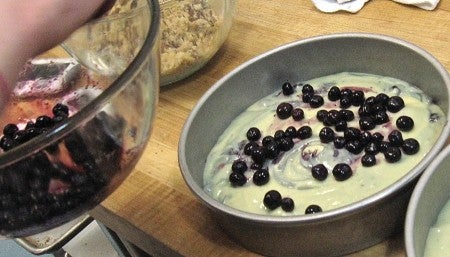 Divide the batter between the round pans (or pour into the 9" x 13" pan), and allow it to rest for 10 minutes.
The rest will encourage the baking powder and xanthan gum to activate and therefore thicken the batter, providing more strength for the addition of berries and topping. Forget this important step and you're bound to end up with an imploded blueberry upside-down cake!
Top with an additional 1 1/2 cups blueberries...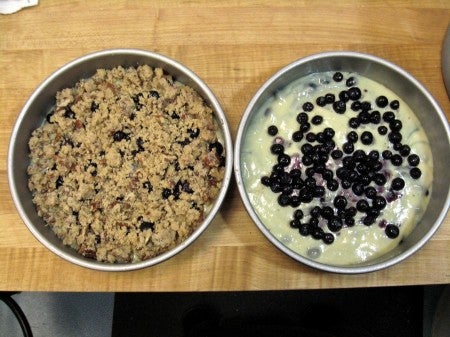 ...and the streusel.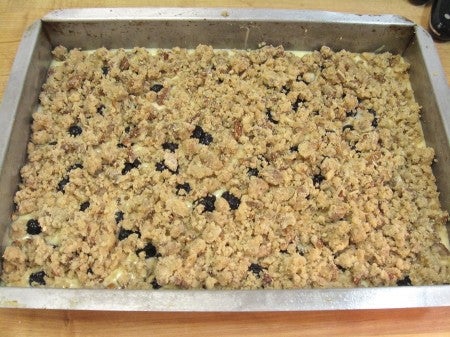 Here's the single-pan version – rested, topped and ready for the oven!
Bake the cake(s) for 30 to 34 minutes, or until a thermometer inserted into the center reads 210°F.
Remove from the oven, and cool slightly before cutting.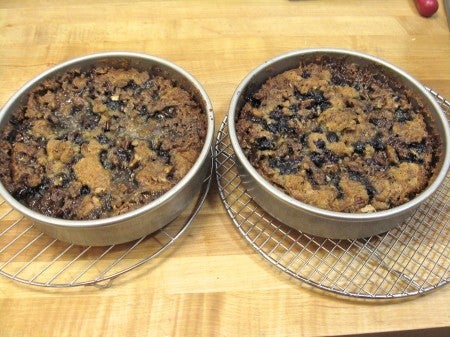 The cake(s) should be a lovely golden brown and ever-so-tempting with their nutty topping, juicy blueberries, and warm, soft, tender crumb.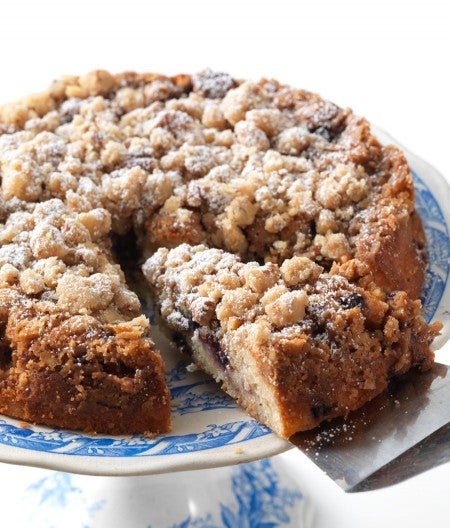 Please, get comfy with this cake, as it deserves to be accompanied by your favorite warm drink and a good read.
Dust it lovingly with confectioners' sugar.
I hope it brings a refreshing break to your day.
Please read, bake, and review our recipe for Gluten-Free Blueberry Coffeecake.
Jump to Comments