From mixing bowl to table in under 35 minutes
Fast, faster, fastest recipes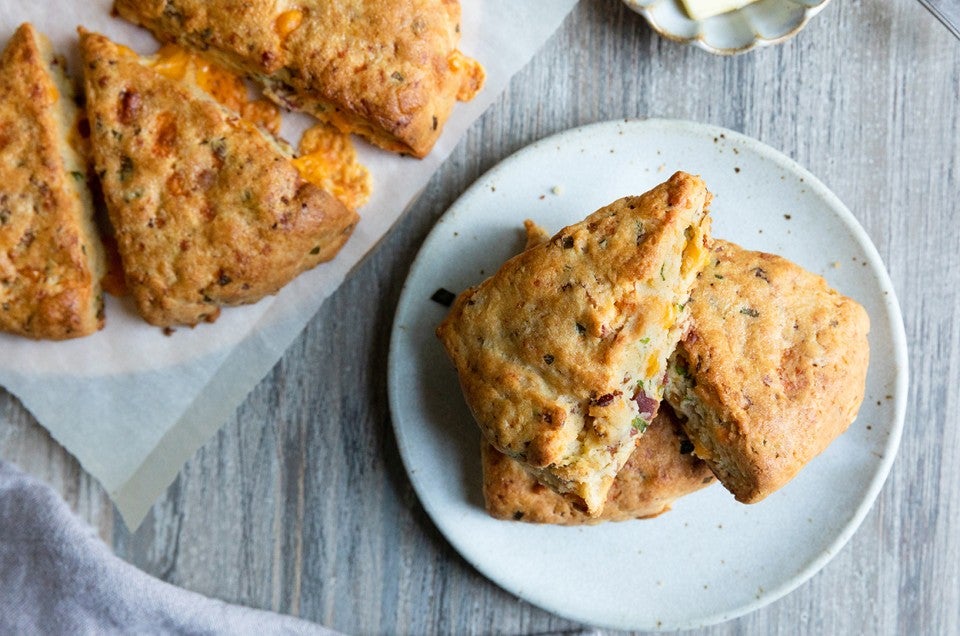 What's the biggest thing that stops you from baking?
Lack of inspiration?
I doubt it. For most of us, the usual mantra is "So many recipes, so little time..."
AH-HA! "So little time." Between work, keeping the family on schedule, meal prep, and exercise (critical for those of us who love to bake and EAT), there's barely a spare moment Monday through Friday.
Even weekends seem to disappear in a cloud of laundry, kids' sports, and errands.
What's a dedicated baker to do?
When the baking urge hits, and you really, really don't have even an hour to spare – bake FAST.
Here's how.
Some treats, by virtue of their size and shape, just naturally lend themselves to a quick turnaround in the oven (or on the stovetop).
Pancakes and waffles, for instance. But WHOLE WHEAT waffles – won't the kids object? Trust me, no one will ever know these light, golden, buttery waffles are made with whole wheat flour – they're that good.
♥ ♥ ♥ ♥ ♥   122 reader raves
√ under 35 minutes
Speed tip: Melt the butter in the microwave, then add the milk, and microwave until the mixture is just lukewarm. The hot butter will help warm the milk, and the cold milk will cool the butter enough that it doesn't adversely affect the egg.
For step-by-step photos and more tips, see the blog.
Scones are another treat that lend themselves to speed baking. Mix; shape; bake quickly in a hot oven. Here's one of our readers' favorite scone recipes.
♥ ♥ ♥ ♥ ♥  89 reader raves
√ under 35 minutes
Speed tip #1: Instead of a knife and cutting board, use a pair of standard scissors to snip chives and chop cooked bacon. Use bagged shredded cheddar cheese, instead of dicing a solid block.
Speed tip #2: Make scones ahead of time up to the point of baking. Freeze unbaked scones on a cookie sheet, then wrap in plastic. When you want a fresh, hot scone (or 2, or 4, or 8), pop frozen scones into a preheated oven. Heaven will be yours in under 30 minutes.
Speed tip #3: Substitute self-rising flour for the flour, salt, and baking powder in the recipe.
For step-by-step photos and more tips, see the blog.
Since we're in the breakfast groove here, don't forget muffins. Many are simple stir-together batters, and most bake no longer than 20 to 25 minutes.
Also, muffins are a great way to "sneak" whole wheat flour into your family's diet. Check out these banana chocolate chip muffins – they're 50% whole wheat, 100% delicious.
♥ ♥ ♥ ♥ ♥  68 reader raves
√ under 35 minutes
Speed tip #1: Don't bother pre-mashing the bananas. Once you've beaten the butter with the sugar, just add the bananas, cut in chunks, and beat at high speed for about 30 seconds; they'll mash themselves.
Speed tip #2: For fast and easy transfer of batter to muffin pan – and 12 perfectly shaped/sized muffins – use a muffin scoop.
For step-by-step photos and more tips, see the blog.
Why do biscuits scare people? There's nothing easier (or faster) than flaky, tender biscuits, hot from the oven.
♥ ♥ ♥ ♥ ♥  20 reader raves
√ under 25 minutes
Speed tip #1: Make the dough in a food processor. Place the flour in the processor; grate in the cold (or preferably frozen butter) using a large grating disc; then switch to the regular blade, and pour in the cream or buttermilk with the motor running, stopping just as soon as the dough comes together.
Speed tip #2: Easiest biscuits ever: Combine self-rising flour with enough heavy cream to make a soft dough. Use a muffin scoop to plop dough balls onto a baking sheet. Bake in a 425°F oven for 15 to 18 minutes.
Speed tip #3: Like scones, biscuits can be prepared and shaped ahead, then frozen, ready to bake at a moment's notice.
Doughnuts – fast and easy? You bet; when they're baked, not deep-fried, doughnuts are literally a piece of cake. These Pumpkin Cake Doughnuts were a huge hit for us last fall.
♥ ♥ ♥ ♥ ♥  78 reader raves
√ under 35 minutes
Speed tip #1: You can't make baked doughnuts without a doughnut pan. And you'll make them twice as fast if you spring for two doughnut pans.
Speed tip #2: Three quick scoops with a tablespoon cookie scoop is all you need to fill each well in the doughnut pan with the exact right amount of batter.
Cookies seldom bake longer than 10 or 12 minutes. Grab a simple recipe, stir the ingredients together, and Bob's your uncle – cookies for that baseball potluck tonight, the one your son forgot to tell you about. These soft molasses cookies can be in and out of the oven in just 8 minutes, depending on what pan you use.
♥ ♥ ♥ ♥ ♥  23 reader raves
√ under 35 minutes
Speed tip #1: For fastest cookie baking, use a dark gray (but not black) cookie sheet, without any liner (parchment, silicone, etc.)
Speed tip #2: The speedy cookie baker's best friend is the cookie scoop: teaspoon for 1 3/4"-2" kid-sized cookies; tablespoon for 2 1/2"-3" cookies; jumbo for big (palm-sized), bake-sale cookies.
Cake – fast? Don't you have to cream the butter, beat in the eggs, whip, whip, whip...? Not when you're making cake pan cake – a.k.a. 1-2-3 Cake.
This easy, stir-everything-together-in-the-pan dessert bakes for 30 minutes; but honestly, you can throw it together in less than 5 minutes, then spend that oven time catching up on other kitchen chores. Or sipping coffee and checking Facebook – your choice!
♥ ♥ ♥ ♥ ♥  101 reader raves
√ under 35 minutes
Speed tip #1: Make sure your oven is preheated and up to temperature before you start. This cake goes together very quickly; you don't want to be standing around with a pan of cake batter, waiting for the oven to heat.
Speed tip #2: Fastest icing ever: 1 1/2 cups chocolate chips heated with 1/2 cup half & half. Stir to melt chips; spoon over cake.
Where there's cake, there's ice cream, right? Or there should be. If you have an ice cream maker, à la mode can be just 30 minutes away.
Many ice cream recipes start with a simple mixture of heavy cream, sugar, and the add-ins of your choice. Mocha Madness Ice Cream, chocolate/coffee ice cream studded with bits of chocolate cookie, is one of our favorites.
♥ ♥ ♥ ♥ ♥  44 reader raves
√ under 35 minutes
Speed tip #1: Instead of using a stand mixer or whisk, pour the cream and any other ingredients into a quart Mason jar. Screw the lid on tightly, and shake vigorously for about 30 seconds.
Speed tip #2: Nothing derails the ice cream experience like forgetting to put the canister in the freezer the day before. If you've got the freezer space, it helps to have two canisters: one to use, one to keep in the freezer. That way, one or the other is bound to be frozen and ready to go when you are.
For step-by-step photos and more tips, see the blog.
Hope you get a chance to try some of these speed-tested recipes. And please – comment below to share your favorite baking and cooking speed tips!
Jump to Comments