Got banana bread? I think the question really is: "Who doesn't have a trusty old recipe up their sleeve?" Like china sets and pieces of fine jewelry, they're handed down through family generations, but much more often used and appreciated.
I have to admit that I am one of the few that was left without granny's heirloom banana bread recipe, but I DO have her zucchini bread formula which proved to be a great starting canvas for the gluten-free recipe I'm about to share with you.
And for those of us whose fingers love to help themselves to an online search search now and again, banana bread is the top-most searched BREAD recipe, and within the top 10 of ALL searched recipes online, according to Google Trends.
Can you blame them? Maybe there are more people out there like me who never received a full recipe inheritance. Or maybe it's just because banana bread is a true crowd pleaser – even for some who don't care for the tropical fruit itself.
It's star of the bake sales, beloved loaf of the potluck, and the happy ending hiding in the lunchbox. Beyond winning many popularity contests, banana bread has some important health benefits thanks to its main ingredient – the banana, of course! Whatever fruit is good enough for our primate ancestors is certainly good enough for me!
The lovely yellow fruit is high in potassium, great for muscle-building; vitamin C, an always-welcome immunity boost and infection-fighting warrior; and finally, digestible carbohydrates that will provide an effective source of energy without the risk of weight gain.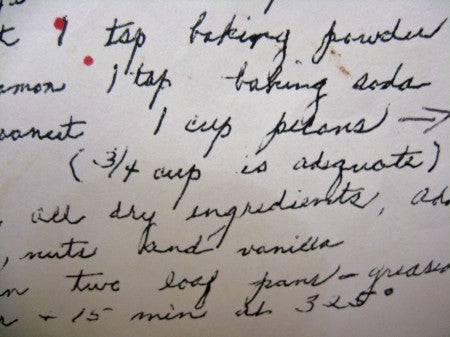 Isn't this so typical? Small, flowing manuscript with uniform letters on an old weathered index card. I think the many different grannies out there all had the same handwriting! If you look closely, you can see the grease spots on the paper, a smudge of cinnamon, and some red ink spots.
I think banana bread or not, we all have a few of these antique, weathered recipe cards stashed away in boxes of accumulated treasures or between pages of old cookbooks, often well-loved and almost illegible.
I polled some of my fellow glutenivore employee-owners to learn a little about where their favorite banana bread recipes came from, and if there was a story behind their tradition.
I was surprised to find that about half of my panel have a go-to right in their favorite modern cookbook, while the other half shared a wide range of recipe origins – everything from great-grandma and childhood friend's mother, to the acclaimed favorite recipe of Lyndon B. Johnson which, apparently for this person, had been a family and church community favorite.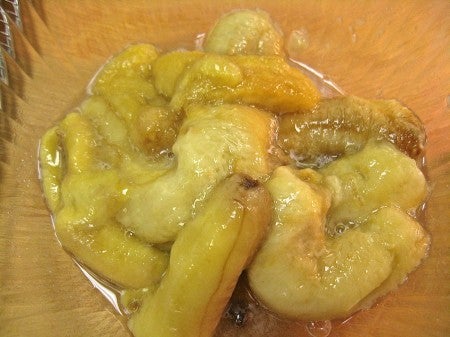 Let's have a little chat about bananas. What to do with the old, brown, wilted monkey food in your fruit bowl?  That's easy! You can freeze bananas for making into bread, muffins, and cake; or adding thickening power to a smoothie.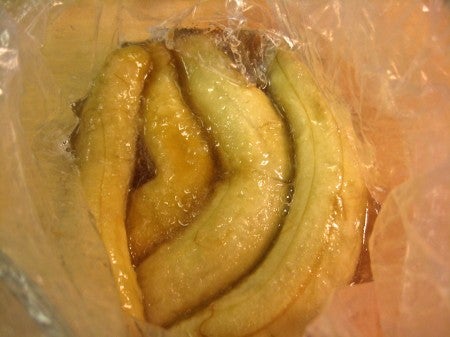 Bananas can add a lot of liquid to a batter, which is easily seen here in this post-thaw photo.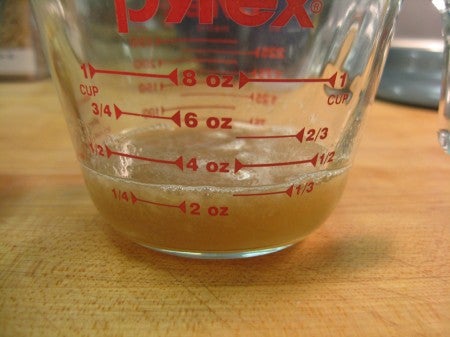 My four bananas gifted over 1/4 cup of liquid to the cause– easy to measure if you're using previously frozen fruit.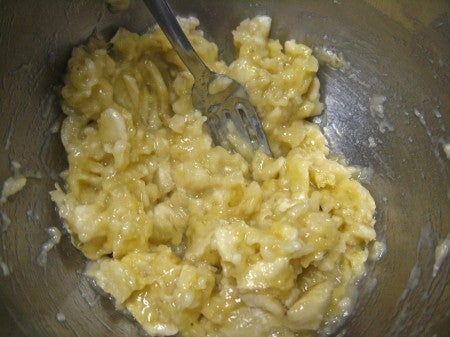 Of course, sometimes you'll be pulling them straight out of their skins at room temperature and mashing them with a fork. These contain liquid, too; but until there is a temperature change during the baking, the moisture will not be released.
After some recipe demolition and rebuilding, I found a great way to pack this quick bread full of moisture and banana flavor without using a lot of sugar. I hope you'll join me to make it here in the King Arthur Flour test kitchen! Have I given you any reason not to?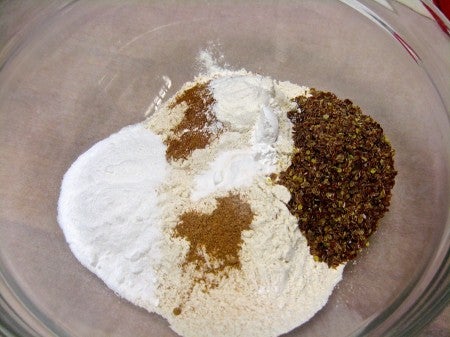 Preheat your oven to 350°F and begin by measuring the following into a medium-sized mixing bowl:
1 3/4 cups (269g) King Arthur Gluten-Free Multi-Purpose Flour
1/4 cup (25g) whole flax meal
1 teaspoon baking soda
1/2 teaspoon salt
3/4 teaspoon xanthan gum
3 tablespoons (21g) Cake Enhancer, optional*
1 1/2 teaspoons cinnamon
1/4 teaspoon nutmeg
Blend the dry ingredients together thoroughly and set them aside for now.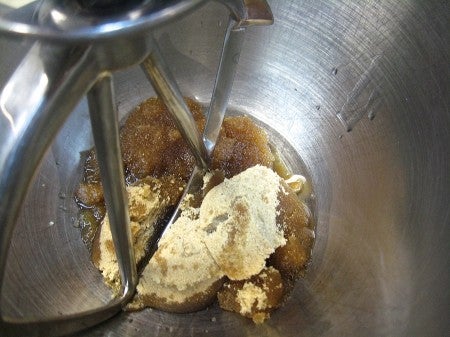 In your mixer's bowl, combine 3/4 cup (106g) brown sugar and 1/2 cup (99g) vegetable oil until well-blended.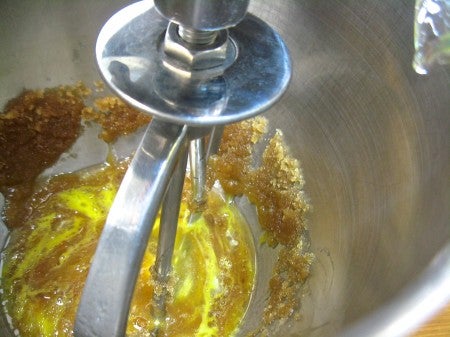 Add 3 large eggs, one at a time, until incorporated.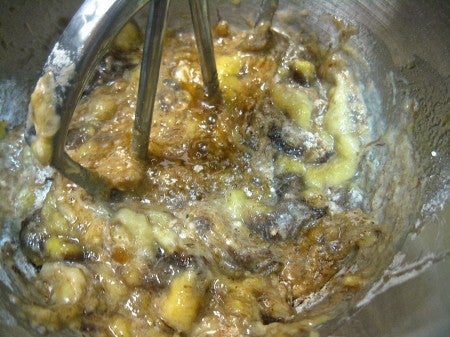 Add the dry mixture and blend, then the 2 cups (425g) of bananas...
... 3/4 cup (64g) unsweetened shredded coconut and flavorings (1/2 teaspoon vanilla and optional 1/4 teaspoon banana flavor). Stir until blended.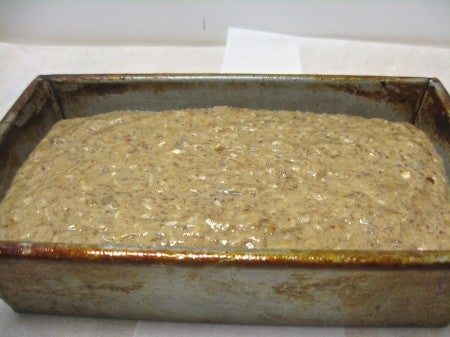 Pour the fragrant batter into a greased 9" x 5" loaf pan and bake at 350°F for 45 to 55 minutes, or until the internal temperature reaches 210°F.
Can you make this one into muffins? Absolutely, and please do! Bake at 350°F, but only for 18 to 20 minutes.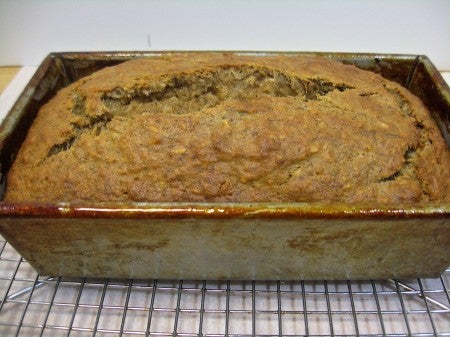 Allow the loaf to cool on a rack in the pan for about 10 minutes before turning it out...
...to cool completely BEFORE cutting!
So tempting it is to stray from the law, but worth the wait... I hope!
Butter? Yes!
Nutella? To die for!
Throw a scoop of vanilla ice cream and caramel sauce on top of a slice and get ready for heroism!
Wherever your banana bread recipe came from, I wish you a long future filled with good baking memories. I'm hoping that someday this recipe, too, will have its own special story, and many people who will begin a new tradition by passing it along to their gluten-free loved ones.
Please read, bake, and review our recipe for Gluten-Free Banana Bread with Coconut and Flax.
Jump to Comments