There's Christmas fruitcake.
And then there's Christmas fruit cake.
The difference a single space between two words can make is nowhere more evident than here.
Fruitcake, bane of many a lame joke around Christmas sweets, is typically deep-dark-dense, super moist, and packed with fruit. Sounds pretty good, right?
Right – if you're a fan of the neon-green cherries, bitter citron, and harshly chemical-tasting dried (make that dry) fruits with which these mass-produced fruitcakes are often packed.
Or maybe you make homemade fruitcake, redolent of brandy or rum, laced with moist apricot chunks, toasted pecans, bright-red cranberries, and tangy-sweet pineapple. Now THAT'S a good fruitcake.
But it's still not fruit cake.
No, the fruit cake we're talking about here is a moist, light-textured golden cake crowned with a jewel-like topping of colorful dried fruits bathed in a decadently buttery spiced syrup.
Think pineapple upside down cake – but substituting your favorite fruits for the pineapple.
It's not fruitcake. But like I said before – THAT'S a good fruit cake.
Ready to try a new fruit cake? We've got you covered.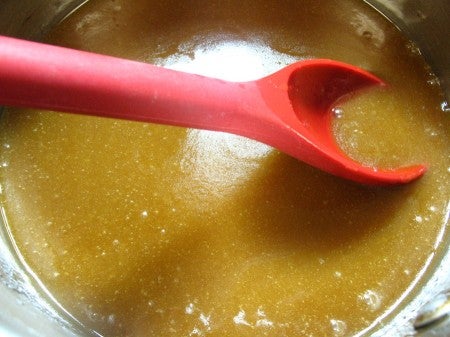 In a medium-sized pot melt over low heat:
8 tablespoons (113g) unsalted butter, cold
1 cup (213g) brown sugar, packed
2 tablespoons (28g) light corn syrup
1/2 teaspoon nutmeg
1/2 teaspoon cinnamon
1/2 teaspoon ginger
Cook slowly over low heat until the butter is melted, the mixture is smooth, and you don't feel the grit of sugar on the bottom of the pan.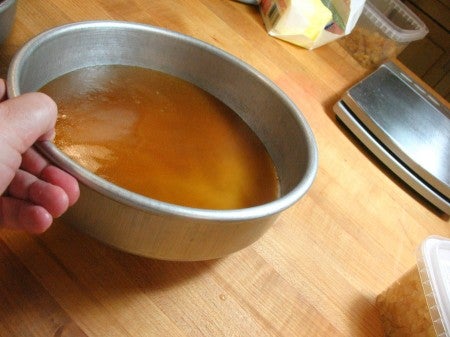 Divide the topping mixture evenly between two 9" round pans that have been greased and lined with parchment paper. Tilt and twirl the pans until you have an even layer across the bottom of the pans.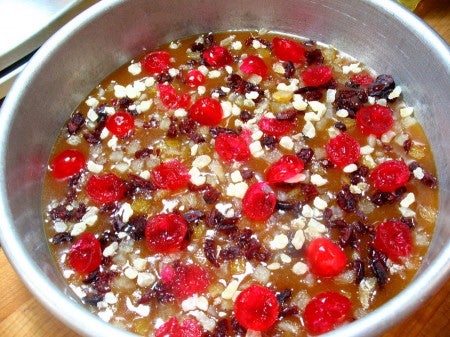 Toss together 3 cups (425g to 454g) of your favorite fruitcake fruits, candied cherries, diced peel, etc. Divide and sprinkle over the topping mixture in the pans. I like to cut the candied cherries in half so they go further; more red looks more festive to me.
You can add 1/2 cup (57g) of chopped nuts too, if desired. It's your cake, do what you like!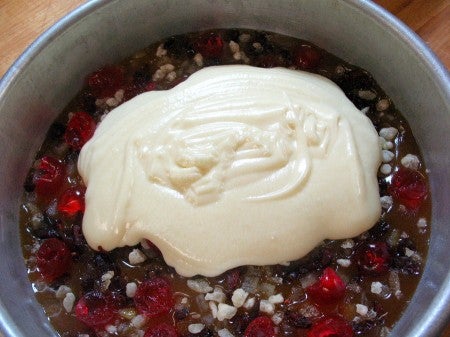 Prepare your favorite double-layer yellow cake recipe, or your favorite double-layer yellow cake mix. Divide and pour over the fruits and spread to level. I love our Golden Vanilla Cake Mix; it has that true upside-down cake taste and texture from my childhood.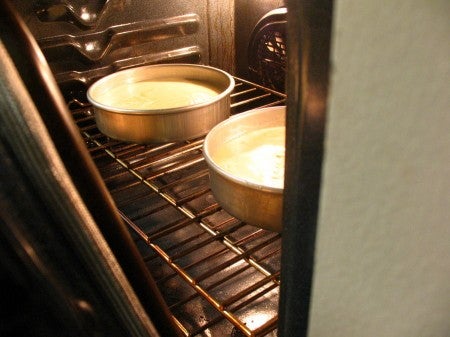 Bake in a preheated 350°F oven for 25 to 35 minutes, or until the cakes are golden brown and begin to pull away from the sides of the pans.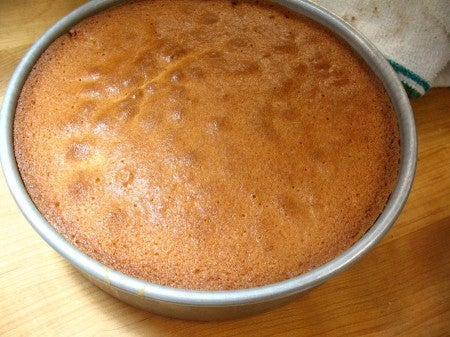 Remove the cakes from the oven and let cool for 3 minutes. This will allow the cakes to set and not collapse when you turn them out.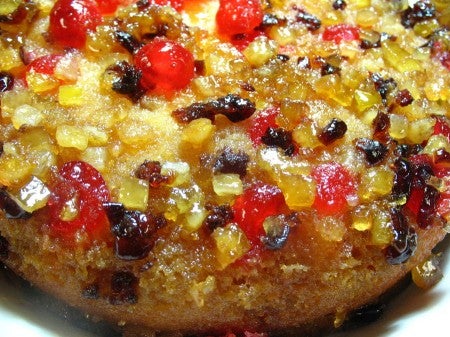 Invert each cake over a serving plate and let sit for 30 seconds. Gravity will pull the sticky, gooey coating down over the cake. Remove the pan and scrape out any fruits that stuck.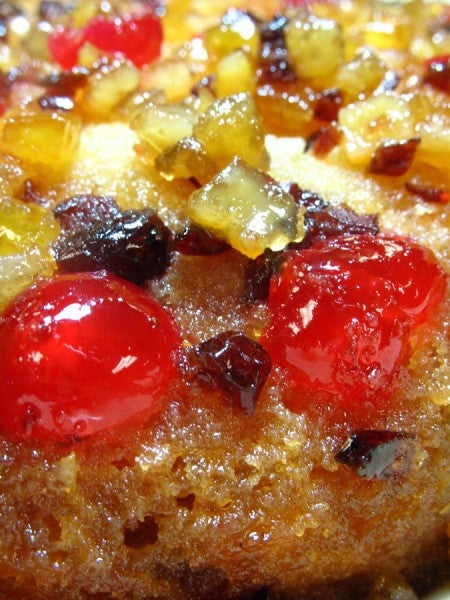 Oh, my sweet buttery goodness...
Check out how the sided of the cake absorbed the buttery brown sugar topping.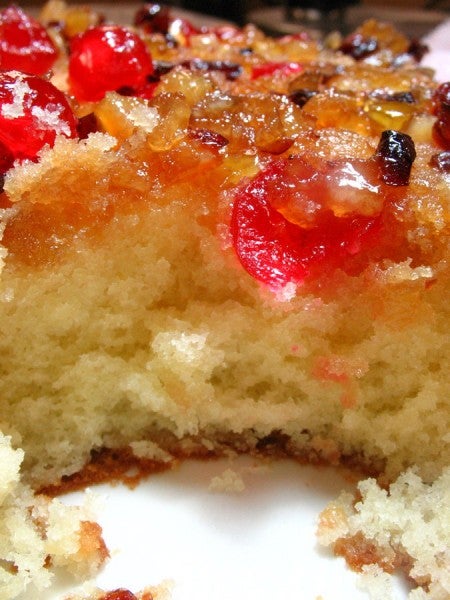 Serve the cake warm, with a dollop of freshly whipped cream, a scoop of vanilla ice cream, or even hard sauce.
One great thing about this recipe is that you make two cakes at once. You can bring one to a friend or neighbor, or someone who needs a holiday boost of cheer. OR you can wrap and pop one in the freezer to enjoy later on. Just warm the cake in a 300°F oven for about 10 to 15 minutes to get it sticky again before serving.
Please bake, rate, and review our recipe for Christmas Upside-Down Cake.
Jump to Comments