Did you know that Elvis' favorite cake, one he enjoyed on his birthday AND at Christmas every year, was vanilla pound cake?
I grew up loving chocolate cake. Still do. But over the years I've also developed a great appreciation for vanilla cake, the dessert equivalent of your little black dress: simple, classic, goes with everything. And my very favorite vanilla cake is super-dense, golden pound cake.
Hey, all you chocolate fans out there: I'm sure you've enjoyed all the chocolate treats we've posted to this blog over the years. But today the Choc-Dog's giving way to America's Favorite Flavor: vanilla.
Yes, you heard it right. After all these years of triple chocolate chunk ice cream, fudge brownies, extra-bittersweet single-source Criollo-bean bars, and mudslide pie, vanilla is STILL America's top flavor choice – at least when it comes to ice cream, which is the only online listing I've found for favorite flavors.
Chocolate is #2, as it's been for some time. And #3 is... no, not strawberry. Try butter pecan. (Thanks, I will!) Strawberry and Neapolitan (vanilla-chocolate-strawberry) round out the top five.
(OK, I know you're desperate to hear the rest of the top 10. In order, they're chocolate chip, cookies 'n' cream, pecan praline, cherry, chocolate almond, coffee, and rocky road. Can't say that I'd turn my nose up at any of 'em.)
But back to cake. Drake's Cakes, one of the Northeast's classic snack food brands – proud purveyors of Yankee Doodles and Ring Dings – was born in 1888 when Newman E. Drake baked his first vanilla pound cake. I wasn't there to witness the event, but about 70 years later I enjoyed my first cellophane-wrapped slice of Drake's pound cake, and we've been buddies ever since.
While the following recipe doesn't hew to the original 1 pound each of flour, sugar, eggs, and butter (thus the name: pound cake), it does come close to Drake's version. In fact, I must (modestly) say that, being homemade, AND made with King Arthur flour... it's even better!
First, take the following out of the fridge to warm to room temperature:
¾ cup (6 ounces) unsalted butter
3-ounce package cream cheese
5 large eggs
This will take 2 to 3 hours, so plan ahead.
Do you REALLY have to do this? Well, no; but room-temperature ingredients ensure lump-free mixing, which is a plus in something as fine-grained as pound cake.
Preheat the oven to 350°F.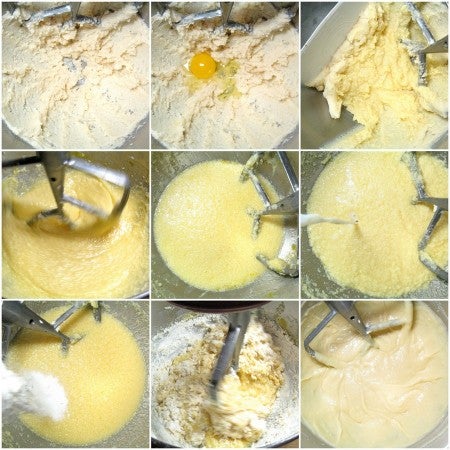 Put the following in a mixing bowl:
12 tablespoons (170g) unsalted butter, at room temperature, at least 65°F
3 ounces (85g) cream cheese, at room temperature
3/4 teaspoon salt (1/2 teaspoon if you use salted butter)
1 1/2 cups (298g) sugar
1 teaspoon baking powder
2 teaspoons vanilla extract
1 teaspoon almond extract
Mix until smooth. Because the butter and cream cheese are at room temperature (hint, hint...), this happens quickly and easily.
Next, beat in the 5 large eggs; the mixture will look a little grainy/curdled. Beat for 3 minutes after you've added the final egg.
Once all the eggs have been added, stir in 3 tablespoons (43g) milk.
Add 2 tablespoons (14g) King Arthur Cake Enhancer (optional, for moistness). Then gently fold in 1 3/4 cups + 2 tablespoons (220g) King Arthur Unbleached All-Purpose Flour.
Notice how the flour does away with the graininess. Nice stuff, that King Arthur Flour... Actually, with 9 ounces of butter/cream cheese, 10 1/2 ounces of sugar, nearly 10 ounces of eggs, and 8 ounces of flour, this cake doesn't depart too radically from the original ingredient proportions.
Why the lesser amount of flour? Because King Arthur Flour is higher-protein than other flours, meaning you can use less of it. See? We save you money every which-way!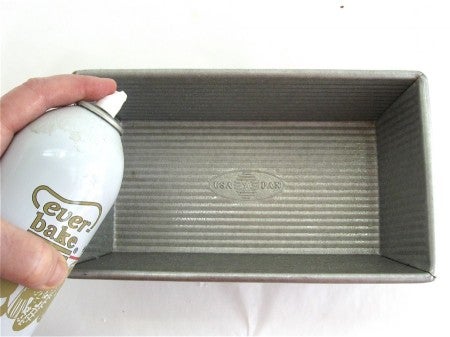 Spray your 9" x 5" x 2 3/4" loaf pan (or stoneware 12" x 4" x 4" tea loaf pan) with baking spray.
Now, pay attention, class, and repeat after me: I WILL USE THE CORRECT SIZE OF LOAF PAN. That would be 9" x 5" x 2 3/4" deep, or 12" x 4" x 4" deep. Take out your ruler, and measure the inside top of your loaf pan.
Please don't use a smaller pan, e.g., 8 1/2" x 4 1/2". Here's what'll happen: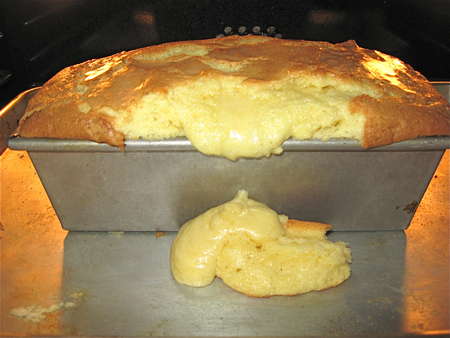 That's why you put your loaf pan onto a baking sheet; helps with the cleanup when the pan you're using isn't QUITE big enough...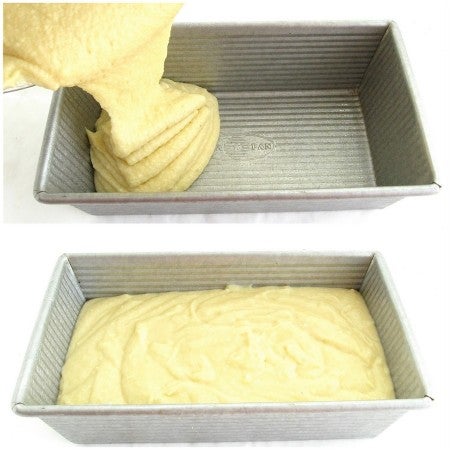 Pour the batter into the pan; it'll fill the pan about 2/3 full.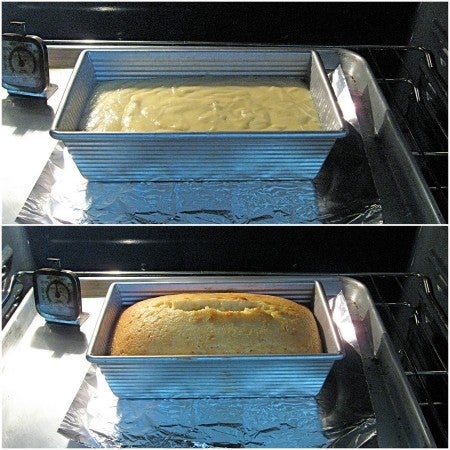 Bake the cake for about 55 minutes; it should dome nicely.
Next, you're going to gild the top of the cake with an extra touch of vanilla. Not straight vanilla; but a sugar/vanilla/water combination that adds wonderful flavor, color, and some delicate crunch.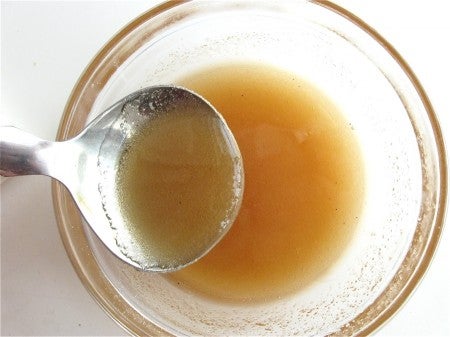 While the cake is baking, stir together the following:
2 tablespoons (25g) sugar
1 teaspoon vanilla extract
1 teaspoon water
The sugar won't fully dissolve; that's OK.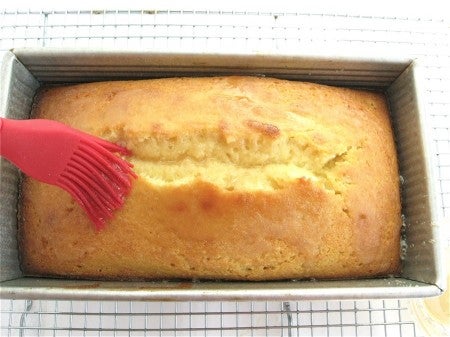 Remove the cake from the oven, and brush/drizzle with the sugar mixture. Return the cake to the oven for an additional 15 to 20 minutes.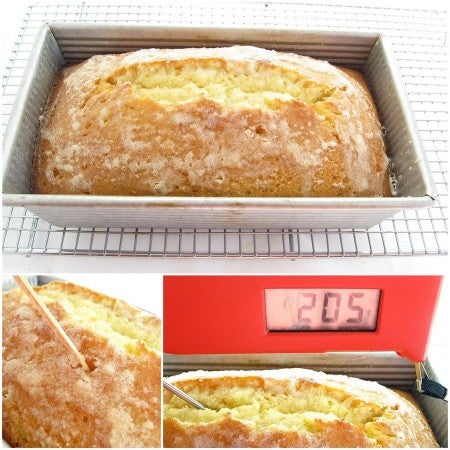 Remove the cake from the oven, and set it on a rack. Insert a toothpick into the center; it should come out clean. If you use an instant-read thermometer, the center should register about 200°F to 205°F.
The very top, right under the crust, will still be kind of soggy; don't worry about it.
It's actually easier baking the cake in the 12" x 4" loaf pan, as the longer, thinner loaf bakes more evenly.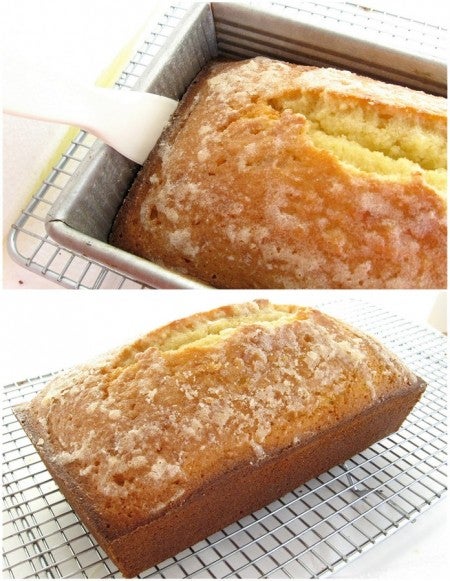 Remove the cake from the oven, and after 5 minutes, loosen its edges with a heatproof nylon spatula, or a table knife. After another 5 minutes, turn it out of the pan and cool it on a rack.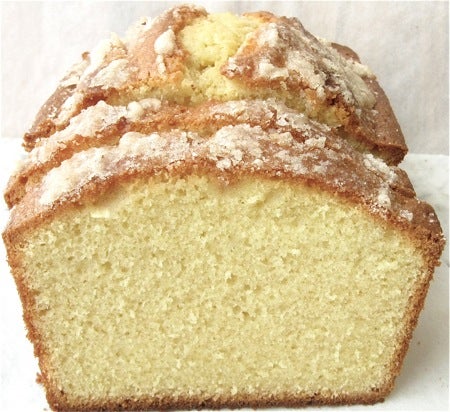 And there you have it – a dense, golden cake with a thin, deep-brown crust.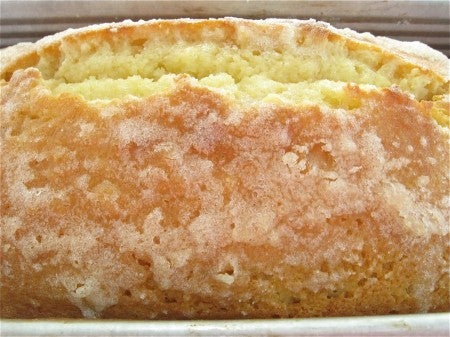 And lovely shards of vanilla-sugar on top.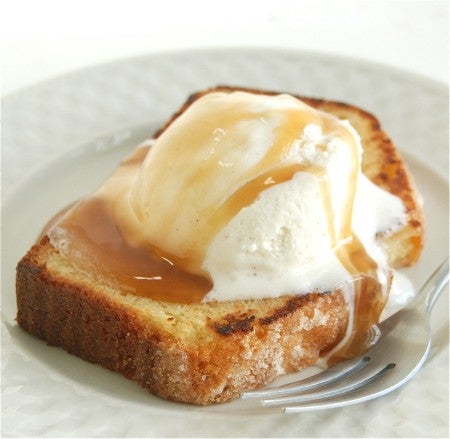 Butter a thick slice of cake, grill briefly, and enjoy as a base for ice cream (and caramel sauce, or strawberries, or butterscotch...)
Want to make your own homemade hot fudge and caramel sauces? Check out our Hot Fudge Sauce and Caramel Sauce recipes.
Read, review, and rate (please) our recipe for Golden Vanilla Pound Cake. Happy baking!
Jump to Comments