Mojito (mo-HEE-toe), def.: a cocktail consisting of rum, sugar, lime juice, sparkling water, and mint.
I'm sure many of you have heard of this summer drink, which has become wildly popular in the past 5 years or so.
Would you be surprised if I told you it was Ernest Hemingway's favorite cocktail?
Yeah, that's right; this drink can actually be classified as "venerable," right up there with the Rob Roy and Sidecar.
What goes around, comes around...
I'm not much of a drinker, for various reasons. I have no moral objection to alcohol; it just doesn't agree with me.
And truthfully, the mojito didn't sound very appealing, back when my friends started shouting its praises. I love lime... but lime with mint?
Weird.
Until one day I put aside my prejudices and tasted lime and mint together. Not weird; it's wonderful!
While at first thought, these two flavors (sour? minty?) don't seem complementary, they actually occupy enough common ground to make a good pair. Both are refreshing, clean flavors; not at all subtle, they wake up your taste buds.
Heck, they're both bright green; that should count for something!
Lime and mint come together nicely in these tender scones. Since the recipe as written provides the barest hint of mint, feel free to ramp it up by brushing the scones with a bit of mint syrup after baking.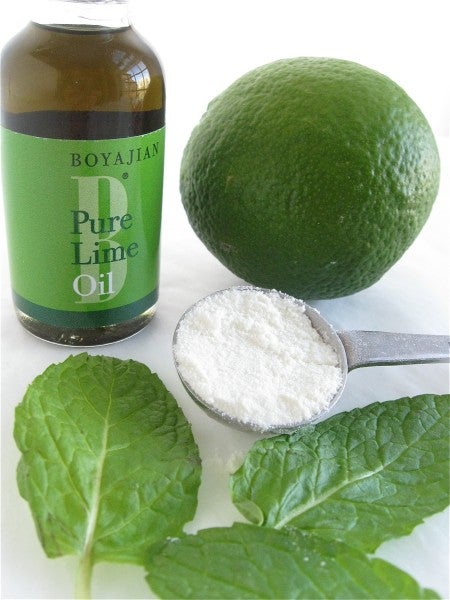 Go fresh – or go convenient, up to you. Fresh mint leaves and a lime give these scones mild flavor; kick it up with lime oil! A touch of spearmint flavor wouldn't be amiss, either.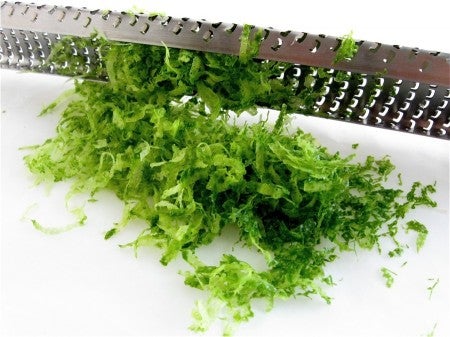 If you choose to use lime peel (a.k.a. lime zest, a.k.a. grated lime rind) in these scones, a Microplane zester will make your life SO easy...
Lightly grease a standard scone pan, or lightly grease a baking sheet; or line with parchment.
Place the following in a mixing bowl:
2 1/2 cups (298g) King Arthur Unbleached All-Purpose Flour
2 teaspoons baking powder
1/2 teaspoon salt
1/3 cup (71g) light brown sugar, packed
2 tablespoons freshly grated lime rind (zest); the rind of 1 lime
1 tablespoon fresh mint, chopped
Whisk to combine.
Work in 8 tablespoons (113g) cold butter until the mixture is unevenly crumbly.
Add 1/2 to 3/4 cup (113g to 170g) of cold milk and 1/2 teaspoon lime oil (optional, for enhanced flavor). Stir just until the dough is cohesive.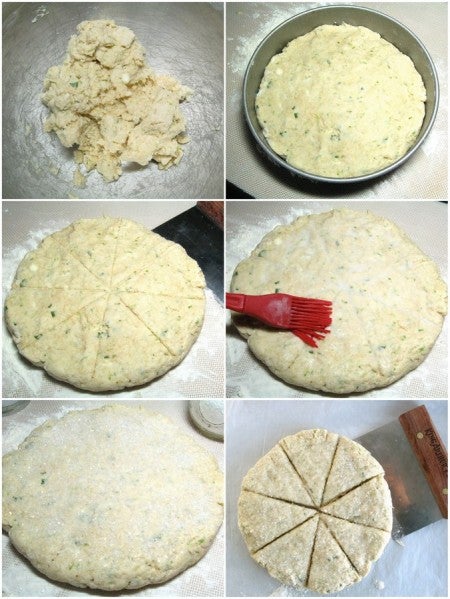 Turn the dough out onto a lightly floured surface, shape it into a rough ball, and roll or pat it into an 8" round. Patting the dough into a lightly greased 8" round cake pan is an easy way to make a nice, neat round.
If you've patted the dough into a pan, turn the pan over and rap it sharply to drop the dough onto a lightly floured surface.
Score it into 8 wedges. Brush with milk, and sprinkle with coarse white sparkling sugar, if desired.
Using a bench knife or sharp knife, follow the score marks to cut the round into 8 wedges.
If you're using a scone pan, transfer the wedges to the prepared pan.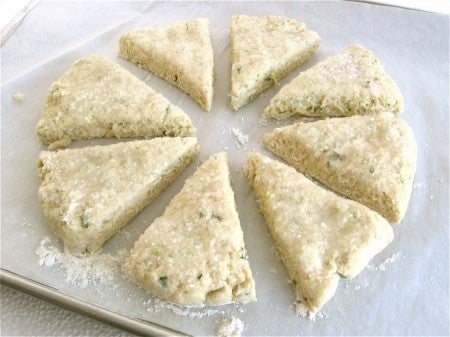 If you're using a baking sheet, transfer the wedges to the sheet, separating them by about 1" at the outer edge.
Place the scones in the freezer for 15 minutes; this will help them rise higher.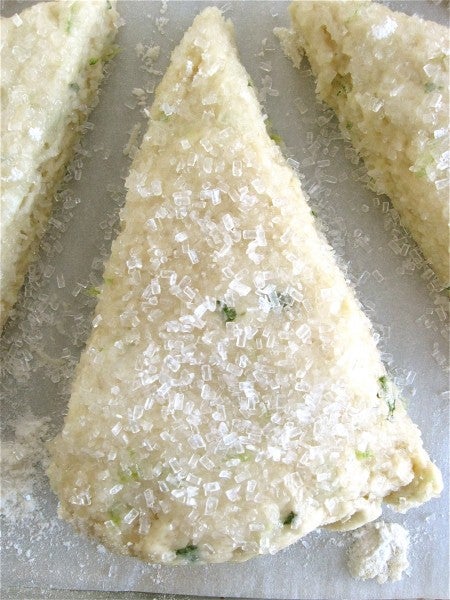 While the scones are chilling, preheat the oven to 400°F.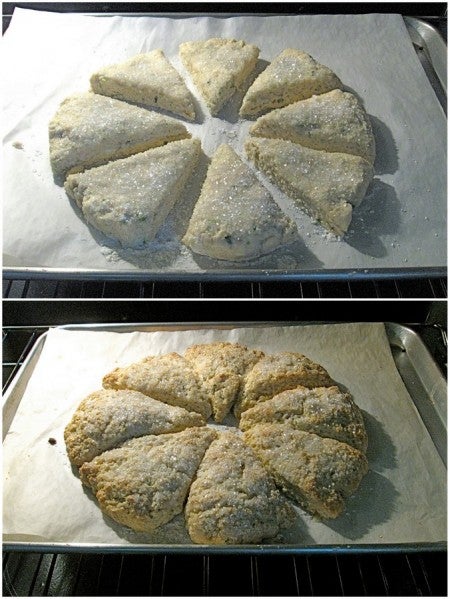 Bake the scones until they puff up and begin to brown, 16 to 20 minutes.
Remove them from the oven, and cool briefly on the pan before transferring to a rack.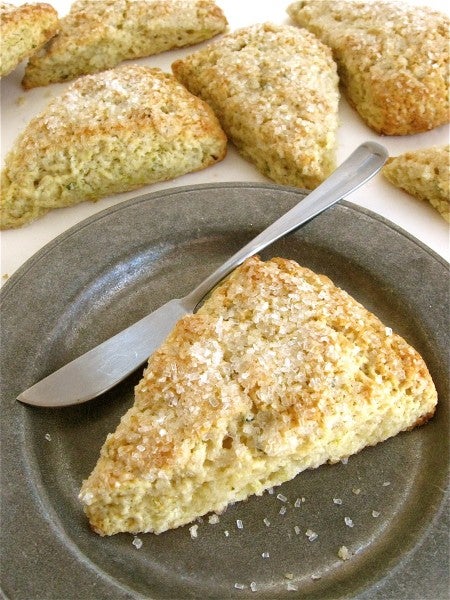 Serve warm, or at room temperature. Wrap any cooled leftovers airtight, and store at room temperature for several days; freeze for longer storage.
Read, bake, and review (please) our recipe for Mojito Scones.
Jump to Comments