Lemon Streusel Coffeecake
Just my cup of tea.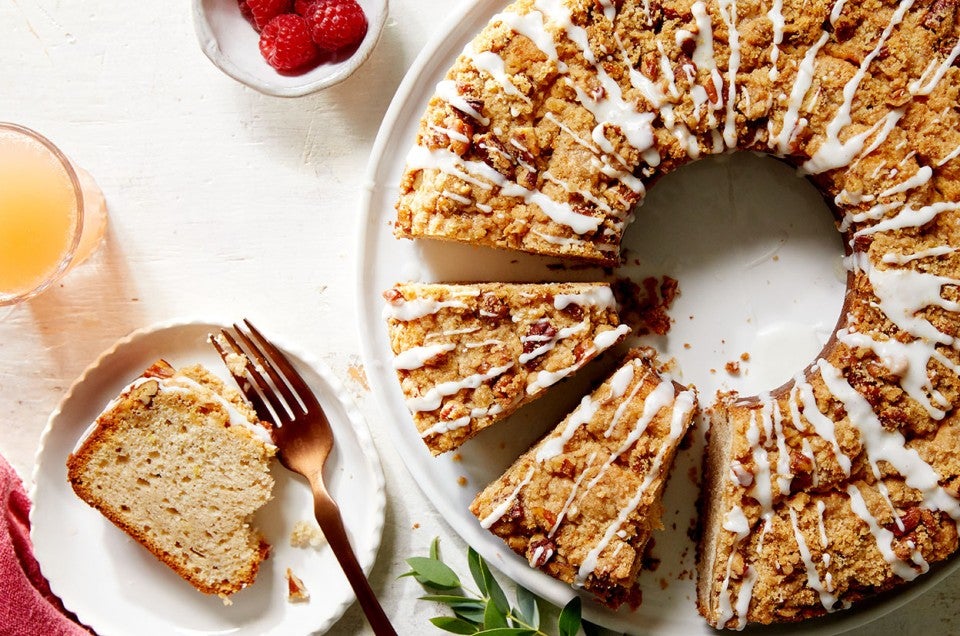 Have you ever really stopped to think about why we eat and drink certain foods together? So much so that they share a name like tea bread, wine biscuits and, of course, coffeecake.
I mean, everybody knows that some foods just taste better when eaten together, but we rarely stop and wonder why.
Sure, there are deep-down scientific reasons, but I don't think we need to get too technical. Let's take coffeecake. Why don't we call it teacake, or milkcake, or tepidglassofwatercake?
Americans tend to like strong flavors,  having a little sweetness to enhance and offset the bitterness makes for a rich and complex eating experience.
The same can be said for sweet milk and cookies. The fattiness of milk carries the buttery flavors of the cookies so well, and the creaminess makes the crunch and crumb a positive experience.
Try a little experiment some time. Eat a cookie or two with a nice cold glass of milk. Then repeat the experiment with the same kind of cookies, but a glass of water instead. It really is a completely different profile of flavors. It might not be "bad," but it certainly isn't the same sensation at all.
The same can be said for coffeecake. Eating it with a glass of milk is a different experience from eating with a cup of coffee.
Or tea, for that matter. Many of us drink decaffeinated fruity flavored teas these days. But would you really want a lemon or raspberry tea with a fruit coffeecake? Or would you like the slight bitter taste of the tannins in orange pekoe to make that sweet bite of streusel and glaze even sweeter?
If I've gotten you thinking, wonderful. Let me inspire you further with one of our newer recipes. Charlotte, our catalogue recipe developer, created this refreshing coffeecake not long ago, and it's a real winner. Try making a panful, then enjoying a piece with coffee, and another with milk, and another with tea, and another with... well, you get the picture. This cake won't last long, no matter what your beverage of choice.
Here it is, our Lemon Streusel Coffeecake.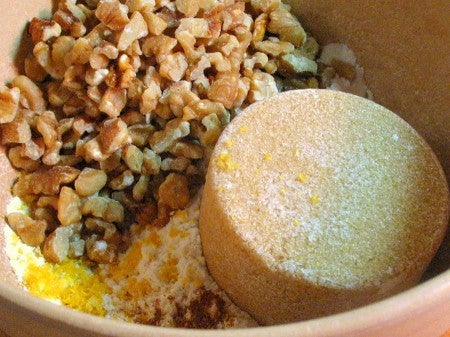 First, the streusel. In a medium-sized bowl, combine:
3/4 cup (85g) King Arthur Unbleached All-Purpose Flour
1/4 teaspoon ground cinnamon
1 tablespoon (7g) lemon juice powder*
1/4 teaspoon salt
1/2 cup (106g) packed light brown sugar
6 tablespoons (85g) cold unsalted butter, cut into ½" pieces
grated rind (zest) of 1 lemon
3/4 cup (85g) chopped pecans
*If you don't have lemon juice powder, increase the grated lemon rind to that of 2 lemons.
Although I adore pecans, when my allergies are acting up I can't eat them, so I substituted walnuts. Use whichever nut makes you happy.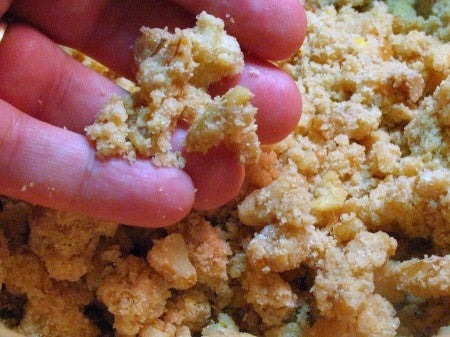 You can use a pastry blender or a couple of forks to cut the mixture together, but I'm a hands-on baker, so I crumbled everything together until it was moist and slightly sticky.
Set the streusel aside while you make the rest of the cake.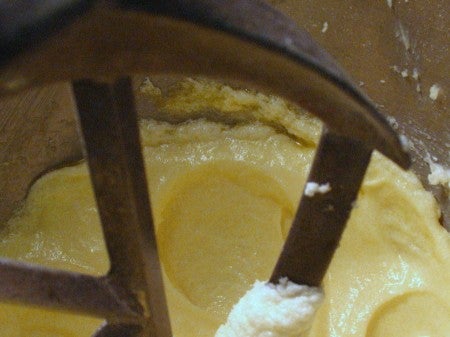 In a small bowl combine:
2 cups (241g) King Arthur Unbleached All-Purpose Flour
2 teaspoons baking powder
1/2 teaspoon salt
2 tablespoons (18g) lemon juice powder, or the grated rind of 2 lemons
1 teaspoon ground cinnamon
Set aside while you beat together:
8 tablespoons (113g) unsalted butter
1/4 teaspoon lemon oil, optional, for flavor
1 cup (198g) granulated sugar
When the sugar and butter mixture is light and fluffy beat in:
3 large eggs
1 cup (227g) sour cream
Be sure to stop and scrape down the bowl after each egg. In the above photo, everything looks well combined, but...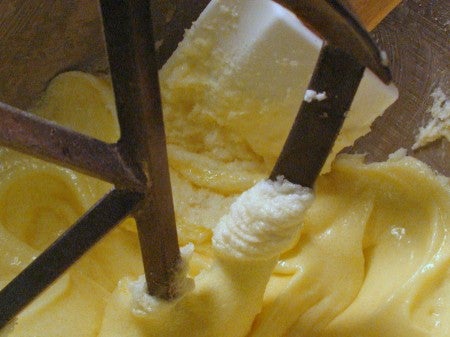 When you scrape down the bowl, you can see that a good deal of butter and sugar was clinging to the side of the bowl.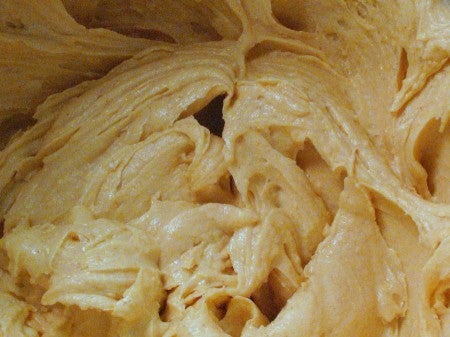 Once the eggs are incorporated, blend in the sour cream, then the  flour mixture. Mix on medium speed just until combined. Over-beating will cause tunnels in your final cake.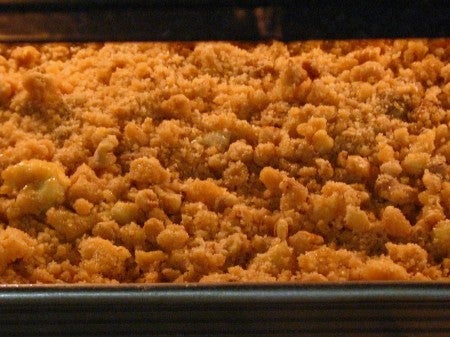 Spread the nice, thick batter into a greased 9" x 13" x 2" pan, or a greased 9 to 10 cup tube pan. Sprinkle the prepared streusel over the top of the batter.
Bake at 350°F . The tube pan will take 40 to 45 minutes, the rectangular pan will take about 30 to 35 minutes.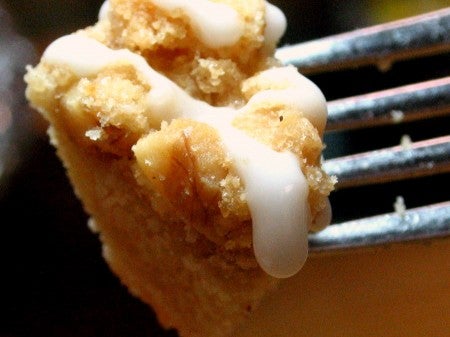 When the cake is nearly done, prepare the glaze by mixing together the lemon juice and confectioners' sugar. Drizzle the glaze over the warm cake, and enjoy.
One of my favorite parts of this cake is the crunchy nut-lemon combination in the streusel. It's completely delicious and keeps you coming back for bite after bite. The tang of the icing hits your tongue and you reach for another forkful. Now, where's my cup of tea?
Please bake, rate, and review our recipe for Lemon Streusel Coffeecake.
Jump to Comments