How to decorate a snowflake cake
Show off your favorite cookies in a whole new way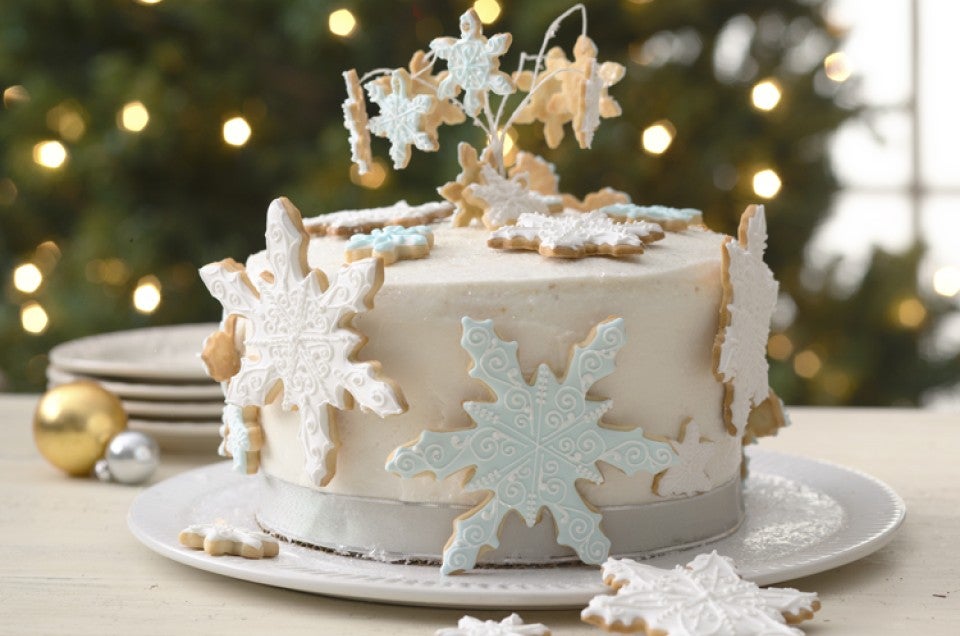 Several years ago I saw a lovely cake in a magazine – simple, and perfect. It was a layer cake with white icing, with a band of decorated Christmas tree cookies all around the base. A bright red ribbon encircled the top of the cake; and there may have been a candle in the center, I don't remember that part.
What I was fascinated with was the use of cookies on a cake. I didn't make the cake that year, but I never forgot about it. And then...Each year we make many, many snowflake cookies here in the King Arthur test kitchen, and we really wanted to find new ways to showcase them. Like a flash, like a vision burnt across the clouds, it hit me. The Cookie Cake! A tall white column of cake all aflutter with dainty delicate snowflakes and dusted with sparkly edible glitter. I felt like a little kid dancing around our Web producer, Halley, begging "ohplease, ohplease, ohpleasecanI?"
After a few dubious waggles of her elfin brows, Halley gave me the go-ahead and I dove right in. I promised her it would be winter sparkly and yes, easy enough for others to make, too. So, head to your kitchen and whip up a batch of cutout snowflake cookies, and your favorite layer cake and meet me back here. Ready? GO!
(huff, puff) OK, we're back.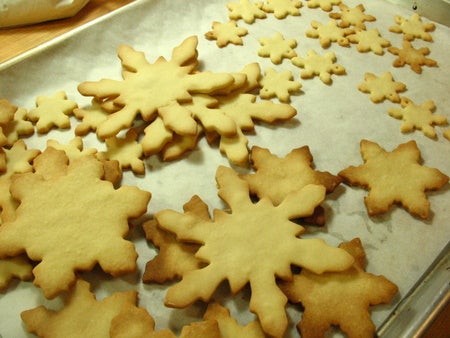 Here's the tray of baked snowflake cookies, all cooled and ready to decorate with Royal Icing. I love Royal Icing for its "flowability," smoothness, and bright white color.
If you don't have meringue powder for Royal Icing, use our Simple Cookie Glaze recipe.
Use a pastry bag with a small tip, or a small hole snipped in the end to flood a layer of icing over your cookies. You'll notice that some of the cookies have small hanging holes in them where they'll be wired into the center spray. Be sure not to pipe over those holes. For this cake, I made about a dozen with holes, but only used about 8 or 10 in the final design. Better to have too many choices than too few.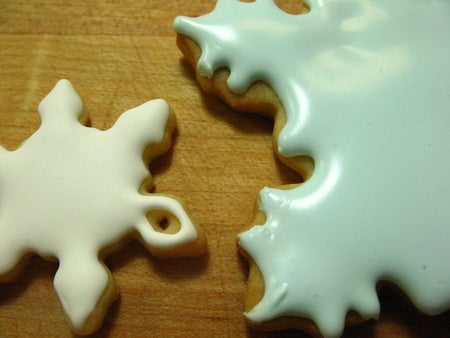 If you're using the cookies for the sides and top of the cake, you don't need to leave holes, and can flood the whole cookie. Check here for more tips on the consistency of cookie icing and flooding techniques. Set the cookies aside to dry while you layer up your cake.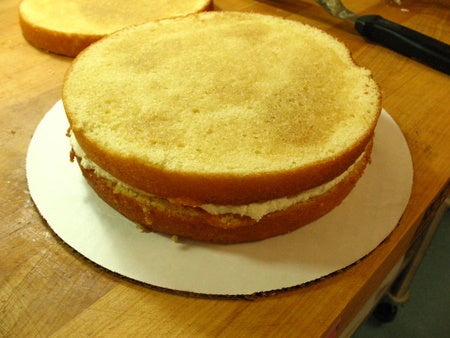 To keep your layers at their moistest, be sure to brush with a few tablespoons of spirits or simple syrup before stacking with icing.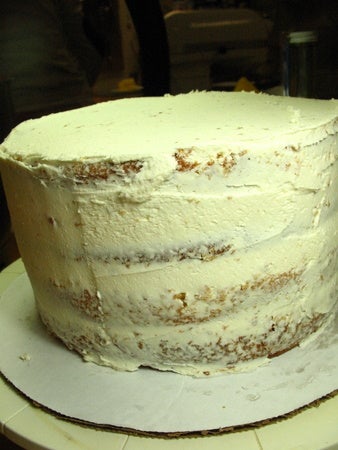 To keep those pesky crumbs out of your final icing layer, add a thin layer of icing all over the cake and freeze it for about 15 minutes. This coat of "primer" will seal in crumbs, and fill in gaps to give you the smoothest coating.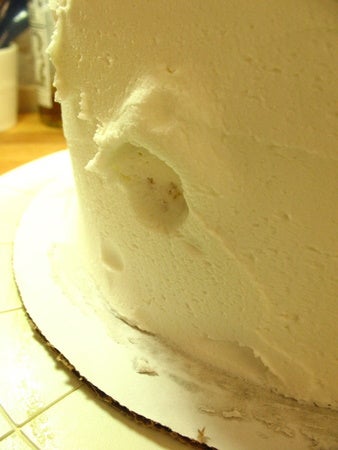 Once your crumb coat is frozen, you can go on to apply a nice, thick final layer of icing. Oh, and try to keep your fingers out better than I did :).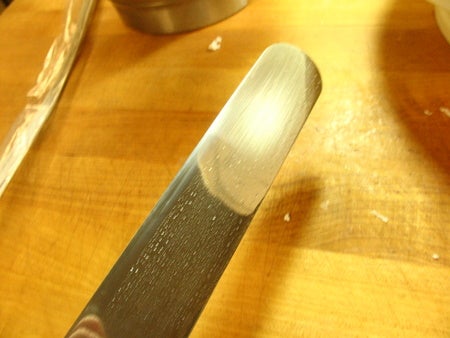 To smooth out your icing, dip a long offset spatula into hot water and wipe most of the water off. The moist heat will glide over the icing, leaving a flat, even surface for you to decorate.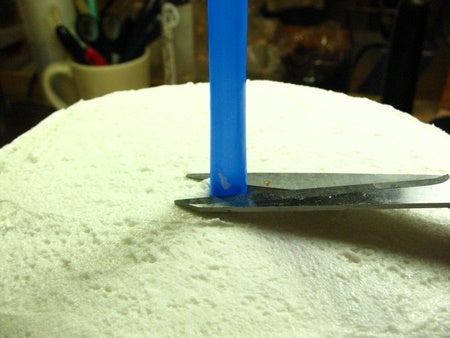 At this point, you'll want to make a place in the center of the cake for the snowflake spray. While you can purchase special plastic inserts, I found these great wide straws at my local supermarket. They were billed as "milkshake straws" and were about 1/2" in diameter and more than 12" long. I think some places also sell them as "bubble tea" straws.
Insert the straw into the center of the cake and press it down firmly until it penetrates all of the layers. Remove the straw, poke out any cake stuck inside and re-insert the straw. Trim it even with the top of your cake with a snip of your scissors.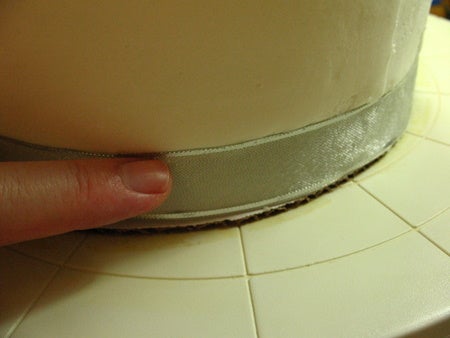 For a professional-looking finish, try using a band of ribbon at the top or bottom of your cake. I found this sparkly silver ribbon in our photo studio and trimmed it to size. A little daub of icing holds it in place.
Once the ribbon is in place, dust the entire cake with edible glitter, if desired. You could also use coarse white sparkling sugar for an icy/sparkly look.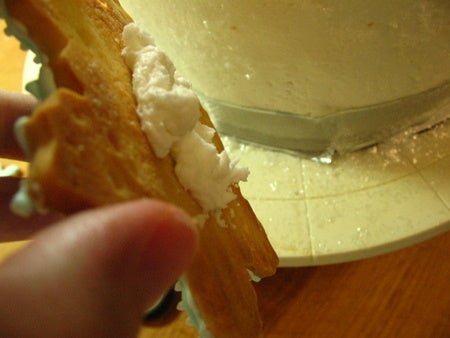 By now your decorated cookies should be dry enough to start attaching to the sides and top of the cake. Place a generous daub of icing on the back of the cookie and press it securely onto the cake.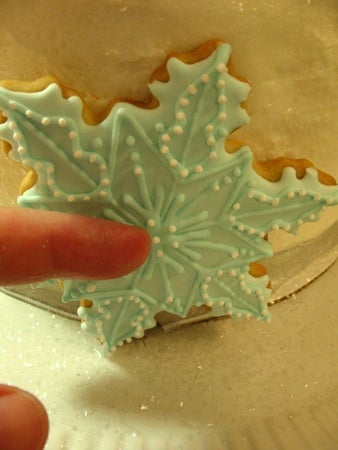 Try to place your cookies to cover the seam of the ribbon. Take care as you press the cookies on not to damage your fine lines and details.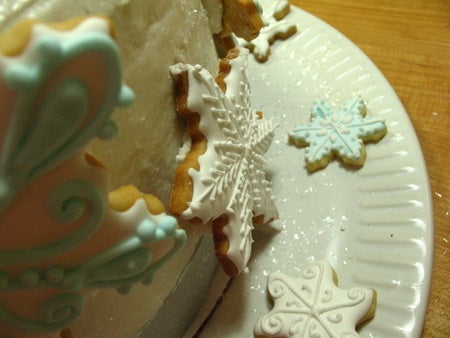 Don't forget to add a few cookies to the base of your plate for pretty fallen snowflakes.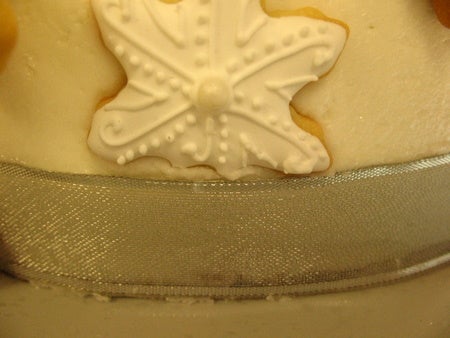 Don't fret over broken cookies. They can be placed up against the ribbon, or against another cookie to make the best of their flaws.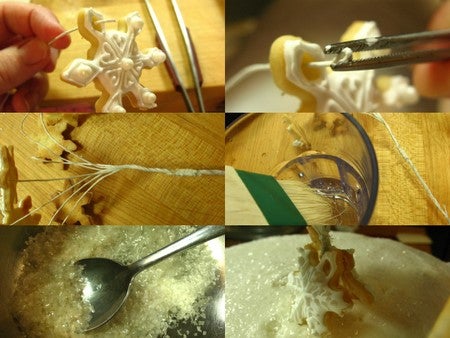 To make the spray, insert a paper covered wire (size 18 to 22 gauge) into the hole in the cookie. Bend a small hook into the end of the wire to ensure your cookie won't slide off the end.
Gather 8 to 10 of the wired cookies together and twist the wires together to make a stem. Leave some wires longer and some shorter for variety. To glitz up the spray, apply a little water, then sprinkle on some more edible glitter.
Insert the spray wires into the straw in your cake. Gently bend the individual wires until you're happy with the shape, then secure the bottom of the spray in place with a little icing and a couple of cookies.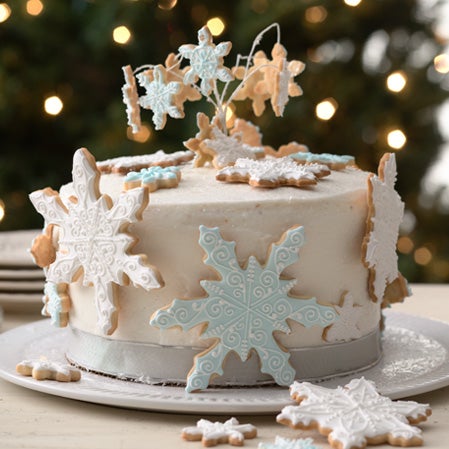 A few more sprinkles of glitter, a few more cookies placed nearby, and you're ready to present your snowflake fantasy cake. Imagine this as the centerpiece for your holiday dinner, or heading up the dessert section of your buffet.
The cookie decorated cake can span your whole baking year, too. How about a chocolate cake covered in bright gold stars for the New Year? Or a pink frosted Red Velvet Cake covered in tiny heart cookies? The possibilities are endless!
What decorative holiday treats are you making this year? Cakes, cookies, both?! Let us know in the comments below!