Roasted Root Vegetable Pie
Round up the rutabagas, summon up the squash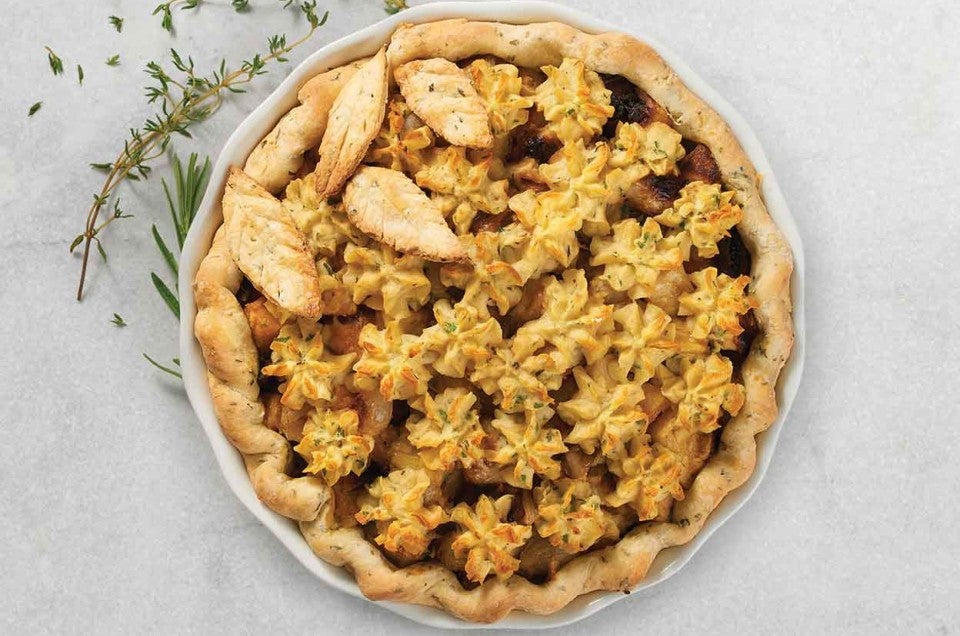 Man, oh man, there's nothing like a big slice of pie to go with Thanksgiving dinner.
But, what about a big slice of pie AS Thanksgiving dinner? No, not the pumpkin or chocolate cream pie, but a rich, robust root vegetable pie.
As our world becomes smaller and closer, more and more of us are rubbing elbows with different diners at our yearly feasts. When I was younger, the most unusual eater I knew was my oldest brother. His big culinary/dietary mantra? He didn't eat pizza because he didn't like the cheese. In a household where dinner always offered  two choices (take it or leave it), leaving out food groups was not really heard of.
As my circle grew, I met more eaters with different tastes and different passions for foods. I remember with fondness my late brother-in-law, a Belgian who introduced me to the wonders of chocolate for breakfast.
My sister-in-law from East Boston introduced us to the concept of macaroni and gravy. My first thought was "Eeeeewww" until I realized she was really talking about spaghetti and red sauce.
So, now that several of my friends and colleagues are vegetarians, and my family and I eat many more meatless meals, it's a thrill to find a recipe for a main dish that's vegetable based, but really provides all of the comfort and heartiness our minds associate with more meat-based dishes.
So without further ado  I present to you Roasted Root Vegetable Pie, lovingly created by our own Chef Susan Reid.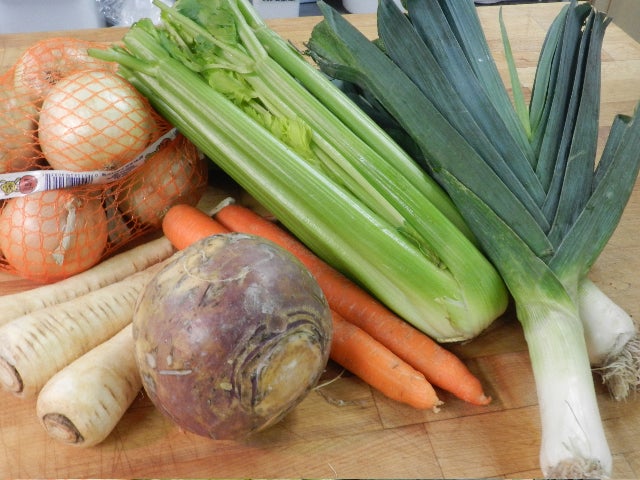 There's nothing more inspiring than a big bunch of nature's bounty. I can just smell the sweetness of the carrots and feel the crisp crunch of the celery.
You'll need about 9 to 10 cups of chopped root vegetables. Please use the recipe for inspiration, not as written-in-stone. If you don't like leeks, try sweet onion instead. If you hate rutabaga, add more carrots, etc. Believe you me, I'm not going to come knocking at your door shouting, "Food Police! Drop that turnip!"
For the pie, chop the veggies into 1" chunks and place them on a foil-lined baking sheet. Drizzle lightly with olive or vegetable oil. Roast them in a 425°F oven for about 45 minutes, stirring every 15 minutes. You want them to be fork tender and caramelized on the edges. Remove from the oven and cool to room temperature.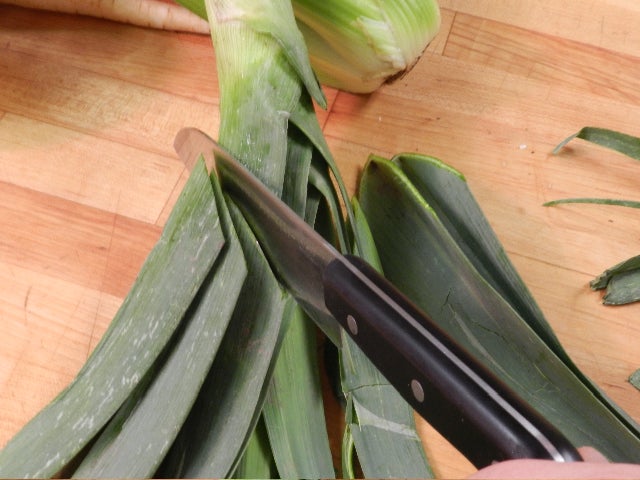 Most of the veggies are quite easy to peel and chop into pieces, but the leeks require a little extra attention. First, cut off the long, stiff outer leaves.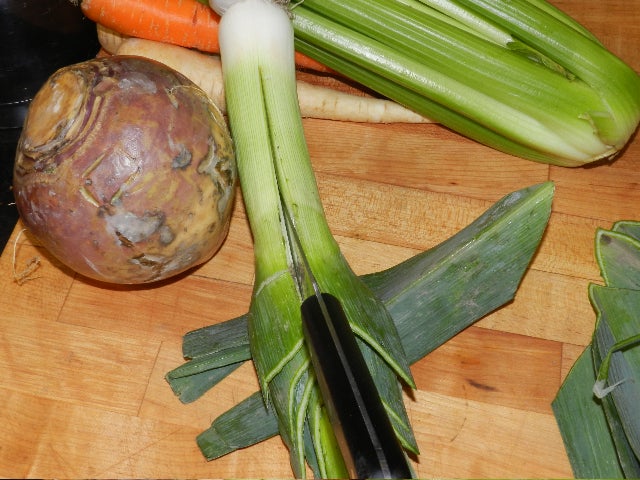 Next, split the bundle in half lengthwise. Leeks are notorious for harboring grit between the leaves, and you can even see a bit of it here and there in the split.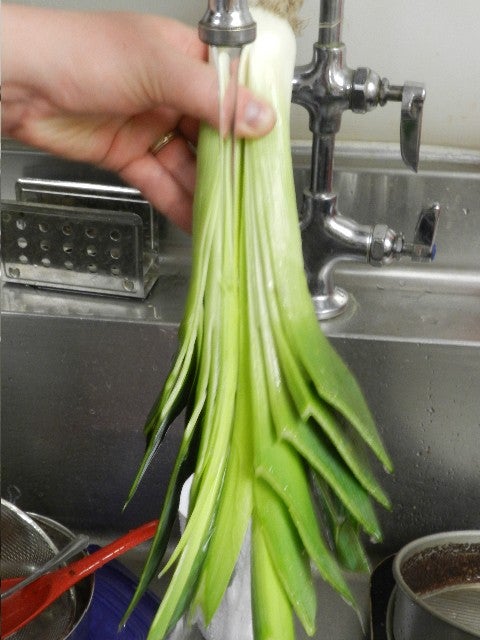 Hold the bundle root side up under a stream of running water, shifting the leaves with your fingers to get the best rinse.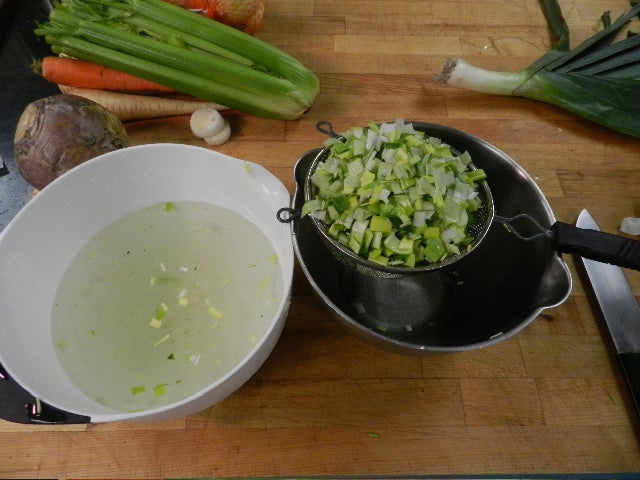 Next, chop the rinsed leaves and swish them around in a bowl of cold water. Scoop them up  and place them in a large strainer. Place the strainer over another bowl to drain for a few minutes. Now, on with the show.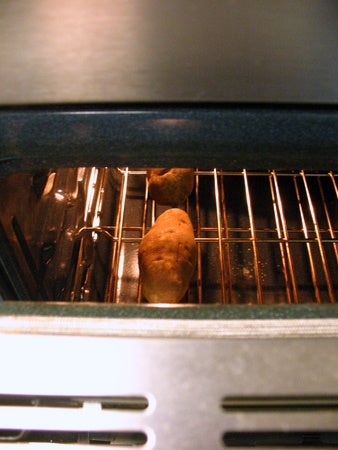 The original directions for the filling  in the recipe call for boiling the potatoes on the stovetop, and that works very well. I did want to try it with baking potatoes, just to see if one step could be cut out – and it works beautifully. You can wedge the potatoes in beside your sheet pans as you roast your veggies. Remember, you'll need these potatoes for the filling, so don't dice them up with the veggies.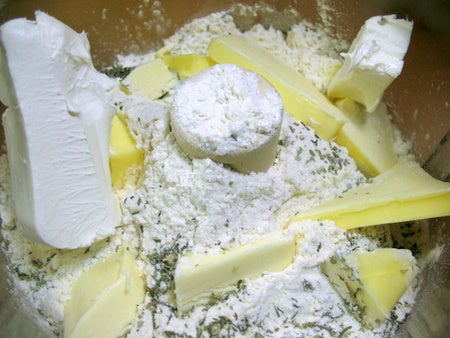 Once you have the veggies roasting, you can move on to making the herb crust. In the work bowl of a food processor, place:
2 cups (241g) King Arthur Unbleached All-Purpose Flour
1/2 teaspoon salt
2 tablespoons minced fresh herbs (thyme, parsley, chives)
8 tablespoons (113g) unsalted butter, cold, diced
2 ounces (57g) cream cheese, chilled and diced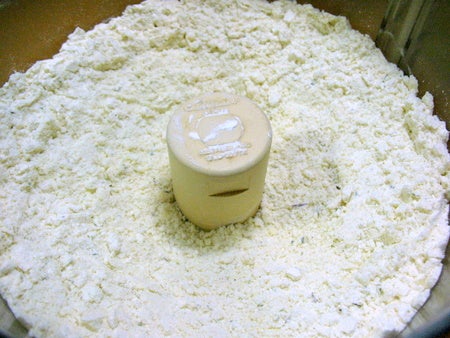 Pulse until the mixture is loose and crumbly. Continue to pulse as you drizzle in 1 to 2 tablespoons of milk, until the crust holds together in a ball. Wrap the crust in plastic and chill for at least 30 minutes.
***Bonus*** All of this can be stored in the fridge for up to 2 days, so it works great for the busy holiday season.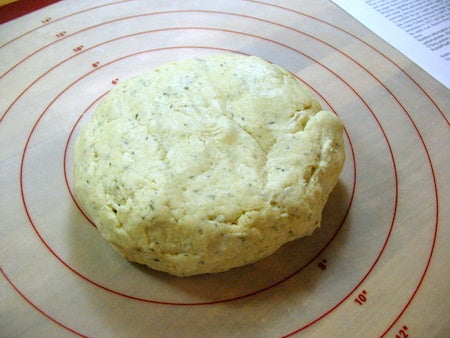 When you're ready to roll the crust out, lightly sprinkle your rolling mat or rolling surface with flour and place the disc of dough in the center.
Trust me, there's a layer of flour there, really. Honest, it's just really tiny flour.
(OK, fine, I forgot to flour before taking the picture.)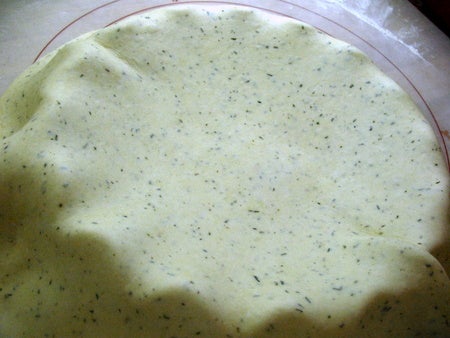 Roll the dough into a circle large enough to cover your 9" or 10" pie pan, plus plenty for overhang. This is a good sturdy crust, so you can pick it right up and drape it into the pan.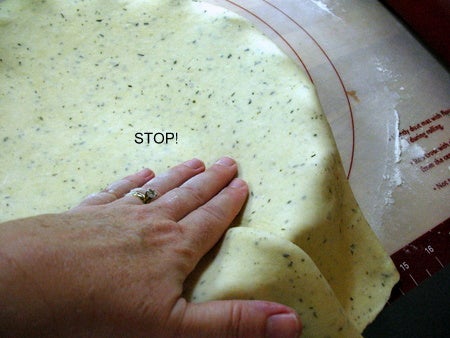 That's right STOP! What you see here is a classic mistake that leads to shrunken crusts. You shouldn't push down on the crust or stretch it to get it to fill the bottom of the pan. If the gluten is stretched at this point, it will shrink back during baking, leaving you with a half-filled pie pan and a skimpy crust.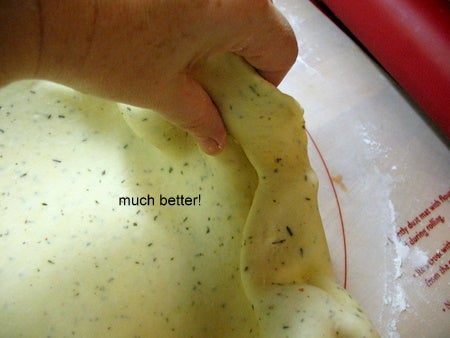 Instead, lift the edge of the dough and let it drape down into the bottom of the pan. Once the crust is evenly placed in the pan, trim and flute the edges. See PJ's blog here on how to flute.
You'll notice that this crust is very generously sized. If you have plenty left over, rewrap it in plastic and rest it in the fridge overnight. Roll it thinly the next day and bake on a sheet pan. Break it up and serve it like crackers with wine and some good cheeses.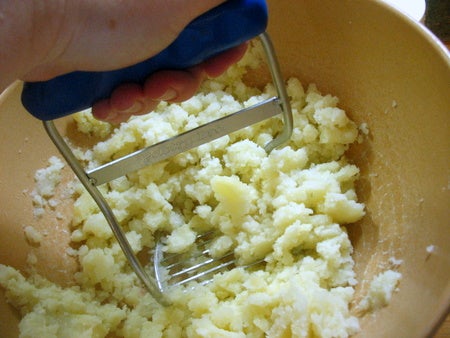 Let's get mashin'! For the filling, mash together your baked or boiled potatoes, 2 tablespoons of fresh herbs (your choice again), 1 teaspoon dried thyme, and 1/2 to 1 teaspoon salt. Once you do the mashing, stir in 2 beaten eggs. You'll have a thick, creamy mixture that will coat and bind your roasted vegetables for the pie filling. (Check out my "masher." It's really my pastry blender doing double duty.)
I haven't tried it, but if you're shooting for a vegan filling, you might want to try using tofu instead of eggs at this point. Let me know how it goes if you do.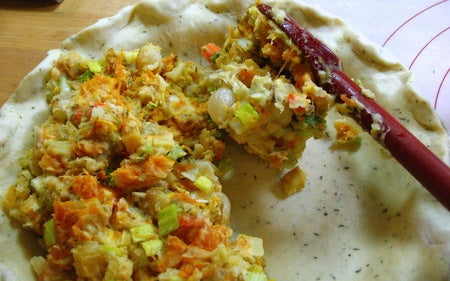 Once the veggies and potatoes are mixed well, spoon them into the unbaked pie crust. I found it much easier to fill the crust little by little rather than dumping everything in the center and trying to push it to the edges.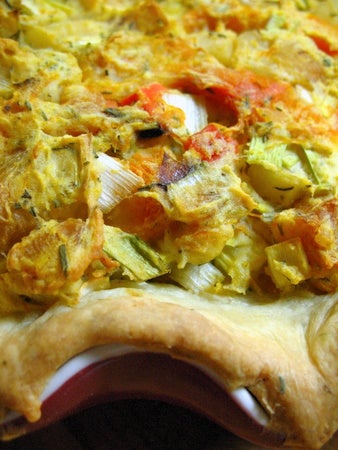 Bake the open-faced pie in a preheated 400°F oven for 15 minutes, then reduce the heat to 350°F and bake for another 25 to 30 minutes, until the crust is golden and the center is set. Cool for about 15 minutes before slicing. Topping with a nice cream sauce is optional, but quite tasty.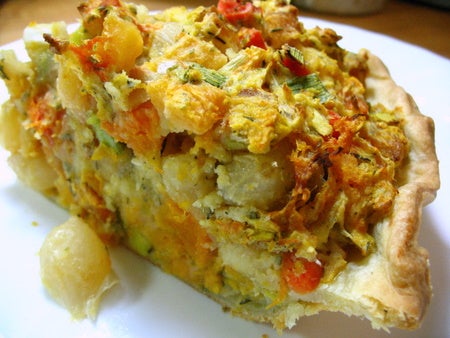 Isn't that just lovely? From the flake of the crust to the creamy, soft, earthy filling, this pie says fall harvest in every bite.
Please bake, rate, and review our recipe for Roasted Root Vegetable Pie.
Jump to Comments