Whole Grain Vegan Cranberry-Nut Muffins
No milk, no butter, no eggs? No problem!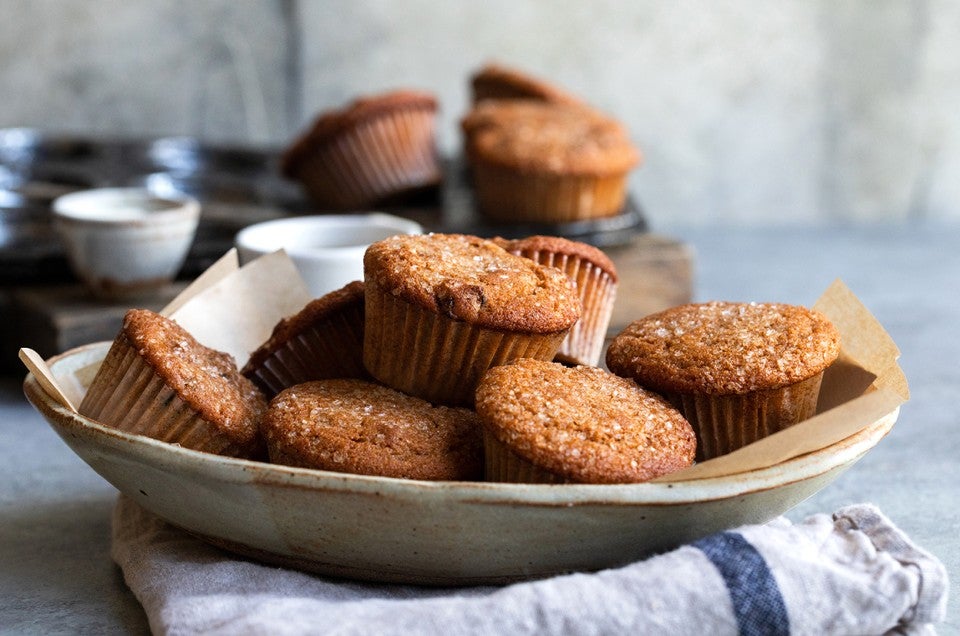 Did you know the term "vegan" has been around since 1944?
And that the American Vegan Society has been in existence for over 50 years?
And you thought "no animal products" cooking and baking was something new, eh?
Perhaps more folks are actually embracing the practice these days. And communication is so much faster, news of food trends travels like lightning.
But whatever the reason, you'll probably encounter someone "eating vegan" at some point in your travels – and quite possibly during the upcoming holiday season.
How do you bake vegan?
It can be a challenge. Without eggs, butter, cream, or milk, certain types of baking can be problematic.
Yeast bread is easy; great bread can be made with nothing more than flour, water, yeast, salt, and time.
But cake without butter, eggs, or milk (or sour cream, or yogurt)?
That's tougher. Literally.
Though it doesn't have to be. Cake Pan Cake, our version of a time-honored, stir-it-up-in-the-pan cake has been around since at least the Great Depression. It's as moist and flavorful a cake as you could ever imagine. And it's vegan.
As are these Whole Grain Vegan Cranberry Nut Muffins, which get their beautifully moist texture from...
Well, I'm not going to spoil the secret! Read on...
Preheat the oven to 400°F.
Lightly grease the wells of a muffin pan; or line the pan with paper liners, and grease the liners.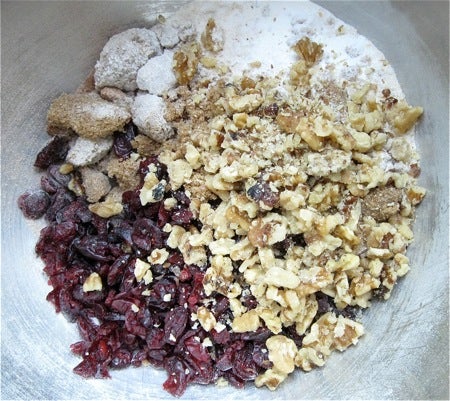 Place the following in a mixing bowl:
2 1/4 cups (255g) King Arthur White Whole Wheat Flour
1 cup (213g) brown sugar
3/4 teaspoon salt
2 teaspoons baking powder
1/2 teaspoon baking soda
1/2 teaspoon ground cinnamon
1 cup (142g) dried cranberries
1/2 cup (57g) diced walnuts or pecans, optional
Whisk to combine.
Whisk together the following:
1 teaspoon vanilla extract
1/2 cup vegetable oil
1 1/2 cups (340g) tomato juice or blended vegetable juice (e.g., V8)
Yes, tomato juice. Why tomato juice? It adds the acidity necessary for the baking soda to work, giving these muffins the boost that ordinarily might come from sour cream or yogurt.
And don't worry; your muffins won't taste like tomatoes. Don't make the mistake I did, though; I used Spicy Hot V8 and oh, my, the muffins were QUITE spicy!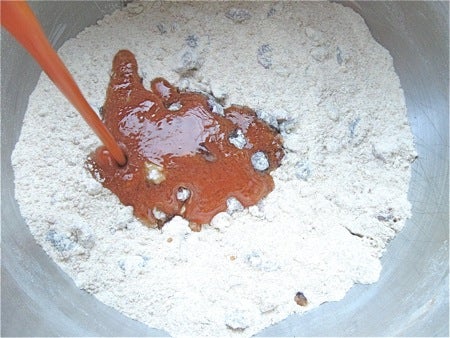 Add the wet ingredients to the dry ingredients.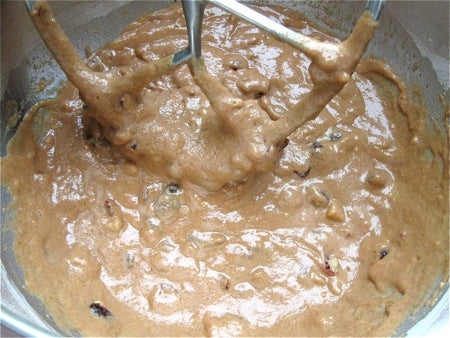 Don't over-mix, stir just until everything is moistened.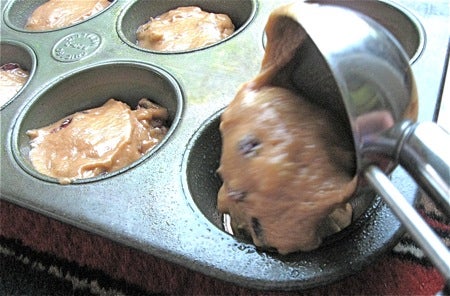 Spoon the batter into the prepared muffin cups. A level (to slightly heaped) muffin scoop of batter for each muffin works well here.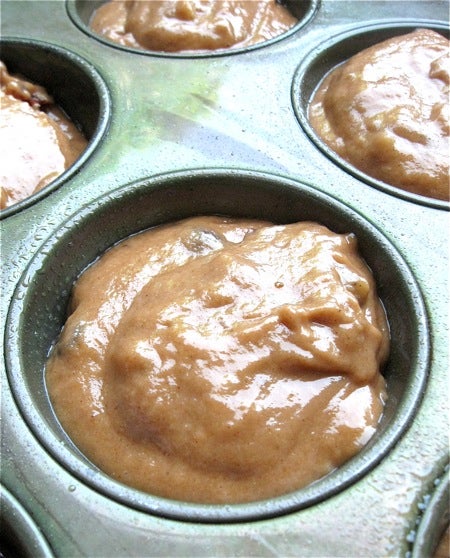 The cups will be fairly full.
Sprinkle the tops with coarse white sparkling sugar, if desired.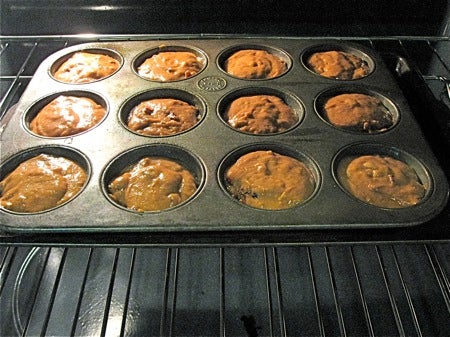 Bake the muffins for 18 to 20 minutes.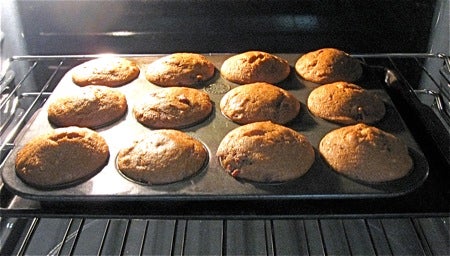 They'll dome nicely, and become lightly browned around the edges.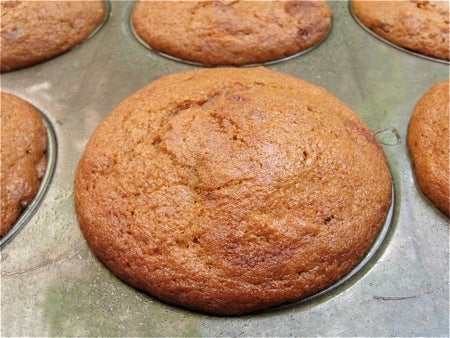 Remove the muffins from the oven.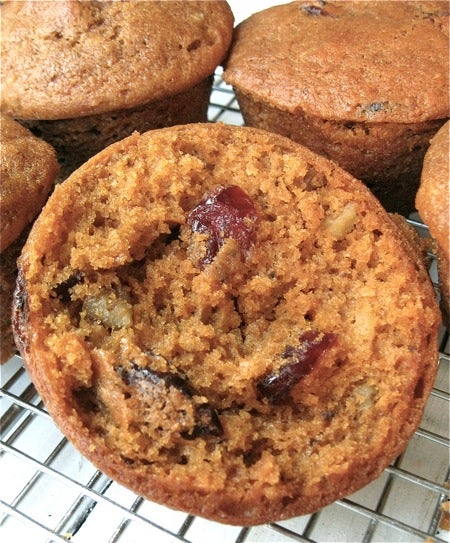 Transfer them to a rack to cool.
Or to break open and enjoy in all their warm, dairy-free/vegan, whole-grain goodness.
Read, bake, and review (please) our recipe for Whole Grain Vegan Cranberry-Nut Muffins.