Custard pie. Noodle kugel. Rice pudding. Hot milk cake.
What do all of these foods have in common?
Comfort, right? While perhaps not at the top of your culinary Hit Parade, they're easy to eat. Plus, they make you feel all warm and fuzzy inside.
Comfort food is, perhaps, best characterized by what it's NOT:
Assertively flavored. Crusty. Blazing hot, nor icy cold.
Fusion.
A good comfort food is plain and simple. It soothes, rather than provokes.
A bite of comfort food sliiiiiiiides down your throat without effort, and feels good in your tummy.
Think macaroni and cheese – not goat-cheese-stuffed pumpkin ravioli in a pistachio and caramelized onion infusion.
Awhile ago, my mom asked me if I'd ever heard of a baked blueberry cake that was made with ricotta cheese and served for breakfast. She'd baked it, loved it, and lost the recipe. Could I find it?
Well, I happened to remember the cake; Mom made it for me once. It was almost baby-food-like in its smooth, soft texture, and unassertive, vaguely vanilla-cinnamon flavor. It definitely went down easy.
So I was happy to aid in the recovery effort.
MUCH Googling resulted in some "close but no cigar" cakes; nothing was exactly as I remembered.
But heck, isn't that what I do here at King Arthur, make up recipes? I took a little of this one, some of that one, a tip from a third, and cobbled together the following Blueberry Breakfast Cake.
If you're expecting trumpets to sound in a triumphal salute to cutting-edge cuisine when you take a bite of this... forget about it. Your  response is less likely "WOW!" than "Ahhhh...."
And that's OK. There's a time and place for those brand-spanking-new Jimmy Choo stiletto heels... as well as for your 20-year-old slippers.
When you're in the mood for slippers, slip into a piece of this cake.
Preheat the oven to 350°F. Lightly grease an 8" round cake pan; it should be at least 2" deep.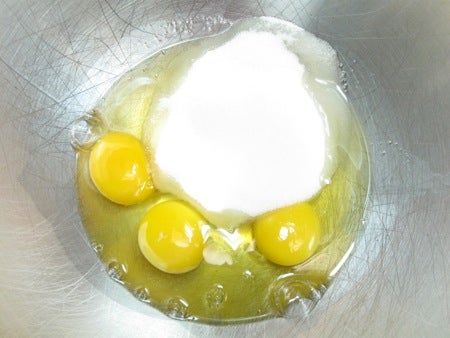 Combine 3 large eggs and a heaping 1/2 cup sugar in a mixing bowl, beating until smooth.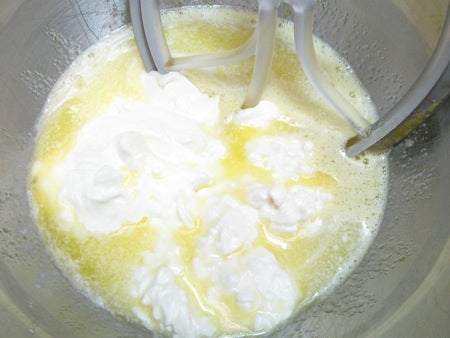 Add the following:
6 tablespoons melted butter
1 cup small-curd cottage cheese or part-skim ricotta
1 cup sour cream (low-fat is fine)
Beat until well combined.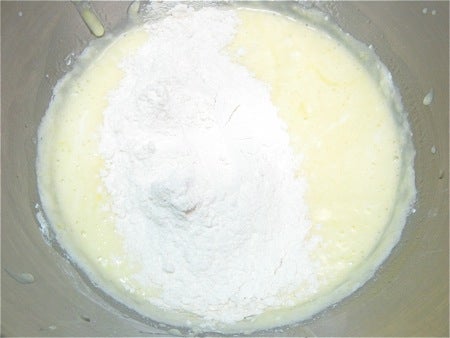 Whisk in the following:
1 cup (120g) King Arthur Unbleached All-Purpose Flour
1/2 teaspoon salt
1 1/4 teaspoons baking powder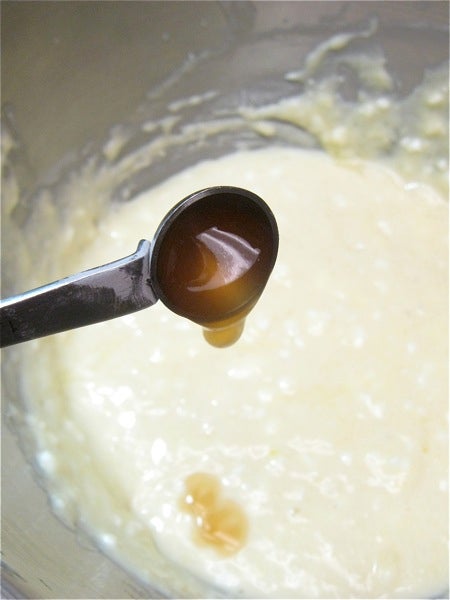 Add 1 teaspoon vanilla extract. Optional, but good: a couple of teaspoons of grated lemon rind, or 1/8 teaspoon or so of lemon oil.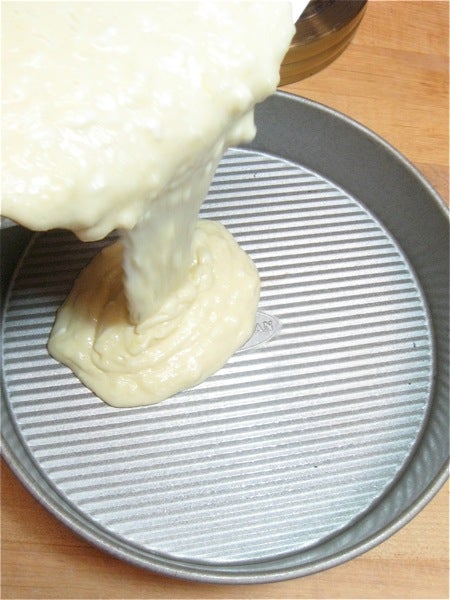 Pour the batter into the prepared pan.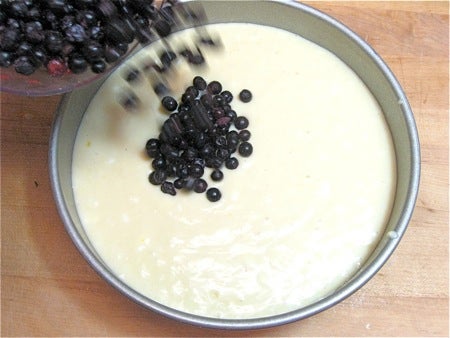 Scatter 1 1/2 cups blueberries, fresh or frozen, atop the batter.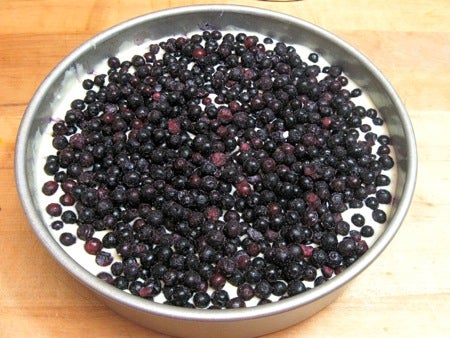 Like this.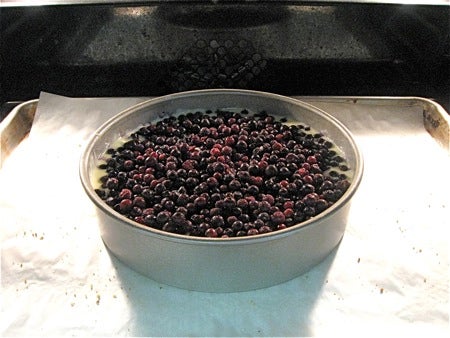 Bake the cake for about 50 minutes, until a tester inserted into the center comes out moist, but without any obvious smears of raw batter. The edges of the cake should be lightly browned and it should appear set throughout, although it'll jiggle when you gently shake it. Note: If you've used frozen berries, your bake time will probably be longer.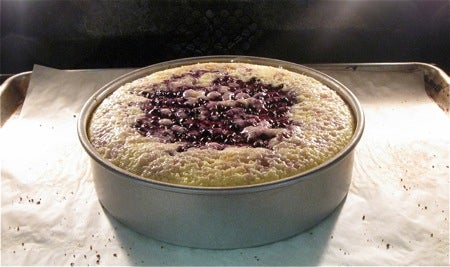 The batter will rise a lot; it's important you use an 8" pan that's at least 2" deep. If yours is shallower, substitute a 9" round pan.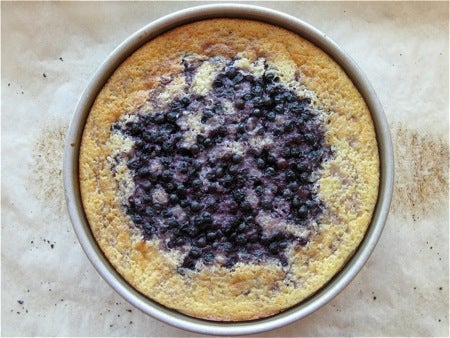 Remove the cake from the oven; it'll sink. That's OK.
Also, you'll notice many of the blueberries have migrated to the center of the pan. Servings from the center will be packed with blueberries, while those around the edge will be more vanilla-cinnamon cake, fewer berries. All good.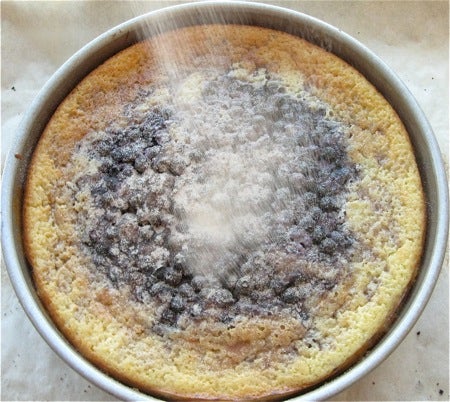 Sprinkle the top heavily with cinnamon-sugar, if desired.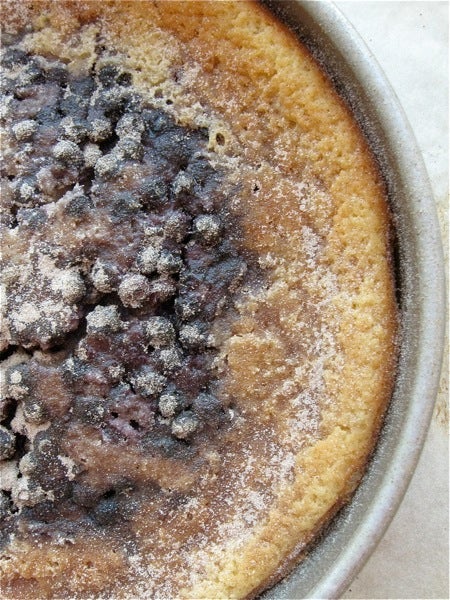 I think the cinnamon-sugar adds a nice touch.
Let the cake rest at room temperature for 30 minutes, to firm.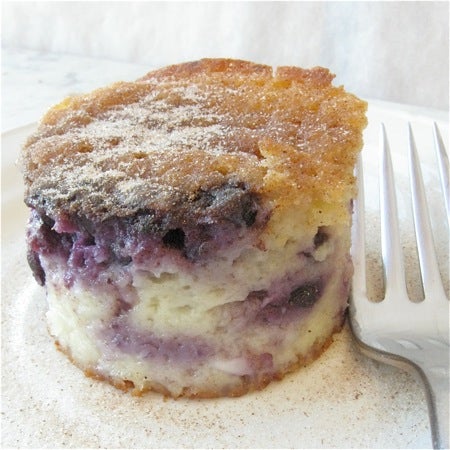 Cut the cake in wedges. Dust each serving with a bit more cinnamon-sugar.
Or use a biscuit cutter to cut elegant-looking rounds. Hey, comfort food is still comforting, even in fancy dress!
Refrigerate any leftovers; reheat individual servings briefly in the microwave.
You know, those individual servings you sneak out of the fridge at 10:30 p.m. because you had a rough day and you just need a little bit(e) of comfort...
Read, bake, and review (please) our recipe for Blueberry Breakfast Cake.
Jump to Comments