Will you look at this cider doughnut?
Doesn't it bring to mind the county fair, with its cotton candy, corn dogs, candy apples, and fried dough?
Or maybe it reminds you of the doughnuts your mom or grandma or an older neighbor used to make. Doughnuts that were deep-fried, then tossed in a bag of sugar, or dipped in a syrupy glaze.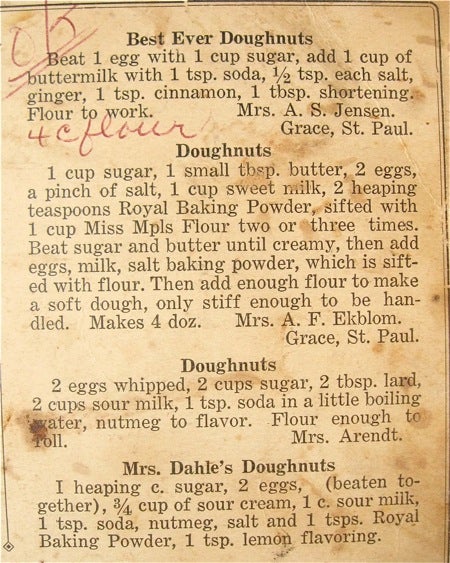 Doughnuts like these.
These recipes come from my grandma's "black book," a homemade cookbook yellowed and stained from decades of use. I'm not sure of its age, but it includes newspaper clippings from as early as 1925, so it's at least that old.
Note: If you're wondering - "Miss Mpls Flour" is Miss Minneapolis Flour, a bleached flour from the Minneapolis Milling Company. I'll forgive Grandma for not using King Arthur Flour - we hadn't yet made our way out of New England!
Notice the lack of directions in these doughnut recipes. It was simply assumed that everyone knew how to make doughnuts, once you'd put together the ingredients.
Doughnuts were fried, in a deep pot of bubbling oil. Period.
Well, times change, and so do recipes. These days, since deep-frying just isn't part of our regular cooking routine, we've come up with other techniques to try when it's "time to make the doughnuts," as Fred the Baker used to say on those old Dunkin' Donuts TV ads.
My favorite? Shallow-frying.
Fry doughnuts in an electric frying pan using just a scant 1" of oil. They're every bit as tasty as deep-fried, and it's a whole lot easier to handle 3 or 4 cups of oil than a whole gallon. Check out our recipes for Classic Beignets and Vermont Doughnut Holes.
Not into frying at all? The newest, fastest, easiest way to make doughnuts is simply to bake them. Make a cake-like doughnut batter, pour it into the wells of a doughnut pan, and 15 minutes later, enjoy warm doughnuts.
They don't have the signature crisp exterior of a deep-fried doughnut, but tossed in cinnamon sugar or glazed, they're truly tasty. Take it from a long-time homemade doughnut fan: baked doughnuts are GOOD.
Especially baked Cider Doughnuts.
Preheat the oven to 400°F.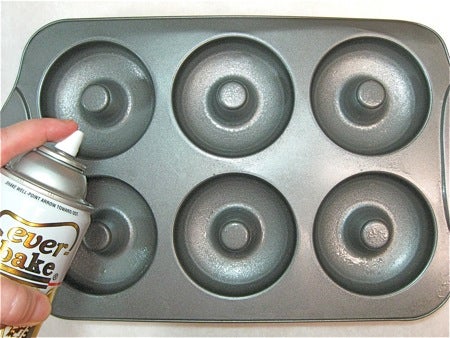 Grease a standard doughnut pan.
Place the following in a mixing bowl:
2 tablespoons (28g) butter, softened
2 tablespoons (25g) vegetable oil
1/4 cup (50g) sugar
1/2 teaspoon salt
1 teaspoon Vietnamese cinnamon
1/8 teaspoon nutmeg
1/8 teaspoon allspice
Beat until well combined.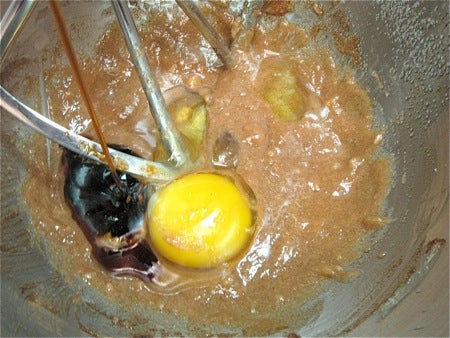 Add 3 tablespoons (57g) boiled cider or thawed frozen apple juice concentrate, 1/2 teaspoon vanilla extract, and 1 large egg. Beat until well combined, scraping the bottom and sides of the bowl.
Whisk together the following:
1 teaspoon baking powder
1/8 teaspoon baking soda
1/4 cup (32g) Hi-maize Fiber*
1 cup (120g) King Arthur Unbleached All-Purpose Flour
*Substitute all-purpose flour if you don't have Hi-maize.
Next, you're going to add these dry ingredients to the wet ingredients in the bowl, alternately with 1/2 cup (113g) milk.
Add about 1/3 of the flour mixture to the bowl, stirring to combine.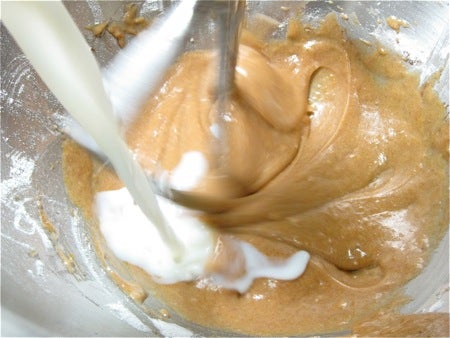 Add half the milk (1/4 cup)...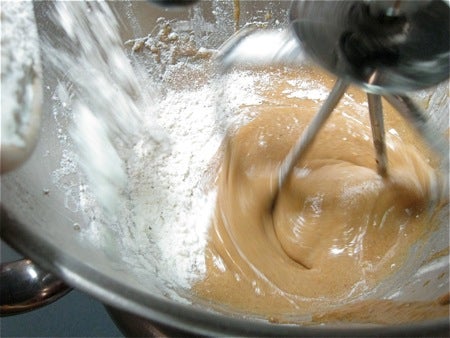 ... then another 1/3 of the flour, then the remaining milk. Finally, gently beat in the remaining flour.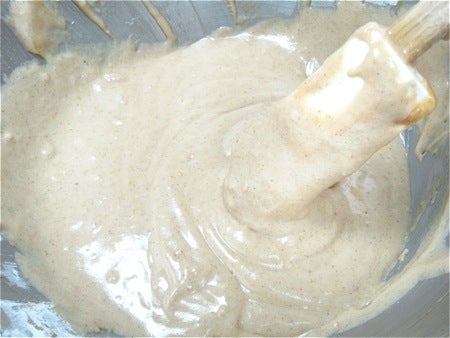 The batter might have a few lumps; that's OK.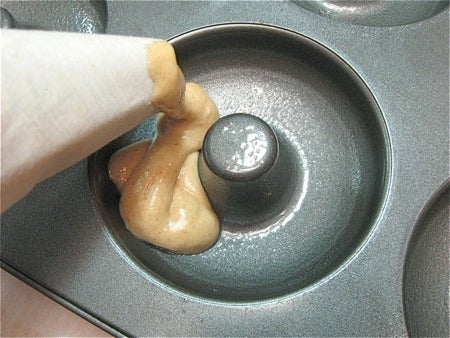 Some of the folks here in the test kitchen find it easier to pipe batter into the doughnut pan using a piping bag and plain tip.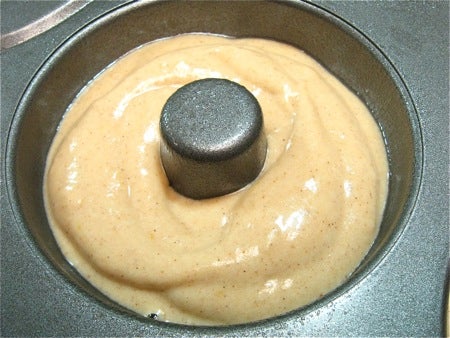 Feel free to just pour/spoon it into the pan, filling the cups about 2/3 full.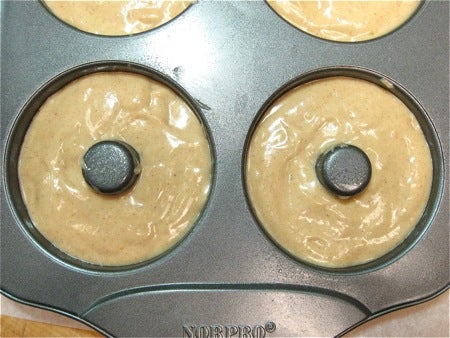 Wipe up any drips.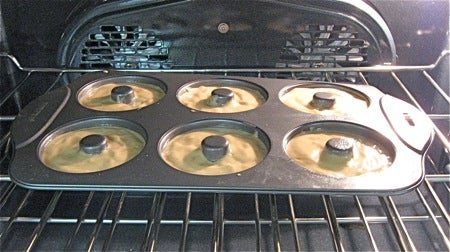 Bake the doughnuts for 10 to 12 minutes, until a cake tester inserted into one comes out clean.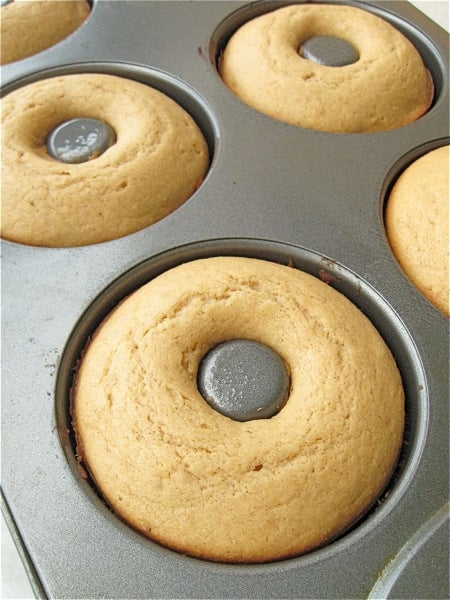 They'll rise nicely in the pan, doming a bit.
Remove the doughnuts from the oven, and transfer them to a rack to cool.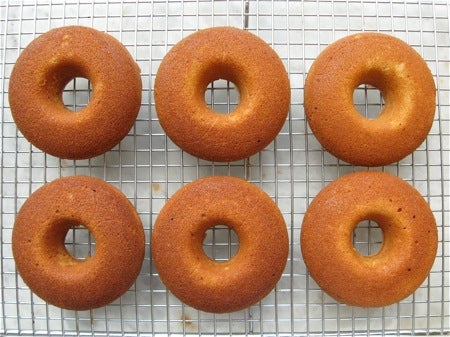 Hey, these are beginning to look like real doughnuts, aren't they?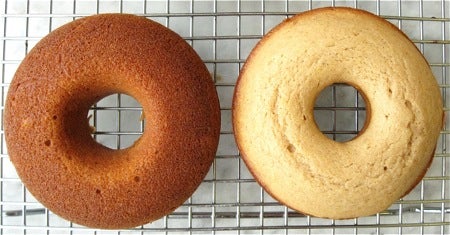 Notice the difference in color between top and bottom, though; best to serve them bottom-side up.
Let the doughnuts cool on the rack while you make their glaze.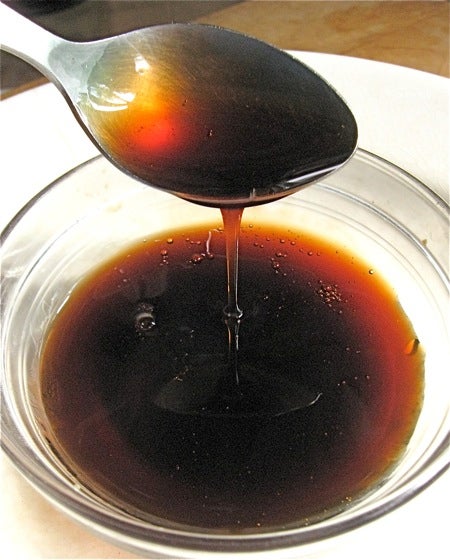 Let's start with boiled cider. Thick, dark, and flavorful – the pure essence of apples in liquid form – boiled cider takes these doughnuts over the top.
Place the following in a deep saucepan:
3 tablespoons (57g) boiled cider or thawed frozen apple juice concentrate*
1 1/2 cups (298g) sugar
2 tablespoons (43g) corn syrup or honey
1/4 cup (57g) water
*If you use apple juice concentrate, add 1 teaspoon lemon juice; the concentrate isn't nearly as flavorful as boiled cider.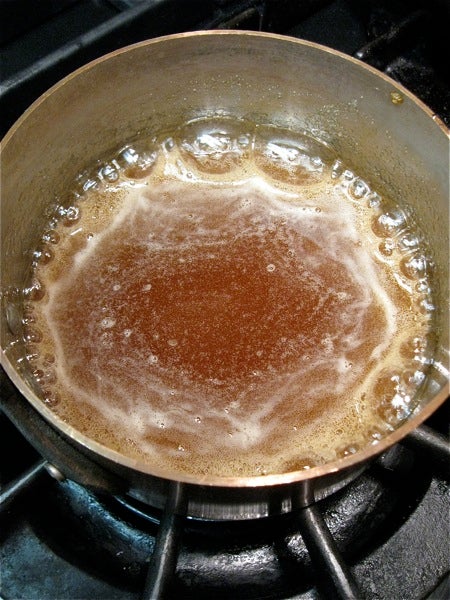 Cook over medium heat, stirring frequently, until the sugar is dissolved.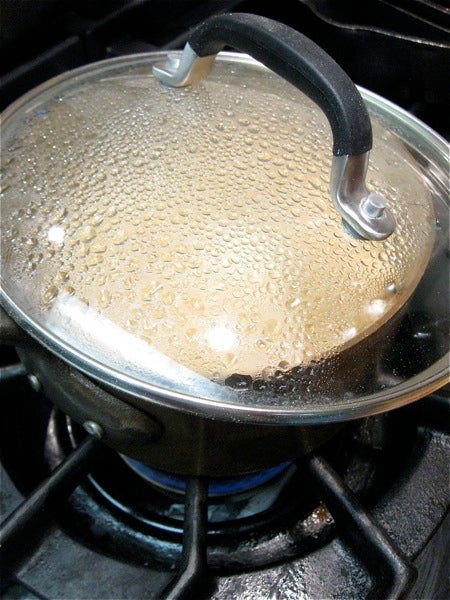 Bring the mixture to a boil, cover the pan, and boil for 3 minutes, without stirring.
Be aware the syrup will rise in the pan quite a bit as it boils; that's why you want to use a deep pan.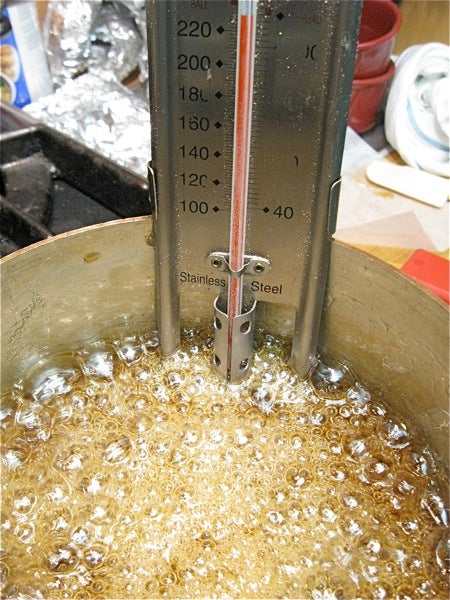 Remove the cover and boil for a few more minutes, until the syrup reaches soft ball stage, 240°F on an instant-read thermometer or candy thermometer.
Remove from the heat, and carefully dip the tops of the doughnuts in the warm syrup.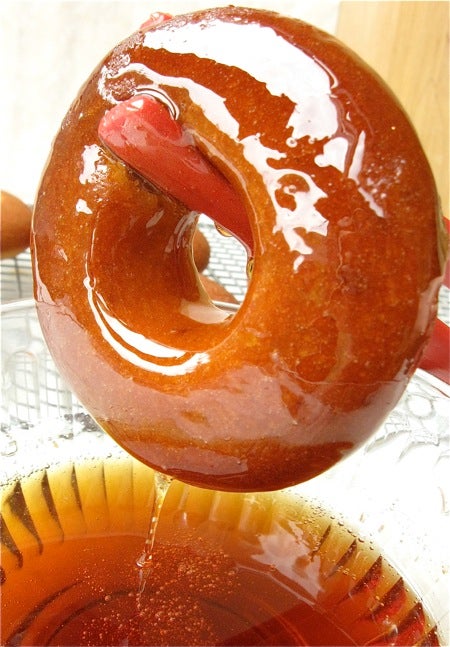 Or dip the entire doughnut, as I'm doing here.
Reheat the syrup if it starts to thicken too much.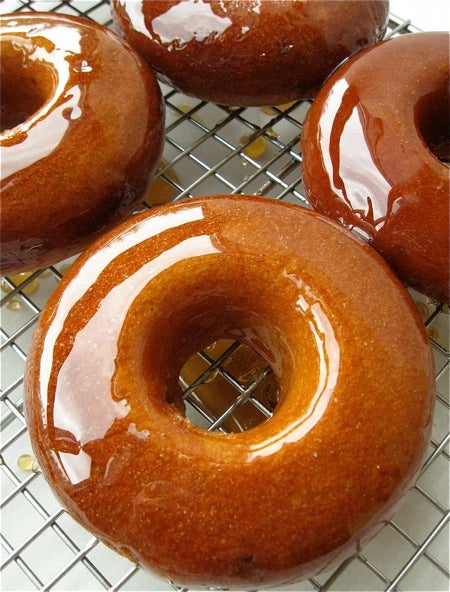 After dipping the doughnuts in the syrup, I laid them on a cooling rack to dry.
BIG MISTAKE. Little did I know that as the glaze cooled, it would firmly cement the doughnuts to the rack. I had to pry them off with a spatula, and they turned into a crumbly mess.
Better solution: greased parchment paper. Or non-stick foil. The doughnuts will still be sticky, but you'll be able to lift them off the parchment or foil.
So, lesson learned: If you dunk the doughnuts completely, place them on a piece of greased parchment or non-stick foil, to set. If you dip just the tops, it's OK to place them on a rack.
Top immediately with chopped nuts, if desired.
Note: extra syrup will hold for up to a week, covered, in the refrigerator.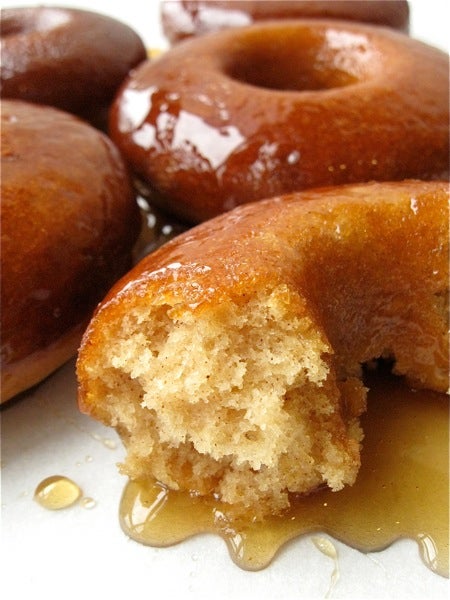 See the flecks of cinnamon?
Superb taste isn't the only thing these doughnuts have going for them: remember, they're baked, not fried. Which means a lower calorie count, no boiling oil, and much easier cleanup.
Read, bake, and review (please) our recipe for Cider Doughnuts.
Jump to Comments