A very vanilla pastry
Cream-filled brioche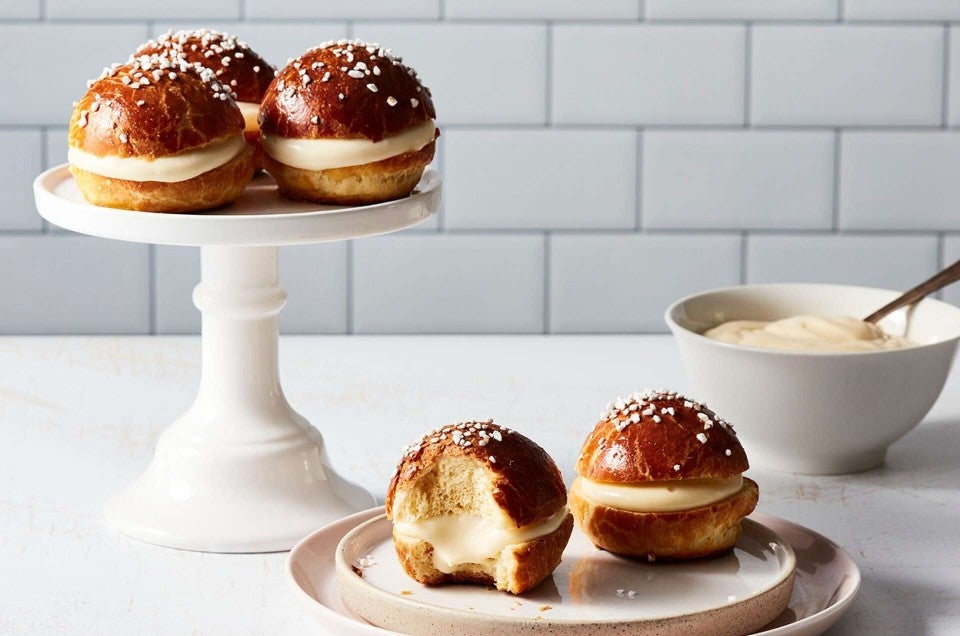 You know how it is when there's information lurking somewhere in the back of your brain, and it simply WILL NOT emerge?
That's what's happening with the recipe we're making today.
It's an over-the-top specialty of the French Riviera: Brioche... something or other.
I first encountered this recipe about 10 years ago, attracted by its unusual combination of buttery yeast bread, and sweet, creamy filling. Bread and savory filling, yes; cake and sweet filling, yes.
But bread and sweet filling?
YES! Must make.
Somehow the years passed, and I never got around to making the recipe. In fact, I lost it. But I didn't need a piece of paper to remind me of this compelling sugar-topped brioche with its sumptuous creamy filling.
Heck, that's what the Web's for. I can always find the recipe online, I thought.
Or not.
Brimming with confidence in the omnipotent power of Internet search, I Googled filled brioche. Vanilla brioche. Marseilles. Nice. Cannes.
Nothing.
Got into long-tail search: Brioche French Riviera vanilla cream pastry filled.
More nothing.
Lightbulb: search Google images, maybe you'll see it.
Whole lotta nothin'.
By this time, though, I can rule out a lot of things. It's not Paris Brest, choux pastry filled with cream (think chocolate éclair without the icing). It's not Bienenstich, kind of the same thing, but with almonds. It's not bavarois (just the filling), nor Tarte Tropezienne (though Tarte Tropezienne – brioche filled with pastry cream – IS the same thing).
It's just not the same NAME.
Sigh.
Help me out here, Breadheads. The first person to post a comment below with the name I'm trying to remember gets a batch of (real, not virtual) brownies, personally baked by yours truly and mailed to your door.
Maybe the following recipe will jog your memory...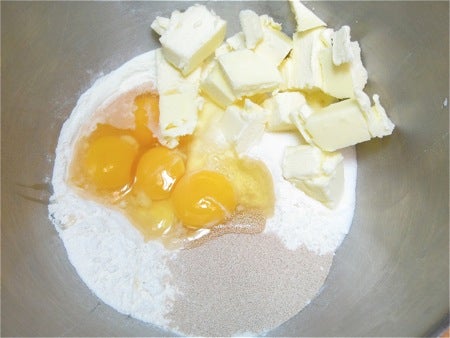 Put the following in a mixing bowl:
1/4 cup (28g) Baker's Special Dry Milk or nonfat dry milk
2 3/4 cups (326g) King Arthur Unbleached All-Purpose Flour
3 tablespoons (35g) granulated sugar
1 1/4 teaspoons (8g) salt
1 tablespoon instant yeast
3 large eggs + 1 large egg yolk, cold from the refrigerator; reserve the white for the topping
1/4 cup (57g) cool water
10 tablespoons (142g) unsalted butter, at cool room temperature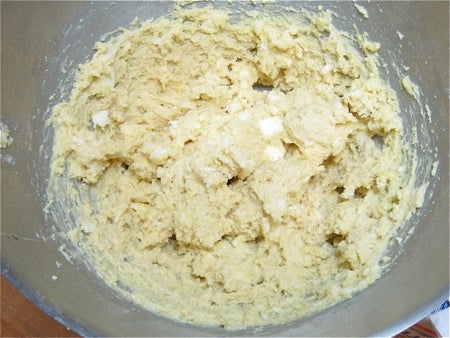 Mix with the flat beater paddle to combine everything thoroughly.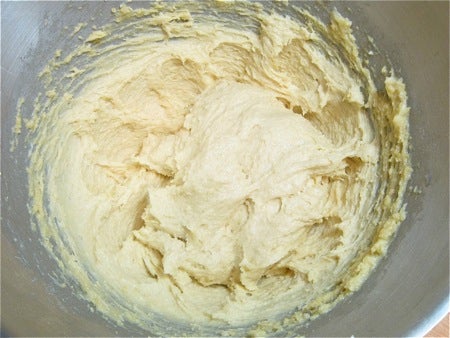 Now, though you'd usually switch to the dough hook at this point, stay with the flat beater. Beat at one speed above your mixer's suggested kneading speed for 5 minutes. The dough will start to smooth out.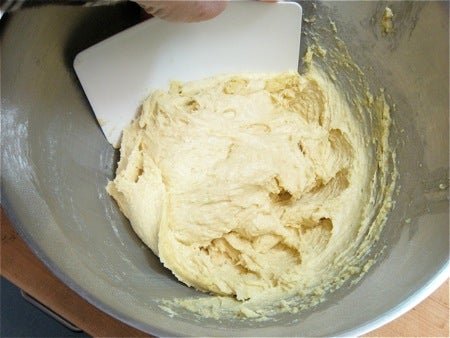 Scrape the sticky dough off the sides of the bowl, into the center.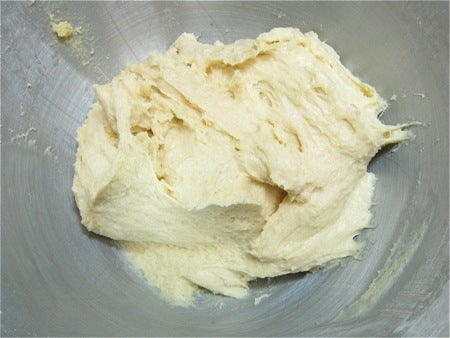 Like this.
Knead for 5 more minutes using the flat beater.
Switch to the dough hook. Knead for 5 minutes at the speed recommended for your mixer.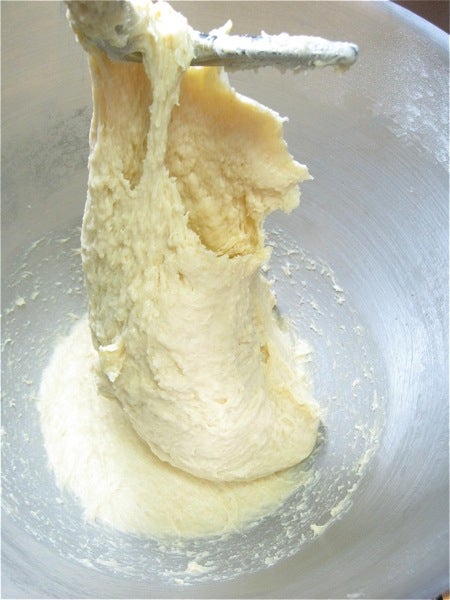 The dough will still be very sticky. But see how the gluten is starting to develop?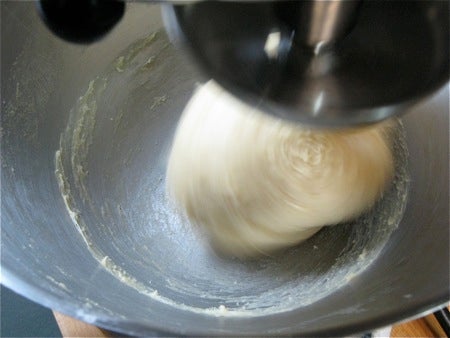 Knead for an additional 5 minutes.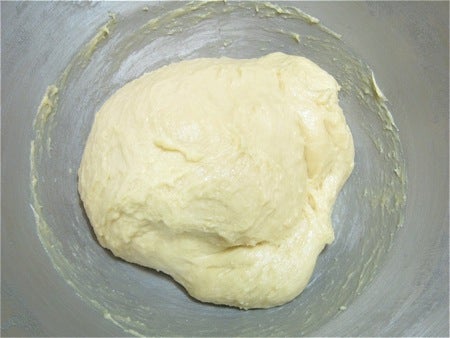 This dough has now been kneaded for 10 minutes with the flat beater, and 10 minutes using the dough hook. Notice it's still sticky, but basically has cleared the sides of the bowl.
Can you do all of this without a stand mixer?
Yes. You can use a strong hand mixer, equipped with beaters and dough hooks.
You can also use a bread machine, set on the dough cycle. Brioche dough really showcases your bread machine's ability to knead dough easily and thoroughly.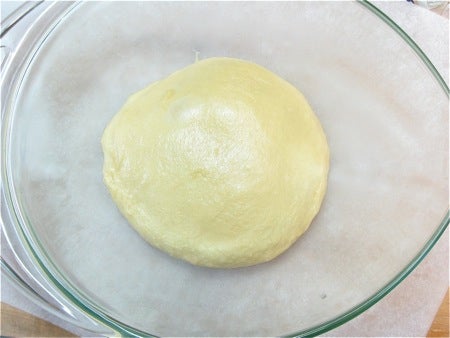 Scrape the dough out of the bowl, and shape it into a smooth ball. Place it in a lightly greased bowl.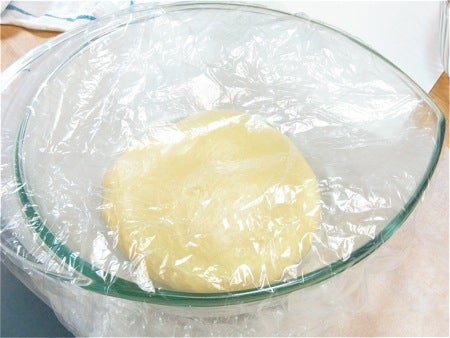 Cover the bowl, and let the dough rise at room temperature for 1 hour.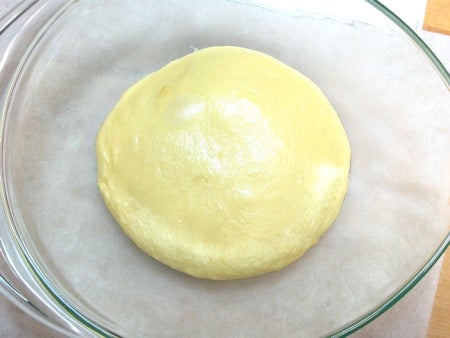 It'll rise minimally.
Cover the bowl, and refrigerate the dough for at least several hours, or overnight – up to about 16 hours. Chilling the dough will make it MUCH easier to work with.
While the dough is chilling, make the pastry cream filling.
Whisk together the following, in a saucepan:
3 cups (680g) whole milk, divided
2/3 cup (131g) granulated sugar
1/4 teaspoon salt
Bring to a simmer over medium heat, stirring to dissolve the sugar.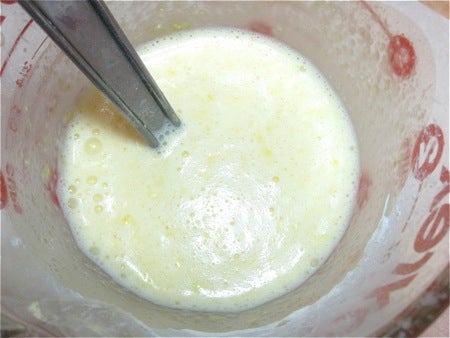 While the milk-sugar mixture is heating, whisk together the following:
What to do with those leftover egg whites? Make a double batch of Vermont Maple Meringues.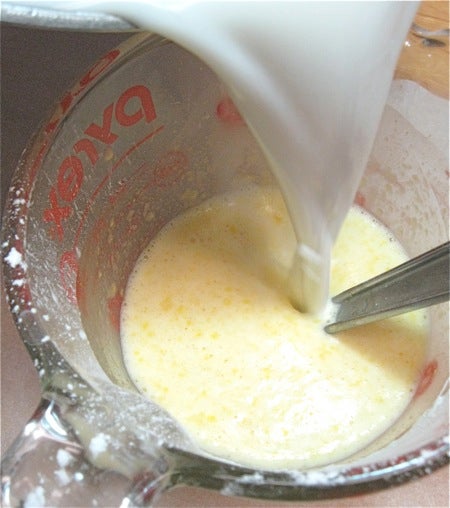 Whisk about 1/3 cup of the hot milk mixture into the egg yolk mixture. This "tempers" the yolks, preventing them from becoming scrambled eggs when you add them to pan of the simmering milk.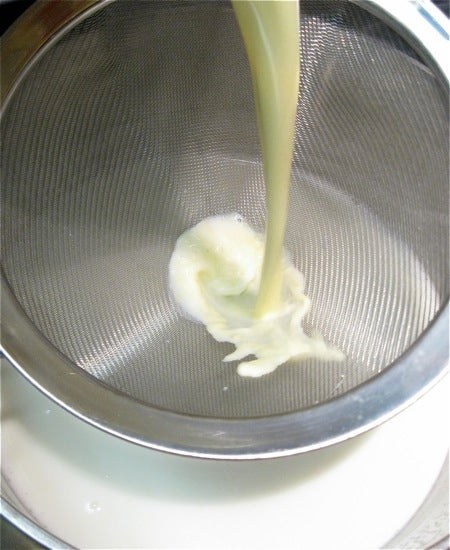 Pour the egg/milk mixture back into the pan of simmering milk on the stovetop. Doing this through a strainer will help prevent lumps later.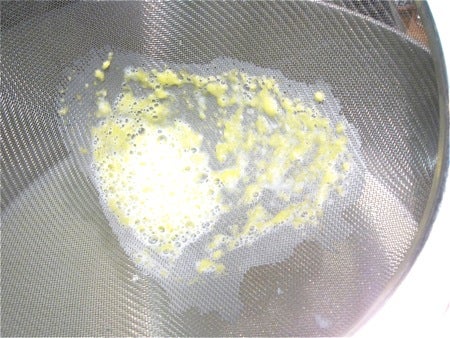 See? Gotcha!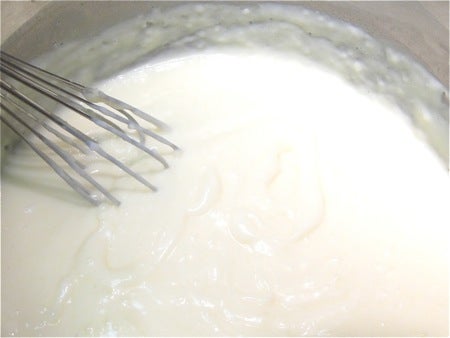 Bring to a boil, stirring constantly with a whisk, until the mixture thickens.
To avoid lumps, it's important to stir this constantly, and to run a spatula along the bottom of the pan to make sure nothing's sticking. Don't worry, the cream won't take long to thicken.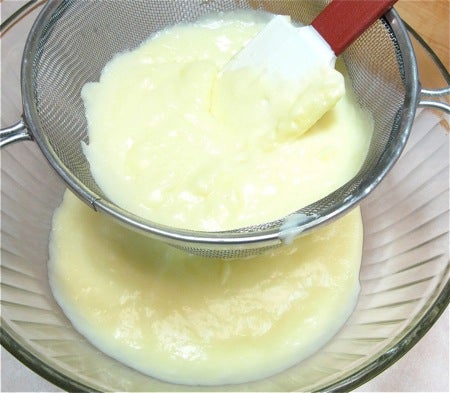 Remove the pastry cream from the heat and strain it through a sieve to remove any lumps.
A spatula helps speed the process, but don't push too hard; you don't want to force any small lumps through the sieve.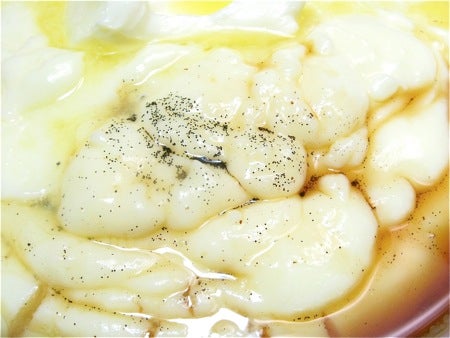 Add 1/4 cup (4 tablespoons) butter, and 2 teaspoons vanilla extract or Vanilla Bean Crush.
What's the black stuff? Crushed vanilla bean pods and seeds from the Crush. LOVE this stuff.
Transfer the pastry cream to a storage bowl, and top with a buttered piece of parchment or plastic wrap.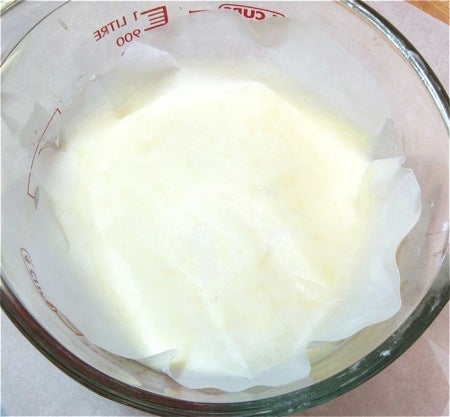 This will prevent a skin from forming.
Refrigerate the cream until you're ready to use it.
OK, back to the brioche.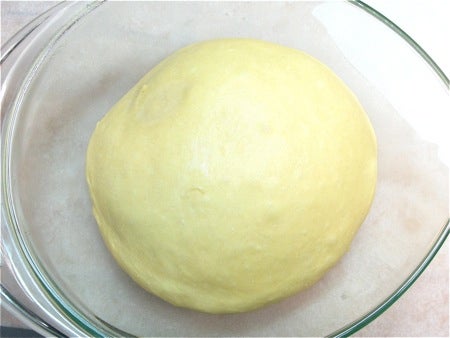 Remove the brioche dough from the refrigerator; you'll notice that it's risen a bit overnight.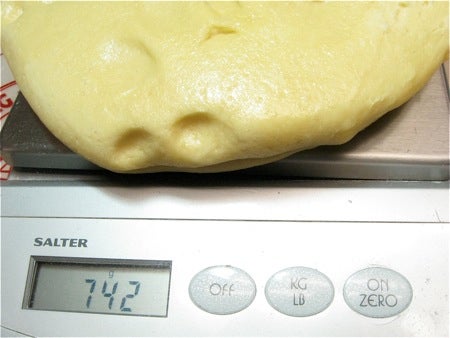 Divide the dough into 16 pieces. A scale makes this easy.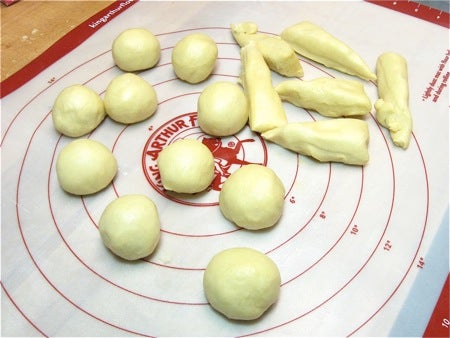 Shape each piece into a round ball. This is easy, as cold brioche dough is very pliable; think Play-Doh.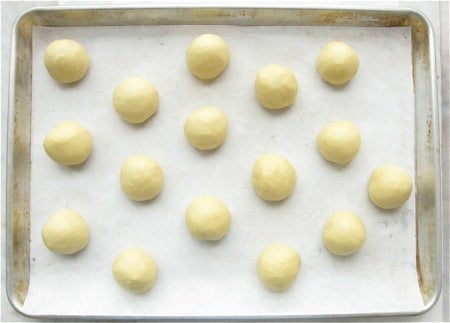 Space the balls on a lightly greased or parchment-lined baking sheet, leaving about 2" between them; they'll expand quite a bit.
Cover the brioche, and let them rise for 2 1/2 to 3 hours, until they're very puffy.
Towards the end of the rising time, preheat the oven to 375°F.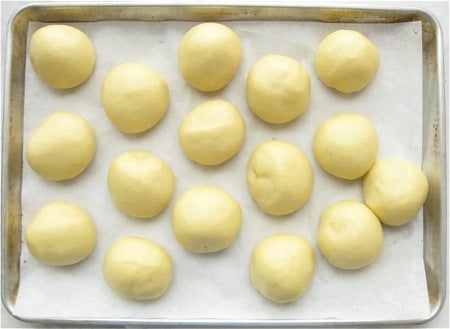 VERY nice expansion, for such a high-fat dough.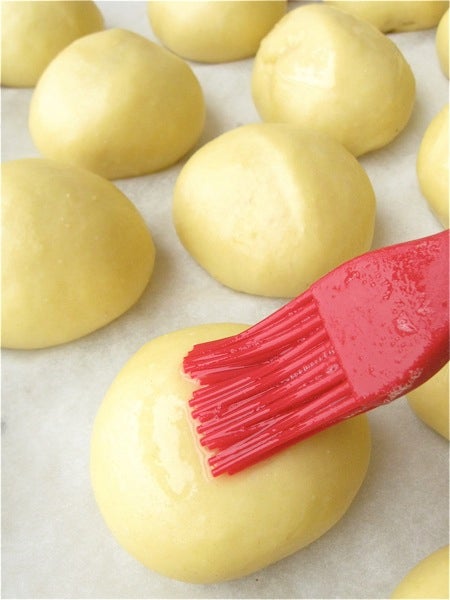 Beat the reserved egg white with 1 tablespoon cold water. Brush all over the top surface of the brioche.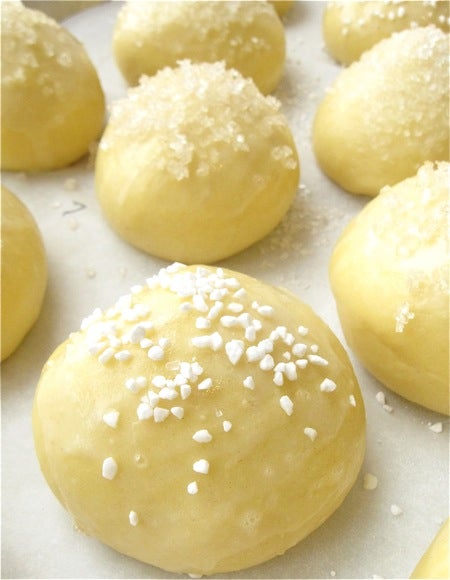 Sprinkle with coarse sparkling white sugar or bright white pearl sugar (pictured above).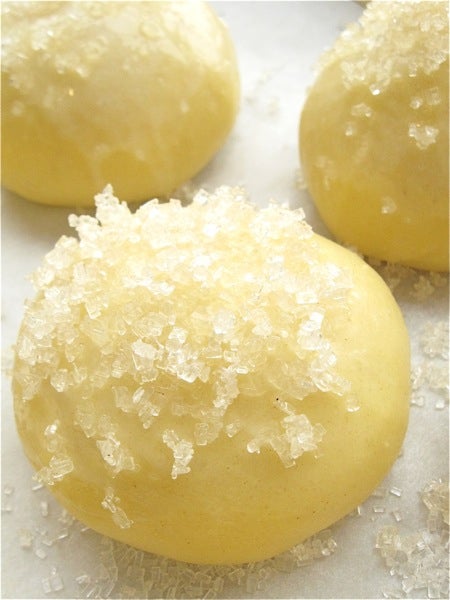 Be generous; this is the sparkling white sugar.
If you don't have either of those sugars, leave the brioche untopped; or sprinkle with regular granulated sugar, for extra sweetness.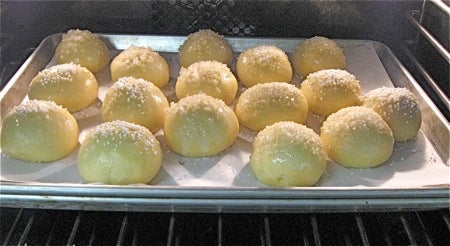 Place the pan on a lower-middle rack in the oven, and bake the brioche for 25 to 30 minutes, tenting them with aluminum foil after 15 minutes if they appear to be browning too quickly.
These brioche actually baked too long. I was working at my computer, looked down at my timer, and the battery had died.
PANIC! After this extended 2-day process, would the brioche be burned to a crisp?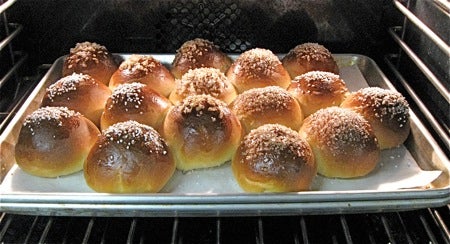 Phew! Caught 'em just in time. Thankfully, only some of the brioche on the outside of the pan were slightly scorched.
Allow the brioche to cool on racks, or right on the pan.
An hour or so before serving, finish the pastry cream as directed below; and assemble the brioche.
Can you do this ahead, and refrigerate? Yes; but refrigerating baked bread (brioche) robs it of moisture; bread stored in the fridge will become very stale, very quickly.
If you can possible manage it, limit the brioche's time in the fridge to several hours or less. And remove them from the refrigerator an hour or so before serving.
If you fill the brioche only an hour or so before serving, you can leave them at room temperature – unless it's REALLY hot in your house, in which case they should be refrigerated.
That said, can you finish the pastry cream ahead of time? Sure; but I wouldn't let it sit longer than 24 hours or so in the fridge before using.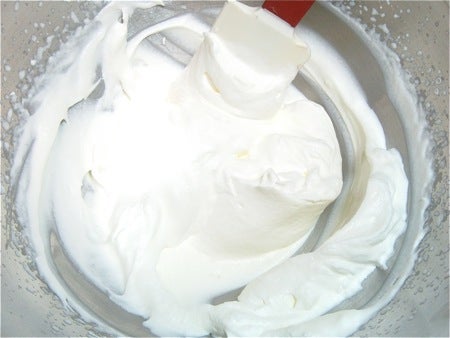 Put 1/2 cup (113g) heavy cream in a bowl, and whip it to soft peaks.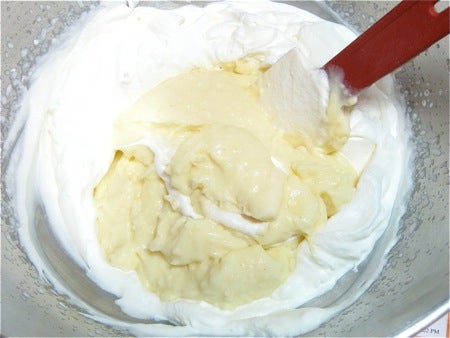 Add the pastry cream.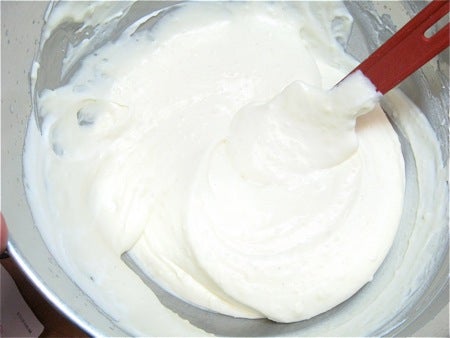 Stir gently, just to combine.
Your cream may look thicker and more golden than the one I'm stirring together in the photo above. I'd originally whipped a full cup of cream; after the fact, I decided 1/2 cup yielded a filling whose thickness was more to my liking.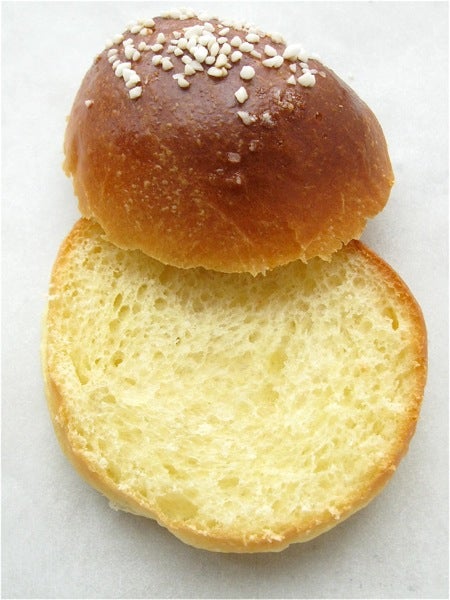 Slit each brioche around the circumference, making a top and bottom.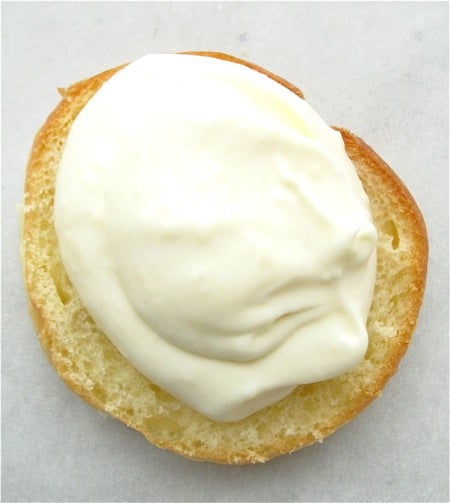 Spoon a heaping 1/4 cup filling onto the bottom...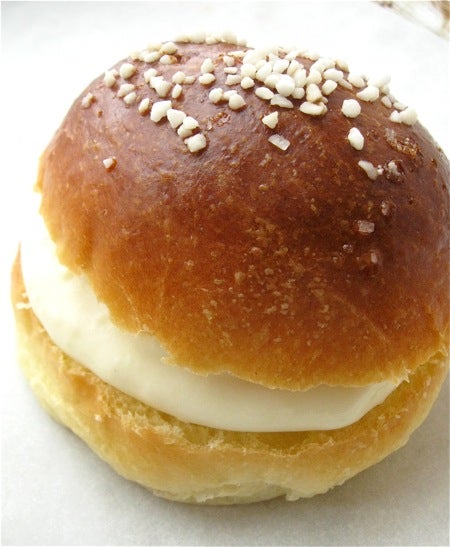 ...and lay the top over the filling.
Serve within an hour or so. Brioche can be filled and refrigerated for several hours, covered. Allow them to warm a bit before serving.
Read, rate, and review (please) our recipe for Vanilla Cream-Filled Brioche.
Whew! Thanks for all the help with the name. This "contest" is now closed. And I've determined the winner: Louise, a.k.a. LMHWood. Congratulations! I'll contact you for your mailing address Monday.
So, what was the "magic word?" As it turned out... San. Yes, "San." All of the Tarte Tropeziennes didn't jog my memory, but "Tarte de San Tropez" (thanks, Louise) rang a bell.
Jump to Comments