Vermont Maple Meringues
A sweet, crunchy treat, reminsicent of the sugaring season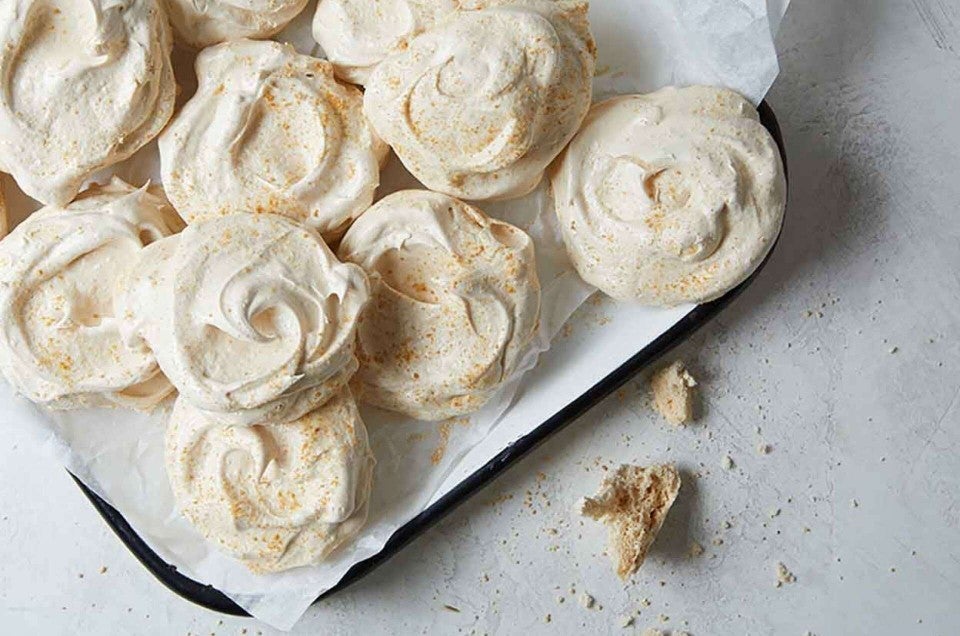 Why are so many people afraid to make meringue?
Nothing could be simpler or more satisfactory than beating up a couple of egg whites and watching them turn into a glossy, airy cloud. Especially when that cloud is flavored with maple – like the clouds of steam that'll be blanketing the Vermont countryside in the next month or so, as maple sugaring season kicks into high gear.
Gone are the days when draft horses – Bob and Mike, or maybe Pete and Jim – hauled a sledge through the snowy woods, waiting patiently while their driver emptied wooden buckets of sap from his "sugar bush" – the farm's stand of sugar maple trees. These days, large operations (and even many smaller ones) funnel sap via plastic tubing from the trees to a central evaporator, where it's boiled for hours and eventually becomes maple syrup.
Still, there are those who collect sap the old-fashioned way. Though a tractor or ATV has probably replaced Bob and Mike, many small sugar makers still tap trees and empty buckets by hand.
And it's a treasured Vermont tradition to sit around the fire in an open-sided sugarhouse, watching clear maple sap bubble for hours before finally thickening to a lovely, amber-gold syrup. More "wait" than work, tending the sap is a time for story-telling, reminiscence, and connecting with old friends.
With that nostalgic picture in mind, let's make Vermont Maple Meringues.
Egg whites and sugar are the basic meringue formula, but this recipe replaces white sugar with maple. These cookies are cholesterol free, very low in fat (2 egg whites contain just a trace of fat) and – attention dieters! – they check in at fewer than 15 calories each. When  your sweet tooth calls, satisfy it with a couple of these melt-in-your-mouth goodies.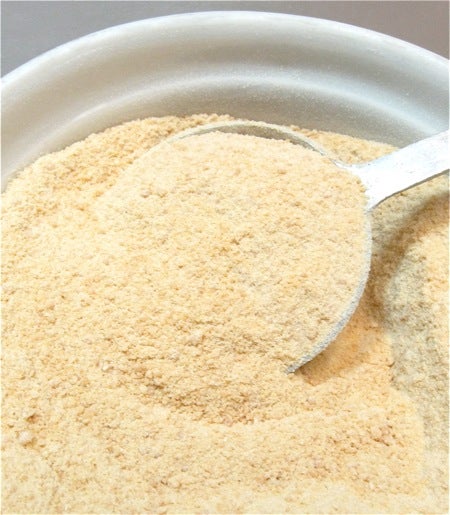 Maple sugar is what's left after almost all the water is boiled from maple sap. The solid sugar that remains can be made into candy, or crushed to make pourable maple sugar. It's about twice as sweet as granulated sugar, with wonderful maple flavor.
First, let's talk about meringue in general.
Beating egg whites to a smooth, glossy puff is a snap, provided you start with a clean bowl and beaters, and make sure no egg yolk sneaks into the white while you're separating the eggs. Simply crack an egg in half and, over a clean, dry bowl, pour the yolk from one half shell to the other several times. The yolk will remain intact, while the white will fall into the bowl below.
If the yolk breaks and starts to separate, throw it away before any gets into the white. If any yolk does get into the white, use one of the half-shells to scoop it out.
to make meringue, beat egg whites at the highest speed of your electric mixer until they're smooth, glossy, and stiff enough to form peaks when you remove the beaters from the bowl. The addition of about 1/4 teaspoon cream of tartar to the whites will help increase their volume and stability as you beat.
OK, let's get started.
Preheat your oven to 225°F. Yes, 225°F; this isn't a typo. Meringues like a long, slow bake.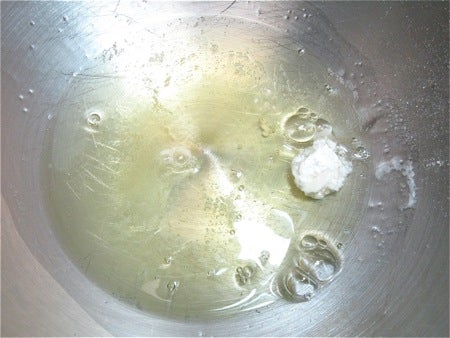 Combine the following in a large bowl:
2 large egg whites
1/4 teaspoon cream of tartar
pinch of salt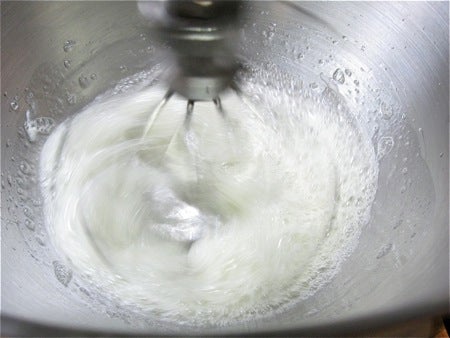 Beat at high speed, using your mixer's whisk attachment, if possible.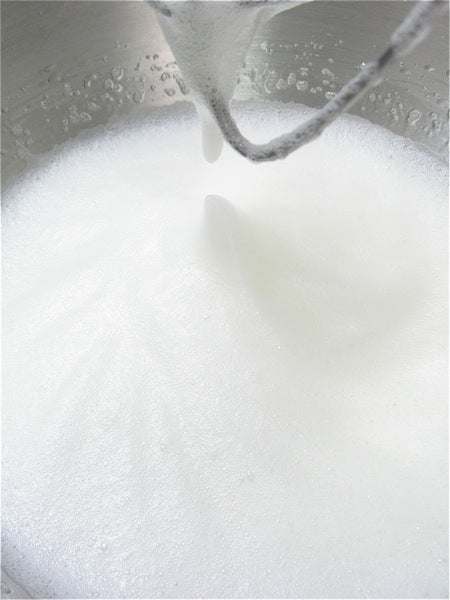 Beat until the whites are very foamy, and a soft peak forms when you lift the whisk out of the whites.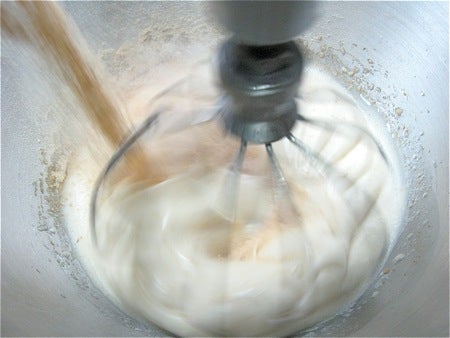 With the mixer going, gradually add 1/2 cup plus 2 tablespoons (176g) maple sugar.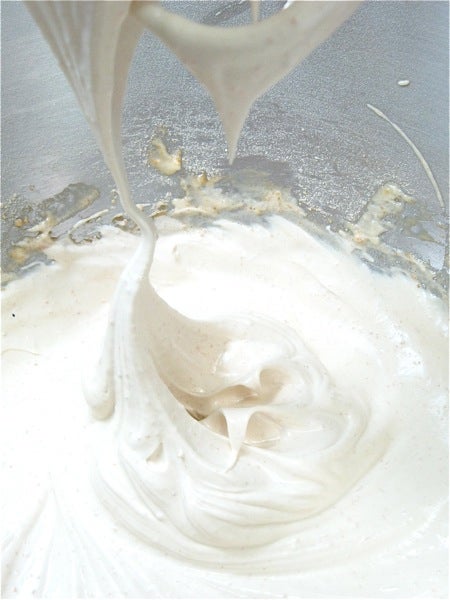 Continue to beat till mixture is stiff and glossy. When you lift the whisk out of the whites, the peak will stand straight up, then gradually droop once the connection is broken.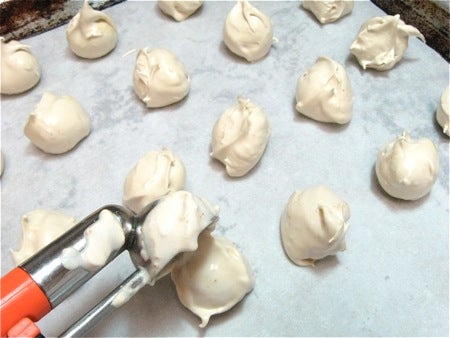 Line a large baking sheet with parchment.
Drop the meringues by large teaspoonfuls onto the baking sheet. A teaspoon cookie scoop, dipped in water frequently, works well here.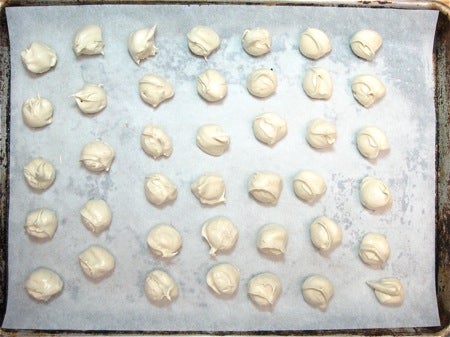 The meringues won't spread as they bake, so they can be spaced close together.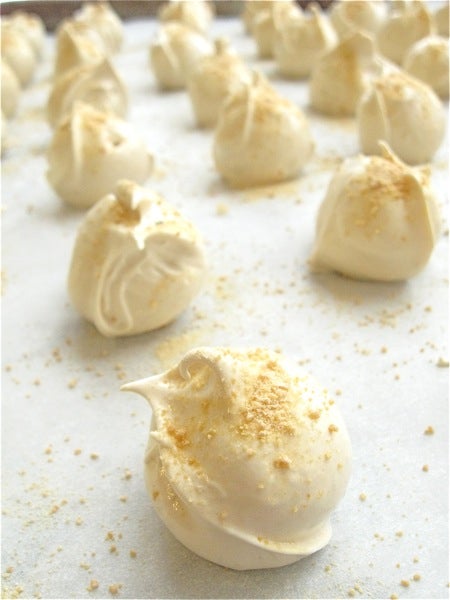 Sprinkle each meringue with additional maple sugar, if you like.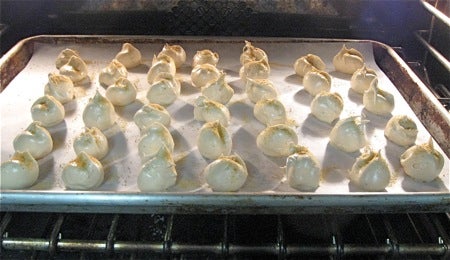 Bake the meringues for 2 hours.
Turn the heat off and leave the meringues in the oven until they're completely cool and crunchy all the way through; this will take several hours at least. Overnight is a great option.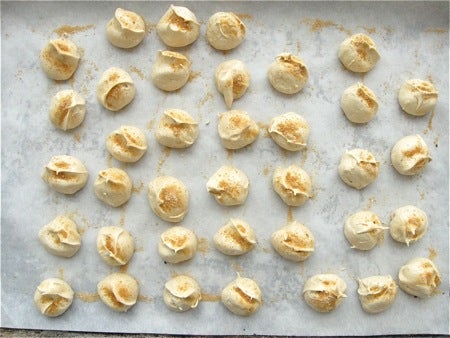 Remove the meringues from the oven. As you can see, they've darkened just a bit.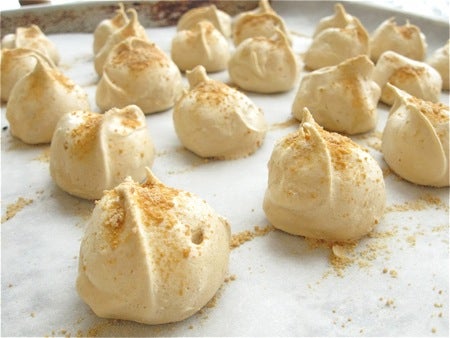 Pick one up – they're light as a feather.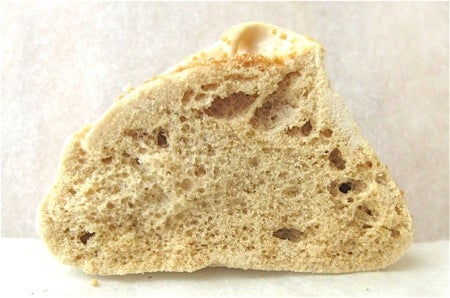 And no wonder - look at that bubble-filled interior!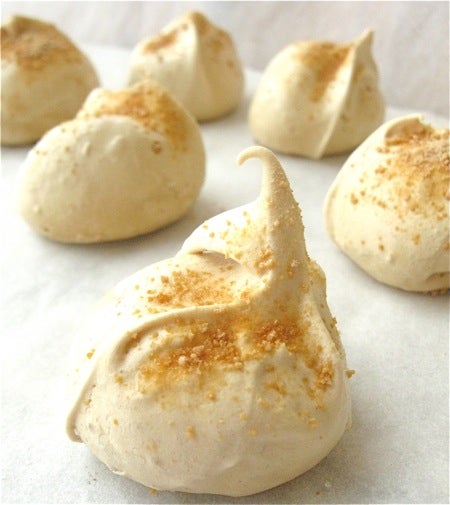 CRUNCH!
How sweet is it... And I don't mean just the meringues. This is the 500th post we've made to our King Arthur blog, which was launched in November, 2007.
One thing that hasn't changed is the friendliness, warmth, and caring we feel every day from our readers. YOU make this blog what it is: a place to learn, to share, and to grow. We look forward to the next 500 posts!
Read, rate, and review (please) our recipe for Vermont Maple Meringues.
Jump to Comments