Savor it: Christmas Cheese Bread
A break from the sweet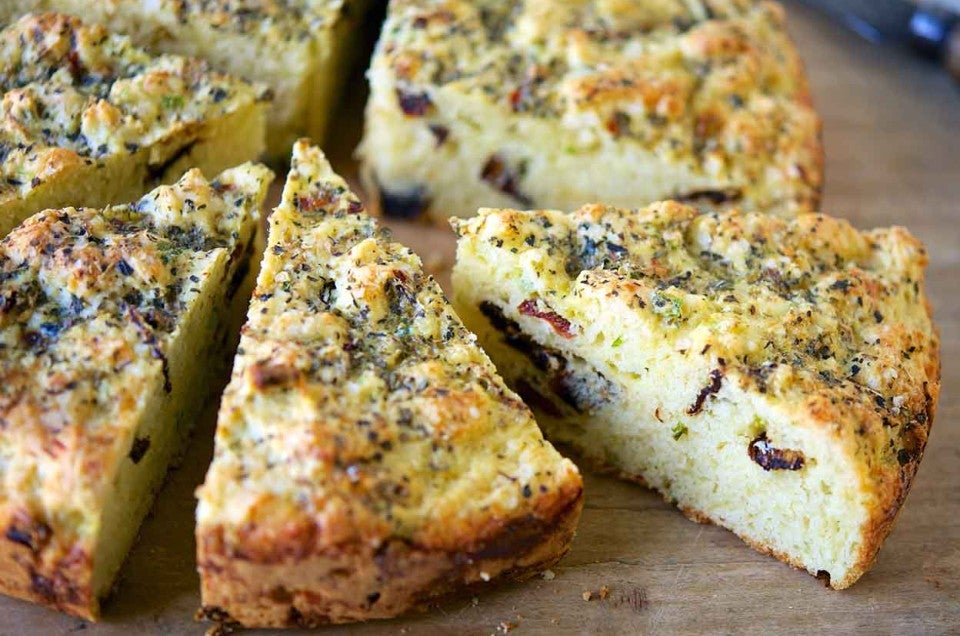 Sweeeeeeet!
TOO sweeeeeeet.....
Holiday baking got you down? Has an overdose of sugar made you blanch at the thought of yet another Christmas party rife with cookies, awash in eggnog, and overflowing with candy-coated treats of all descriptions?
Then it's time for a break.
A cheese break, to be precise.
There's nothing like the savory/smooth flavor of cheese to cut through empty carbs, and soothe the sugar-sated heart. Christmas Cheese Bread, a Parmesan-scented quick bread studded with sun-dried tomatoes and scallions, has been a favorite of mine for years.
Serve it at breakfast, with scrambled eggs. Make it into a grilled cheese sandwich for lunch. Enjoy it at dinner, with a plate of pasta. But however, wherever, and whenever you make this bread–
Just serve it. Your taste buds will thank you.
This is a QUICK bread, as noted (no yeast, no rising time), so begin by preheating the oven to 350°F.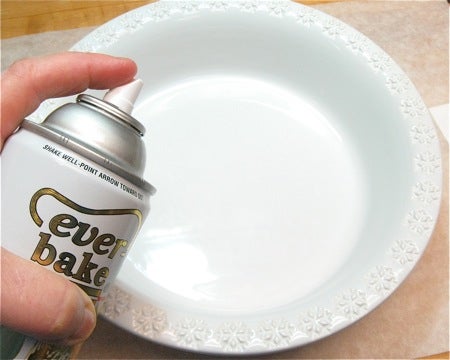 Grease a 9" round cake pan, or 9" round casserole.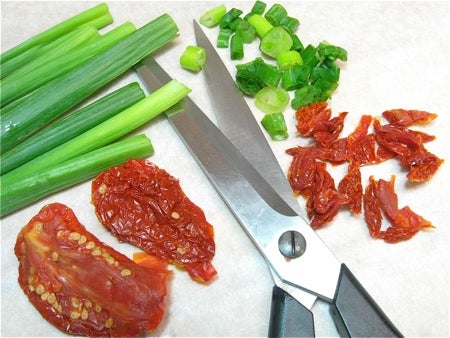 Prepare 1/2 cup finely chopped scallion tops, chives, or green bell peppers; and 1/2 cup finely chopped sun-dried tomatoes, iced red bell peppers, or diced pimientos. Here, I'm using scallions and sun-dried tomatoes.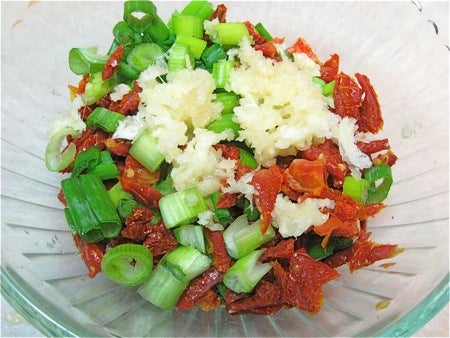 Add 3 large garlic cloves, crushed. Garlic is optional; leave it out if you like.
Set these vegetables aside.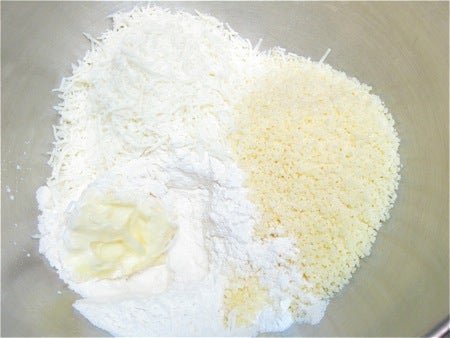 Put the following in a mixing bowl:
3 cups (361g) King Arthur Unbleached All-Purpose Flour
2 teaspoons baking powder
1 1/4 teaspoons salt
1 cup (100g) fresh-grated Parmesan cheese
1 cup (113g) shredded sharp cheddar, mozzarella, or the cheese of your choice
4 tablespoons (57g) butter, softened
Mix together until well combined and crumbly.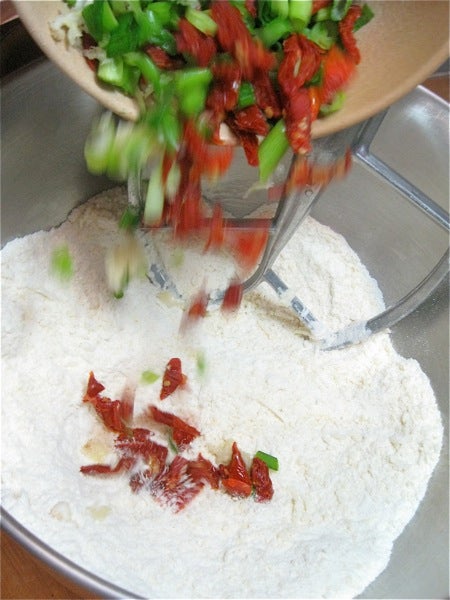 Add the prepared vegetables and garlic.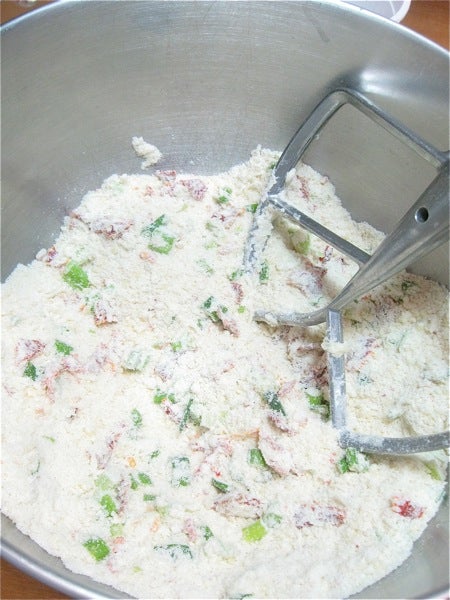 Mix until well distributed.
Whisk together 4 large eggs and 1/2 cup (113g) whole milk or half & half.
Set aside 1 tablespoon of the mixture, to brush on the top of the loaf.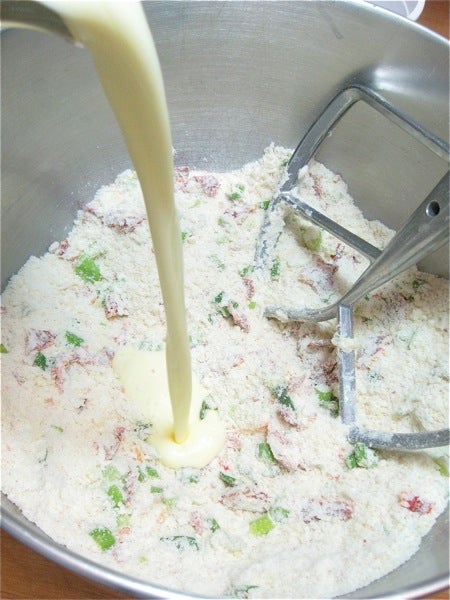 Add the remaining egg mixture to the dry ingredients.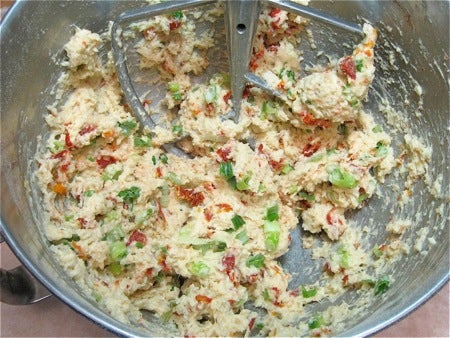 Mix just until everything is thoroughly moistened.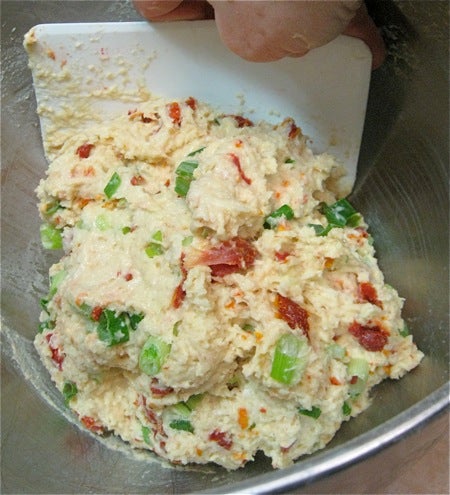 Scrape down the sides of the bowl, then turn the stiff batter into the prepared pan.
Using your wet fingers, smooth it to the edges of the pan. Make it a tiny bit concave, so the edges are just slightly higher than the center.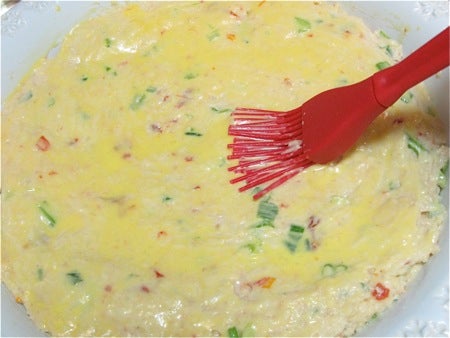 Brush the top of the loaf with the reserved egg mixture.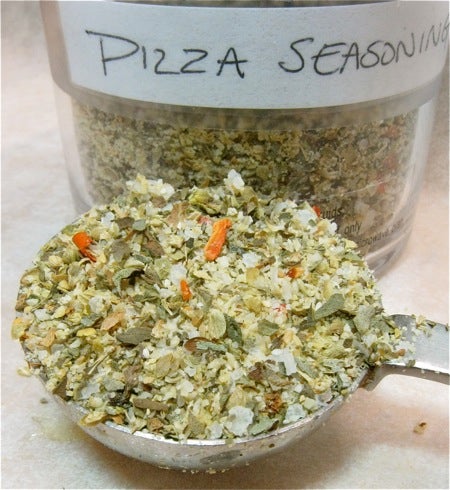 Now here's one of my go-to ingredients, for all manner of pizzas and Italian breads: pizza seasoning, a mixture of dried onion, garlic, herbs, spices and salt.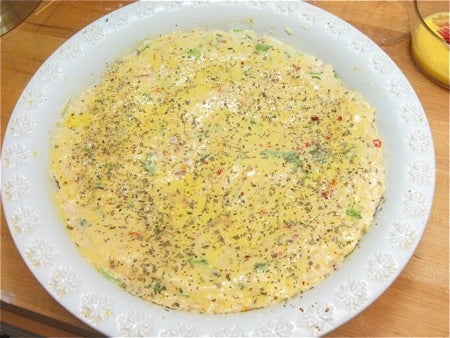 Sprinkle the bread with pizza seasoning, if desired.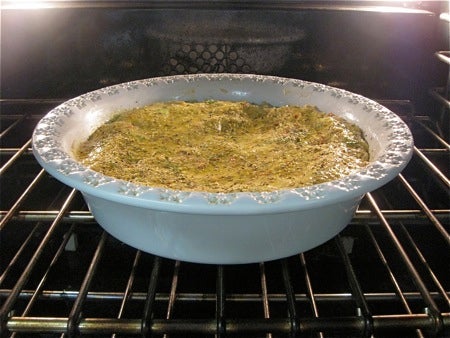 Bake the bread for 35 to 40 minutes. its concave center will dome nicely, without rising TOO high above the center.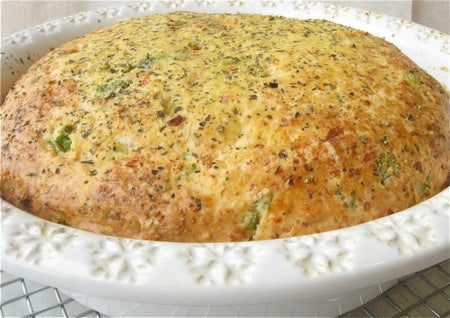 The loaf will be a light golden brown on top, and a cake tester or toothpick inserted into the center comes out clean. An instant-read thermometer inserted into the center of the loaf will register 150°F to 155°F.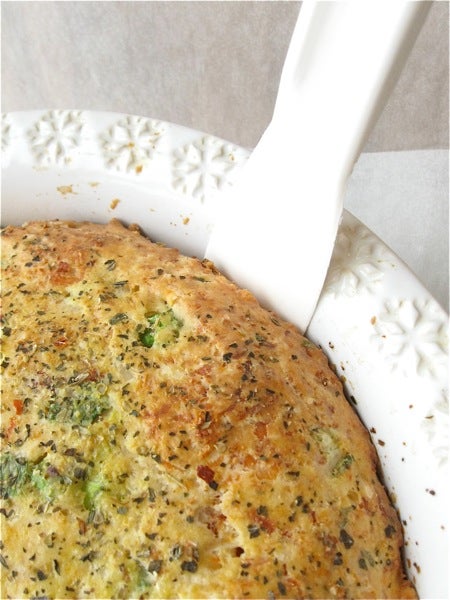 Loosen the edges of the bread from the pan...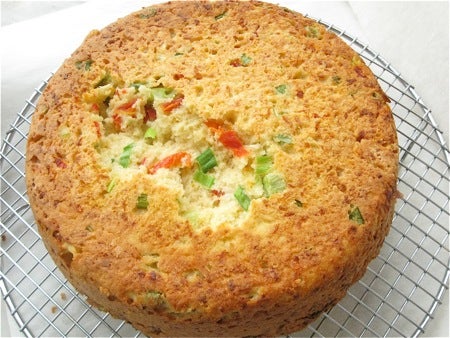 ...and turn it out of the pan onto a rack.
Whoops! Guess I didn't grease the pan well enough.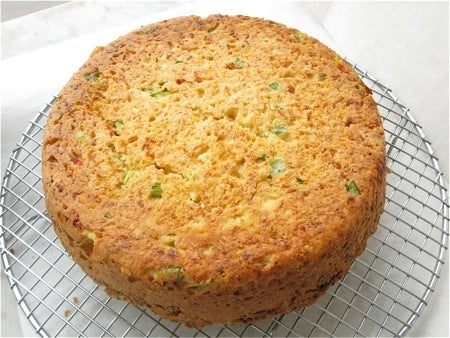 But if you work quickly, you can stick any errant pieces back where they belong, and no one will be the wiser.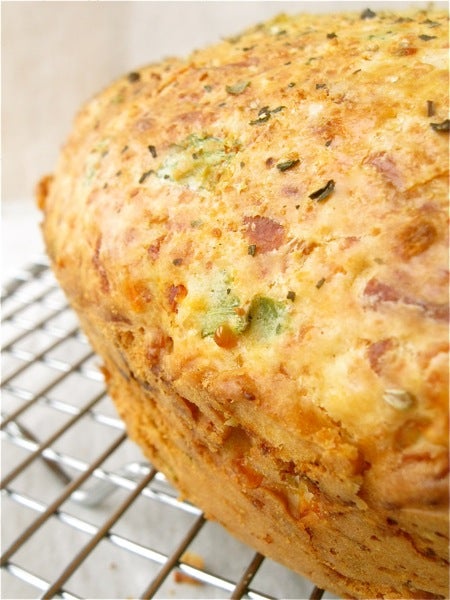 Turn the loaf right side up. Admire its goldenness.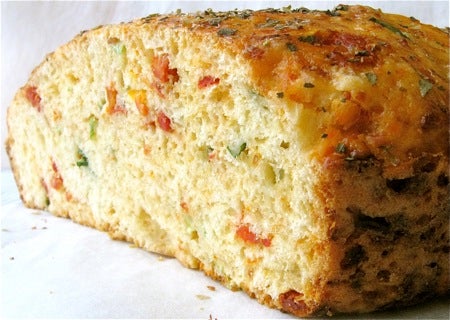 It's best to let the bread cool for 15 minutes or so before slicing, to avoid squashing it down.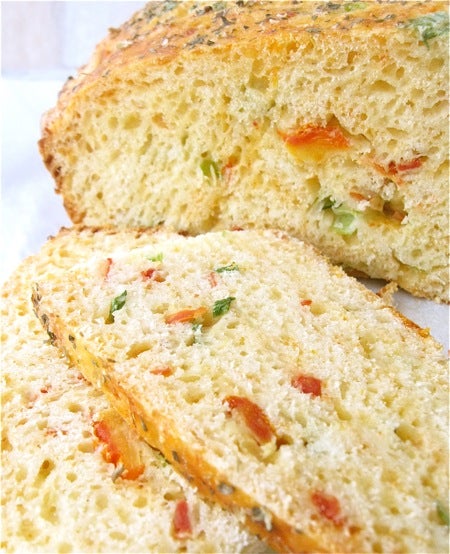 Serve the bread warm, toasted, or at room temperature. It's a wonderful breakfast bread, served with eggs.
Read, rate, and review (please) our recipe for Savory Christmas Cheese Bread.
Jump to Comments