Panettone Muffins
From Italy (and America) with love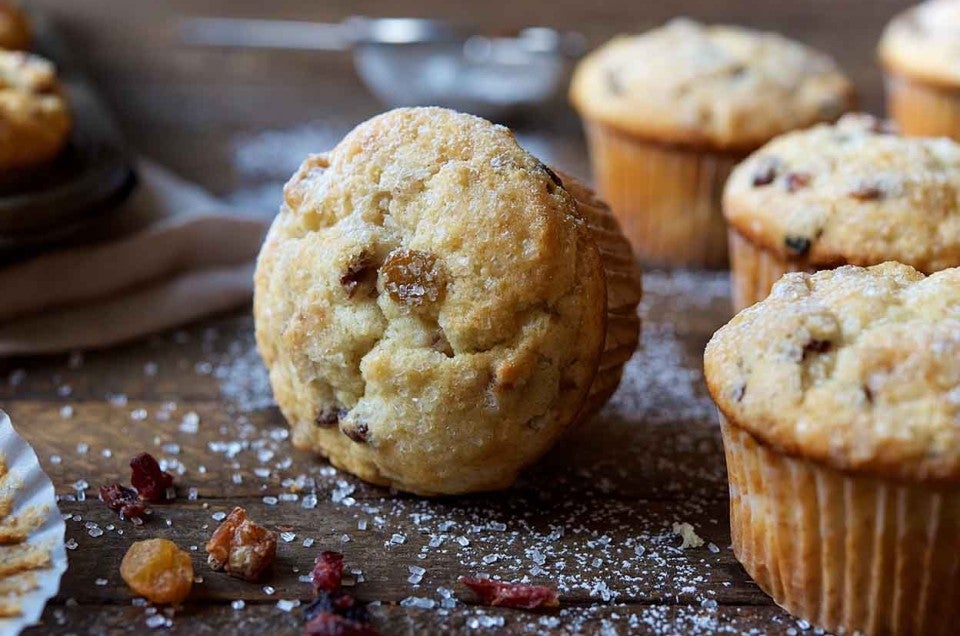 Golden muffins with a crunchy sugar cap...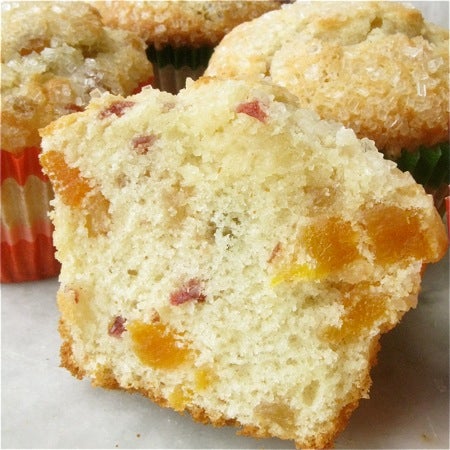 ...reveal a secret inside: delicious (and colorful) apricots, cranberries, pineapple, golden raisins, and dates.
These tiny little panettone lookalikes mimic that Italian Christmas cake's flavor, too: a touch of citrus, a hint of vanilla, and the nuanced sweetness of dried fruits.
Looking for a change from your usual blueberry, corn, or bran muffins? Panettone Muffins are perfect for the holidays.
Let's start with a couple of unusual ingredients. While you might not have them on hand right now, they're worth adding to your pantry stock .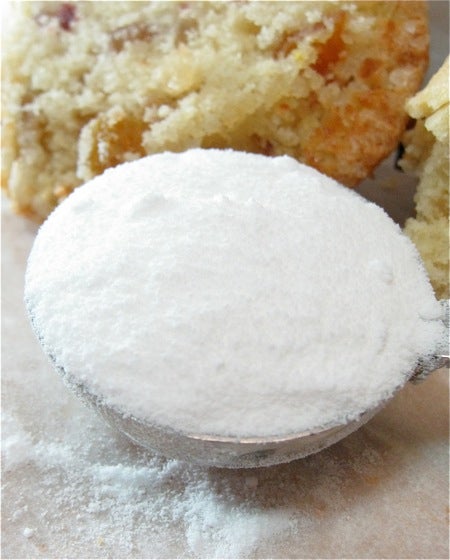 King Arthur Cake Enhancer is an emulsifier, stabilizer, and texture-enhancer that'll keep cakes, muffins, breads, and buns moist and soft longer.
Can you make this recipe without it? Sure. It's an optional ingredient, though a helpful one.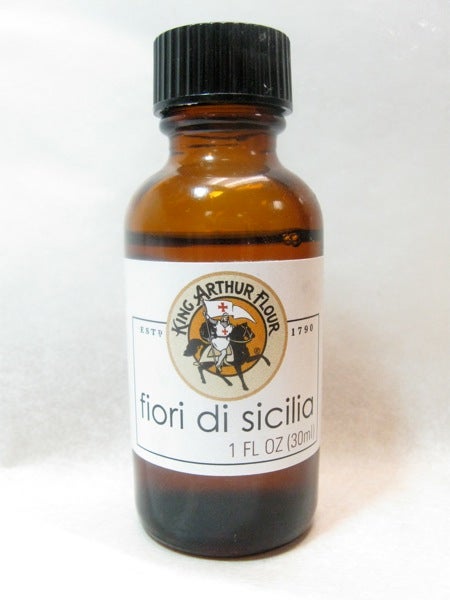 Fiori di Sicilia ("flowers of Sicily") lends panettone its distinctive citrus/vanilla flavor – and does the same for these muffins.
OK, let's get down to business and bake some muffins.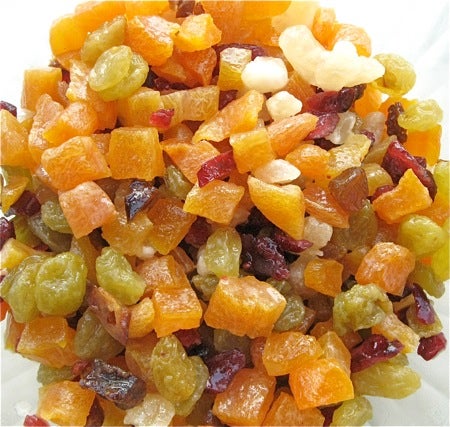 Put 1 1/2 cups (213g to 255g) chopped dried fruit in a microwave-safe bowl. I'm using our Favorite Fruitcake Blend here, a combination of diced apricots, golden raisins, pineapple cubes, chopped dates, and sweetened cranberries.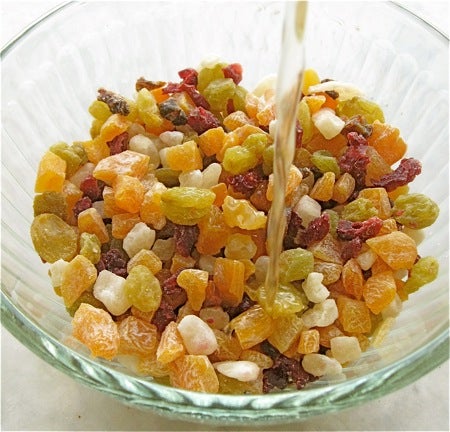 Add 1/4 cup (57g) apple juice, orange juice, rum, or a mixture. I'm using straight rum here - 'tis the season!
Cover the bowl, and microwave for 60 to 90 seconds, until the mixture is very hot.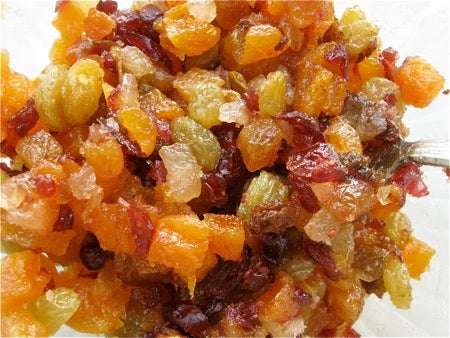 Uncover the fruit, stir to combine, and let it cool to room temperature, which will take about 1 hour.
Don't want to microwave the dried fruit? Simply mix it with the liquid, cover, and let it rest at room temperature overnight.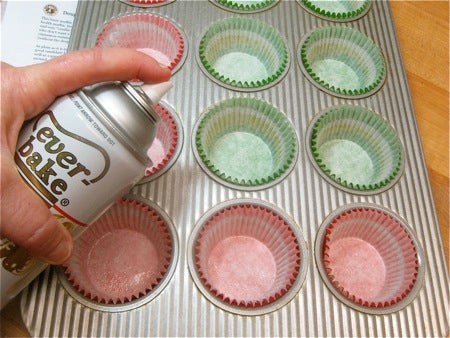 Preheat the oven to 375°F. Lightly grease a standard muffin tin. Or line with 12 paper muffin cups, and grease the cups with non-stick vegetable oil spray; this will ensure that they peel off the muffins nicely. Paper cups will also ensure a more even rise – as we'll see later.
Put the following in a mixing bowl:
4 tablespoons (57g) butter, room temperature
2 tablespoons (25g) vegetable oil
2/3 cup (131g) granulated sugar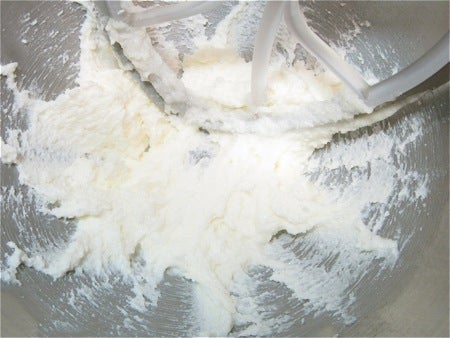 Beat until well blended.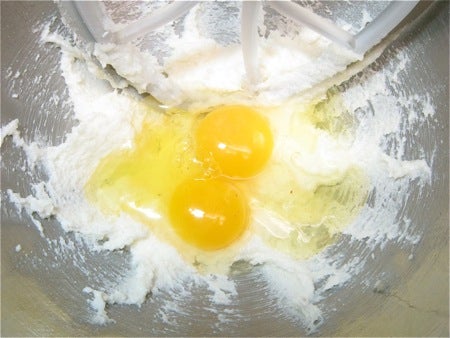 Add 2 large eggs, beating to combine.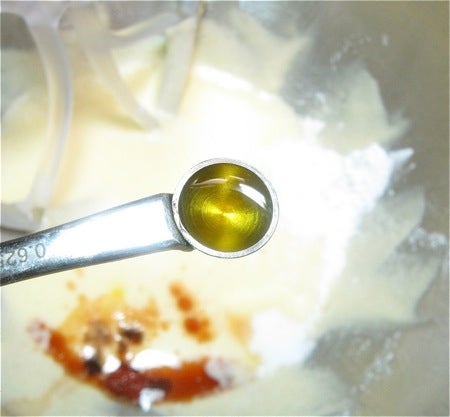 Stir in 1/8 to 1/4 teaspoon Fiori di Sicilia, and 1 teaspoon vanilla extract.
Using 1/8 teaspoon Fiori di Sicilia will give you a mild hint of flavor; 1/4 teaspoon will be much more assertive.
Whisk together the following:
2 tablespoons (14g) King Arthur Cake Enhancer, optional, for enhanced freshness
2 teaspoons baking powder
1/2 teaspoon salt
2 1/4 cups (269g) King Arthur Unbleached All-Purpose Flour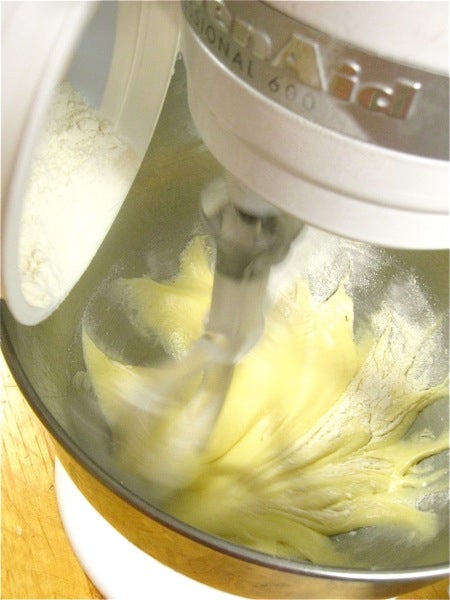 Stir the dry ingredients into the butter mixture alternately with 2/3 cup (152g) milk, beginning and ending with the flour and making sure everything is thoroughly combined. First flour...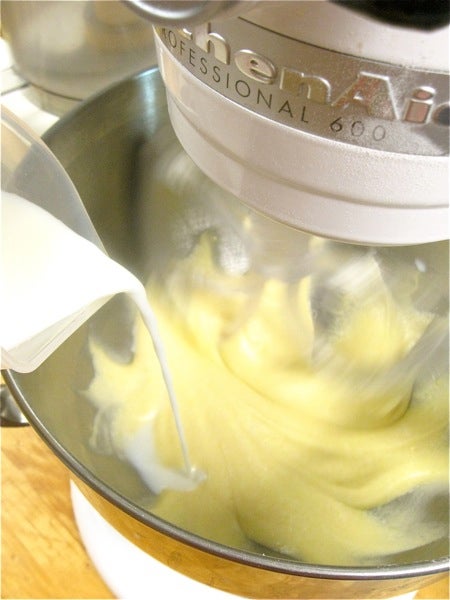 ...then milk, then flour again, until you've added all of both.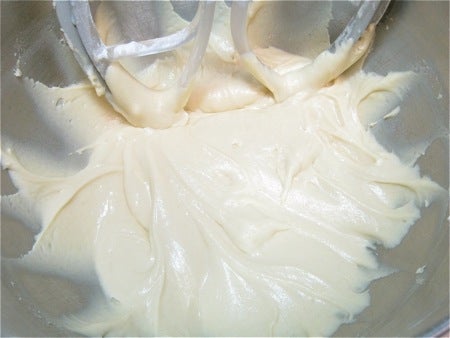 You should have a nice, thick batter.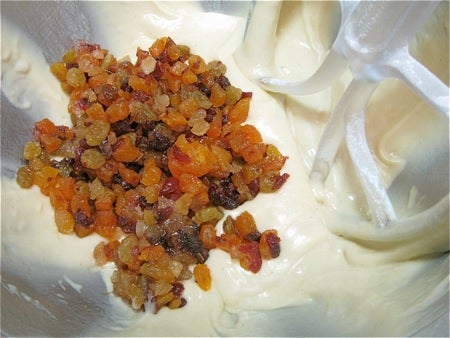 Add the fruit and any remaining liquid.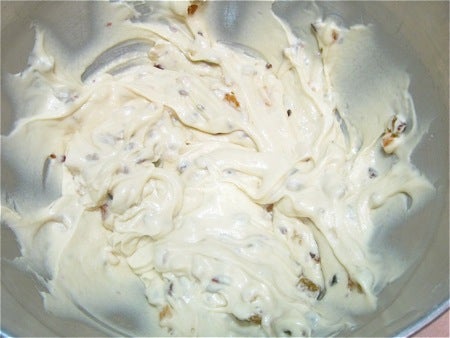 Stir to combine.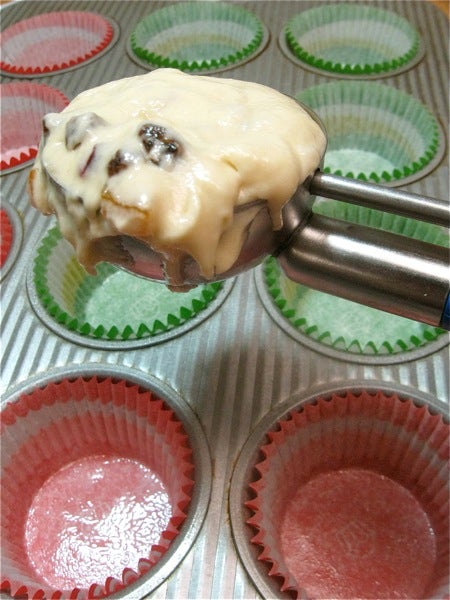 Spoon the batter evenly into the prepared pan.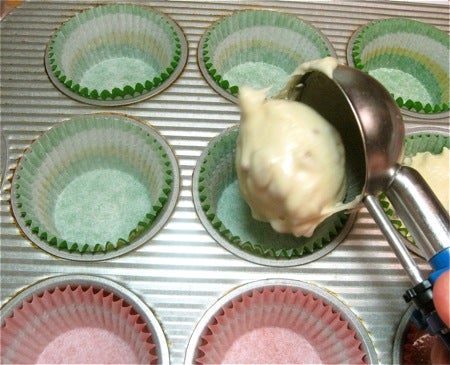 A slightly heaped muffin scoop works well here.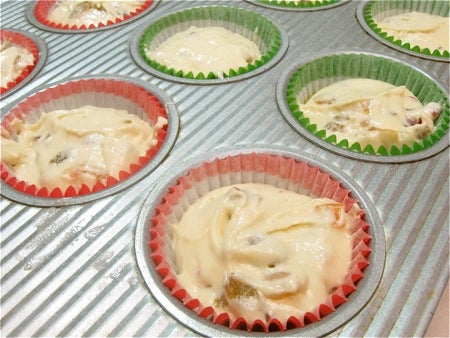 The cups will be quite full.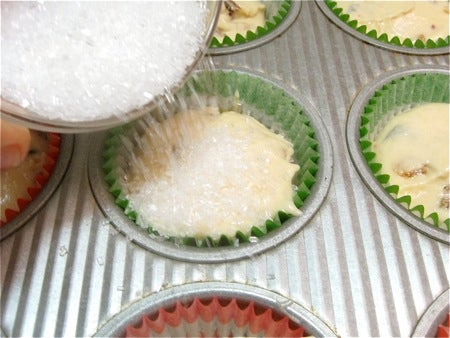 Sprinkle each muffin with sparkling white sugar, if desired.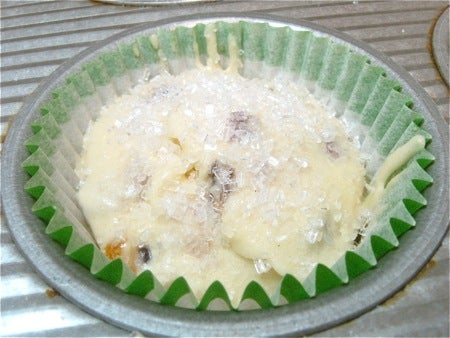 Don't skimp!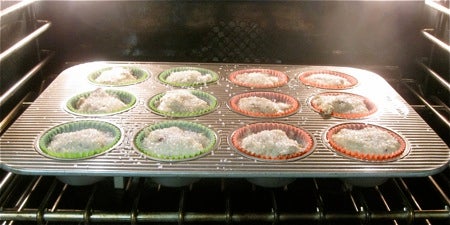 Bake the muffins for 18 to 20 minutes.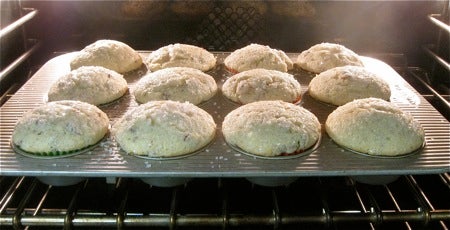 When done (these are nicely risen, though not quite done), they'll be a sunny gold color on top, and a cake tester inserted into the middle of one of the center muffins will come out clean.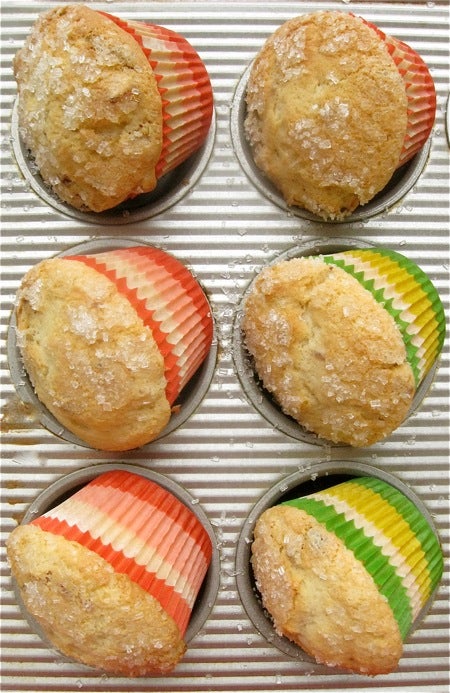 Remove the muffins from the oven, and tilt them in the pan to let them cool for a couple of minutes, or until you can handle them.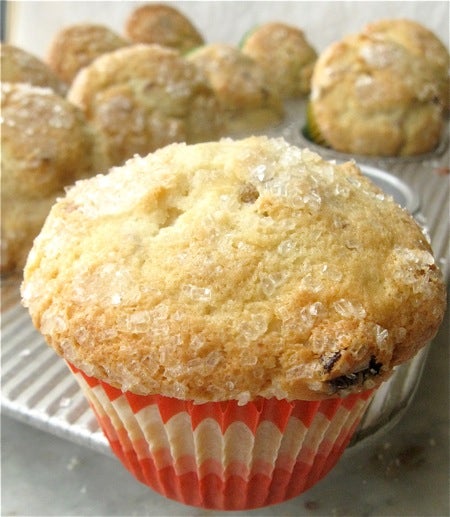 These muffins are best enjoyed warm. if you've made them ahead, try reheating individual muffins very briefly in the microwave.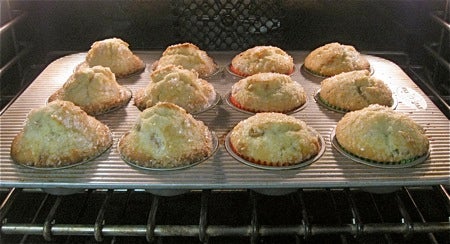 Here's something interesting that happened when I tried baking some with papers, some without. I was wondering if the muffins without papers would release nicely from the pan.
Take a look at the paperless muffins on the left. See how they're peaking?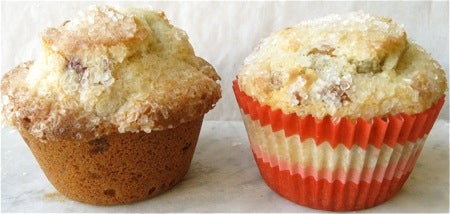 Looks like not only do papers look pretty and provide easy release; they insulate the muffin batter just enough that the sides don't set before the center is fully risen, making for a more evenly risen muffin.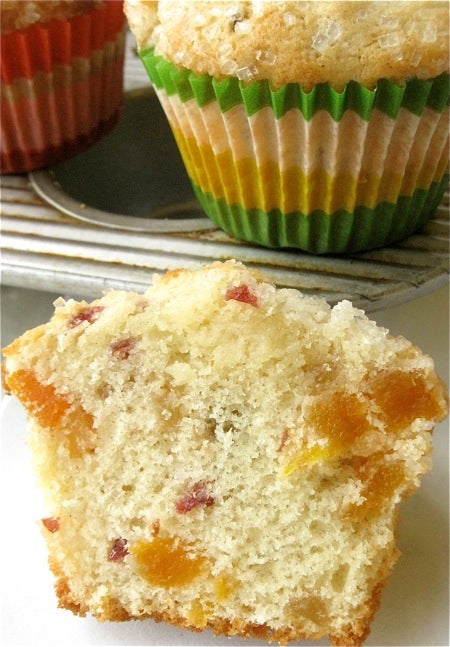 Here's one last look – tempting, eh?
Read, rate, and review (please) our recipe for Panettone Muffins.
Jump to Comments