Pierogi, made at home
A holiday baking tradition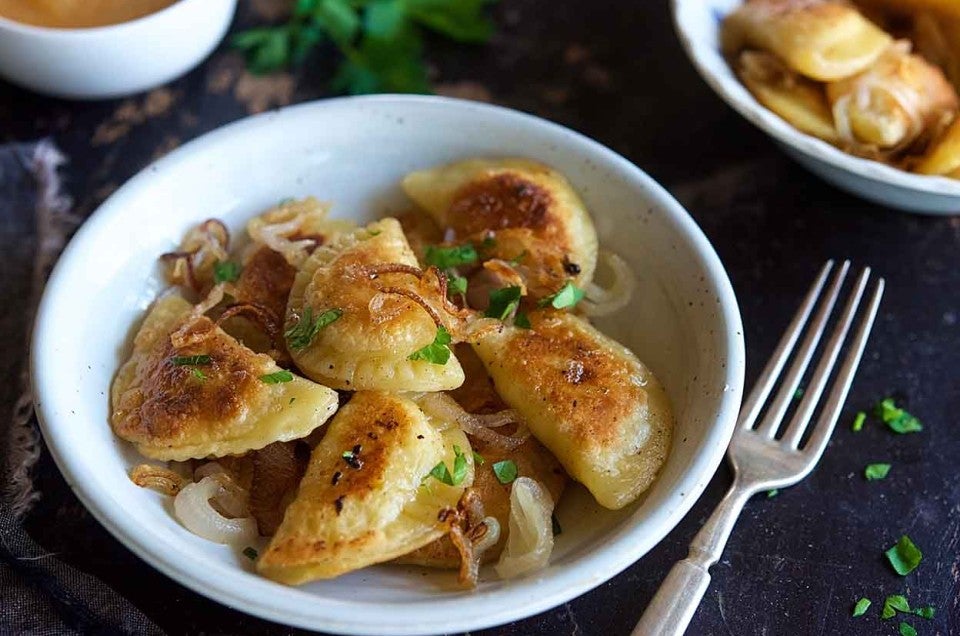 Like many people I knew, my experience with pierogi was limited to the boxes purchased in the frozen foods aisle at the supermarket. Once or twice a year we'd buy a box saying, "Let's try something different tonight." We'd boil them up and serve with a little butter on top.
And they'd be fine. Not bad, not amazing, just fine. Some brands were definitely better than others, but pierogi weren't something I really thought about often.
And then...
I started working at King Arthur Flour, in the test kitchen and classroom. Not only did I meet people who made pierogi from scratch, I met people who made really, really good pierogi from scratch.
Pierogi that you did think about all the time. Pierogi with tender wrappings of dough that was soft and pleasantly chewy at the same time. Pierogi that, despite basic fillings like potato and cheese, made you think that someone really cared about you, to make such a special treat. Add onions and shallots sautéed in butter and a dollop of sour cream, and heaven on a plate was yours.
Nowadays, pierogi are often part of our dinners at home. Brats and pierogi make for a fine Sunday night supper watching the end of the football game. Leftover pierogi make an excellent breakfast, sustaining through a long day.
Not every great holiday dish has to have to have fancy ingredients or take a month's worth of preparation. Like family at its best, the pierogi is what it is; a simple reminder of home and hearth and comfort.
Come on in the kitchen and we'll make Homemade Pierogi.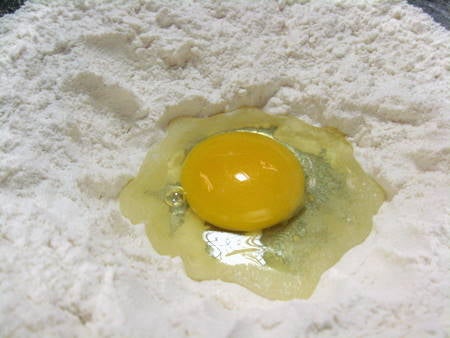 In a medium-sized mixing bowl combine the flour and salt.  Make a well in the center of the flour and add the egg.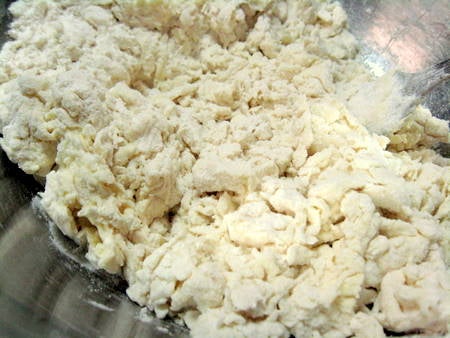 Mix the egg into the flour. At this point the dough will feel very dry and clumpy; but have no fear, you're on the right path.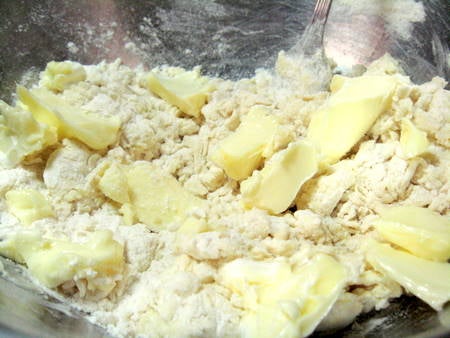 Add the soft butter and sour cream. Work this in until the dough is a soft, rough, sticky mass.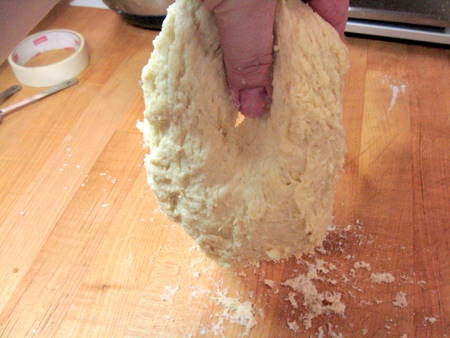 Turn the dough out onto your work surface. At this point you don't want to add any more flour, even though the dough is quite wet and sticky. Instead, pick up the dough with your fingers only and let it droop down towards the counter top.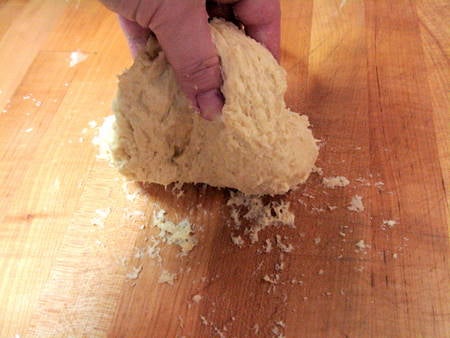 With a flick of the wrist, slap the "front" of the dough down onto the counter firmly. Not hard enough to splatter dough all over the place, but firmly. Don't let go of the dough yet.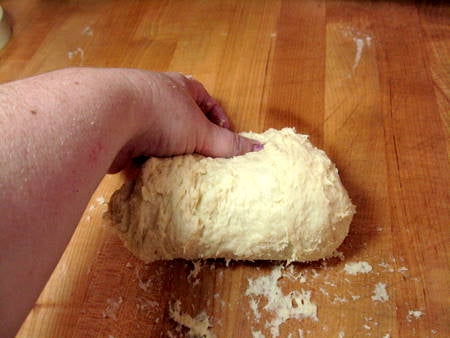 Take the dough you're still holding onto, and fold it backwards over the dough on the table. Now let go.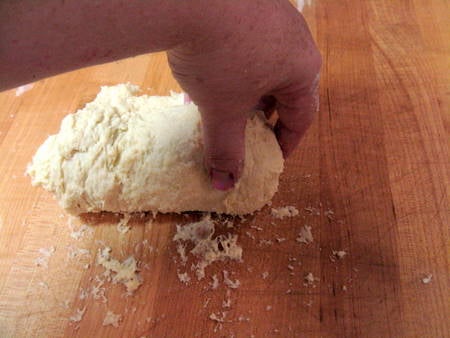 Grab the dough again, this time at one end, not in the middle.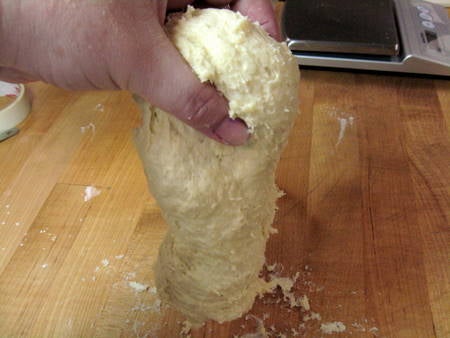 Droop, slap, and fold the dough again and again. It's very similar to folding T-shirts or towels. Droop, slap, fold.  Remember, no flour!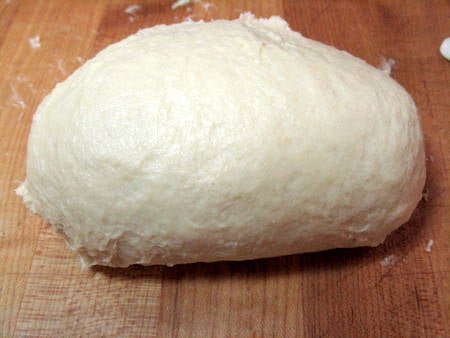 In a few minutes the dough will lose most of its stickiness and become much smoother. Wrap it in plastic wrap and refrigerate for at least 30 minutes, or up to 2 days.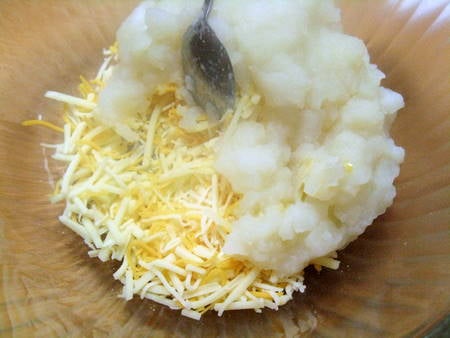 While the dough is resting you can make the filling. Combine 1 cup (227g) of mashed potatoes and 1 cup (113g) of cheese. I like sharp cheddar cheese, but you can use mild cheddar or your favorite blend. Using shredded cheese is a big help, too.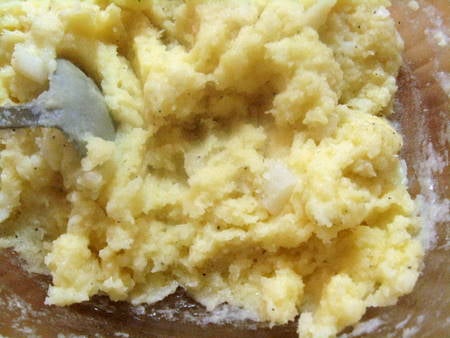 Blend together until the cheese is melted, then season to taste with salt and pepper. Set aside until ready to fill your pierogi.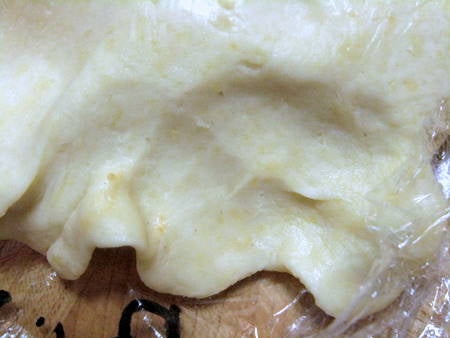 At the end of the rest period the dough will be very soft and supple. The best description I've ever read was "earlobe soft." Go ahead, feel your earlobe (or a friend's, if they'll let you), then feel the dough. A little bit soft, a little stretchy. Perfect.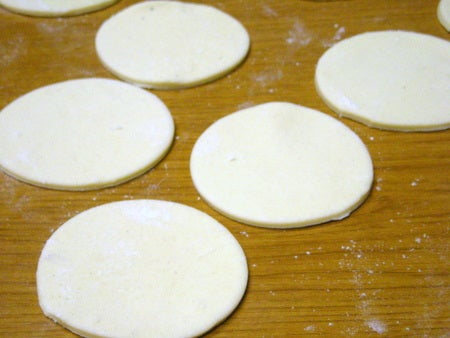 Using half the dough at a time, roll out to 1/8" thickness. Use a 2" round cutter to cut several rounds of dough.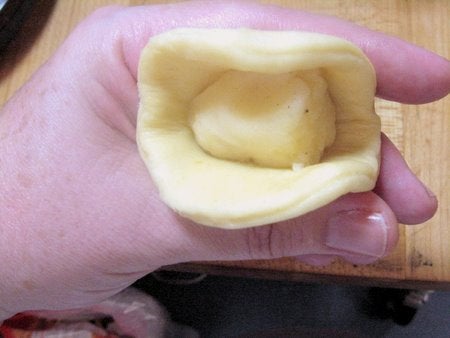 Hold one circle of dough in between your thumb and first finger. Add a ball of filling, about 1/2  tablespoon. Push up with your finger and thumb to begin to close the dumpling.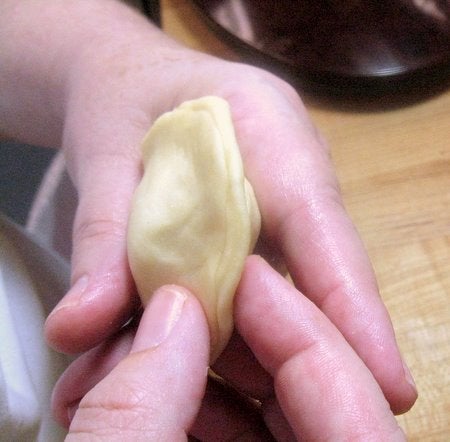 Use the fingers of your other hand to pinch the seam together. The soft dough should come together easily.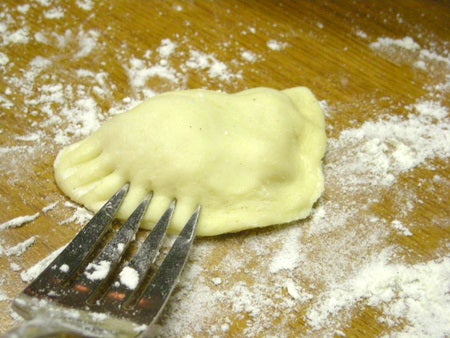 Use a fork to finish sealing the dumplings. Set each aside on a lightly floured surface. Covering the pierogi with plastic wrap will keep them from drying out on the surface.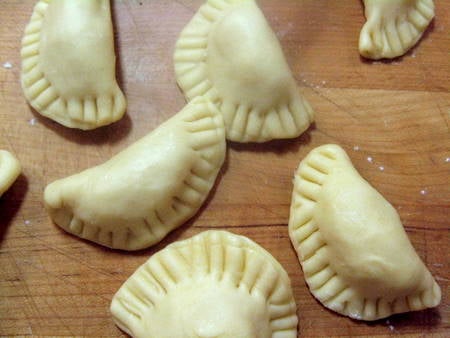 Soon it's the pot for you, my pretties!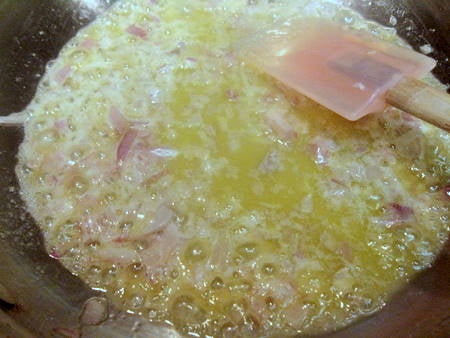 As you bring a stockpot of water to a boil, also begin melting the butter and shallots for sautéing the boiled pierogi.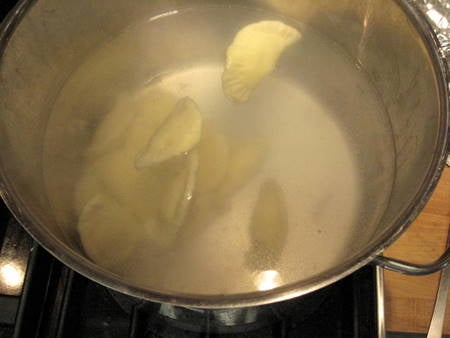 Once the water comes to a boil, reduce the heat so it's not boiling roughly. Add about 10 to 12 pierogi. At first they'll sink into the water, but after about 8 to 10 minutes, they'll begin to float to the top.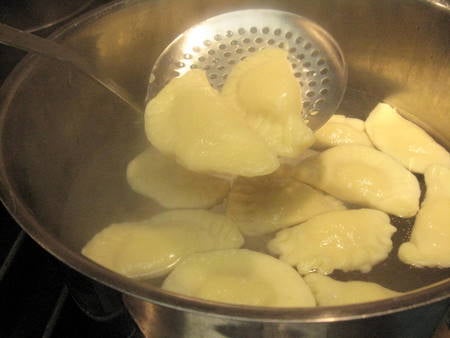 Once all the pierogi are floating, cook for an additional minute, then transfer with a slotted spoon or spider to the pan of butter and shallots.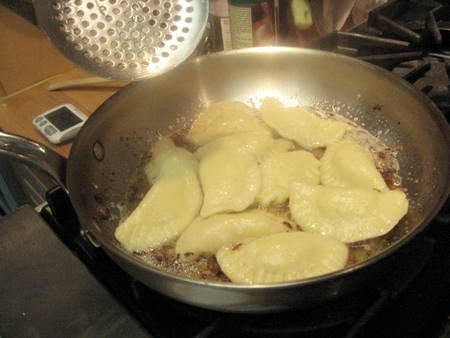 Sauté the dumplings in the butter until they're golden brown and the shallots are caramelized. Toss the pan to coat both sides of the pierogi well.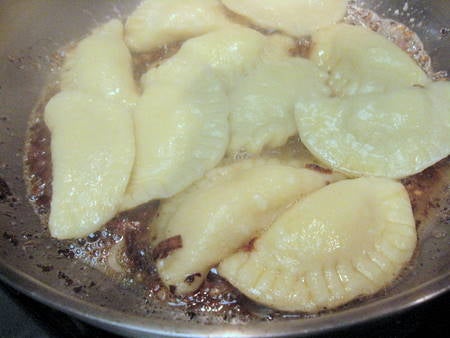 Mmmm, can you just smell that?!!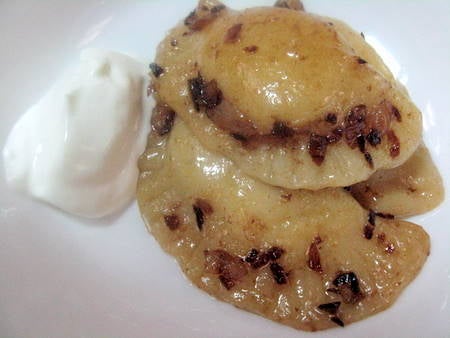 Serve the hot pierogi with a good dollop of sour cream. Other favorite toppings include more caramelized shallots or onions, bacon, ketchup (Andrea's favorite), plain yogurt, and mushroom gravy. So far, I haven't met a topping I didn't like.
You can definitely tailor the fillings to your taste, too. Sauerkraut, mushrooms, lentils, and cabbage appear in many savory fillings. Prunes, dried fruits, and berries can be used for sweet fillings.
No matter how you fill your dumplings, pierogi will be a surefire hit at your holiday table, and throughout the whole year.
Please make, rate, and review our recipe for Homemade Pierogi.
Jump to Comments