Pity the poor fruitcake!
It's derided mercilessly. It's re-gifted shamelessly.
It's the butt of many a joke: "Best thing to do with fruitcake: use it as a doorstop."
Manitou Springs, Colorado, holds an annual Great Fruitcake Toss, "a strangely compelling spectacle in which participants fling fruitcakes through the air, competing in events that emphasize distance, accuracy, and showmanship."
This according to Failure magazine, an "online publication full of humankind's boldest missteps."
Fruitcake: a bold misstep!
Why all the negative karma about fruitcake? If you like fruit... and you like cake... why don't you like fruitcake?
Two answers: Candied peel, and citron.
Lemon and orange peels are bitter. Soak 'em in sugar syrup, and what happens? They're still bitter, only now they're gummy and sticky, too. OK, candied peel is somewhat sweeter than uncandied. But does it taste good? Not really.
Ditto citron. This less-common citrus fruit isn't prized for its pulp, nor its peel. No, the bitter pith is what citron-lovers the world over (all 50 of 'em) value most.
Why, I don't know.
What I'm convinced of, though, is that citron and candied peel are the chief contributors to fruitcake's sorry status in the pantheon of holiday goodies.
Thus, each year when I make fruitcake, I eschew those two ingredients in favor of more delectable (to my mind) dried fruits: candied cherries, apricots, golden raisins, tangy pineapple, sweet dates, flavorful cranberries...
Enter Fruitcake Drops, two-bite cookies that're the perfect solution when you just don't feel like making "real" fruitcake. Or when you forgot to start your annual fruitcake in October, and it's just not the same if you don't let it rest for weeks and weeks, brushing it with brandy every few days or so.
Or for when your best friend has just now revealed, for the very first time, her obsession with fruitcake.
Or for when you need ammo for the Great Fruitcake Toss?
Read on...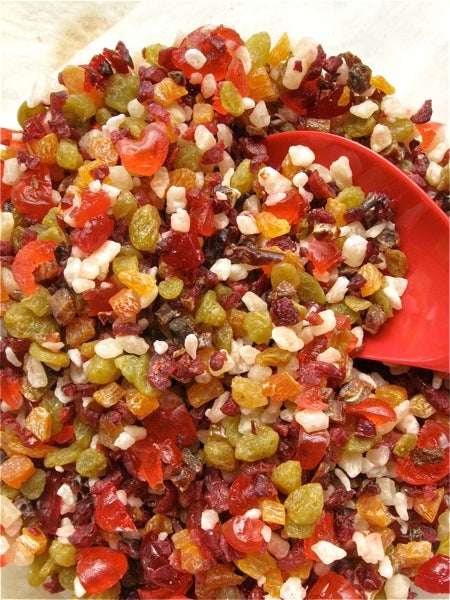 Preheat the oven to 325°F. Lightly grease (or better yet, line with parchment) a couple of baking sheets.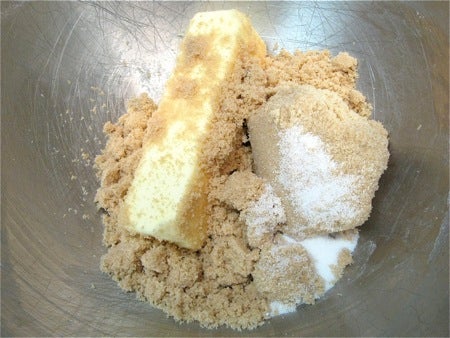 Put the following in a bowl:
8 tablespoons (113g) butter, softened
1 cup (213g) light brown sugar, packed
1 teaspoon salt
1/4 teaspoon baking powder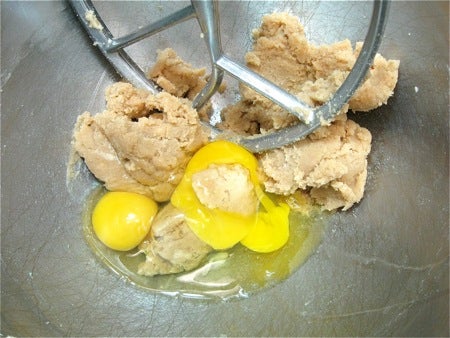 Beat until smooth.
Add 2 large eggs.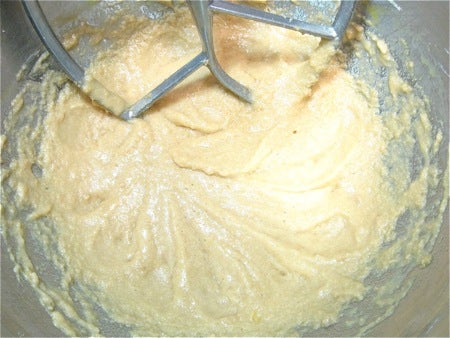 Beat until smooth and creamy.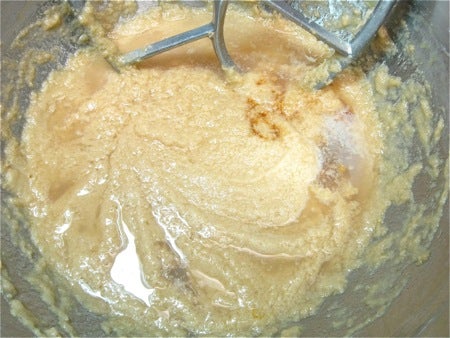 Add 1/4 cup (57g) bourbon, rum, brandy, or apple juice; and 1/4 cup (74g) boiled cider, apple juice concentrate, or cherry concentrate.
Mix, scraping the sides of the bowl. The batter will appear curdled; that's OK.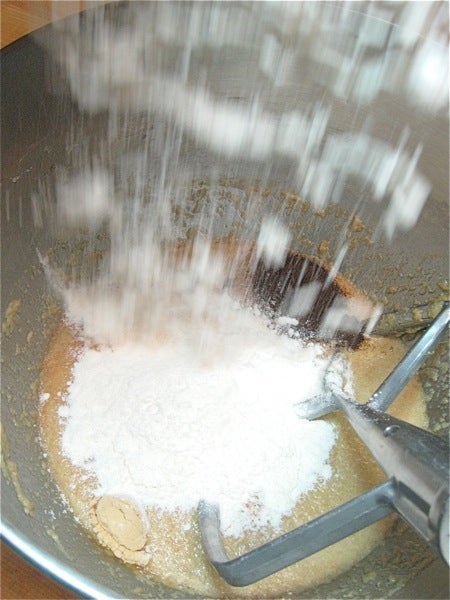 Add the following:
1/2 teaspoon ground cinnamon
1/2 teaspoon ground ginger
1/2 teaspoon ground nutmeg
1 teaspoon espresso powder, optional
1 3/4 cups (206g) King Arthur Unbleached All-Purpose Flour
Mix until smooth.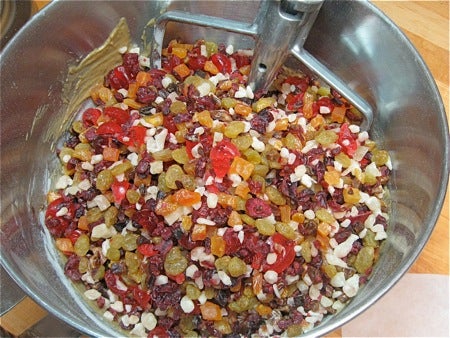 Stir in 3 pounds or 9 cups (1361g) of chopped dried fruit; smaller fruits, such as raisins, can be left whole. Here I've used a combination of our favorite fruitcake fruit blend; and chopped candied red cherries.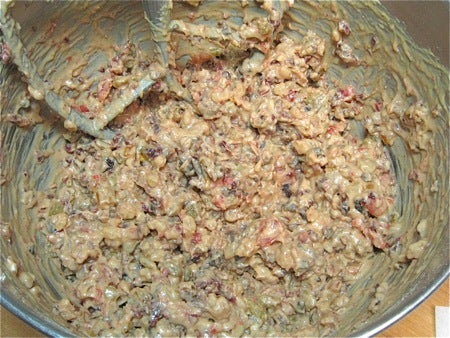 The batter will be heavy and sticky; this is best done in a stand mixer, or using a heavy spoon and lots of muscle power.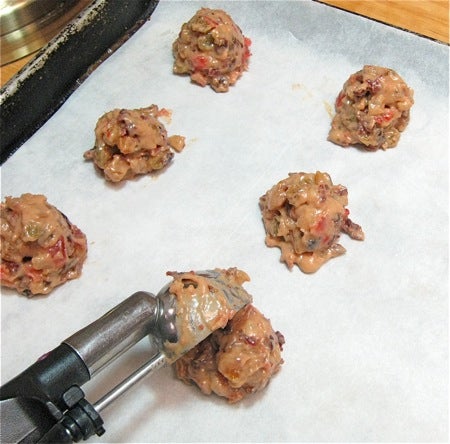 Using a tablespoon cookie scoop, or a spoon, scoop out balls of dough about the size of a ping pong ball.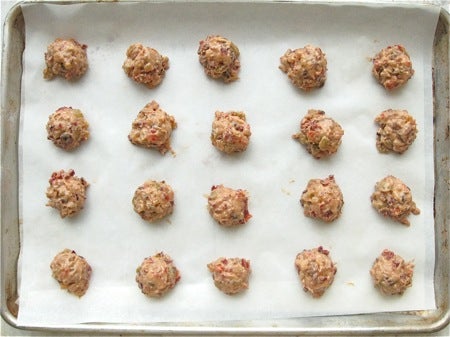 Space them on the baking sheets, leaving about 1" to 1 1/2" between them; they won't spread much.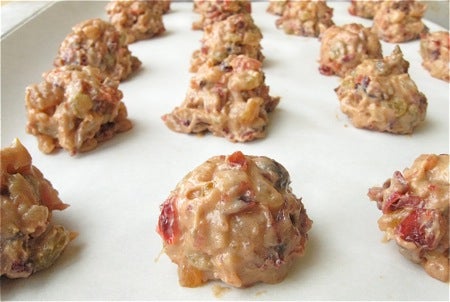 They'll hold their shape well. And why not? They're  chunky fruit with just enough batter to keep them together.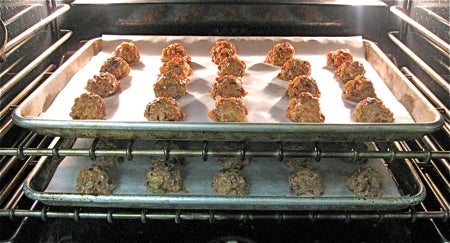 Bake the cookies for 20 to 22 minutes.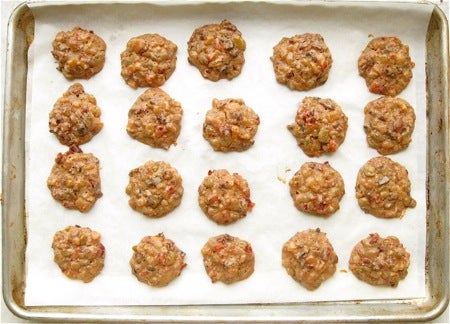 Remove them from the oven.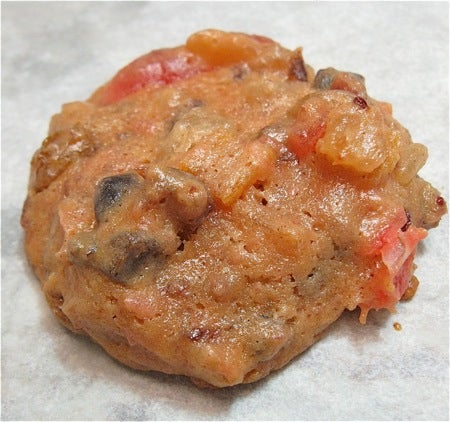 They'll appear fairly set, but may still be very slightly shiny/wet looking.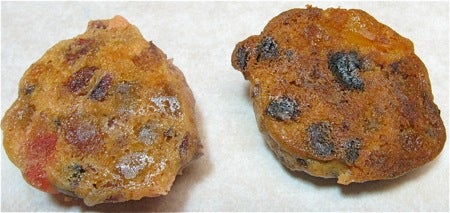 The bottoms will be lightly browned. The cookie on the left is perfect; the one on the right, slightly over-baked.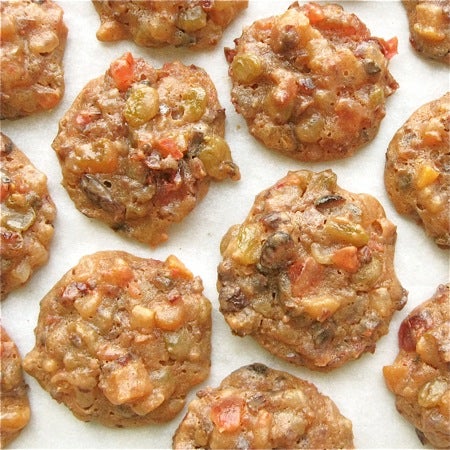 Let the cookies cool until they're just barely warm, then loosen them from the parchment or pan using a spatula.
Store at room temperature up to a couple of months; yes, they'll stay good at room temperature for at least a couple of months, making them ideal for do-ahead gift packages, or for shipping cross-country, or overseas. Keep the cookies in an airtight canister in layers, with parchment or waxed paper between the layers (to keep them from sticking to one another). For longer storage, freeze.
Read, rate, and review (please) our recipe for Fruitcake Drops.
Jump to Comments