Remember the famous Tunnel of Fudge Cake?
Clearly, this isn't it.
And amazingly enough, there are people in this world who don't live and die by chocolate.
The pages of whose cookbooks don't automatically fall open to recipes for brownies and devil's food cake and chocolate chip cookies.
You know who you are, vanilla fans. And lemon lovers.
And coconut connoisseurs.
According to the Pillsbury company, Tunnel of Fudge Cake is "arguably the recipe most closely identified with the Bake-Off® Contest."
And even though it never won the grand prize (I searched the Bake-Off winners up through the 1980s, to no avail), it'll always be a favorite concept of mine.
Cutting into a cake and revealing buried treasure? I'm all over that.
But Tunnel of Fudge Cake? Not this time. Tart lemon cake filled with sweet, gooey coconut is just the ticket for a bright, fresh spring day.
And for you reverse chocolate-lovers.
OK, let's get cracking (eggs)...
Let's get started. Since it's all about lemons, we'll begin by making lemon glaze.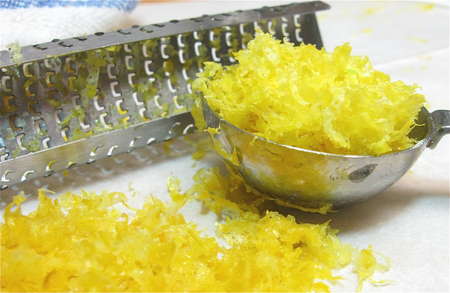 First, grate the rind from 2 medium-to-large lemons.
Our Microplane grater-zester does a fine job here. It's one of those tools you don't use every day, but when you need to zest a lemon or lime – man, you'll be glad you have it.
Set the grated rind aside; you'll be adding it to the cake batter later.
By the way, lemon oil is the perfect stand-in for grated lemon rind (zest), when you don't have any fresh lemons on hand. Substitute 1/2 to 3/4 teaspoon lemon oil for the zest of 1 to 2 large lemons. It'll make your cakes, icings, cookies, and muffins positively sing.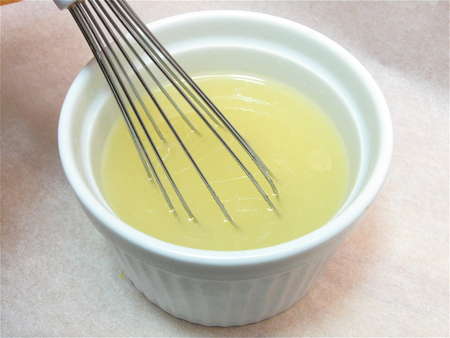 Now, take those two denuded lemons and squeeze them; you want 1/3 cup (74g) lemon juice. Any extra, stir into your bottled water with a bit of Splenda for delicious calorie-free lemonade.
Stir 3/4 cup (149g) sugar into the 1/3 cup (74g) lemon juice. If you have superfine sugar, so much the better; it'll dissolve more readily.
Set the glaze aside while you make the filling and cake.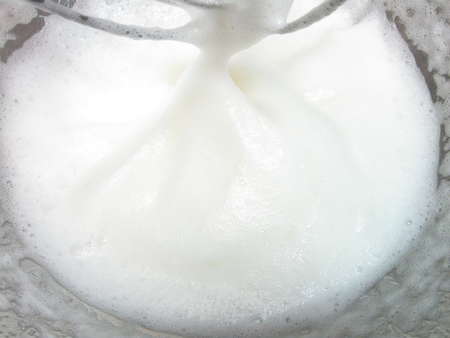 First we'll make the coconut filling.
Put the following in a mixing bowl, and start to beat, using your mixer's whisk attachment:
2 large egg whites
1/4 teaspoon cream of tartar
1/8 teaspoon salt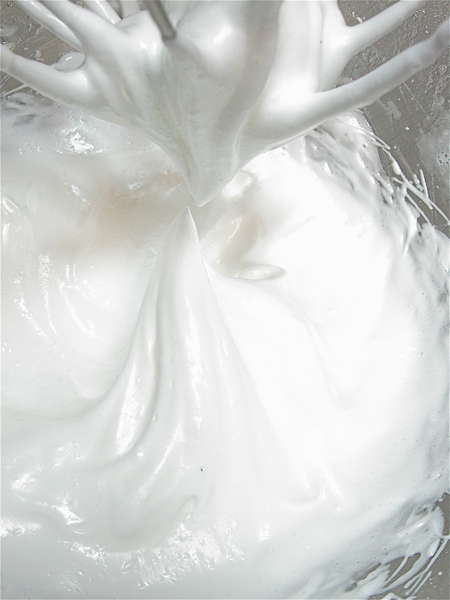 Add 1/2 cup (57g) confectioners' sugar, and beat at high speed till the mixture forms fairly stiff peaks. When you scoop some up in a spoon, it should hold its shape easily.
Stir in 1/8 to 1/4 teaspoon coconut flavor or 2 teaspoons vanilla. Or both. Can't get too much of a good thing, and that includes complementary flavors.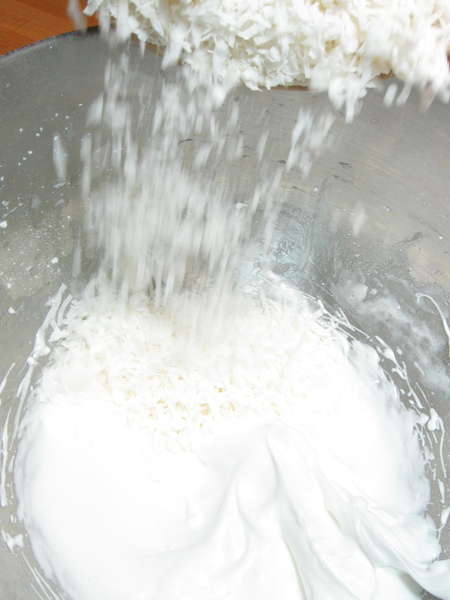 Mix 2 cups (170g) shredded or flaked sweetened coconut with 2 tablespoons (14g) King Arthur Unbleached All-Purpose Flour, and add to the egg whites.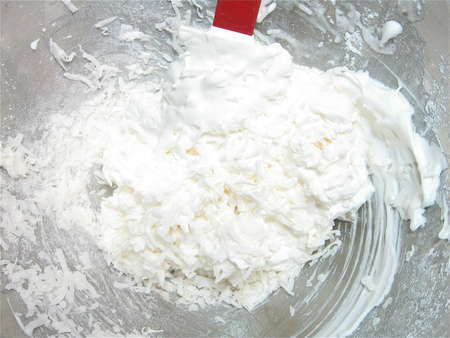 Stir to combine.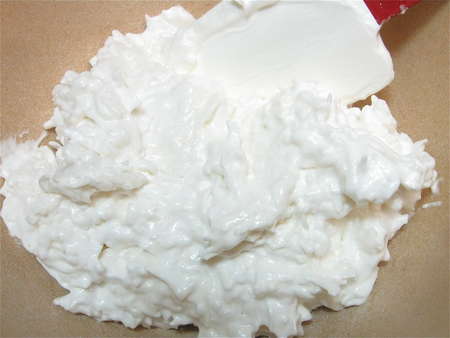 Set the filling aside while you make the cake. It doesn't need to be refrigerated.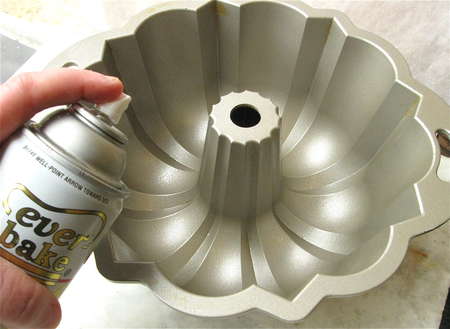 Preheat the oven to 350°F.
Lightly grease a 10" to 11" Bundt pan, or a 10" tube pan.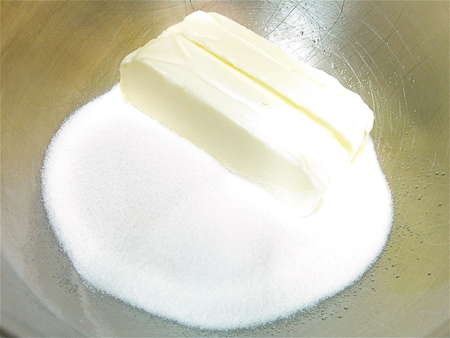 Put the following in a mixing bowl:
16 tablespoons (227g) unsalted butter, at room temperature, at least 65°F
2 cups (397g) sugar
1 teaspoon salt*
*Use just 1/2 teaspoon salt if you choose to use salted butter.
Beat till well combined.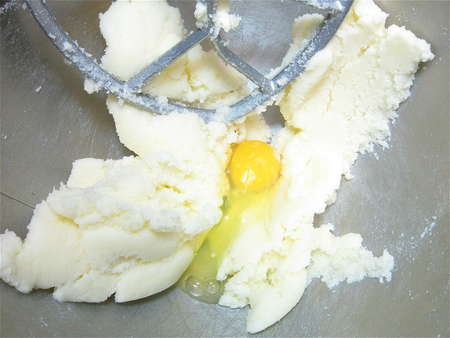 Add 4 large eggs one at a time, beating well after each addition. Scrape the bottom and sides of the bowl after you've added the first 2 eggs.
Look at that lovely, fluffy batter!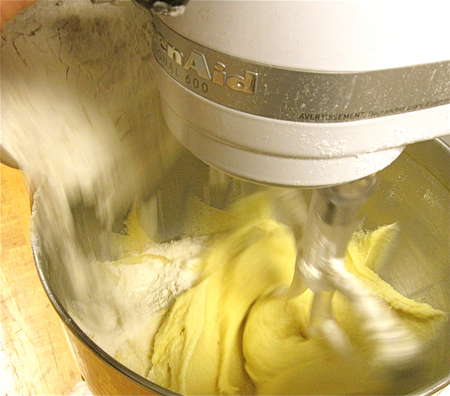 Stir in 2 teaspoons baking powder. Then add 3 cups (361g) King Arthur Unbleached All-Purpose Flour alternately with 1 cup (227g) milk.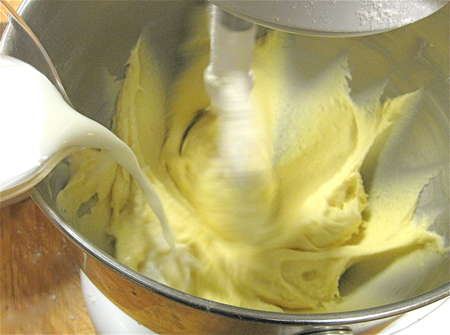 Beat at low speed as you're adding the flour and milk.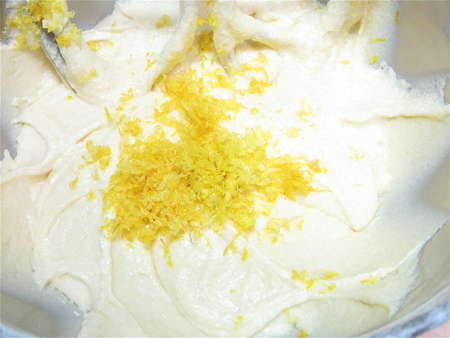 Stir in the grated lemon rind, or 3/4 teaspoon lemon oil.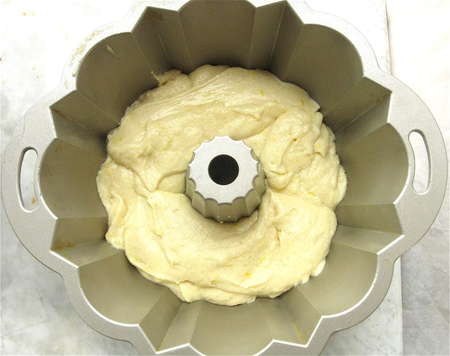 Spoon about 1/3 of the batter into the prepared pan, smoothing the top with a spatula. You want to add enough to cover the bottom, and start to come up the sides, barely; but not so much that you don't have enough left over to cover the filling.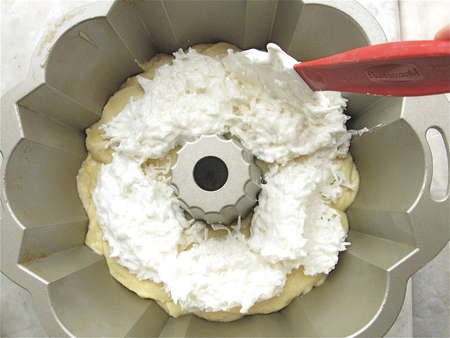 Distribute the stiff filling atop the batter, centering it within the ring of batter so it doesn't touch the sides of the pan. Pat it down gently.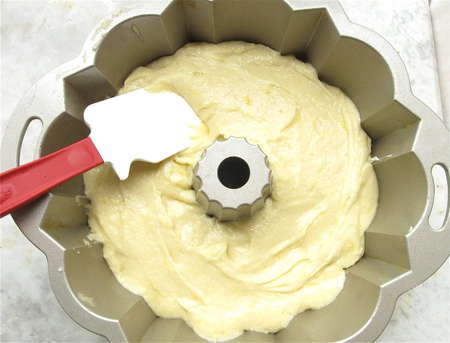 Dollop the remaining batter on top, again smoothing it with a spatula.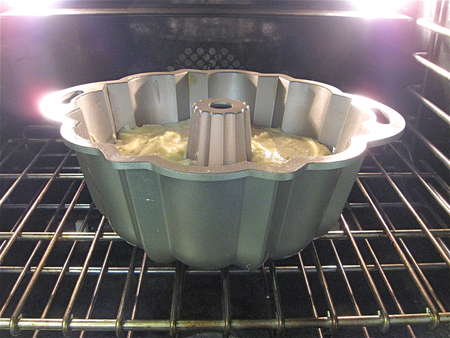 Bake the cake for 50 to 55 minutes, or until a cake tester inserted into the center comes out clean.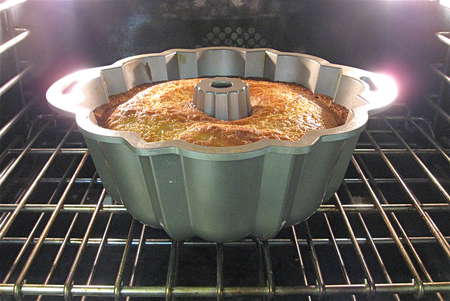 It should rise nicely, and turn golden brown on top.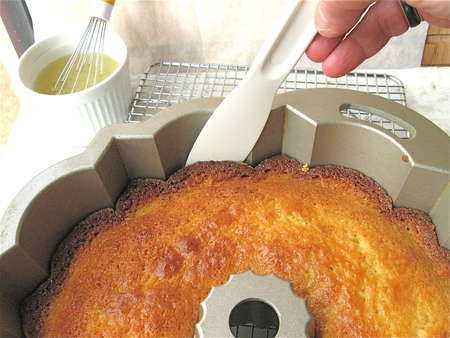 Remove the cake from the oven, and set it on a rack.
After 5 minutes, run a knife around the edge of the pan to loosen, and turn the cake out onto a rack. Place another rack on top, and flip it over, so it's right-side-up.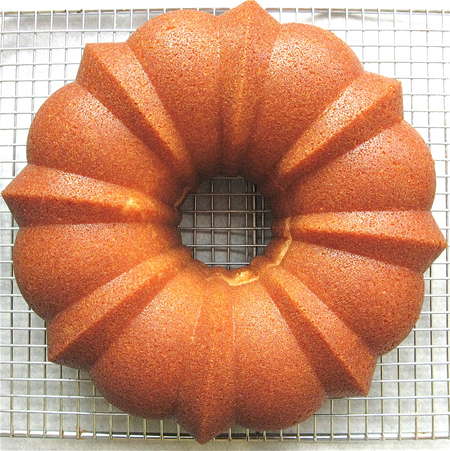 Oh, boy... isn't it a pleasure to work with a great Bundt pan! No sticks, no tears – that's one perfect-looking cake. Aside from the coconut filling you see peeking out around the inner edge... promise of good things to come.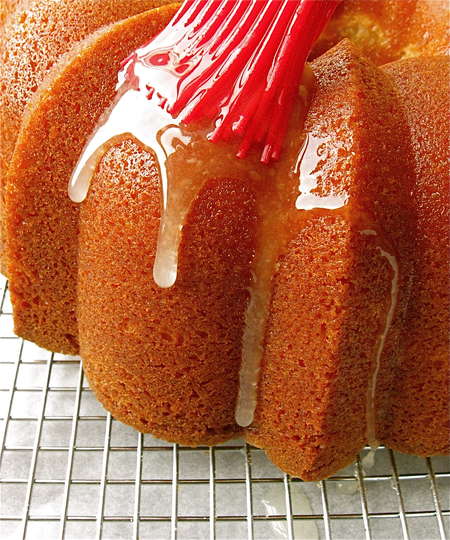 Brush the cake with the glaze.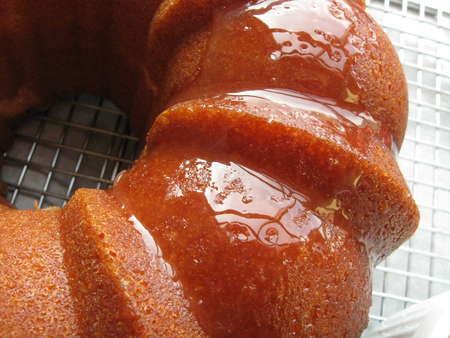 Brush the glaze on heavily; you have plenty.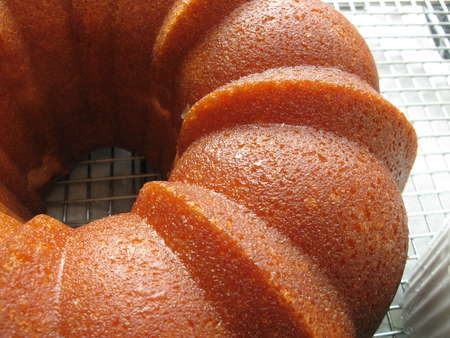 Once it's soaked in, brush some more on. The result is a mildly lemon cake with a moist, assertively lemon outer crust.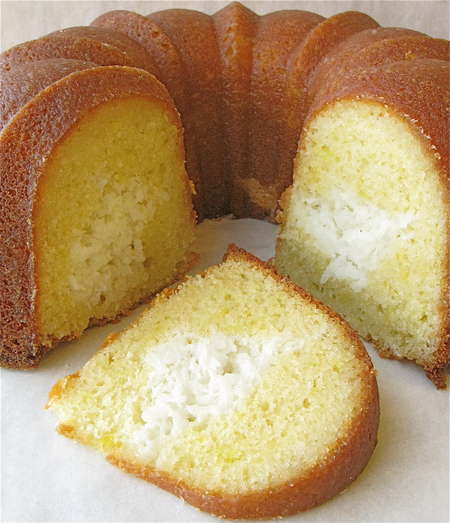 Now comes the hard part – wait till it's completely cool before you make that first slice!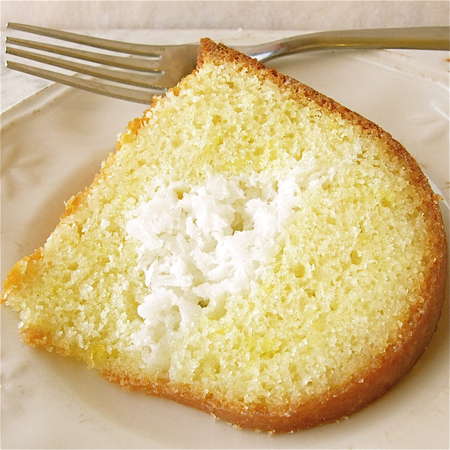 WOW – I can't believe I made this cake. Me, the non-cake baker... Looks good, and tastes even better!
Read, rate, and review (please) our recipe for Coconut-Filled Lemon Cake.
Jump to Comments