Garlic-Herb Mac & Cheese
The big cheese-y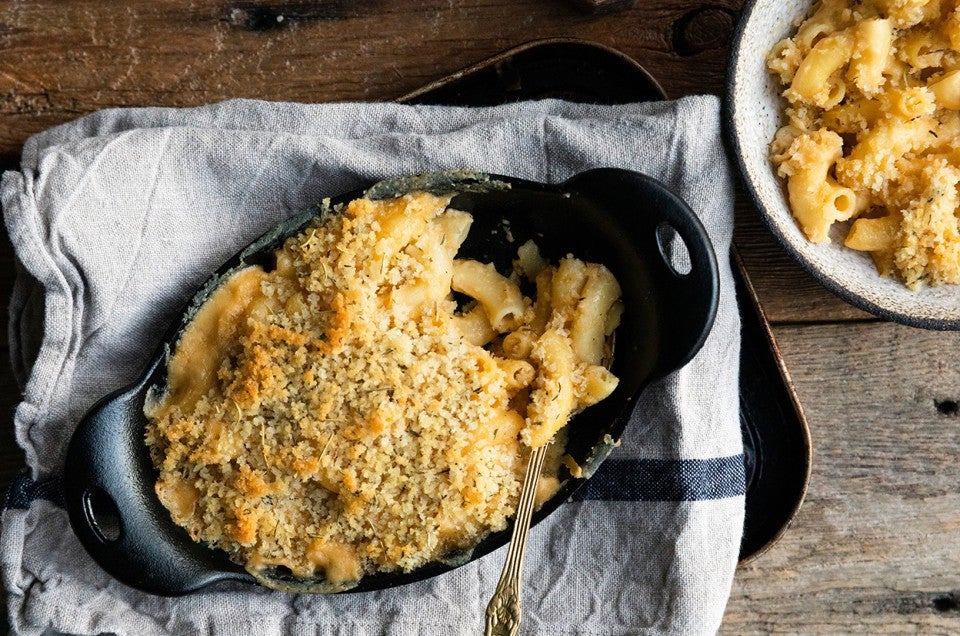 Yep, The Big Cheese-y.
That's what I wanted the headline on the email accompanying this blog to read. I thought it was cute - you know, a nifty cross between The Big Cheese and The Big Easy.
But when I ran it past my Web teammates? THUD. Lead balloon, big time.
So nanananapoopoo, Webbies – it's sub-headlining this blog instead.
Where it's absolutely apropos: what could be cheesier, or easier, than that classic comfort-food favorite, mac and cheese?
The following version is beefed (cheesed?) up with Vermont cheese powder, and a crunchy topping of garlicky, buttery, herbed Panko bread crumbs. It's mac and cheese with attitude.
But despite the fancy treatment, it'll still make you want to break out the Wonder bread to mop the plate, and stir up some Jell-O with Reddi-wip for dessert.
And ONLY if you finish your supper can you watch Leave It to Beaver.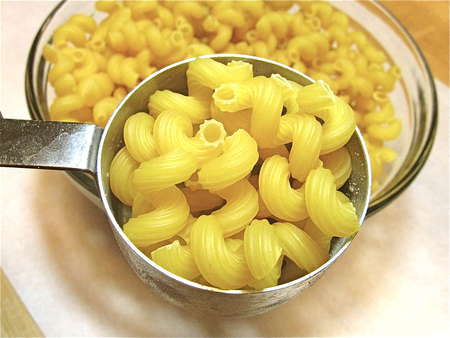 Macaroni and cheese doesn't HAVE to be made with elbows, you know. Any tubular shape (the better to fill itself with yummy sauce) is appropriate. Pictured above is cavatappi, a devil-may-care spiral. Ditalini, penne, ziti, rigatoni, "super elbows" (the extra-large ones), even wagon wheels are a good choice for mac & cheese.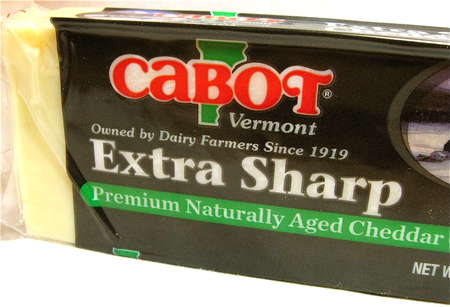 And here's my favorite cheese: Cabot, made by a farmers' co-op right here in Vermont. Cabot offers delicious low-fat cheeses (my breakfast of choice); plus their signature cheddar in cool/wacky flavors like chili-lime; or horseradish; or hot Habanero, or Tuscan herb & spices.
Since mac and cheese derives nearly all its flavor from the cheese, best to go with the best.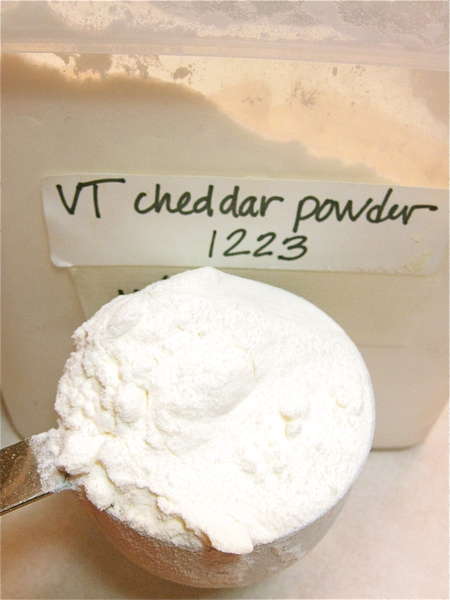 You know Kraft macaroni and cheese in a box?  If you answer "no" to this question, where have you been for the past 40 years?! As my 20-something son said recently, "Intimate familiarity with Kraft macaroni and cheese is a requirement for graduating from college."
Me, I make Kraft macaroni and cheese (or more likely, its cheaper, private-label stand-in), then stir in sliced hot dogs and sautéed pepper and onions. Go ahead, laugh! We all have our deep-dark secret food pleasures...
Anyway, the "secret ingredient" in that blue box is orange cheese powder, a.k.a. Cheese Sauce Mix. And here's what's in it, according to the side of the box: whey, milkfat, milk protein concentrate, salt, sodium tripolyphosphate, contains less than 2% of citric acid, lactic acid, sodium phosphate, calcium phosphate, milk, yellow 5, yellow 6, enzymes, cheese culture.
We like to add Vermont Cheese Powder (pictured above) to our mac and cheese, for extra flavor. Here's what's in it: cheddar cheese (cultured milk, salt, enzymes), whey, dry buttermilk, salt, disodium phosphate.
Oh, and by the way – if you're anxious for some cheese powder-jacked mac RIGHT NOW, Cabot makes a yummy white cheddar powder called Cheddar Shake, available in many supermarkets nationwide.
Wow, now I'm REALLY hungry – break out the hot dogs and onions! Let's make mac and cheese.
Start by preheating the oven to 350°F. Grease a 1 1/2 to 2-quart baking dish, or four 1 1/2 to 2-cup ramekins.
Cook 8 ounces (227 g, about 2 cups) pasta in boiling salted water until al dente (slightly firmer than you would normally eat it). Drain and rinse with cool water. Set aside.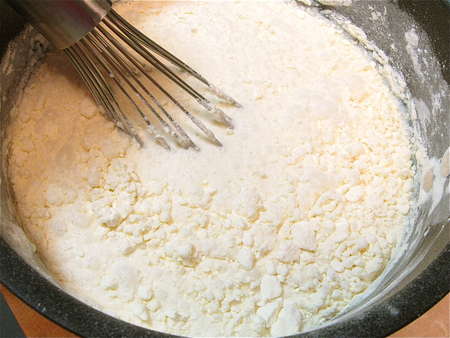 In a large saucepan set over medium heat, whisk together 1/4 cup (28g) King Arthur Unbleached All-Purpose Flour, 2 3/4 cups (624g) milk, and 1/2 cup (57g) Vermont cheese powder. The cheese powder is optional; use it if you like extra-cheesy mac and cheese.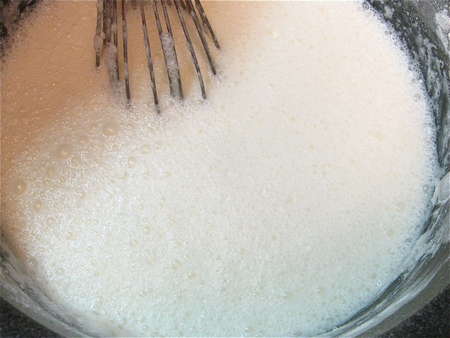 You're going to think, "Man, this was a big mistake. This dry stuff is NEVER going to dissolve in the milk." Trust me; it does. Whisk till fairly smooth, and bring the mixture to a boil.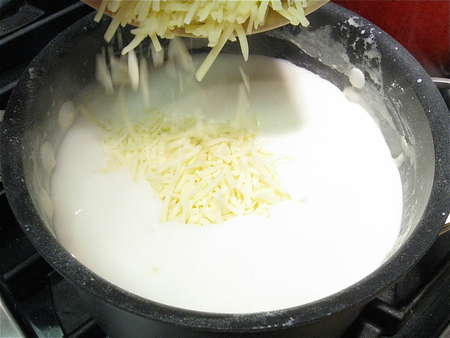 Turn the heat off, and add 2 cups (227g) shredded sharp (or extra-sharp) cheddar cheese. Stir to melt the cheese.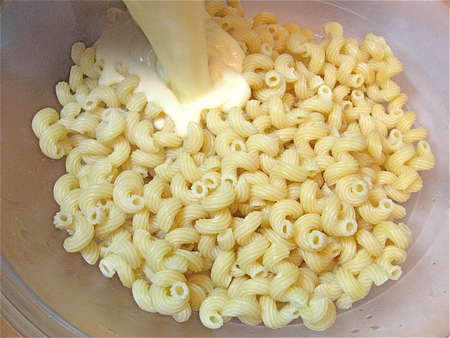 Pour the cheese sauce over the cooked pasta.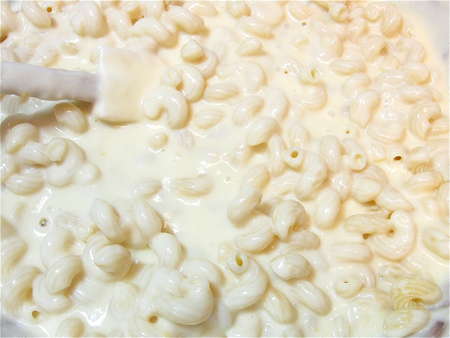 Looks like a lot of sauce, eh? Don't worry; as it bakes, everything will tighten up.
Spoon the pasta and sauce into the baking dish(es). I'll be using a 9" x 13" stoneware pan; it's attractive at the table, and stoneware keeps the mac and cheese nice and hot.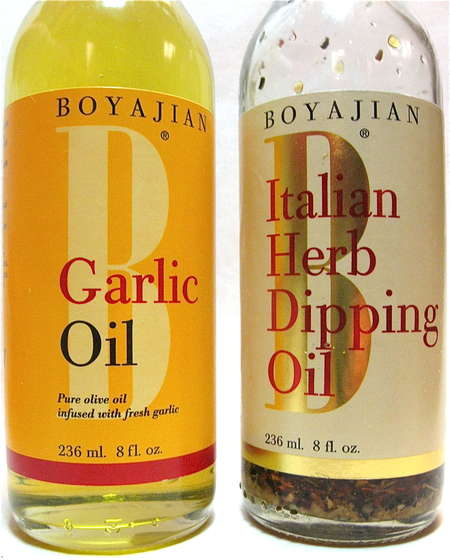 Next, get your crumb topping ready. Adding oil to bread crumbs encourages them to bake up nice and crisp. I like either of these two tasty oils: garlic oil on the left, Italian herb dipping oil on the right. We sell the garlic oil; the Italian dipping oil, you're on your own; check out your favorite gourmet shop.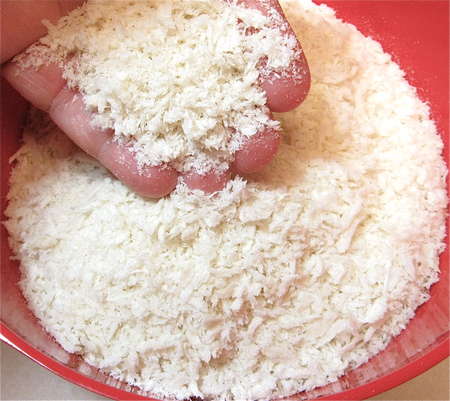 Measure out 1 1/2 cups (75g) Japanese panko (coarse bread crumbs), or homemade crumbs made from stale bread. Try to avoid using those sawdust-y canned crumbs; make a habit of grinding stale bread in your food processor, bagging, and freezing till you need crumbs.
Mix the crumbs with 2 teaspoons Pizza Seasoning (above), or a mixture of dried rosemary and thyme.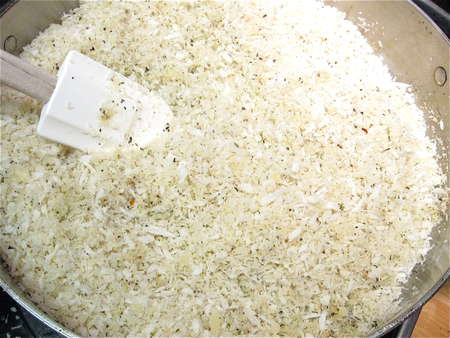 Moisten the crumbs with 4 tablespoons (57g) melted butter, and 2 teaspoons garlic oil, or the olive oil of your choice.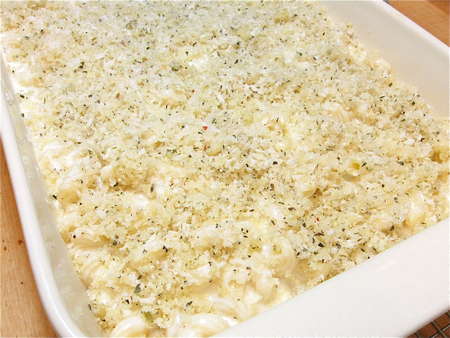 Sprinkle the seasoned crumbs over the pasta and cheese.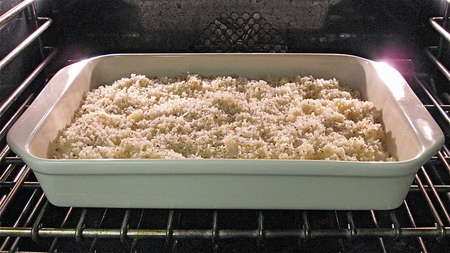 Bake the casserole for 25 to 35 minutes.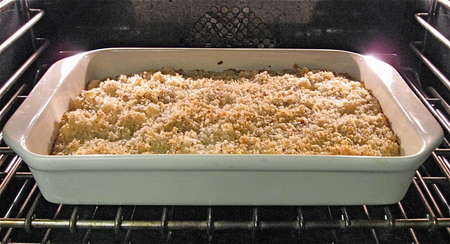 It should be bubbly, and the top will be lightly browned.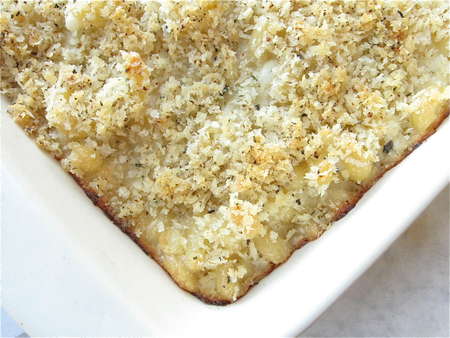 Like this.
Remove the mac and cheese from the oven.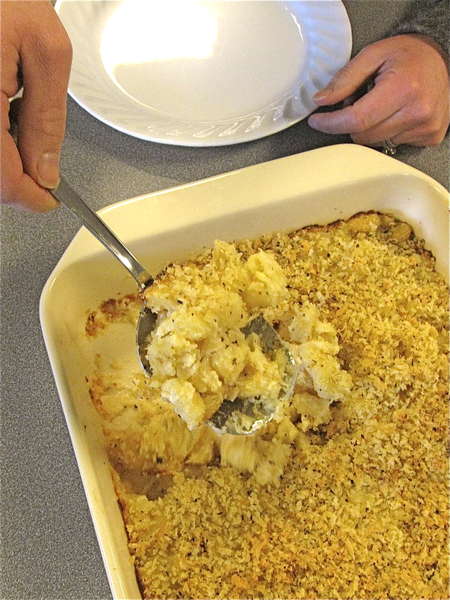 Serve hot.
Our King Arthur Web team does a lot of usability testing in the course of updating kingarthurflour.com. So we decided to do a private taste test. Some would call this selfish; we prefer to think of it as a thorough test; no A/B split, but multiple random samplings.
Cheese, mac, crumbs – lookin' good!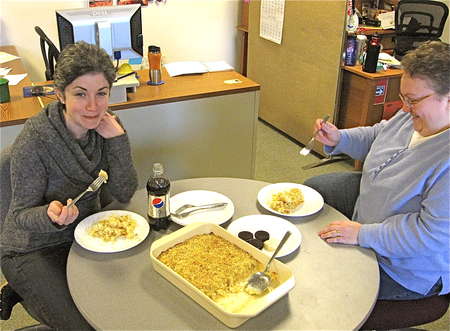 Obviously tasting good, too.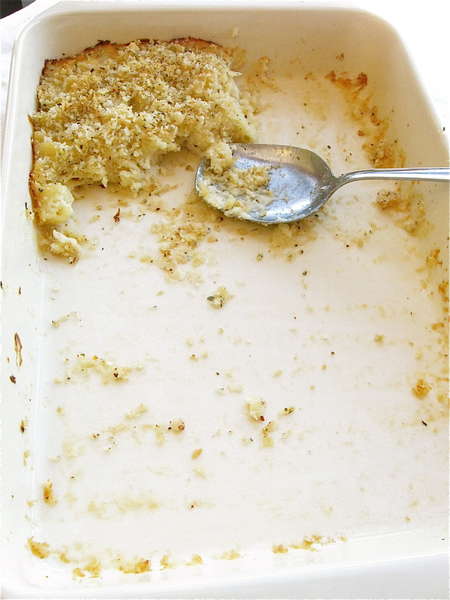 And the results of the test? SOME good!
Ohhhh... you mean we were supposed to save some?
Read, rate, and review (please!) our recipe for Garlic-Herb Mac & Cheese.
Jump to Comments