Oh, boy!
I was driving by the farm stand on the way to work this morning, and what to my wondering eyes should appear but my favorite sign of autumn: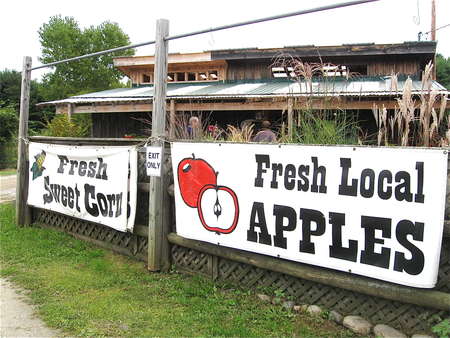 A quick glance as I sped by showed me that yes, the buckets of just-picked corn had been rearranged to make room for wooden apple crates.
I stopped after work to see which early apples are ready.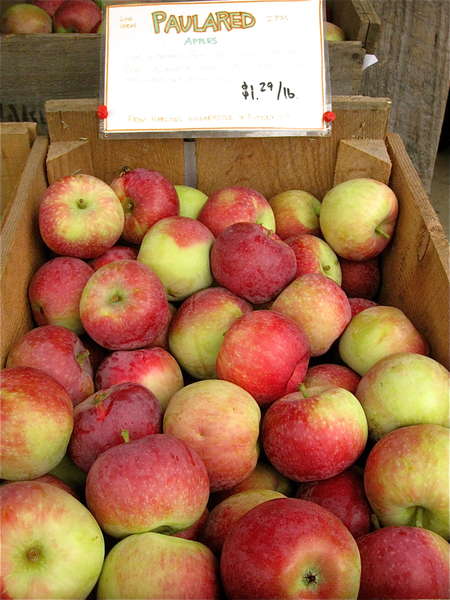 Early-bearing Paulared and McIntosh are the only ones out so far. But Pommes Grise, Ginger Gold, Zesta – all the heirloom varietals so different from the run-of-the-mill Granny Smiths and Red Delicious we make do with the rest of the year – are surely on their way.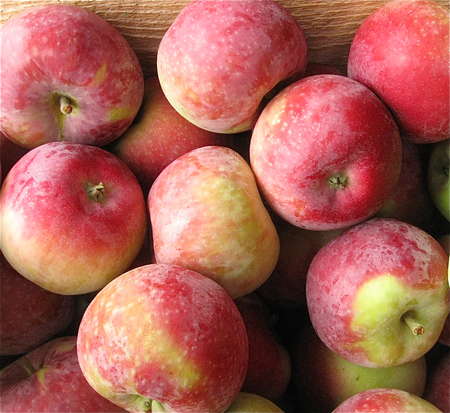 These might not be the prettiest apples. Sometimes quite small, sometimes a bit misshapen, they look like they came off someone's backyard apple tree.
Which is the nice thing about these apples with their sweet, fleetingly short season: they really did come off a neighbor's tree.
Our local orchards are small family businesses, one generation passing the land and trees on to the next. They serve only the surrounding communities; their apples may be shipped as far as the town grocery store, but don't get trucked to California. They're literally just-picked when I fill my bag at the farm stand.
If you ever thought of joining the localvore movement, there's no better time and place to start than your favorite apple orchard in September.
And, if you haven't eaten all the apples before you get around to baking, no better dish to start with than a simple cake, one that showcases your local apples in all their sweet simplicity.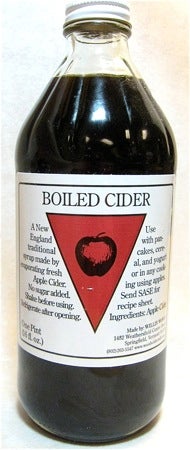 First it's sweet. Then, as it sits on your tongue, it gets a definite tang, like an apple that's mild at first taste, then finishes with some bite. Boiled cider is pure essence of apple, and enhances any apple dish you bake. A few tablespoons drizzled into pie or crisp, atop muffins or cake, mixed with confectioners' sugar to make a tasty, golden glaze...This is one of my pantry staples.
Since it's just cider, boiled till thick, can you make your own? You can try; it's a bit tricky, as it tends to burn at the end, and it's hard to figure when it's thick enough. But if you're adventurous, and don't mind perhaps having a failure or two first, go for it.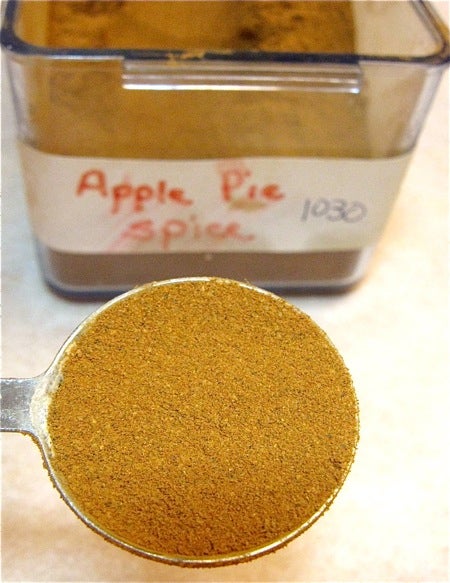 And here's our favorite complementary spice for apples: apple pie spice, a perfectly balanced blend of cinnamon, nutmeg, and allspice. Can you make your own? Sure; common enough ingredients. I don't know the formula, but make small batches till you hit on a mixture you like.
OK, let's begin. First step: preheat the oven to 350°F. Butter a 9 ½" to 10" (2" deep) cast-iron skillet; or a 9" square cake pan.
Now let's prepare the apples: 4 or 5 large, firm apples. I'm using Granny Smiths here, because they hold up well in baking; and when I was testing this recipe a month ago, our local apples weren't in yet.
First, peel and core. Our apple peeler/corer/slicer makes fast work of this task – like, 10 seconds per apple, start to finish.
You can choose to peel, core, and slice apples...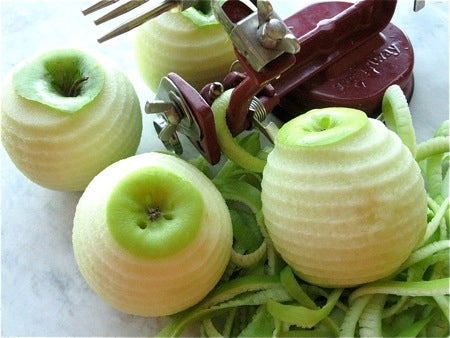 ...or simply peel, as I've done here. Why didn't I do all three? Because I wanted slightly thicker pieces of apple than the usual pie-style slice.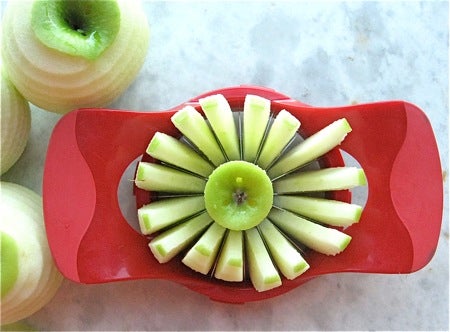 So I grabbed a peeled apple, pressed it with my handy-dandy apple corer/slicer, and bingo!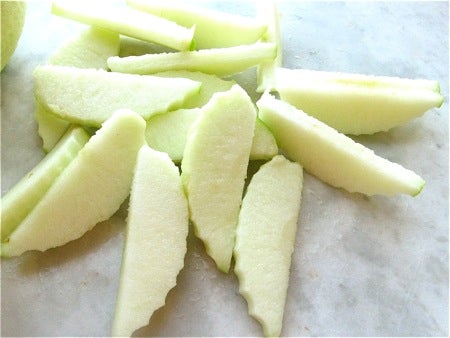 Perfect apple slices.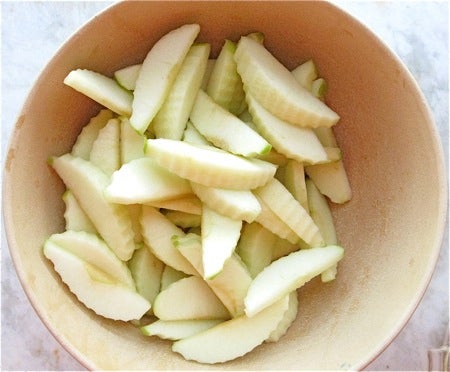 Place the apple slices in a bowl.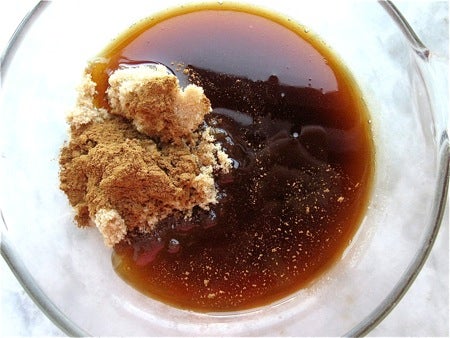 Now add the following:
1/3 cup (71g) brown sugar
3 tablespoons (43g) boiled cider
1 teaspoon Apple Pie Spice, or your favorite combination of sweet spices
¼ teaspoon salt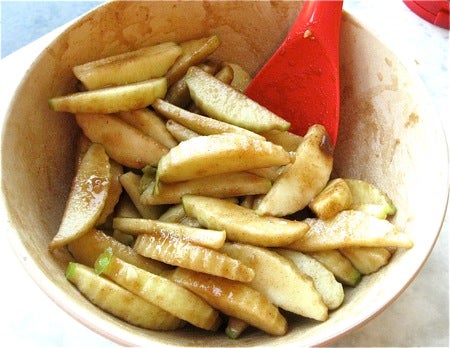 Stir to coat the apples, and set aside while you make the cake batter.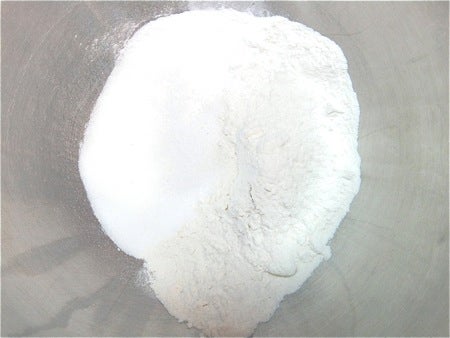 Combine the following:
1 1/3 cups (163g) King Arthur Unbleached All-Purpose Flour
1/2 cup (99g) granulated sugar
1 1/2 teaspoons baking powder
1/2 teaspoon salt
Set aside.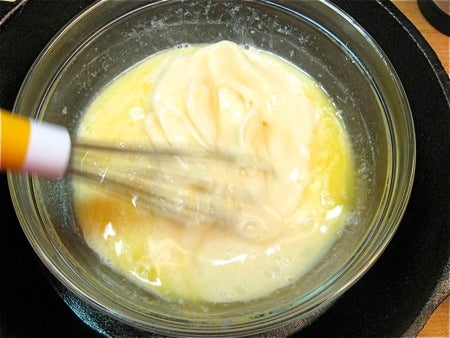 Whisk together the following:
2/3 cup (152g) milk, lukewarm
1 large egg, at room temperature
6 tablespoons (85g) butter, melted
1 teaspoon vanilla extract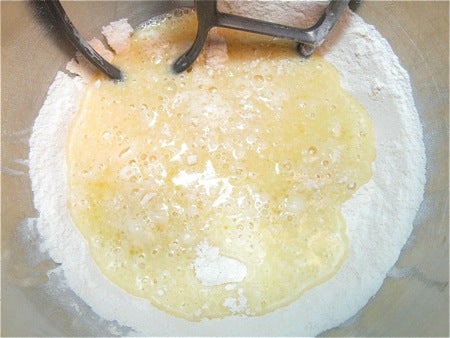 Add to the flour mixture.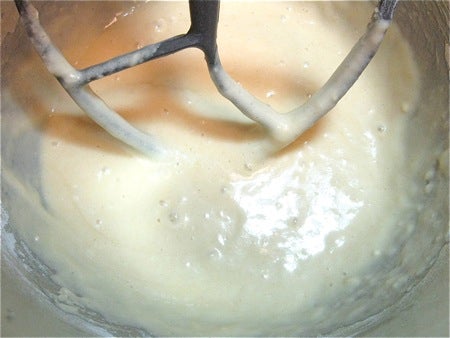 Stir till well combined...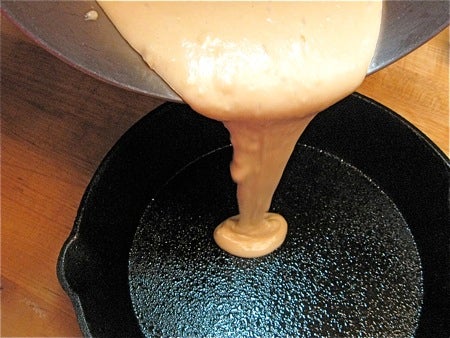 ...and pour into the prepared skillet.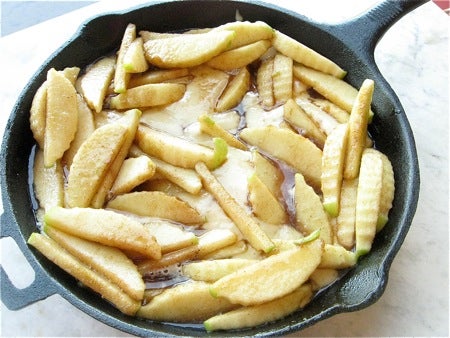 Spoon the apple mixture onto the batter. For the best appearance, make sure the apples are distributed a little more heavily towards the edges of the pan.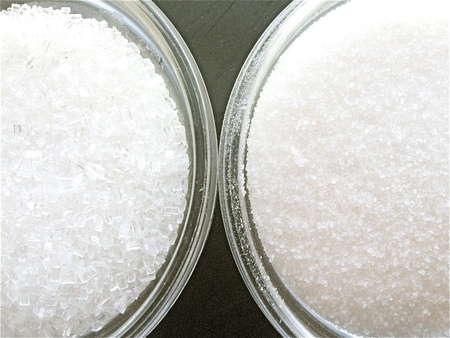 Next, get out your coarse sparkling sugar, if you have some. Above you see sparkling sugar on the left, granulated on the right – can you see the difference in crystal size?
I'll tell you, this is one pantry item I wouldn't be without. It's the BEST appearance enhancer out there. A sprinkle atop muffins, scones, cookies, pie crust... or a cake like this, really makes everything sparkle and shine.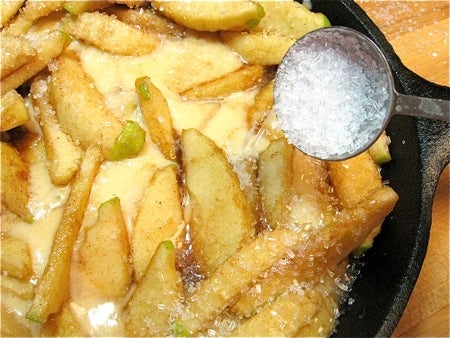 Sprinkle on the sugar. Be generous.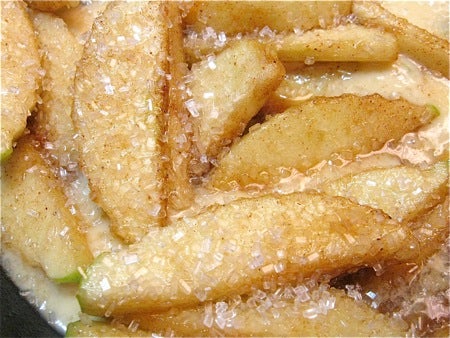 The sugar won't melt as the cake bakes. Really, you'll see.
Bake the cake for about 50 to 60 minutes, till it's light brown and a cake tester inserted into the center comes out clean.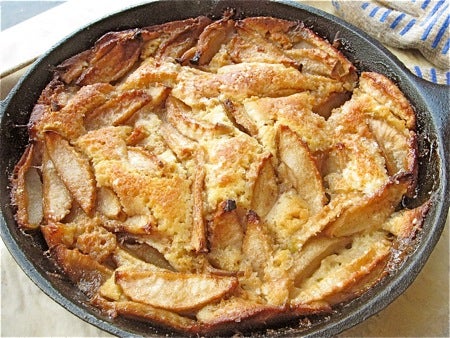 The apples will be nicely browned.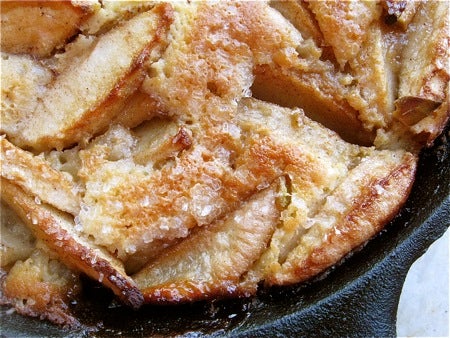 And see that sugar?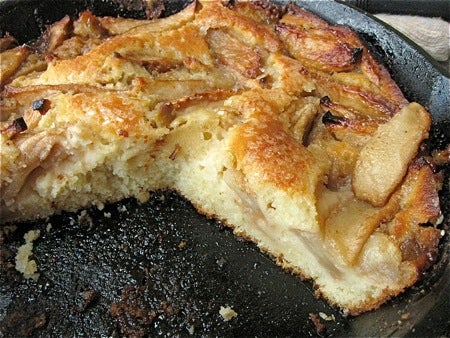 Serve right from the pan.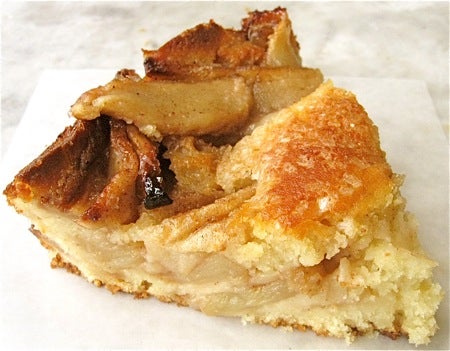 Ice cream is always welcome – I just didn't have any on hand!
Read, rate, and review (please!) our recipe for Apple Skillet Cake.
Jump to Comments