Ohhhh..... my!
What can I say? These just might be the best cookies I've ever baked.
Well - maybe they're co-champions. I'd name Fudge Drops the winner in the chocolate division, with these newcomers taking top honors in "not chocolate."
As fellow blogger Susan Reid would say, Salty-Sweet Butter Pecan Cookies are DA BOMB.
How do I dare make these claims? I'm usually a self-effacing sort; I don't like to beat my own drum. But in this case, others are beating it for me. Every time I make them – and that's been often in the past few weeks – they disappear almost before they're cool.
I mean, I pull the half-sheet pans of baked cookies out of the oven, and slot them into the rolling rack in the center of the test kitchen. Twenty minutes later, I come back and find half-cookies, third-cookies, whole rows gone... What, you guys think I wouldn't notice? (Sheepish grins all around.)
You know when your dog eats the pepperoni off the counter, and he gives you that  "I know, I know, I couldn't help myself" look?
Same thing, human version.
Here at King Arthur, we've been exploring the theory of "bragging rights" lately. Marketing studies show that home bakers derive a lot of their pleasure from "bragging rights" — believing that their (brownie, cookie, loaf of bread) is awesome and admirable and, well, DA BOMB.
There are some here who hesitate to embrace that concept. Isn't bragging kind of, well... obnoxious?
Nope, not in my opinion. After all, it's not like we go around saying "Hey, gotta love these brownies, they're the best ever. NO ONE makes brownies better than MINE."
But we do enjoy seeing our chocolate cake be the first dessert to disappear at the potluck. We love watching our friends at work go back for seconds and thirds on those cranberry-nut muffins. And it's wonderfully satisfying when you've brought molasses cookies to the senior center, and a 90-year-old closes her eyes, sighs, and says, "These remind me of the ones my mother used to make."
Call it inner bragging rights. You KNOW you've made someone happy. And that feels good.
Want to make someone in your world happy? Bake Salty-Sweet Butter Pecan Cookies.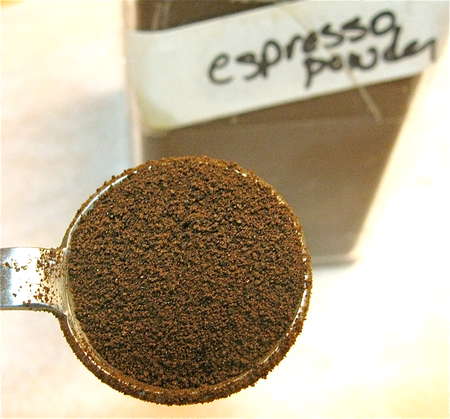 One secret ingredient (though not so secret, since I keep beating the drum for it): espresso powder. In these cookies, it doesn't lend flavor so much as color – just a touch of gold, to avoid that "bleached blonde," wan look cookies sometimes take on.
The first thing you want to do is toast 1 1/3 cups (142g) pecan halves. Bake them in a preheated 375°F oven for 8 to 10 minutes, till they're starting to brown. Pour them out of the hot pan onto your counter (or into a shallow pan) to cool while you make the cookie dough.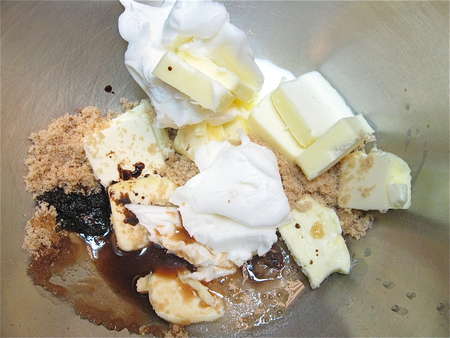 OK, everyone into the pool – er, bowl! Here we go:
2/3 cup (142g) light brown sugar, packed
2/3 cup (131g) granulated sugar
8 tablespoons (113g) butter
1/2 cup (92g) vegetable shortening
1/2 teaspoon salt
1/2 teaspoon espresso powder
1 teaspoon baking soda
2 teaspoons vanilla extract
3/4 teaspoon butterscotch, vanilla-butternut, or butter-rum flavor, optional
1 teaspoon vinegar, cider or white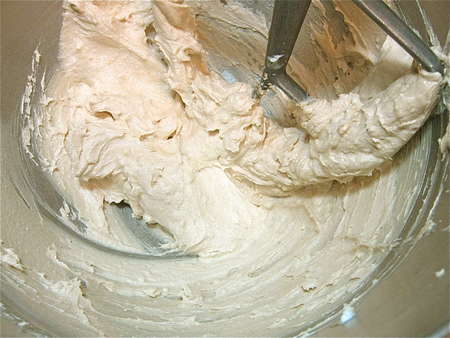 Beat till smooth.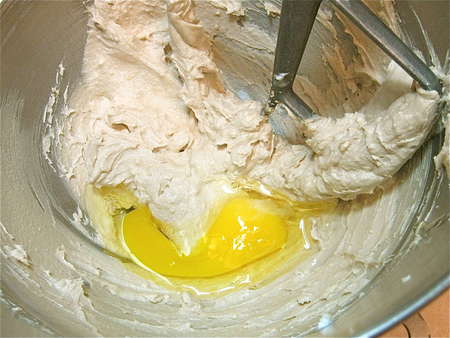 Add 1 large egg...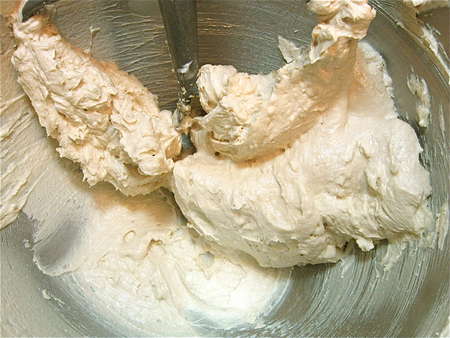 ...and beat till smooth again.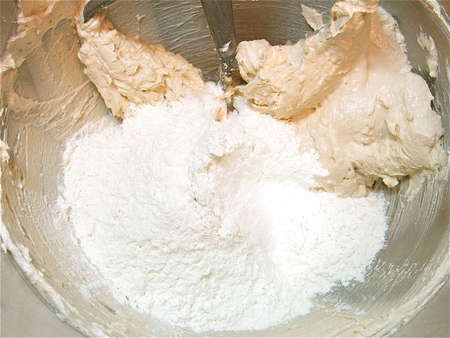 Add 2 cups (241g) King Arthur Unbleached All-Purpose Flour.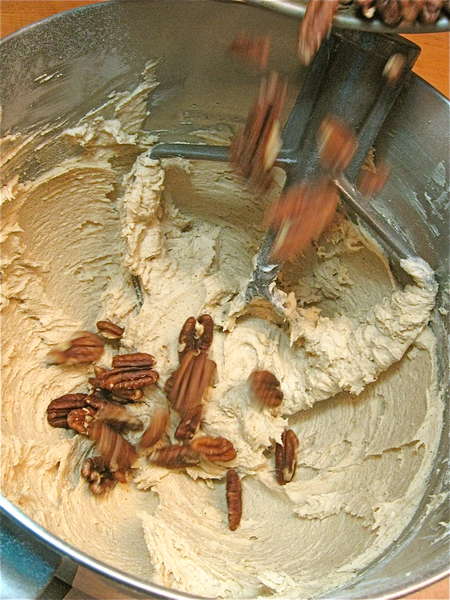 Beat in, then add the toasted pecans...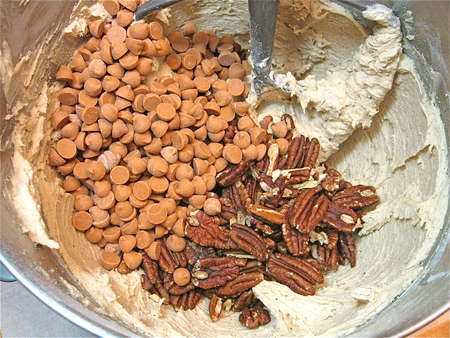 ...and 1 1/3 cups (227g) butterscotch chips.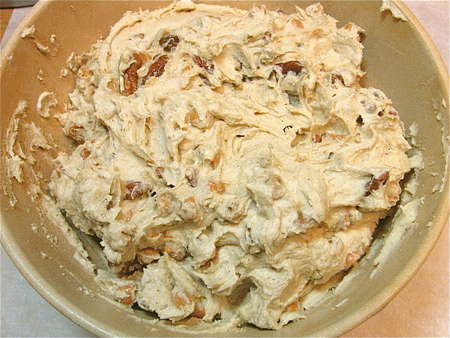 Stir to combine. Be gentle and brief; you don't want to break up the pecan halves.
At this point, I like to chill the dough for 4 to 5 hours, to control the spread. If you like puddle-like cookies, bake immediately. More on that later.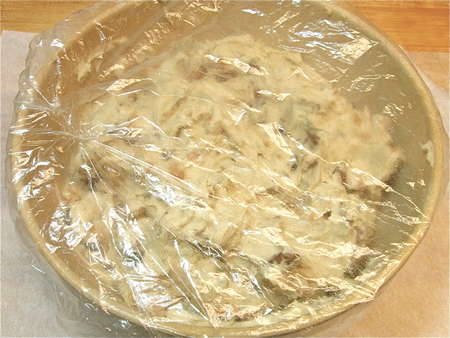 Cover the dough...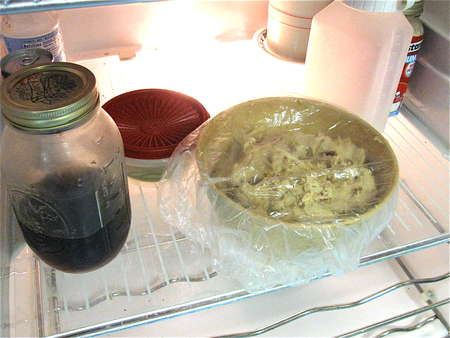 ...and in the fridge it goes.
Towards the end of the chill, preheat your oven to 375°F.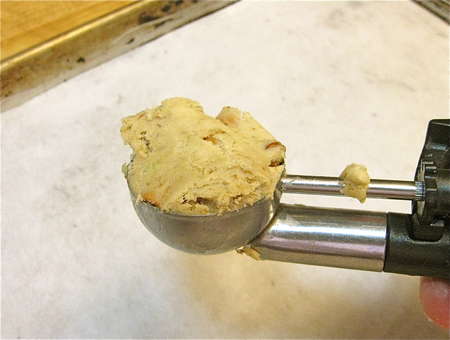 Scoop the dough into balls, using a cookie scoop, if you have one. A tablespoon scoop will scoop 1 1/2" balls of dough, which will yield 3" to 3 1/4" cookies, if the dough has been chilled. A teaspoon scoop makes 1 1/4" dough balls, which make 2 1/4" cookies.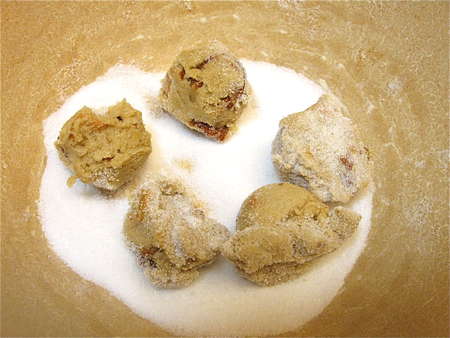 Drop the balls into a coating mix of 1/2 cup granulated sugar mixed with 1 3/4 to 2 teaspoons table (not kosher or sea) salt. Use the full 2 teaspoons if you're lovin' the salty-sweet thing. Use less salt for any audience you think might not be into it.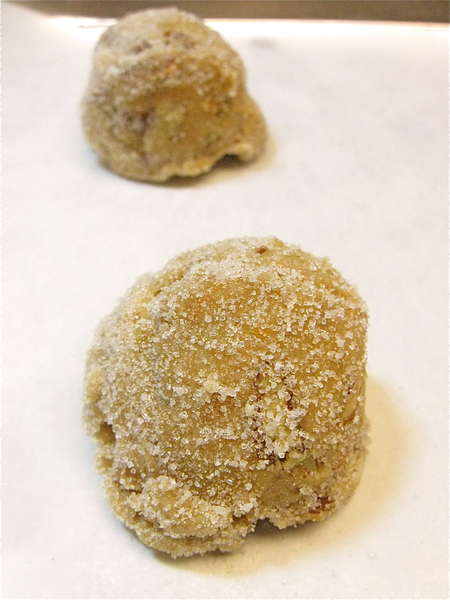 Shake the balls in the sugar/salt to coat, then space on a parchment-lined or lightly greased cookie sheet.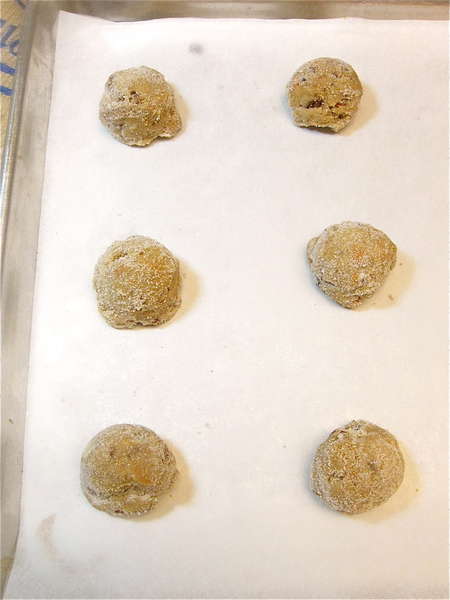 If you're feeling particularly fussy, roll the dough balls between your palms to make them nice and round. This will result in round (rather than "rustic") cookies.
Bake unrefrigerated cookie dough for 11 to 12 minutes – 11 minutes for the smaller cookies. If you've chilled the dough, bake for an additional 30 seconds to 1 minute.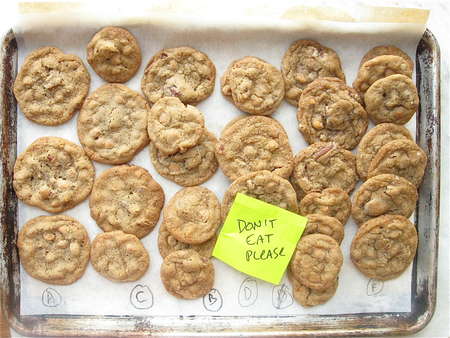 So, back to the chilling the dough vs. not. You can see that you'll get all kinds of results, depending on whether (and how long) you chill.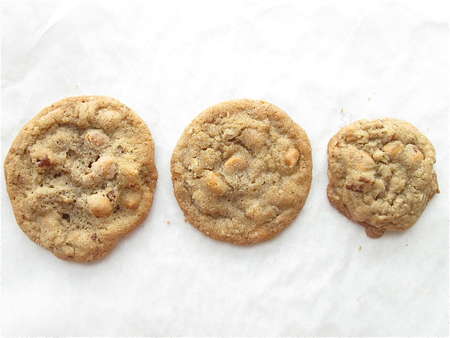 Left to right, dough baked with no refrigeration; after 3 1/2 hours in the fridge; and overnight in the fridge. My advice, unless you like really flat, puddle-like cookies (and some of you do, I know), is to refrigerate the dough for at least 4 to 5 hours. For slightly chunkier cookies, ones where the dough, chips, and nuts are more closely amalgamated, refrigerate overnight.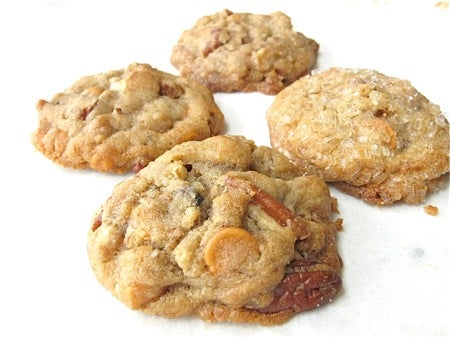 Here are cookies made with dough refrigerated for about 20 hours. Notice how heaped up they are, compared to the non-chilled version. Oh, by the way, the cookie on the right was rolled in coarse sparkling sugar and coarse sea salt. Consensus in the kitchen is that this is just too much of a good thing – the salt is too assertive. So stick to granulated sugar and table salt.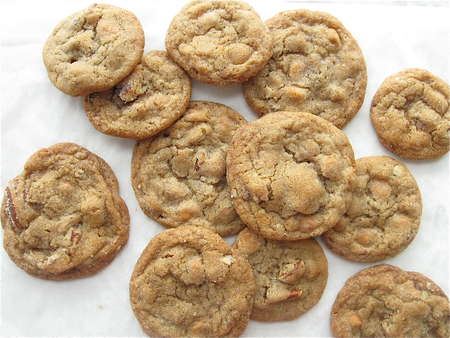 Anyway – chilled dough or not; no brag, just fact – they're ALL DA BOMB.
Read, rate, and review (please!) our recipe for Salty-Sweet Butter Pecan Cookies.
Jump to Comments