Breathes there a soul who doesn't feel a visceral pull towards crusty bread?
Crusty white bread, in particular. Crusty white bread dipped in a really tasty olive oil. C'mon, admit it; your mouth is watering. Grab a virtual bread stick with me here, and let's break bread together.
Your bread stick is warm, out of the oven for maybe 10 minutes, just enough time so you don't burn your fingers. It's been baked in olive oil—top, and bottom—so its crust has a faint crackly edginess; each bite releases a shower of crumbs and a burst of incredible flavor.
But wait—there's more.  We're dipping our breadsticks, you and I, in a really compelling flavored olive oil. Maybe extra-virgin olive oil packed with freshly crushed garlic. Or one of John Boyajian's imaginative dipping oils (below). Maybe even bagna cauda... And if you've never enjoyed this  cream, garlic, butter, and anchovy dip, served warm in its own little fondue pot—I tell you, Mr. Man, you have yet to experience Heaven on earth.
Bring the bread stick to your lips, being careful not to let any oil drip on your clothes. Take a bite. Feel transported to a lively Tuscan trattoria. Or maybe a little bistro not far from the Seine.
Or perhaps your backyard deck, the sun setting in a golden haze through the spring-bright leaves. Warm air, soft as a baby's cheek.  The smell of new grass. Summer spread out before you like the Promised Land...
WHOA. Don't you feel better? I sure do. Thanks for joining me in this virtual dining experience. Now let's get into the kitchen and make some REAL breadsticks.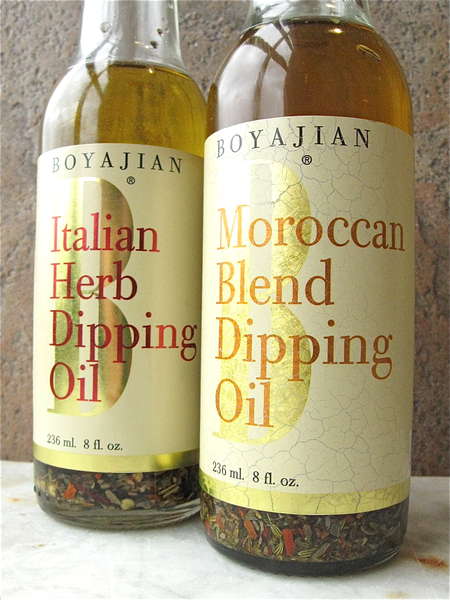 This is what precipitated this post: these utterly sumptuous dipping oils, from the Boyajian company. We've had a long and happy relationship with John Boyajian, the same fellow who provides us with our orange and lime oils, and our garlic oil and balsamic vinegar. Great products all; produced by people who care about doing a good job.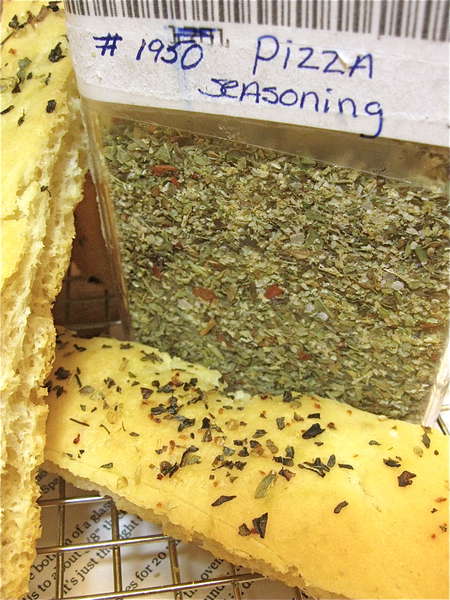 And here's a topping we use regularly: Pizza Seasoning, a mixture of dried herbs, garlic, onion, and spices, blended with a touch of salt. It's delicious atop pizza (or course), or focaccia, breadsticks, or any kind of flatbread.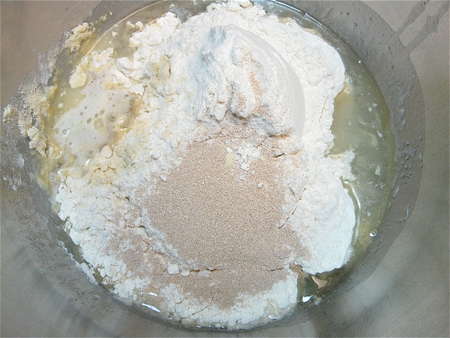 We're going to take one of my very favorite easy bread recipes—Blitz Bread—and turn it into soft, fat breadsticks. To start, everything goes into a mixing bowl: water and olive oil; salt, King Arthur Unbleached All-Purpose Flour, and instant yeast. Plus Pizza Dough Flavor; not a must-have, but a wanna-have for sure.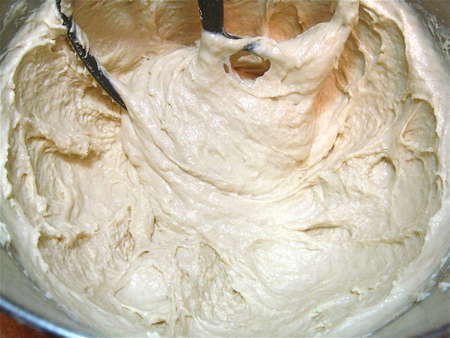 Beat for 1 minute at high speed, using your stand mixer or an electric hand beater. You'll have a very sticky dough.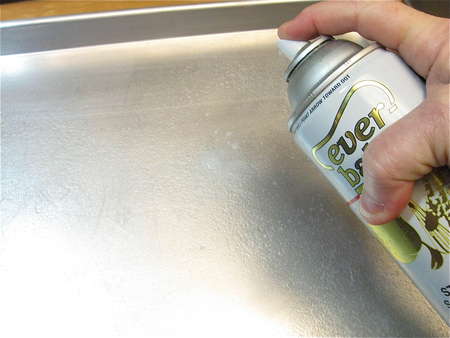 The recipe calls for you to bake this bread in a 9" x 13" pan. Instead, I'm using a half-sheet (18" x 13") pan, in order to make a thinner bread, more suitable for cutting crosswise into breadsticks. First we're going to spray the pan with non-stick vegetable oil spray (as usual, I grab the EverBake)...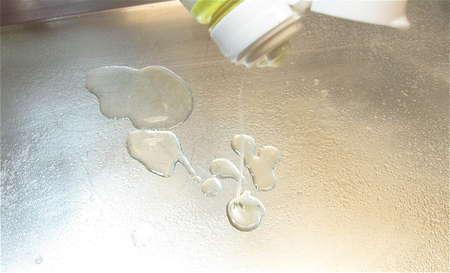 ...then drizzle with olive oil. Why the spray and the oil both? Each does a different job. The spray keeps the bread from sticking; the olive oil gives it flavor.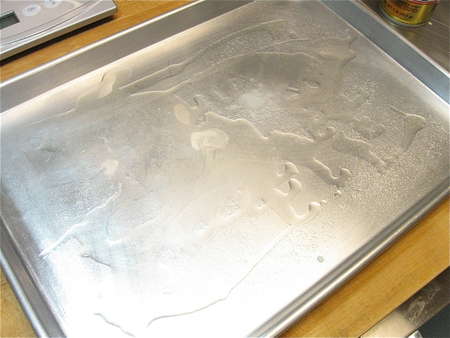 Here's the prepared pan.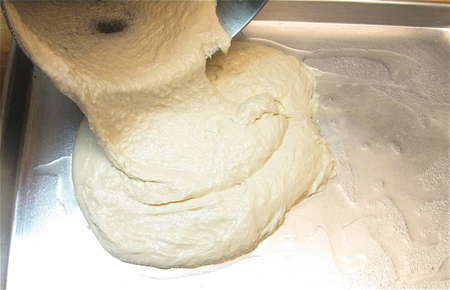 "Flow" the dough into the pan. Yes, it really is this sticky.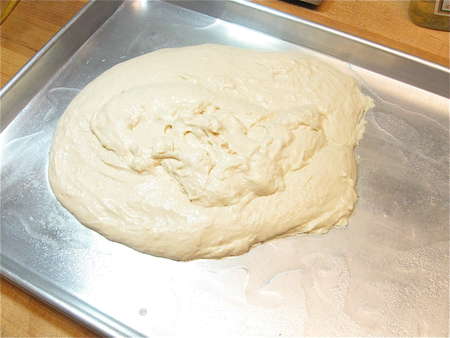 Scrape all the bits out of the bowl; don't ant to waste any.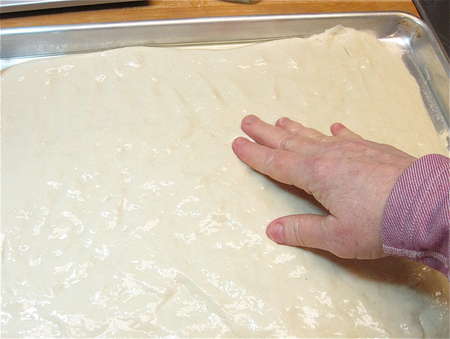 Oil or wet your fingers, and press this very malleable dough into the corners of the pan. Get as close to the corners and edges as you can, without stressing about attaining that final 1/2" or so.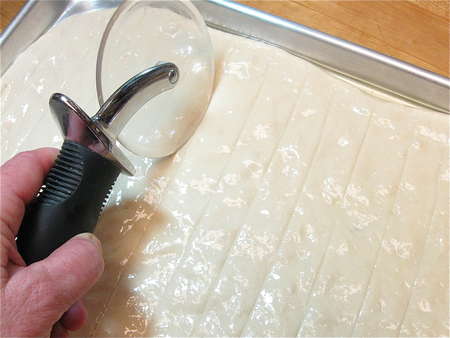 So I thought, how about if I score the bread to make breadsticks? So I grabbed my favorite pizza wheel, and scored the dough crosswise in 1" strips.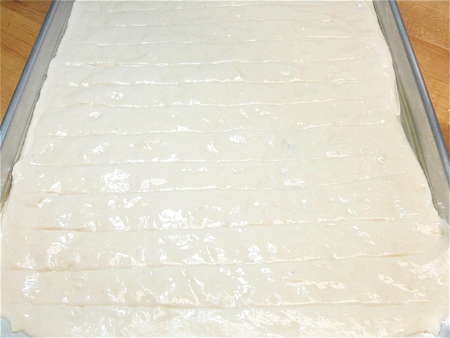 Score! Cover the pan, and let the dough rise at room temperature for 60 minutes, till it's become puffy.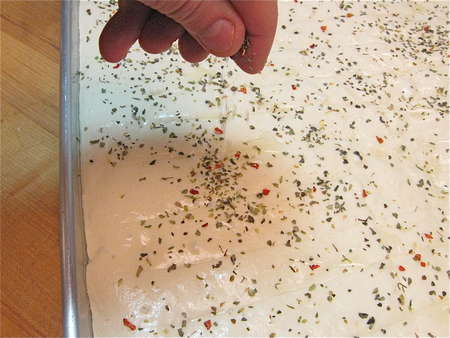 Sprinkle on Pizza Seasoning...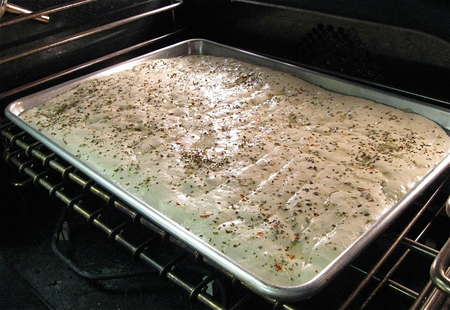 ...and bake.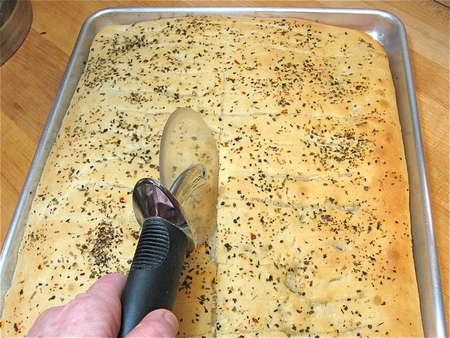 Once it's golden brown, remove from the oven. Let it cool for about 10 minutes on the pan, then cut in half lengthwise.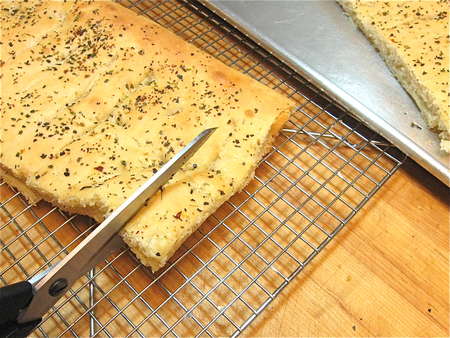 The score marks didn't do much—i.e., the bread wouldn't come apart on its own—but they were still visible enough to provide a good cutting guide as I used a pair of scissors to cut strips.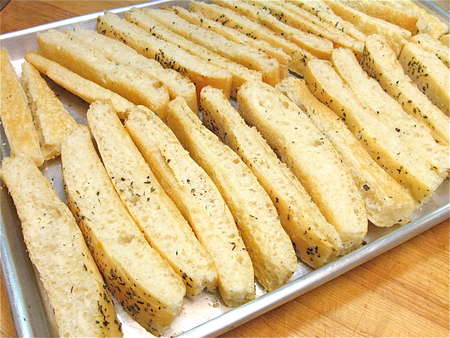 Put the strips back on the pan, and bake in a 350°F oven till the sticks are as crunchy as you like. For just a tiny bit of outer-crust crunchiness, and complete softness inside, bake for only about 5 to 8 minutes. Bake longer for crunchier sticks. How long? Up to you. This bread is so easy to make, it doesn't matter if  the sticks aren't exactly the way you like them first time around. they'll still be totally delicious; and you can amend your baking time next time around.
Now, pour some of that awesome dipping oil into a bowl...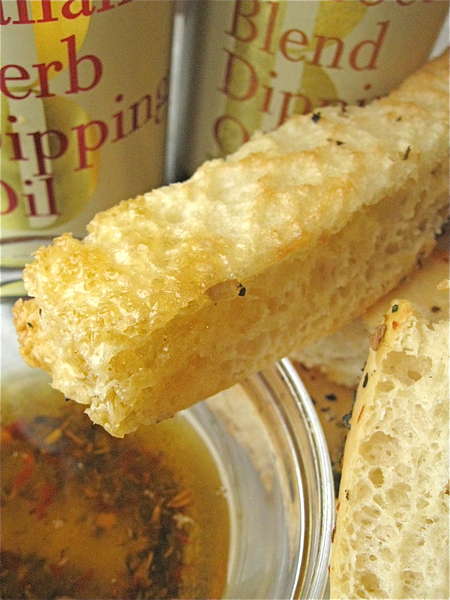 ...dip, and enjoy.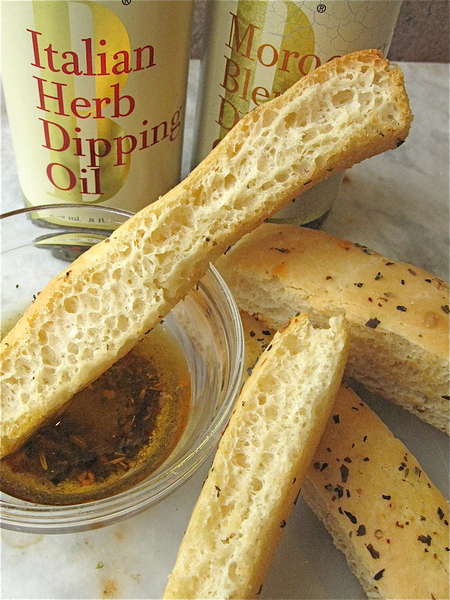 I feel a party coming on...
Read, rate, and review (please!) our recipe for Soft Breadsticks.
Jump to Comments