The original sausage cheese biscuit
Scone. Biscuit. Either way, delicious.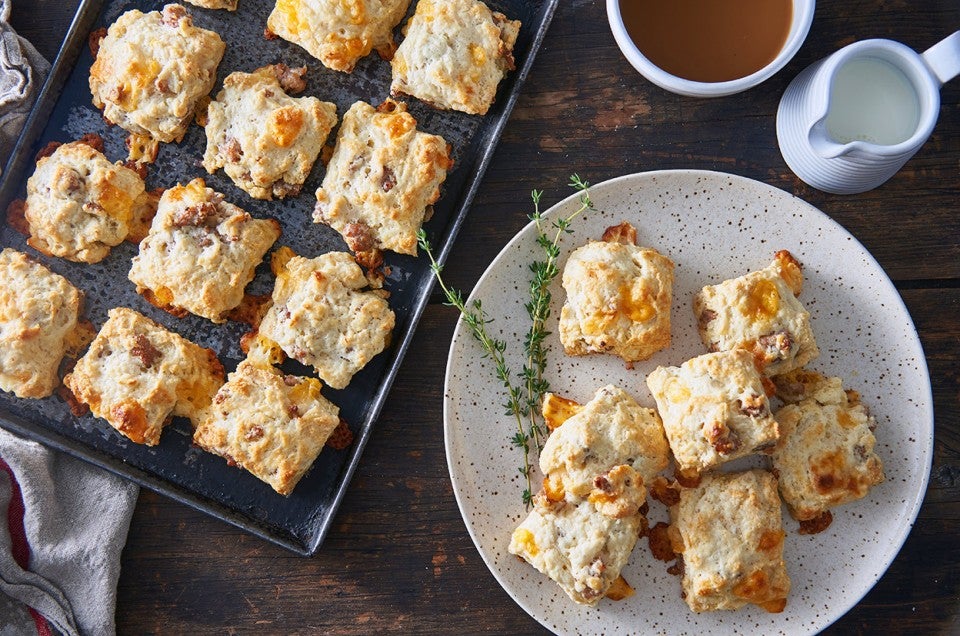 I have a confession to make. I'm a fool for melted cheese. The lava-flow of Gruyère oozing from a just-cut stuffed loaf; the stretchy strings of mozzarella dangling from a hot slice of pizza; warm Parmesan and fontina enclosed in cannelloni. I admit, they all make my heart beat just a little faster.
And not from cholesterol overload. I'm one of those fortunate people genetically programmed to eat cheese, and lots of it. I'm Norwegian, from Wisconsin; a certified Cheesehead. My grandmother drank her coffee with heavy cream, never shied away from a creampuff (Wisconsin's unofficial state dessert), and enjoyed cheese in every imaginable fashion, 7 days a week. She lived to be 102 years old.
Not that I espouse a high-fat diet. Though I enjoy cheese every day at breakfast, it's low-fat cheese. And at lunch, the cheese on my salad is feta or part-skim mozzarella. That tempting triple-crème St. André or oozing Camembert? Reserved for special occasions.
But what about regular full-fat (but not ultra-high-fat) cheese? Like extra-sharp cheddar, or Asiago? You don't want to overdo, quantity-wise. But their assertive flavors make them the perfect "baking condiment"—a delicious enhancement to savory muffins, biscuits, or breads. A shower of Parmesan atop hot focaccia isn't going to bring the nutrition police to your door; but oh, what a happy burst of flavor it adds to that bread!
The following biscuits—a.k.a. scones—are a great example of cheese as condiment. With just 1/5 of an ounce of cheese per serving, these are well within what your diet can handle. Even the sausage (less than 1 ounce per serving) isn't a deal-breaker. And their flavor is out of this world.
Oh, and what about this scone/biscuit confusion? Here in America, scones and biscuits are pretty much the same thing (we'll leave Great Britain out of this discussion for the time being). Scones are basically a dressed-up biscuit: sweetened, often including extras (nuts, chips, fruit), and usually cut in wedges, rather than circles. But in the end, butter-enriched, baking powder-leavened siblings under the skin.
Are you hungry? Let's make Sausage and Cheese Biscuits. Or scones.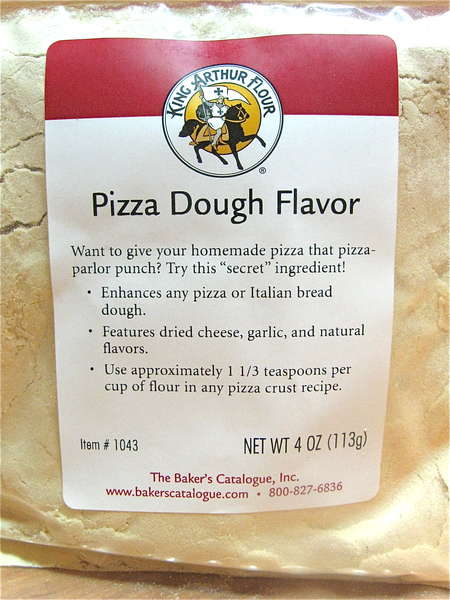 I know, I know, I show you this Pizza Dough Flavor all the time. And that's because I use it all the time. It's a truly wonderful ingredient for all kinds of savory baked treats, from pizza crust (obviously) to bread to scones and rolls and bread sticks and, yes, biscuits.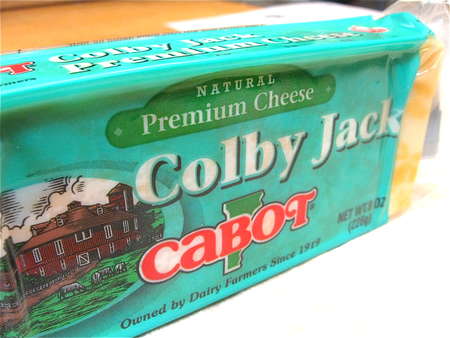 I've always loved the look of this Colby/Monterey Jack clone from Cabot. Which, if you haven't seen it, is a farmer-owned cooperative here in Vermont, producing a wide range of award-winning cheeses. Including low-fat cheeses that are, surprisingly, quite tasty.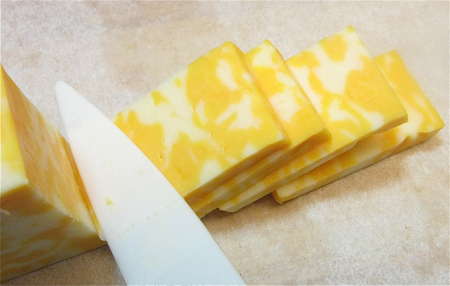 Cut the cheese in slices.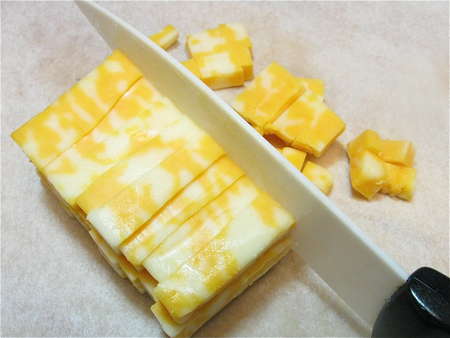 Then stack the slices, and cut them in sticks. Turn the sticks 90°, and cut them into cubes. Does it matter how big you make the cubes? No. Clearly you don't want huge 1" chunks in your scones, but don't fuss too much; 3/8" to 1/2" is a nice size.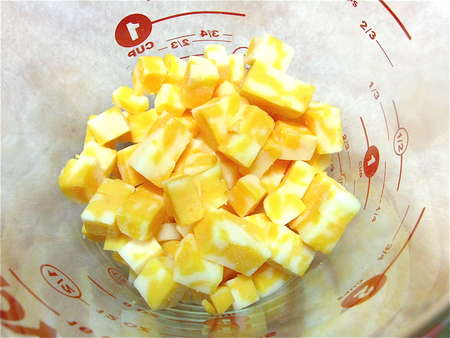 So here's your cheese. The Holstein pattern is kind of cute, yes?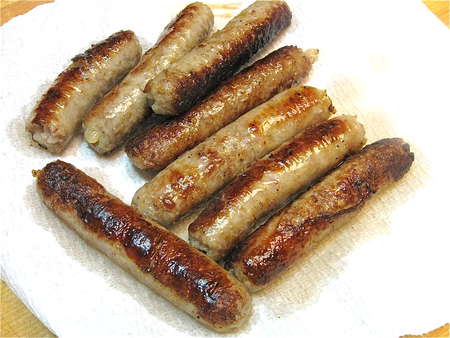 And here's 3/4 lb. of link sausage, nicely browned.
Cut into slices. Again 3/8" to 1/2" is a good size. And a pair of scissors will make quick work of this chore.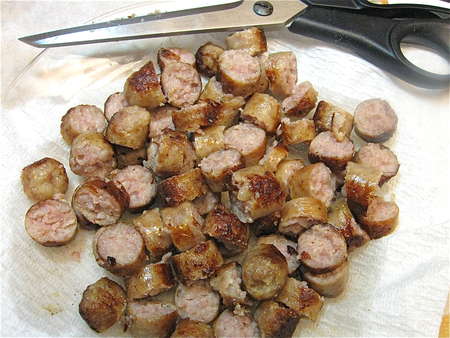 Cheese diced, sausage sliced... let's make biscuits.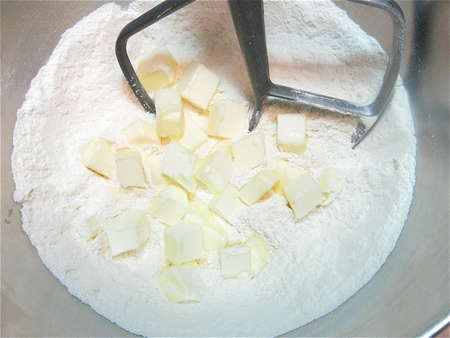 Whisk together unbleached all-purpose flour (King Arthur, of course; it does make a difference); baking powder, baking soda, and salt. Add cold butter, cut in pats or chunks.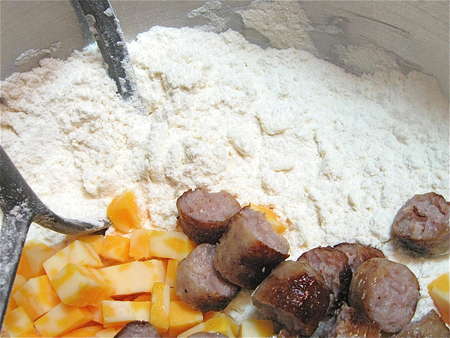 Once the butter has been roughly mixed in (leaving a few largish, marble-sized chunks), add the cheese and sausage.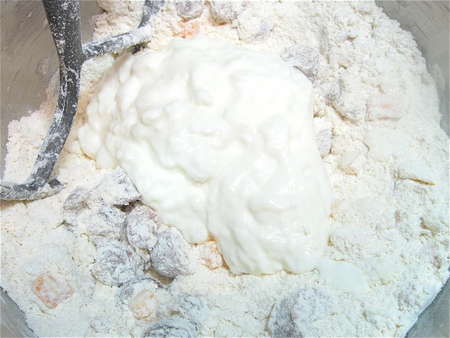 Then the dairy—you have your choice of buttermilk, yogurt, or sour cream. Here, I'm using homemade yogurt. I find homemade isn't as assertively acidic in your baked goods as store-bought.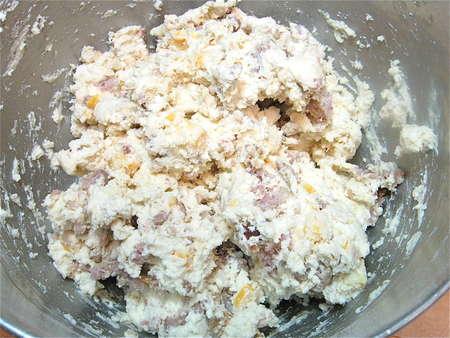 Stir it in to make a sticky dough...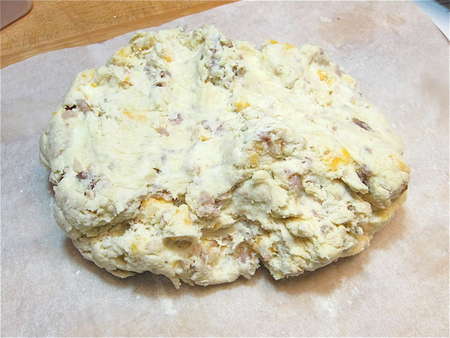 ...which you can deposit right onto a piece of parchment. Or, barring that (but if you don't yet have any parchment in your kitchen — why not?!), onto a lightly greased baking sheet.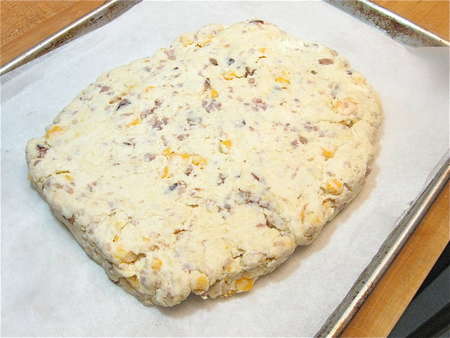 Pat into a rough rectangle. It'll be about 8" x 10", slightly smaller than a standard sheet of paper; about 3/4" thick.
Take a knife, rolling pizza wheel, baker's bench knife, or your other favorite cutting implement, and cut 2" squares.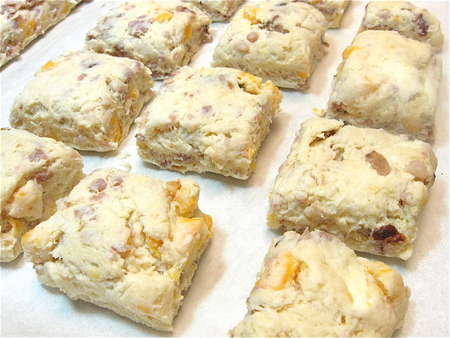 I decided to do an experiment. Separate half the squares; leave the other half connected. Here are the ones I pulled apart.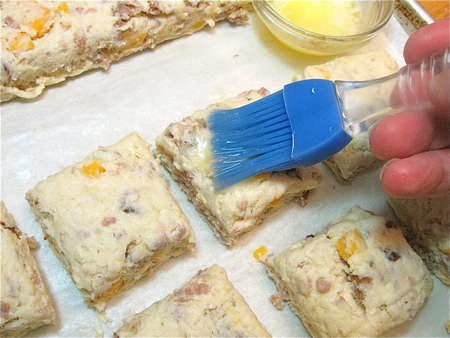 Brush with melted butter. Or not. I'm a fan of melted butter on top of just about anything.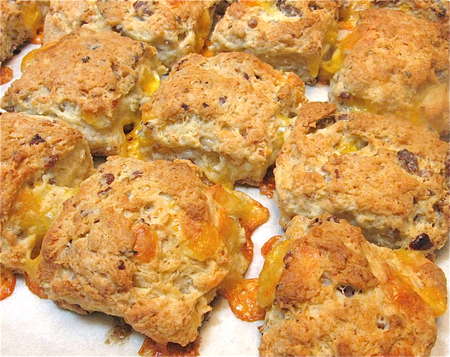 Bake. The cheese will ooze; that's just fine. In fact, it's aspiration, not aggravation.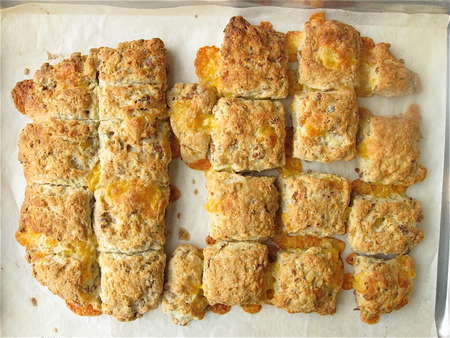 And here's the result of the experiment. No difference in pulling them apart, other than that the scones on the right had crispier sides, and the oozing cheese had a chance to get crusty.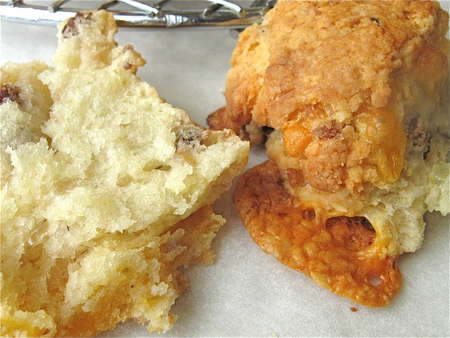 Nice, light texture, tender and moist.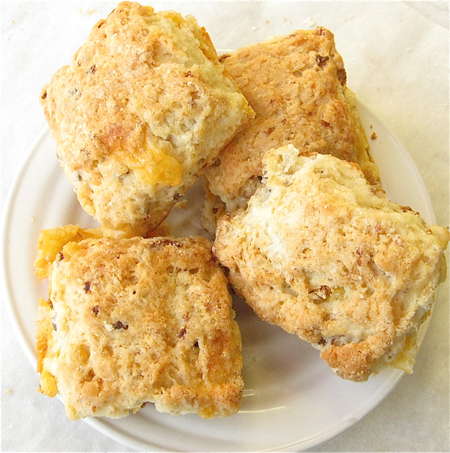 Serve warm with your breakfast eggs or grits. Or a fruit salad. Or just grab one as you're heading out the door—consider it a shortcut breakfast sandwich. A warm, melty-cheesy, spicy sausage-y right out of your own oven sausage biscuit.
Read, rate, and review (please!) our recipe for Sausage Cheese Biscuits.
Jump to Comments