Valentine's Day is customarily celebrated with chocolate. In fact, about a billion dollars' worth of chocolate is sold worldwide, every year, to mark this holiday. Those pastel conversation hearts ("Love You," "My Baby") trail chocolate by a mile, while cinnamon "red-hots" and Valentine Marshmallow Peeps, though favored by some, aren't even in the same league with chocolate.
So, for those who don't actively love chocolate, what's a suitably celebratory alternative? After all, a box of artisan chocolates, a chocolate heart-shaped cake, chocolate-dipped strawberries—these all bespeak time spent, caring, the energy of love.
But Marshmallow Peeps? As much as my husband craves them (which is a lot), I don't feel quite right pledging my everlasting love to him with a 50¢ box of heart-shaped Peeps.
A good "gift from the heart" for non-chocolate fans is actually a gift OF a heart—a heart-shaped confection. Heart cake pans, big or small, can hold coffeecake, cherry cheesecake, even a fruit crisp. And, for you dedicated yeast bakers, heart-shaped breads are an easy project.
Several years ago I developed a recipe for lemon buns, lemon-scented yeast buns that, surprisingly, aren't sweet at all. The hint of lemon simply adds its own fresh flavor to these airy textured, light-gold buns. A dollop of jam complements the tart lemon beautifully.
And on a recent Sunday morning, while contemplating heart buns for Valentine's Day, I remembered this recipe. Lemon heart buns with strawberry jam—yeah! I quickly imagined a simple way to shape yeast dough into a heart, which reminded me of shaping pretzels, which turned my mind to (garlic) knots, from which were quickly born Lemon Love Knots. And Tart Hearts.
So if your sweetheart falls into the minority of chocolate non-lovers, or you're simply tired of being part of a massive Valentine's Day cliché, try these buns. A sprinkle of coarse sugar on top gives them just enough sweetness to eat alone—without jam, that is. Not without honey. YOUR honey. Sitting by your side.
Read our Lemon Love Buns recipe as you follow along with these pictures.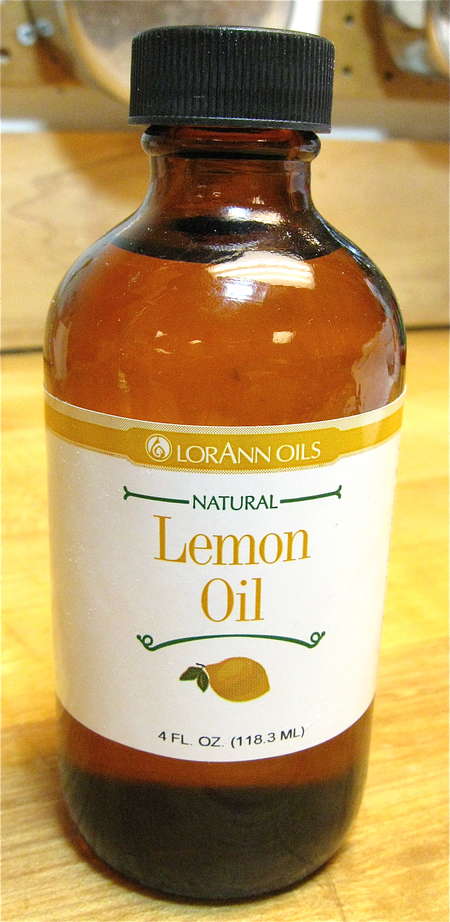 Let's state with my favorite shortcut: lemon oil. This has been a key ingredient in my pantry for 15 years or more. It's simply essential oil squeezed from lemon rind—that kind of oil, not the fat kind. A mere quarter-teaspoon steps in for a tablespoon or so of grated lemon rind in any recipe. No running out to buy a lemon; no grated knuckles. A great kitchen companion (with its friends, orange oil and lime oil) for citrus lovers.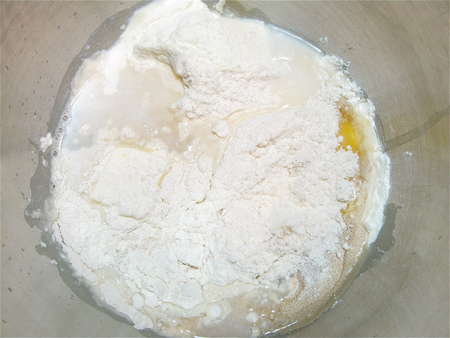 We'll start by putting all of the ingredients into a bowl.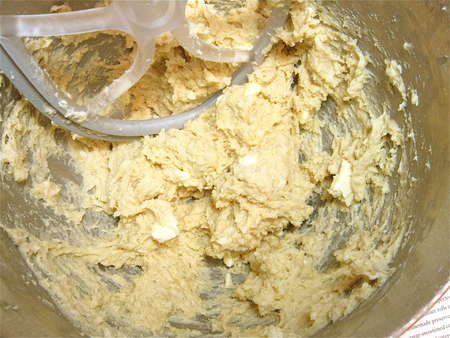 Mix till combined…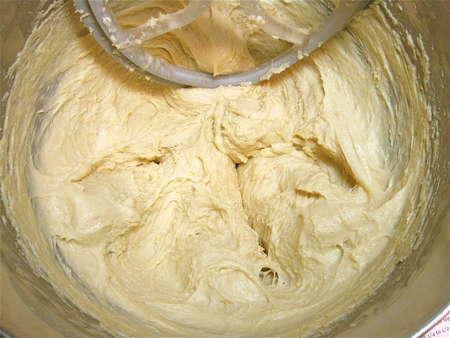 …then beat for 2 minutes with the flat beater, till the dough begins to smooth out.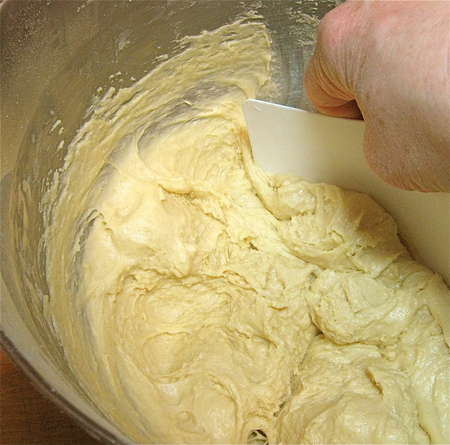 Scrape down the sides of the bowl…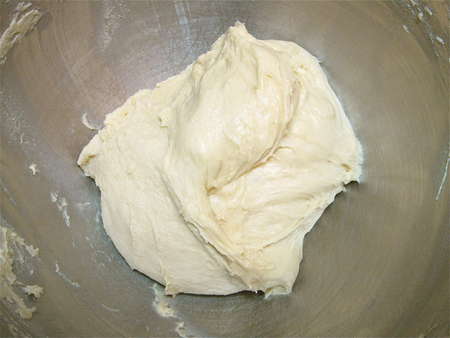 …till the dough comes together in the center.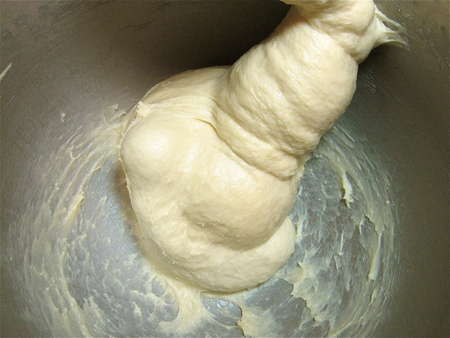 Switch to the dough hook, and knead for 5 minutes. The dough probably won't form a ball, but it'll definitely gain some body.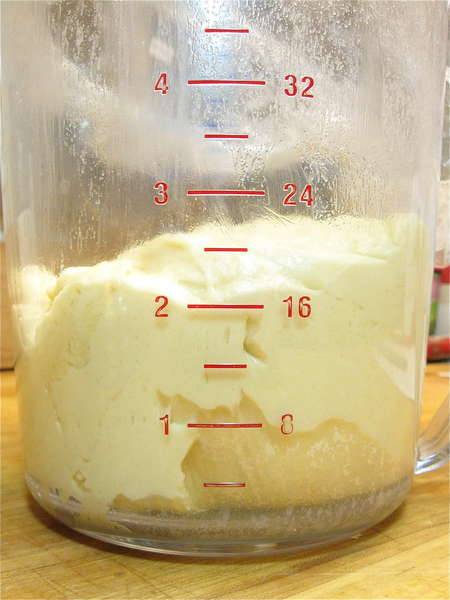 Place the dough in a lightly greased container. As usual, I'm using my trusty 8-cup measure, so I can track it as it rises.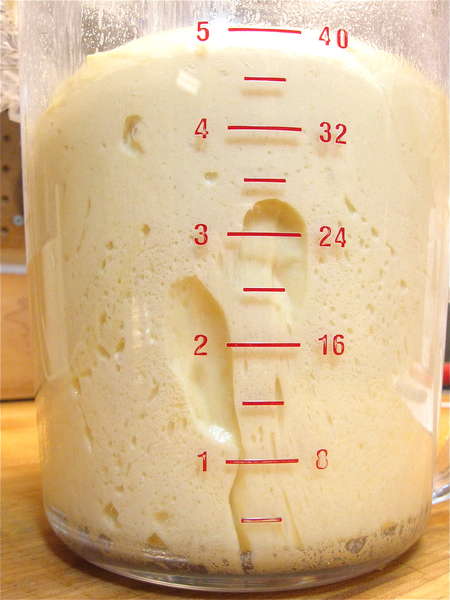 Let it rise, covered, for about 75 minutes, or until it's close to being doubled.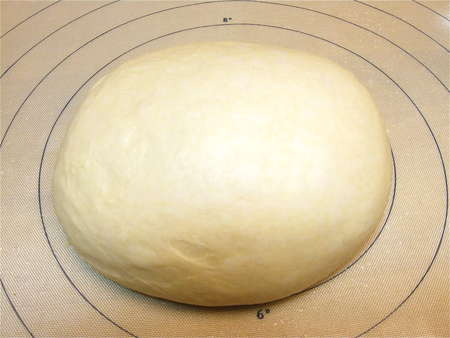 Transfer it to a lightly greased work surface or silicone mat. It's not really necessary to shape it into a ball; I just love the feel of this soft dough in my hands, so why not, right?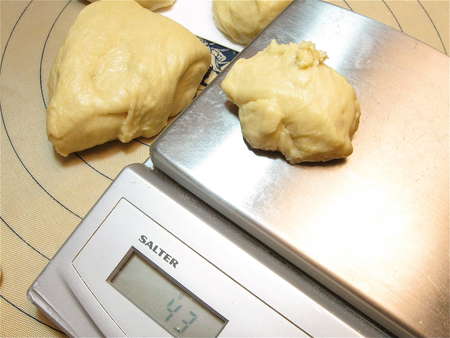 Divide the dough into 16 pieces; they'll weigh about 1 ½ ounces (43g) each.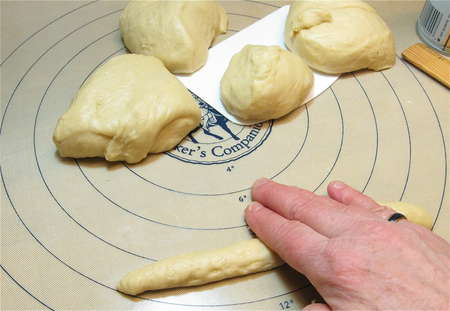 Gently roll each piece into a rope using your fingers. The dough is soft, and rolls out easily.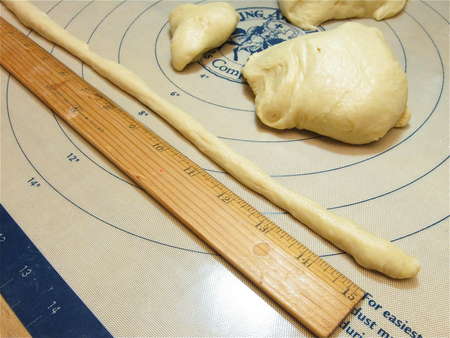 About 15" should give you plenty of rope to shape. For variety, I like to make 8 hearts, and 8 knots.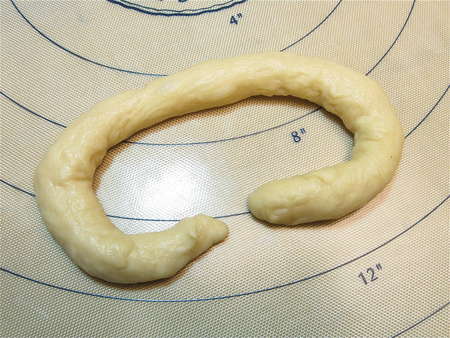 To make a heart, curl the two ends of the dough in towards each other…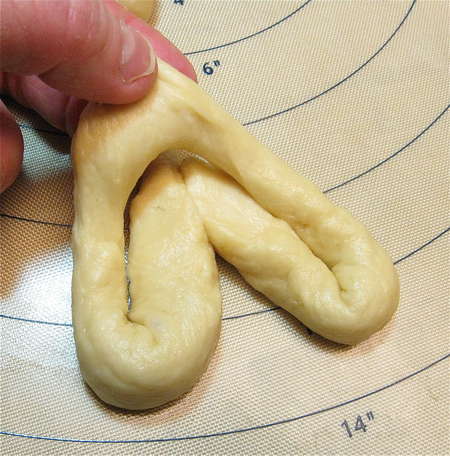 …then bring them both into the center. Lift the center…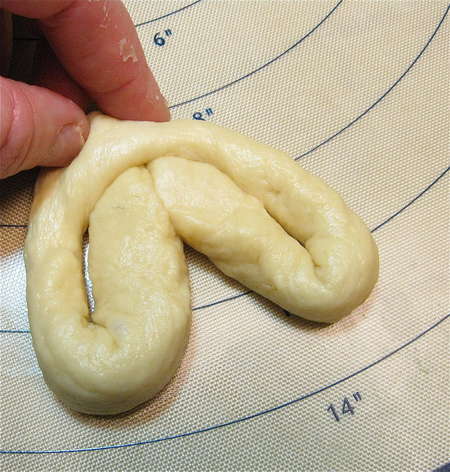 …and press it atop the two ends, to anchor them as the dough rises.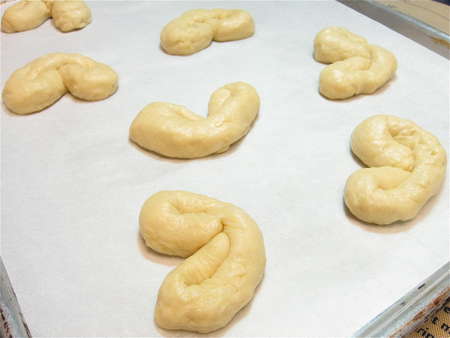 Pull the two halves of the heart apart a bit, kind of like a butterfly shape. As they rise, they'll become more heart-shaped. Place them on a lightly greased or parchment-lined baking sheet, and cover.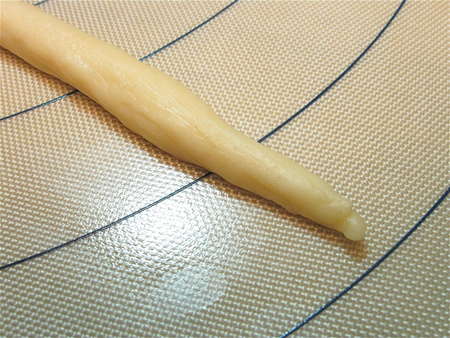 To make knots, taper the ends of the ropes a bit.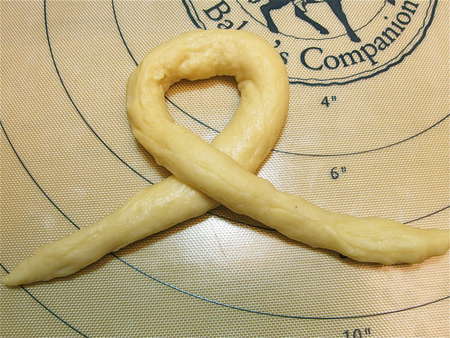 Start by making a loop with long ends.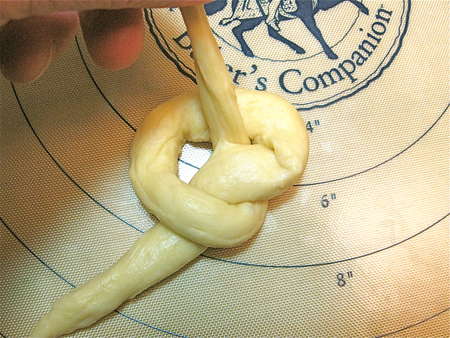 Bring the end that's lying on top through the loop, as though you were tying a knot…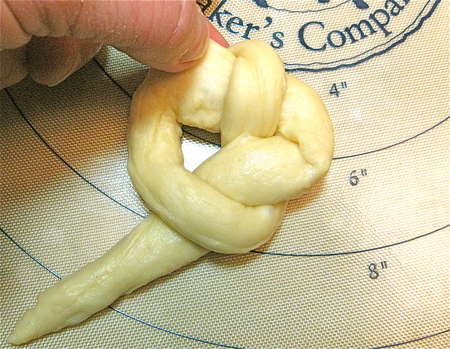 …then bring it over the loop, and down underneath.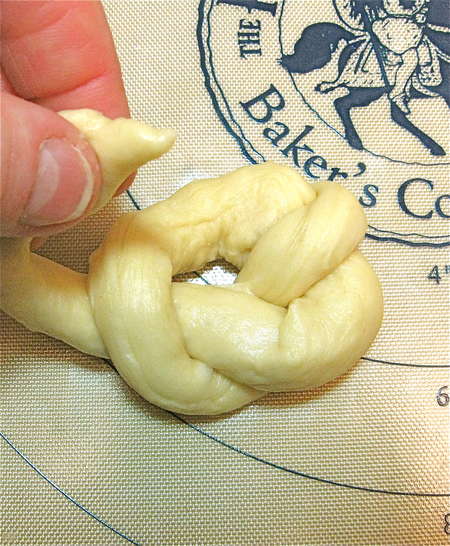 Bring the other end over the loop…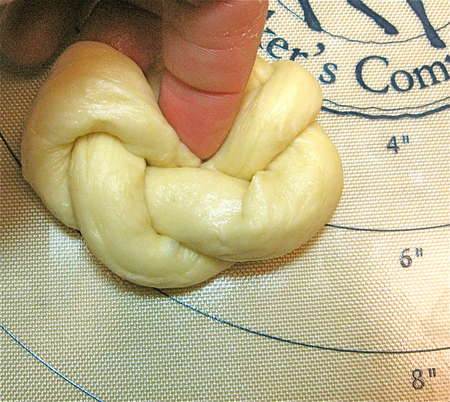 …and into the center, where it will meet the other end, the one you just tucked underneath.
Pick the knot up, and squeeze the two ends together in the center.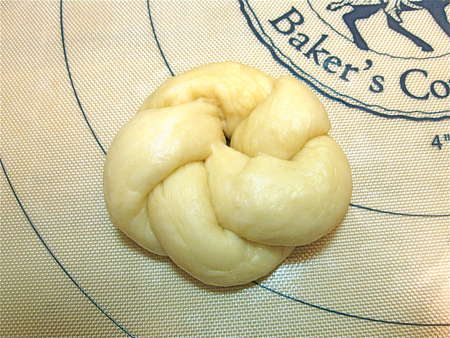 And there's your knot.  This takes a bit of practice; I suggest tying and untying a knot a few times to get the hang of it.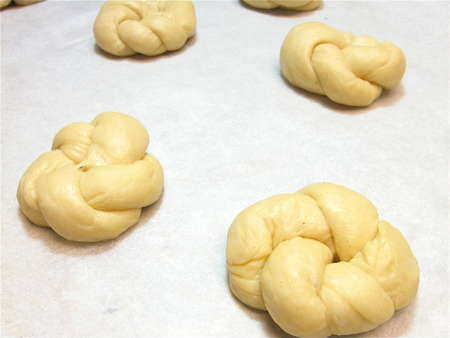 Put the knots on a baking sheet and cover, just like you did the hearts. Let them rise for about 75 to 90 minutes, till they're puffy.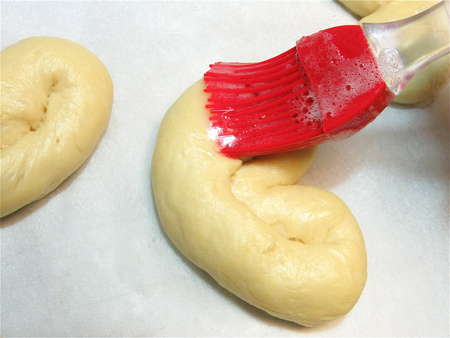 Brush with beaten egg white mixed with 1 tablespoon of cold water.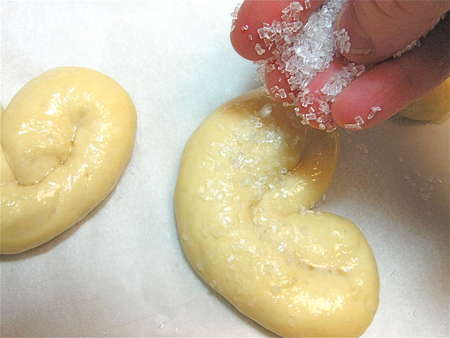 Sprinkle with coarse white sparkling sugar.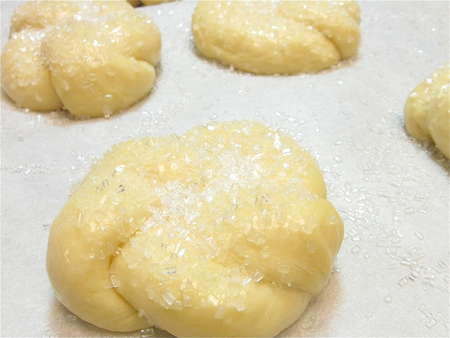 Be generous; the crunch of the sugar is a wonderful counterpoint to the soft bun.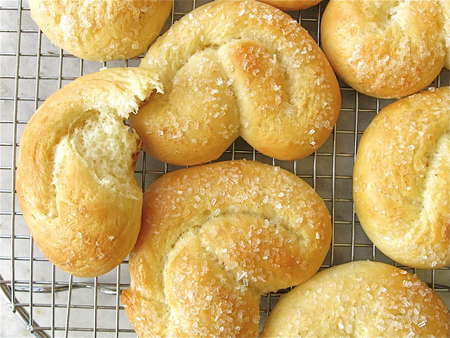 Bake till light gold. Remove from the oven, and cool on a rack. See the airy inner texture?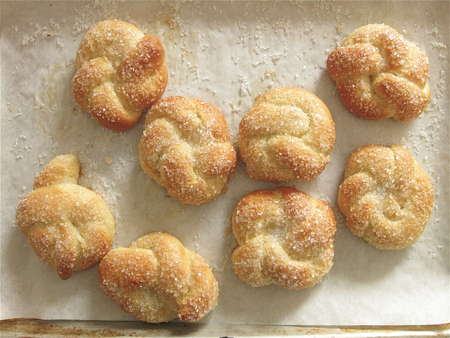 Here are the knots.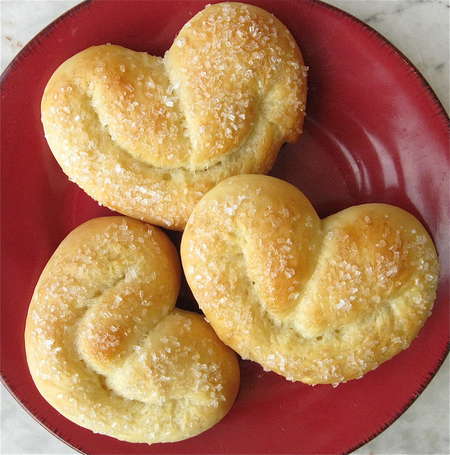 I couldn't resist finding a red plate.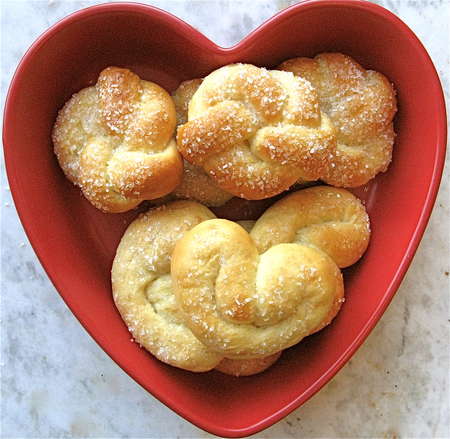 And I even tracked down a red stoneware cake pan. Even if chocolate isn't, the color red is an absolute given on Valentine's Day. Enjoy!
Read, rate, and review (please!) our recipe for Lemon Love Buns.
Buy vs. Bake
Buy: Sweet Bakery & Café, Ellicott City, MD: 2-oz. plain dinner rolls, $4.49/dozen
Bake at home: 2-oz. Lemon Love Buns, $1.87/dozen
Jump to Comments