I did something I don't often do last night. I sat down to a juicy burger for supper.
Let me amend that. I often have a hamburger for supper. A nicely browned or grilled patty, lying beside a healthy stir-fry of gingered green beans, maybe a salad, perhaps some grilled zucchini. No bun; just protein. I'm trying to keep my carb count low. And working all day here in the King Arthur Flour test kitchen, forcing myself to sample fudge brownies, and buttercream-iced cupcakes, to say nothing of cheese-stuffed focaccia… well, you can just imagine. Kermit says it's not easy being green; for us test bakers, it's not easy being lean.
But my son, recently returned from 5 months in Africa and a steady diet of rice and fufu (pounded yams), asked for a special supper: hamburger, smoked provolone and cheddar, Italian seasoning, lettuce, and tomato on a bun. But not just any bun; one of those soft, squishy, supermarket packaged air-buns. The Prodigal Son effect pushed aside my better judgment, and I went to the store and bought a bag of buns.
And they were just as I'd remembered. Hey, I'm not dissing squishy white rolls; I actually like them. But I really do prefer homemade. Supermarket buns are just too flimsy. Unlike my homemade buns, they're unable to stand up to a full load of thick burger and layers of cheese, pickles, lettuce, tomato, AND condiments. Especially the condiments. One good dollop of green relish, and these insipid buns are history, soggy and ready to shred at your first bite.
But not homemade buns. They not only have body, the ability to stand up to everything you can throw at/on them—they have soul. Because what's better than a burger bun that you've shaped by hand, flavored to taste, and pulled fresh out of your own oven—at maybe 1/3 the cost of a purchased bun? Add a hungry family (or one son newly home from Africa), and you've experienced, once again, the reason so many of us bake: to make people happy, one bite—one bun—at a time.
These Onion Buns are perfect for burgers—just in time for grilling season.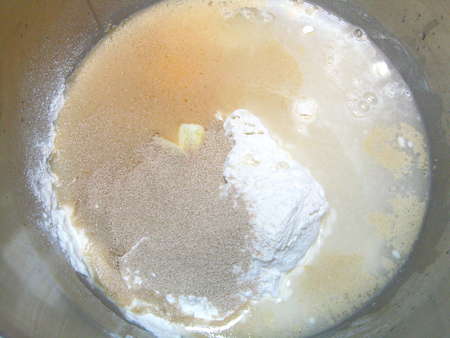 OK—everyone into the pool! Er, everything into the bowl.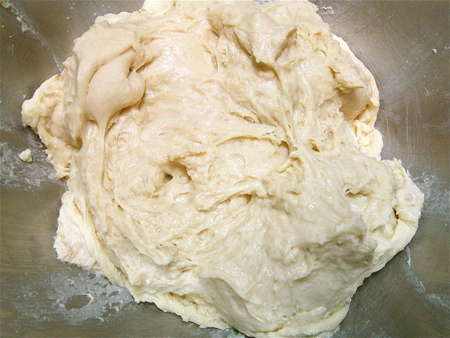 The dough should come together nicely—not too dry, not overly sticky.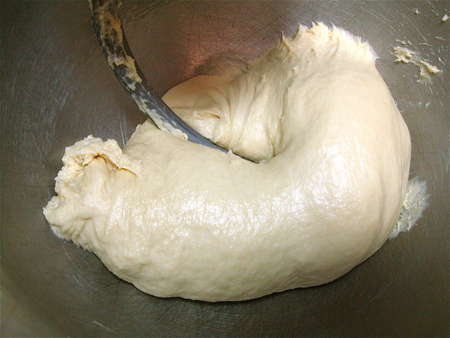 After kneading (about 7 minutes at second speed in a stand mixer), the dough will be smooth and soft, and just a bit tacky. For purposes of these photos, I always knead in a stand mixer; but if I'm not photographing, I knead in a bread machine. It's easier (I can walk away and forget about it), and does a super job.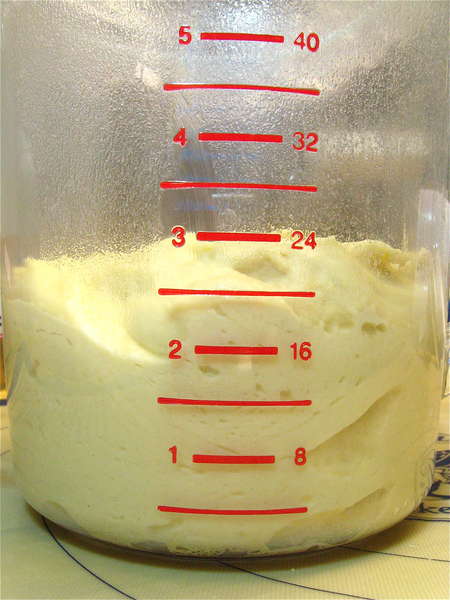 Place the dough in a container large enough to let it at least double in bulk...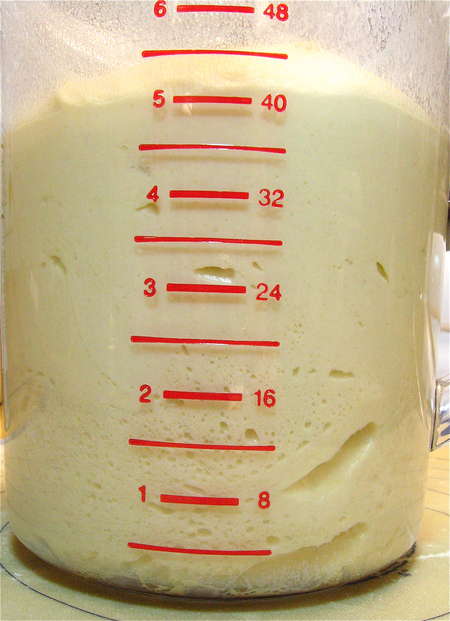 ...and about an hour later, it should indeed have just about doubled in bulk.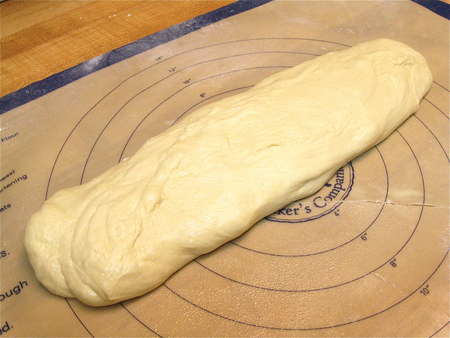 Stretch the dough onto a lightly greased work surface.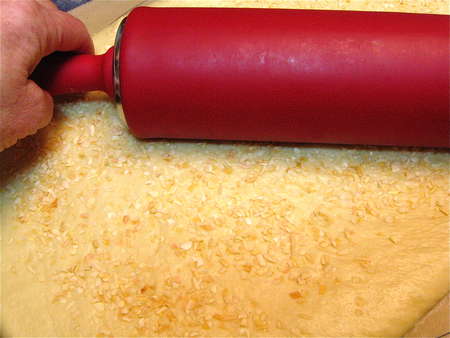 Once it's rolled into a 12" x 17" rectangle, sprinkle the dough with minced dried onion, and use a rolling pin to press the onion into the dough. Can you use fresh or sautéed onion rather than dried? Yes; but the buns will probably unravel, due to the moisture in the onion.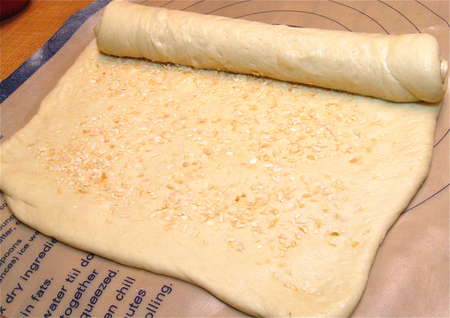 Roll the dough, starting with a short end.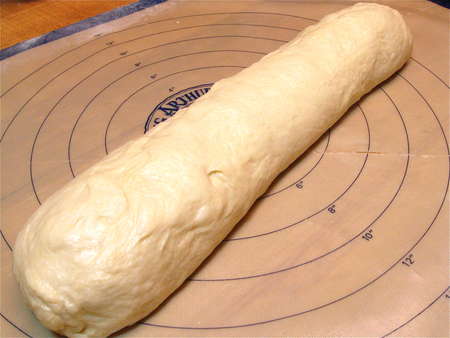 Seal the side seam and the ends. There—a nice (albeit not very smooth) log.

Next we're going to cut the log into 1 1/2" slices. I find a pair of scissors the easiest tool for this task. Use a knife, dental floss, monofilament fishing line, or whatever cutting implement you prefer.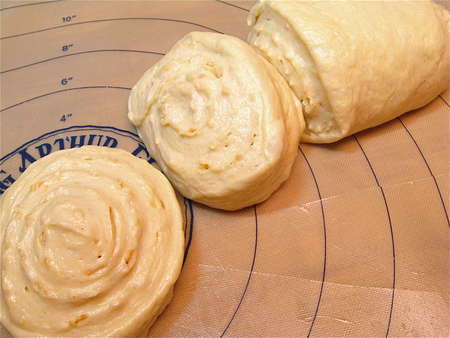 You can already see the nice spiral of onion in the buns.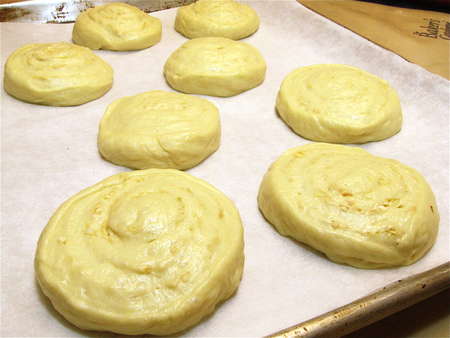 Place them on a lightly greased or parchment-lined baking sheet, cover, and let them rise for about an hour.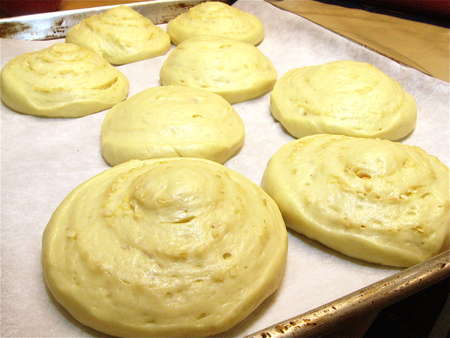 As you can see, they'll become nice and puffy.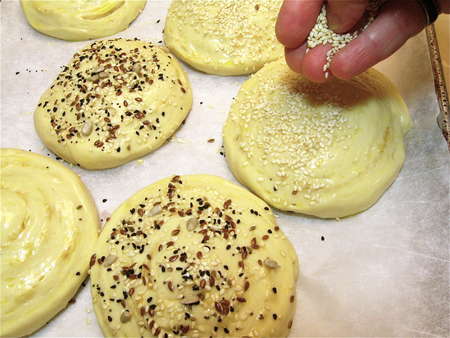 Brush the buns with beaten egg white, and sprinkle with seeds. Or don't; seeded buns are a tasty option, but certainly not required!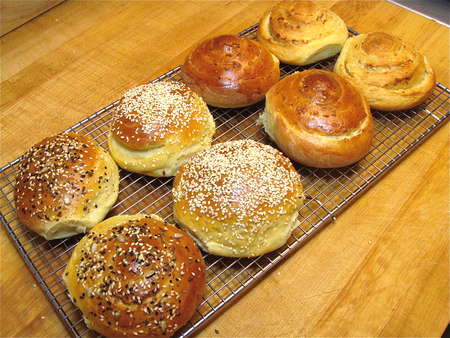 Bake till golden brown.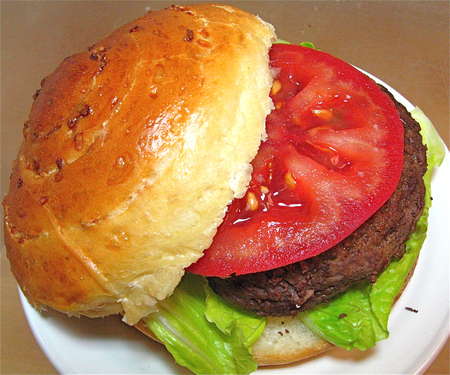 Grill burgers, split buns, add lettuce and tomato—enjoy!
Read our complete recipe for Onion Buns.
Jump to Comments