Our classic cinnamon rolls
We don't make 'em like they used to... thankfully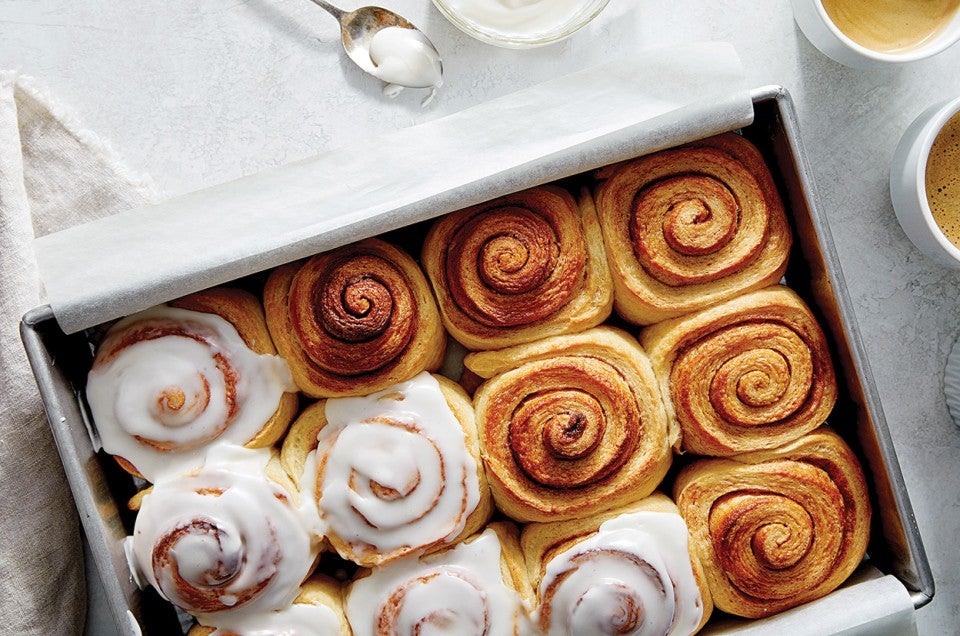 I grew up on cinnamon rolls. You know, the ones that pop out of the tube, your mom puts them in the oven, and you get to pry open the can of soft frosting and spread it on when they're done. I LOVED those rolls; they were a top o' the heap treat. And we only had them like twice a month; they alternated with cinnamon streusel coffeecake as the Sunday-morning-after-church reward.
I hadn't had one of those rolls in years. Sunday has become just another day (albeit one that still includes church in the morning). I eat low-fat protein for breakfast, rather than sweets. And if I do treat myself to some carbs, they're usually in the form of homemade pancakes or an almond puff loaf.
But a few weeks back, I sampled one of those cinnamon rolls from my past. And the experience just wasn't what I'd remembered. They tasted, well, chemical-y. And while the icing was finger-licking sweet, it was also kind of flat-tasting. No aromatic vanilla, no butter notes…
I thought I'd read the package to see just what was in these babies, and was surprised to see no vanilla, no butter. In fact, they featured bleached flour, partially hydrogenated oil, cellulose gum, Yellow 5 and Red 40… Ewwwww! This just isn't the way I want to eat.
So, the longing for cinnamon rolls still lodged in my soul, I dug out my favorite all-purpose soft white bread recipe, and turned it into cinnamon rolls. Not difficult. Cinnamon-y and lovely. And the ingredient statement reads unbleached flour, butter, yeast, sugar, vanilla, salt, cream… So much nicer, don't you agree?
When you want a Sunday morning treat that's high on flavor, low on chemicals, try these Cinnamon Rolls.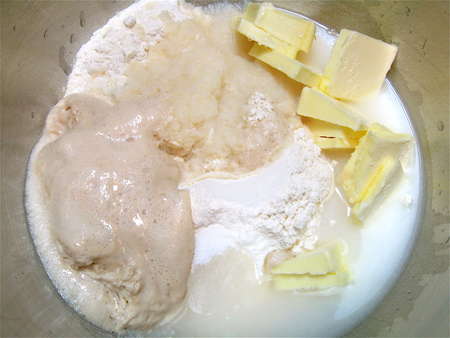 Start with the usual yeast bread suspects: flour, butter, salt, liquid, and yeast. In this case, I'm using active dry yeast that's been jump-started by dissolving it in water with a pinch of sugar. For you yeast neophytes (or instant yeast users), it's that foamy tan stuff on the left.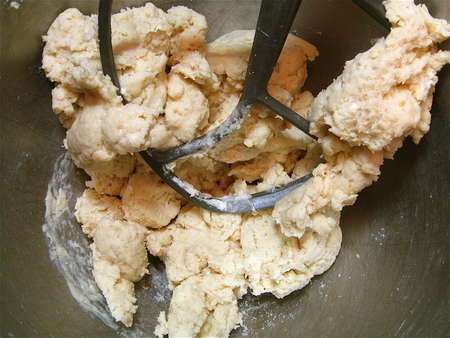 Mix to make a rough dough. At this point, you can get an idea of whether you've got the correct flour/liquid ratio. This looks pretty good; it's hanging together, and not too sticky. If you can't squeeze the dough and make it cohesive, add a tablespoon or two additional liquid; if it seems really sticky, add a bit more flour.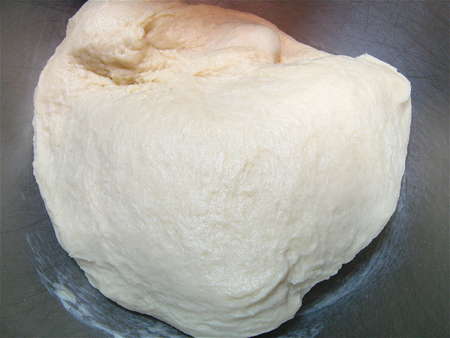 After 7 minutes of kneading (speed 2 in my KitchenAid stand mixer), it's a bit sticky, but nice and smooth. Better a bit sticky than too dry; the stickier the dough (to a point), the lighter the rolls.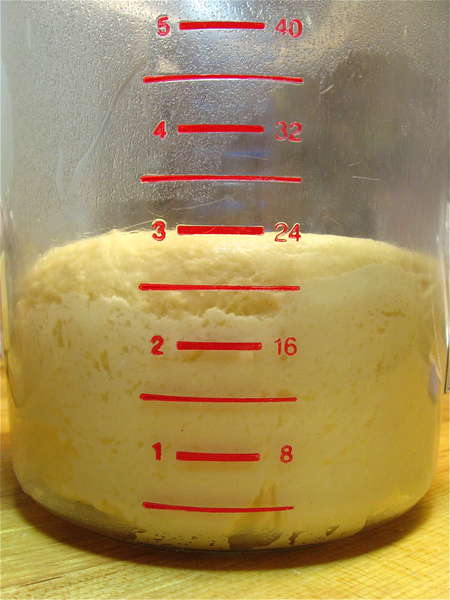 Put the dough in a greased container large enough for it to at least double in size. I like to use an 8-cup measuring cup; it lets me see exactly how much the dough has grown. And yes, for all of you who've been asking, we'll be selling this measuring cup beginning in early August.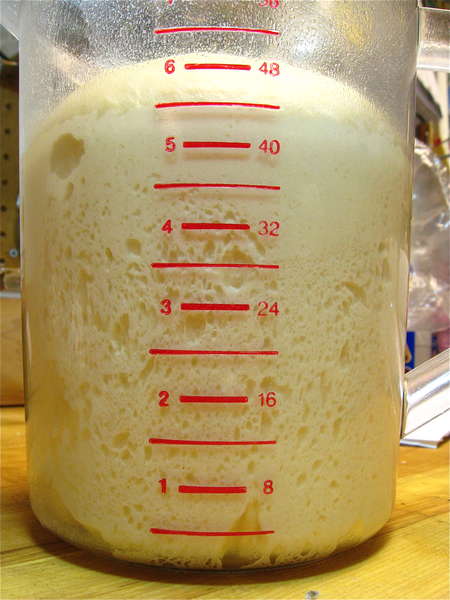 See? Doubled in bulk—no guessing necessary.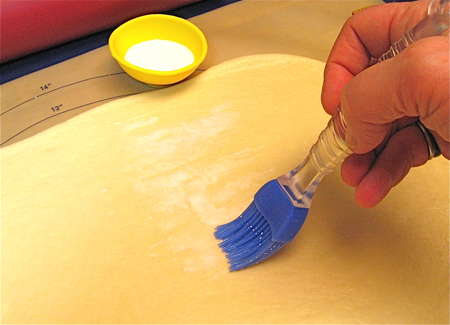 Roll the dough into a rectangle, and brush it with milk. This will help keep the cinnamon-sugar filling in place.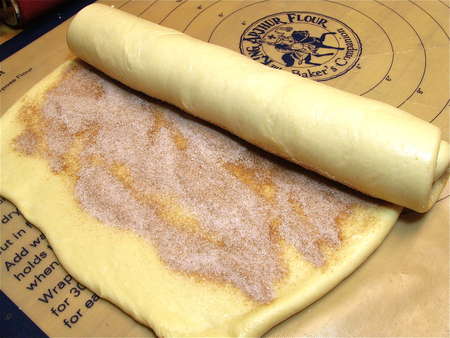 Sprinkle the dough with the cinnamon-sugar, and roll it up.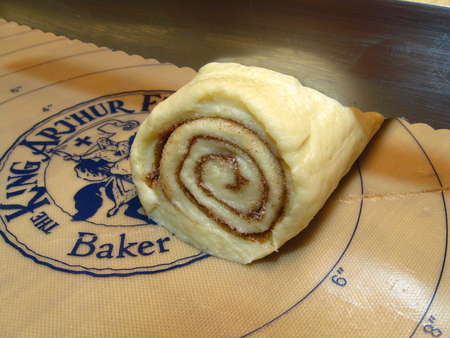 Cut the log into even slices. If you're cutting on a silicone mat, be careful; you don't want to cut into the mat. Like I did a few months ago—see how this mat is sliced on the right? DUH. Live and learn... That's why they call it the "test" kitchen, I guess.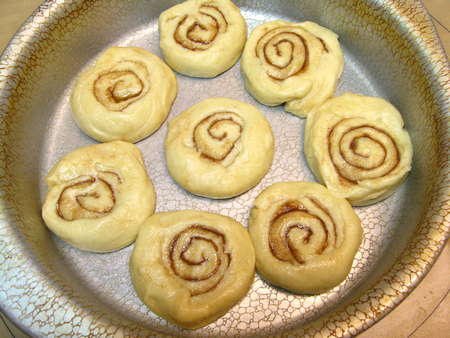 Divide the rolls between two 9" round cake pans, spacing them evenly. Flatten the rolls slightly. Cover the pans, and let the rolls rise...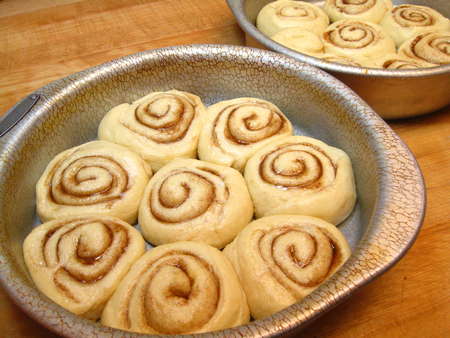 ...until they've gotten puffy and started to crowd one another in the pans. Ah! They're ready to bake.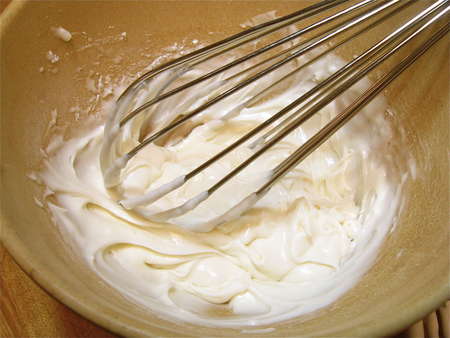 While the rolls are baking, whisk together the icing ingredients, adding enough milk or cream to make it nicely spreadable.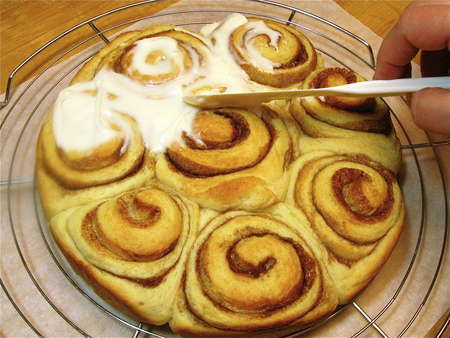 Remove the golden-brown rolls from the oven.
If you're going to serve them later, allow them to cool; don't ice them yet! That's one of the things I learned about homemade cinnamon rolls; unlike the chemical-laden variety, they dont' stay soft for long. So it's best to bake the rolls ahead (up to 2 or 3 days prior), then reheat briefly and ice just before serving.
If you're serving immediately, spread the icing over the rolls.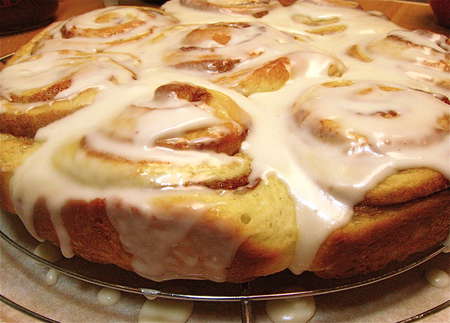 Warm cinnamon rolls, dripping with vanilla icing... what's not to like?
Read, rate, and review (please) our recipe for Cinnamon Rolls.