Yeast-phobic? Try making Cinna-Bites
You've got this!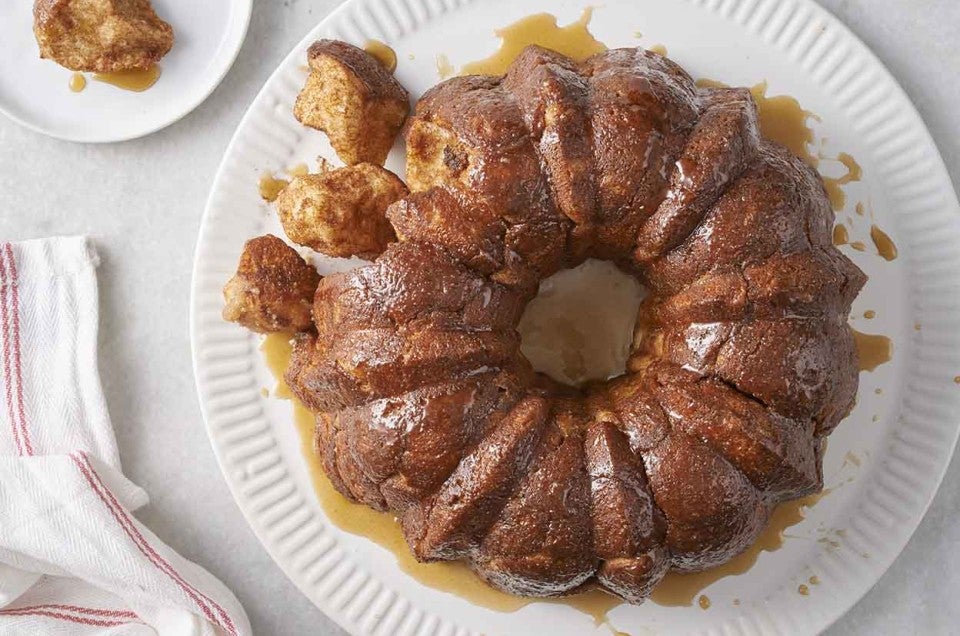 As the year draws to a close
WAIT A MINUTE.
Never mind the nostalgic musing, that "year in review" stuff that everyone's pushing at you right now. Let's cut right to the chase: there's no comfort food quite so comforting as something hot and yeast-doughy.
You know, my idea of the ultimate spa experience would be to lie down in a bathtub of warm, rising dough. If you had enough of it and it was firm enough–i.e., bagel dough, not ciabatta dough–I imagine it would support you like a finely tuned Select Comfort mattress. And if you made that dough with olive oil, think what it would do for your skin!
OK, enough with the flights of fancy; I know you're reading this blog for the recipe. That's what the analysis folks tell me, anyway–"Everyone's reading the recipes." Well, duh–isn't that what bakers do? Recipes are our coin of the realm, our common language. I mean, you hear the words "Preheat the oven to 350°F," and your ears perk up, right? So let's get back to that hot yeast dough…
Maybe you've never baked yeast bread. Too scary, you say? Yeast is too finicky, too liable to die, or make the dough go wild so it overflows the bowl and takes over your kitchen like the Creature from the Black Lagoon?
Hey–get over it. That's old-time thinking. If you can read, you can bake yeast bread. Or pizza. Or sticky buns. Or even a crusty, hole-filled rustic ciabatta, once you get the hang of baking with yeast.
Yeast bread is actually one of the easier treats you can make. With one caveat. In my humble opinion, making yeast dough in a stand mixer or with a bread machine removes 90% of the effort, leaving you with just the fun part: the shaping and baking and eating.
OK, those of you who love kneading dough by hand–calm down! Do whatever floats your boat. I happen to like the ease and comfort of machinery: bread machine (to make the DOUGH, not to bake the loaf); or stand mixer.
So–since that bathtub of rising dough has put us all in the mood for some comfort, let's make monkey bread. This pull-apart bread, a '50s classic, doesn't require any serious skill at all. But hot from the oven, smelling of butter and cinnamon, daring you to wait till it's cool enough so you don't burn your fingers pulling it apart–well, it just doesn't get any better. My favorite recipe for monkey bread is Cinna-Bites. Here's a visual how-to: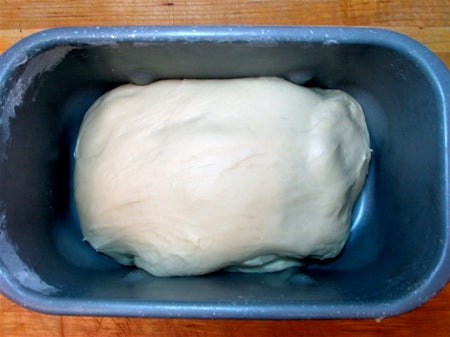 This is why I use a bread machine to knead dough. The machine has just finished the kneading part of its cycle, and the dough is ready to rise. Isn't it gorgeous?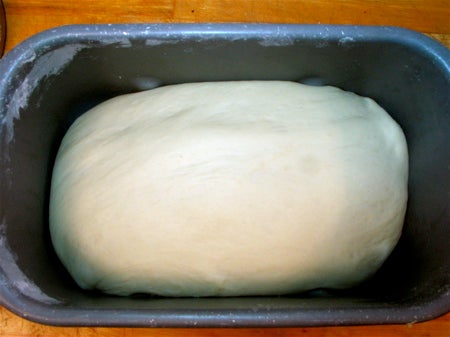 Here it is an hour later, all risen and ready to shape.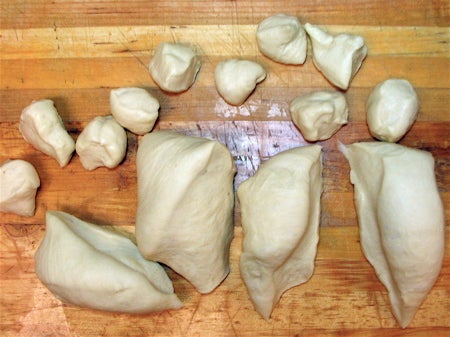 I'm going to cut the dough into 64 pieces. First I cut it in half, then each half in half again... you see where this is going, right? All you math majors, go ahead–have fun figuring out just how many cuts you'll make. P.S. If you don't want to cut the dough with a bench knife, as I did here, feel free to just tear it into individual pieces.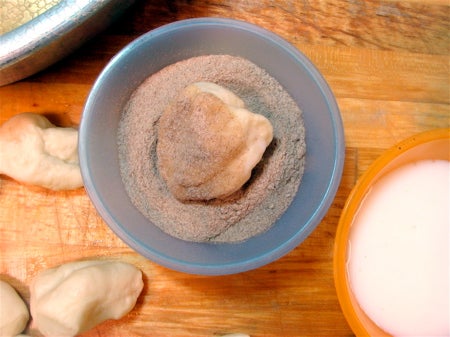 Each piece of dough gets dipped in milk, then in cinnamon sugar or Baker's Cinnamon Filling, which includes cinnamon, sugar, and another kind of sugar to make it gooey when it melts. YUM. Notice the pieces are irregularly shaped. There's absolutely no need to round them into balls, though if you're someone who loves doing fancy stuff like that, go for it.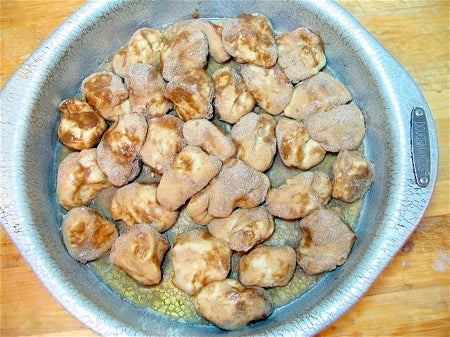 Grease two 9" round cake pans, pour in a layer of maple syrup or cinnamon syrup, and put 32 pieces of dough in each. 
For details on how to make one Bundt pan, like in the photo at the top of this post, see the "Tips" at the bottom of the recipe page.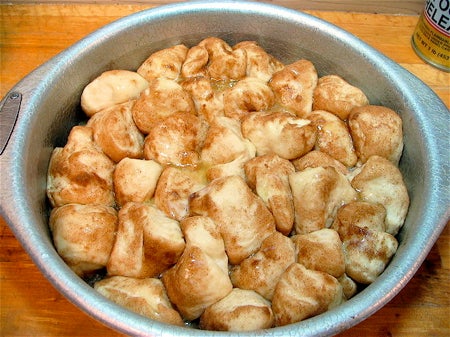 Cover the pan, and let the dough rise. After about 90 minutes, NICE! The dough is good and puffy.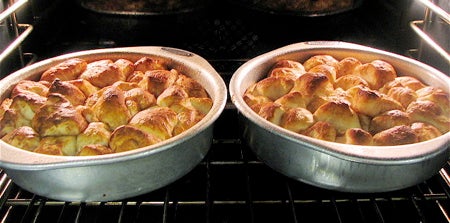 Bake the bread in a 350°F oven for about 20 minutes. Here it is, nearly ready to come out.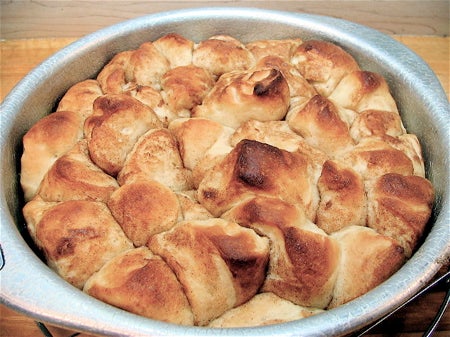 Ta-da!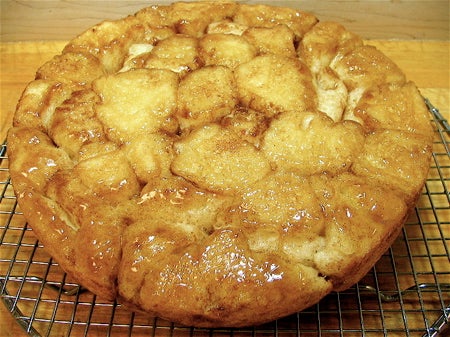 IMMEDIATELY loosen the edges and flop the bread onto a rack, syrup-side up. This is the part where you need to wait long enough so you don't burn your fingers. But as soon as it's cool enough...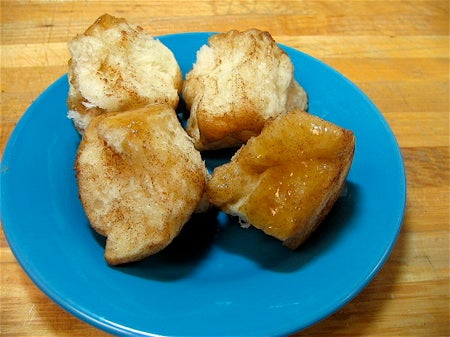 Pull it apart and enjoy that hot yeast-doughy thing I was talking about.
So, you have two pans of Cinna-Bites here. Enjoy one warm, and save the other for later; to reheat, wrap loosely in aluminum foil, and heat for about 10 minutes in a 350°F oven. Or make the most comforting of all nursery foods: Cinna-Bite Bread Pudding. The recipe is at the end of the Cinna-Bites recipe.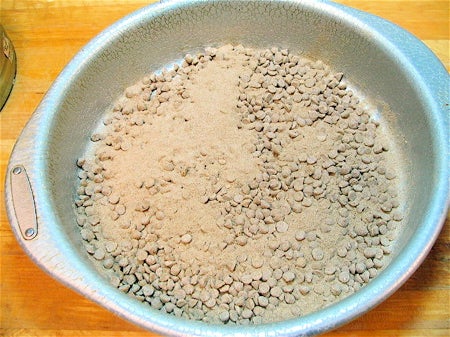 Grease a 9" round pan, spread cinnamon chips in the bottom, and sprinkle with Baker's Cinnamon Filling (first choice), or cinnamon-sugar.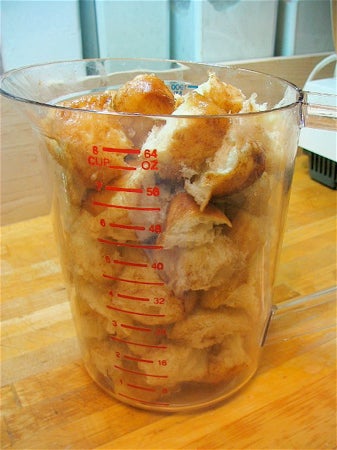 Use the pan of Cinna-Bites you didn't eat yet. Tear each piece in half. You should have about 8 cups of gently packed bread.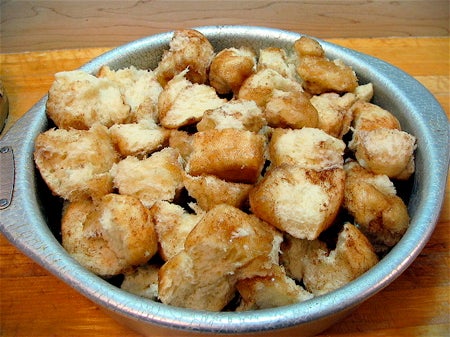 Pile the bread into the pan with the chips and cinnamon-sugar or cinnamon filling.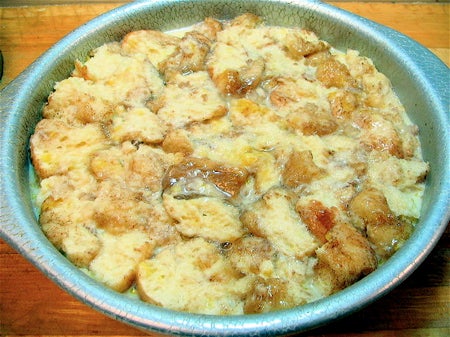 Pour the egg/milk mixture over the bread, pushing it down till it's mostly submerged.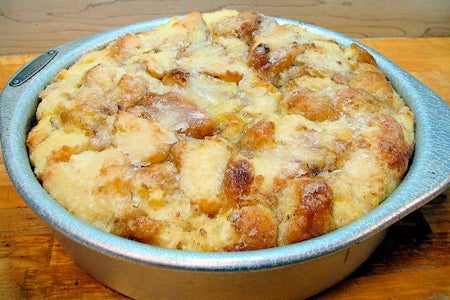 Bake in a 325°F oven for 60 minutes. It'll puff up, and feel set. The middle will still seem a little jiggly.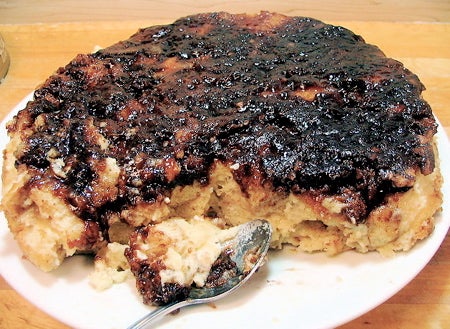 Just like you did when you made the monkey bread, loosen the edges, and IMMEDIATELY turn the pudding out of the pan onto a serving plate. Notice the gooey, cinnamon-y crust the cinnamon filling and chips made as the pudding baked.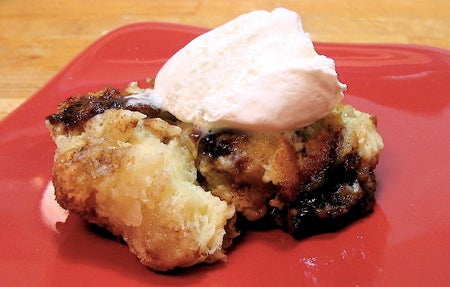 Serve with whipped cream or ice cream. Hot, yeast-doughy, cinnamon-y... I tell you, it just doesn't get any better than this.
If you've suffered from yeast-phobia, I hope you're over it by now. After all–you have to start SOMEWHERE if you're ever going to know the pleasure of lying in a bathtub of yeast dough...
Ready to try? Follow along our recipe for Cinna-Bites. 
Jump to Comments