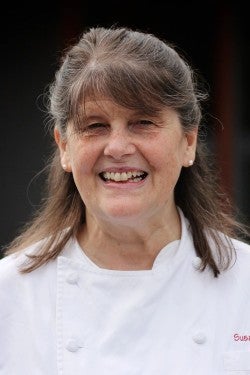 About Susan Miller
Employee-owner from 1997-2020  
After years of baking professionally Susan joined King Arthur in 1997, working part-time while also training as a classroom teacher. She became the Baking School's first coordinator when it opened in 2000, guiding its operations, marketing, and classroom experience. By 2004 she was the school's director, a position she held until her retirement in 2020. 
Under Susan's leadership the school grew from a few classes a week to a robust educational experience with more than 10,000 registrations a year. In 2012 she oversaw the design of two new classrooms when the Norwich campus underwent a major renovation, and in 2016 she directed the development and opening of the Baking School at the Bread Lab in Washington State. 
Susan always relished the joyful atmosphere of the classroom, a place where people from all over the world were connected through their love of baking. She was thrilled to host accomplished bakers from around the globe who came to share their expertise with King Arthur's students. She was especially proud of the King Arthur instructor team, both their remarkable work ethic and their ability to reach every student who came through the doors, helping them to accomplish their baking goals. 
Along with leading King Arthur's educational efforts as Baking School director, Susan is a co-author of King Arthur Flour Whole Grain Baking, recognized as a James Beard cookbook awards nominee in 2007; and is the editor of the company's newest book, The King Arthur Baking School: Lessons and Recipes for Every Baker, published in 2022.