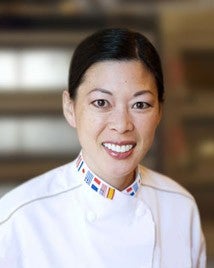 About En-Ming Hsu
Contributor
World-renowned pastry chef En-Ming Hsu's accomplishments are as numerous as they are impressive. A graduate of Skidmore College and the Culinary Institute of America, En-Ming's career began in the kitchens of the famed Lespinasse restaurant in New York City's exclusive St. Regis Hotel and Patisserie Café Didier in Washington DC. From 1994 to 2004, En-Ming worked at The Ritz-Carlton Chicago Hotel, for most of that time as Executive Pastry Chef. Since then, she has been sharing her knowledge as an independent pastry chef and consultant. She has taught at leading culinary institutions worldwide, including King Arthur Baking Education Center and The French Pastry School. As winner of numerous competitions, En-Ming is often invited to serve as a jury member for national and international pastry competitions.
In 2001, En-Ming served as Team Captain of the first and only U.S. pastry team to take the gold medal at the Coupe du Monde de la Patisserie in Lyon, France. This bi-annual competition highlights the skills and gastronomic innovations of the world's finest pastry chefs. She has returned to the Coupe du Monde to serve as President of the International Jury, Jury President and Manager for Team USA, and guest commentator.
In 1997, En-Ming was named "Pastry Chef of the Year in America" for capturing the gold medal at the Eighth Annual U.S. Pastry Competition. Other awards include "Rising Star Chef of 1999" for the James Beard Foundation, "One of the Top 10 Pastry Chefs in America" by both Chocolatier and Pastry Art & Design magazines, "Best Pastry Chef in Chicago" by Chicago magazine, "Best Pastry Chef in Chicago" at Jean Banchet Chef's Gala, "Distinguished Visiting Pastry Chef" by Johnson and Wales University, and "Lifetime Achievement Award" by Paris Gourmet. She was also recognized by Académie Culinaire de France as Dame de l'Année 2009. She received an Honorary Degree of Doctor of Culinary Arts from Johnson and Wales University. In 2010, En-Ming was presented with the Amoretti World Pastry Team Championship "Pastry Chef of the Year" award.
En-Ming's work has been featured in So Good, Modern Baking, Art Culinaire, Food Arts, Gourmet, Chef's Magazine, Pastry Art and Design, Pastry's Best, and Shelter magazines. Her recipes were also published in A Neoclassic View of Plated Desserts, A Modernist View of Plated Desserts, Exceptional Excursions, The Pastry Chef's Apprentice, and Essentials of Nutrition for Chefs. She is co-owner of Sipextraordinary.com, makers of Sip! Extraordinary Drinking Chocolate.
En-Ming is a member of Les Dames d'Escoffier and L'Academie Culinaire.