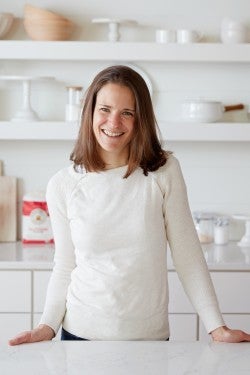 About Charlotte Rutledge
Employee-owner from 2011-2022
Born in Atlanta, where her parents owned the bakery Pâtisserie Bothe, Charlotte (née Bothe) was predestined to love baking. She moved to Norwich, Vermont with her family when she was five years old and discovered King Arthur flour when she began cooking and baking at local restaurants during high school. 
After pursuing an undergraduate degree and honing her professional kitchen skills in England, Charlotte returned to Vermont and landed her dream job as a product and recipe developer for King Arthur's Baker's Catalogue. 
In this role, Charlotte was responsible for formulating high-quality mixes, such as those for pretzels and pumpkin doughnuts, as well as new-and-improved hot cocoa. She also developed and wrote hundreds of recipes for both the catalogue and King Arthur website, in the process creating and supporting a rigorous testing program. 
As King Arthur grew, reorganized, and reprioritized, Charlotte adapted her skills to the changing demands of the organization. From food styling and writing to championing diversity, equity, and inclusion, Charlotte embodied the true King Arthur mission: to inspire connections and community by spreading the joy of baking. 
Charlotte went on to become King Arthur's first Test Kitchen Manager, leading a team of recipe developers and testers and writing weekly Sunday Recipe Inspiration emails to fellow bakers. All the while, Charlotte remained an impassioned recipe developer, and she brought to life some of King Arthur's most popular recipes, including the Classic Birthday Cake, Crispy Cheesy Pan Pizza, and Perfectly Pillowy Cinnamon Rolls. 
In early 2022, Charlotte left King Arthur to spend more time with her family and forge a new professional path. She now writes Balanced Diet, a newsletter designed to help readers think more holistically about food and, of course, inspire them to cook and bake.