Baker Hannah Oatman is constantly whipping up whimsical, elaborate cakes that taste as good as they look. Below, she shares how to make one of her favorite styles: the checkerboard cake.
* * *
Let's face it: Cakes are as much about presentation as they are about flavor. We all want a perfectly baked cake with a tender crumb, but we also want to bake something that will wow our fellow cake-eaters before they take the first bite.
Some cakes, however, are all show and no taste, relying on sugary decorations, excessive frosting, and cascading drips to dazzle their audience. So I'm here to show you a technique that gives your cake the "wow" factor without compromising on quality: the checkerboard cake. It's a relatively simple technique that relies on the cake itself, and it makes a dessert that's just as exciting on the inside as it is on the outside. Who doesn't love a beautiful surprise when they cut into a cake? (Answer: nobody.)
A checkerboard cake is made up of at least two layers of contrasting cake colors cut and reassembled to reveal a beautiful pattern. You can use food dye to color your layers, or make two entirely different types of cake, such as chocolate and vanilla. As long as the colors contrast with each other and the flavors go well together, you're golden!
To showcase this technique, I'm making a version that's colorful, adventurous, and summery: a pink-hued strawberry cake, a tangy yellow lemon cake, lemon curd filling, and basil Italian buttercream. Once you get the method down, the possibilities are endless.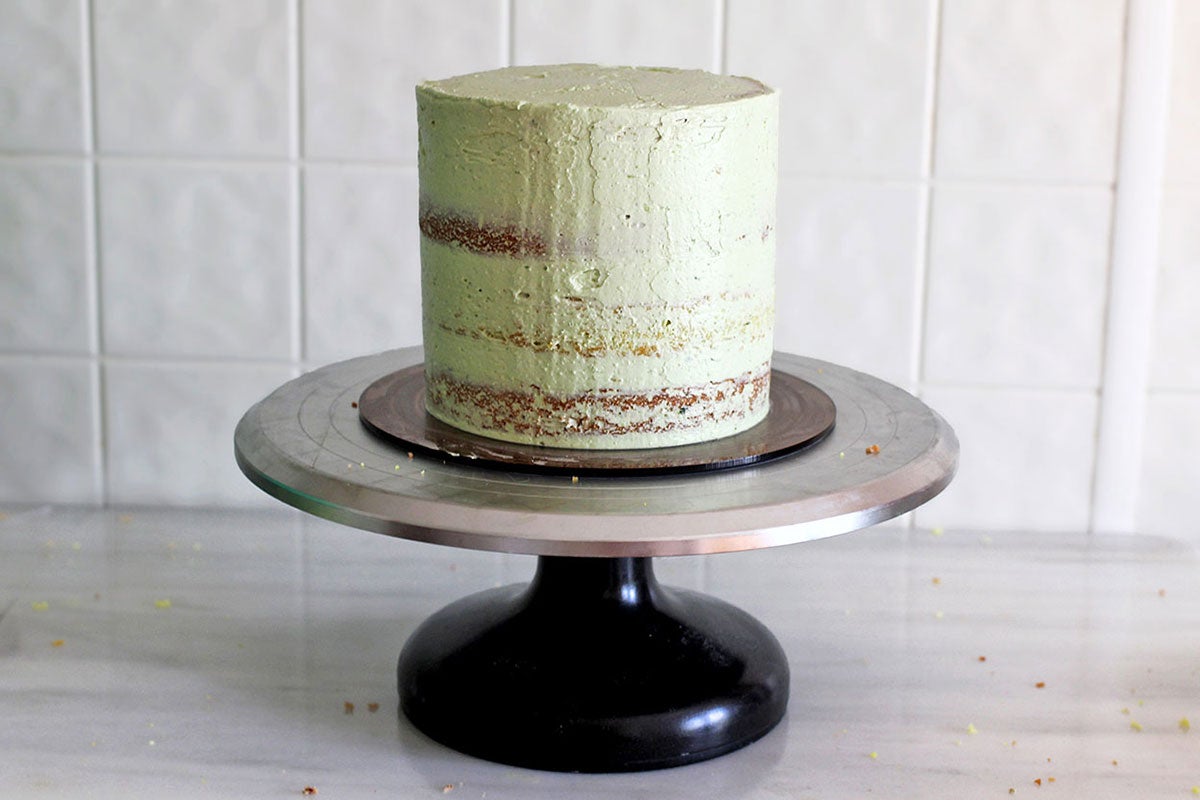 Choosing your recipe 
You can use any cake recipe(s) you love here (as long as the flavors play nicely together!), but I'm making King Arthur's very own Tender White Cake. It's a great base for flavor modification, and results in a beautiful, soft, fine-crumbed cake every time.
You can make a checkerboard cake with two or four total layers — you just need the same number of layers for each flavor/color. I like to make a tall cake, so I'm making four 6" cake layers from the Tender White Cake recipe. I'll split the batter in two and flavor each half separately.
What you'll need to make a checkerboard cake
One or two round layers each of cake in two different colors (again, you just need the same number of each flavor/color)
One batch of your favorite frosting
One batch of your favorite cake filling (optional)
Large serrated knife
If you're using 6" pans, you'll need a 2" and 4" round cookie/biscuit cutter (1 1/2" and 3 1/2" will work too). If you're making 8" or 9" cakes, you need 2", 4", and 6" cutters.
Cake board (also known as a cake round) 
Prepare the colors for your cake layers
The first order of business: Select and prepare the color and flavor of your cakes. It's a good idea to get the flavorings ready before you start mixing the cake batter, so you can flavor and bake the cakes quickly.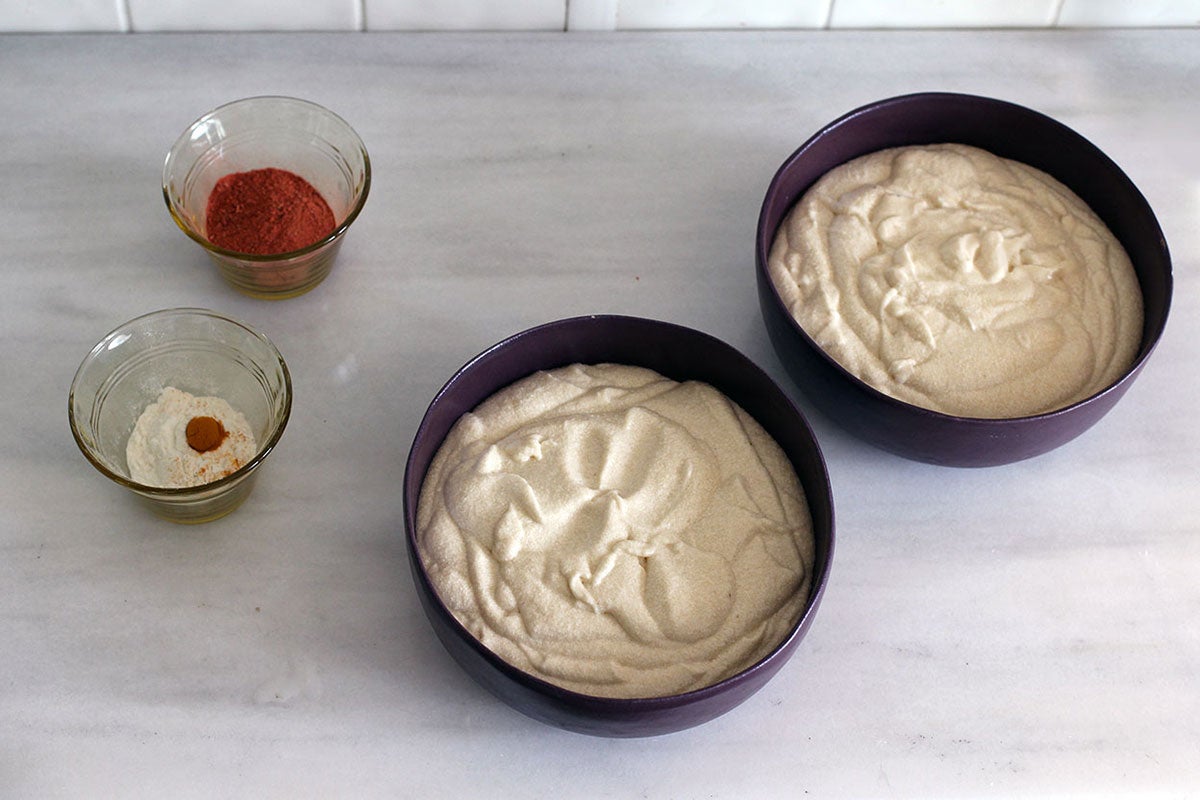 To make a strawberry cake like I did, crush freeze-dried strawberries in a mortar and pestle until you have a fine powder. (Alternatively, blend in a food processor or use a rolling pin to crush the berries in a bag, so they're contained). To color and flavor half the Tender White Cake recipe, I used 1/3 cup (7g) strawberry powder.
For the lemon cake, add 2 tablespoons (18g) Lemon Juice Powder and 1/8 teaspoon turmeric. The turmeric is optional, but without it the cake will remain white, and it's nice to add a little color for visual contrast in your checkerboard! It won't look yellow in the batter, but after baking it will show a nice pale-yellow hue. And don't worry — it's such a small amount of turmeric that you won't notice the flavor.
Divide and color the cake batter
The easiest way to prepare this cake is to make one batch of cake batter, then divide it and add flavors and colors accordingly. If you're making two different cake flavors (like chocolate and vanilla), there's no need to divide the batter — just make two recipes with roughly equal volumes of batter (tip: pick recipes that use approximately the same amount of flour) and bake the same number of layers for each flavor.
The Tender White Cake recipe yields about 1200g of batter, so once you're done mixing, divide into two bowls with 600g of batter each. You can eyeball this, but do your best to ensure you have the same amount of batter in each pan.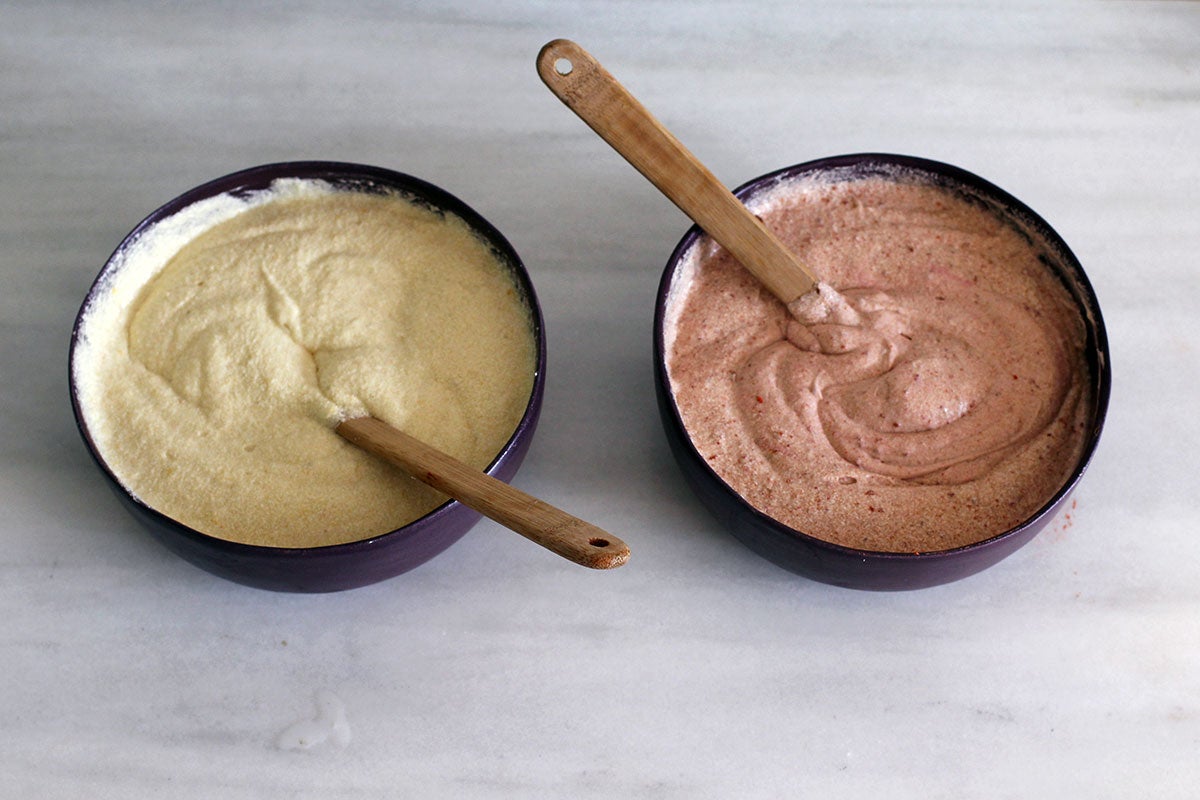 Then, mix the flavors into each half; for my cake, that means mixing 1/3 cup strawberry powder into half the batter, and 2 tablespoons Lemon Juice Powder and 1/8 teaspoon turmeric into the other. Divide the batter into four greased 6" cake pans: two pans with 300g of strawberry batter, and two with 300g of lemon batter.
Bake according to your recipe. At 350°F my 6" cakes took about 30 minutes, but I recommend checking at 20 to 25 minutes, then every 5 minutes until your cake is nicely domed, fragrant, and just starting to pull away from the edges of the pan.
Prepare your frosting
Allow the cake layers to cool completely. I know it's hard to be patient when you're excited, but this is very important — otherwise the cake will melt the filling and frosting, and it will be both unattractive and unstable.
While you wait, make a batch of frosting! I made Italian Buttercream, tweaking the recipe (I'm an incorrigible tinkerer) by adding basil. I love adding herb flavors to fruity cakes for an unexpected twist, and basil goes great with both strawberry and lemon.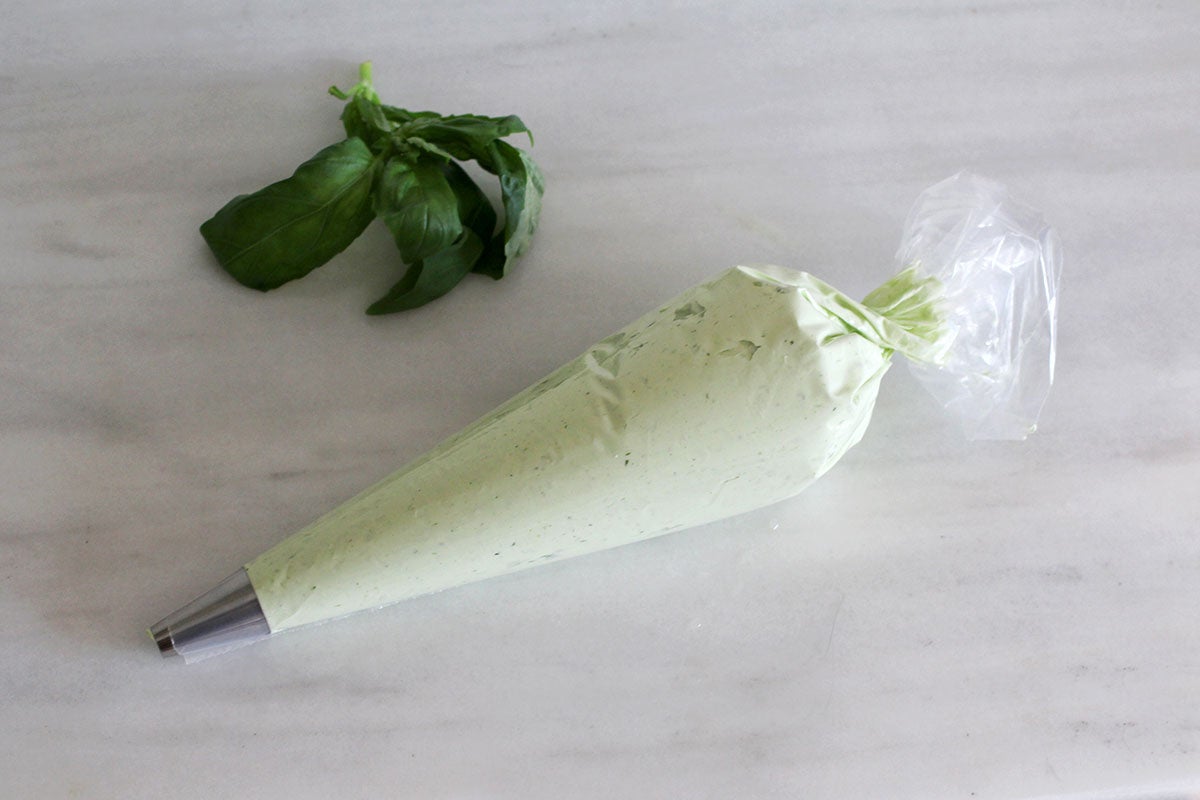 To do this, I simply crushed 12 basil leaves in a mortar and pestle until I had a paste, then added it to my buttercream. I love the visible flecks of basil in the frosting, but the green tint came out pretty subtle, so I added a few drops of natural food coloring.
Build your checkerboard cake
OK, here comes the fun part: the cake puzzle! Take your cooled layers and slice the dome off the top so that each layer is level — this makes for easy stacking and a clean, uniform inside, which is essential for this cake.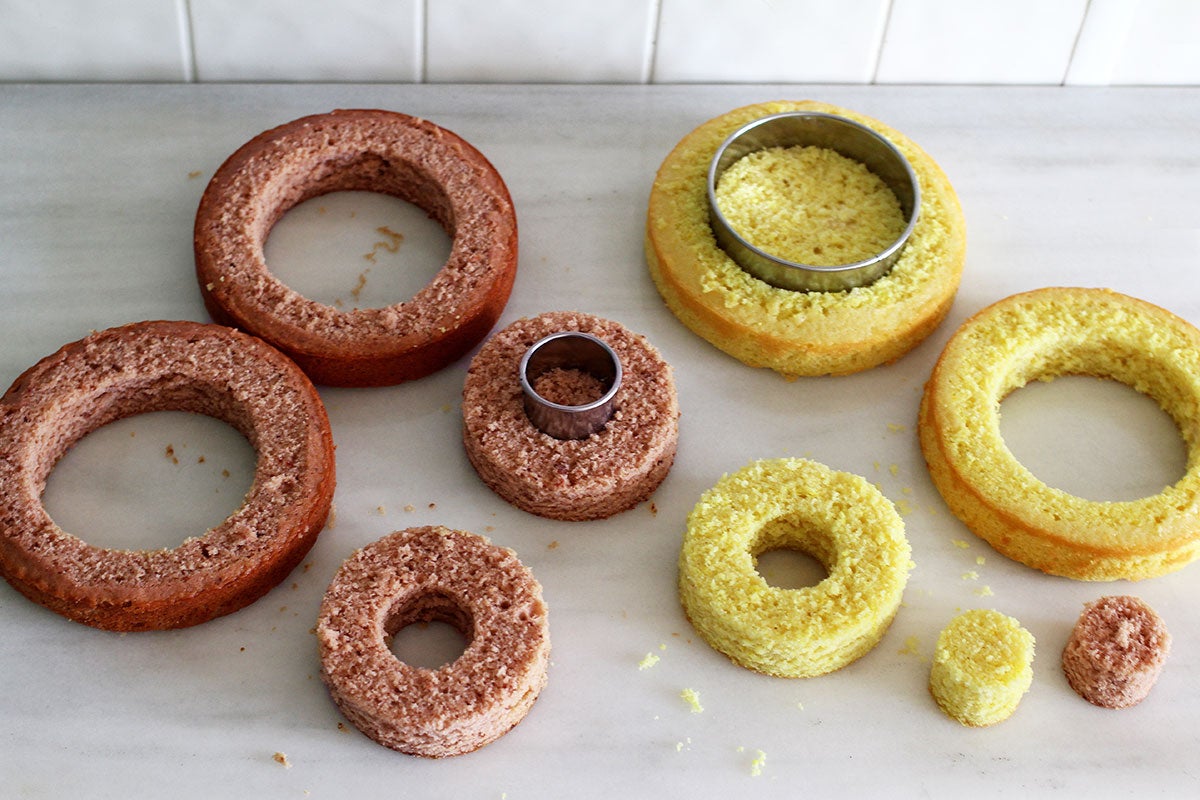 Then use round cutters to cut each piece into three concentric circles: an outer 6" ring of cake, an inner 4" ring of cake, and a little 2" circle in the center. Lightly frost the outer edge of all the 2" and 4" pieces. (This is important so the cake stays together when sliced!) You can also use filling rather than your frosting if you prefer.
Next, put the pieces back together so that each one looks like a target. You should have two layers that alternate pink-yellow-pink and two layers that alternate yellow-pink-yellow.
Fill the cake
For a cake filled with just frosting, make a frosting "dam" (a big, piped ring of frosting) around the outside of the layer, then fill it in with more frosting. It's helpful if the dam is slightly higher than the rest of the frosting layer — cakes tend to need a little extra frosting around the outside to keep the layers level.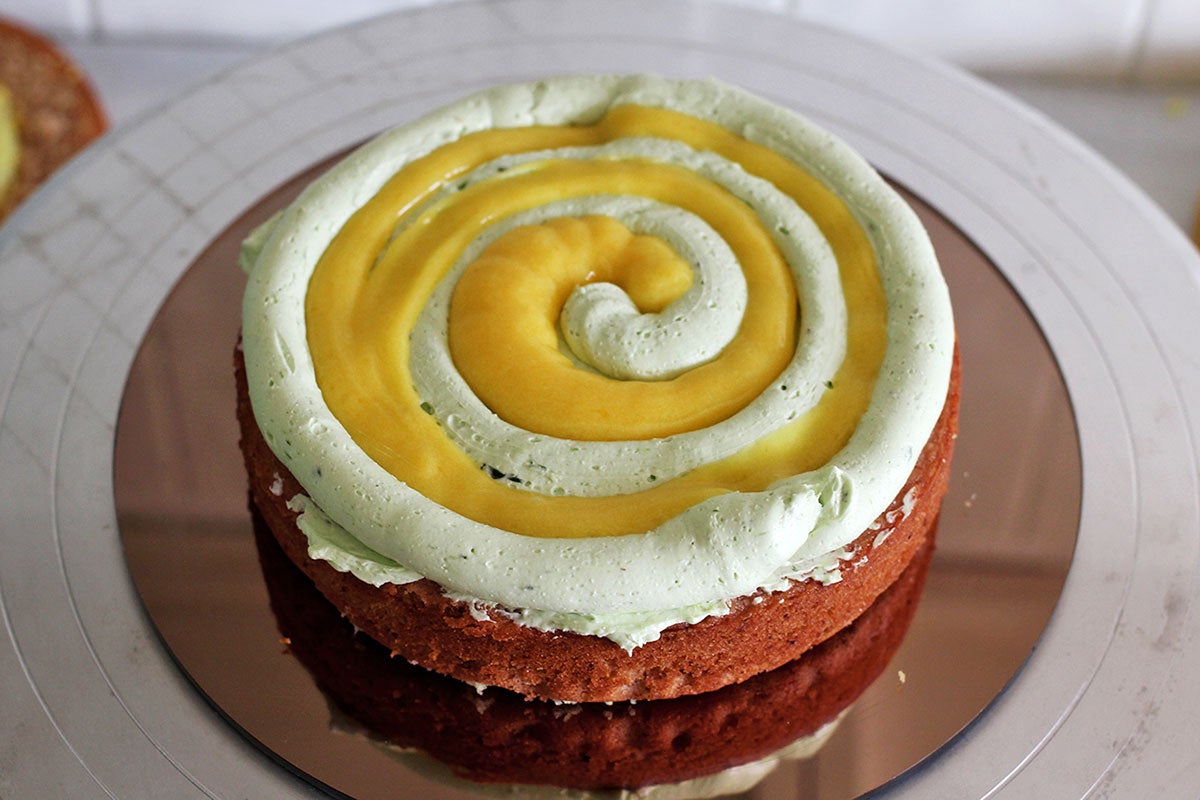 If you're using lemon curd filling, start with a thin layer of frosting to keep the curd from soaking into the cake. Pipe a dam around the outside of the layer, then make a buttercream spiral inside the dam to add some stability (this way the layers won't slide around, and the filling will look more checkerboard-y, too). Fill in the empty parts of the spiral with lemon curd. Your tastebuds will thank you.
Stack and frost
Place the next layer on top (make sure you're alternating colors with each layer), then frost and fill it the same way. After you place the last layer on top, you're ready to frost the outside.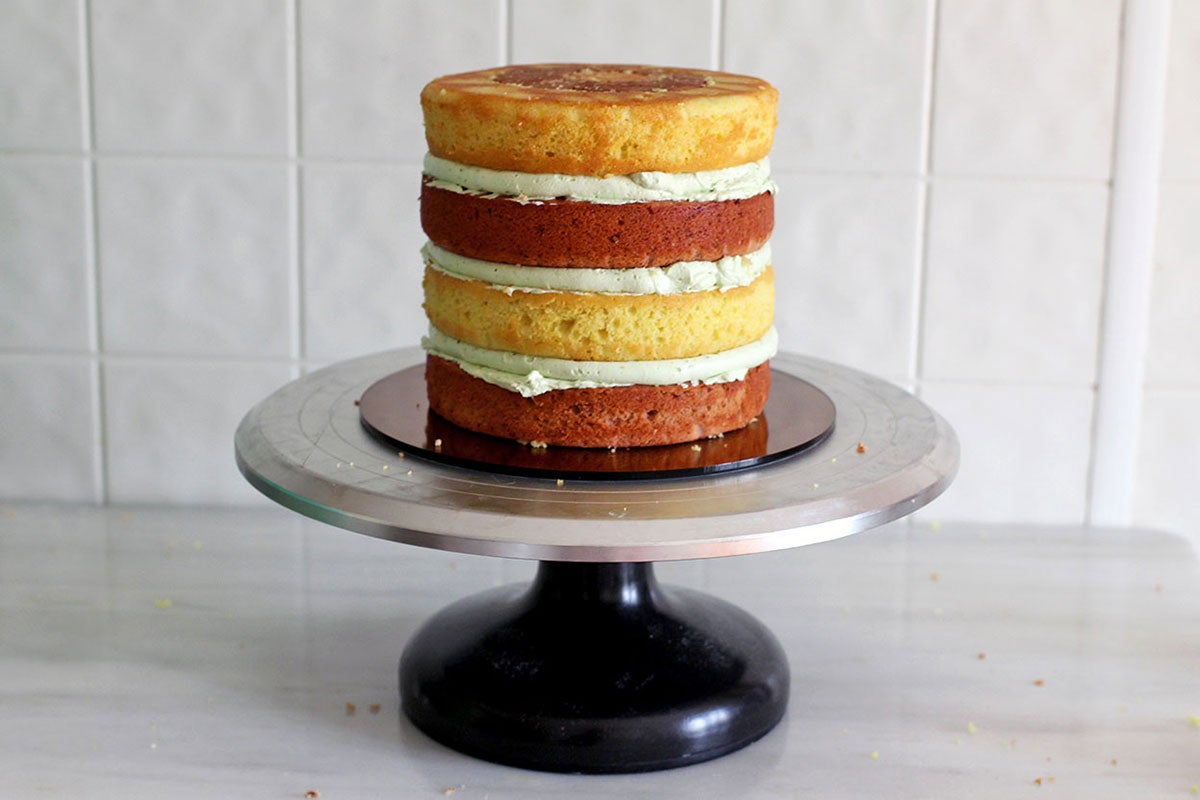 To make the cake look nice and clean, it's a good idea to start with a crumb coat. Place the cake in the freezer for 5 to 10 minutes, and then you can frost and decorate the cake to your liking. I like a smooth finish, and I kept the decorations on mine pretty minimal to let the checkerboard pattern take center stage. To do this, frost the entire cake with an offset spatula, then use your bench knife to smooth the surface as you rotate the cake stand. 
And there you have it — a simple-yet-snazzy cake to impress all your friends and fellow cake-lovers.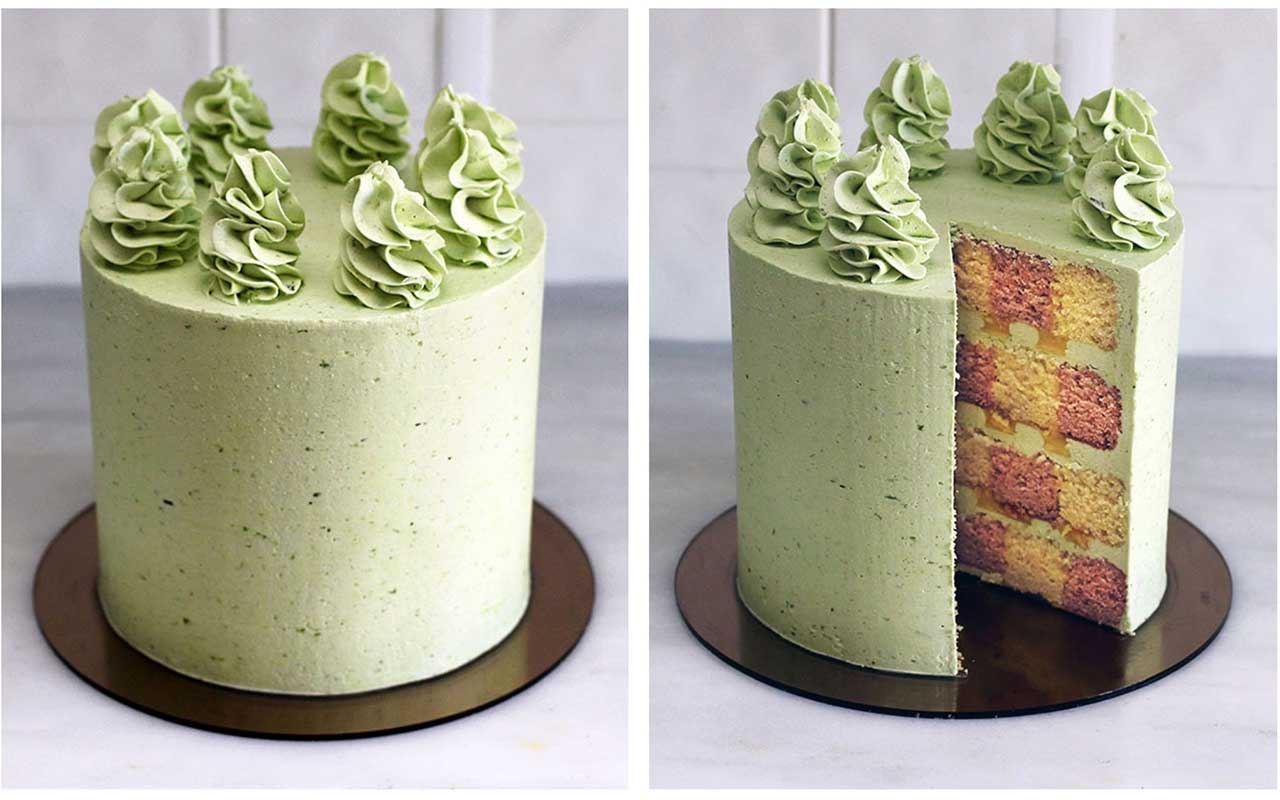 If you're looking for more creative ways to decorate your layer cakes, see our previous post about how to paint cake with buttercream. 
Jump to Comments