Like many bakers, I have a standard go-to apple pie recipe. That said, I have a hard time making it "as is." Like many of you inquisitive bakers out there, my favorite thought in the kitchen is always, "What if…?" And over the years those multiple "what ifs" have transformed my "starter" apple pie recipe into a special apple pie, one that incorporates an array of personal touches.
Now, I know apple pie is a hot-button subject; many of you are completely satisfied with your own recipe, thank you very much, and don't need me barging into your kitchen with mine. But if you're as curious as I am when it comes to hearing other people's personal takes on classic recipes, read on.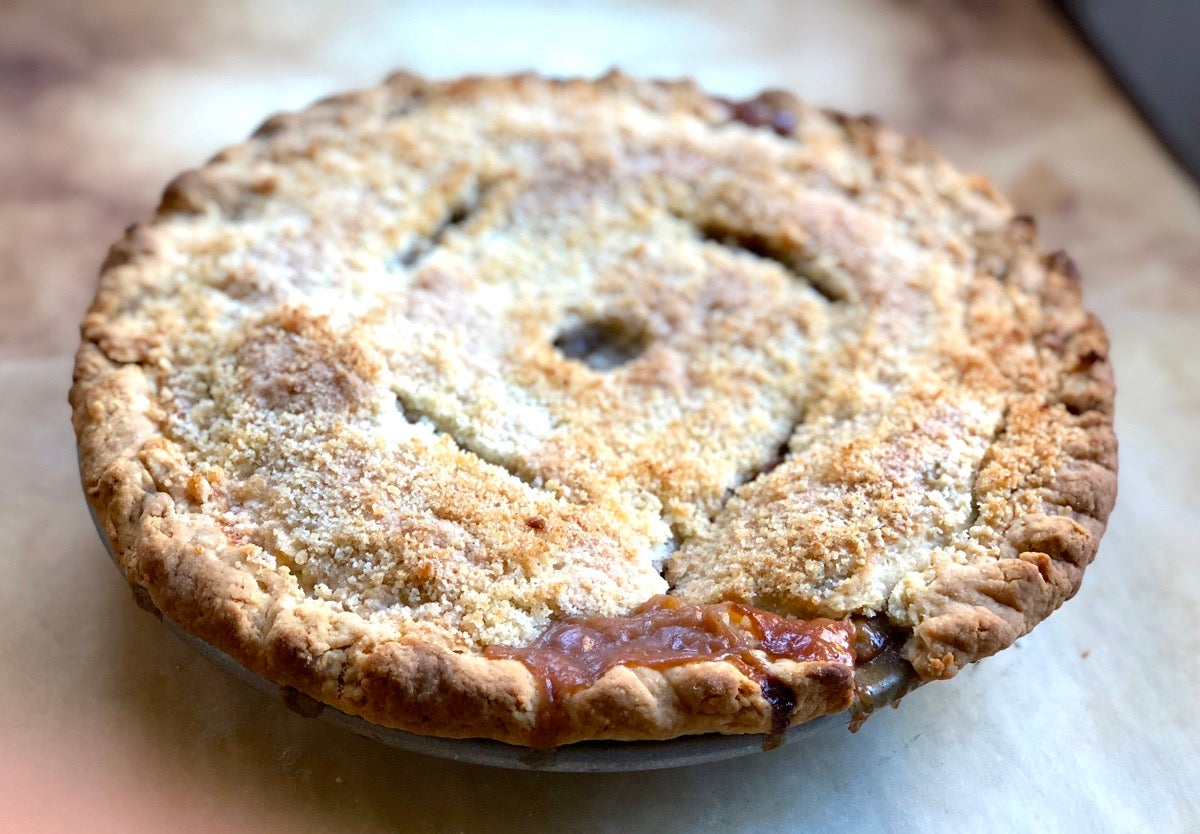 My special apple pie
Let's start with this recipe for Apple Pie. It's a basic apple pie recipe done well; I've used it exactly as written many times. But it's also a great launchpad for the modifications that follow.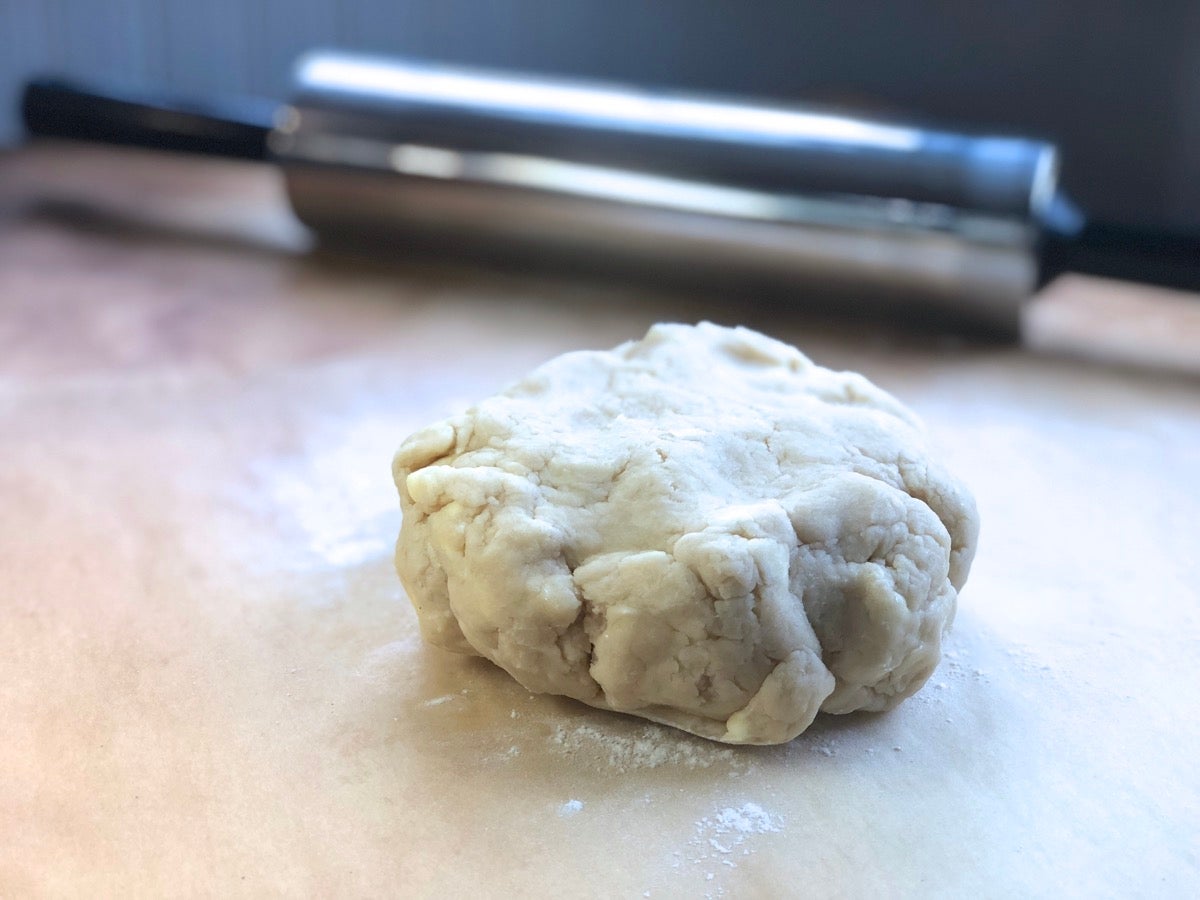 The crust
Instead of the recipe's original crust, I use our Classic Double Pie Crust recipe, which calls for more butter, less shortening (read: more butter flavor). I also add an additional tablespoon of shortening for a slight uptick in richness; and I make it with vodka instead of water (more on that later).
Here's my reformulated crust:
2 1/2 cups (297g) King Arthur Unbleached All-Purpose Flour
1 1/4 teaspoons salt
1/3 cup (60g) vegetable shortening
10 tablespoons (142g) cold unsalted butter, cut into thin pats
1/3 cup (75g) to 1/2 cup (113g) vodka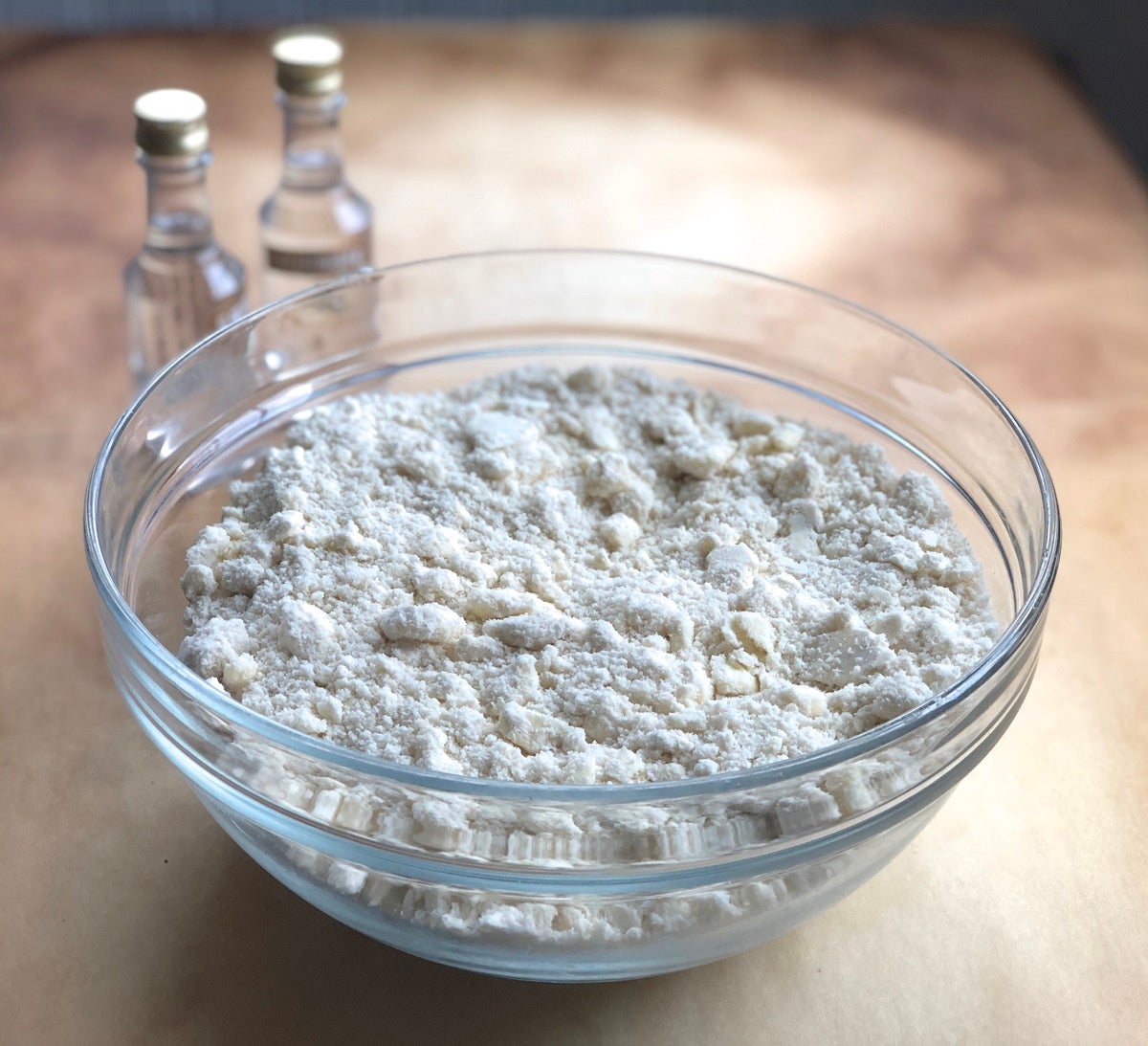 Whisk the flour and salt together, then mix in the shortening until it's totally incorporated, with no lumps. Work in the butter, mixing until it's well-distributed and has broken down somewhat; you'll still see quite a few larger lumps. By the way, I always make pie crust in my stand mixer; works like a charm.
Add enough vodka to bring everything together; I use two "nips" (those little plastic bottles), which equals two shots (99g by weight). Why? The theory is, replacing a pie crust's water with alcohol results in less gluten development, and therefore a more tender crust.
That said, I don't use high-octane vodka. Eighty proof (40% alcohol) is about right; higher than that, you risk the gluten being underdeveloped, and the pastry becoming too fragile to work with easily.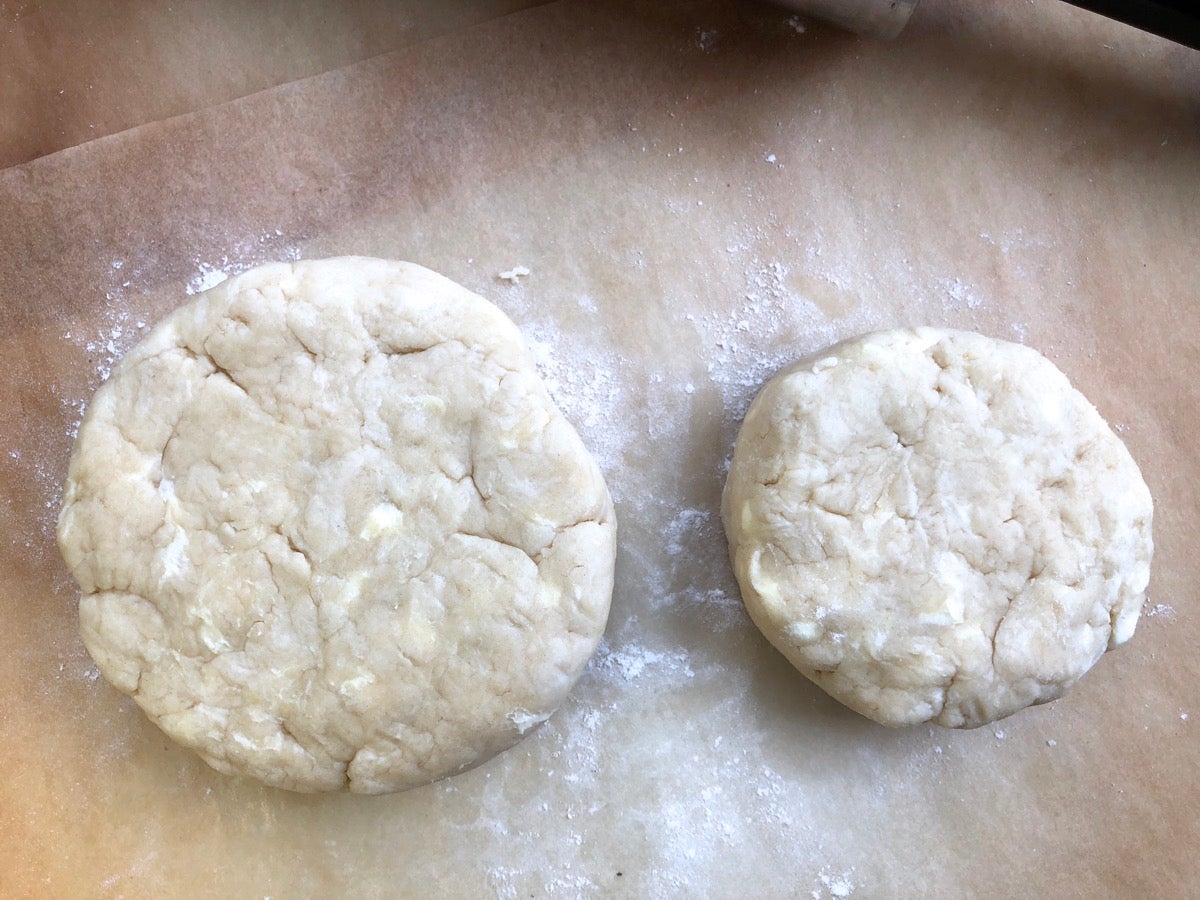 Divide the dough into two pieces, one about two-thirds of the total, the other about one-third.
Why not divide the dough in half? Because your pie's bottom crust covers more territory and actually needs to be quite a bit larger than its top crust. Wrap and chill for 30 minutes.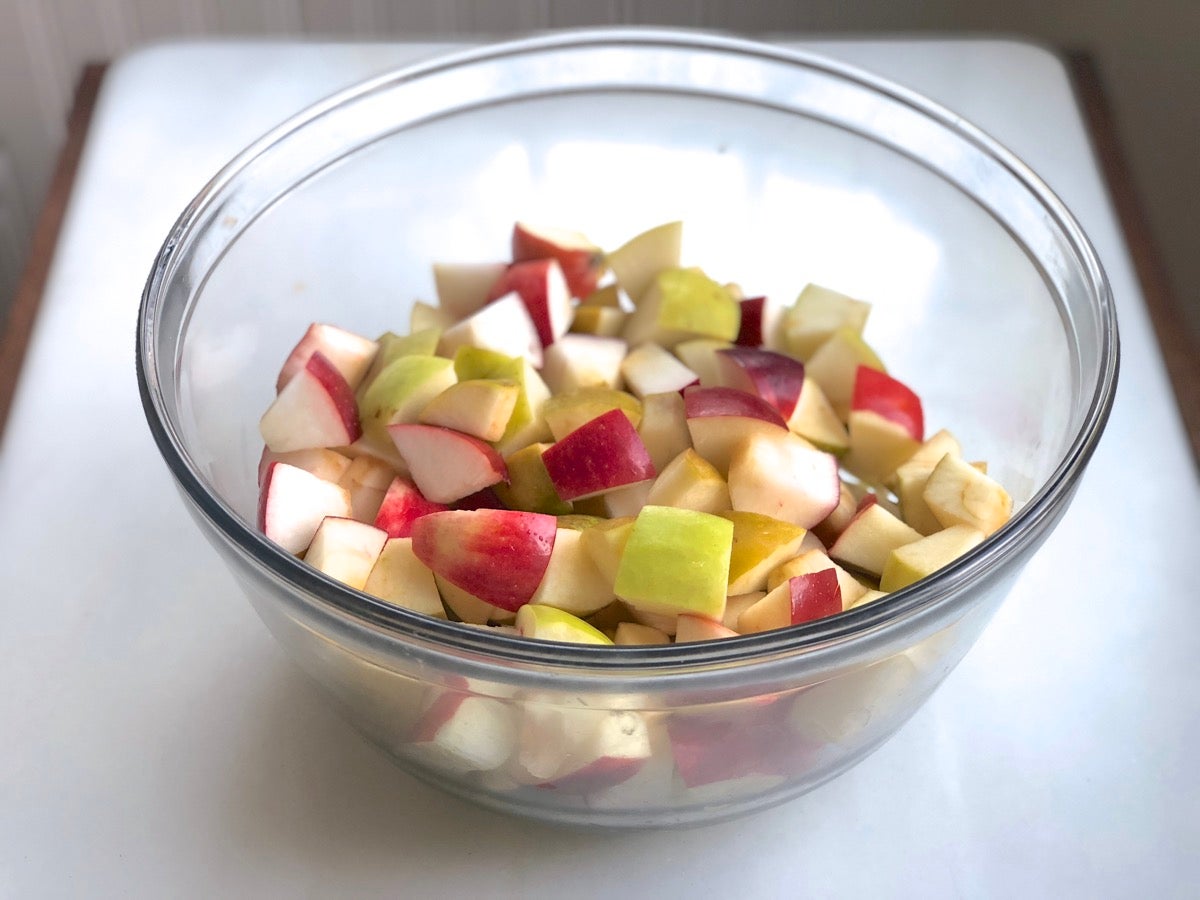 The filling
Like the original Apple Pie recipe's filling, I start with a generous 3 pounds of apples; but then I veer off the path, incorporating preferences in flavor and texture I've developed over the years. Here's what I've come up with: a filling that uses unpeeled apples, for heartier texture and added color; and no spice beyond cinnamon, with emphasis instead on the flavor of the apples, plus vanilla extract and cream.
8 cups (about 3 pounds whole; a generous 2 pounds, prepared) cored, diced (unpeeled) apples
2 tablespoons (28g) lemon juice
3/4 cup (160g) brown sugar
2 tablespoons (26g) King Arthur Unbleached All-Purpose Flour
2 tablespoons (22g) Instant ClearJel
1/4 teaspoon salt
1/2 teaspoon cinnamon
1/4 cup (85g) boiled cider
1 tablespoon (14g) vanilla extract
1/2 cup (113g) heavy cream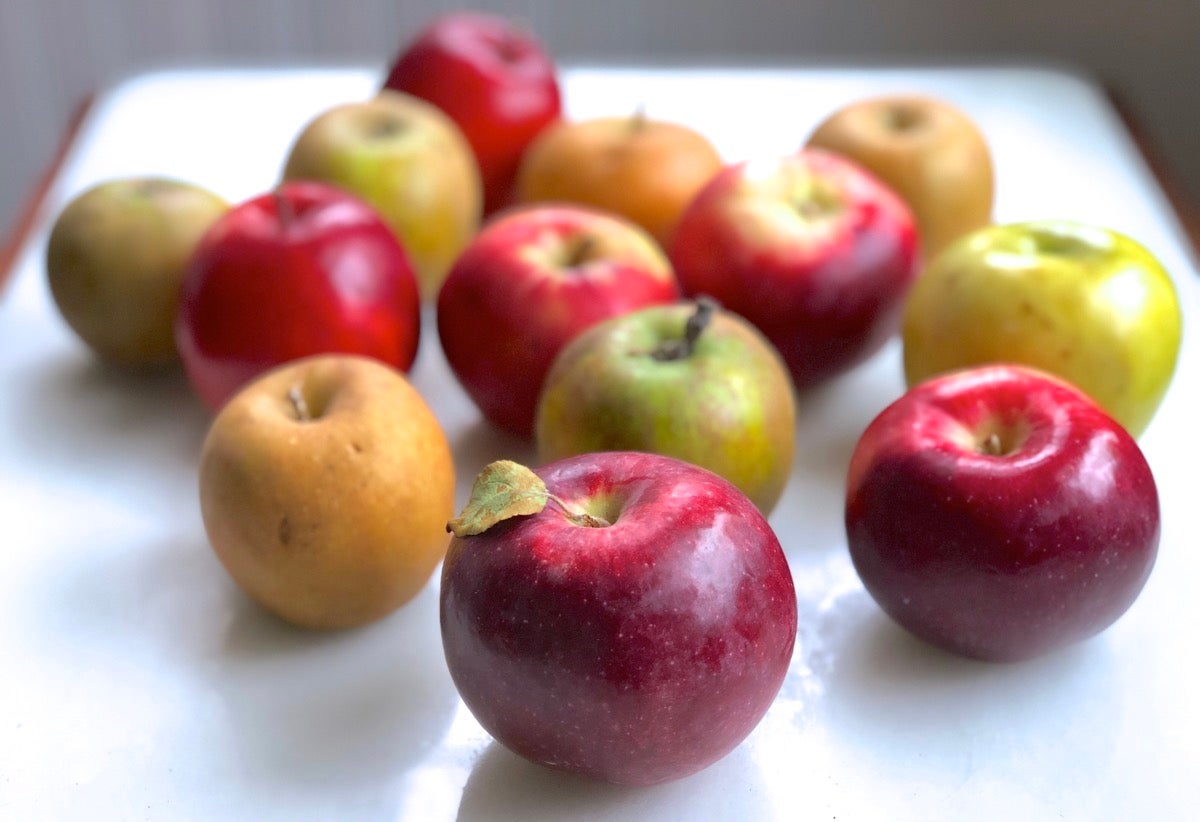 The apples
Let's talk apples. I like to use a combination of whatever's at our local farmstand. Most recently that's been Empire, Macoun, and Golden Russet; if I can get Northern Spies, I use them. For more on this subject, see The very best pie apples.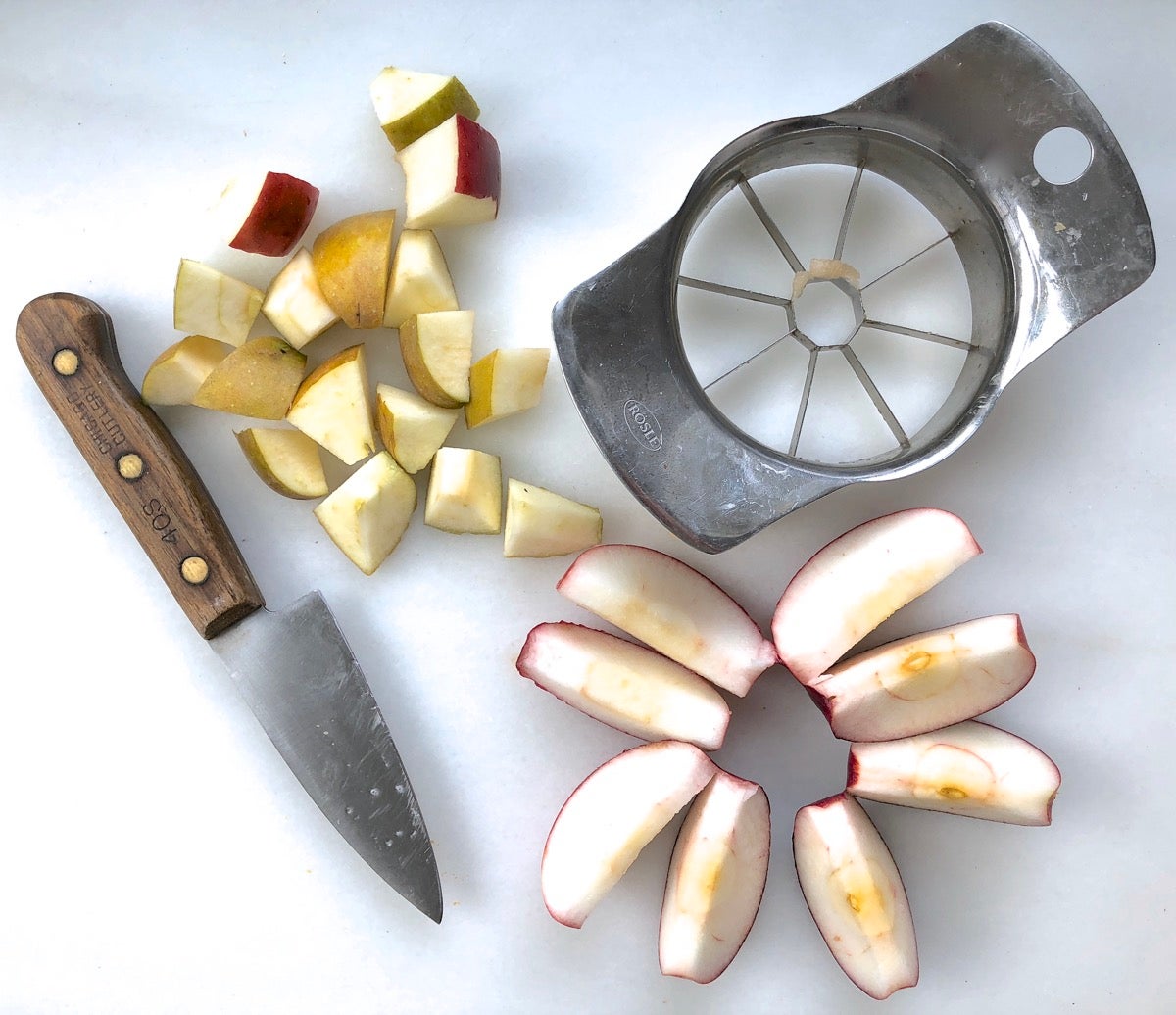 Now here's where the real heresy starts: I don't peel the apples. I simply core and cut them into wedges, then cut the wedges into chunks. Yes, the filling is hearty rather than smooth/soft; that's the way I like it. But since you asked, no, the peels aren't annoying! Also, the peels infuse the filling with warm, rosy color.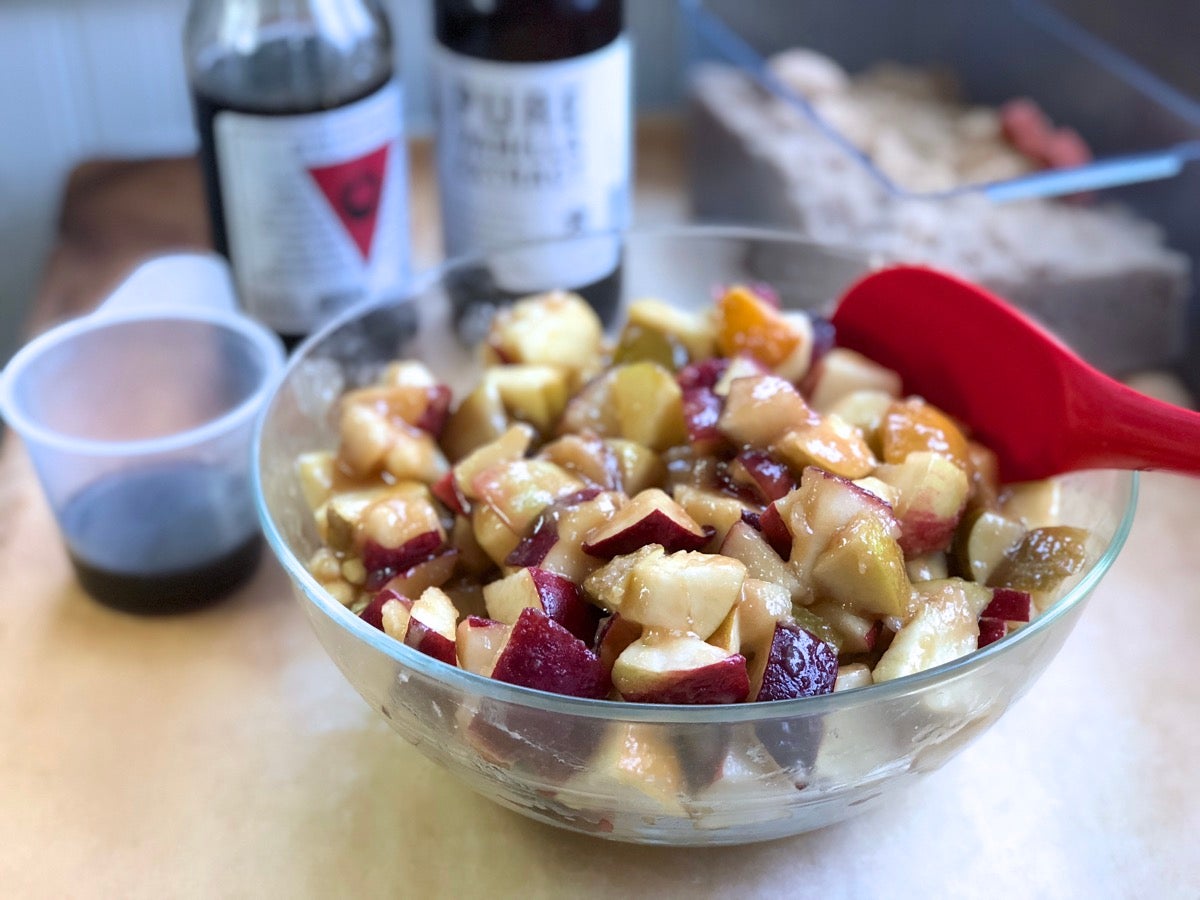 The flavor
Next, the flavor. I prefer apple pie that tastes more of apples than spice. So I enhance the apple flavor with boiled cider and cut back on the spice, omitting everything except a hint of cinnamon.
I also love caramel apples, so I add caramel notes and rich color by using brown sugar in place of white, and use a generous splash of vanilla to further ramp up the caramel.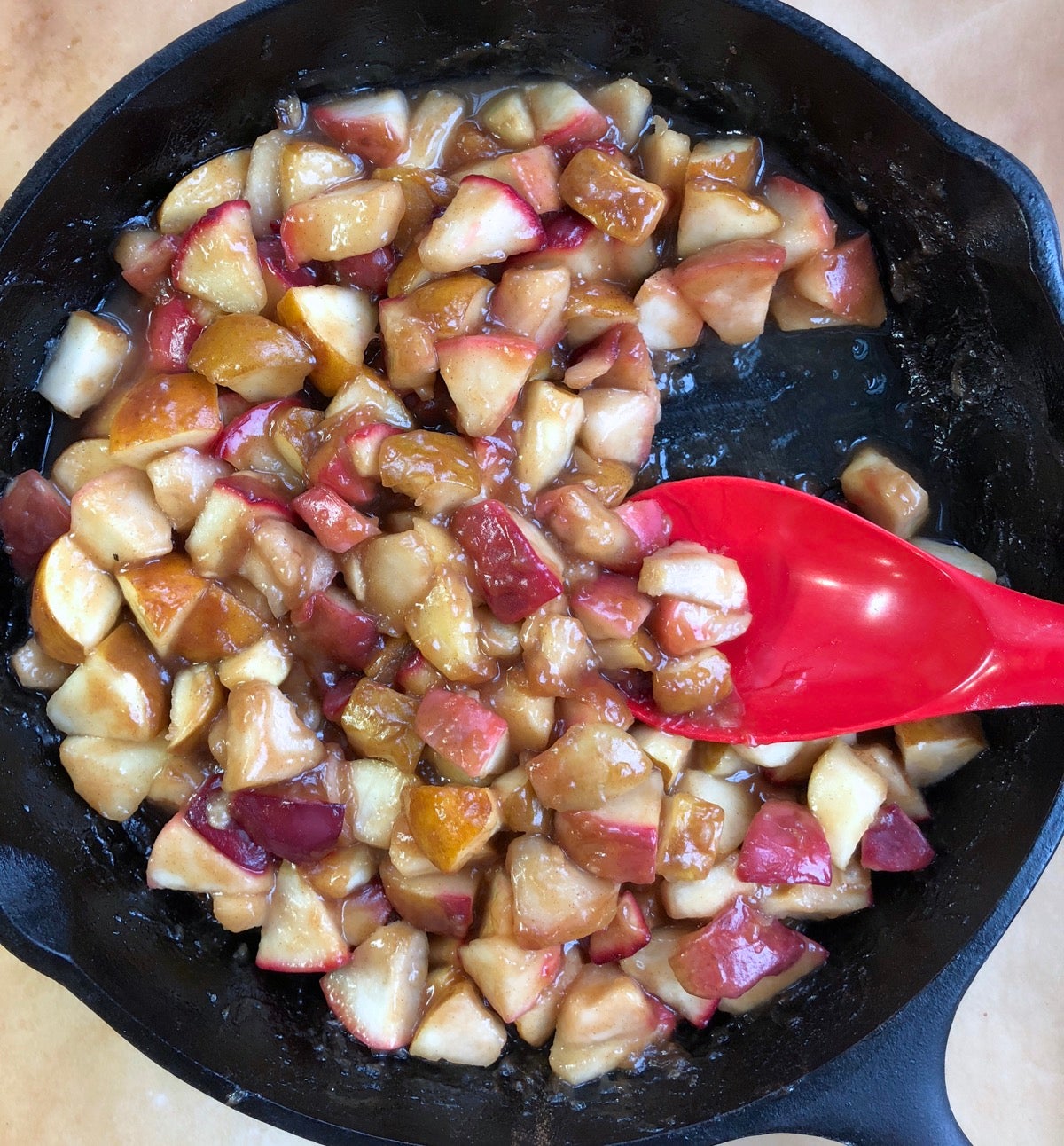 The texture
I like to precook the filling just a bit, to shrink the apples and lessen the possibility of the dreaded gap, that space that can develop between the filling and top crust. For details on this technique, see Make-ahead apple pie filling.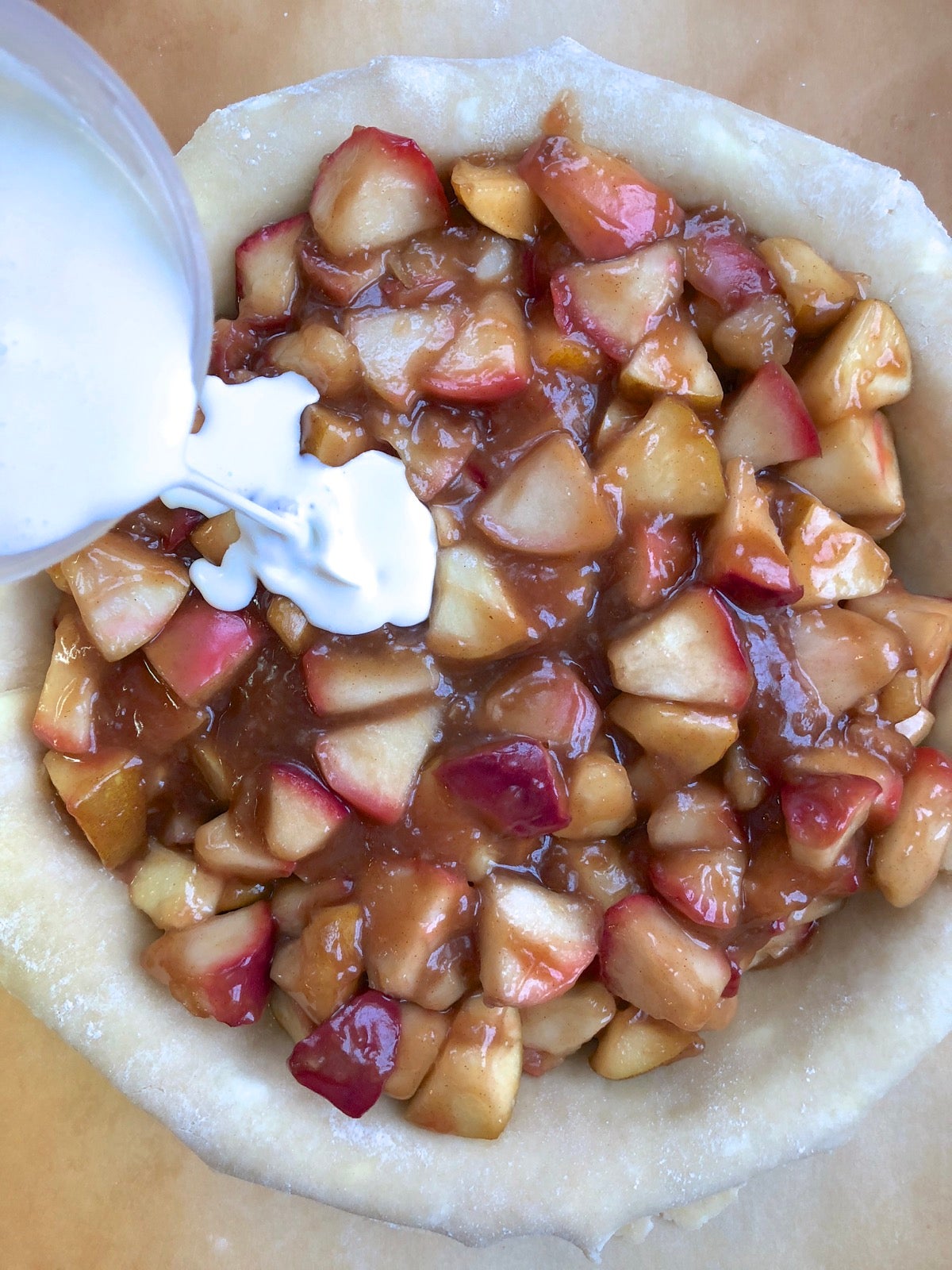 The true genius hack here, though, is something I learned from fellow King Arthur baker (and long-time friend) Sue Gray: adding heavy cream. Drizzling cream into apple pie filling gives it luxurious, creamy mouthfeel and a touch of rich flavor.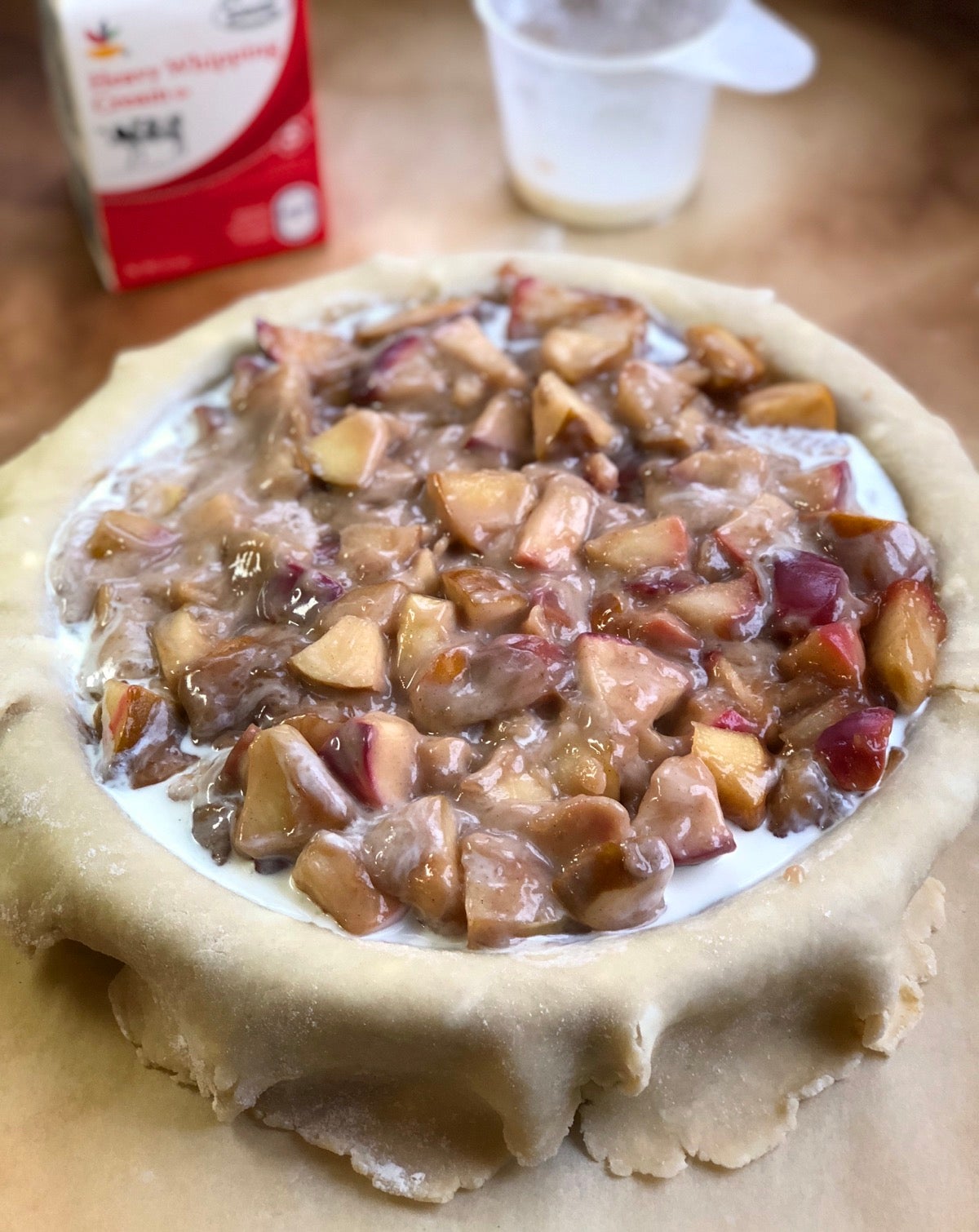 If the cream puddles on top, gently stir it in with a spoon or spatula.
The finish
Bottom crust, filling, top crust — and topping. While there are any number of ways to enhance your apple pie's top crust, my favorite is an offbeat amalgam of butter, flour, and sugar.
Sounds like a crumb topping, right? Well, same ingredients, different ratio, and slightly altered technique. Instead of mixing equal parts of each until crumbs form, as I would with a typical crumb topping, I go heavy on the sugar and flour, light on the butter.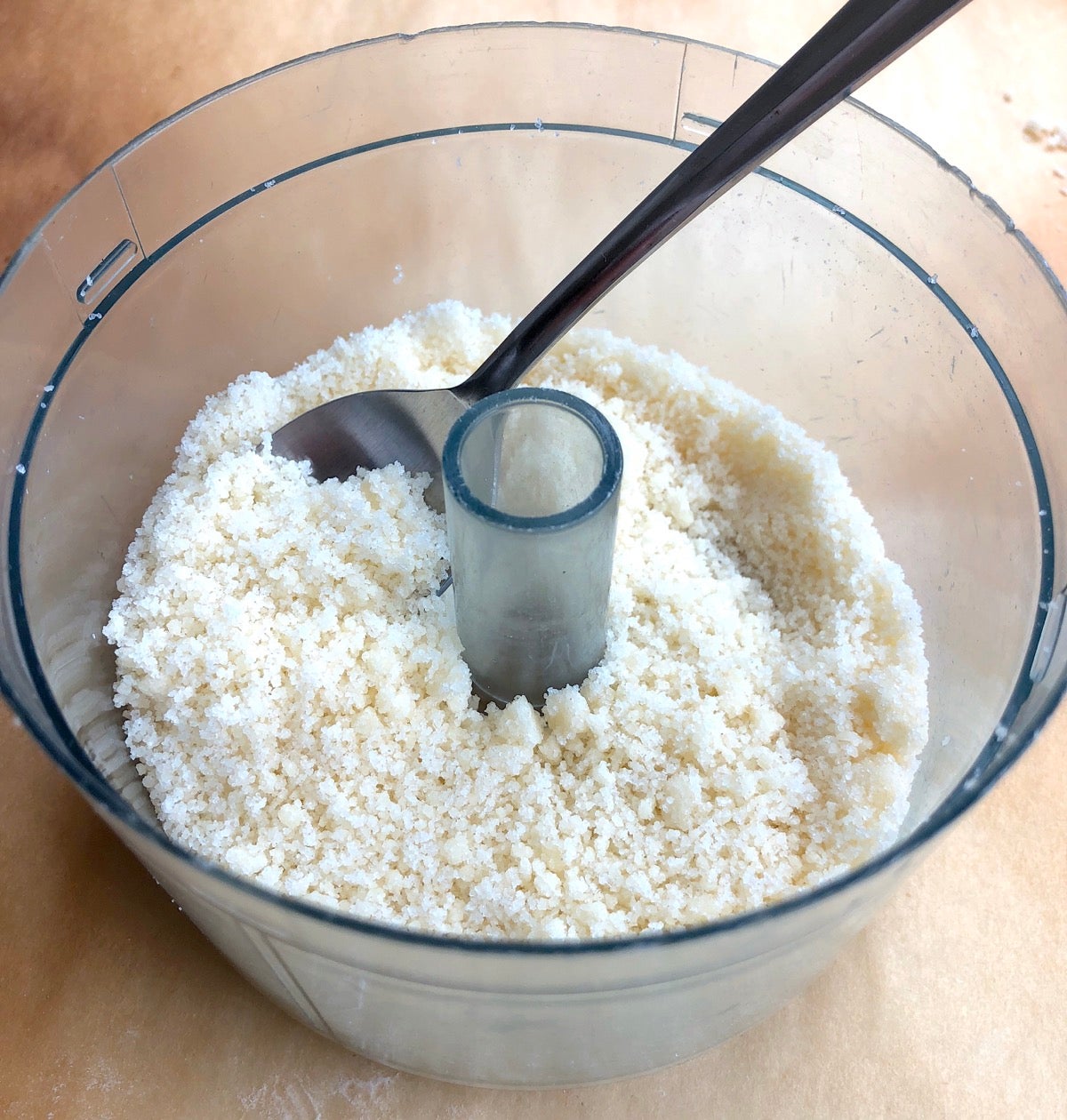 I whirl the ingredients in a mini food processor or blender until very fine-grained and even textured. This makes a "streusel" topping that's less crumb-y and more sandy, a mildly crunchy, sweet/buttery patina atop the crust. Here's how to top your 9" pie:
1/4 cup (50g) granulated sugar
3 tablespoons (23g) King Arthur Unbleached All-Purpose Flour
1 tablespoon (14g) cold butter, cut into four pieces
1/8 teaspoon salt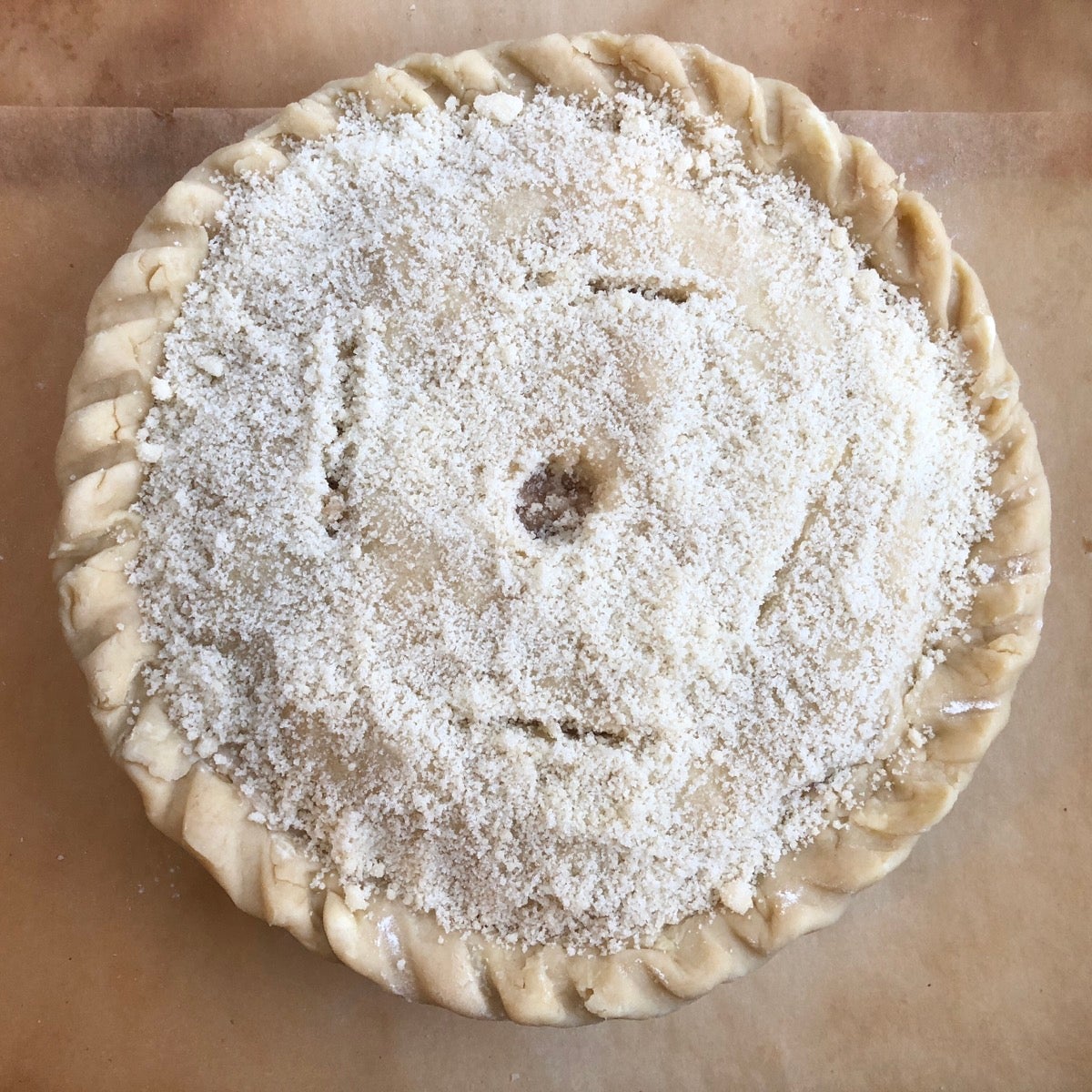 After brushing the pie's top crust with a lightly beaten egg white (you can also use milk or water), sprinkle/spread it with the topping, patting it down gently.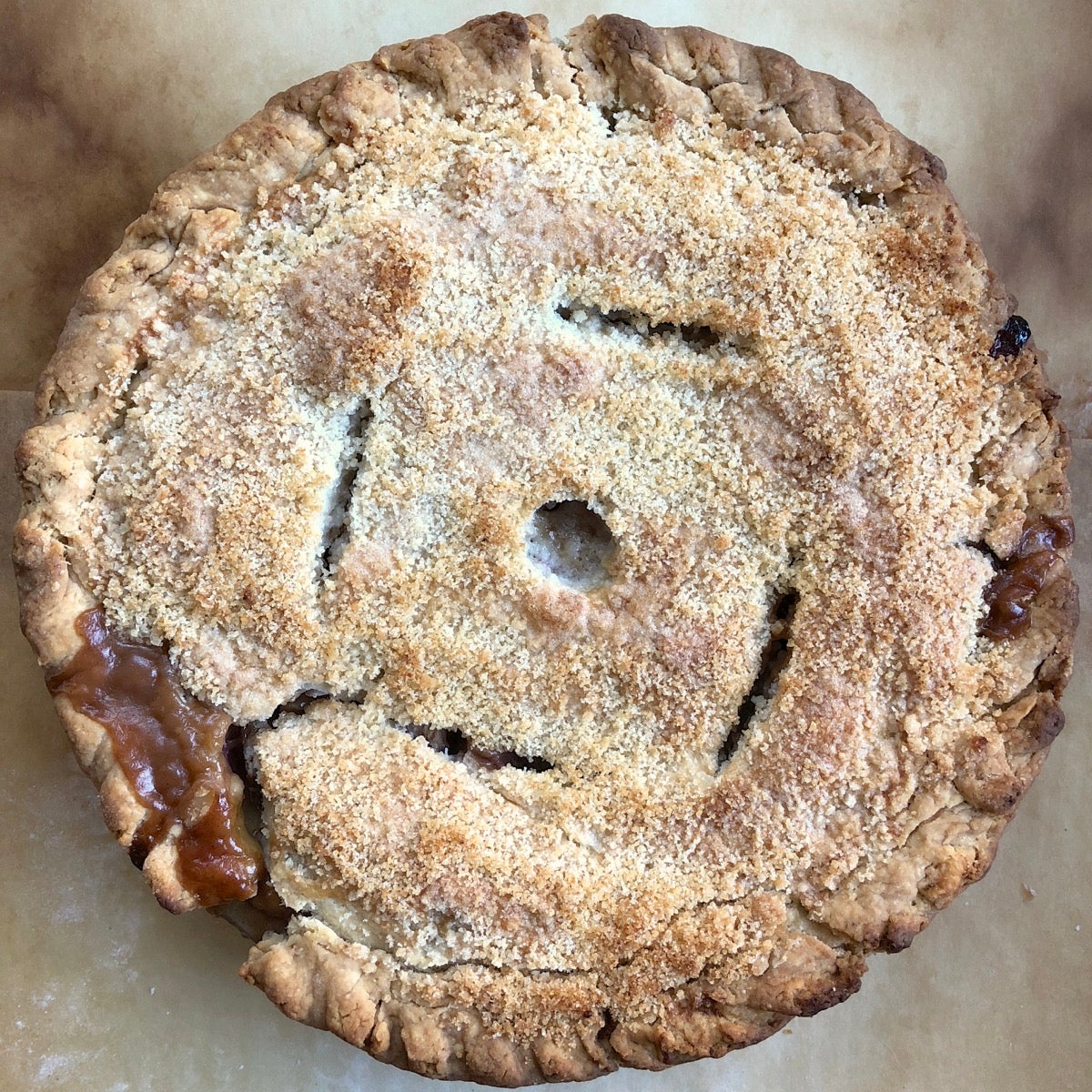 Bake as directed: 20 minutes at 425°F, an additional 40 to 60 minutes at 375°F or until the juices have been bubbling around the edges of the crust for at least 10 minutes. Tent the top of the pie with foil if it starts to brown too quickly.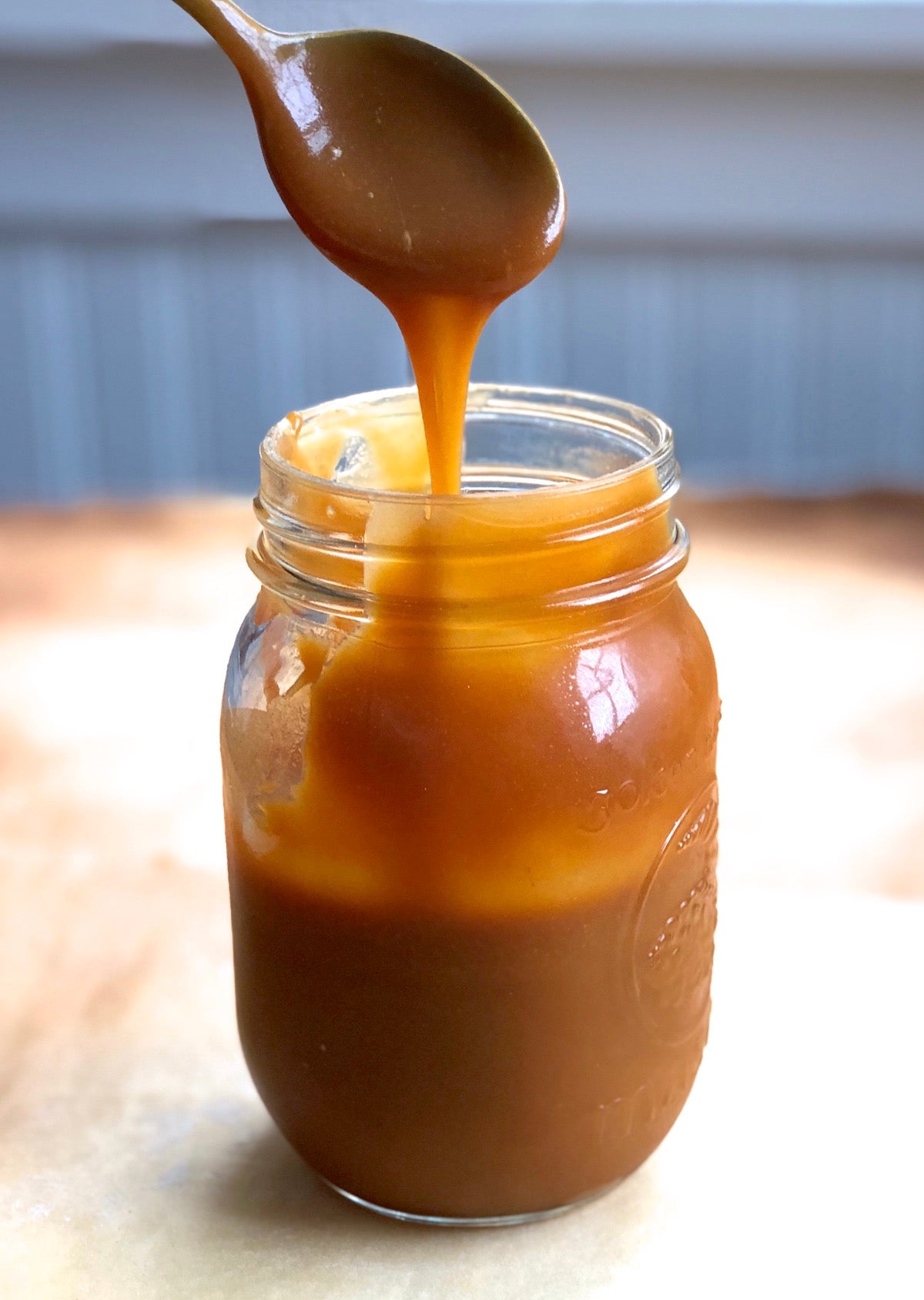 The final touch
The caramel/apple flavor combo has been a favorite of mine since childhood days, back when a caramel apple on a stick was the crowning glory of our visit to the town's annual Grange fair. So I finish my special apple pie with a scoop of vanilla ice cream and a fat dollop of homemade caramel sauce.
A slice of warm pie, rivulets of vanilla cream melting down the side, and caramel descending oh-so-slowly over all — honestly, can it get any better?
Yes, it can — if it's your own special apple pie adorning the Thanksgiving table this year.
In the spirit of sharing, we'd love to hear what personal touches you add to your apple pie; please comment, below.
Jump to Comments